Gate III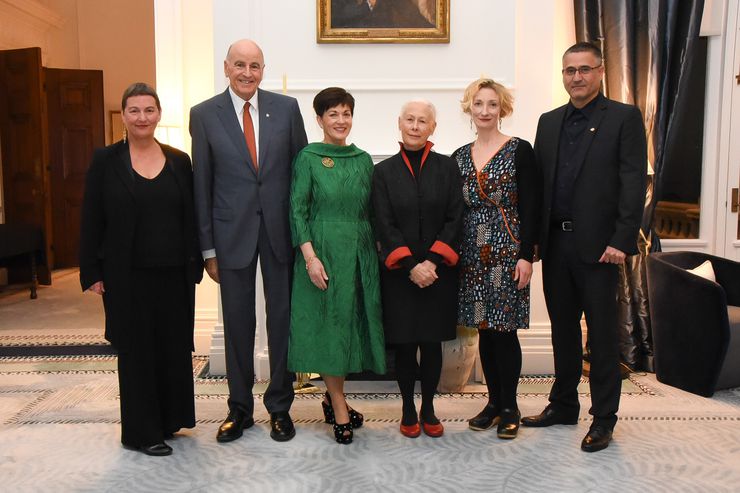 The Governor General The Rt Hon Dame Patsy Reddy
Governor-General of New Zealand
Kia ora koutou
Last August, it was my privilege to host the launch of commemorations to mark one hundred years since Colin McCahon's birth.
This centennial year has invited us to revisit his work and celebrate his contribution to the development of a more confident and nuanced sense of identity for New Zealanders – so that we all could – in the words of Alan Curnow – discover 'the trick of standing upright here'.
Colin McCahon helped shape the way that we have thought about art in this country. He responded to international modernism and made work that was specific to Aotearoa New Zealand – drawing on different bodies of knowledge, including religious texts, Māori beliefs and history, poetry, geology and art history.
I vividly remember my first encounter with a McCahon. I was 17, a first-year student at Victoria University, newly arrived from Hamilton – with no prior experience of contemporary art – or much art at all.
When I encountered that massive and confronting declaration of "I AM", it hit me like a visual sledgehammer.
Seeing McCahon's Gate III at Victoria University was a life-changing experience, the beginning of my journey into the world of contemporary art of Aotearoa New Zealand – and it has been a joyous experience.
When Dame Robin White, Shane Cotton and Eve Armstrong spoke at the centennial launch, their accounts of their artistic journey confirmed McCahon's towering influence as a painter, curator, teacher and writer.
Since then I have had an opportunity to visit McCahon House myself. We are fortunate to have access to a site which provides such rich insights into McCahon's life and art practice.
The centennial of his birth invited us to look back, and it also invites us to look forward to the bi-centenary of his birth, when McCahon's timeless works will be undoubtedly part of our visual culture, New Zealanders will be tracing his influence on our nation's artistic journey, and he will live on in the national imagination.
Kia ora huihui tātou katoa
CONNECTING CULTURAL LEGACY WITH CONTEMPORARY PRACTICE