AS THERE IS A CONSTANT FLOW OF LIGHT WE ARE BORN INTO THE PURE LAND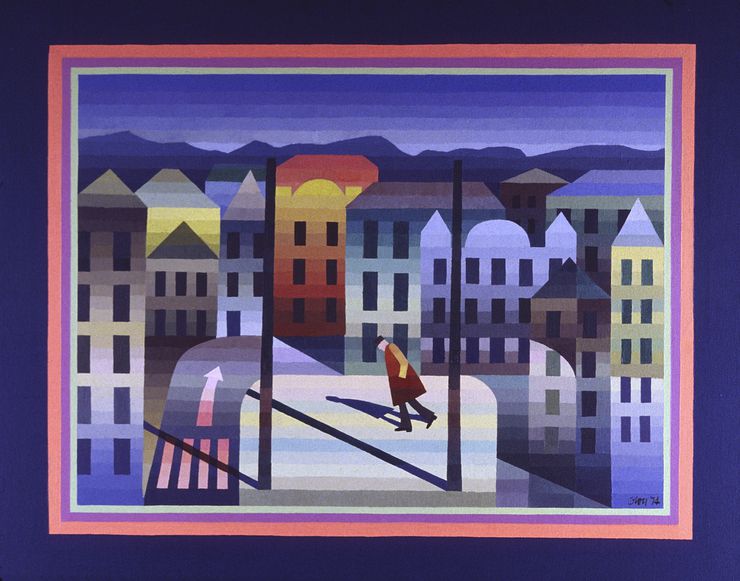 John Coley
Aritst and former Director Robert McDougall Art Gallery, 1980-1996
I first met Colin McCahon in Auckland in 1958 through Hamish Keith who, on graduation, had been appointed a junior curator at the Auckland City Art Gallery. McCahon was also a gallery staff member. Hamish introduced his flatmates to McCahon. At this time, we joined the growing number of enthusiasts for McCahon and his art.

Occasionally I met the painter and a few of his gallery colleagues at a pub on High Street for after work drinking sessions. The conversation was relaxed, good natured and not necessarily fine art focused; though art issues, personalities, and promising new talents were discussed between everyday observations. McCahon was an agreeable companion who nevertheless could quickly grow earnest and forcibly argue for art which had an intrinsic New Zealand character. Later, while in Auckland in the early sixties, he invited me to the house at Arch Hill where I met his wife Anne and admired paintings by each of them - crowding the wood lined walls of their kitchen - living room. Over the years I would meet Colin again; teaching alongside him at summer schools and at Group Show openings in Christchurch.

Twenty-four years later in 1982, in my second year as Director of the Robert McDougall Art Gallery, I received a portfolio of images from Webb's Auction House offering an opportunity for first purchase to major city galleries. Included was McCahon's superb 1965 painting, As there is a constant flow of light we are born into the pure land. The gallery's curator Neil Roberts and I agreed that although the price was a substantial slice of our acquisitions budget, the work was stunning and would enhance our slim holdings of McCahons.
The painting, in a wide landscape format, shows a sky of extraordinary radiance over a dark plain on which is painted in the artist's characteristic cursive hand the phrase "As there is a constant flow of light we are born into the pure land." The work exerts a magnetic fix on the viewer's eyes and state of mind, generating a serene connection to the land and its light. The line of poetry that names it is both a prayer and an injunction to love and to protect the character of our unique country. Could such a painting be made in any other place by any other artist? The particular colour and luminosity of the sky over the dark landscape is quite incredible. I have maintained that the painting's glow would light the deepest darkest cave without the aid of lamps.
Purchased in 1982 for $10,000, there was major negative public reaction when the cost was disclosed by Canterbury's daily paper, The Press. Radio talkback, letters to the editor, complaints from ratepayers to the City Council, and abusive telephone calls raged for a month or more before dying away. The early 1980s was a time of rapid inflation. Wages and salaries increased quickly; investors were buying works of art by significant artists, pieces which would appear at the next auction and make a swift profit. Peter Webb visited the McDougall ten months after our controversial purchase. Sighting the work in the gallery, he exclaimed, "that painting today is worth $80,000!" Proof of his valuation was borne out of the dramatic increase in the value of other McCahon's put to the market.

One thing I took from McCahon's beliefs was that New Zealand artists should see the mental and visual landscape of their country not through the frames of reference passed to us by British schools of painting but with eyes, minds and skills grown in a unique, much cherished homeland. McCahon was the closest thing I had encountered to a holy prophet.

McCahon's influence upon my own manner of painting was negligible, but it was of the greatest importance in forming my personal beliefs and values in my career as a teacher and art administrator, and my commitment to my practice as an artist. I was one of many McCahon admirers who championed his art against its detractors. I early realised the futility of imitation and found my owns less intense, less demanding imager. His art was like no other artist's: directly expressive of a true spirituality, charged with a singular perception of the New Zealand visual experience.
CONNECTING CULTURAL LEGACY WITH CONTEMPORARY PRACTICE