North Otago Landscape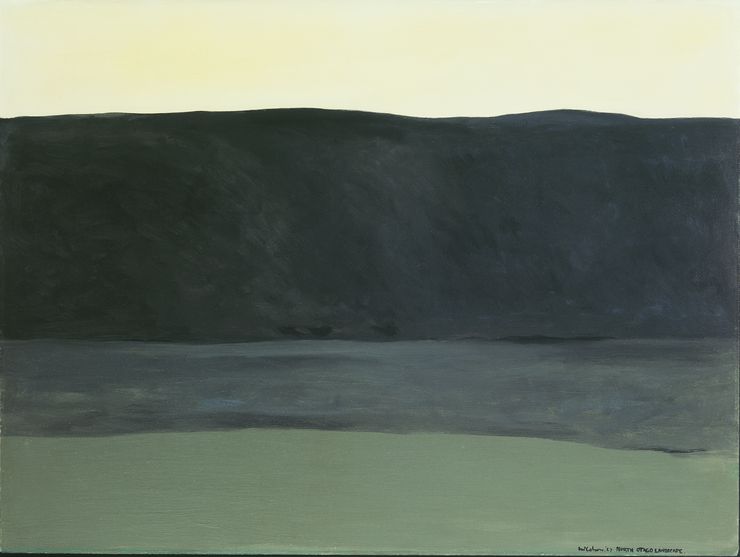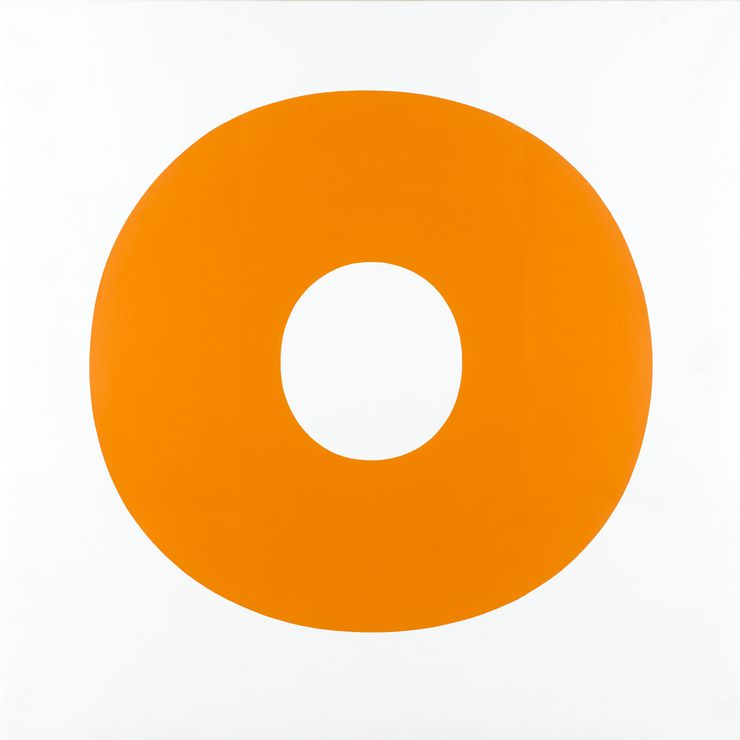 Rudi Fuchs
Art historian, writer, curator, former Director Stedelijk Museum
The below is constructed from the following excerpts: emails between Rudi Fuchs, Wystan Curnow and Vivienne Stone December 2019 – September 2020. Rudi Fuchs contribution to the catalogue to accompany the exhibition Colin McCahon: A Question of Faith, 2002 Craig Potton Publishing, Rudi Fuchs contribution to Julian Dashper, 1960 – 2009 A Tribute, edited by Simon Ingram with Wystan Curnow, Reading Room, issue 04, 2010 p.25
The Covid circumstances make it difficult for me to write. But I have written twice before about McCahon and you are welcome to use these pieces again. The first was for the catalogue of A Question of Faith, the 2002 McCahon show in Amsterdam, explaining why I consider McCahon a modern master and why I wanted to make that show. The idea for the show was mine following an introduction by Wystan Curnow. We once had a gallery full of his paintings in the Stedelijk as part of an exhibition Wystan curated with Dorinne Mignot, Under Capricorn/The World Over in 1996. A Question of Faith was curated by Marja Bloem after I left the Museum. I was glad that the show was made. The art was seen, that was good. Maybe Wystan and I together would have made a more succinct and tougher show. Now I am old I may be allowed to think that. Anyway: this note explains why I believe McCahon had to be shown in our part of the world.
Seeing those dark, visionary paintings was an overwhelming experience. They were mostly landscapes, or images derived from landscape – and some of them were covered with words and phrases. Some of the words I recognised, they were biblical and Christian; others obviously came from Māori legend (or poetry). I did not understand the writing (bold, evocative – like thunder in the sky), but that could not diminish the powerful and inescapable impact of the paintings. I understood then that the power and mystery of McCahon's art did not come only from the precise meaning of that strange, obsessive iconography, even though the convictions and strong beliefs those written words stood for were probably the inspiration for the paintings in the first place. The words and the other symbolic figures (numbers, certain abstract forms) are carried by the evocative space constructed, as in a perspective, by landscape elements. In this combination the words and symbols become images in that deep pictorial space – and they begin to act and move like figures, like actors on a stage, expanding, contracting, floating, erupting, all in the wonderful heavy atmosphere of the paintings; mostly earthy colours. It is quite magical how McCahon's art comes to life before one's eyes. Later, as my exposure to the artist's work broadened, I became aware of the central nature of his exploration of spiritual belief and of the poetry in his work.
What interested me was to find an artist whose art obviously covered a wide range of emotion – yet had remained outside the usual Modernist canon. I looked for further information but could not find his name in any of the current lexicons on modern art. This I took to mean that to those who determine the inclusion of artists in such tomes, McCahon's art was too outlandish – so much beyond the 'proper Modernist style' that somehow he could not be accepted as a serious painter. Perhaps, I thought, McCahon was considered as a peculiar character, or a painter from the periphery – a 'provincial'. From the hard centre of Modernist dogma such an appreciation (or the lack of it) is to be expected. It has happened over the years with other artists, whose convictions led them beyond what, at any given moment, is stylishly considered to be the 'right' art. So when Edvard Munch became more and more personal and introspective in his art (where before he had observed certain rules from Paris) he was discarded for a while; the same happened with Asger Jorn, the Danish painter, and also with Joseph Beuys in his early years. We now see those judgements as wrong – and that Modernism, instead of instinctively protecting the stylistic purity of the enterprise, should have welcomed the strange and different identity of other artists. After all, artistic creativity and vision cannot be owned by one style.
One began to understand this more fully in the 1970s, when artists as different as Jannis Kounellis, Arnulf Rainer or George Baselitz gained more recognition. When such different positions slowly begin to emerge at what before had been considered the periphery, and when these positions are as good and exciting as they are, the centre automatically weakens and can no longer maintain its authority. So it was from this perspective that I began to see the work of Colin McCahon. I tried hard, by looking hard, to find out whether I could be wrong – and whether New Zealand collectors of his work, such as Jenny Gibbs, were maybe led by feelings of cultural patriotism when they called him their greatest artist. But McCahon's quality stood firm, and so I had to see in him an artist of a similar disconcerting individuality to that of Munch or Jorn or Beuys.
Both Munch and Jorn came from small countries, Norway and Denmark respectively – and Beuys started out in Germany just after the War, then certainly a bleak place. Of course they were in touch with international developments (Paris and later, for Beuys, also New York) but it seems that that particular loneliness of not being in a great centre of avant-garde activity can create in an artist's mind a heightened awareness of local circumstances and tradition. For Munch, when he decided to be a painter in Norway, the impressionism he had learned in Paris was simply too refined. Its subtlety and elegance were insufficient for the much grander and rougher gesture, with tough forms and strong colours, that he required to deal with painting the Norwegian landscape – to which he wanted to remain true. I believe something similar happened, in its way, in the development of Asger Jorn. And in the early work of Joseph Beuys one cannot but sense the barren poverty of post-War Germany; so what could he do with the soft beauty of Paris School painting?
Quite often an artist fits into a style as it is growing and establishing itself around him. He can feel temperamentally at home there and create wonderful work. Matisse comes to mind, as do Mondrian, De Kooning and many others. Sometimes, however, he has to become different – because he is lonely in his artistic context, which in turn may be lonely in the world. The artist then starts to talk to himself, to his paintings, and he can only follow where this self-reflection takes him. I began to see that this was how it was with Colin McCahon.
In 1998 I went to New Zealand for the first time and friends took me on trips around that breathtakingly beautiful country, to places where McCahon had painted such as Otago, and to Muriwai Beach, with its two surf-struck rocks and the small island in the sea that McCahon's idiosyncratic imagination recognised as Moby Dick. I saw the softly curving hills covered in low shrubs and I saw the sea – endless, stretching westward. In museums and private collections I saw many more McCahon paintings and drawings. I met other New Zealand painters like Ralph Hotere and I listened to how they spoke with reverence about the isolated Master.
I believe that art can never escape the fascination of the place where it is made. That is why there exists French or Dutch or American art; it exists however strong the – sometimes distracting – contact with the great international art world an artist has. On my visit to New Zealand I saw and learned from connoisseurs that McCahon was also in touch with that outside art world, maybe selectively, but he knew of Cézanne and Van Gogh, and of Mondrian and Rothko. A tough measure of abstraction was part of his vocabulary. What he was able to do, however, was to bend that toughness to an equally tough form of symbolist realism. He discovered the dark colours that gave the toughness even more substance. I believe that therein lies his greatness as an artist: in that he relentlessly pursued that vision, and that vision enabled him to discover the way the New Zealand landscape (its character and atmosphere) could be painted – quite differently, more sober and direct than painters before him who had come from Europe and had painted Canterbury, for example, as if it were Sussex or Kent or the Lake District. McCahon was the artist who gave New Zealand a powerful visual identity and for that he is revered in his homeland. That he went further, to explore and communicate through the medium of painting the universal questions and concerns of humanity, is why we, in other parts of the world, must recognise him as a great modern Master.
The second piece was written for a tribute to Juilian Dashper in the journal Reading Room, issue 4, 2010.
In 1998 I came to Wellington. Paintings from the Amsterdam collections were exhibited at the Wellington City Gallery in The Exhibition of the Century: Art in the 20th Century - Modern Masterpieces from the Collection of the Stedelijk Museum. Mondrian in New Zealand, possibly for the very first time, said Director Paula Savage. Kind friends then took me to the South Island: from the soft hills around Christchurch to the dry land of Mackenzie Country and down to pretty Queenstown. We saw spectacular landscape and some artists and a southern sky of incredible clarity. Clouds and shadows of clouds on the grass.
I returned the next year – mainly to Auckland this time to start the exercise (difficult as it turned out) of organising an exhibition of the elusive master in Europe. I remember Jenny Gibbs taking us to a beach of black sand to look at the ocean where McCahon had also been. In the glorious light shining on the lush green, and most of the day talking about the painter with Wystan Curnow (and then meeting his father, the great poet), it was difficult not to be lead astray by the romance of the country. The year before, in a lecture in Wellington, I had deplored the exclusivity of the modernist tradition and the absence in that context of a painter like McCahon. Jenny Gibbs then agreed to lend us a small painting North Otago Landscape to hang, as a guest, in the exhibition in Wellington. For once his painting could be seen surrounded by contemporaries like Karel Appel and Asger Jorn, William De Kooning and Jackson Pollock – where I thought it belonged.
I was then, happily, saved from succumbing to my own drifting sentimentalities by Julian Dashper. His freshness of mind and his wonderful laconic artistic attitude put me back in the real world of modernism. I was immediately taken by those light unframed paintings I saw in Sue Crockford's gallery: weightless and ironic.
They had a lightly brushed O-shape in the centre, in dull orange, simple and straightforward as a traffic sign. One could easily fold them and carry them in your hand luggage on a plane. That was Julian's practical way to overcome the distance between the hemispheres. I acquired one: if I had brought the first Mondrian to New Zealand then I could repay the hospitality by taking the first Dashper to the Museum in Amsterdam. It was obvious that Julian not just lived in Auckland but had become one of those travelling modernists, someone like his example Daniel Buren – at home in the world. For that adventurous attitude and an impressive artistic independence he was important – and for his wit and energy and, I remember, his optimism. Eventually the painting with the O-shape was joined in Amsterdam by the North Otago Landscape when Jenny Gibbs donated the little McCahon jewel to us. Thus the circle was completed.
CONNECTING CULTURAL LEGACY WITH CONTEMPORARY PRACTICE