GATE III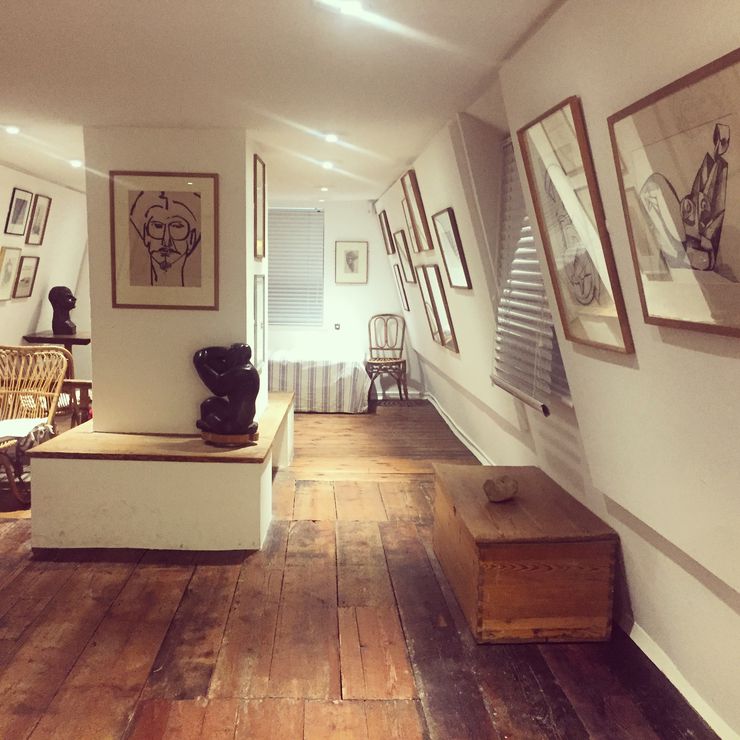 Helen Beaglehole
Author
I want to write about the context in which my husband, Tim Beaglehole, bought and hung Gate III (1970) at Victoria University of Wellington.
Victoria University has had a long tradition of buying art. In 1942, Tim's father, historian J.C. Beaglehole, was nominated convenor of a committee that was to use a staff fund to buy original New Zealand paintings for the staff common room. Staff resistance to the various purchases, whether round the cost of John Week's Mountain Stream (1946) or, in 1956, Frances Hodgkins' Kimmeridge Foreshore (1938)—a purchase the staff room agreed to only after hearing that Auckland Art Gallery wanted it if Vic (Victoria University) didn't—had to be overcome. But the purchases were made and the value of the initiative recognised when, in 1958, the staff committee became a council committee delegated to buy art for the University's public spaces.
In 1960, Tim returned from King's College Cambridge. There, he had been very excited by Jim Ede's Kettle's Yard, Ede's own home that he had opened so 'young people' could view his exquisite arrangement of his extraordinary art collection without encountering 'the formality' and 'greater austerity of a public museum or art gallery'. 'There should be a Kettle's Yard at every university', Ede wrote later. Tim would have agreed.
In 1963, Tim replaced New Zealand composer and musician Douglas Lilburn on the committee. With an initial annual budget of £100 (increased only slightly over the years) and using the committee to rubber-stamp his decisions, Tim began building up 'a representative group of New Zealand contemporary art for a student audience' to be hung in the University's public spaces – a mandate he discovered only after decades of buying.
In 1971, the show Ten Big Paintings arrived in Wellington. Tim was enormously impressed with and excited by Gate III. A painting that teaches 'us to order our days rightly that we may enter the gate of wisdom' was somehow appropriate for a teaching institution, he thought, and began engineering its purchase.
Hoping that paintings might suggest new and different ways of thinking about the world, Tim put a lot of time, effort, imagination and amusement into considering what of Vic's collection might best be hung where and alongside what; his peregrinations round the university were always opportunities to identify further places. New paintings provided new opportunities to rethink and rehang.
The scale and value of Gate III created their own problems, but for almost 50 years, the work has hung in the University's public places, highly visible to students, staff or visitors. Many students and others have commented on the impact it had on them. Tim's own certainty of the significance of McCahon and his work is evident in his 1980 proposal that Vic give McCahon, as New Zealand's 'most influential painter', an honorary degree. McCahon turned the offer down: 'the degree could change me from pesant [sic] to something I couldn't ever wish to be. I just don't like being a notable person, I do like making notable paintings - and this does happen at intervals.'1
'McCahon', Tim pointed out in his proposal, 'brought a creative imagination and a capacity for its expression' to 'a spirit of critical enquiry into man's nature and his world which is perhaps unparalleled in New Zealand at this time.'2 Forty years later, in 2013, and thinking back over the considerable collection he had amassed from 1963 to 1995 and his own not inconsiderable roles within the university, Tim said Gate III was 'the most important painting I bought and buying it was perhaps the most important thing I did in my university career.'

[1] Colin McCahon in a letter to Tim Beaglehole 25th November 1980
[2] Tim Beaglehole proposing Colin McCahon be awarded an honorary doctorate by Victoria University. Held in the J.C. Beaglehole Room, Victoria University
CONNECTING CULTURAL LEGACY WITH CONTEMPORARY PRACTICE