Untitled (North Otago Landscape)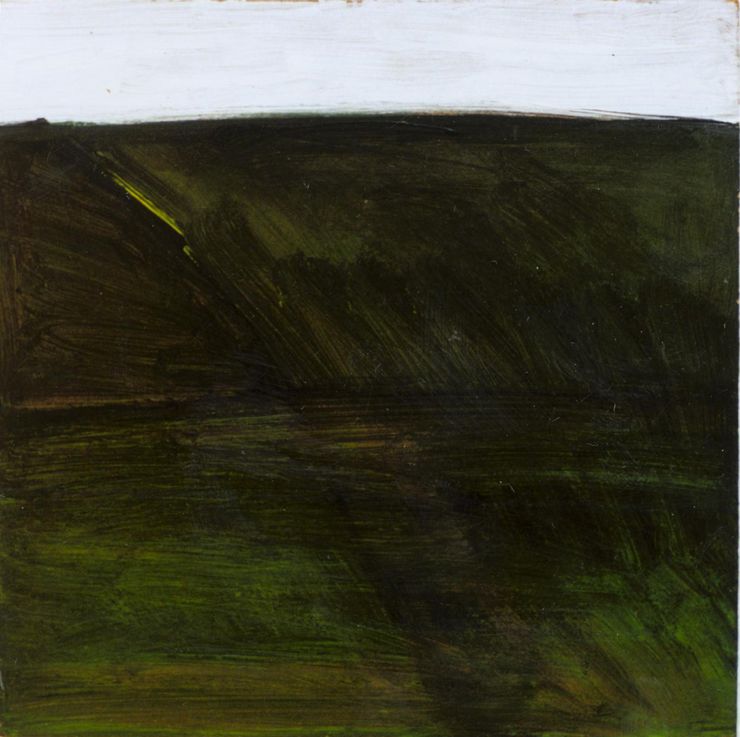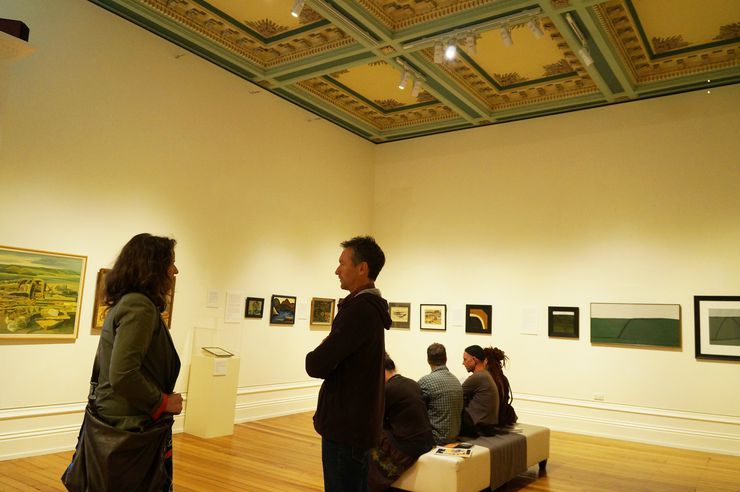 Jane Macknight
Director Forrester Gallery, Ōamaru, North Otago
What is also needed is a cultivated, patient, sensory attentiveness to nonhuman forces operating outside and inside the human body.


- Jane Bennett, Vibrant Matter: A Political Ecology of Things, 2010
The Forrester Gallery holds 18 works by McCahon. A strength of the collection is its insight into personal relationships within McCahon's whānau; sixteen of the works were generously gifted by the Noel Parsloe Family Trust in 2005 in honor of McCahon's sister Beatrice Parsloe. We also apparently hold the most 'North Otago' works of any public collection.
In my six years as Director, I have perceived that this collection is not especially loved by our local community; many are prepared to acknowledge the cultural value of it as a whole, most seem to struggle with an appreciation of McCahon's work as 'art'. My own relationship with the works is a mixed one. I have examined them up close, handled them, admired them hanging in our gallery spaces, worried about their condition and security, written about them to support funding applications, and sought to interpret them for the inspiration and benefit of our audience.
I think I can make a decent job of contextualizing the works within the canon of art history (here I acknowledge the depth of scholarship available), and in relation to McCahon's personal history (his relationship with his sister Beatrice, his time in North Otago, as a teacher at Kurow Summer School, his passion for geomorphology). But, my goal (or 'work' if you like) as the Director of a regional art gallery is to encourage our audience to engage with art in a way that is personal, and emotional. I want our audience to have an encounter with art that is primarily about attentiveness: an experience of looking and feeling, rather than reading and classifying.
Coming from a cross-disciplinary background in visual culture rather than art history trained, I am happy to draw widely and broadly for ideas and thinking to support my 'work'. In this respect I have dabbled in ideas drawn from studies about reenchantment and then more latterly Deleuzian 'thingness' when thinking about how to approach artworks; particularly those exploring our relationship with land.
I chose this work to talk about here because it represents North Otago – a part of Aotearoa to which I feel a strong sense of place and connection; as I know all Waitakians do. It is also difficult to interpret by applying traditional approaches – it has no numbers, no words, no clear geomorphology, (arguably) no characteristic curving line of light through dark, no specific artist's or art historian's commentary on its production.
I think this work pulls me towards it; partly because it is physically small and a little difficult to see behind the glazing, but also because it appears to be on the same visual plane as me. As a result of getting up close, the mark-making becomes very apparent; it is visceral. As I look, I can imagine myself standing in a typically treeless North Otago paddock, as the light falls and the edges of things blur; the land dissolving into sky. Sensing the energy of those marks, it is hard to turn away. I have given this painting agency quite deliberately because it has thingness, it has become a thing that exerts a force upon me. It literally HUMS.
CONNECTING CULTURAL LEGACY WITH CONTEMPORARY PRACTICE