NELL ANNE Quilt Project
AN ONGOING COLLECTIVE QUILT MAKING PROJECT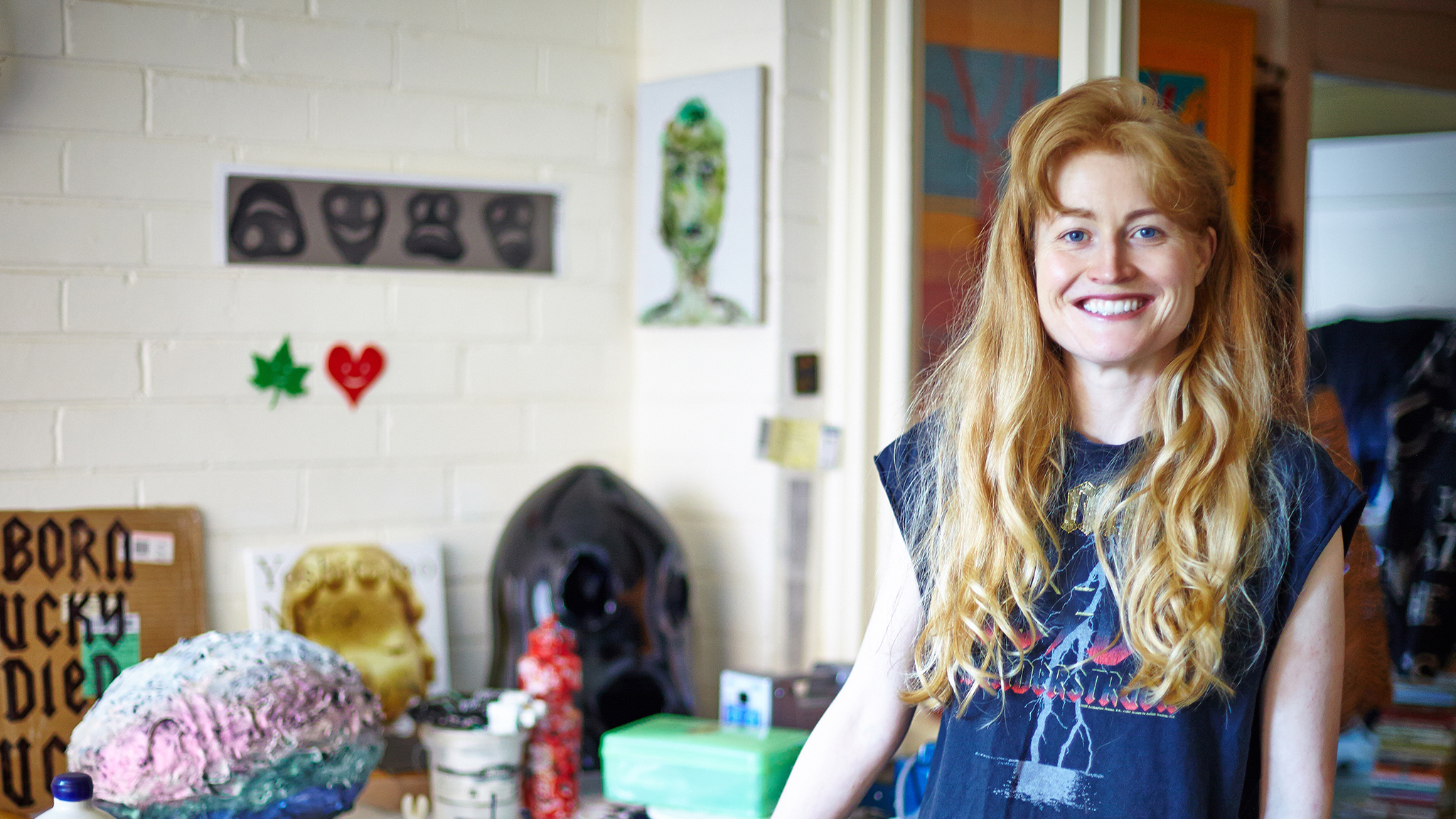 The McCahon House and Nell are still welcoming submissions for the NELL ANNE QUILT PROJECT
Follow through to the project instructions.
The project premise; decorate a piece of fabric with the name of a woman who has had meaning in your life. These will be quilted together forming a patchwork of many women's names in homage to women's creativity and craft, work, and labour. One will be decorated with the name ANNE, after Anne McCahon (nee Hamblett), and the other with the artist's name – NELL, acknowledging where the particularities of Anne & Nell's individual stories interchange with collective female history.
The project history; in April 2020, McCahon House intended to welcome Australian artist Nell for a one-month Residency at Parehuia, where she would host a series of open studios and workshops. Due to the pandemic, Nell's plans for travel were delayed and in response, we took the project online so those interested could participate from anywhere in the world. In April 2023, McCahon House finally welcomed Nell to Parehuia. We held a series of free workshops in Auckland and Titirangi where everyone was welcome to participate - from first-time sewers to experienced needleworkers. Since the project's initiation, we have received over 340 submissions and we are still accepting your patches.
Send your finished patches to:
Australia:
Nell c/o STATION
9 Ellis Street
South Yarra, Victoria 3141
Australia
OR
Nell c/o STATION
91 Campbell Street
Surry Hills, New South Wales, 2010
Australia
New Zealand:
Nell c/o McCahon House Trust
PO Box 60 165
Titirangi, Auckland
New Zealand
Tag your progress with #NELLANNEQUILT on social media.
Nell's residency and the NELL ANNE QUILT PROJECT is supported by The Chartwell Project.
The NELL ANNE Quilt Narrative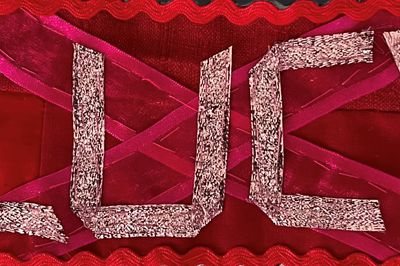 Lucuy
+ Info
Lucy is my 4 year old neighbour.
She has been enduring treatment for Ewing's Sarcoma yet still manages to play enthusistically with her siblings and friends, always dressed in fabulous, sparkly, vibrant outfits (with matching headgear.)
I hope she grows into a strong, resilient woman and has a life filled with joy and meaning.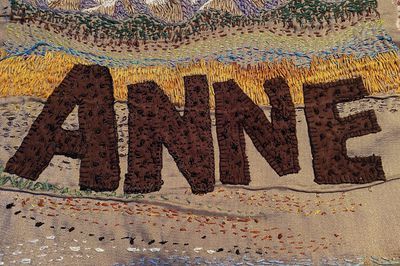 Anne
+ Info
Anne Eleanor McCahon nee Hamblett, 1915 – 1993.
My mother's life has been a source of speculation for years.
"How come she gave up her briliant, early career as an artist to marry Colin McCahon? "
"How could she give up her art to support Colin with his?"
Many people thought her work was much better than his.
I asked her these questions. She said because she '"had nothing to say" .
She saw Colin 's work as important, he had a lot to say.
In the late1970s Anne tried her hand at painting again but she was saddened to find she had lost her flair.
Being Colin's wife was not an easy pathway to follow and she never faltered until after his death. She had become frail and had developed diabetes.
I pondered how to make a patch for my mother and it occurred to me that I should make her name in big letters and drop it into the middle of a Central Otago landscape.
This was the place she delighted in visiting and I commemmorate her here as the vibrant young artist out tramping with friends, sketching and painting, baking cakes for picnics and setting up an all women painters studio in Dunedin with her friends.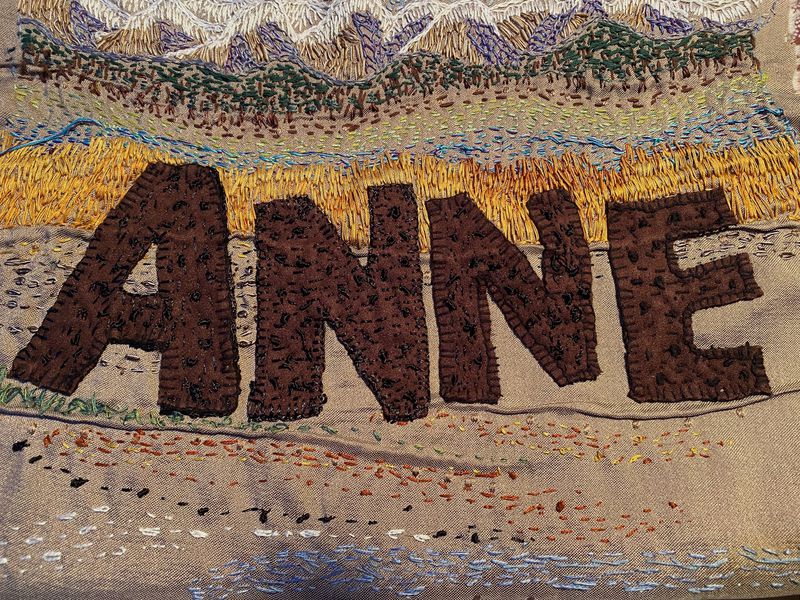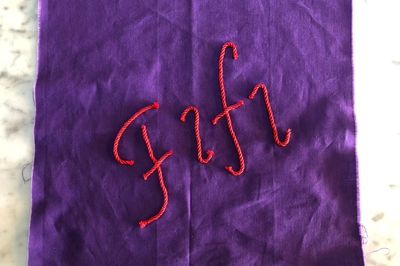 Fifi
+ Info
Fifi L'Amour: fearless, rebellious, brilliant, curious, warm, creative, empathetic, untamed, revolutionary, sister.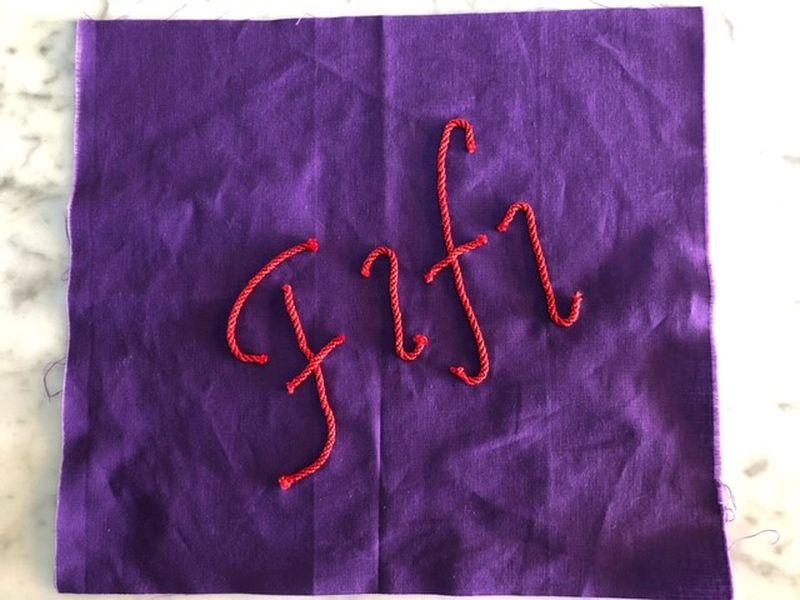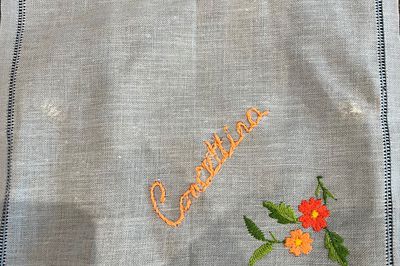 Concettina
+ Info
Concettina is my mother. She is 93 years of age and is in an aged care facility with dementia. She grew up in Italy during World War 2. She was a dressmaker, and she would sew beautiful dresses for the ladies of her town. When the circus would come to town, they would employ her services for the intricate work that went into their costumes. She, like many others of her generation, migrated to Australia, and left all her family behind. She did continue to sew, but only for her husbands family. Her life was dedicated to bringing up her children and caring for her husband. She was lucky enough to see her grandchildren grow, but unfortunately with her dementia, was not able to see them get married and start a life of their own. Love you mum, and am grateful for your sacrifices.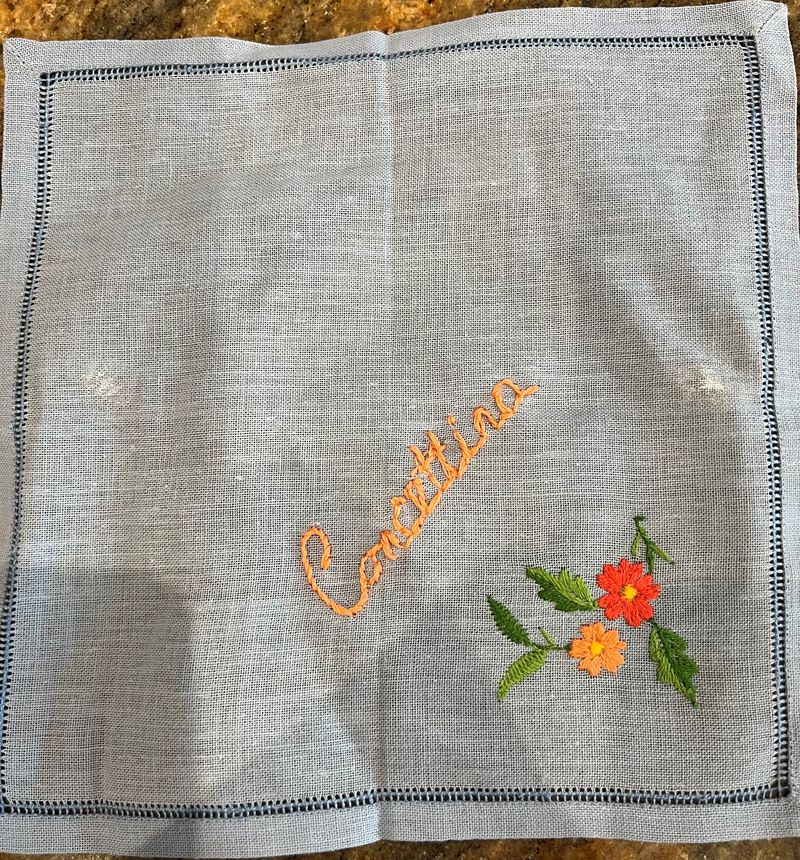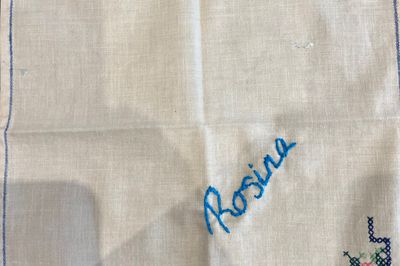 Rosina
+ Info
Rosina was my Mother In Law. She migrated to Australia from Italy in the 1950's as a proxy bride. She always said that , she was lucky enough to have married a man who loved and cared for her. She in turn, loved and cared for him. As a Mother and Wife, she was selfless. Her family was what she lived for, but sadly, she was taken from us at the age of 68. She did not get the chance to see her Grandchildren grow into the wonderful human beings, that she would have been so proud of. We all love and miss you Rosina.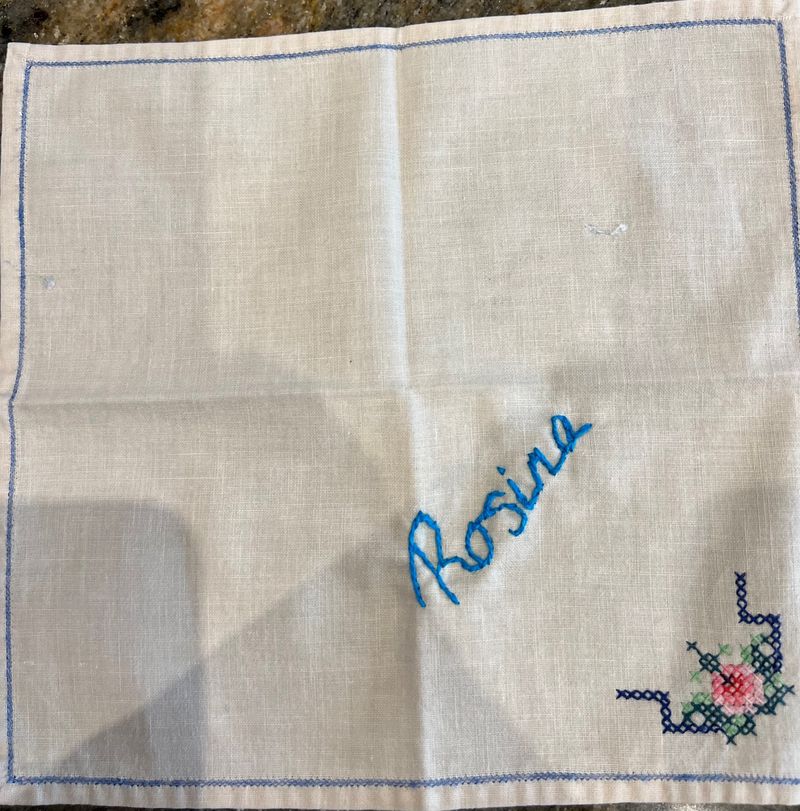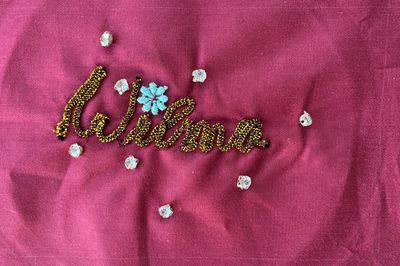 Wilma
+ Info
The woman who inspired my work was my Grandmother. And surrogate mother. She was my fiercest protector. She was my person.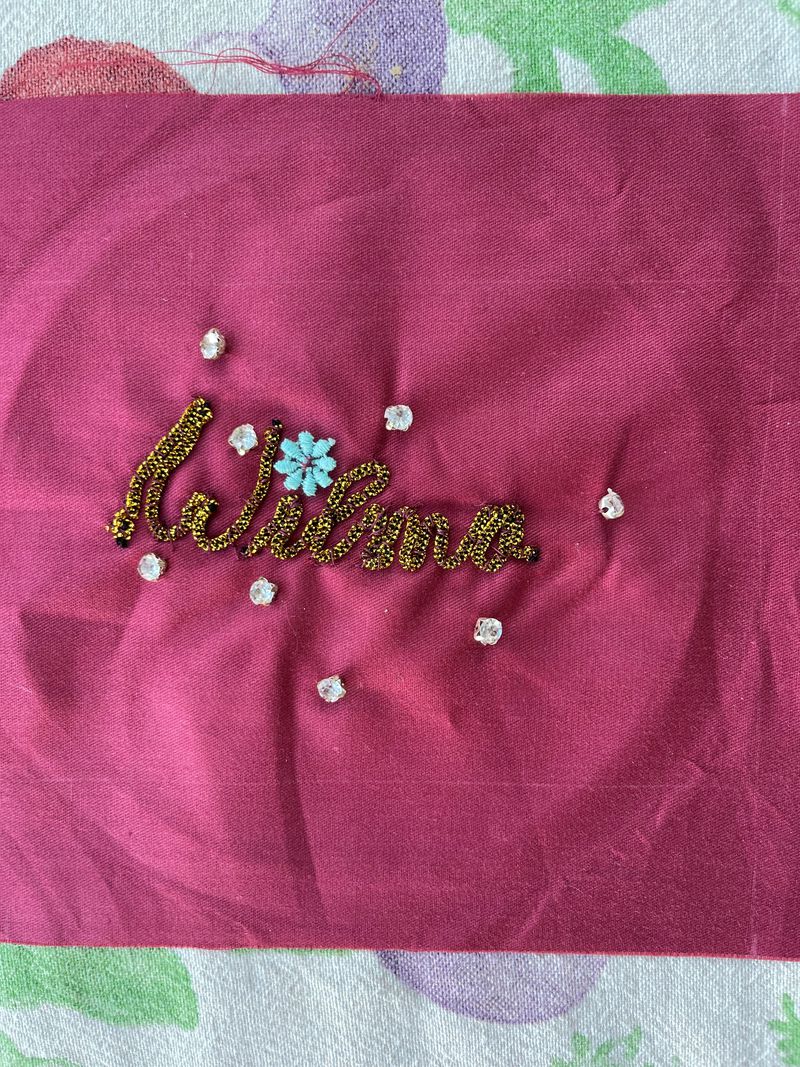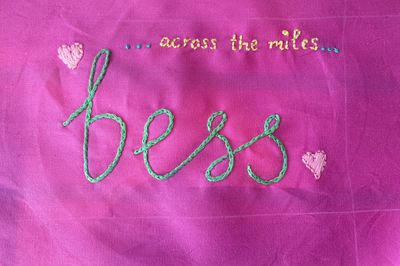 Bess
+ Info
It was inspired by my Grandmother Elizabeth (Bess), she was an amazing Geordie woman who came to Australia for a new life. She gave me a safe place to be myself. She taught me craft and gave me love, Kit Kats and warmth at a time where my home was not safe. She was brave and funny and kind. She loved a sherry and a cigarette. She loved me.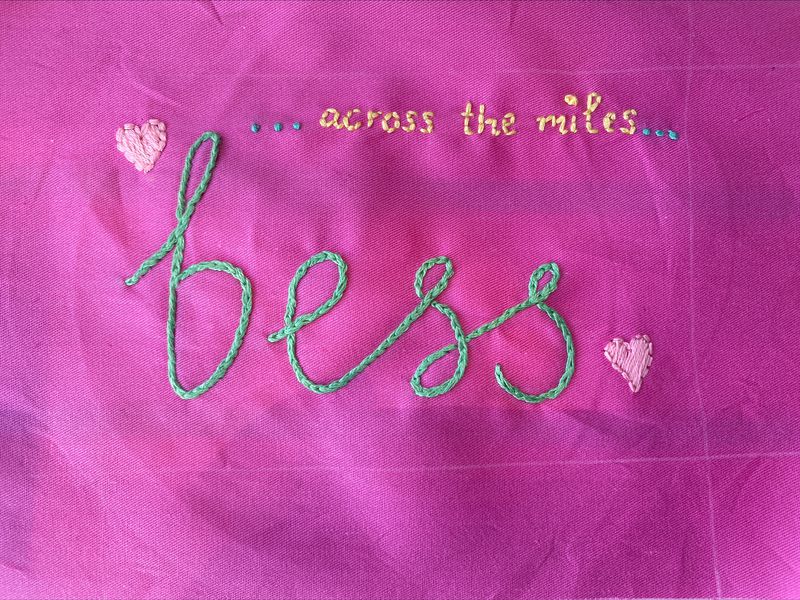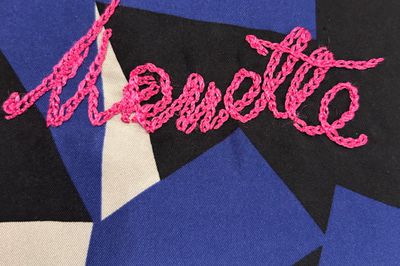 Nanette
+ Info
Nanette was the matriarch and founder of the NCIDG. She was our teacher, an interior designer, mentor and a passionate advocate for art, design and architecture in the community. This patch is on a special aztec scarf belonging to Nanette. Yves Klein blue was one of her signature colours and her name has been stitched in magenta pink- the Pantone colour of 2023. Nanette Cameron 27 September 1927-13 April 2023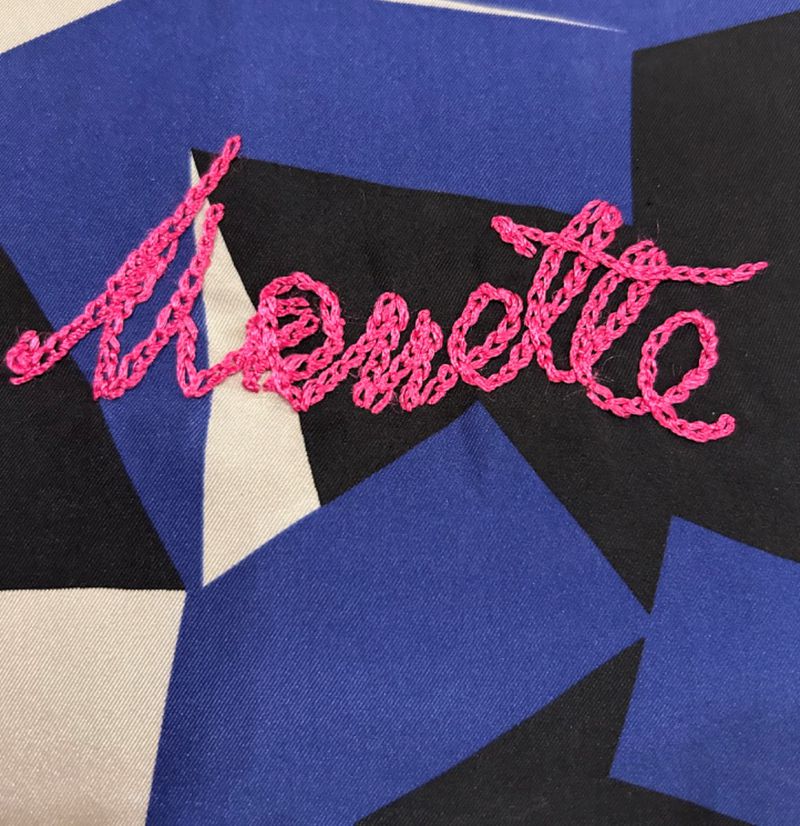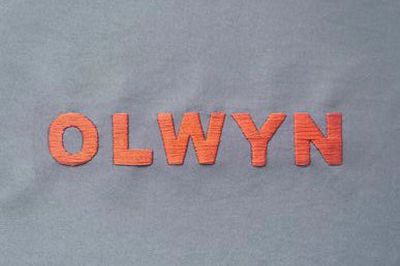 Olwyn
+ Info
Of beauty and inspiration.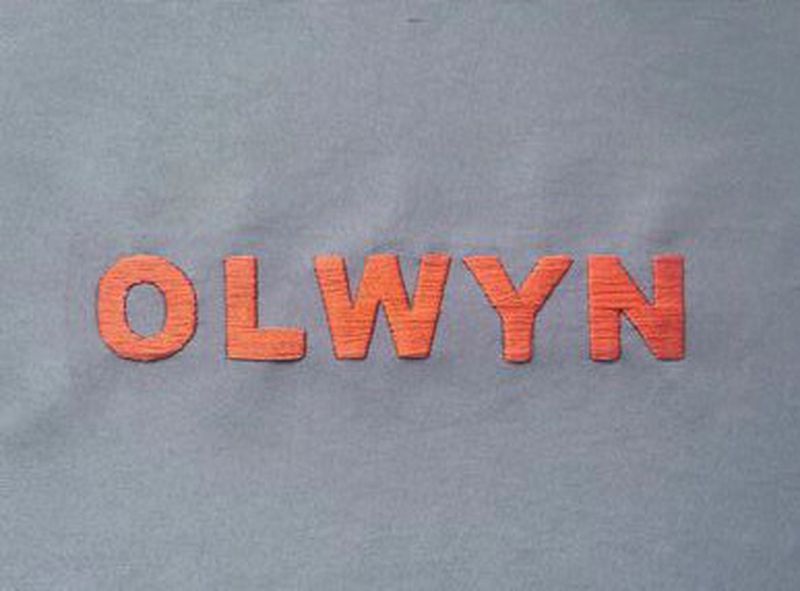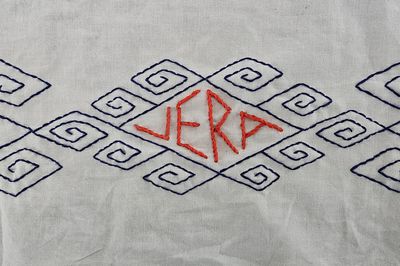 Vera May
+ Info
This patch was made for my friend Vera Mey on the day she was awarded her doctorate. The pattern is based on Batak weaving from Indonesia.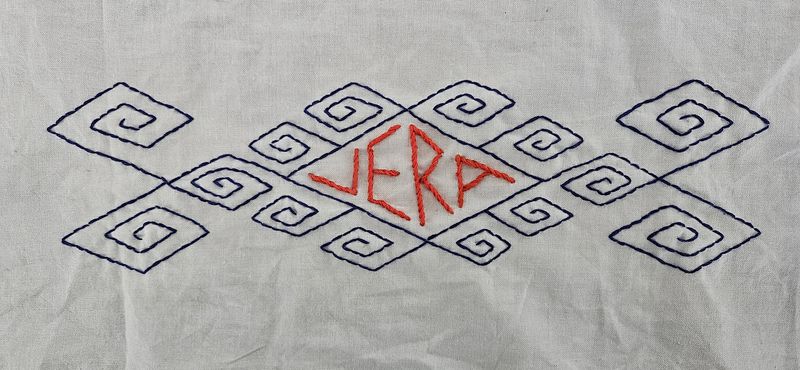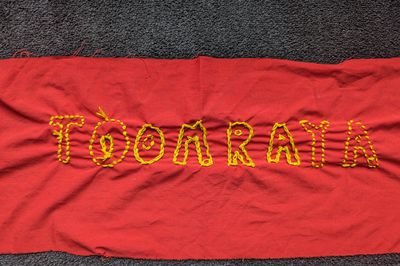 Toomraya
+ Info
Toomraya is a full name of my mother. it is a Thai name which mean chandelier.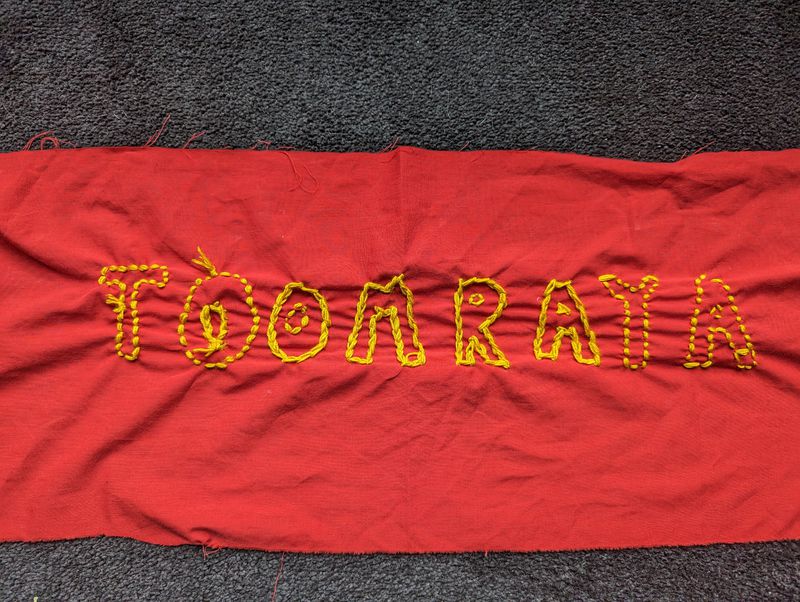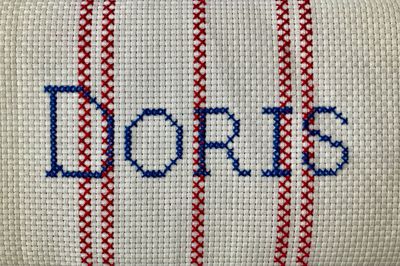 Doris
+ Info
I choose my Mum Doris in honour of her creative and giving nature which manifested in our joint Amah Bag Cross stitch project. Cross stitch being her favourite craft medium.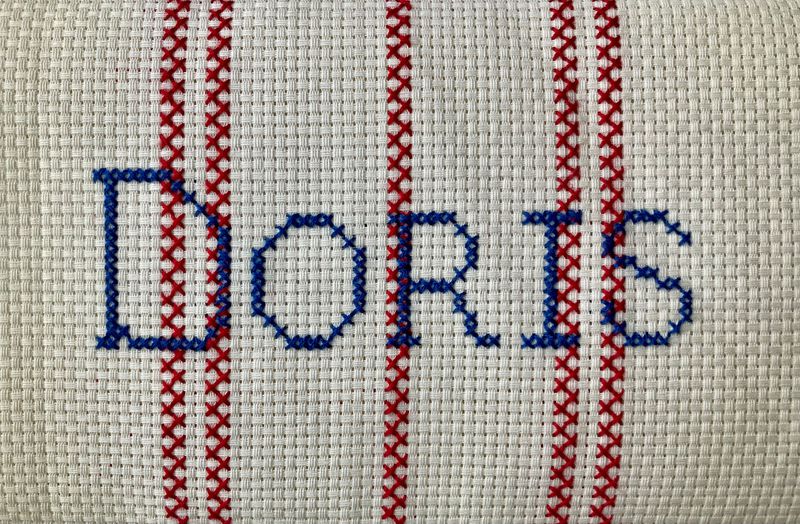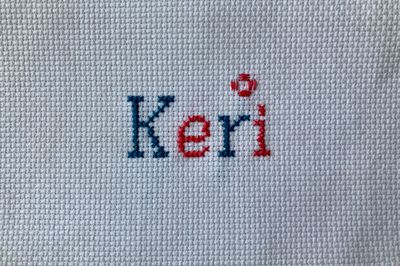 Keri
+ Info
Because Keri is kinda family and she really supports me and she showed me how to sew on a sewing machine.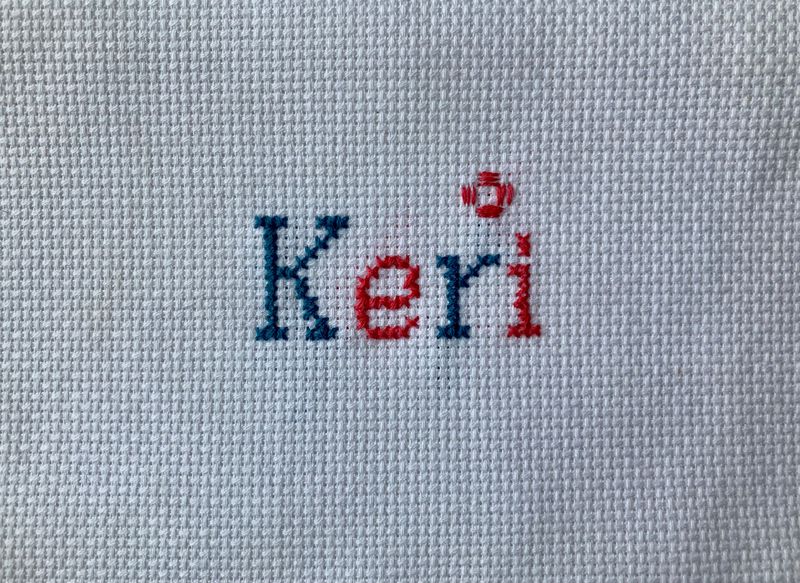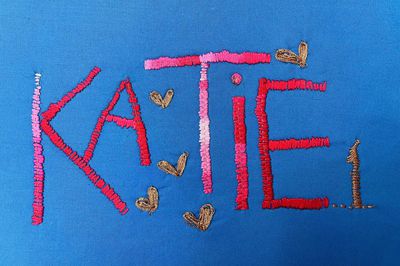 Kate
+ Info
Kate is her name. Although she was Katie 1 to so many as no other could sprinkle such magic the way she did.
Kindness. Strength. Charisma.
She has left us broken hearted but her radiance lives on.
Head of a saint.
Heart of a warrior.
Life of the party.
RIP 22.2.22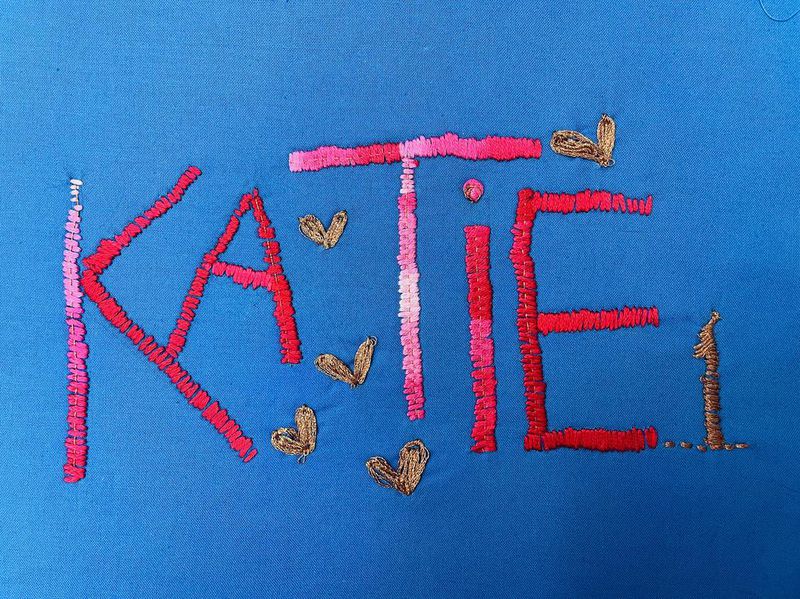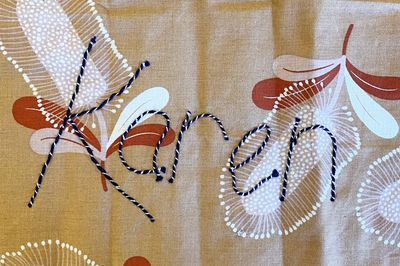 Karen
+ Info
Karen is my mother. Growing up, she provided me with a supportive and creative environment within which I could flourish and exercise my own creative pursuits. A wonderful Mum to me. She continues to be an advocate for creativity to this day.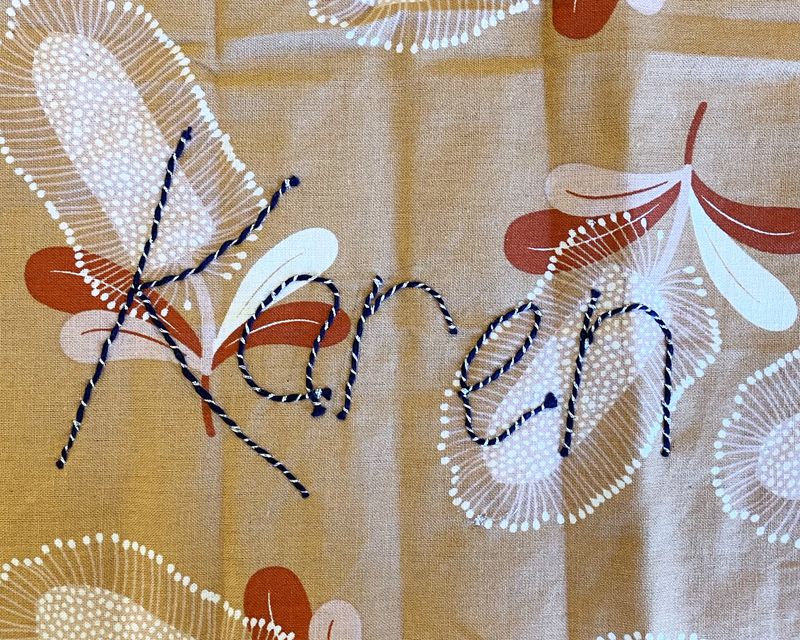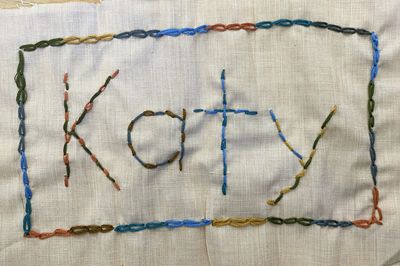 Katy
+ Info
Katy is my darling daughter. She is an inspiration to me everyday with her beautiful smile and sparkly blue eyes. I am proud of the intelligent and creative young adult she has grown into. She is an Architect and has a clever eye for design, colour, composition and thinks deeply about everything she enjoys in the arts/design field. The colours of her name in this embroidery reflect the colours she is mostly attracted to in the way she dresses. A carefully curated sense of design! I named Katy after the book "What Katy Did" as I loved the way it was written with a "Y" at the end when I was a young girl.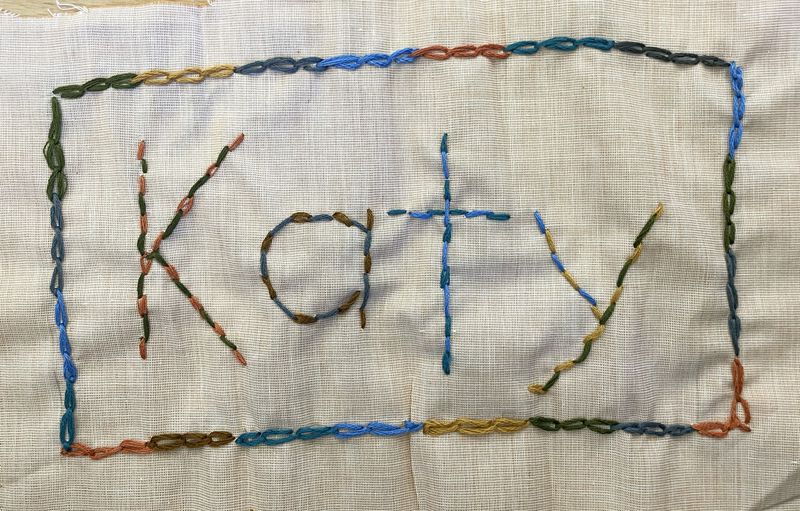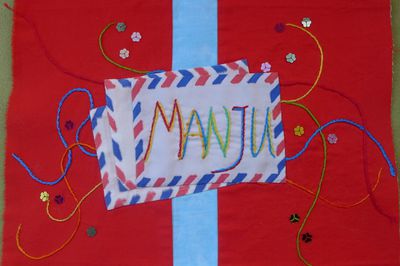 Manju
+ Info
I met Manju when we lived in the same house in Oxford in 1976 – a friendship sparked up between us. The writing started then. I had a job which meant travelling away, and she was not yet working so often out and about in Oxford – she sent me postcards about the things she saw and did while I was working or away. And when I left Oxford, as did she, we continued to write as well as visiting each other often. When I returned in 1980 to NZ the correspondence became even more important. We have never switched to email – nor were we ever phone buddies. She and I are both artists and appreciate the tactile nature of mail, and the way it encapsulates time and thought spent on writing and also on wrapping little gifts, or making cards. I have a still growing trove of letters, cards and gift packages.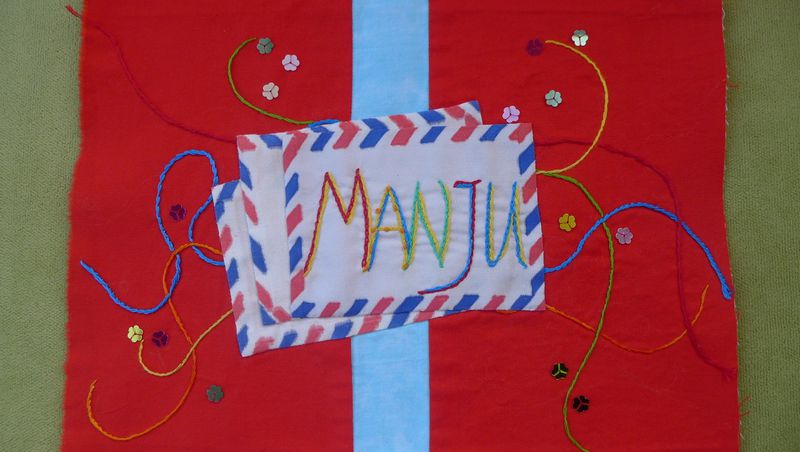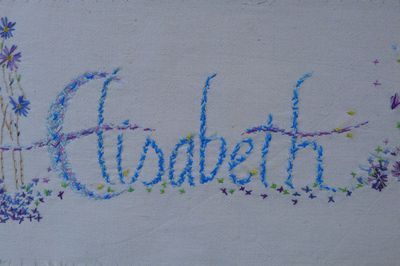 Elisabeth
+ Info
My daughter is Elisabeth with an 's', not a 'z'. When I look at the name Elisabeth I see a multitude – all the different aspects of our daughter Elisabeth as she has grown from a quiet, inquisitive but cautious baby into a, caring, confident, practical young woman. It is a wonder to be a part of someone's life as a parent and see them emerge as themselves. She has a strong caring streak, managed us firmly during Covid, but also has a fun, playful side. She has become an enthusiastic gardener who enjoys allowing things to grow as they will. The spelling of her name, which has given her something to explain every time someone asks her name, comes from Sweden, my mother's home and in particular from a dear cousin. When you name a child you think of the people you love and admire and would like that child to resemble, you don't think – will strangers be able to spell her name easily?!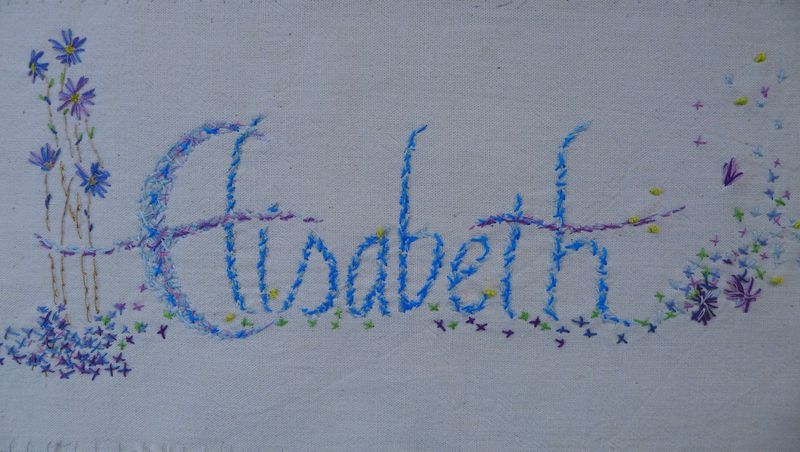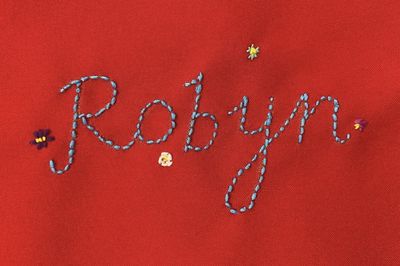 Robyn
+ Info
Robyn is my mother-in-law. She is Australian-born but has lived in New Zealand most of her adult life after marrying a kiwi and having 4 children. She's an artist who does wonderful things and has an effortless way of holding conversations and engaging with people. I admire her strength and the life she has dedicated to her family – her own kids, her grandkids, her siblings, her friends. She continues to amazing every day with her ambition and achievements.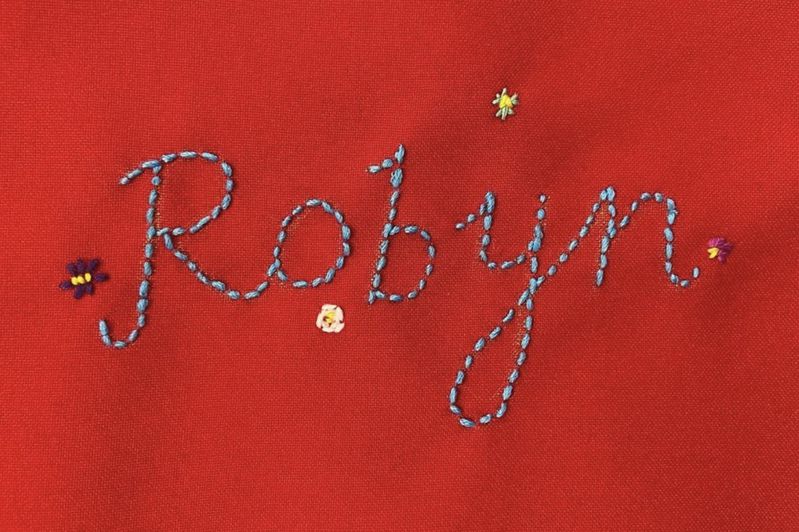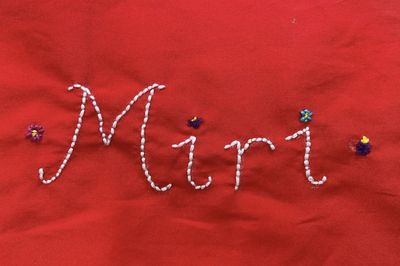 Miri
+ Info
Miri was my paternal grandmother. She passed away 15 years ago and would have been 105 this year. When I was a kid I grew up with my grandma across the street. I saw her every day. I would go to her house after school and she'd prepare afternoon tea for me. I wear her ring everyday which I greatly admired when she was alive. I loved her very much and think of her often. She had 4 sons and I have 2 sons. I like to think we were destined to be the same like that.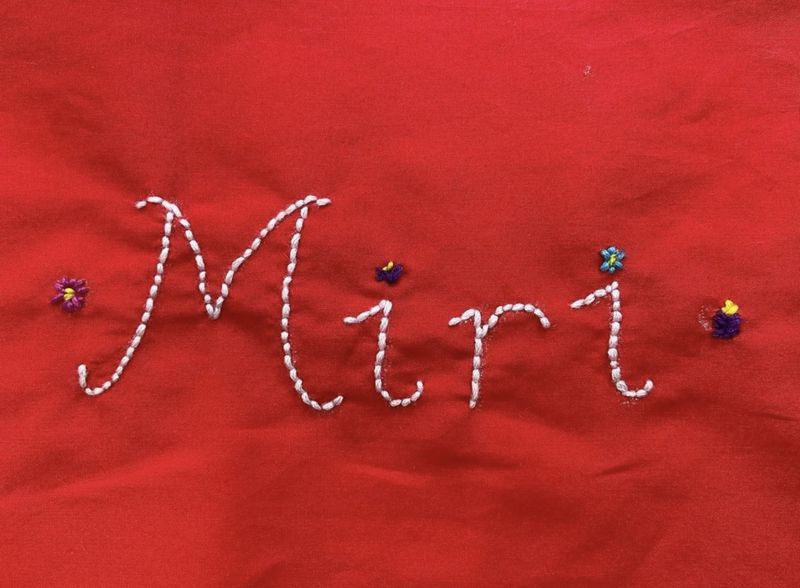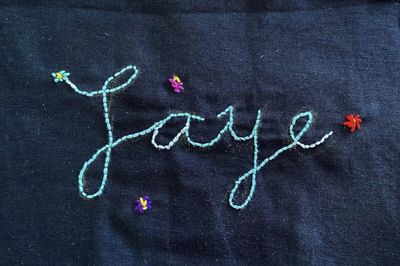 Faye
+ Info
Faye is my mother, we celebrated her 70th birthday earlier this year as a family at a lodge in the Rangitikei. It's hard to put into words how much she means to me. So I'll just say, I strive to be like her – her kindness, her selflessness, her dedication to her family. She has looked after me every day of my life and I'm incredibly grateful for everything she is and that she is mine.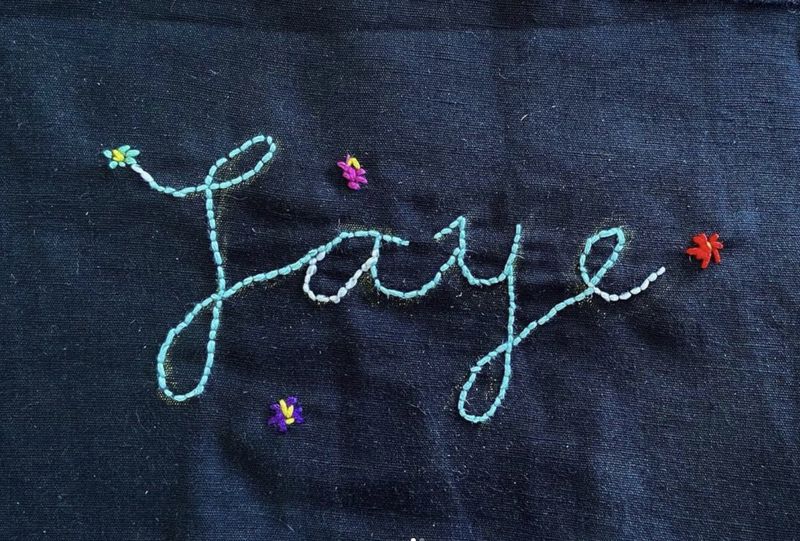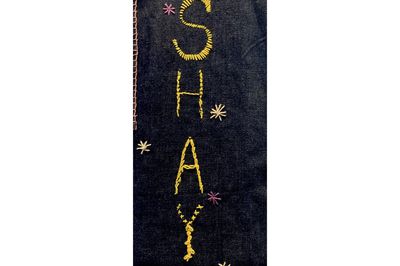 Shay
+ Info
Shay is my daughter. She is tall and thin (hence the long portrait format). She has amazing curly (but difficult) hair (bad French Knots). Shay's life is sometimes challenging but she is a true star and we love her.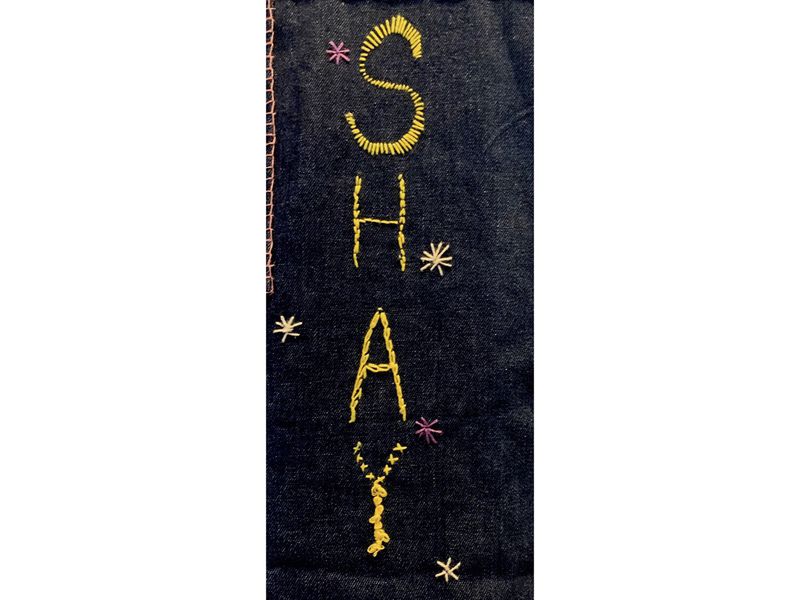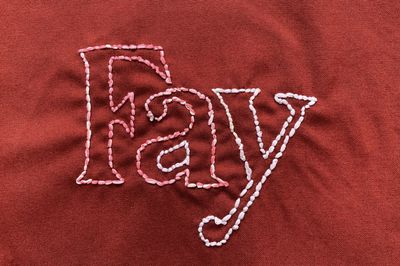 Fay
+ Info
My mum Fay. Always there for me, my brothers, my father and beloved Grandmother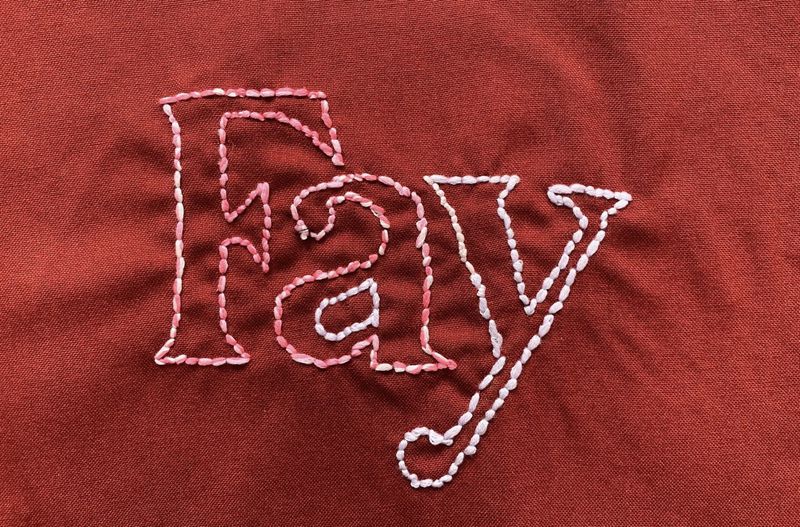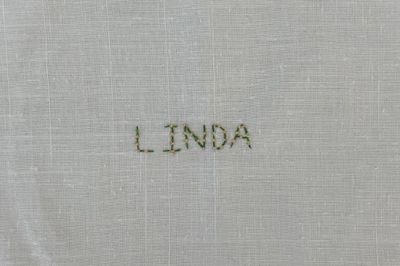 Linda
+ Info
On Valentines Day each year I used to play pranks on my grandmother. One year I tagged her front fence with a pink love heart. Another time I gave her a kitten in a basket with a bow around its neck.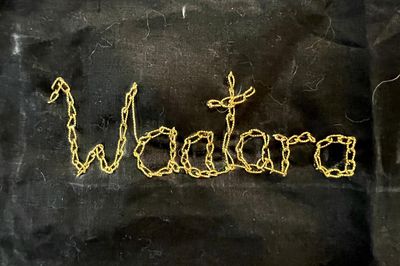 Waatara
+ Info
I have chosen Waatara as my name to embroider, as she was born a man, but became a fierce woman who brought back the mana to our whānau.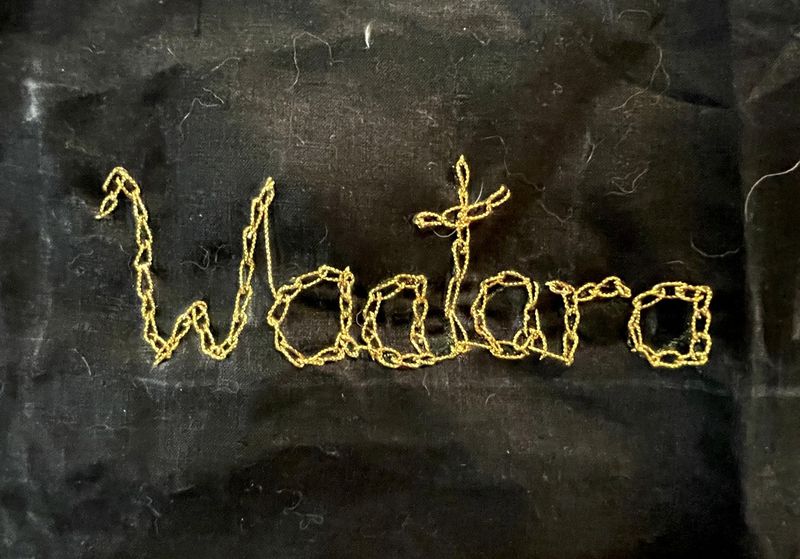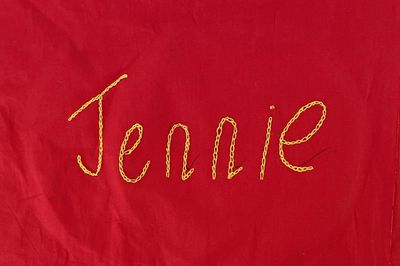 Jennie
+ Info
Loyal, energizer bunny, generous, Australian, only child. All these elements combine into the magnificent Jennie Stone. My mother-in-law-outlaw by whose example I have learnt so very much these last 40 years. Jennie's faith and loyalty to foundational beliefs and family, regularly inspire me; whilst her unstoppable ability to get things done wows me, as does her wonderful candour. Thank you for your love and friendship Jennie.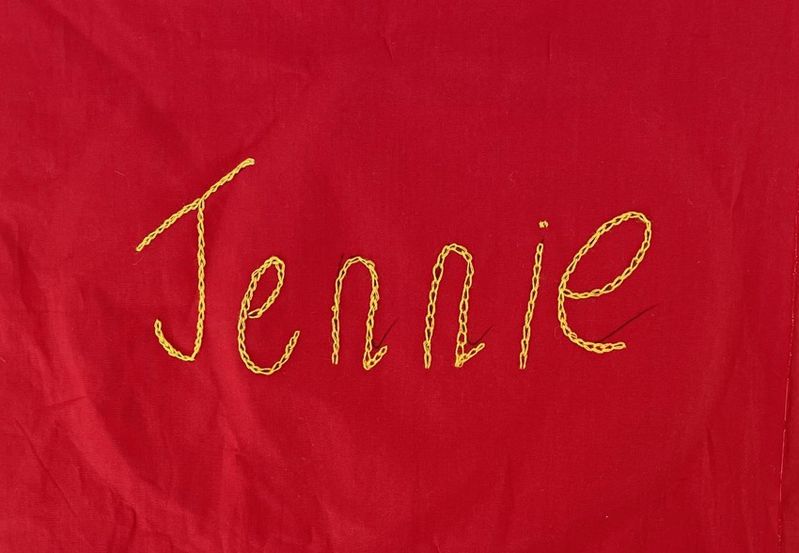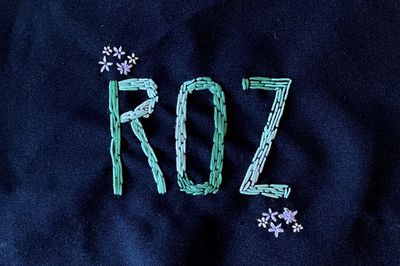 Roz
+ Info
My dear Aunty Roz (Rosalind Gillespie) was an inspiring feminist. She made experimental dance films and in later years crafted glass jewellery. She was always a tremendous champion of my work as an artist.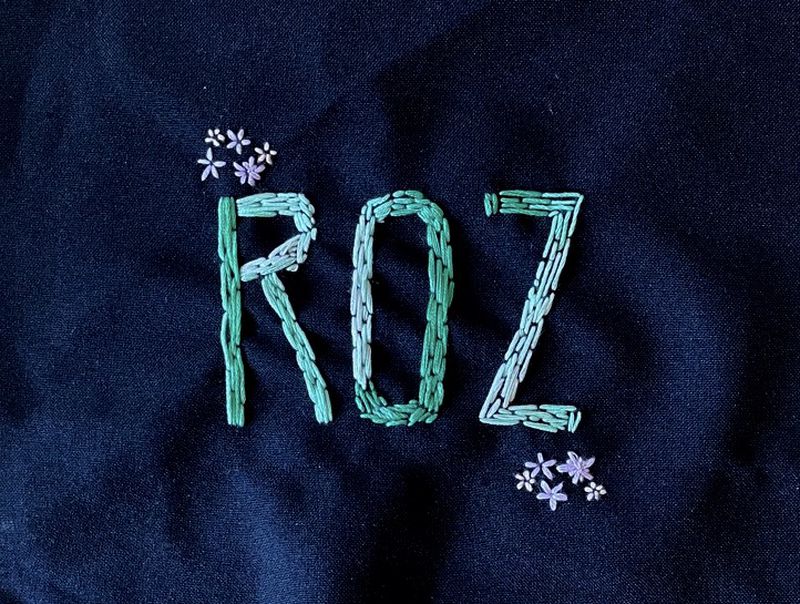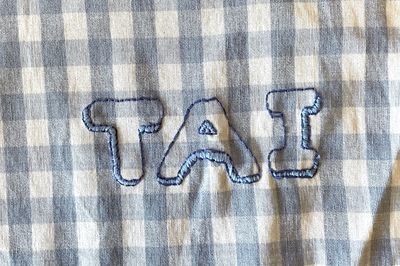 Tai
+ Info
I've always been a big fan of watercolour and I find the way that Tai works with the medium so inspiring, especially the layering. Looking at her pictures makes me feel so happy.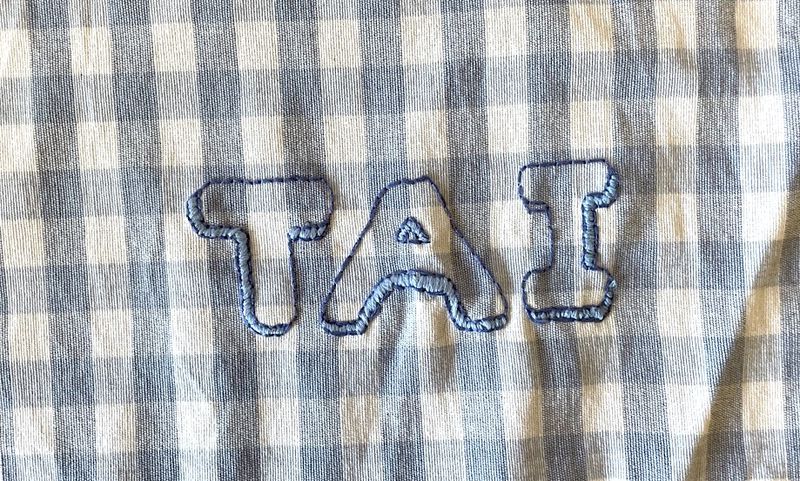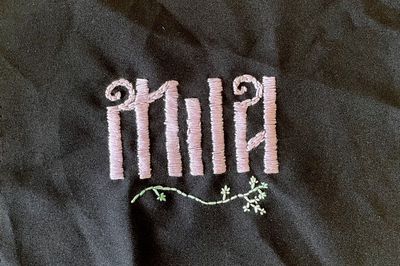 Mila
+ Info
My dear daughter Mila (Milochka) inspires me everyday with her incredible creative mind. She has struggled with some serious health problems but her artistic spark never dwindles.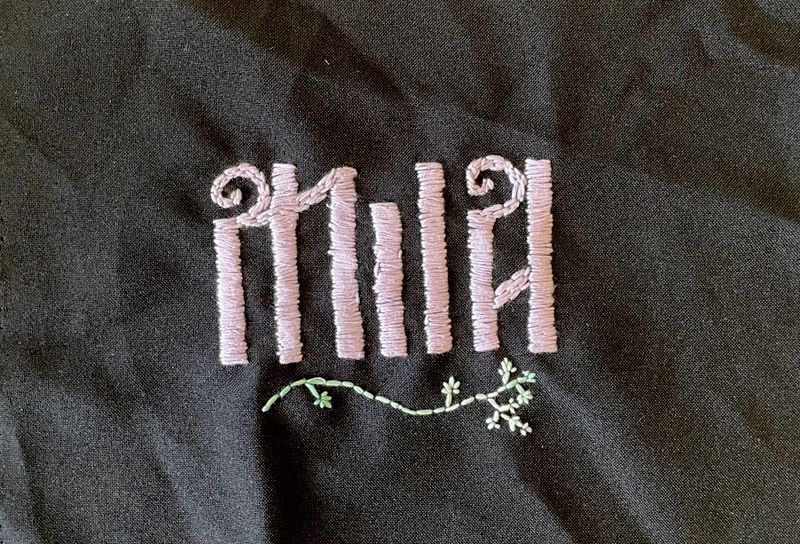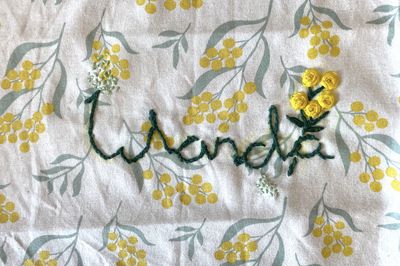 Wanda
+ Info
Mama (Wanda) is a very kind person and I love the art that she makes.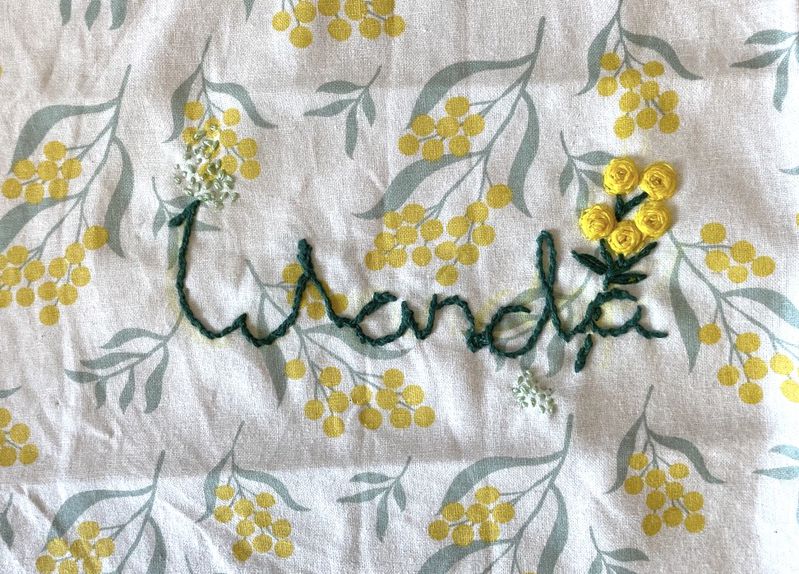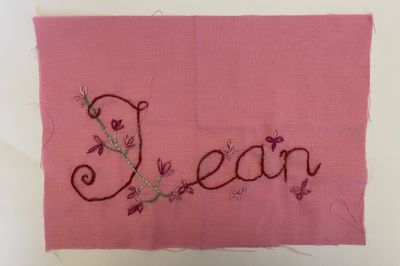 Jean
+ Info
In memory of Margaret 'Jean' Dyer (1925 - 2005). Born in an era when women were taught handcrafts, my Mother excelled. She was an accomplished sewer, embroiderer, seamstress, costume maker and artist. She trained to be a Teacher before she left the profession to become a wife and mother of seven. Her sewing and costume making was put to practical use while raising a family. She took up watercolour paitning in her retirement years and left many paintings to her children and extended family which are much loved and admired. Jean was a supportive and loving Mother who was much loved nd is deeply missed.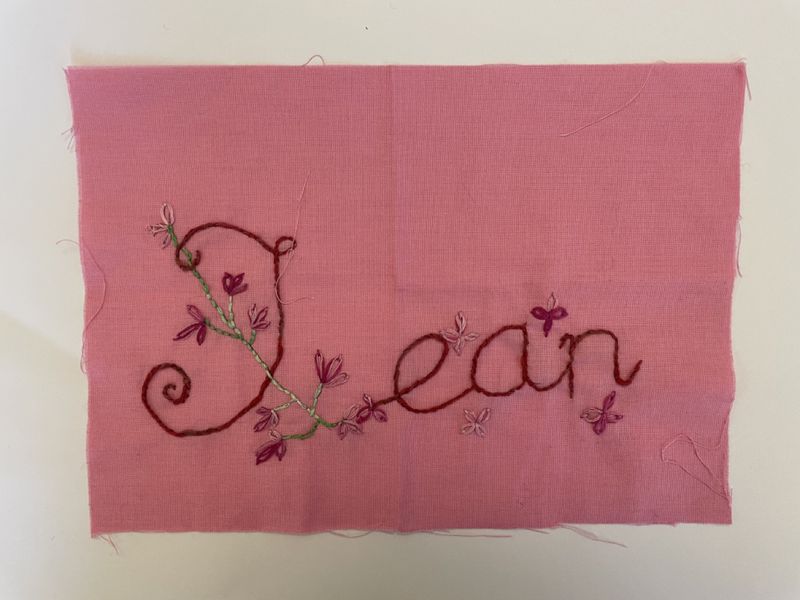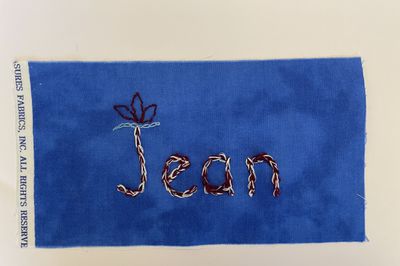 Jean
+ Info
Jean North was my mum, she passed away last year aged 91 Mum let me loose on her Singer Treadle machine when I was 8 years old. She taught me to sew and inspired know and inspired me to be creative. Mum loved receiving my handmade gifts and showing themoff to everyone. Mum also supported me in everything I did. She made it clear early in my life that what I did was just as important as my brothers. My mother was my inspiration and support.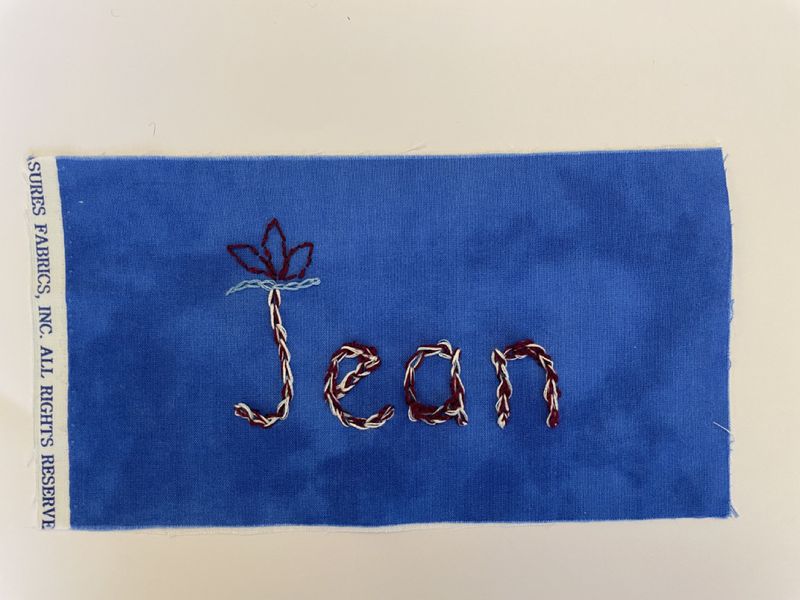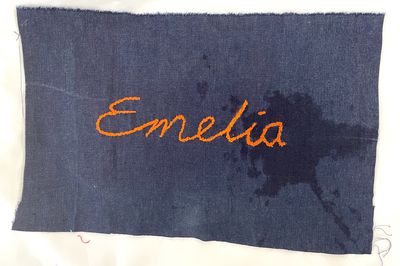 Emelia
+ Info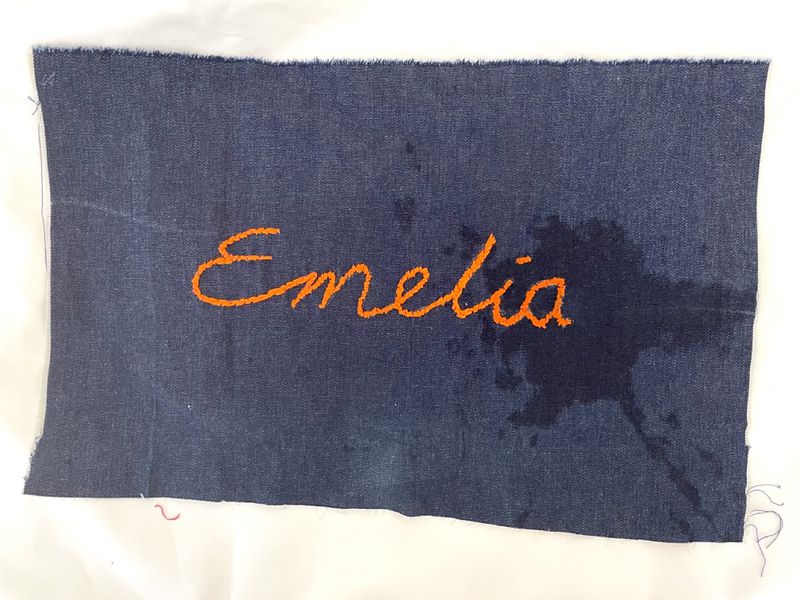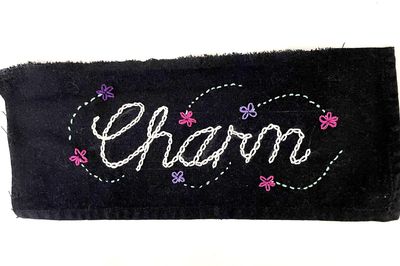 Charm
+ Info
My mum, who made an incredible comeback after suffering a debilitating stroke. between the lockdowns of 2020. She now lives a new-normal life at home, with help from my Dad. Though she she is not able to embroider like she used to as she says, 'that would require two good hands.' Dhw walks daily at Cornwallis and works on her garden, defying all expectations of the doctors at hospital.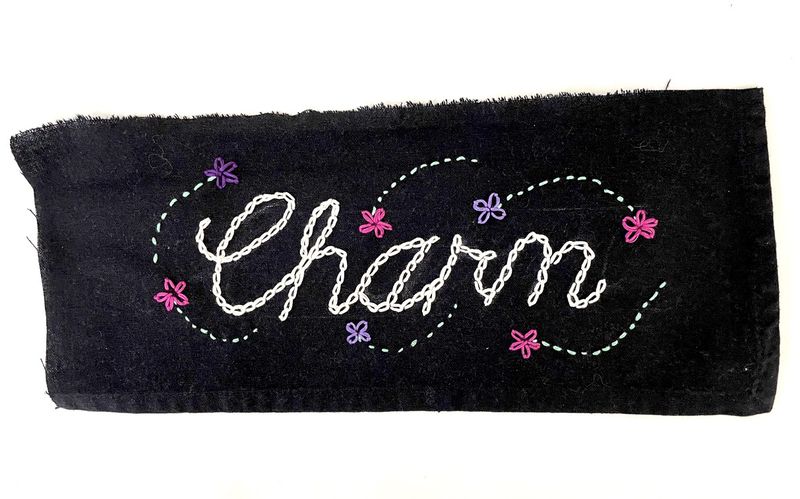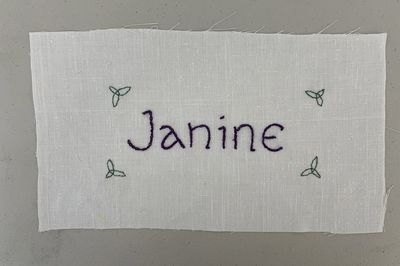 Janine
+ Info
Margaret and John's daughter, Derek's sister, my cousin. Feel lucky to have has a cousin who was also a dear friend. We miss you!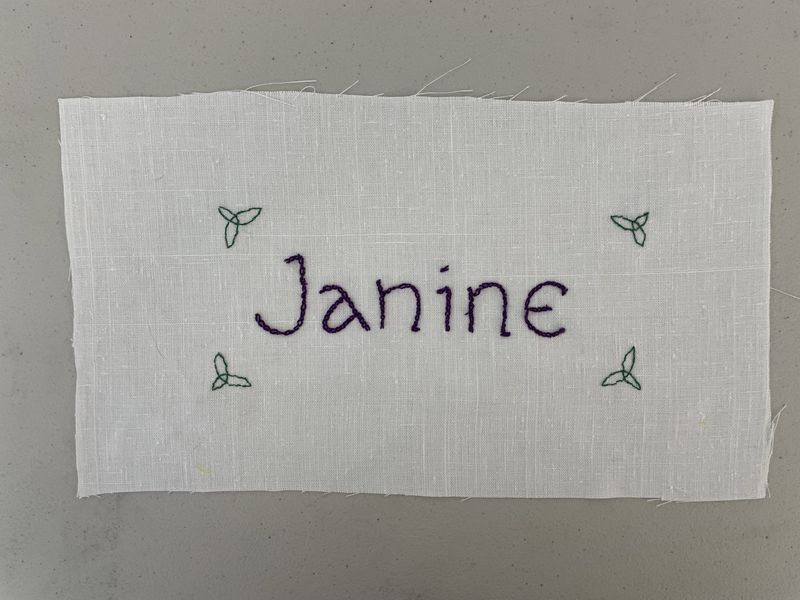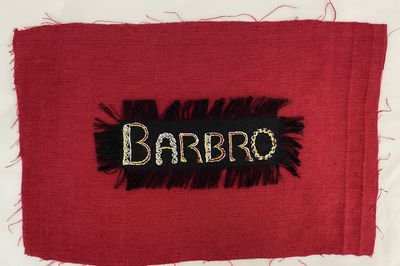 Barbro
+ Info
My mother was a person who in many ways did stand out, shine, but not as much as she wished. So this represents who I think she would have liked to be – a side that sometimes came out rather explosively. As I get older I understand my mother better, and realise how much I learned from her about navigating life as a woman. I later made a prettier version – to commemorate her talents in sewing and design.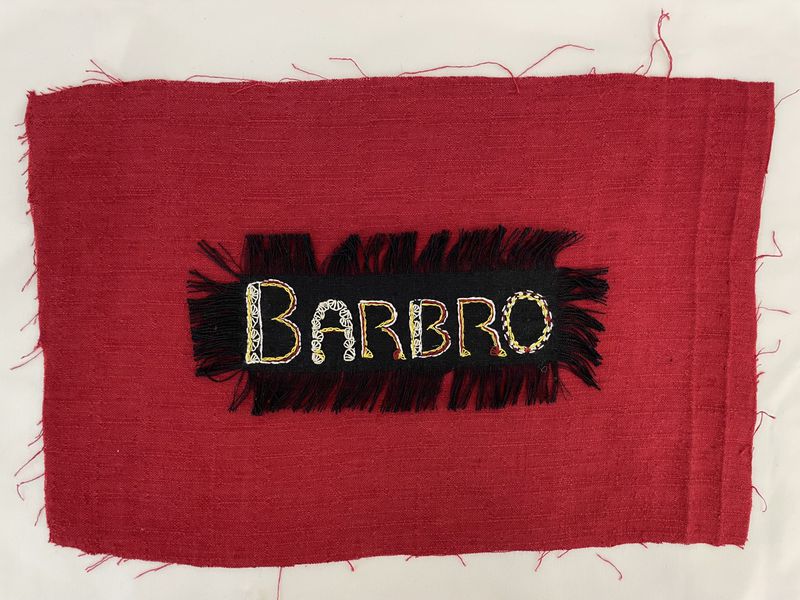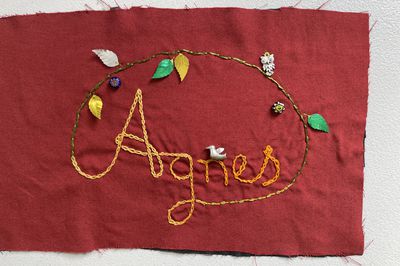 Agnes
+ Info
I used chain stitch in this embroidery not only to represent the links that bind me to my wonderful mother, Agnes, but also to represent the links that time forges between the different periods of my life. Interspersed in the chain which circles my mum's name is my love for her and some precious little tokens rescued from a devastating fire which razed my family home. My mum and my home may be gone, but the links remain.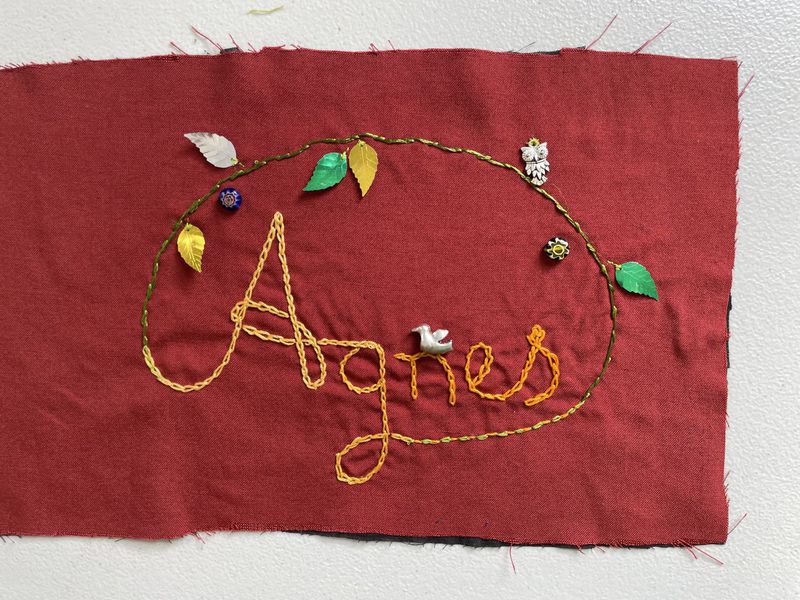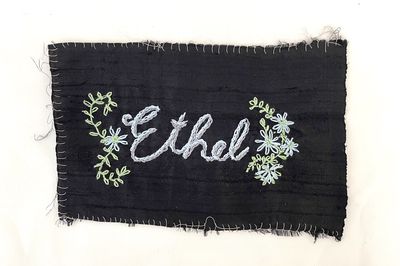 Ethel
+ Info
Ethel Beatrice McCahon, nee Ferrier (1888 to 1973 ) French Bay, circa 1954 I was very excited to hear that Dad's parents, Granny and Grandpa McCahon, were coming up from Geraldine to stay with our family in Titirangi. We all loved them as Mum and us children had lived with them in Maori Hill, Dunedin. On the day of their arrival I took all the shortcuts home and did not muck about. I wanted to be there to greet them when they arrived. Suddenly there they were at the door and it was hugs all round. We crowded into the living room and listened to Mum welcoming them and exchanging news of the South Island families. Mum ducked around the corner into her tiny kitchen to tend to the dinner leaving my older sister, my little brother and myself to entertain them until my big brother got home from his paper run. Then Granny snapped open the clasp on her big handbag. We were all eyes, full of anticipation. Sure enough out came a large packet of blackballs. Granny opened the bag and we waited in turn for the invitation, "Would you like a blackball, dear?" We would take one and then we would see her granny grin, "Please take another one , one for each cheek." When I married my Māori husband Ken Granny was the first one of the extended family to meet him and to welcome him. She was delighted to become a great grandmother to my three sons. She was always the hub of our extended family, everyone wrote to her and she would send the letters around the families to keep everyone in touch . Unfortunately when she died this correspondence finished.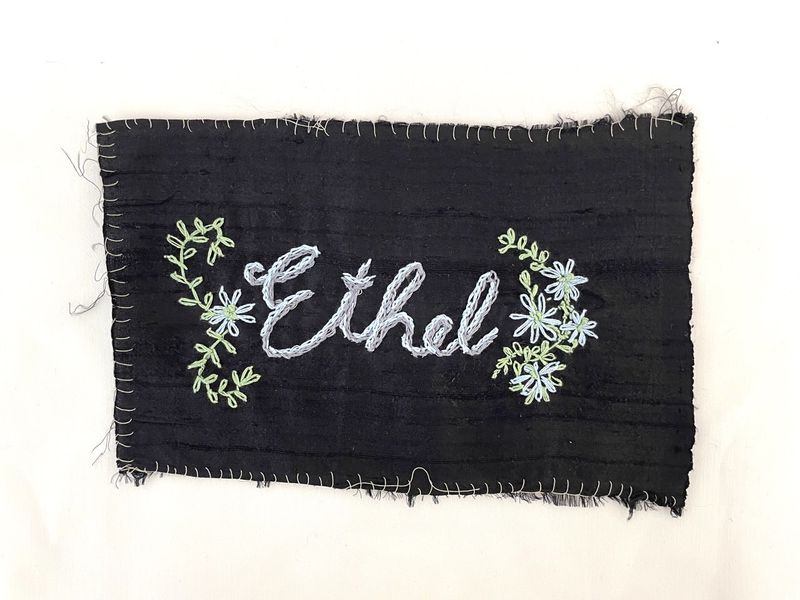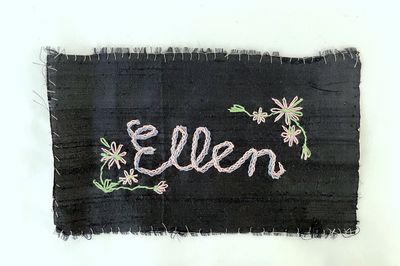 Ellen
+ Info
Ellen Hamblett, nee West , 1885 – 1961. Ellen Hamblett was the eldest child of Joseph and Elizabeth West, immigrants from Ireland to Otago. They settled in Lawrence and Joseph joined the Otago police, he had been a guarda in Ireland. Unfortunately for Ellen her mother died when she was 16 and she became her father's house keeper. But one day a new curate came to pay a visit and he realised the she was exactly the kind of woman he was looking for to share his life with. The Rev William Hamblett proposed and Ellen accepted. Ellen had six children, three daughters followed by three sons. My mother Anne McCahon was her second daughter . I did not know my grandmother well , I hardly ever saw her. At the time we stayed at the vicarage she was very involved in the affairs of the parish of St Matthews in Dunedin. By this time, early 1950s, her husband was an Archdeacon of the Anglican church, and her role as his wife included attending a lot of meetings and entertaining visitors. My main memory of her was that every evening she would come to my bed to give me a kiss and wish me good night. She was always in her nightclothes and she had funny white pipecleaners twisted in her hair. Later, when we had moved to French Bay I looked forward to the thoughtful and kind presents she sent me. I know that her children, my older sister and my cousin had great respect and love for her . I regret not having had the chance to know my grandma Hamblett better.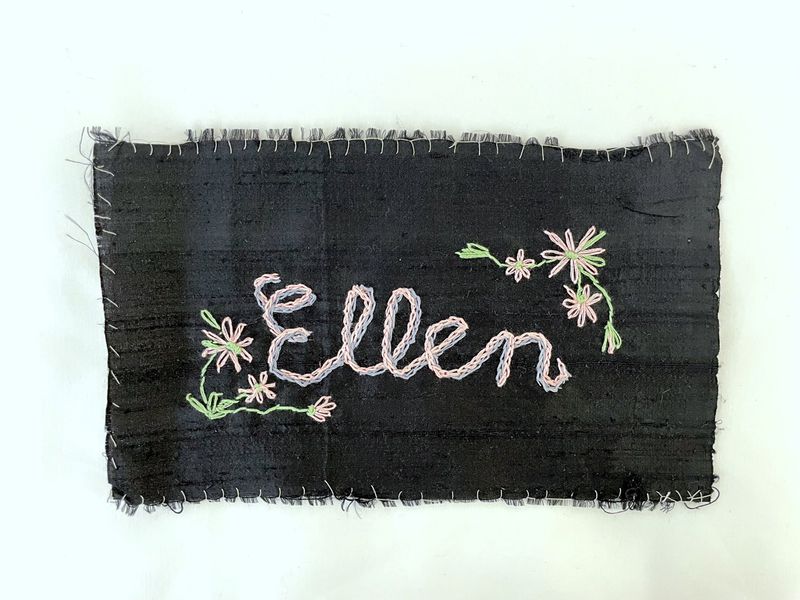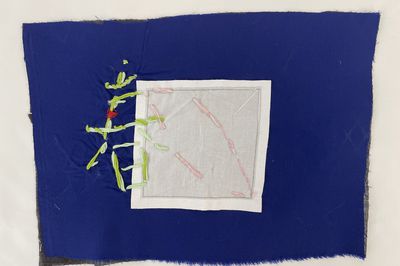 春
+ Info
春 is my nainai. She is great, and I love her :) 春 is my nainai. She is great, and I love her :) 春 is my nainai. She is great, and I love her :) 春 is my nainai. She is great, and I love her :) 春 is my nainai. She is great, and I love her :) 春 is my nainai. She is great, and I love her :) 春 mean 'spring' in Mandarin, so I used green & red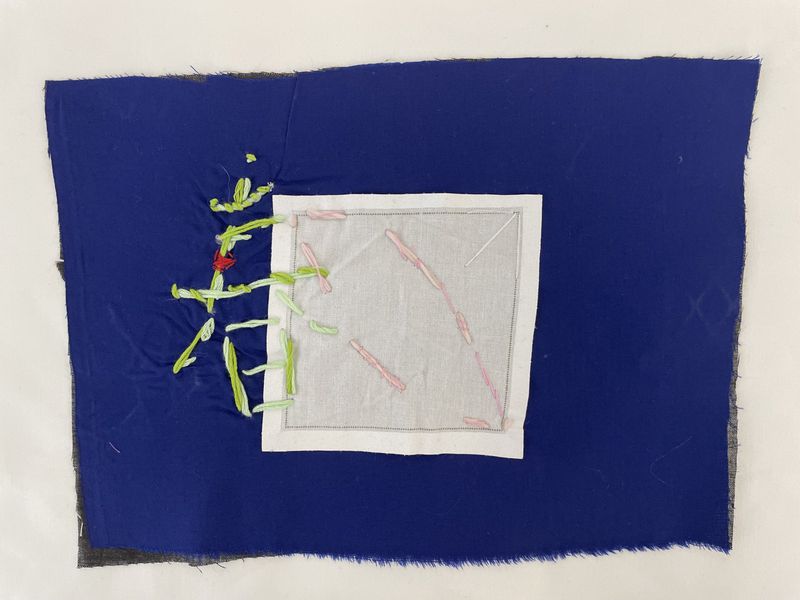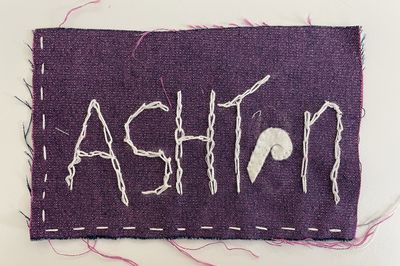 Ashton
+ Info
Ashton is my Granddaughter, she is 6. I made this because I miss her and she is awesome.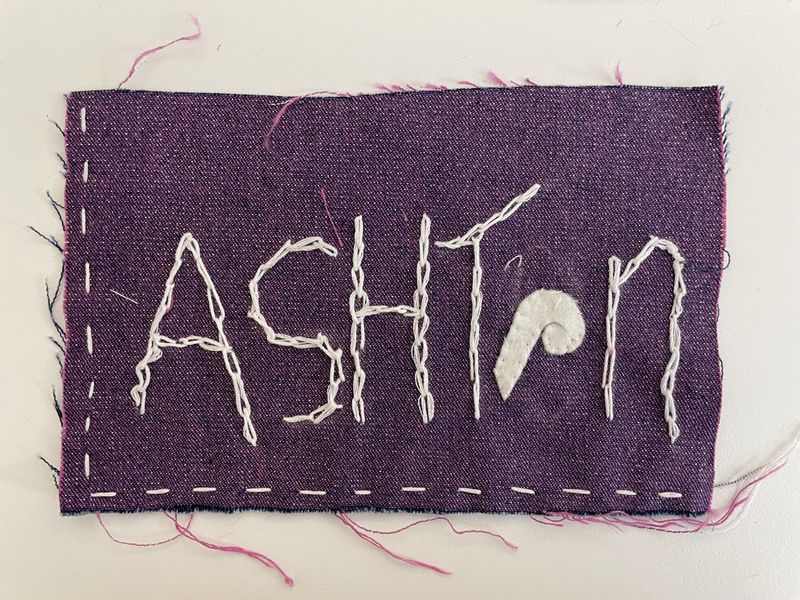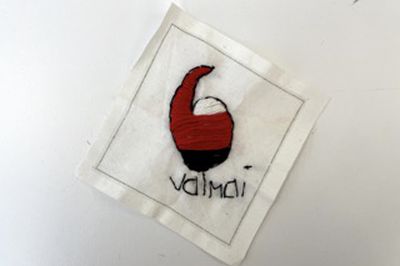 Valimai
+ Info
Valmai is my Nana, she brought me up, she was English, and married my Grandfather who was Māori/Jewish. They both brought me up, and they passed away by the time I was 15. I miss my Nana everyday.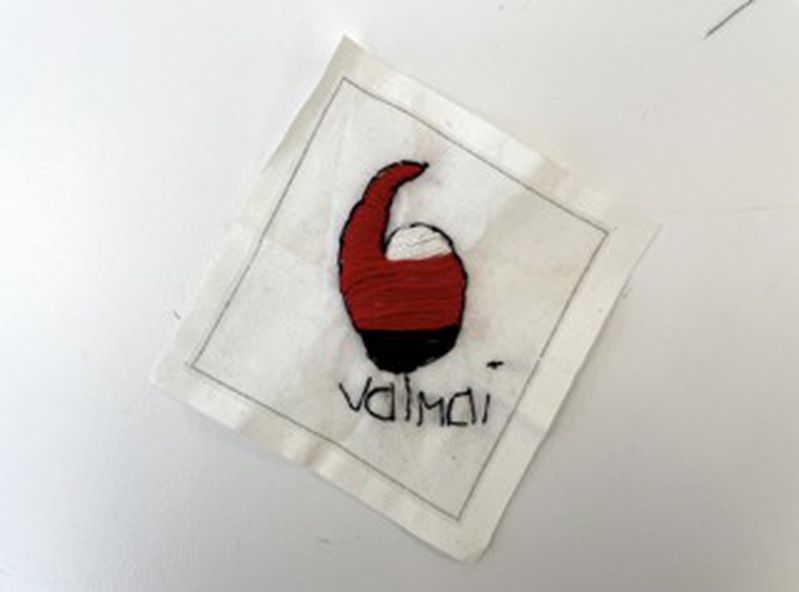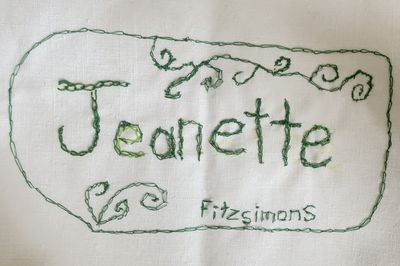 Jeanette Fitzsimons
+ Info
Jeanette Fitzsimons (born 1945 died 2020) A Leader of the Green Party New Zealand (MP 1996 - 2010) see biography 'A Gentle Radical' by Gareth Hughes. Calm, knowledgeable, determined, gracious, a champion for environmental health, protection and values. An honest politician who truly worked for the good of Humanity and the Earth.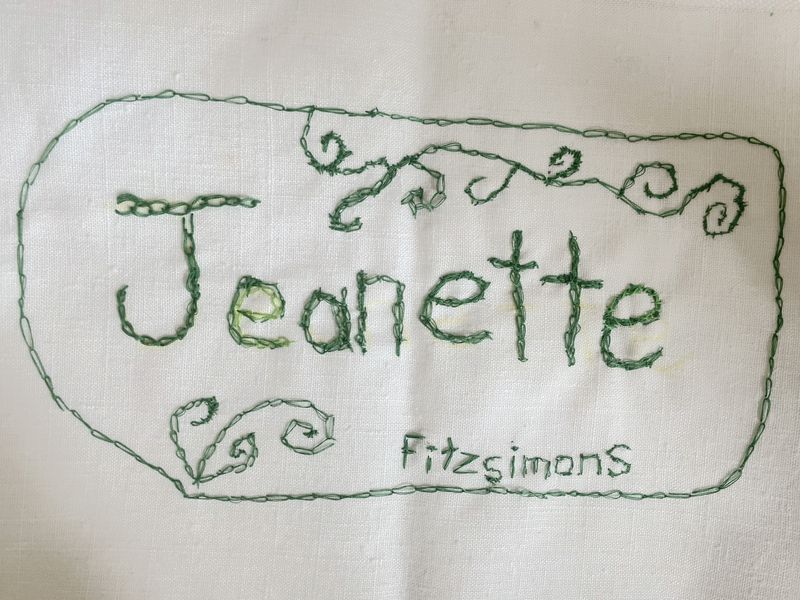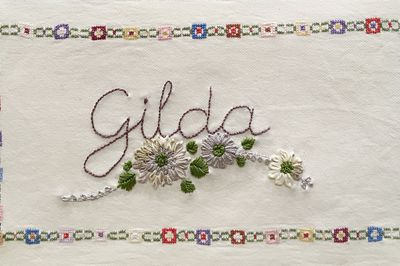 Gilda
+ Info
Gilda is my Mamma. She passed over December 2021. She had many skills which included sewing, knitting, cooking, gardening and embroidery I used my Mamma's very old embroidery hoop to make this piece. Our connection was and always will be very strong I feel her with me every day. I am grateful for this.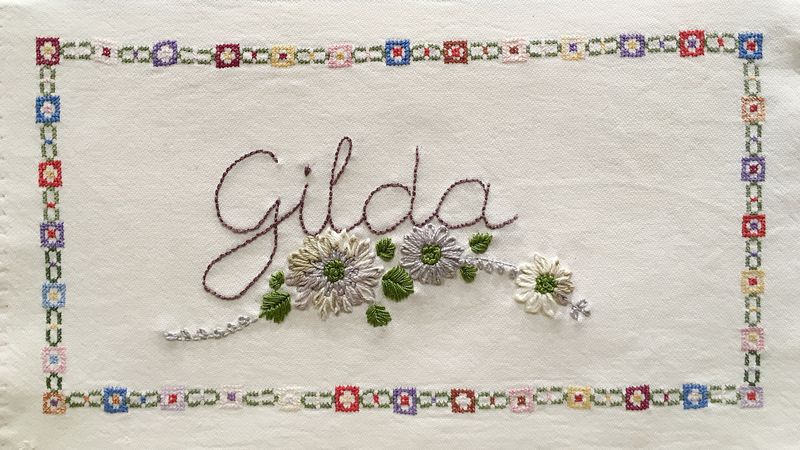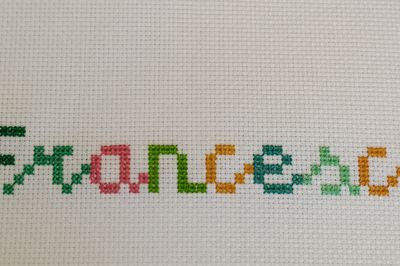 Francesca
+ Info
Francesca is a constant inspiration. She is smart and kind and dedicated and funny. As Dr Fran she works with those with eating disorders and body image issues. A stressful role that she manages with creative pursuits including embroidering, crocheting, knitting, painting, and gardening. In particular she cross stitches feminist messages, hence my choice to cross stitch her name. She enjoys growing fruit and vegetables so I added an apple and a pear. I am so grateful that she is my daughter.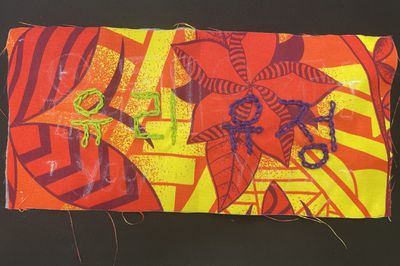 유리  유정 (Yoori  Yoojung)
+ Info
A celebration of sisterhood. Growing up we were always referred to as a set, Yoori Yoojung. People often mistook us for twins. Wherever she went, I followed - much to her chagrin. And oh the fights we had - some involving makeshift weapons (pencil and chair!). Now she lives halfway across the world. The only person who can cause me to erupt with laughter and rage with just a look. I miss her everyday.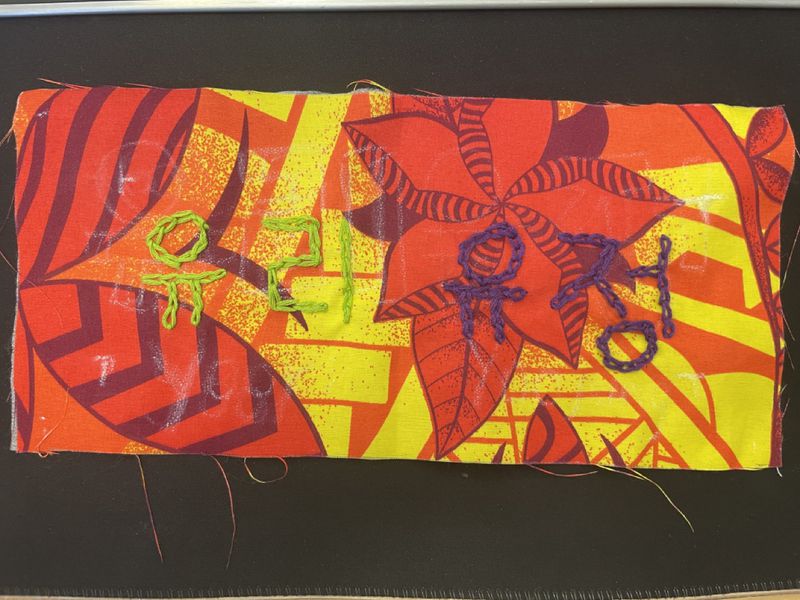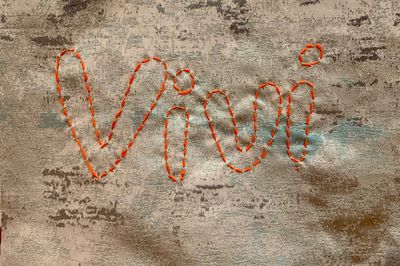 Vivi
+ Info
Vivi (my daughter) has been an inspiration to me every since she was born. Vivienne means 'alive' and she has lived up to her name every day. I love that she chose Jacinda as her person to celebrate and that she took part in this beautiful project.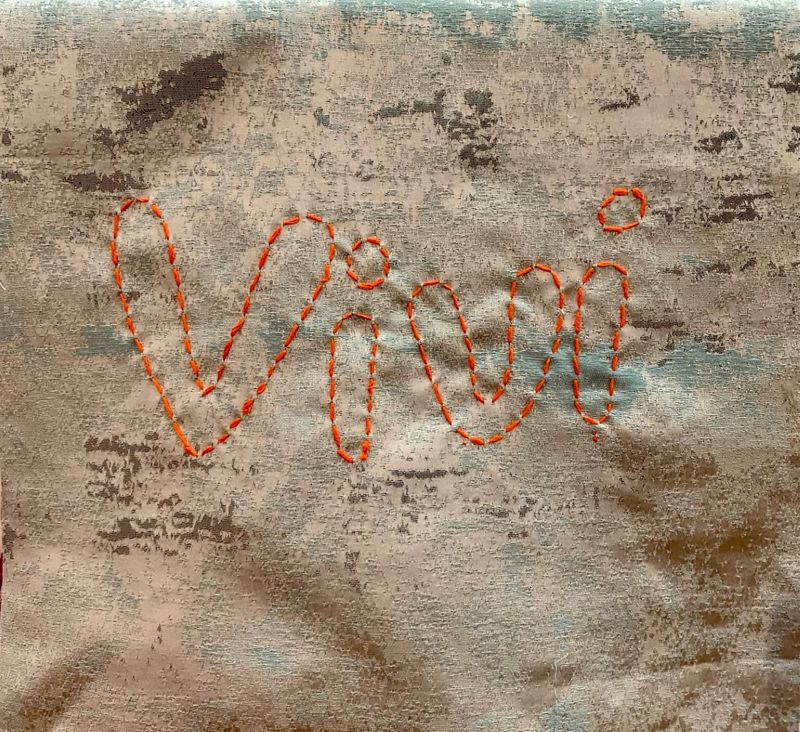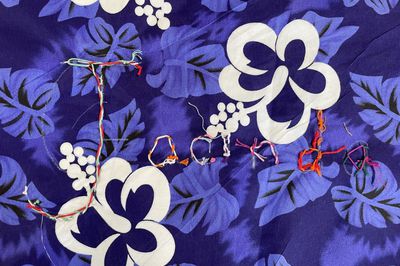 Jacinda
+ Info
Jacinda was New Zealand's past Priminsta. She did some grat things! She was a hard worka and had a child called Neve, and it was my name when I was a baby. I hope to be a little like her when I grow up.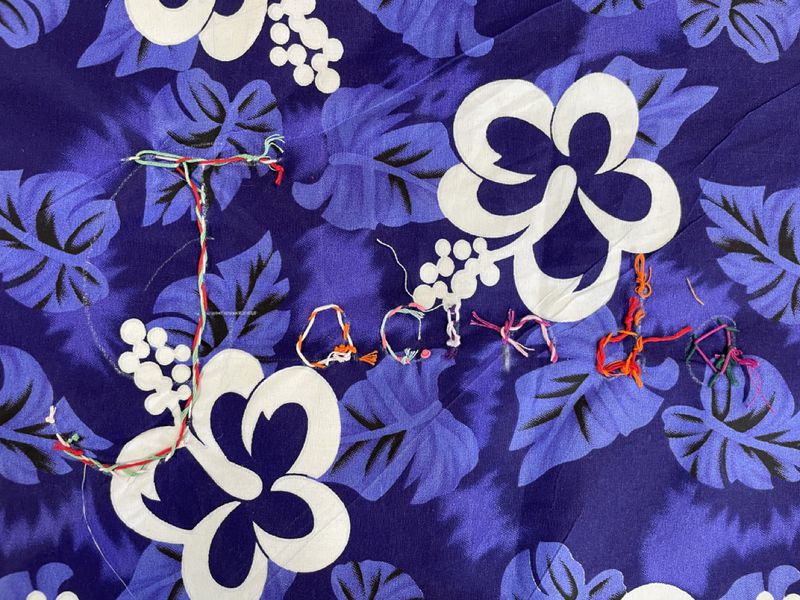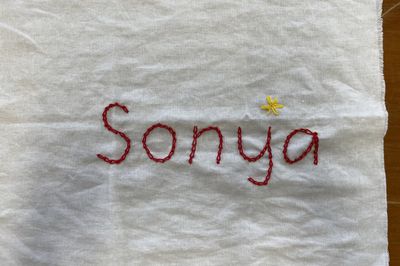 Sonya
+ Info
My daughter Sonya grew up surrounded by pins and needles. She has become a talented stitcher.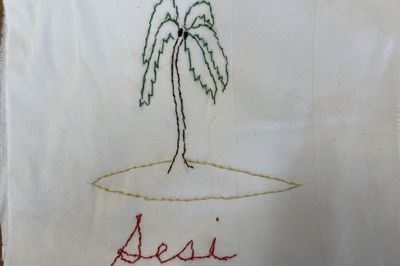 Sesi
+ Info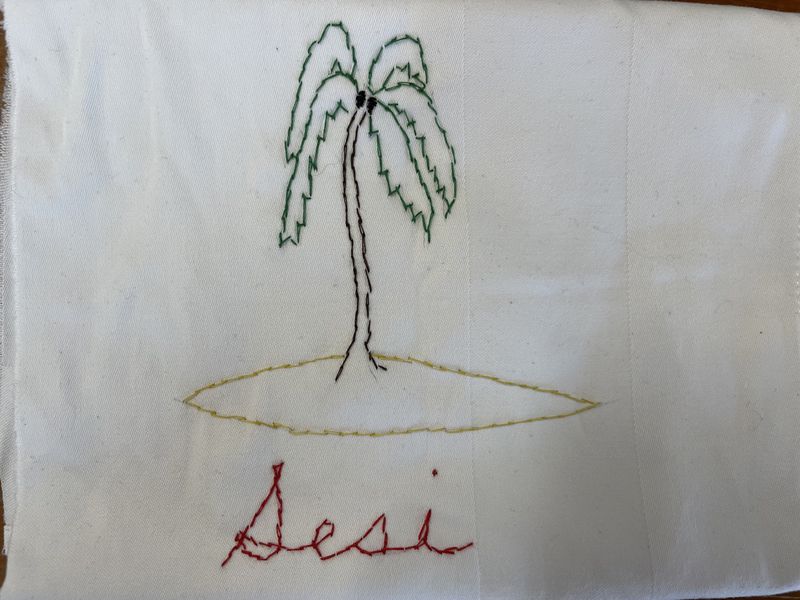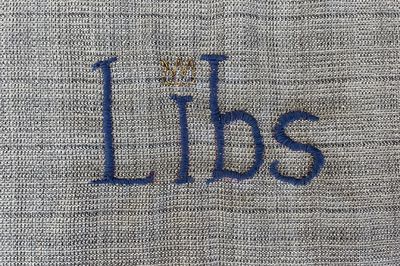 Libs
+ Info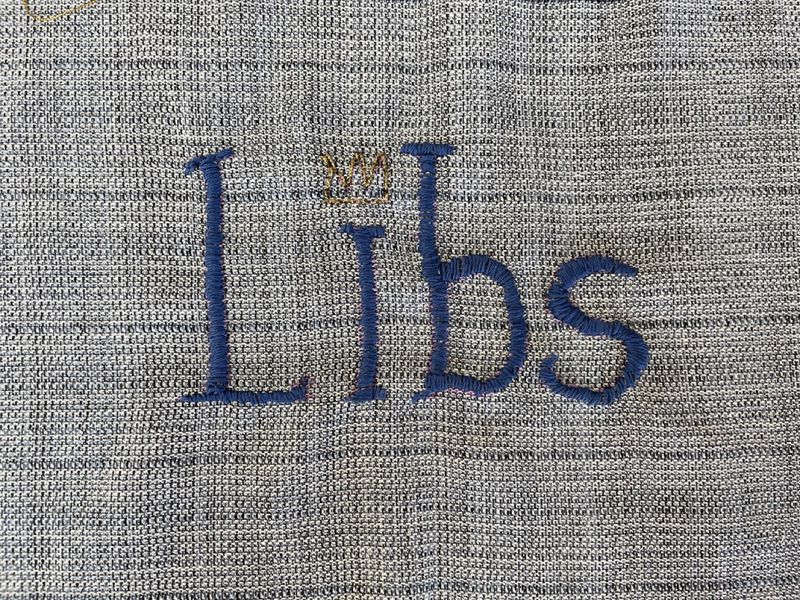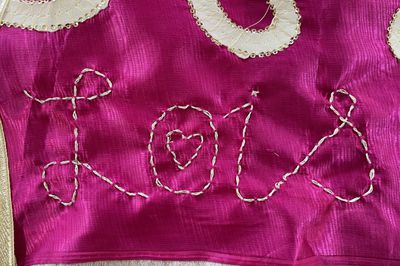 Lois
+ Info
My beloved grandmother who was the life and soul of every gathering. Funny and outgoing, loved her family and her sisters. Loved life and lived it to the fullest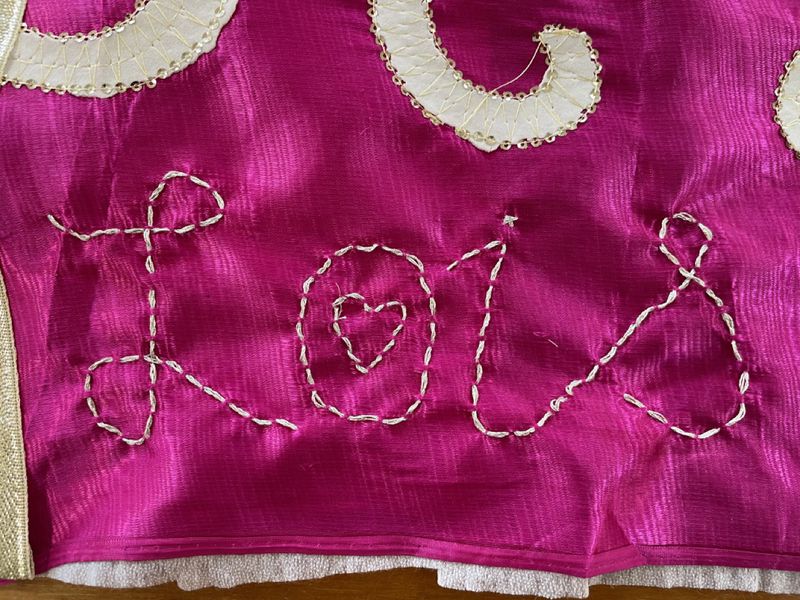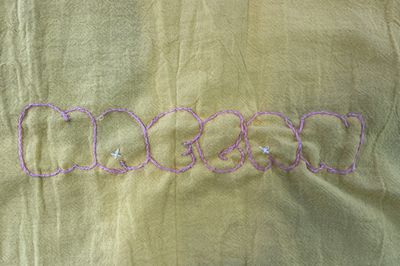 Maegan
+ Info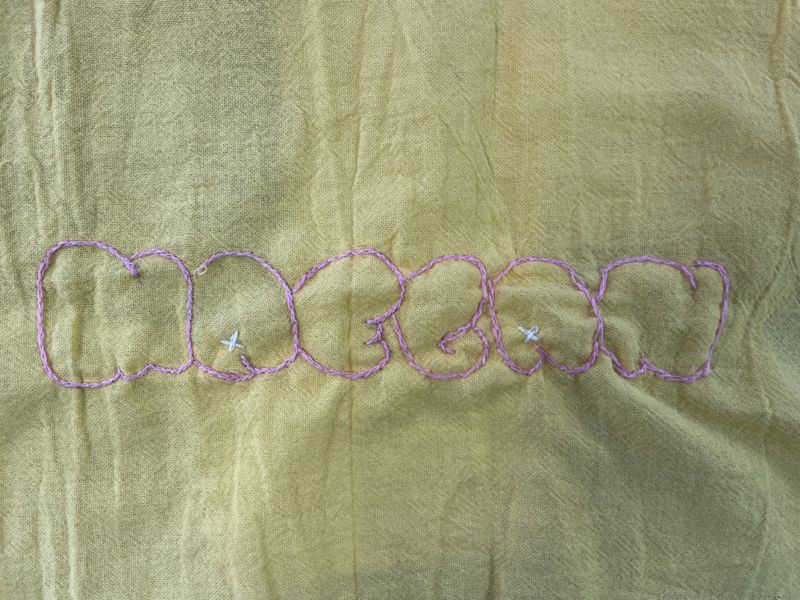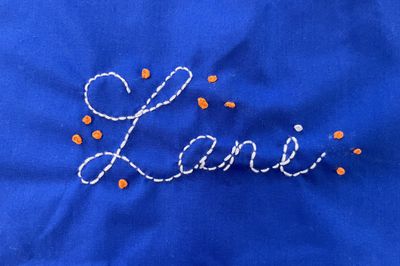 Lani
+ Info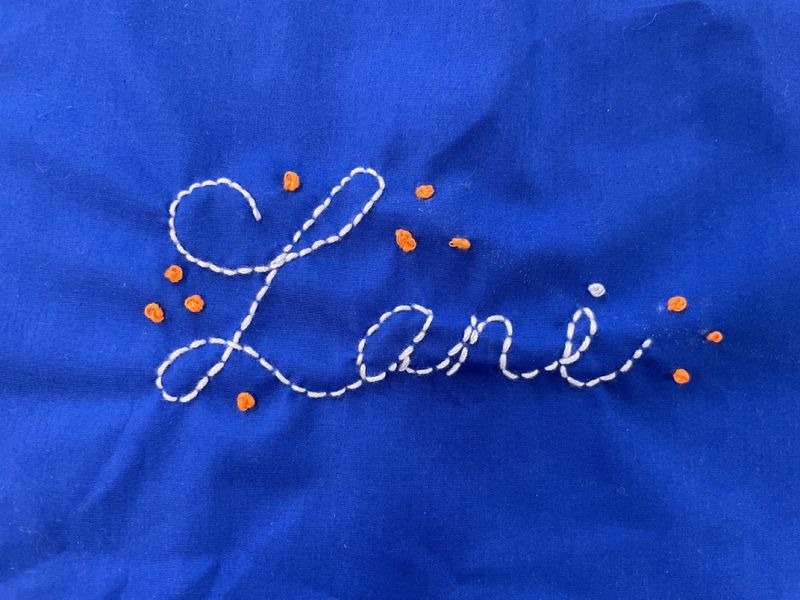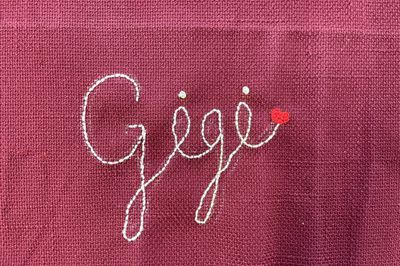 Gigi
+ Info
Sweet child of mine. Love of my life, a constant teacher and mirror. The most precious being.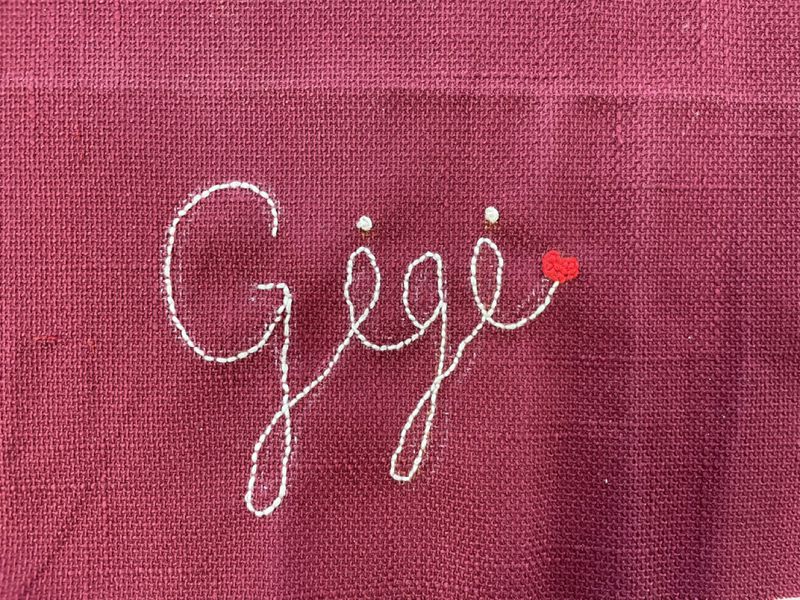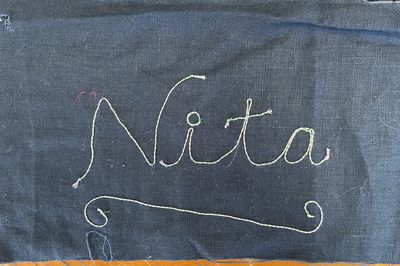 Nita
+ Info
Nita is my grandmother's name. She was an accomplished knitter and made me beautiful hand-knitted sweaters when I was a child that I refused to wear because I couldn't stand the scratchy wool. She loved tomatoes and cheese on a cracker.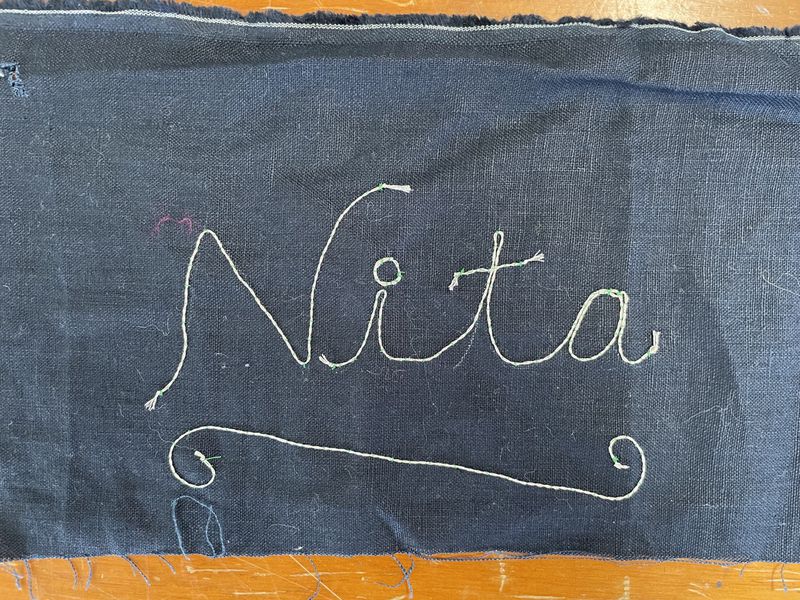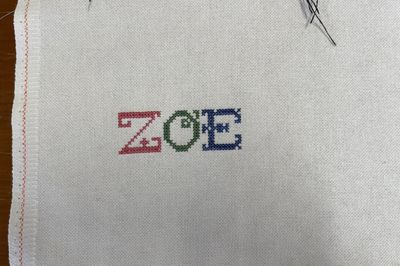 Zoe
+ Info
I embroidered this for my mother who died aged 99.5 in 2021 still living in her home. The colours chosen were her favourite green and pink done from the rose alphabet as she loved pink roses. Her parents named her Zoe, but her grandmother did not like the name so calle her Joan which she was known as all her life. She spent a liftime as a dressmaker, embroiderer, crocheter, quilter and knitter from the age of 4. Also, a great reader and crossworder which she was still doing until the end of her life. A very independent lady who was still driving and doing clothing alterations in her 90′s. We all miss her.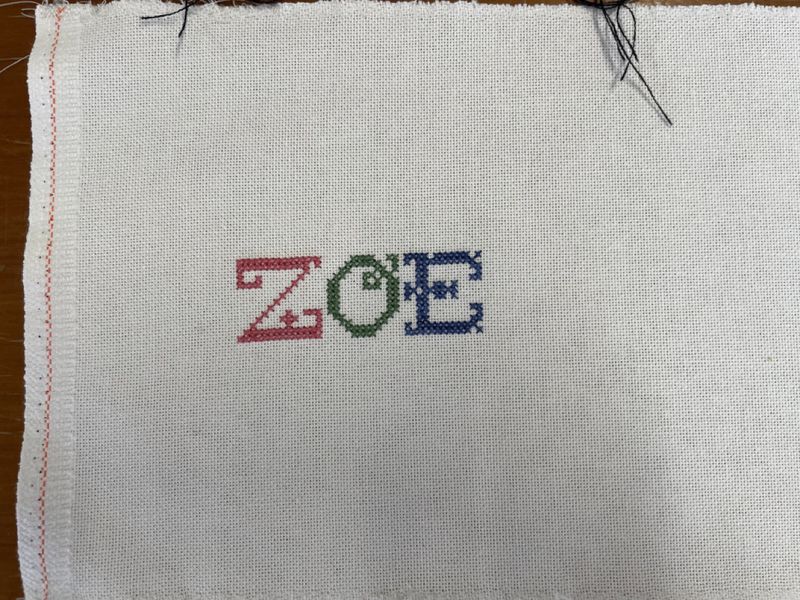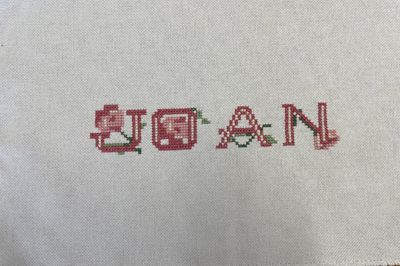 Joan
+ Info
I embroidered this for my mother who died aged 99.5 in 2021 still living in her home. The colours chosen were her favourite green and pink done from the rose alphabet as she loved pink roses. Her parents named her Zoe, but her grandmother did not like the name so calle her Joan which she was known as all her life. She spent a liftime as a dressmaker, embroiderer, crocheter, quilter and knitter from the age of 4. Also, a great reader and crossworder which she was still doing until the end of her life. A very independent lady who was still driving and doing clothing alterations in her 90's. We all miss her.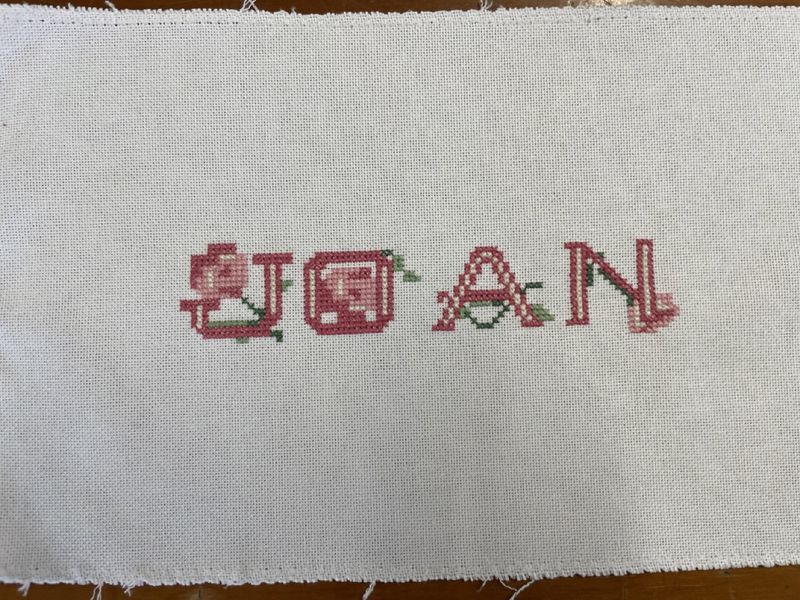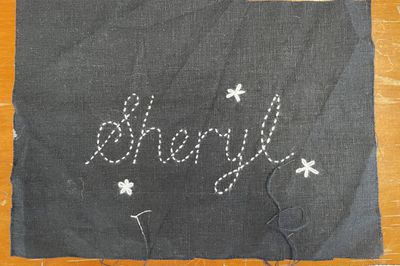 Sheryl
+ Info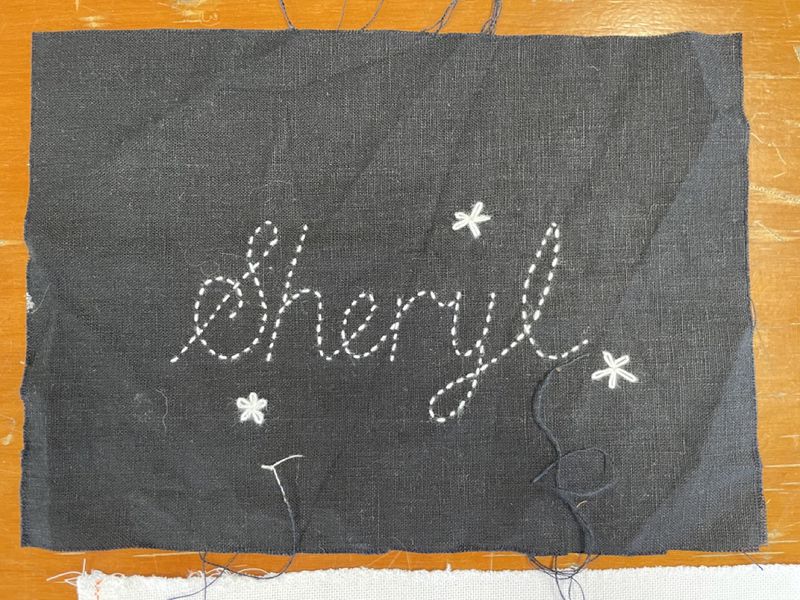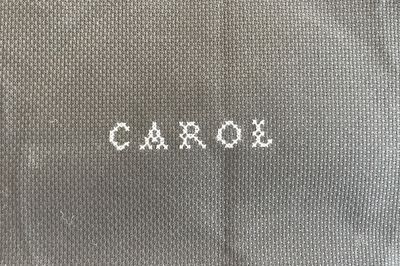 Carol
+ Info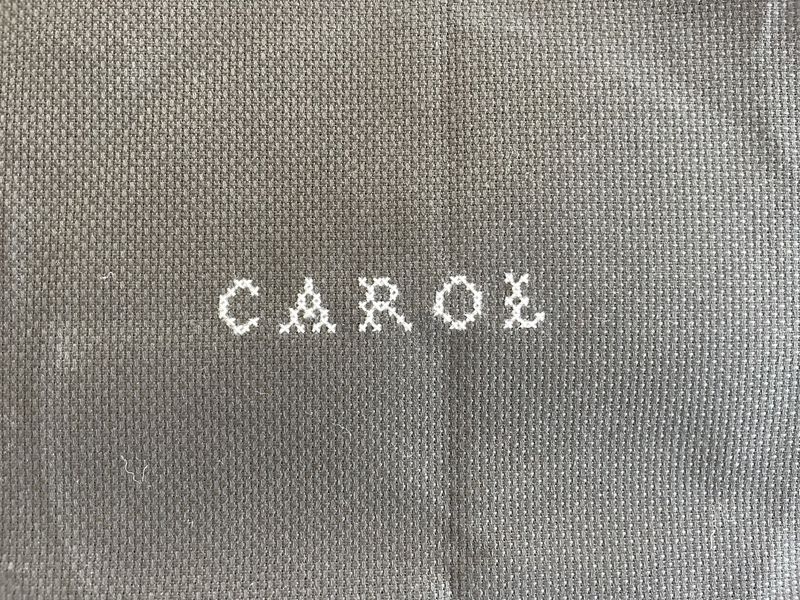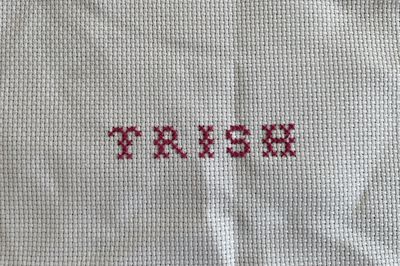 Trish
+ Info
Auntie Trish is my aunt and godmother. She's such a good stick that everyone to her for advice, common sense and a shoulder to cry and laugh on. She rides a motorbike and is an amazing photographer. when her mum, my nana Nan Fairlie died, Trish fell in the grave and had to be clambered out. It was bloody hilarious.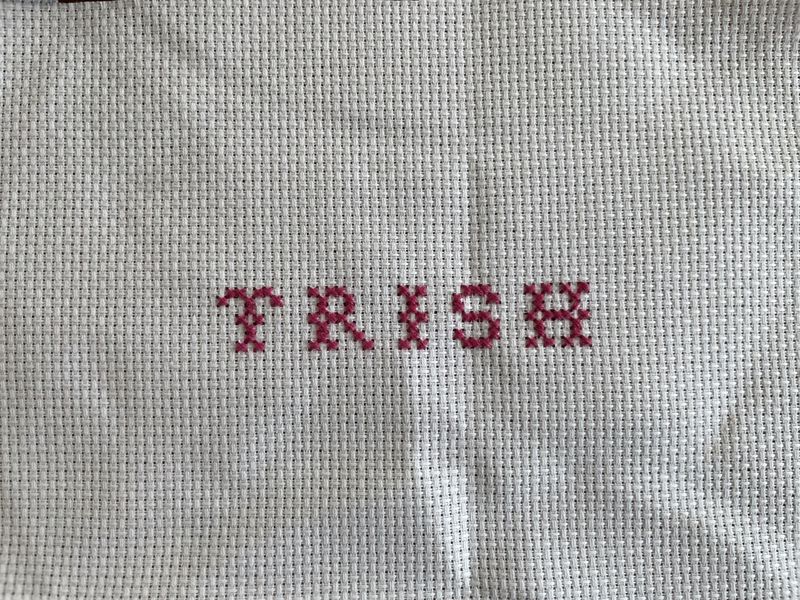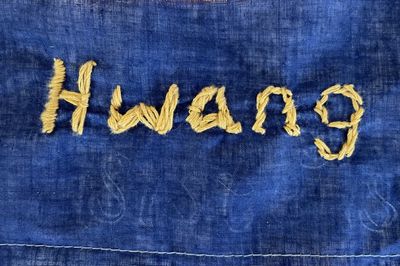 Hwang
+ Info
Hwang is my mother's maiden name. She's one of six sisters. Whenever the Hwang sisters are together, hilarity ensues. They all have very distinct personalities and very different different interests, but are united in their fierce love and care for eachother. Their family motto is 'strength in family' - I love them.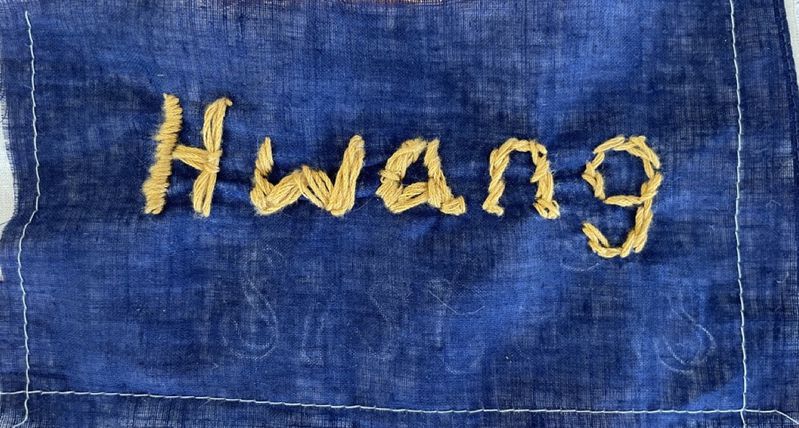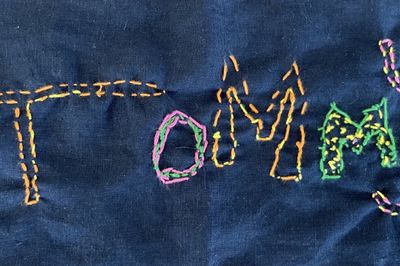 Tommy
+ Info
Tommy is my grandmother. She often wears full orange outfits, then gets frustrated when she gets stopped constantly in the supermarket by people admiring what she is wearing.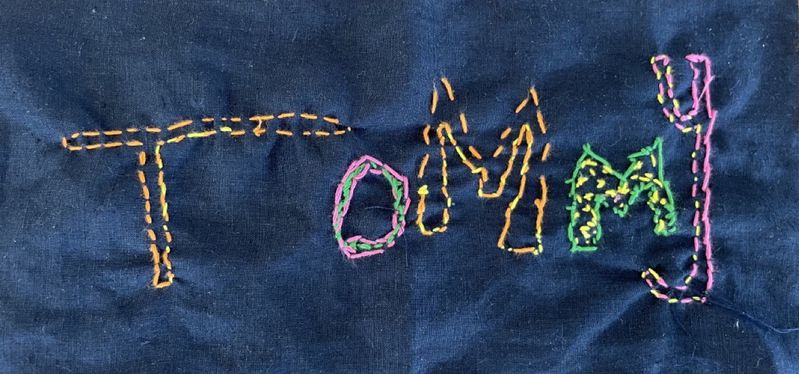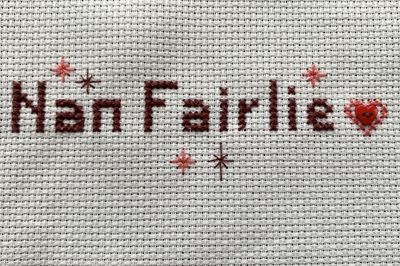 Nan Fairlie
+ Info
Helen Stechman nee Cassie is Nan Fairlie to her daughters, grandchildren and great grandchildren. She passed age 93 and the magpies in the trees sang their hearts out to send her off. Nan grew up at Guide Hill Station, was a land girl during WW2 and lived in Fairlie for over 70 years. A gun ice skater, ambulance driver, wood chopper and vege gardener, Nan had a wicked, laugh out loud sense of humour and mischief. 4 generations went to Guide Hill for an incredible weekend on her 90th. Nan Fairlie was such a good stick, so up for it and so loved, we miss her every day.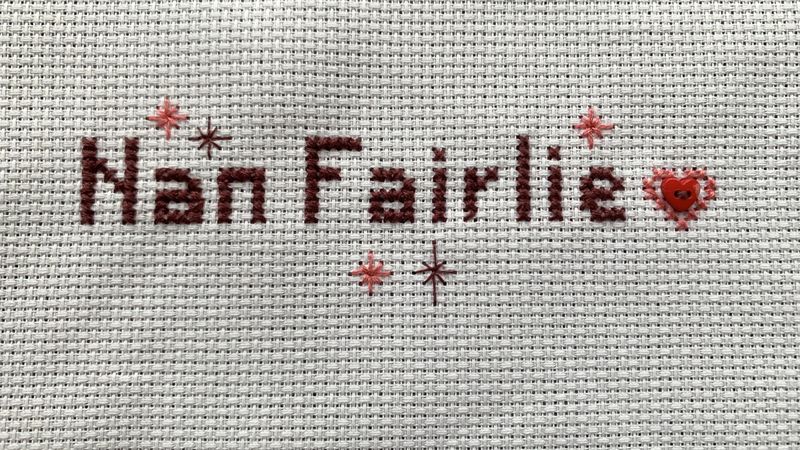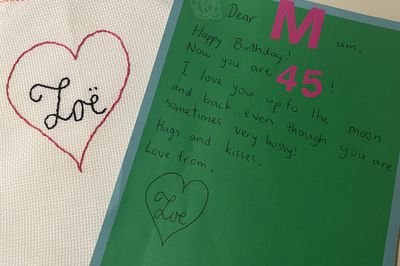 Zoe
+ Info
Zoe Dawson - my amazing 20 year old daughter. She learned to write her name in joined up writing and got her pen license and always signed her name with a luxe Z inside a big heart. This is from a card she wrote me when she was 10 and I was in a bossy phase.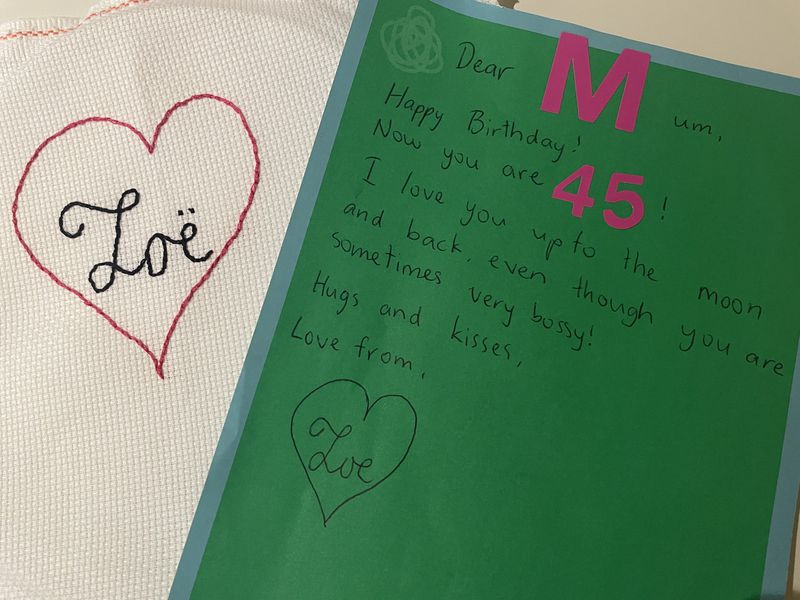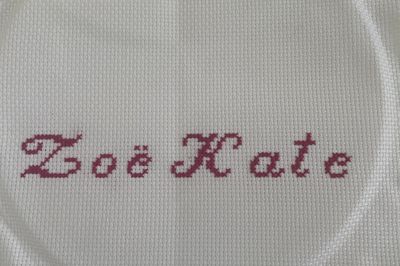 Zoe Kate
+ Info
My nana Zoe who passed away at 99.5 last year went by the name Joan. She was a professional seamstress, knitter, and crocheter right to the end although she would have loved to have been a teacher. People asked her the secret to living so well for so long and she'd say I just take each day as it comes and keep working and breathing. I found out her real name was Zoe Kate when I was about 10. I loved that name so much I got her a brooch engraved with it - this embroidery is a nod to that engraving. I inherited the brooch back when she died. I spoke at her funeral and many of her lifelong friends and family only found out that day that her name was Zoe, not Joan. I named my daughter Zoe.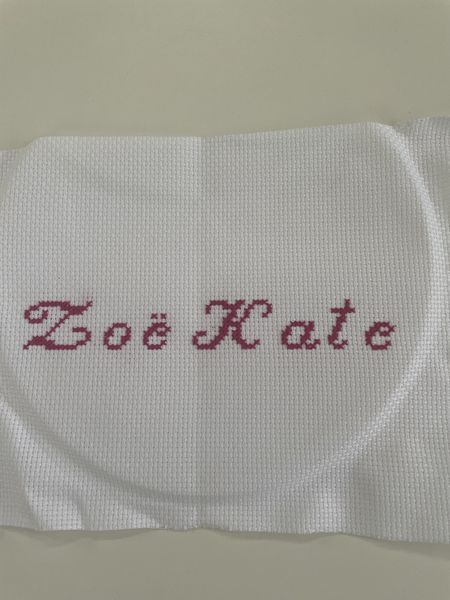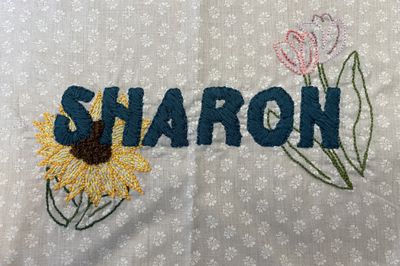 Sharon
+ Info
My piece is in honor of my grandmother, Sharon Craven, who has been very influential in my life and creative pursuits. A talented quilter, she taught and helped me rediscover a creative love of textiles and all things sewing.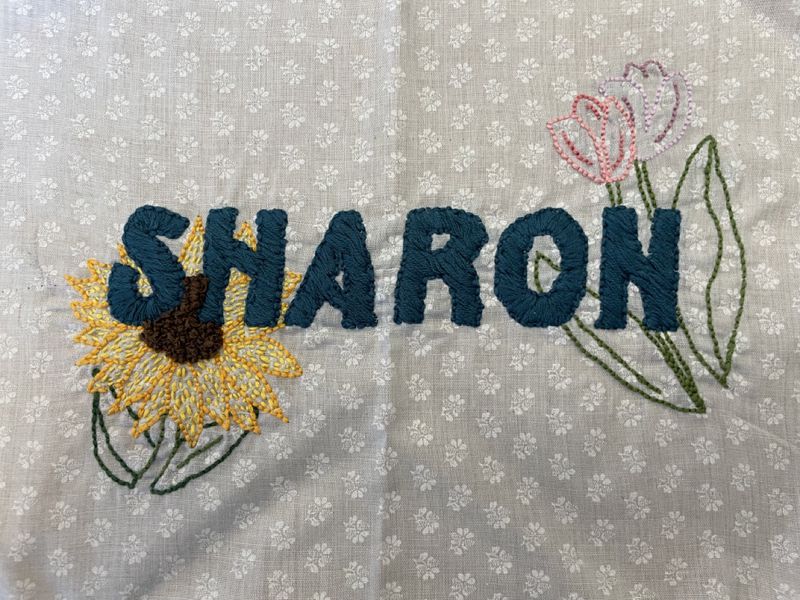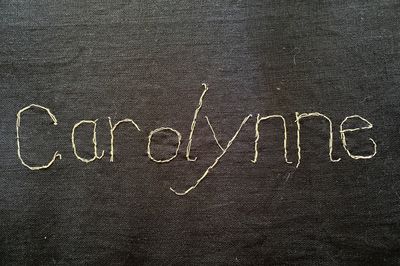 Carolynne
+ Info
A mentor has been encouraging me to not shy away from exerting pride in myself, and my endeavours. So, I've honoured myself in this large quilt equation, in the work I've done and do: writing, storytelling, and quilt making. And my middle name happens to be 'Anne'. Carolynne + Anne and I have a subtle presence in the collective nature of it all.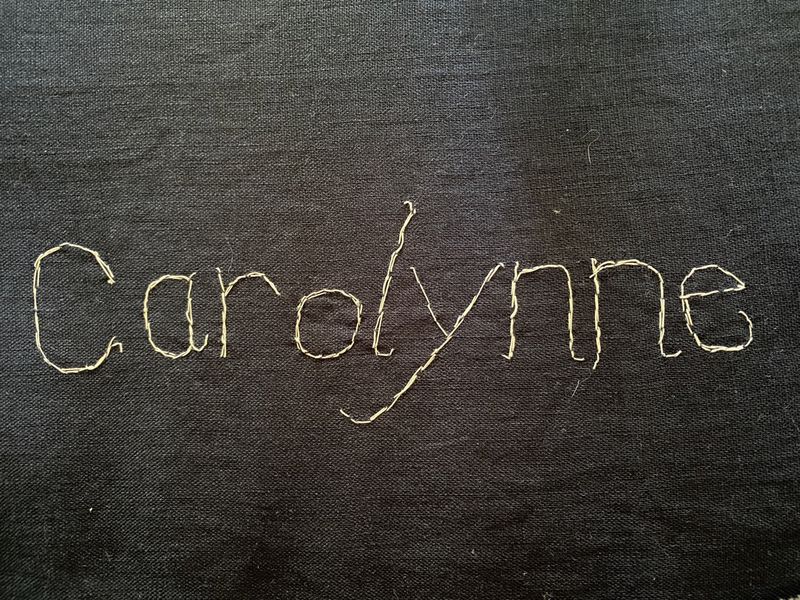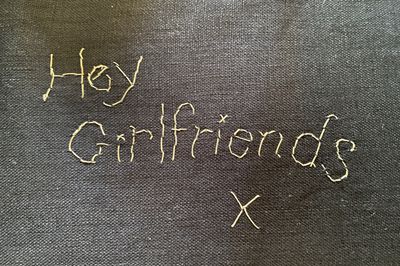 Hey Girlfriends x
+ Info
A mentor has been encouraging me to not shy away from exerting pride in myself, and my endeavours. So, I've honoured myself in this large quilt equation, in the work I've done and do: writing, storytelling, and quilt making. And my middle name happens to be 'Anne'. Carolynne + Anne and I have a subtle presence in the collective nature of it all.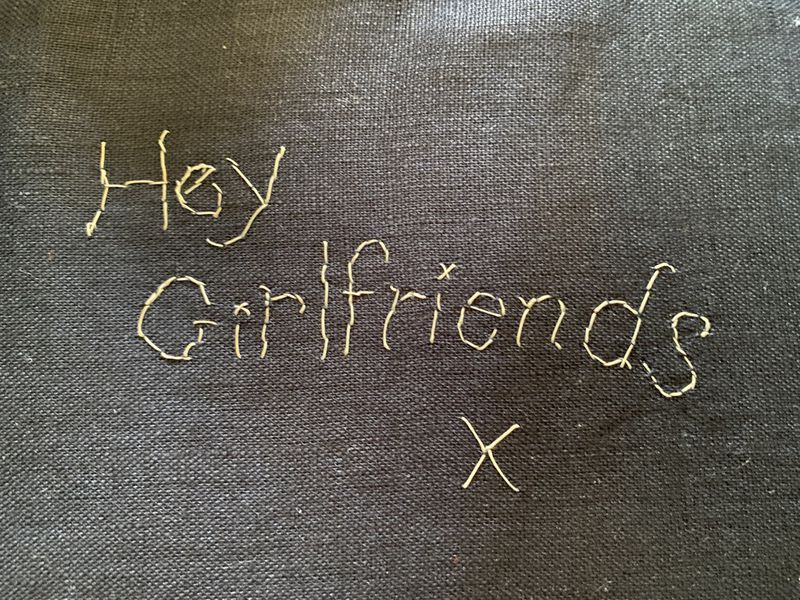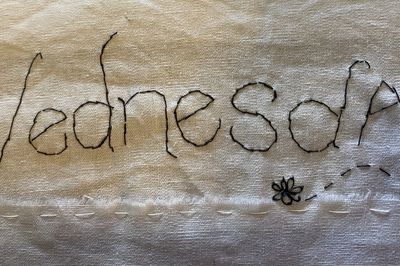 Wednesday
+ Info
This is the name of my daughter, named after Wednesday from the Addams Family - the calm, clever girl with magical powers who lives amongst the chaos of her eccentric family. The name perfectly suits her.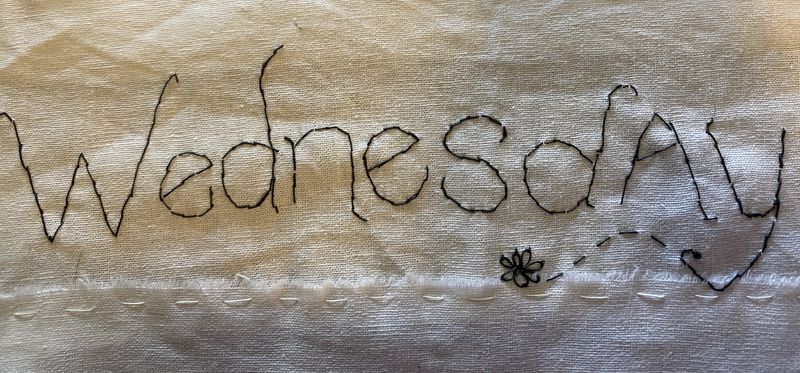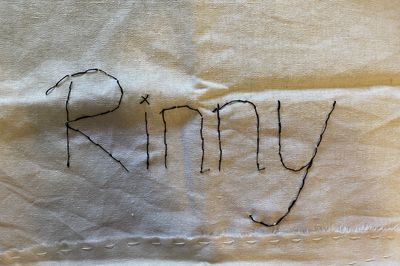 Rinny
+ Info
My late mother, Rinny Gordon, was pivotal, along with my father, in establishing New Zealand's first national quilt competition (at the Aotea Centre) in Auckland in 1990 through their company Enzed Sewing Ltd. After my mother's death, I took up quiltmaking, starting with a piece of fabric from her sewing room. My mother taught me to sew and I am often with her in spirit at the machine.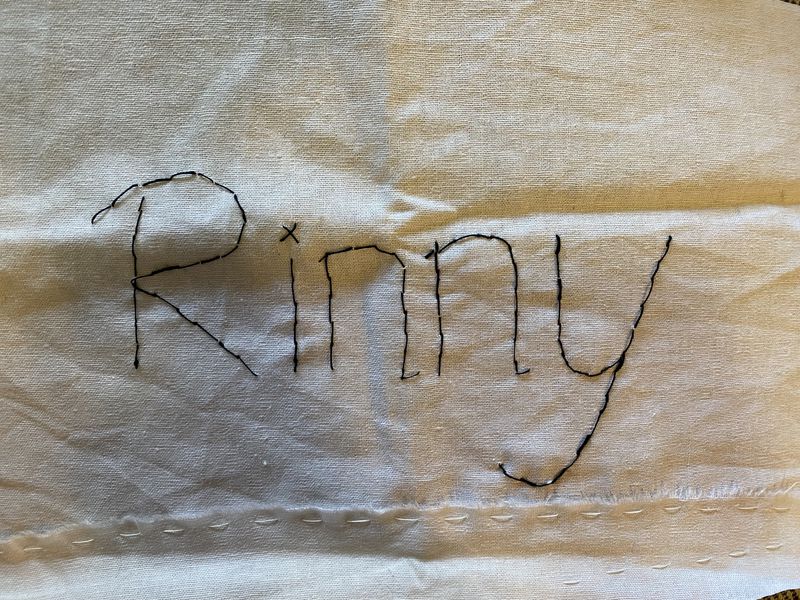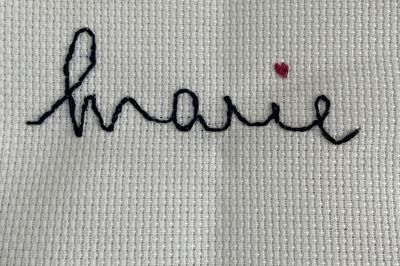 Marie
+ Info
This is my mother Marie Stechman's name in her handwriting. It was always a source of amusement to the family that she signed all her cards 'To (name). From Marie', no matter the occasion or audience, even toddler grandchild. In her 70s she flipped the narrative on us and started writing heartfelt cards. I have embroidered her name exactly as she wrote it on my first 'gushy' birthday card - with a tiny pink heart nod to her new m.o. Have also attached a pic of the card.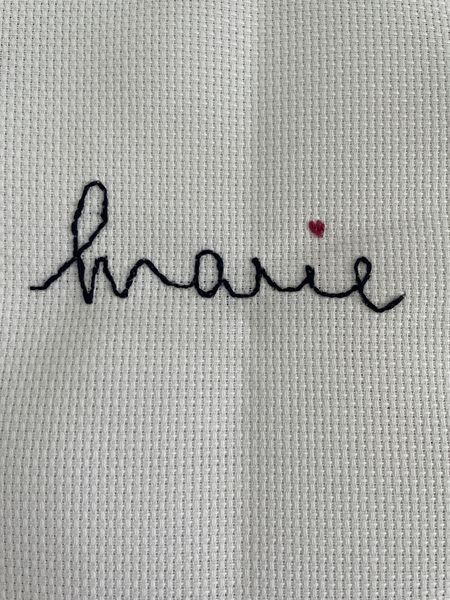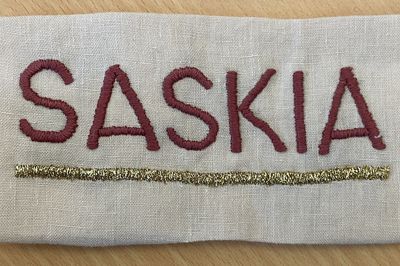 Saskia
+ Info
Saskia is my beautiful one year old daughter, born in 2021. She has been a joy and we are learning so much from her. She reminds us that every thoughtful decision we make in our lives today can shape a positive future for her and others.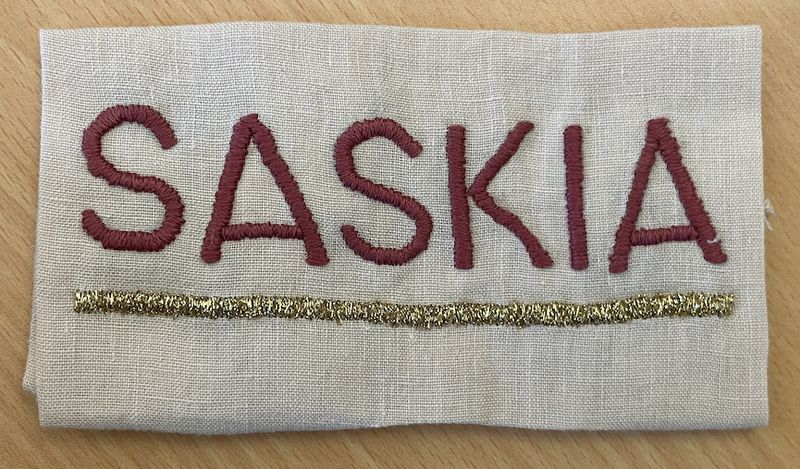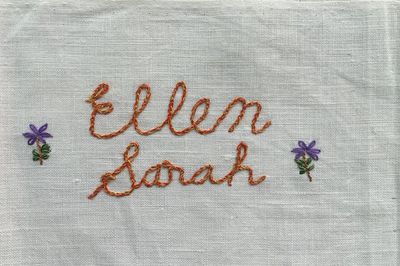 Ellen Sarah
+ Info
Ellen Sarah is my mother's name. She was the only child born in 1911 (to an alcoholic mother). She met and married my dad and they had four daughters and a stillborn son. She was widowed at 46 and had to support her family by returning to work as a seamstress in a hospital. Her daughters were 20, 16 12 and 8 (me being the 8 year old) when dad died. She didn't remarry but managed to buy a very modest house and provide and care for us in a loving, proud and resilient way. She lived to 98 and was self-reliant, healthy and energetic into her early 90's. She was a beautiful sewer and crocheter and cook, and encouraged our needlework skills at school, loved gardening and flowers and was much loved by her family and community. It has been a joy to honour her memory via this quit project. Thank-you.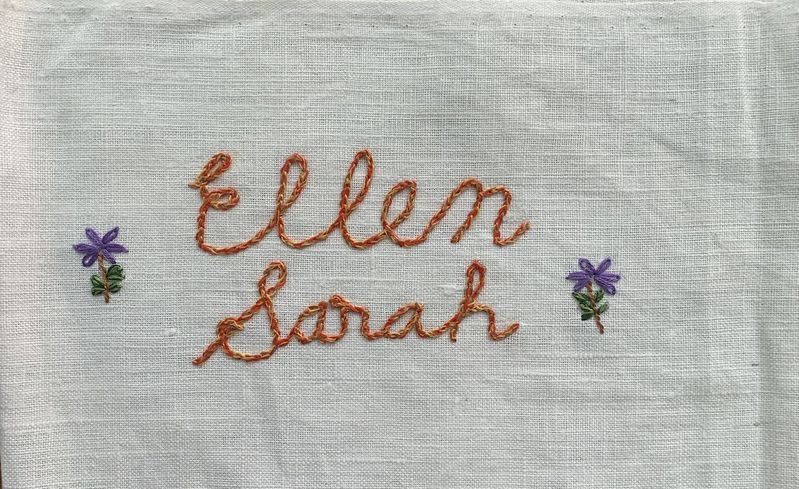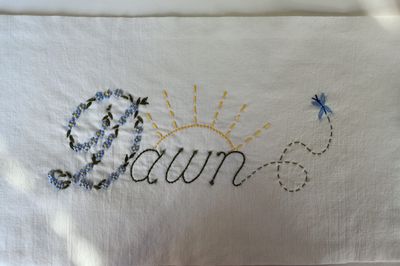 Dawn
+ Info
'Dawn' is my mother. A wonderful Mum, Grandma and Great-Grandma to six children and many grandchildren and great-grandchildren, and for whom some of us share her name in one form or another. I am blessed to have Dawn as my middle name, which has become more precious since her passing. Her middle name lives on in a number of her granddaughters. She left a wonderful legacy in future generations – 'Always remembered, never forgotten' xx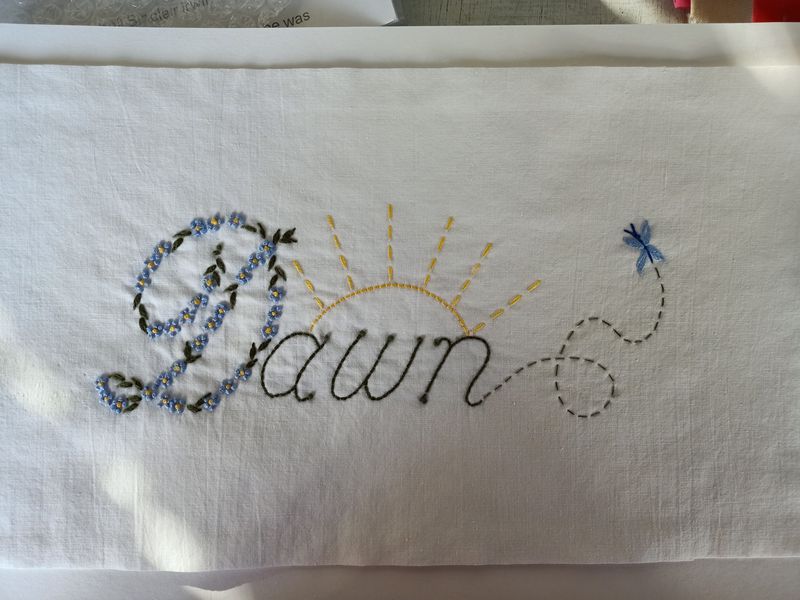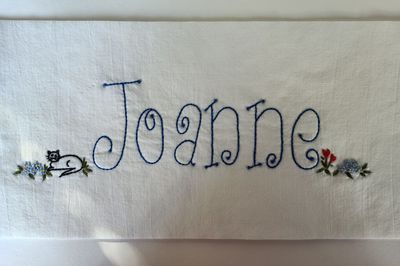 Joanne
+ Info
'Joanne' is my eldest sister, gone from us far too early at the age of 52. Joanne and I shared a combined love and passion for all things crafty and spent many a happy hour together discussing and sharing our latest projects. Our ability and passion has been inherited from the women that have come before us. The little black cat I stitched was her beloved 'Sam', who unfortunately passed away just before she did. I love and miss my sister, Joanne xx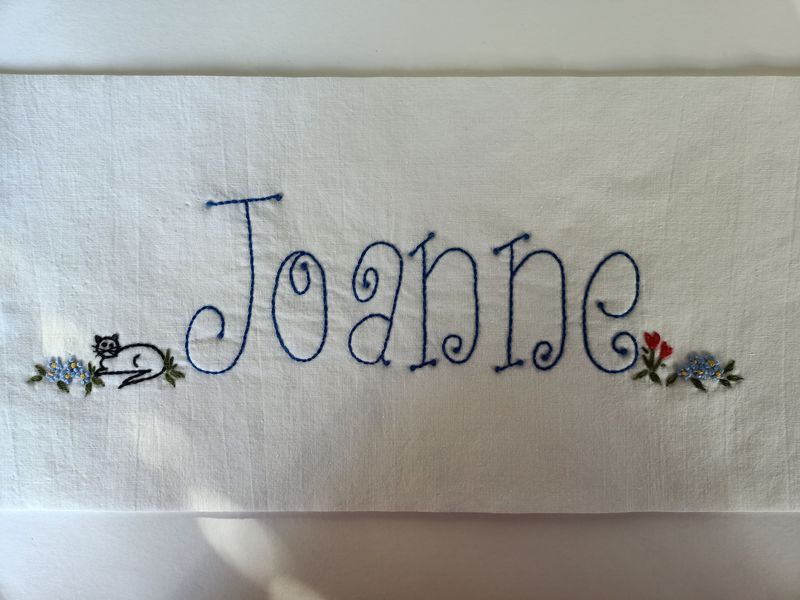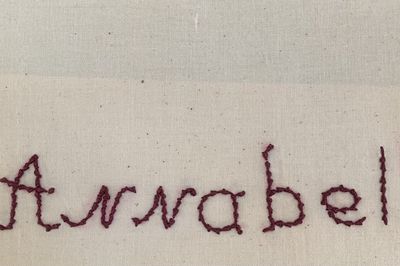 Annabel Baxter
+ Info
A Practicing Physiotherapist, in NSW, I was a patient of Annabel's in 1998, as well, Annabel was enrolled in the lecture series at the Art Gallery of NSW, to pass the examinations, at this time was a requirement before enrolling to be trained as a Volunteer Guide at the Art Gallery of NSW. Following Annabel's example, I enrolled in 1999, and thoroughly enjoyed the lecture series, this year the title of the series was "Defining Moments in Art", a great opportunity to hear excellent lectures delivered by professional Art Curators. I joined the Task Force in 2007, meeting Annabel again, then in 2009, with her encouragement I applied to be a Volunteer Guide, a role I am so grateful to have. Annabel has been the Guides Coordinator, in 2007, 2013 and 2014, and she is a competent, versatile, and talented guide, with a wide knowledge to impart.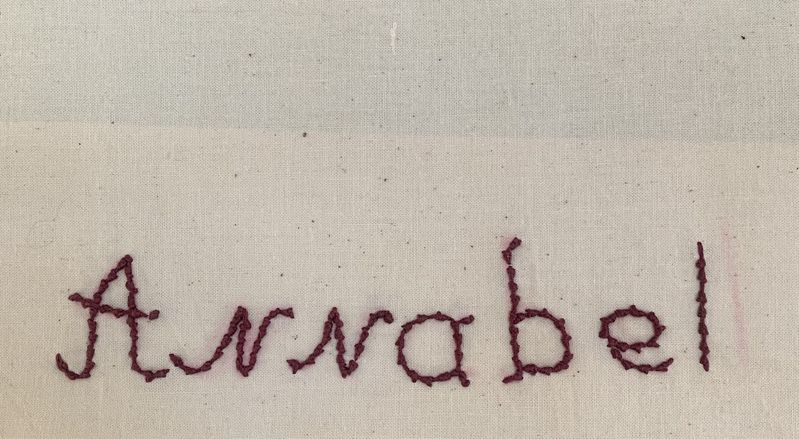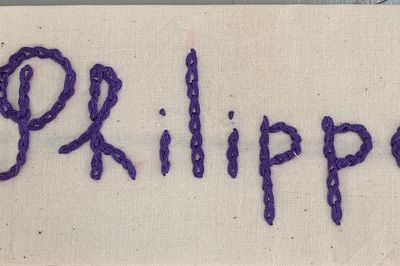 Queen Philippa, wife of King Edward III
+ Info
Philippa was born in June 1310, daughter of Count William of Hainaut and the French Princess Joan of Valois, she was engaged to Edward, Prince of Wales in1326, married in1328, they had 13 children, 3 died in the Black Death. Queen Philippa won much popularity with the English people, a most gentle queen, liberal, more courteous than ever was a queen in her days. Edward tried to take the French kingdom, as a descendant through his mother, a distant descendant of Eleanor of Aquitaine, this claim was denied and after many wars France recaptured all the English territories, except Calais and Bordeaux. King Edward's popularity waned, the English nobles, in their dislike of the French, began using English as their daily speech, encouraged by Chaucer, and his writing of "Canterbury Tales", this was the first time English was spoken since the Norman Conquest in 1066. Queen Philippa, persuaded King Edward to spare the lives of the Burghers of Calais, to free these ports for France to resume trade. A gentle, and strong lady, with a great sense of justice and equality.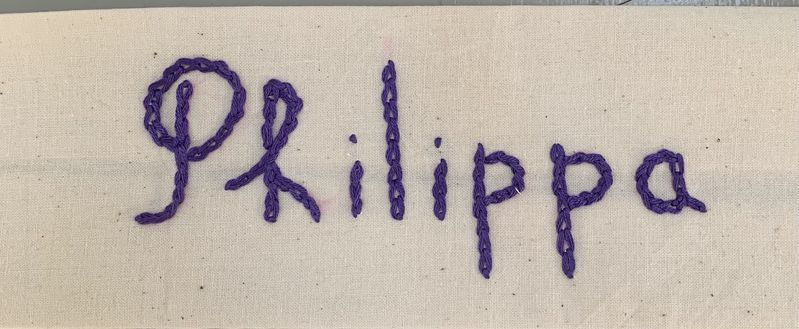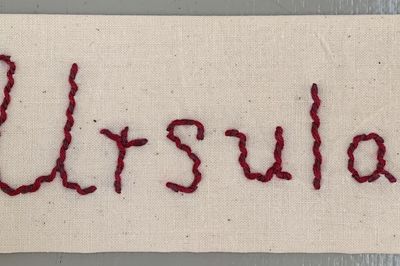 Ursula Punster
+ Info
Arriving at the Art Gallery of NSW in 1979, from the Fine Arts Department of Sydney University. At this time the Public Programs lecture series was launched. Ursula was an energetic, intelligent, educator and curator, remembered with her flame red hair. The Art Gallery Magazine, titled The Bulletin, announced a series of four lectures to be given by Ursula, on Leonardo da Vinci, Titian, Michelangelo, and Durer. This was the start of an outstanding contribution that would last more than two decades. An Ideas person who inspired many of the choices for the later Art appreciation series, Ursula was an engaging lecturer having spent many hours researching original material for her talks to the Society. I attended the lecture series in 1999, the title was "Defining Moments in Art", Ursula was one of the lecturers who everyone respected and admired, she was also the examiner, of the assignments and examinations, on completion, the award was a Diploma of Fine Arts, at this time a prerequisite toapply to join the Volunteer Guides at the Art Gallery of NSW. Ursula was a wonderful example and an inspiration.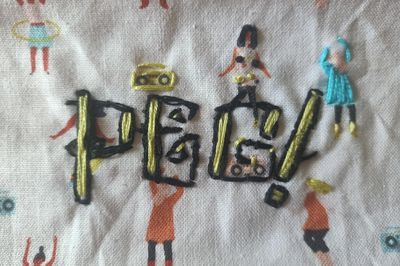 Peg
+ Info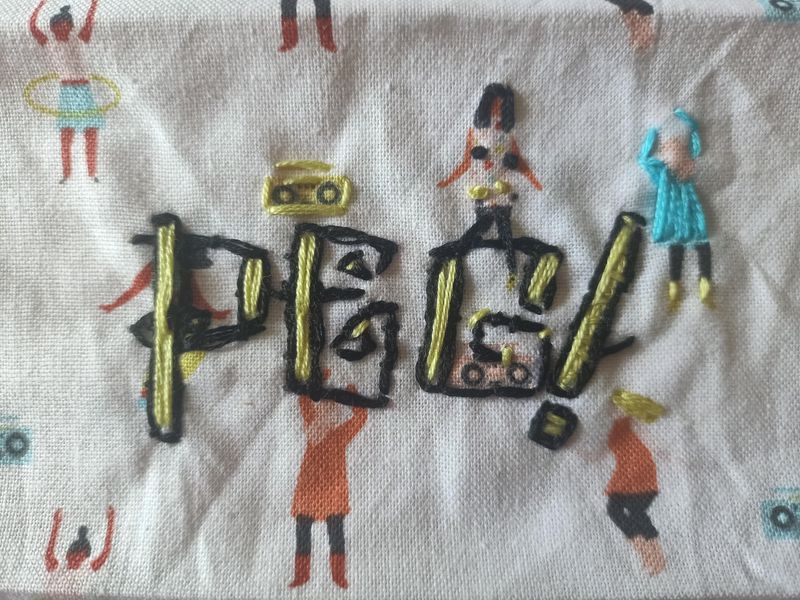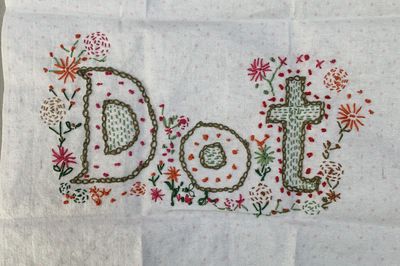 Dot
+ Info
I worked on this piece a few weeks ago while thinking of my dear Aunty Dot 1919-2015. She worked her way through a nursing career from 16y/o. She travelled through India with the Baptist Nursing Mission in the 1950's. She didn't marry but had wonderful nursing freindships. She took on the role of matriach to our families. She graduated from UNSW with an Arts degree in 1970's and worked as a nurse educator for many years. A good soul!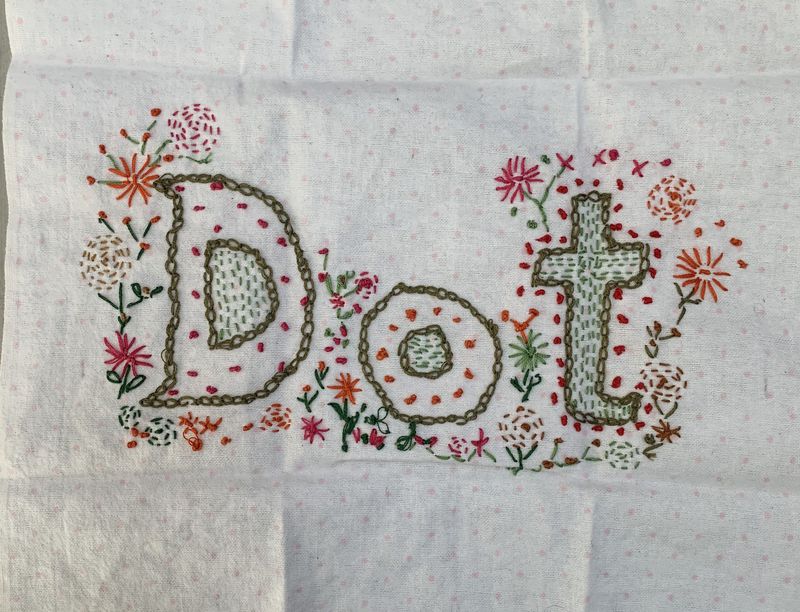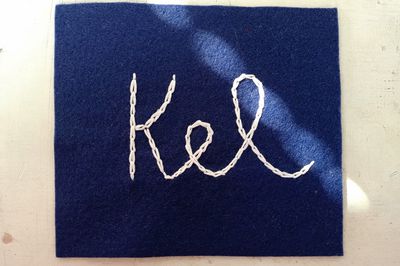 Kel
+ Info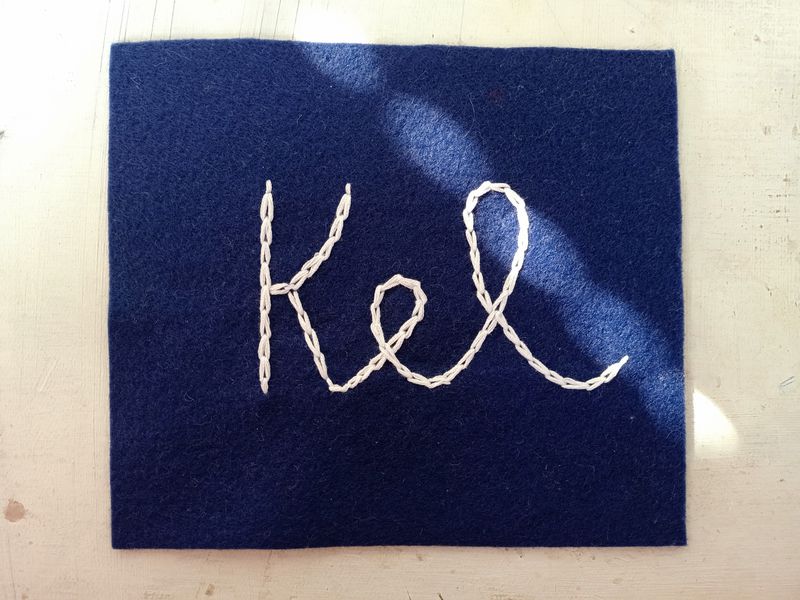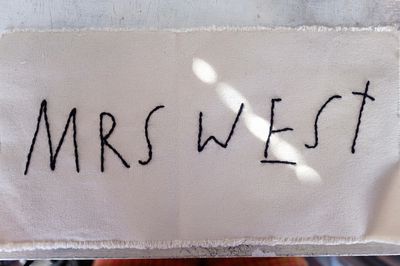 Mrs West
+ Info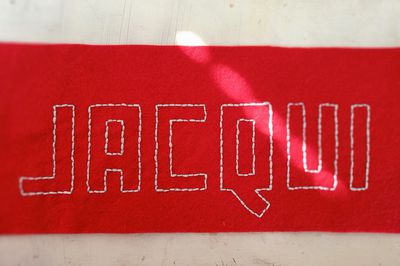 Jacqui
+ Info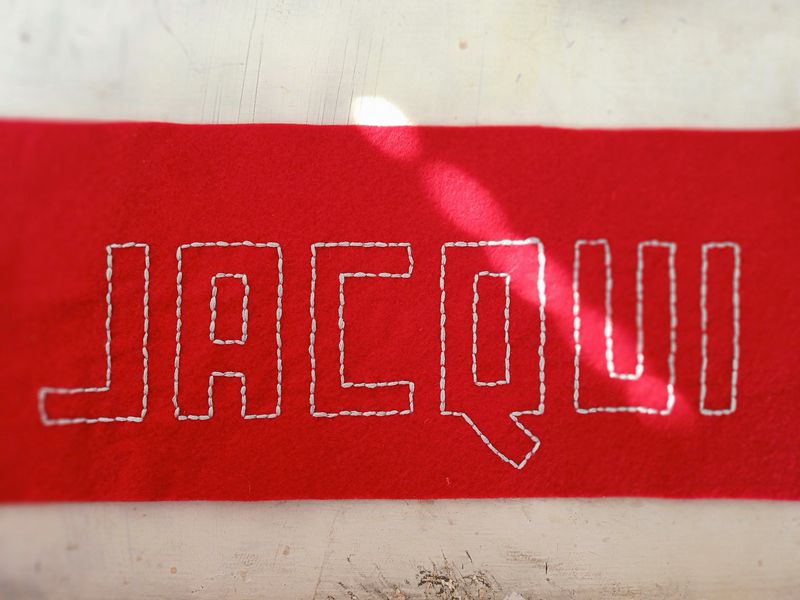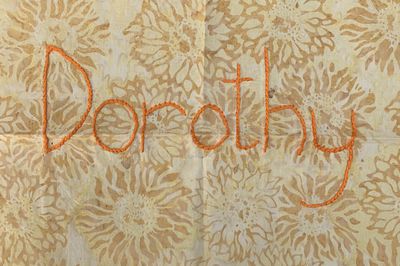 Dorothy
+ Info
I was 3 months old, my mother 26 years old when her mother, Dorothy died. I have always felt my grandmother's presence in my life despite never having met her. She had a passion for photography and costume making, which influenced my mother's creative spirit and subsequently inspired mine. Dorothy would dress up for dances and gatherings as 'Madame Deemer' the tea-leaf reader, and no one would suspect it was her. I love her sense of fun and mystery.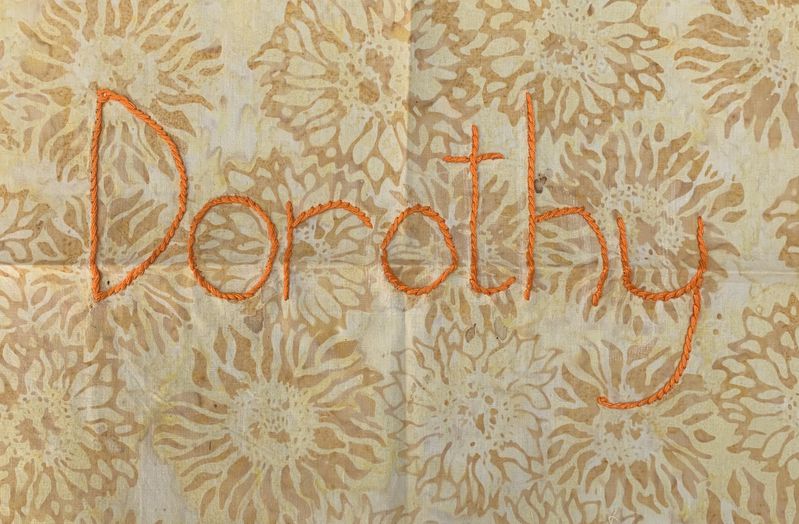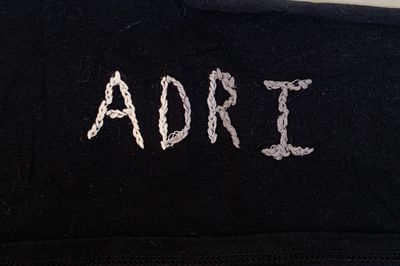 Adri
+ Info
Adriana "Adri" Corral is an artist based in Houston, TX. I have only known her since 2015, but have come to realize that she is one of the most thoughtful and compassionate people I have ever encountered. As an artist Adri makes sure to give voice to the voiceless, in particular, the victims of femicides in Mexico. She speaks their names when others won't, which is why I wanted to embroider her name, to speak the name of this extraordinary person.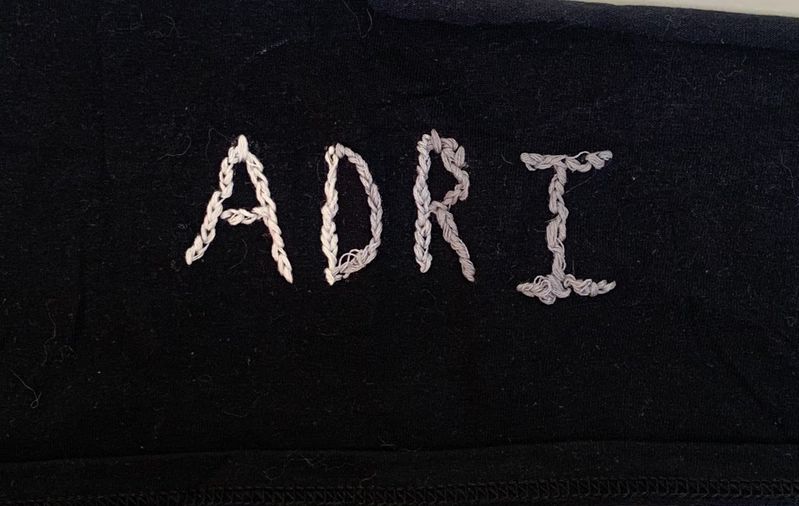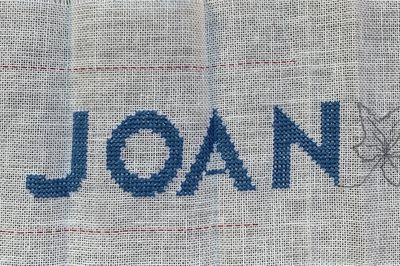 Joan
+ Info
My mother JOAN NISBET (nee Devereux) was a huge inspiration in my life. She achieved so much in her short life of 50 years. Her embroidery was so fine and exquisite. She started a shop in Double Bay called White Ivy - the logo is represented at the end of her name. She helped Italian families immigrate to Australia and she employed women to work and sew. My mother embriodered for the Queen's Coronation. My mother assisted Dr. Alan Sharpe with his groundbreaking Aortic surgery in the late 1950's. She hand made and machined the Aortas while he was operating. I wish we had more time together.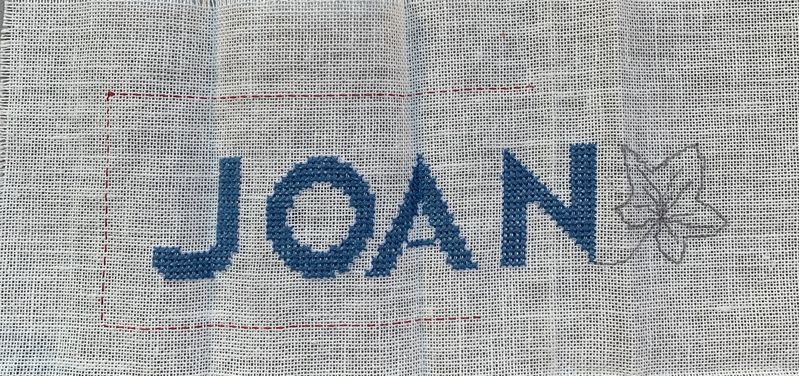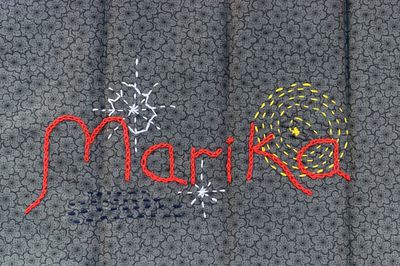 Marika
+ Info
Marika is a strong, beautiful, kind, full of humility and always makes me want to be better. I am privileged to know her, especially to have her as my teacher.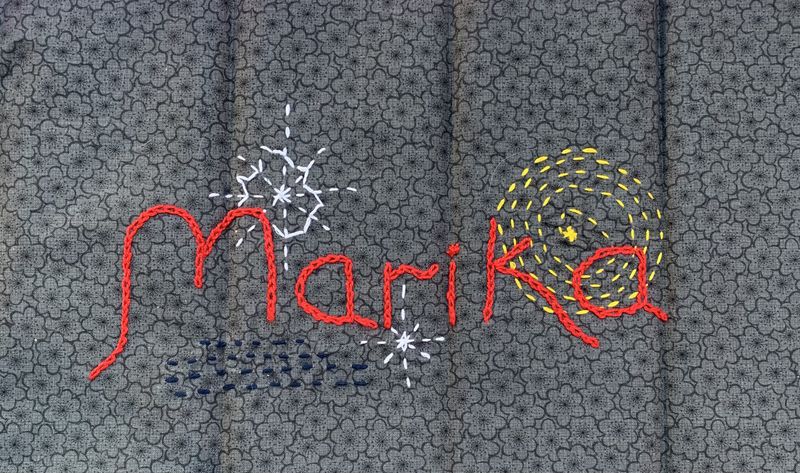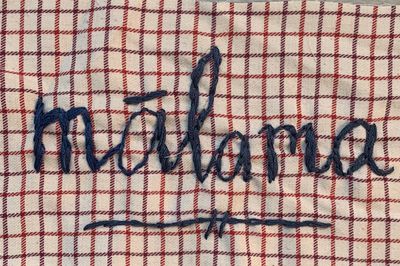 Mālama
+ Info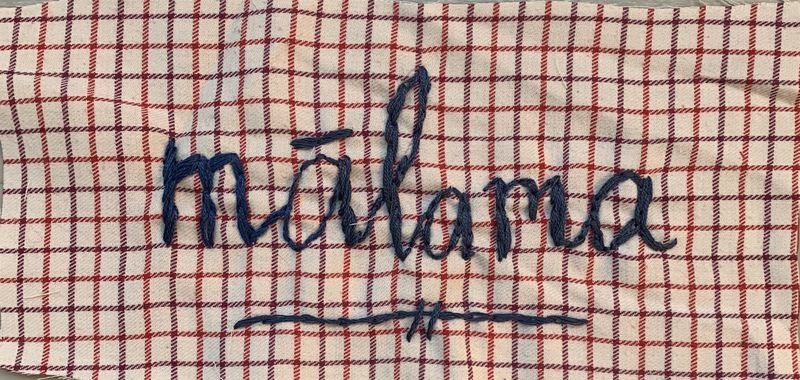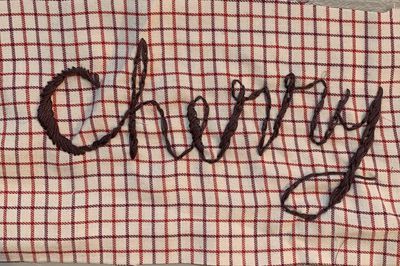 Cherry
+ Info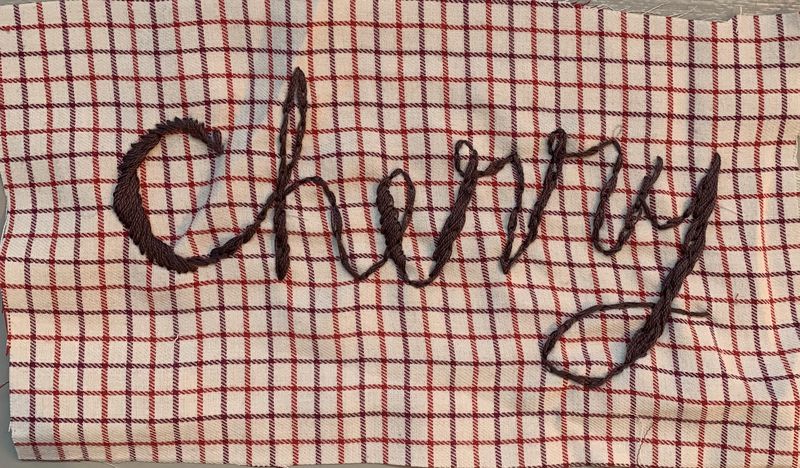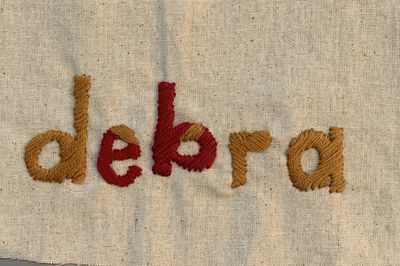 Debra
+ Info
In loving memory of dear friend and mentor Prof. Debra Porch. Through a wave of early 2000's Post-Modernism taught me that silence and tactility were the oceans and that the ordinary was extraordinary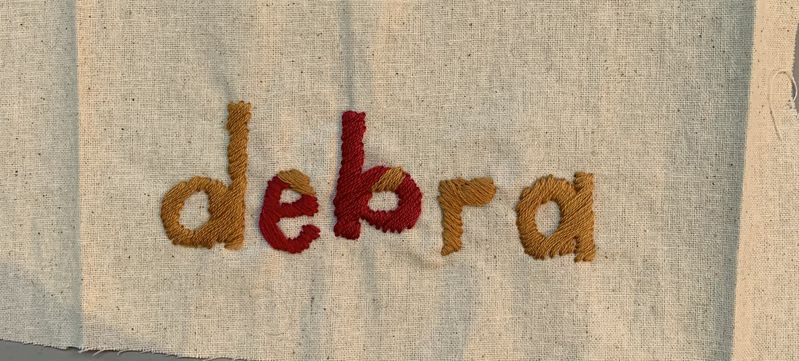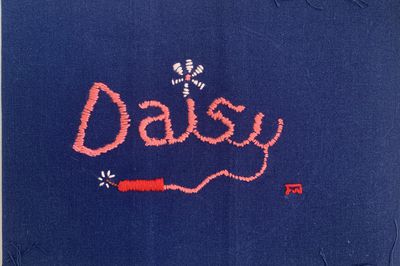 Daisy
+ Info
This is for my Nanna. She was barely taller than a fencepost but has the wildest cackling laugh of anyone you've met. She was a compelling story-teller who championed the dramatic pause. She cared for one cat at a time, always a black cat called Sooty that skipped out of night like a ghost. She single handedly raised three daughters while her husband was in the Navy in WWII. We shared the same birthday, so in many ways we were twins, born 50 years apart. Daisy Clara Agnes Stewart - this is for you. xx Ray Monde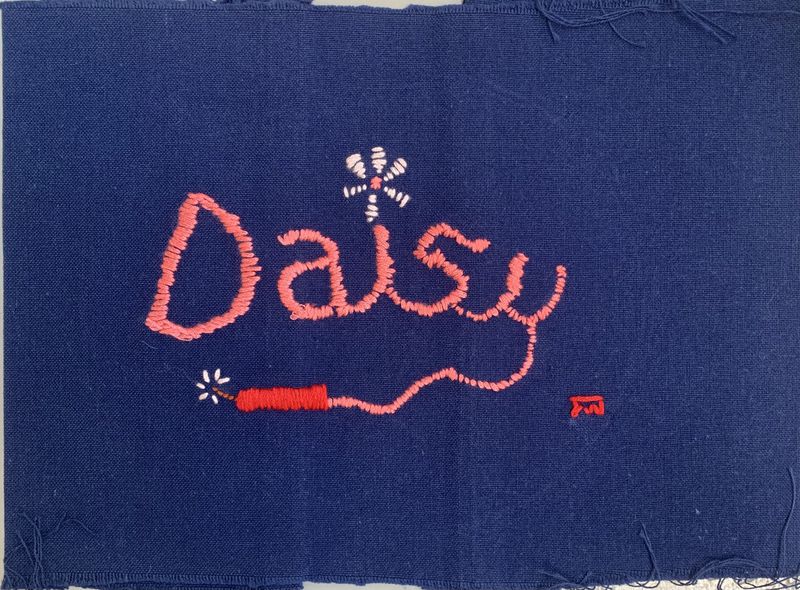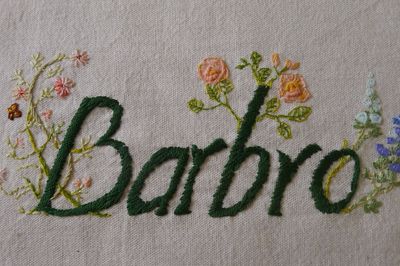 Barbro
+ Info
Barbro (Asta Barbro Anita Vilen) was my mother, and she had great skills in embroidery, sewing, knitting and handwork generally as well as a fine eye for colour and design. She was born in Sweden where handcrafts and the arts are highly valued, and had first learnt her skills in primary school. We had many items around the house, such as table mats, which she had made when young, but I was in my teens before I discovered this as she took that kind of ability for granted and had never mentioned it. She made many cross-stitch projects as I was growing up, and these nearly always featured plants and flowers, which is why I ornamented my stitching of her name with garden flowers. As a child I liked to sew but did not like it when Barbro offered to show me how to do it "properly", so I would work it out myself, or ask schoolfriends, and so missed out on acquiring any of those skills which she could have taught me. I now wish I had done! Embroidery, similarly, I grew to love but preferred to work in my own way rather than follow patterns as she did. So she was a fount of knowledge untapped by me, but she did teach me by example a love of beautiful stitching, and was a role model for method and precision I now appreciate much better. We lived and grew in the beauty she created in the house, and in the garden. The older I get the more I realise this was such a gift, and also that we can always learn from and share with others who might have very different ways of making or thinking.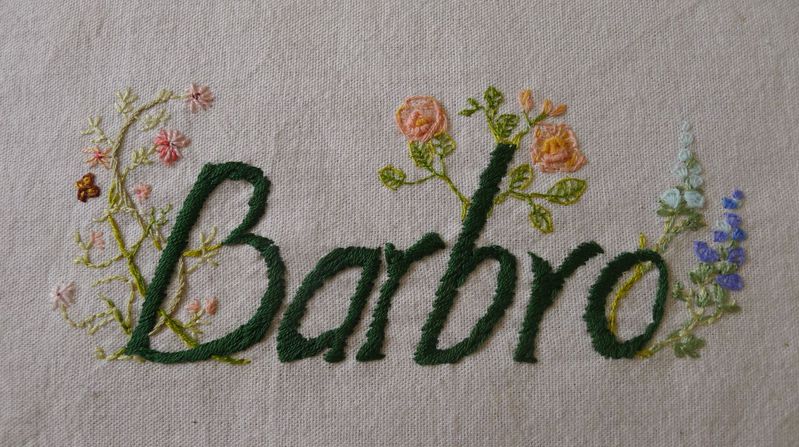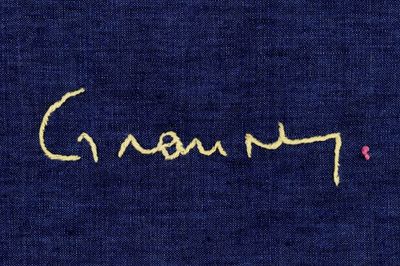 Granny Nancy
+ Info
I chose the name "Granny" and I used as my pattern my grandmother's signature which always had a dot after the name. I'm writing the few sentences that you've asked for like this, in a letter on A6 letter paper, because that is how my grandmother Nancy Myfanwy Thomas, wrote to me. I've spelled her name Nancy as that is how she spelled it, and how we spelled our first daughter's middle name, when we gave her the name Nancy after her maternal great grandmother, but she was Nance on the official record. There have been endless family debates about the reasons for the different spellings- we don't know the answers.
Why 'Granny.' And not 'Nancy' or 'Nance'? Granny died in 1980 when I was 22. I only called her Granny and I still think of her as Granny. I've thought about whether giving her this generic name in your quilt deprives her of her individuality – rather I think that not calling her Granny in the quilt changes my relationship with her. I've chosen Granny because she was such a special person to me, especially in my teenage years and her significance to me was as a grandmother. I want to honour grandmothers everywhere – the place of a grandmother is uniquely important and influential, and unforgettable. After I decided to embroider the name Granny I hunted around my house for the box of her letters I knew I had somewhere – it was quite a hunt before I located a battered box that I brought with me to New Zealand – a pile of handwritten letters Granny wrote to me over a period of about 12 years each one with news of what she'd been doing, responses to what I'd written to her, and the occasional bit of advice or what we'd now call support. I still feel the warmth & security of that relationship; it was a foundation of my teenage & early adulthood years for which I will always be grateful.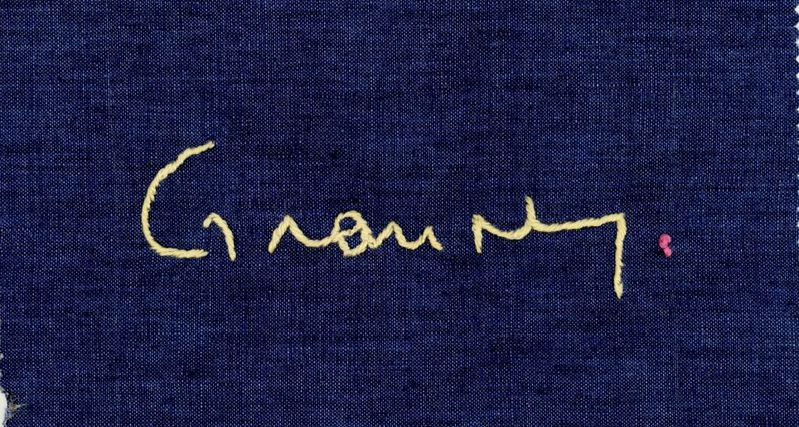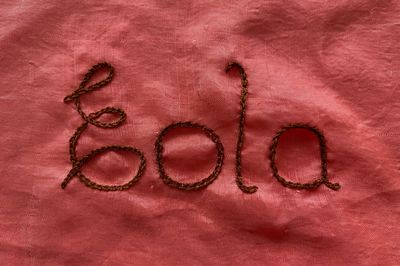 Eola
+ Info
Eola De Bortoli is my mother. She was a proud daughter of Italian parents who immigrated to Australia in the 1920s. Sadly she passed away at the beginning of the COVID 19 pandemic in April 2020 succumbing to metastatic cancer. Mum had an indomitable yet gentle spirit, she exuded warmth, generosity and style. I admired her grace, empathy, intelligence and humour. She loved gardening and did bush regeneration for over 20 years.
The fabric is a satin bedspread which belonged to her mother and the thread is an old Italian Cotone Perle called AIDA which I found in a bag (being migrants they never threw anything away!). The cursive E was part of her signature, when I was young I practised for years trying to perfect that E so I could forge notes to get into or out of events at school!! She taught me many skills, I will miss our yarns while enjoying the Arts together.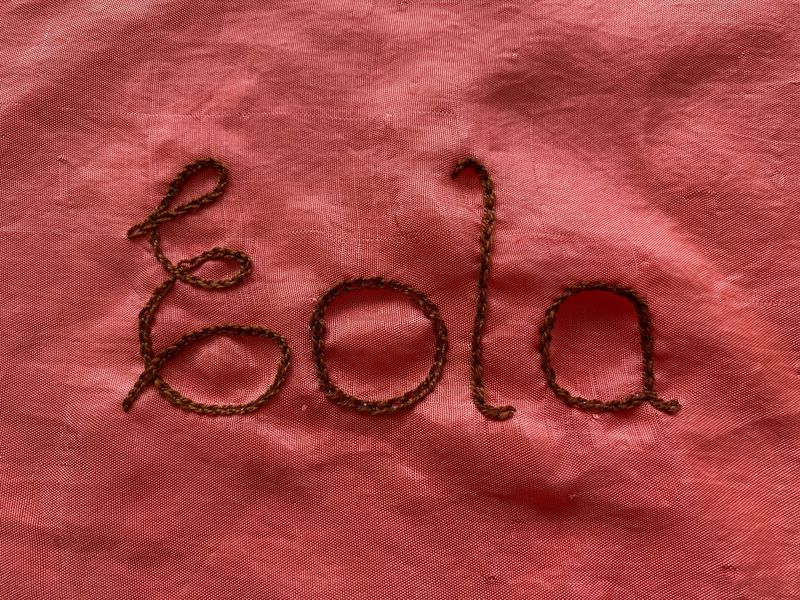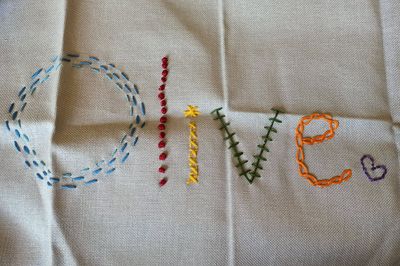 Olive
+ Info
My sis-in-law Olive McDonald is 25 years my senior. I was 16 ½ when I hooked up with her little brother Tom. She had 5 babies in 3 ½ years, her last pregnancy was twin boys. We had 4 girls 3 days inside 5 years, a 5-year gap then 2 sons. She was a stay-at-home Mum; I went back to work when my last girl was 13 months. Olive would stand in a news agency and read the recipes + memorise patterns because she couldn't afford the magazines to buy. I collected art + craft subscriptions. She baked constantly to keep her mob fed. We treated ours to family restaurants. Olive still sews her own clothes, I buy online + locally. She listened to me for hours when I was struggling and always offered a warm hug. She adores her family as do I. Between us we have sent out 11 decent adults unto this crazy world. She was and still is my light at the end of the tunnel! I love her as a mother.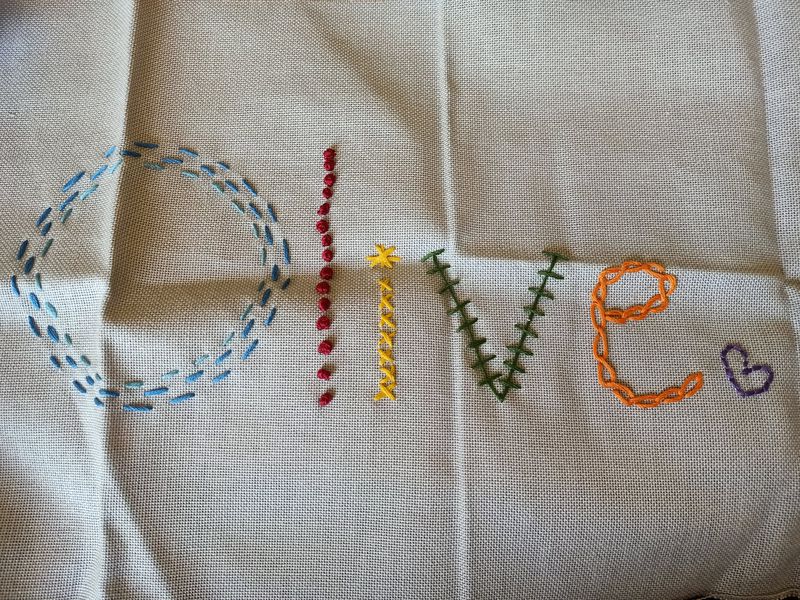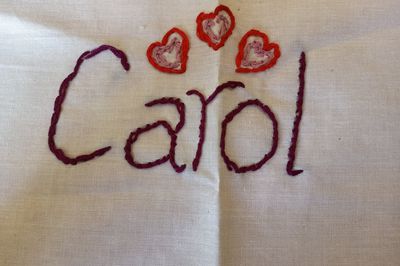 Carol
+ Info
Carol is my precious Mum. If I could think of one word to describe her it is 'family'. She was a war orphan so didn't know family until she had us. Then family became her world. She is a master craftswoman. Her patch work quilting is beyond beautiful as is her stitching. I am no stitcher, embroidering her names was my first foray with a needle. She was delighted and proud of my effort. She taught me the meaning of family.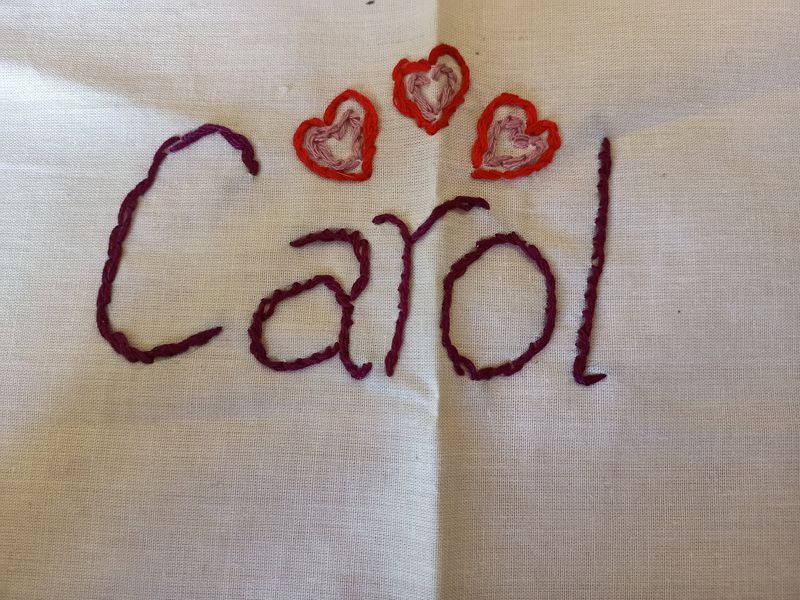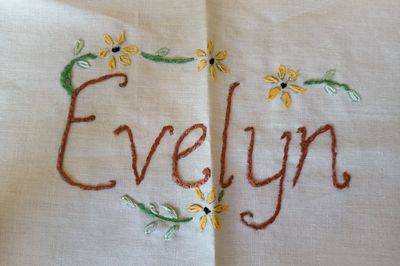 Evelyn
+ Info
Evelyn is my foster mother and fairy godmother. After WWII, the Daily Mirror put out a request for foster parents for London evacuees of which I was one. I was introduced to a woman who changed my life forever. 'Aunty Eve', someone who I could look up to and who guided me through my tender years. I am forever grateful for her love and guidance I received through this difficult time. My beautiful grand daughter is named after her. Evelyn's light shines on.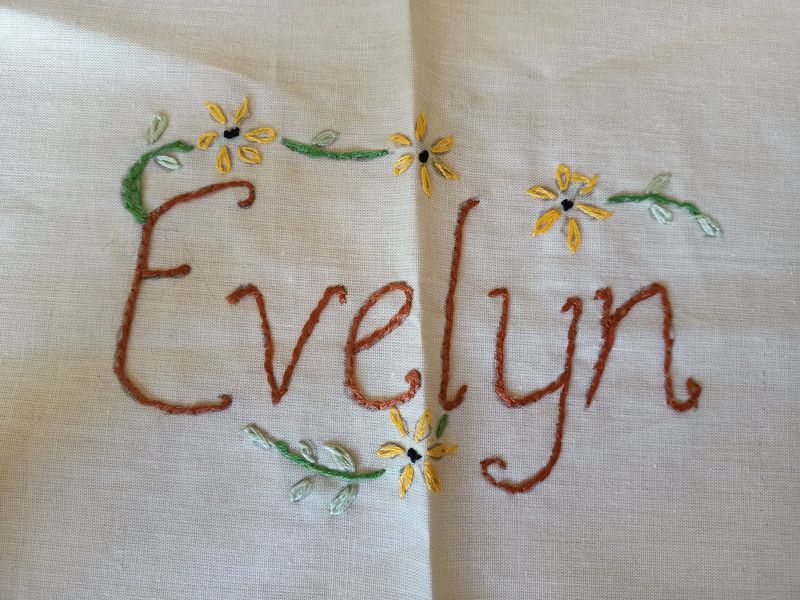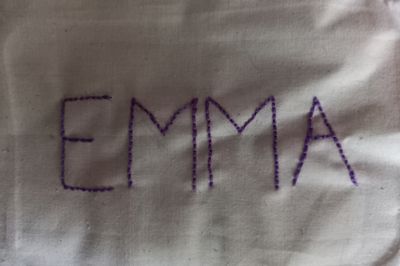 Emma
+ Info
Emma is my oldest friend. We were in the same class when we stated school at age five and have been friends ever since. Our lives are very different now, and though we sometimes go long periods without seeing each other, our friendship never lessens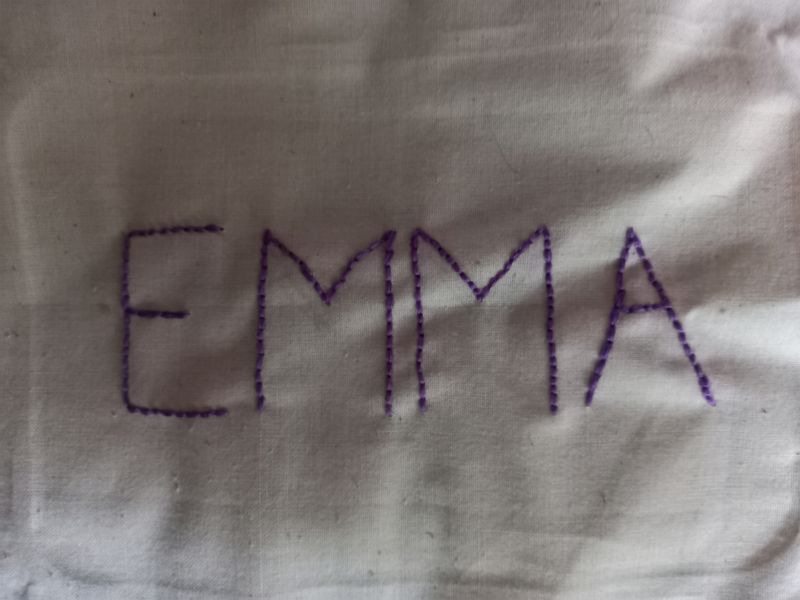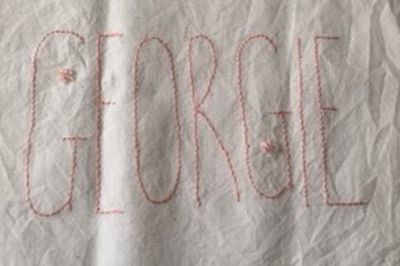 Georgie
+ Info
Georgie Sharp - the most amazing and creative woman I have ever known. Our long and illustrious connection spans more than two decades and I am in awe of her capacity as an artist and graciousness as a person.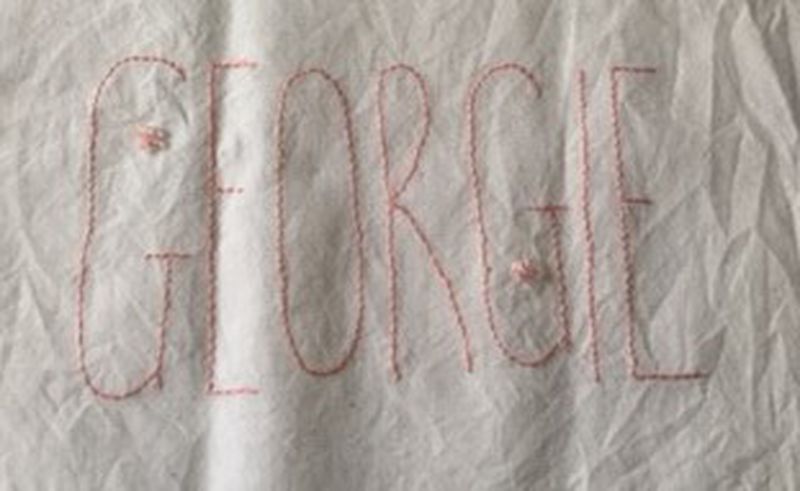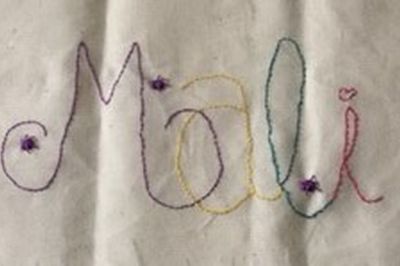 Mali
+ Info
Mali Isabel - an Indigenous artist and beginning teacher I was fortunate enough to host as a pre-service teacher earlier this year. We spent an incredible 8 weeks together teaching the arts, concluding with a student exhibition in our local gallery. She taught me SO much.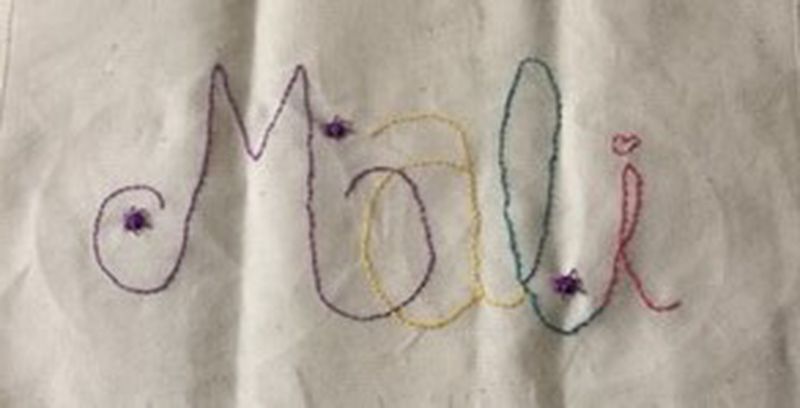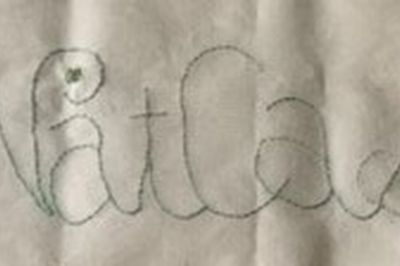 Natalie Castree
+ Info
Natalie Castree - a colleague and friend (and she sent me your project link). Despite being a generation apart in age, we share a love of teaching and creating art works, the AFLW, cold beer and a good curry - we make a great team.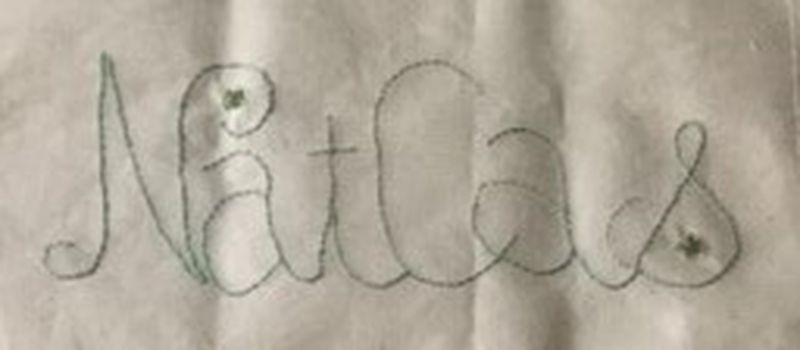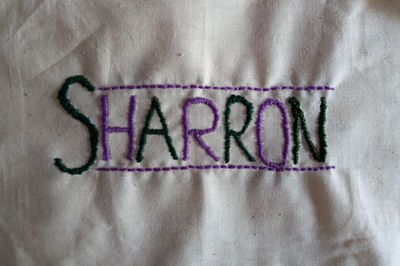 Sharron
+ Info
Sharron is my friend, colleague and mentor. We met as teachers at the same school and bonded over our mutual love of art, football, and a cold beer. Our friendship only gets stronger despite the geographical distance between us.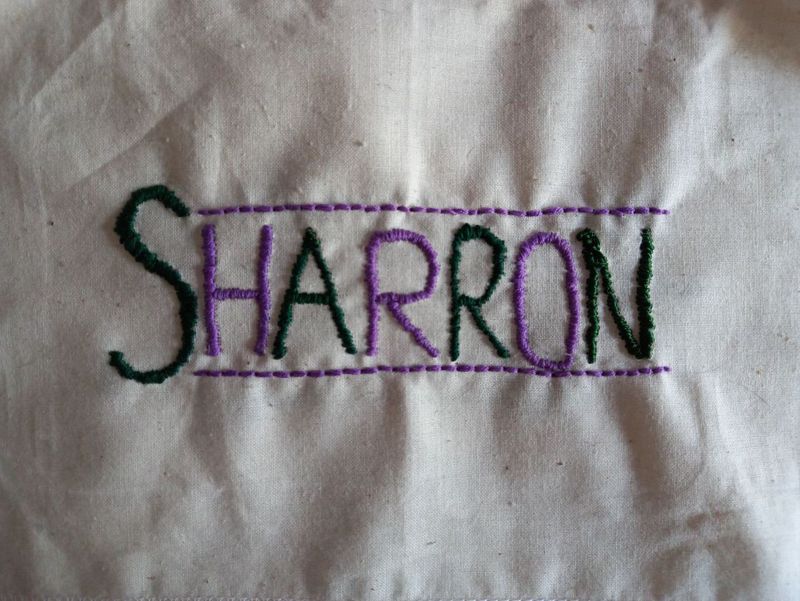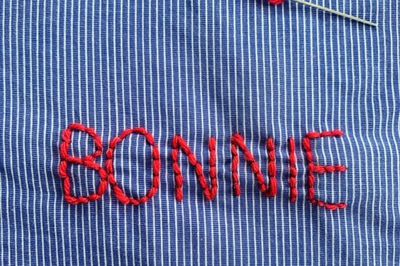 Bonnie
+ Info
Bonnie was a beautiful wife, mother to 3 gorgeous children and the kindest friend who sadly passed away during the Covid19 lockdown. I have chosen to embroider her name in red on a Marist School Uniform as that is how we met, with our children at the same Primary School, and because I think of her as being like Mary. She had a rare strength and was fun, brave, faithful, trustworthy, honest and the most loving Mum.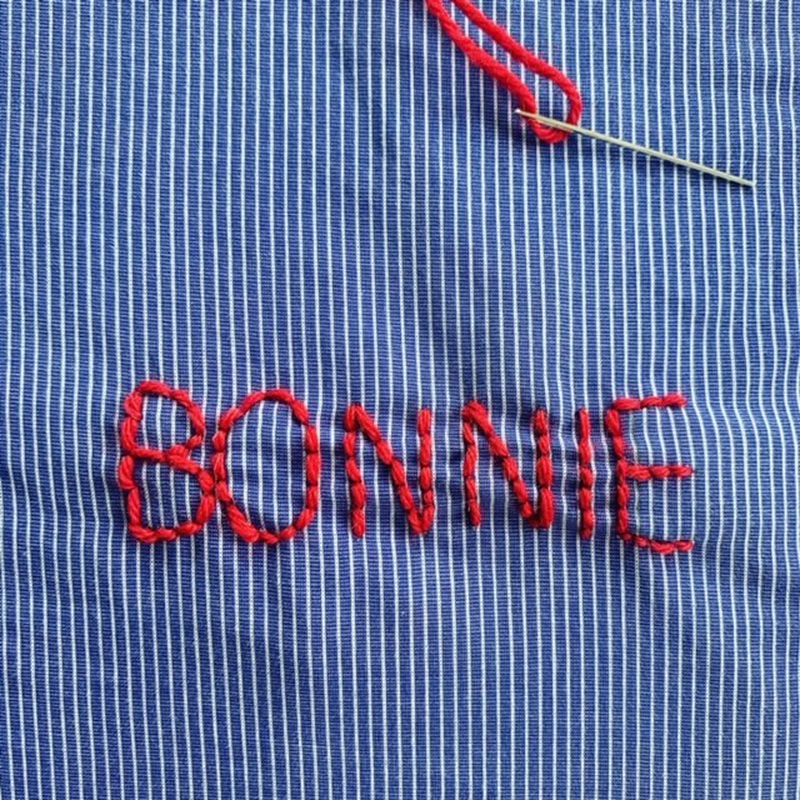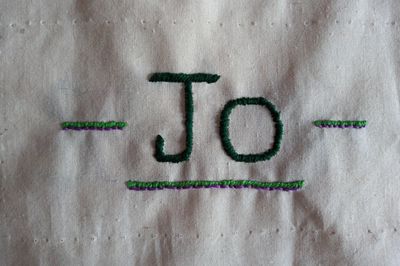 Jo
+ Info
Jo is my mum. She has travelled the world, kayaked the Murray River, cycled through Europe, and driven all over Australia. She has taught me to honour my commitments and to be myself.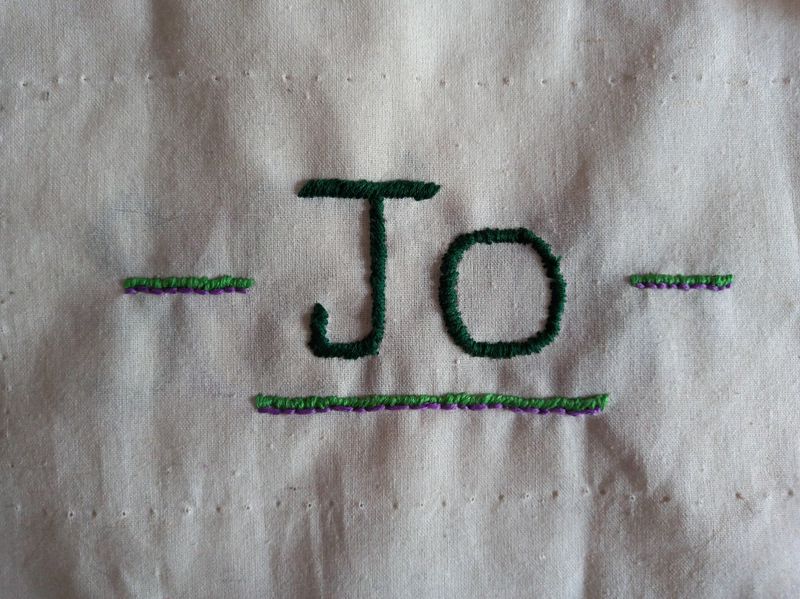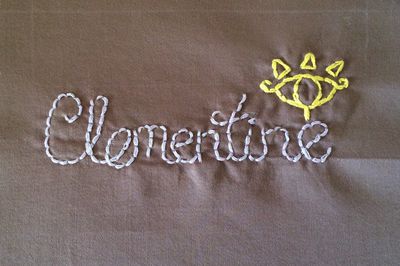 Clementine
+ Info
Despite her youth, my daughter Clementine has been a huge influence on my life. The yellow eye symbol is from her favourite video game, The Legend of Zelda: Breath of the Wild. I admire and respect her courage, kindness, resilience and creativity. She loves so well.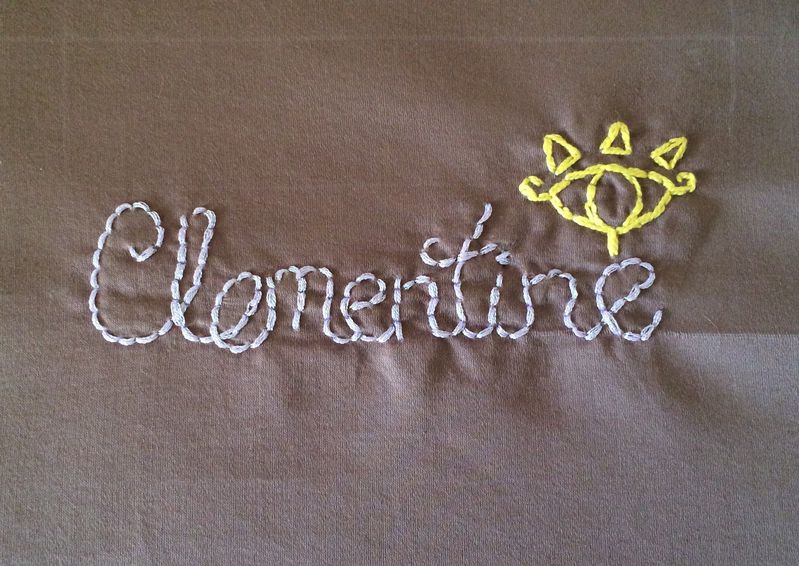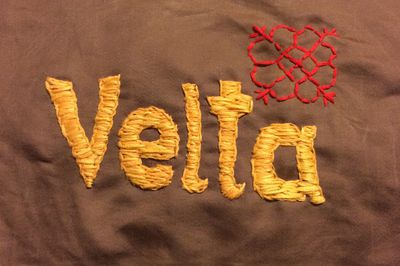 Velta
+ Info
A patch remembering my grandmother, Velta, who came to Australia in the 1950s from Latvia. The red symbol represents Saule, the sun. As one of the most influential women in my life, Velta was like the sun. Even though she is gone now, her memory still manages to shed warmth and light upon me.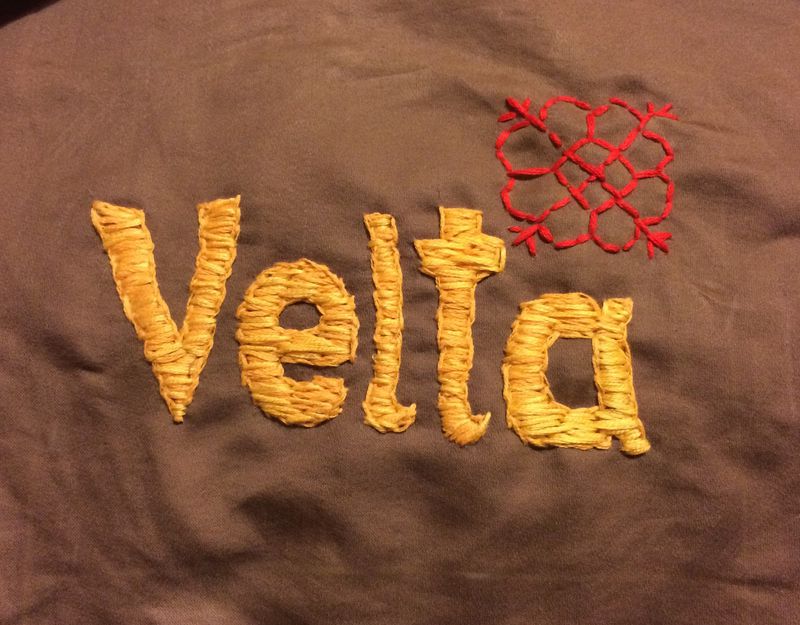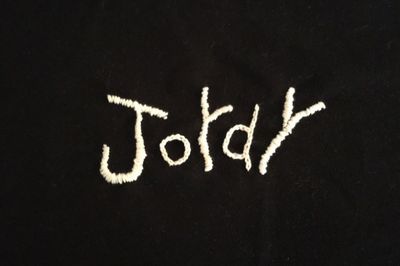 Jordy
+ Info
Jordy is my big-hearted, brave polymath of a daughter. Since a toddler, she's been a maker, creating things and finding ways to show us love. This is how she signed her cards aged 4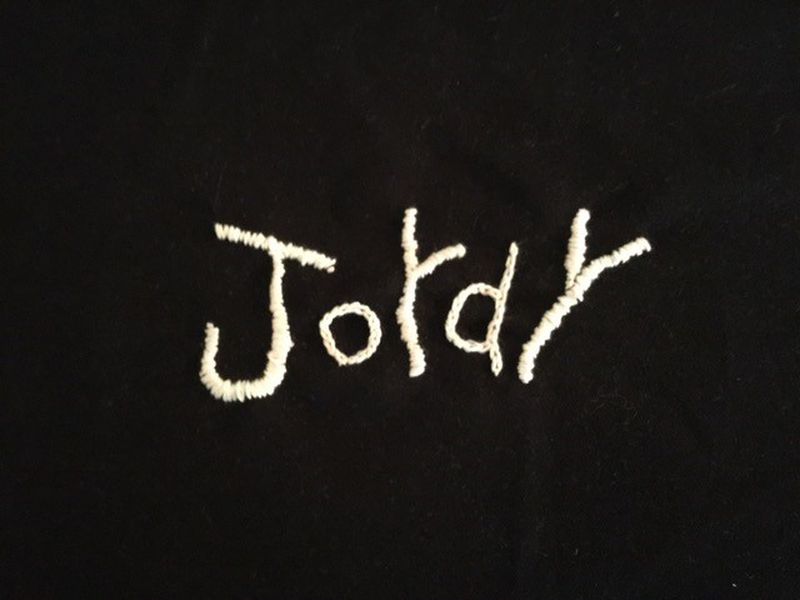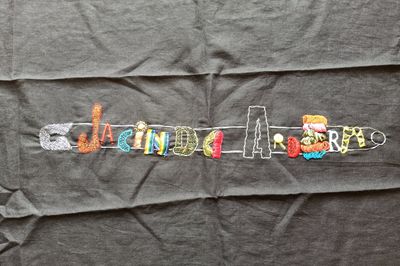 Jacinda Ardern
+ Info
This project was started during lockdown 2020. The world was turned (and still is) upside down and in Aotearoa New Zealand we really pulled together as a "team" with a common goal. Jacinda Arden was an incredible Prime Minister, she held us together, kept us informed. Jacinda has empathy, she was not a suit who put people second. Many of us have stitched her name because in this year of turmoil she made us grateful she was steering our country, listening to scientists and through it all her personality shone through. So from those women listed below, we wanted to acknowledge and thank Jacinda.
J stitched by Rae-ann Sinclair - Lake Hawea/Sydney
A stitched by Sophia Smolenski- Wellington
C stitched by Sophia Smolenski- Wellington
I stitched by Liz Hawker - Wanaka
N stitched by Rae-ann Sinclair - Lake Hawea/Sydney
D stitched by Deb Reynolds - Christchurch
A stitched by Isabell Sinclair Irwin - Dunedin

A stitched by Rae-ann Sinclair - Lake Hawea/Sydney
R stitched by Liz Terry - Hawea Flat
D stitched by Liz Terry - Hawea Flat
E stitched by Sue Terry - Wanaka
R stitched by Lucy Ewing - Hawea Flat
N stitched by Isabell Sinclair Irwin - Dunedin
Safety pin stitched by Rae-ann Sinclair - Lake Hawea/Sydney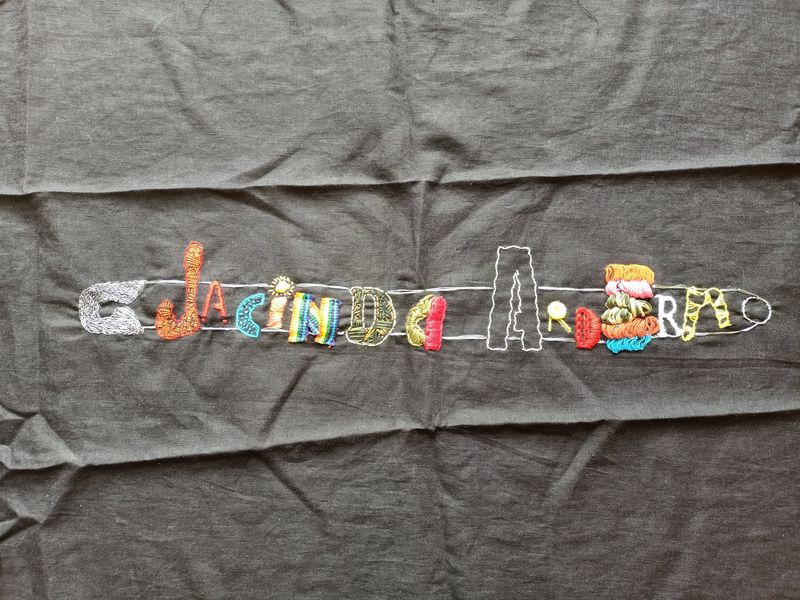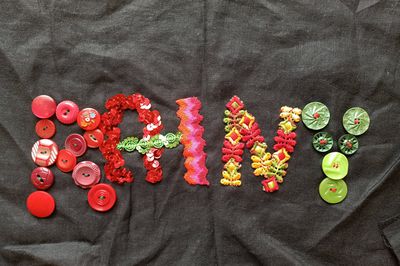 Rainy
+ Info
Rainy short for Rae-ann is my amazing daughter. She came into this world letting everyone in the whole Cottage Hospital in Tapanui know she had arrived! This enthusiastic entry has never left her. The door opens and you hear this lovely warm positive voice letting you know she has arrived. Rainy is bright, colourful, different, generous and always enthusiastic. She has strong views and these became apparent when she was leading a debating team or head girl at her school. Rainy is such an entertaining story teller. It is a gift to take the most ordinary situation and retell it in such a way that the listeners are doubled over with "side-splitting" laughter. She is often the butt of her own jokes. Rae-ann has had some very big events in her life, loosing her Dad when she was 3, (they were such great mates), her husband surviving a serious heart attack and then coping with breast cancer all before she was 46. But her sunny nature and positive outlook have stood strong as she has coped and adjusted. Her door is always open to everyone, there is always a very warm welcome, there is always food. What else can a mother say? I am so very proud of and love this unique and very special woman.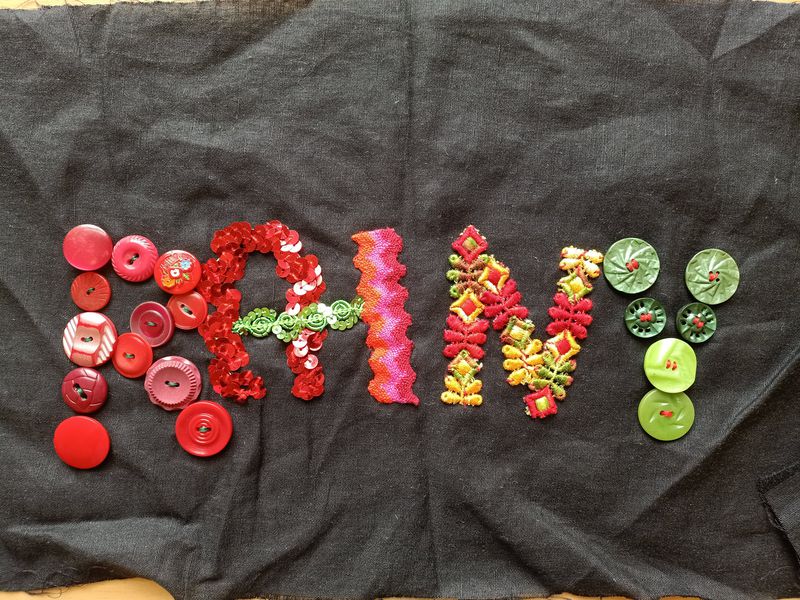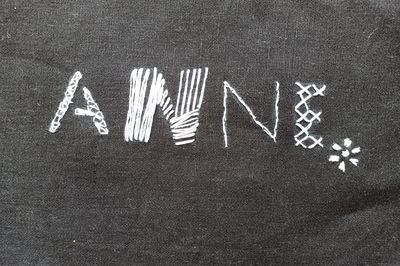 Anne
+ Info
Anne is my aunt, but being only 10 years older than me I see her as my age. I am named after Anne but have another family addition at the front! As a young girl I always thought Anne was very cool and groovy. The different lettering is to represent how I never saw Anne as boring, and I remember she always dressed with flair. I think of daisies when I think of Anne, she had dresses, stickers, hats and all manner of things with daisies on them, I have added one at the end of her name.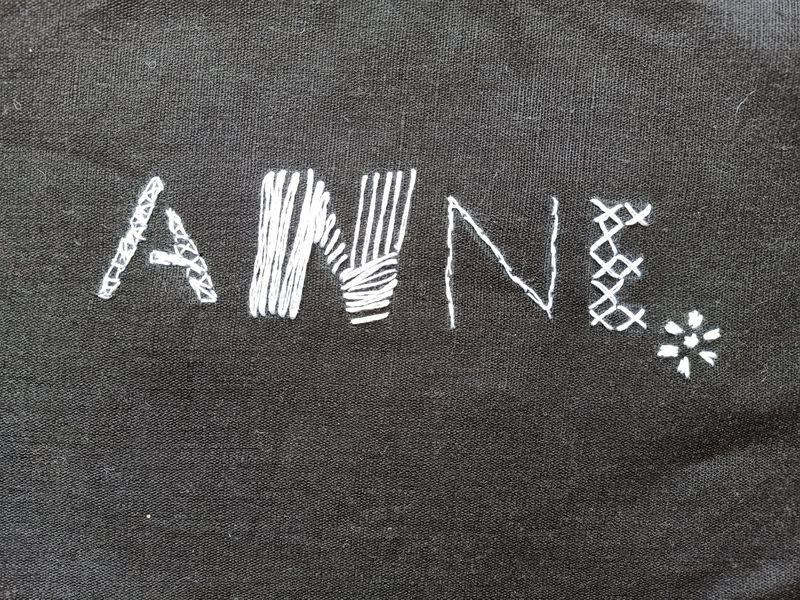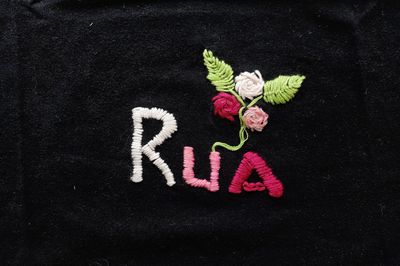 Rua
+ Info
Rua was born in 1915 and spent her first 40 years living and working on sheep stations. At the age of 40 she married a run holder and took on the role of running a house, having to learn to cook and feed all the farm workers. Unable to have children, they ended up adopting 4 and life became even busier. She made all their clothes. Knitted jerseys, baby blankets. Crocheted rugs. Put in huge vegetable and flower gardens. All hours of the day were used up. I'm proud to say that Rua was my mother and a truly remarkable woman.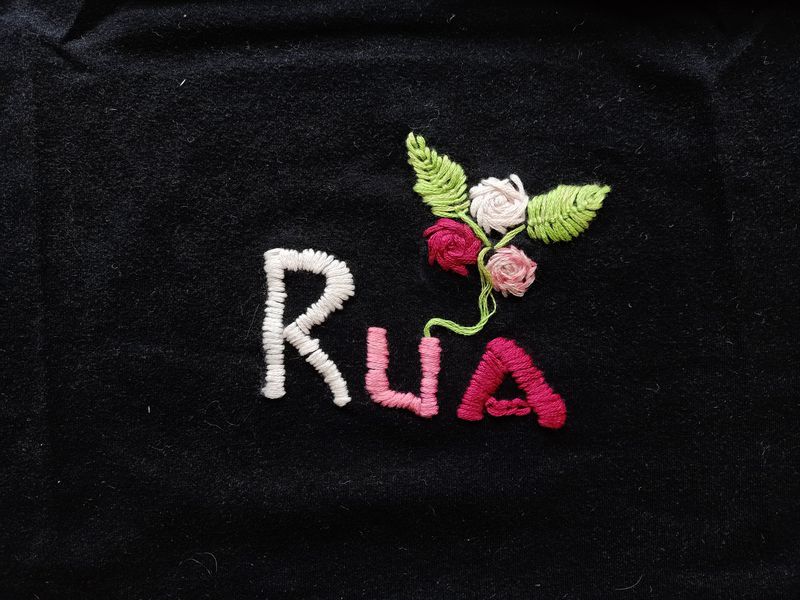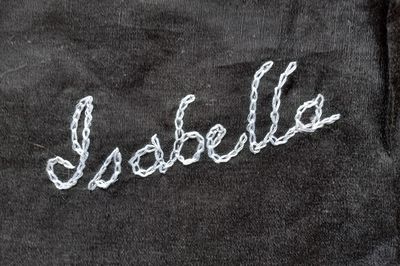 Isabella
+ Info
Isabella was my Grandmother who emigrated to New Zealand from Scotland. She arrived in Dunedin in the early 1880s. She married and raised four children. She was a tiny woman who had strong beliefs, was resourceful and was a suffragette. I am very proud of the stand she took on the behalf of women and have tried to live up to that in my life. Women can do anything. Isabella was accepting of all people. An example of this was when food was rationed during WW2 and no one could get rice and only limited amounts of sugar, the local Chinese green grocer always had rice for my grandmother. She had a sad life in many ways. She lost a son in the Battle of the Somme in WW1 and also her husband close to the same time. She sold her home to pay for another son to take his war bride back to the UK and then had to live with her daughter. During this time she was very involved caring for her grandson, who had a significant physical disability, feeding him and teaching him how to walk and take care of his personal needs. Right up until her death at 85 if she saw an outfit she liked she would draft the pattern from memory and make one for herself. She taught me a little poem when I was 7…………Today I will be happy, Today I will be glad, I'll try to make today, The best day I have had. This became such a gift, understanding how she coped and helping me so much to cope with some things in my life. An inspirational woman my grandmother.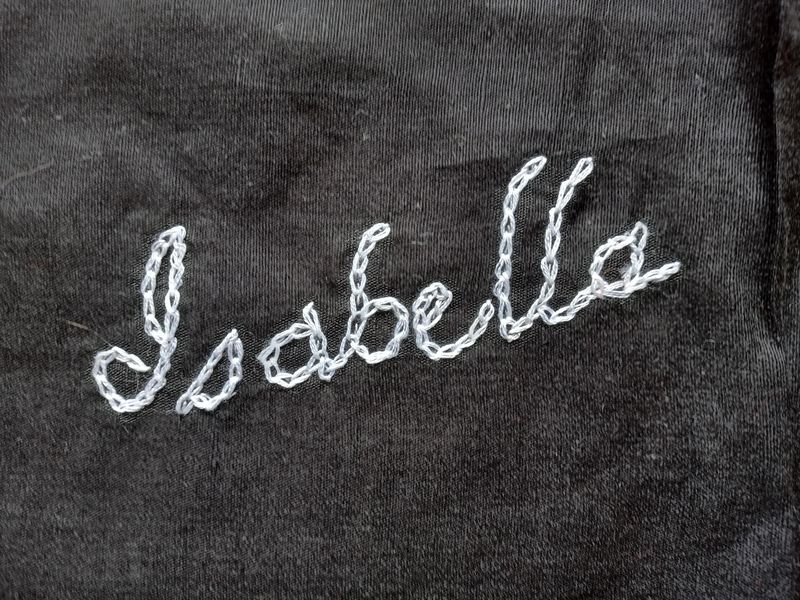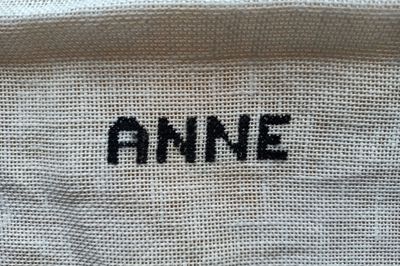 Anne
+ Info
Anne, my grandmother and namesake is a living inspiration for me. Her kindness & empathy are something I aspire to match and if I could live as her shadow or half the woman she is I would live a proud life.
Love you Gran.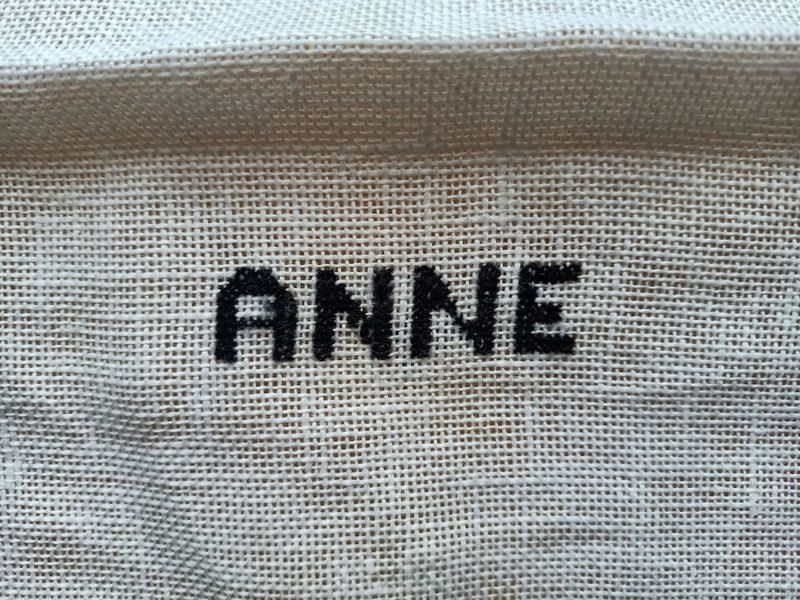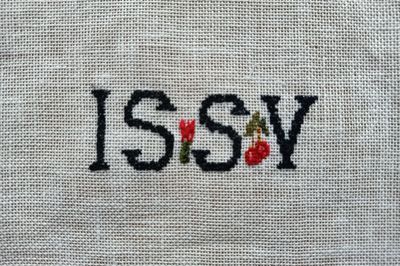 Issy
+ Info
Issy is what most of us call my mother. A strong woman who was widowed in 1965 and was left with a three year old and a new born baby. Mum through necessity knitted my jerseys and sewed many of my outfits. The fabrics were always bold and the pattern striking. This I am sure has influenced my love of colour and pattern in me. I have added a flower and cherries because mum still gardens today, and it is an interest we share, and my love of cherries stems from mum always having them in the summer holidays when we were children. Summer holidays were always fun with mum. Issy, short for Isabell.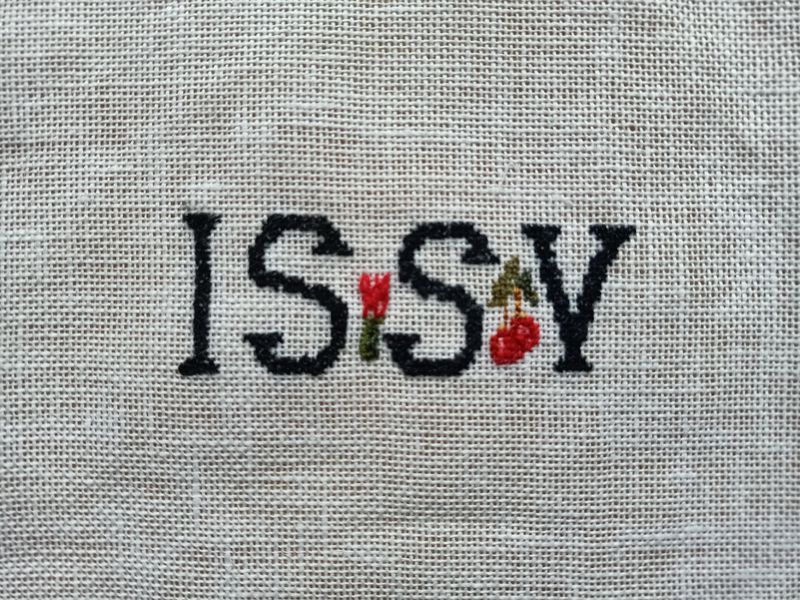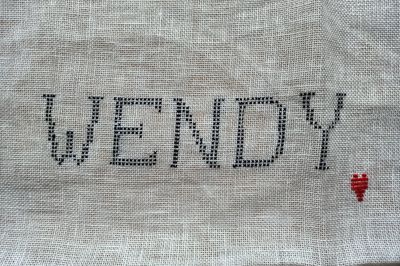 Wendy
+ Info
My mother can live proud, as she has faced life's blows and taken them standing tall. A fiercely independent woman, Wendy has set standards that my sister and I would be silly to not take note of and follow. My mum is loyal to those she holds dear to near fault but that just solidified her image of a true friend and mother.
Love you mum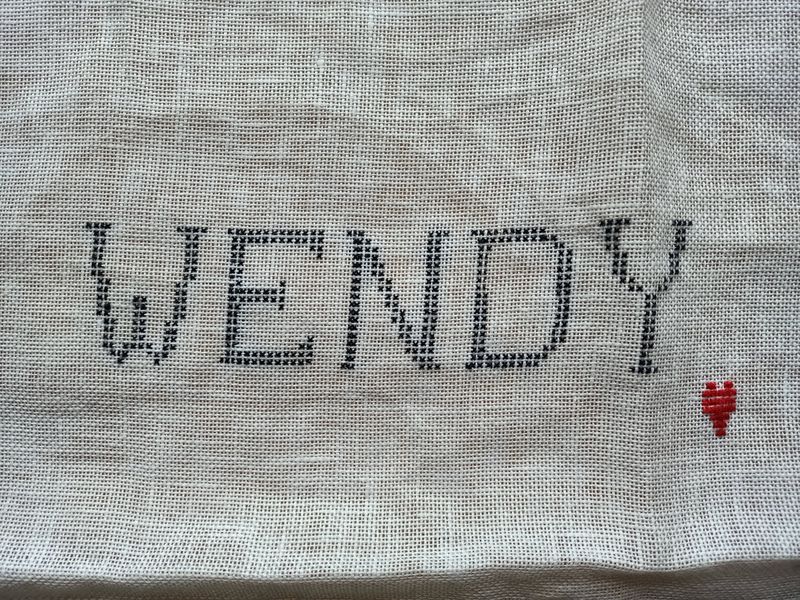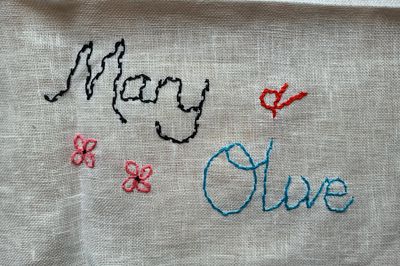 Mary & Olive
+ Info
Mary was my Grandmother who lost her mother when she was two and who had to endure a horrible relationship with a stepmother until she could leave home and worked for the local doctor's wife who treated her with respect and kindness. She lived most of her life in Sutton in Central Otago and had five children and brought up two nephews as well. Her husband didn't keep good health and Mary had to hand milk cows, separate the cream from the milk and had a large flock of hens. The eggs and cream were sent to Dunedin on the train. As well she baked, preserved and made jam: nothing was wasted. Mary knitted, sewed, did beautiful embroidery and crochet work. Her eldest daughter had to leave school aged 12 to take over the kitchen and cleaning duties as there were a lot of mouths to feed. Mary taught me....... 'You reap what you sow' and 'Smile and the world smiles with you, weep and you weep alone.' I have never forgotten those. 'A stitch in time saves nine' has not had the same impact! Mary taught me a strong work ethic, loyalty, patience and gave me no-nonsense unconditional love.
Olive was my aunt. She was a 'land girl' during WWII and worked her parents' farm. She milked cows, tended sheep, rode horses, raised pigs and was an amazing gardener of both vegetables and flowers. She never married and looked after her mother until her death, and then looked after my mother. She lived a life of giving to others. She was an active member of women's groups like The Women's Institute and The Women's Division of Federated Farmers. She belonged to the Arts and Crafts movement and did beautiful embroidery and knitting. I have her scrapbooks of the most amazing knitting patterns. She played tennis, played the piano and sang in local musical productions. This woman, I know, would have loved to have had her own partner, her own home and her own children. She never did but she was positive, accepting and always showed a happy disposition. Aunty Olive was another inspirational in my life.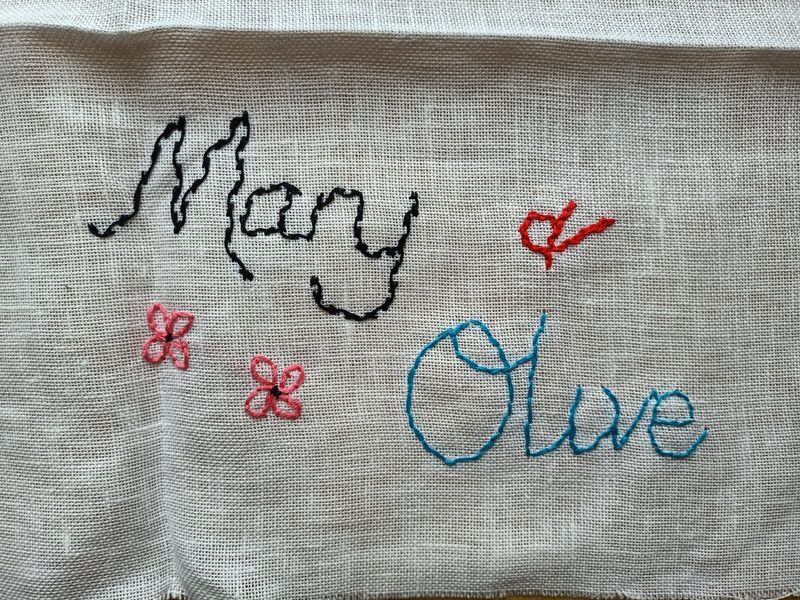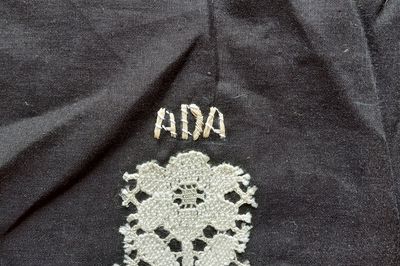 Ada
+ Info
Ada is my Grandmother. After leaving school at 12 to help her mother cook and care for her siblings and cousins who lived with them in Middlemarch, her spare time was spent doing crafts. Adelaide Macdougall (née Terry) would perfect many crafts, such was her skill she would judge cooking at the Otago A&P Show, baked and iced wedding cakes, stitched, tatted, knitted, sewed, painted, did pewter, leather and shell work, in fact the extent of her involvement is truly impressive. My fondest memories of Grandma are sitting on holiday as she sketched scenes around Central Otago, her full cake tins and her constant striving for improving her skills by attending courses constantly, right up until her latter years. My work for her includes some of her tatting.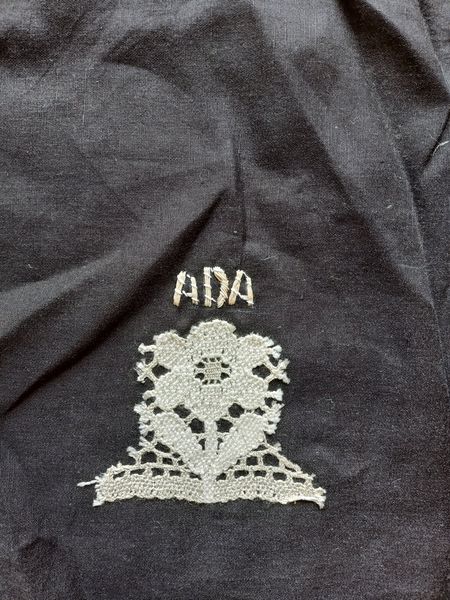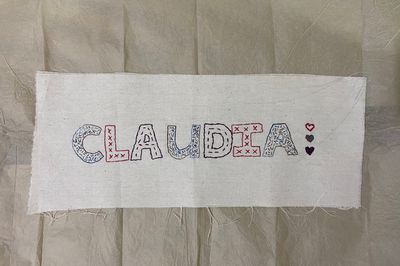 Claudia
+ Info
Claudia is our mother. While we were growing up, she modelled spending time, generosity, faithfulness and handmade as ways to love those who are dear to you; qualities we continue to seek and reflect in our relationships with the ones we love. She is the person who taught us to make and sew, who made all of our clothes growing up, and who fostered in each of us the value and beauty of items made with care by hand whilst allowing us to grow into our own diverse creative expressions. As adults we are still people who make things, and as sisters we each contributed to this stitching as a collaborative way of honouring her.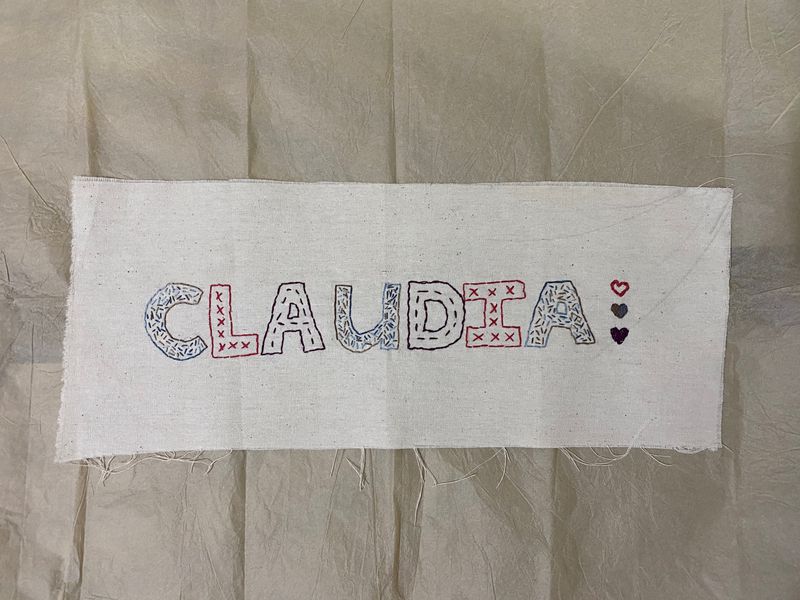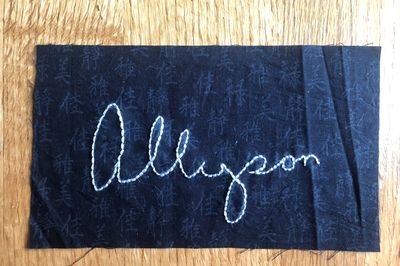 Allyson
+ Info
I haven't done embroidery in ages. The last project I remember was 15 years ago. But when I learned about this project I immediately knew I had to make a patch for my dissertation advisor. Working with her was frustrating at times, but I always appreciated how she supported my ideas (even the outrageous ones) and I'll always be grateful to her for opening my eyes to ways of more inclusive thinking and working. I'm glad I got to tell her how much that meant to me the last time I saw her because she died unexpectedly in April 2020.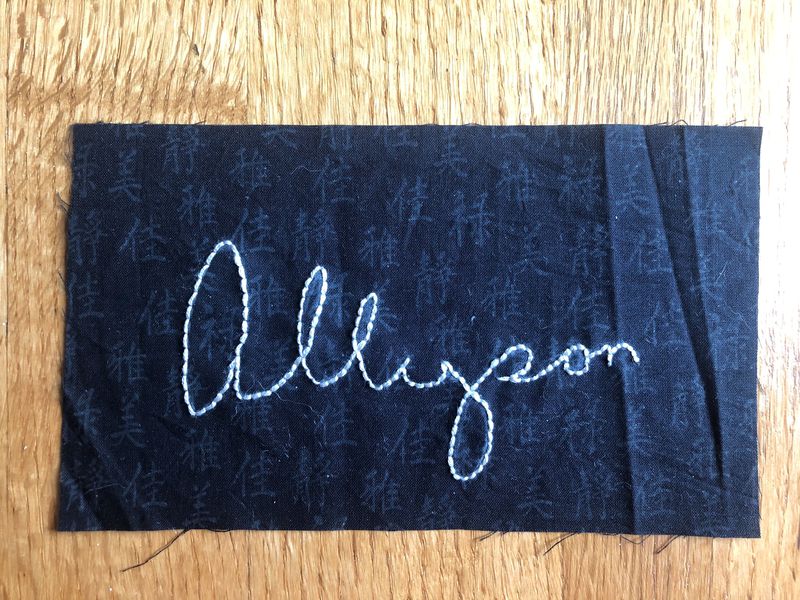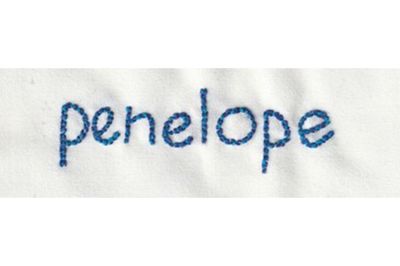 Penelope
+ Info
Penelope is my Mother who gave up her dream of being a writer/journalist when her father refused to pay for her to attend university unless she studied teaching or nursing. She joined the British Army instead. At 21 she left everything in England to travel to Malaysia to marry my father who she had met in Australia when they were stationed together in Adelaide. She gave up the Army to marry. She gave birth to me while my father was with the Australian Airforce in Vietnam, solo parenting three children until my father's return. She attempted many times to study & write but life always got in the way. She was widowed at 42 and left to steer the family ship solo again. As a teenager I often made for stormy waters, but she guided us both through. I admire my mother's tenacity (aka bloody mindedness), fierce independence, unspoken love and support & witty way with words & I acknowledge & appreciate the many things she has given up.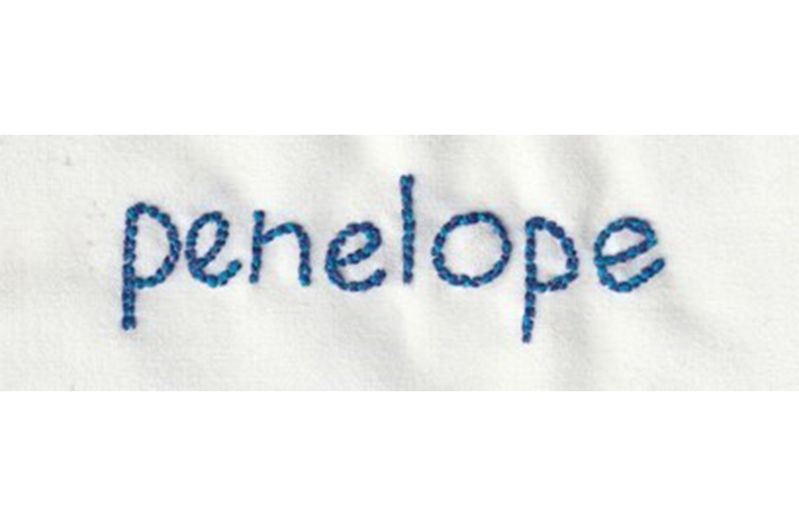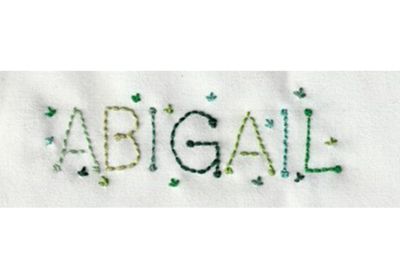 Abigail
+ Info
Abigail is my Daughter. She is 13 and I have embroidered 13 little shoots around her name to represent both her age and (just some) of the possible opportunities' I know life has to offer her. She makes me laugh and keeps me grounded, reminds me to have fun and inspires me to keep finding creative ways to do things & get things done. She drives me to seek answers to all kinds of questions from the mundane to the sublime. We share a love for observing (researching) and appreciating the extraordinary in the everyday. We see, we create & we draw together and make up silly songs about our big beautiful ginger cat every single day we are together. She also keeps my hands warm.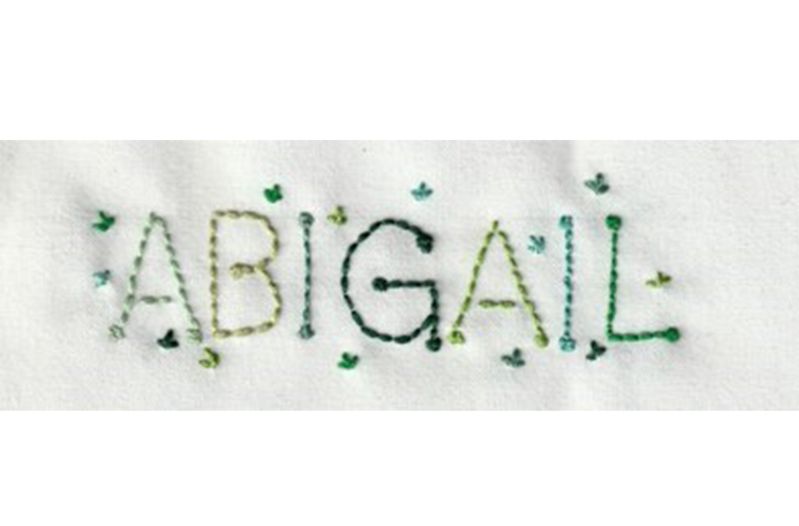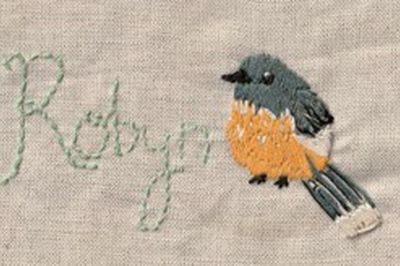 Robyn
+ Info
Robyn is my mum. Magnificent, uncoordinated and meaningful. From songs about our awfully fluffy cat that is Bosch, to dreaming up stories that we spin at night, my mum has always been there for me. She inspires me to see beauty in the world we live in and to accept all our differences, which I have displayed in my embroidery. I chose to depict a native yellow Robin, a lesser known bird in the all mighty flock of Australian Wildlife. The Robin sounds both like my mum's name and represents a bird she loves. I love her unconditionally and I hope that we keep singing our songs, telling our stories and being there for each other because she is Magnificent, uncoordinated and most of all, Meaningful.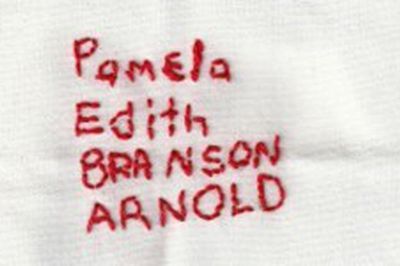 Pamela Edith Branson Arnold
+ Info
Pamela Edith Branson Arnold is my mother, each stitch I made in this embroidery has been made with, and to represent, love like no other.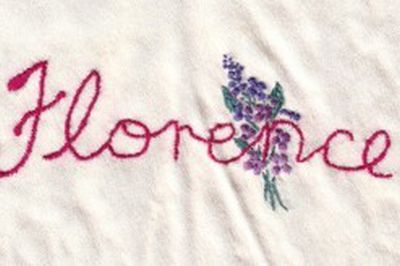 Florence Emma Macpherson
+ Info
Florence Emma Macpherson was my wonderful mother – a skilled dressmaker, and in her later years, made many costumes for the Hurstville Light Opera Company. Hence my love of embroidery and textiles. Amongst other flowers, lilac was my mother's favourite, which is the flower represented on her name.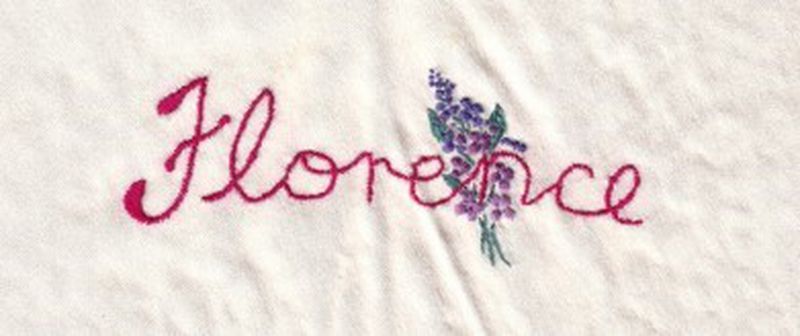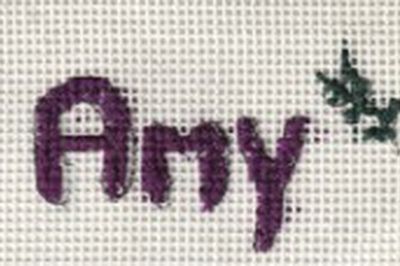 Amy
+ Info
Amy was my maternal grandmother. Words that come to mind when thinking of her are strength, love, compassion, discipline, "good manners". Also known for her good food. She had a hard life raising 9 kids in Western NSW. Not only 9 of her own but helped raise the younger members of my father's family when my paternal grandfather was widowed & never remarried. A second mother to them and they loved her. She and Joe, (my grandfather) eventually moved to Sydney where she cared for him, her elderly parents & 6 children. The neighbours came to rely on her as well. She was a devil on 'cracker' night and loved a double bunger! Her 17 grandchildren idolised her & spoke lovingly of her, she loved good fun, always dressed a bit like the Queen mother when she went to "town" in her flowery outfits, hat & gloves. She always wore a corset! There were times when lack of money and exhaustion must have almost overwhelmed her, but she never seemed to show it.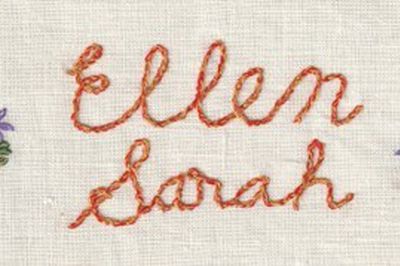 Ellen Sarah
+ Info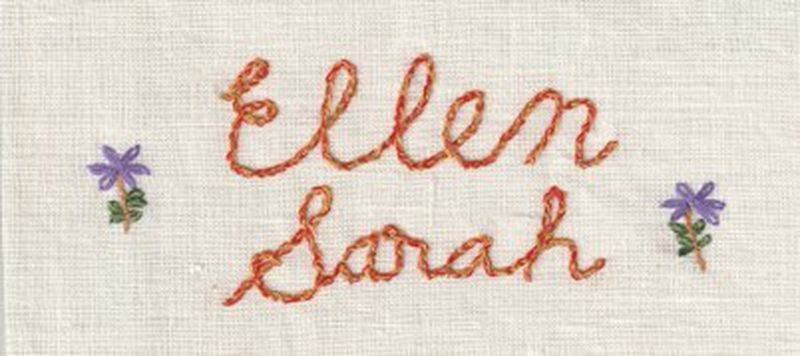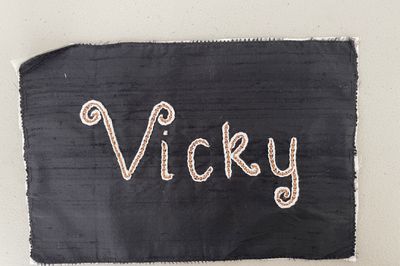 Vicky
+ Info
Vicky is Anne & Colin's younger daughter, lifelong learner of te reo, ukulele, retired teacher and advocate for women's causes.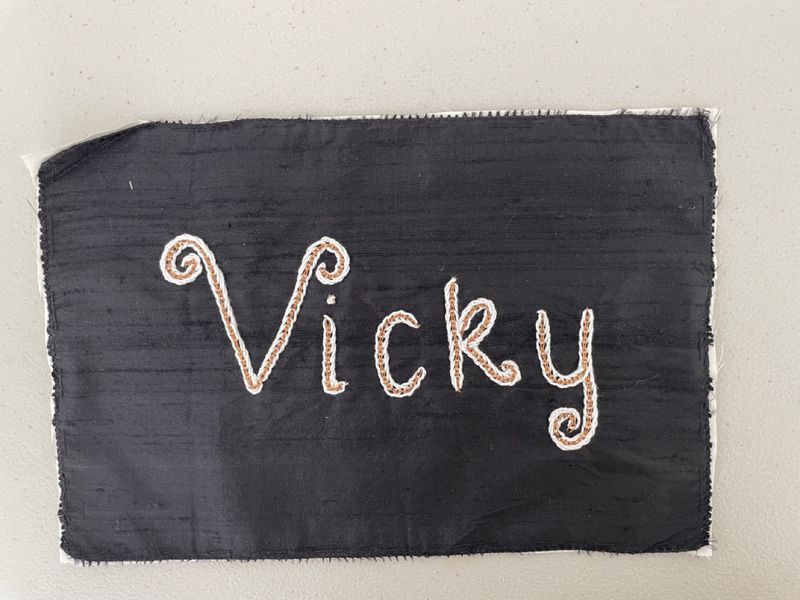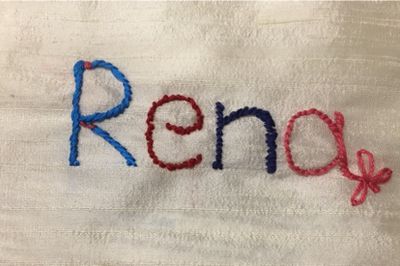 Rena
+ Info
I always had a close but complex relationship with my mother Rena(te). She supported me even though it was clear that it would 'remove' me from being near her. Rena just turned 90 during the pandemic. Sadly I could not be with her to celebrate this wonderful day, her being in Germany and me in Australia makes this time super testing for us. Her tenacity and resilience though still amazes me, living on her own in isolation at 90 years of age is no easy feat.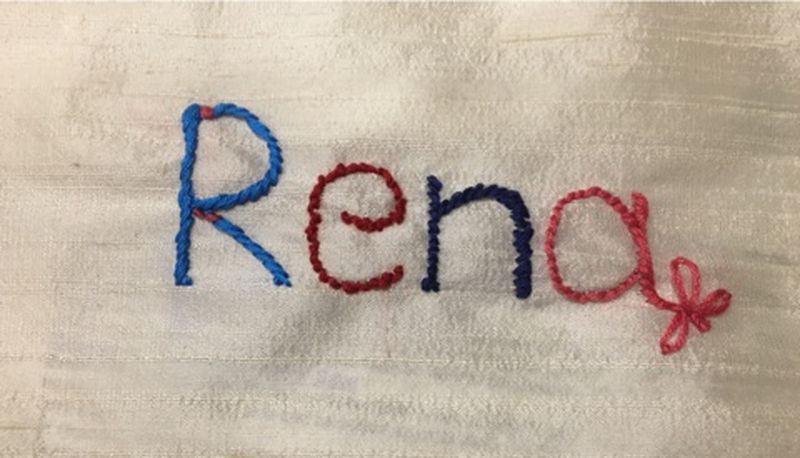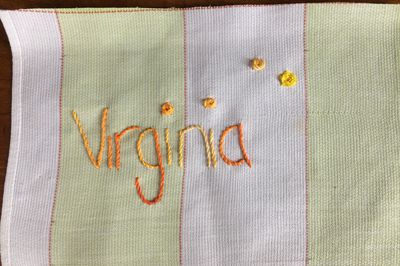 Virginia
+ Info
There were three sisters in the Alexander family: Heather, Laurel, and Virginia. All flowers. The sisters were close and supported each other through many tough times. During the depression, their Mum, Lily, would bake cakes and the girls would take to the streets to sell them.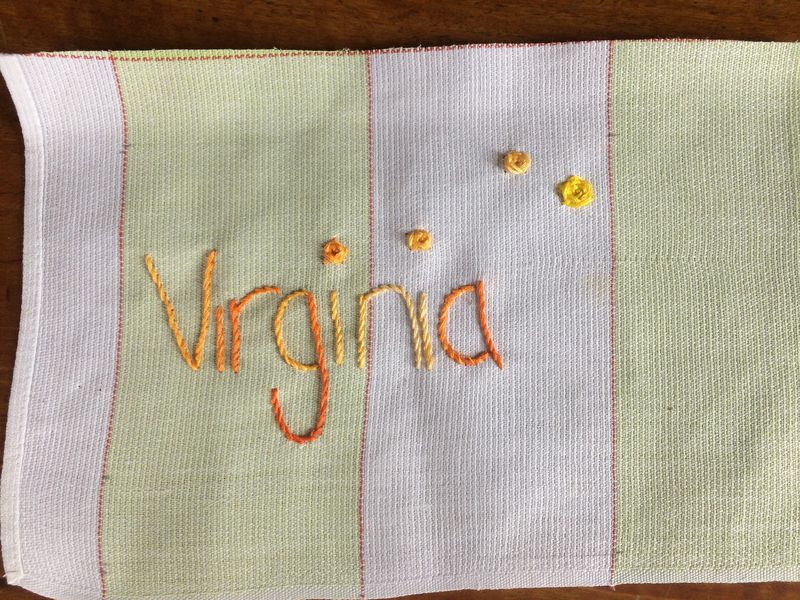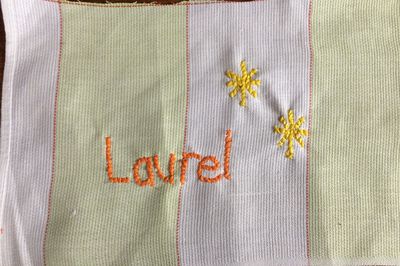 Laurel
+ Info
Laurel was my mother's aunt and like a second mother to her. So to me, she was like a second grandmother. She loved the theatre and performed with her cousin Ken Brodziac when they were young. Later in life, she and her friend Irene put on shows for the 'oldies' who lived in their retirement hostel. She had a life of many ups and downs. When her divorce finally came through in her 70s, she went out and bought red lingerie and had her hair done to celebrate!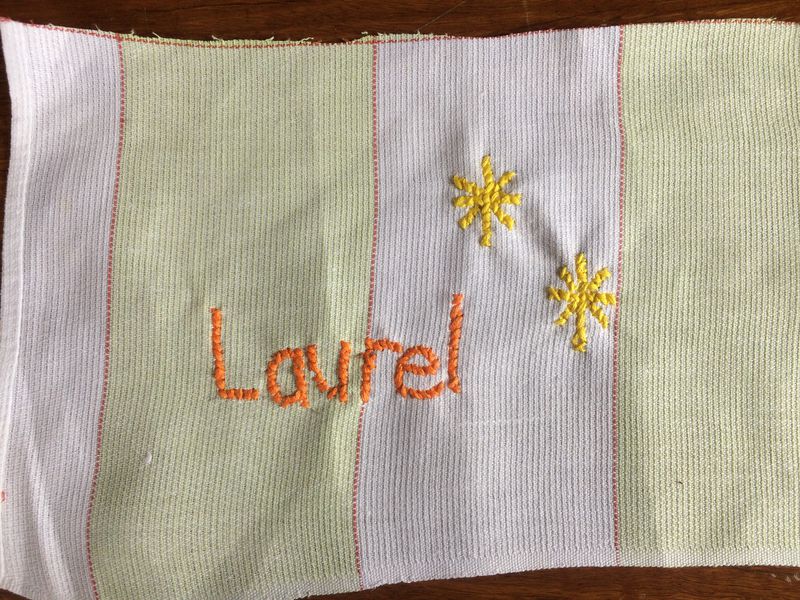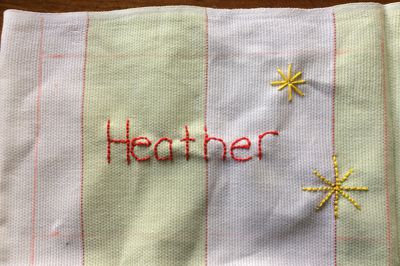 Heather
+ Info
Heather was my mother's mother. I didn't know her very well, I only remember her vaguely from when I was a child. She was very kind and the family legend goes she 'tamed' my grandfather Jim, who was wild and reckless when he was young.Heather was my mother's mother. I didn't know her very well, I only remember her vaguely from when I was a child. She was very kind and the family legend goes she 'tamed' my grandfather Jim, who was wild and reckless when he was young. I chose her because there is something intangible and nameless that passes from mother to daughter, mother to daughter. It's a soft as touch, and hums somewhere in the distance of your being. I didn't have to know her very well. She is still singing in my blood.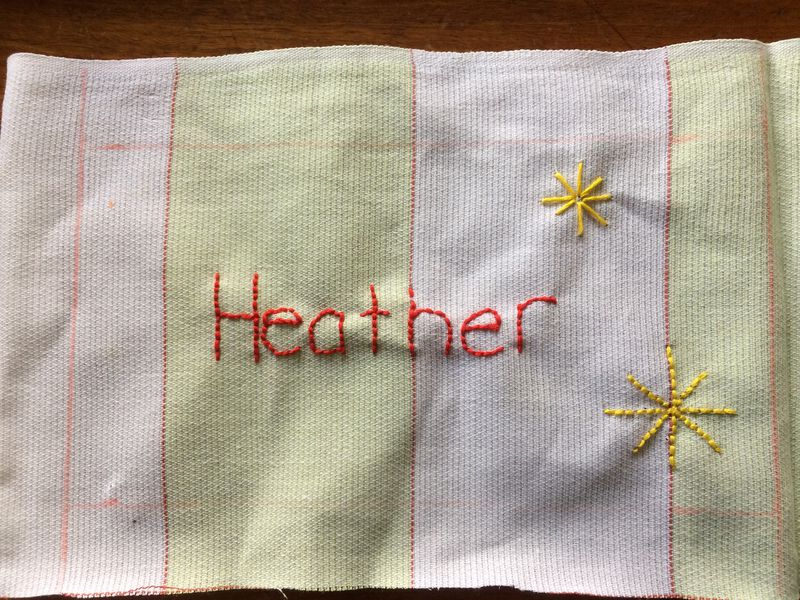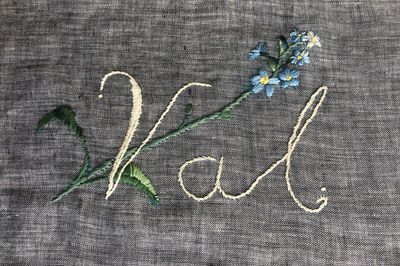 Valerie
+ Info
Embroidered on a patch from one of her favourite linen shirts, a Forget-Me-Not, for my mother Val. I think of her every day.
She was a naturally gifted and extraordinary florist, expressing emotion, beauty, and love in all her work.
There were always fresh flowers in our home. Like her mother, she loved the garden, the vision she had for it, her hands in the soil. A place of great joy, and of solace.
She imparted in all five of us a love of nature- to see and feel the beauty and find peace and strength in uncertain times.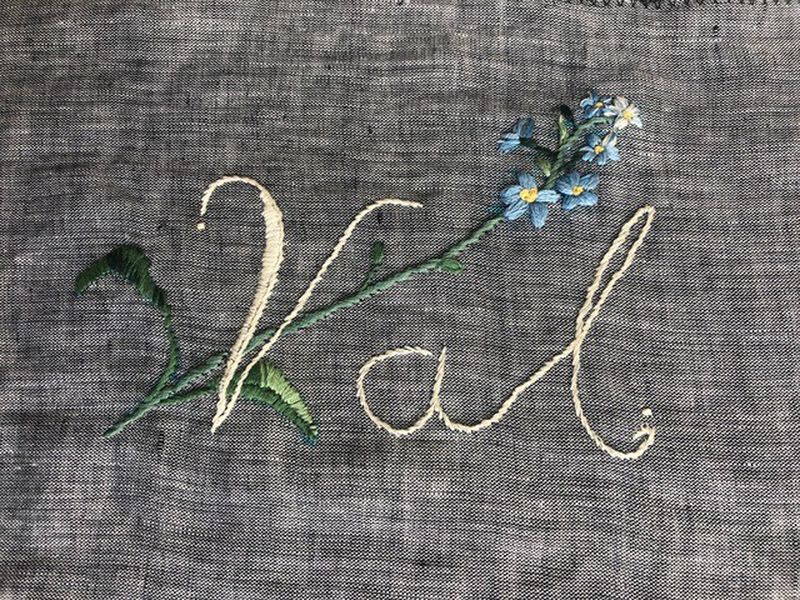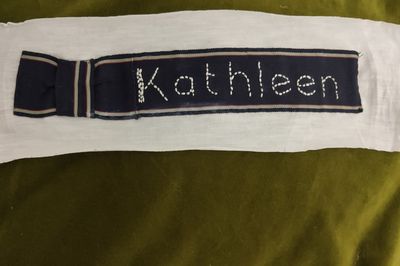 Kathleen
+ Info
Kathleen is my mum's name. She passed away at 83 just 4 years ago. I have embroidered her name on a patch made up of 2 pieces of fabric. The white background is from a t-shirt of my son/her grandson (one of her 12 much loved grandchildren). The dark blue gros-grain ribbon is a section of her hat band from her time at boarding school at Star Of The Sea in Gardenvale, Melbourne.
She used to describe her time there with some fondness but also described her powerful homesickness when she first arrived there at 12 yrs from her home in a very sleepy pocket if north east Victoria. The independence she gained stood her in good stead for her chosen career (and one she very much loved) as a nurse.
Kathleen was a mother of 7, the eldest of whom was a daughter she gave birth to unwed and ,as was a sadly common choice in those times, she gave up for adoption. She went on to have 6 children including me when she married my father.
My mum did not have an easy life. She faced the relinquishing of a baby daughter, a marriage to a difficult man and raising a large family with limited resources. But Kathleen was a kind and loving woman who was generous with her time and whatever she had to share with people. She was resourceful, hard-working and very loving.
She loved being a nurse and the independence it offered her to be a woman with her own income and skills and recognition beyond the realm of housework.
I feel so lucky to have been raised by a woman who was so unwavering in her love and delight for her family no matter what.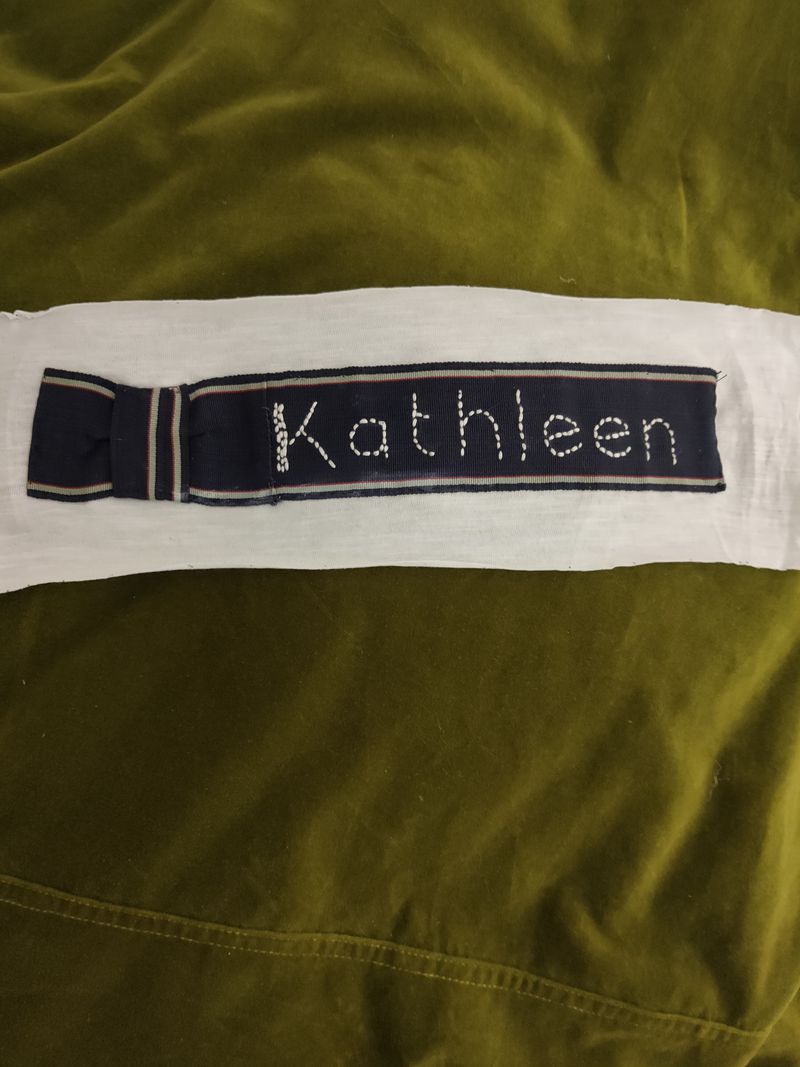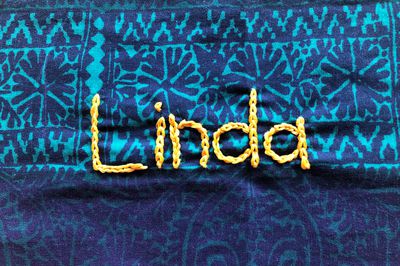 Linda
+ Info
Linda was my beautiful younger sister...
She was an art educator in charge of public programmes at the AGNSW. Linda was also instrumental in establishing the gallery guide programme. She was loved & respected by her staff & colleagues for the gentle & encouraging way she fulfilled her role. Linda was also a much-loved mother, partner, daughter, sister & friend.
Modest, funny, kind & artistic
Linda (née Slutzkin) 1950 -2005
Missed...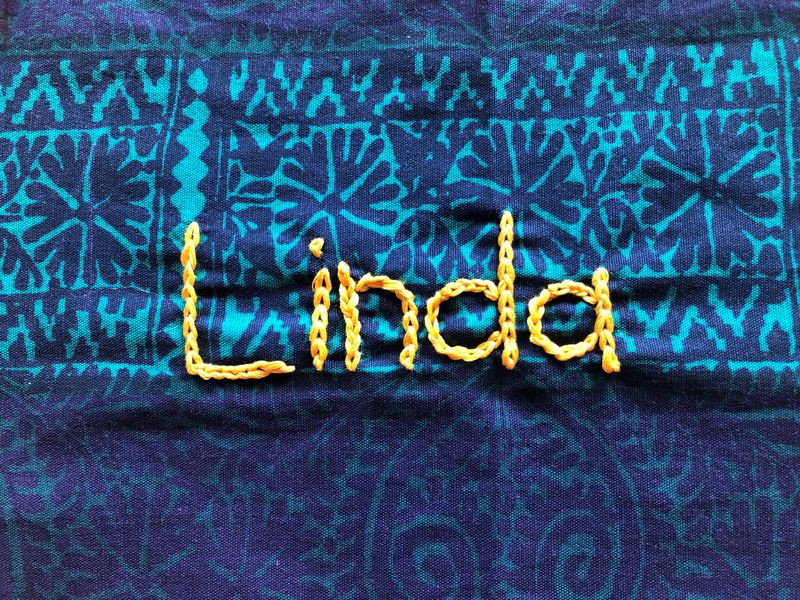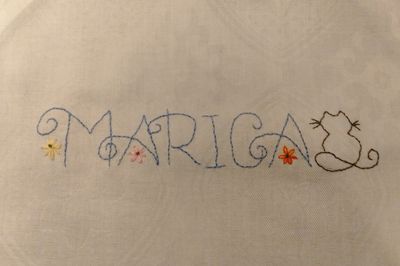 Marica
+ Info
Marica was my mother. She passed a couple of years ago and is greatly missed.
Stitched in blue for her beautiful blue eyes.
Three flowers, one each for my sister and I and one for her only grandson.
The cat, for all the cats that found their way to her and ended up having a warm loving home.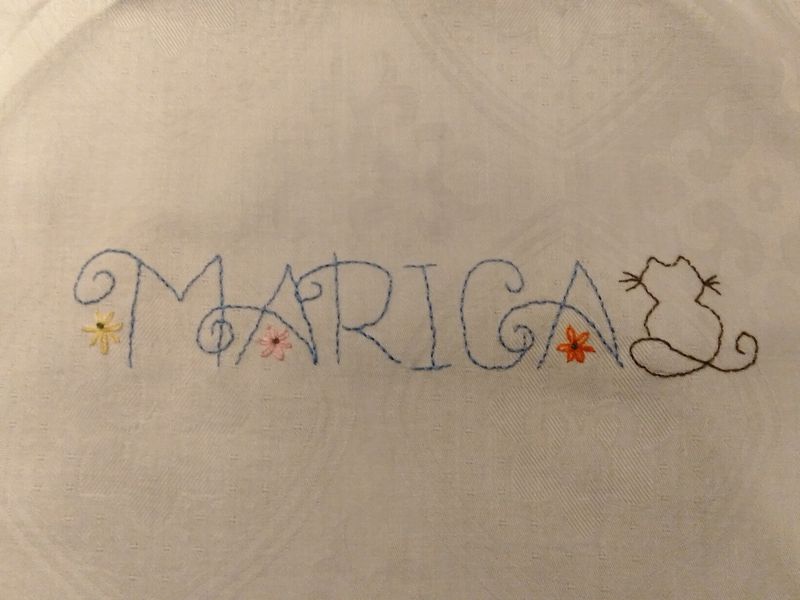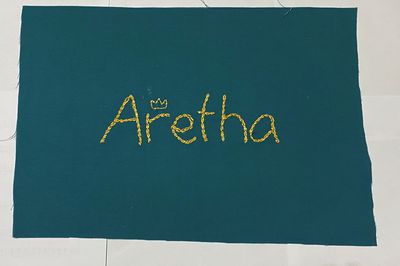 Aretha
+ Info
This is for Aretha Franklin who is my favourite singer, and a woman who has had a huge influence on me as a musician. It's made using gold metallic thread and has a crown because she was, is, and will always be the Queen of Soul. There's also a song reference in the stitch I chose (I couldn't resist!).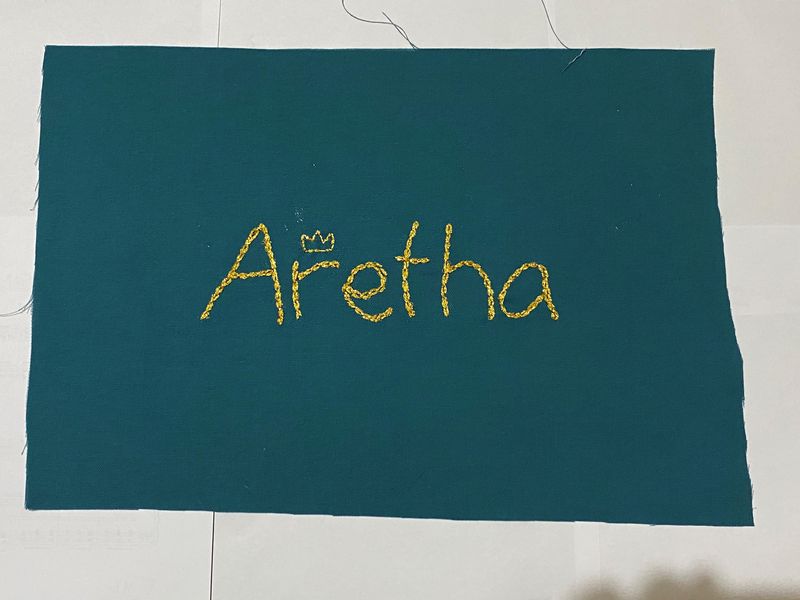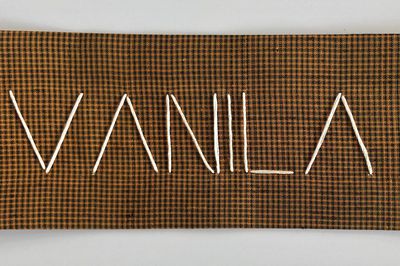 Vanila
+ Info
Vanila (Rita Maria Barbosa Fontainha Netto), showed me art.
And a passion that surprised me.
I was lucky.
I have not known her life for many years. It's difficult to write a few sentences.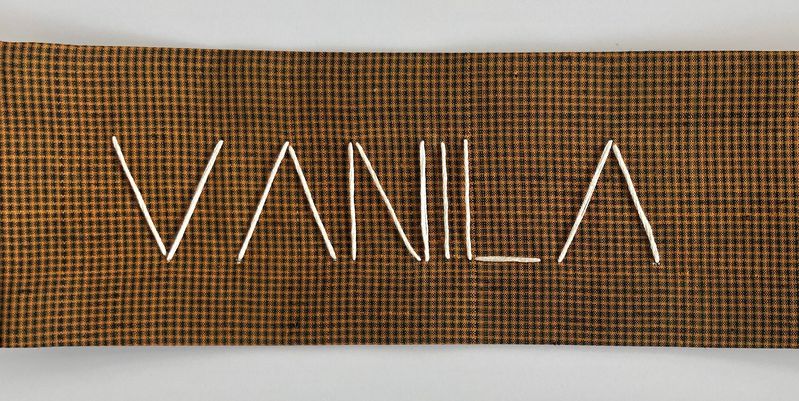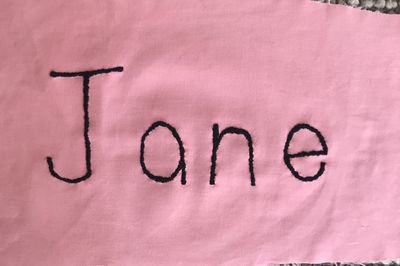 Jane
+ Info
Jane is my middle name and coincidently that of numerous friends, thus we add it on when we refer to each other. The word actually means "God is gracious" so I'm fortunate to be surrounded by so many divine women. It creates a bond for all of us being double syllable Janes, as if we are from the same clan or tribe. Having Jane at the end sounds like a character from a novel, sitcom or film. There also happen to be many awesome Janes in real life including Austen, Goodall, Fonda and Lynch. I've never come across a Plain Jane.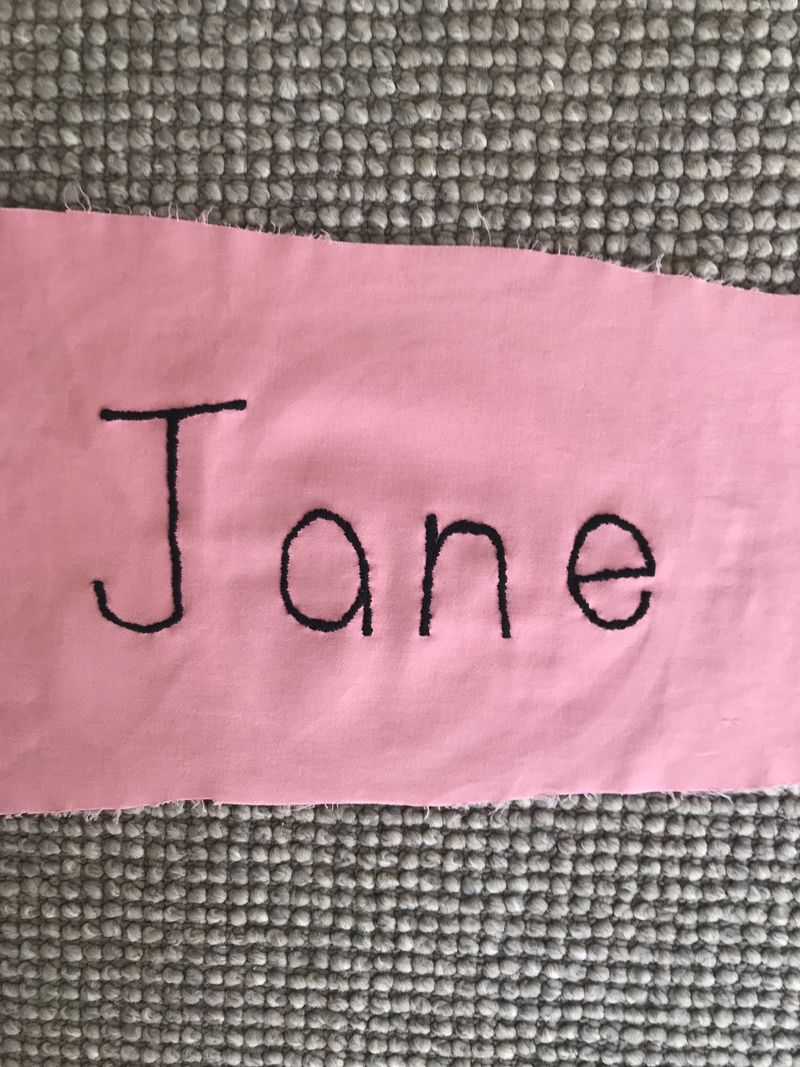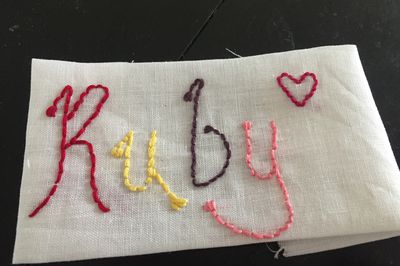 Ruby
+ Info
Ruby was my Nana, she was an excellent sewer and an all round good person.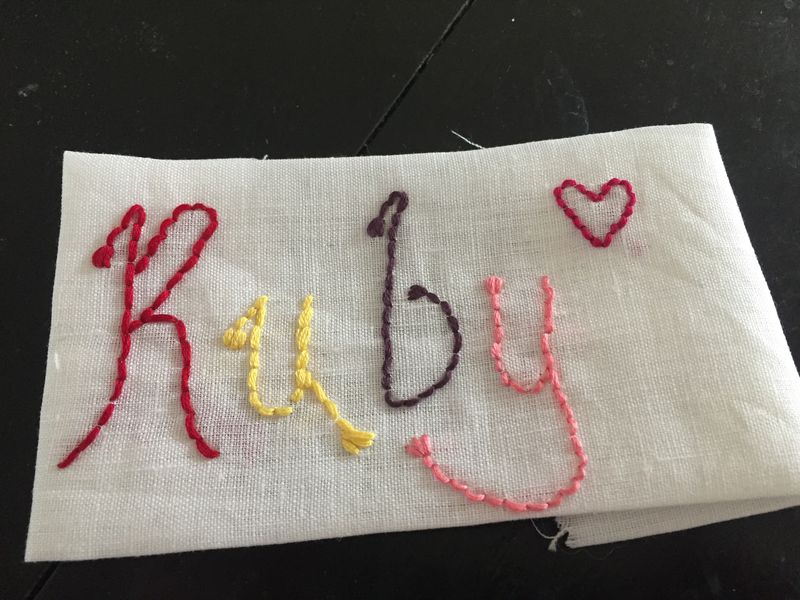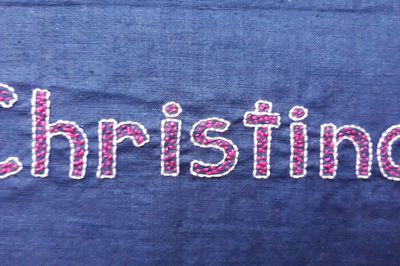 Christina Margaret Dickinson (Ross) 5.5.1891 - 2.9.1978
+ Info
Chrissie, Chris, Kit, was my maternal grandmother, my Nanny. She was a very talented dressmaker who taught me to sew, knit, crochet and embroider. She made beautiful dolls clothes for my sister and I and wonderful fancy dress costumes for us too, cooked delicious cakes and grew Lily of the Valley and red guavas which we ate with cream and sugar.
Without realising until I was much older, she was my inspiration.
Christina was the eldest girl and second child in a family of three girls and five boys.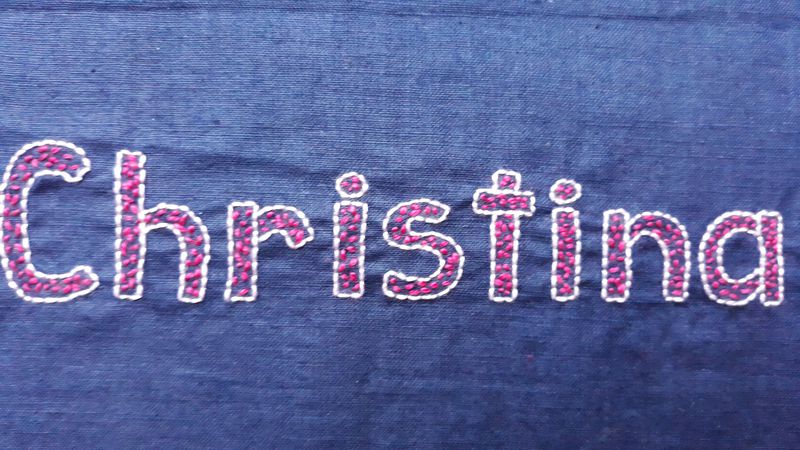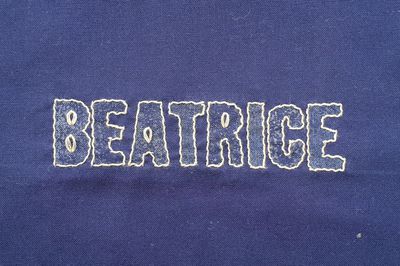 Beatrice
+ Info
Beatrice is my mother's name. She has inspired me all my life with her creativity, patience and inquisitiveness. She taught her family by example and has always been very connected to the community doing years of voluntary work across a variety of organisations. My granddaughter is named after her and I hope I can inspire her in the same way - so the family traditions continue on.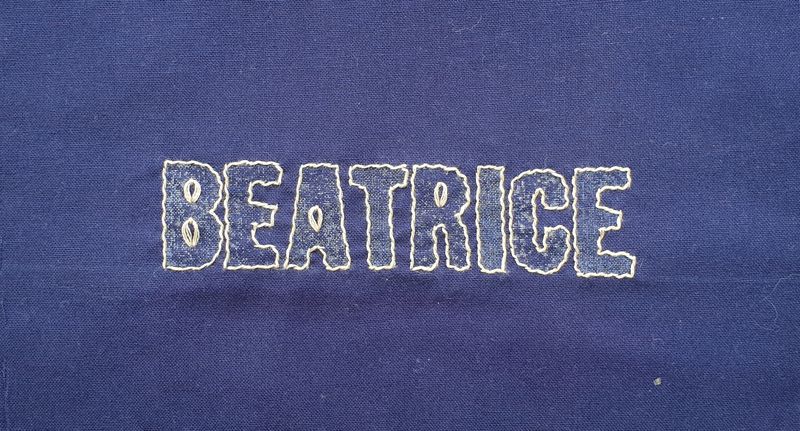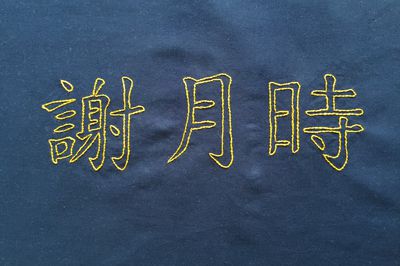 Tse Yuet Shi
+ Info
Tse Yuet Shi
謝月時 (pronounced Jeer Yurt See, 1903-1989) was my grandmother. According to Chinese custom, we called her Ma, Paternal Grandmother. She was born in Southern China, and being poor, had a pretty tough early life. She married my grandfather, who was up to then a stranger to her and nearly three times her age. She became pregnant but he promptly returned to NZ. At about 8 months into her pregnancy, she was sent to join him here, at his laundry business in Wellington, on the edge of Chinatown. When my dad Samuel, their only child, was about 10, she was left a widow. She continued with the laundry – tough physical work, with long hours, as well as bringing in boarders, and occasionally knitting, to bring in an income. Retirement was a blessing to her. Despite her 65 years in New Zealand, she was virtually illiterate and spoke little English.
All those who remember her consider her as 'formidable'.
I chose navy for the background as that was one of the colours she liked to wear, and gold for the stuff that brought our family to New Zealand.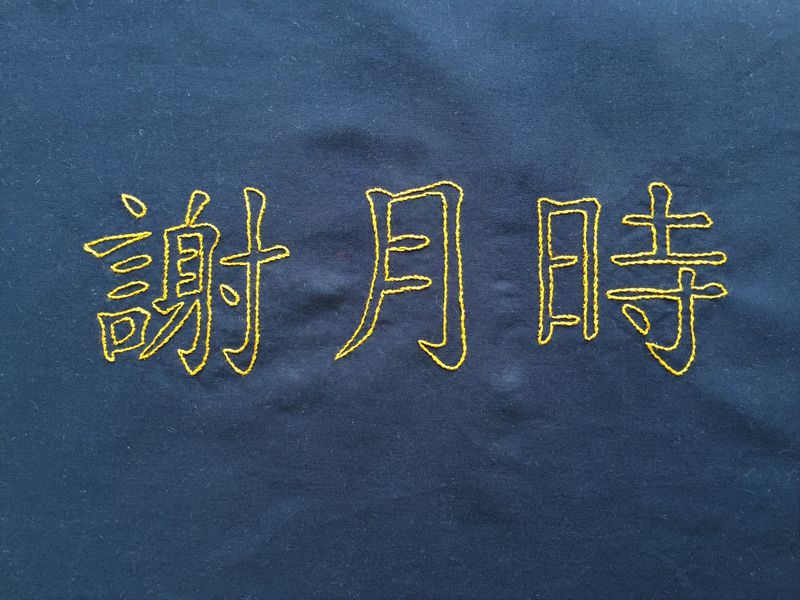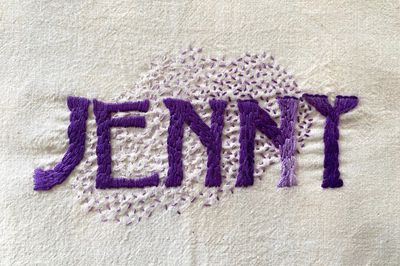 Jenny
+ Info
Jenny Briscoe-Hough is a passionate community advocate and extraordinary human being. She wears many hats. Amongst other things, Jenny is the force behind Tender Funerals, a not for profit funeral service based in Port Kembla that is now taking their model to communities across Australia. She continues to work in the Illawarra community at making change from the ground up.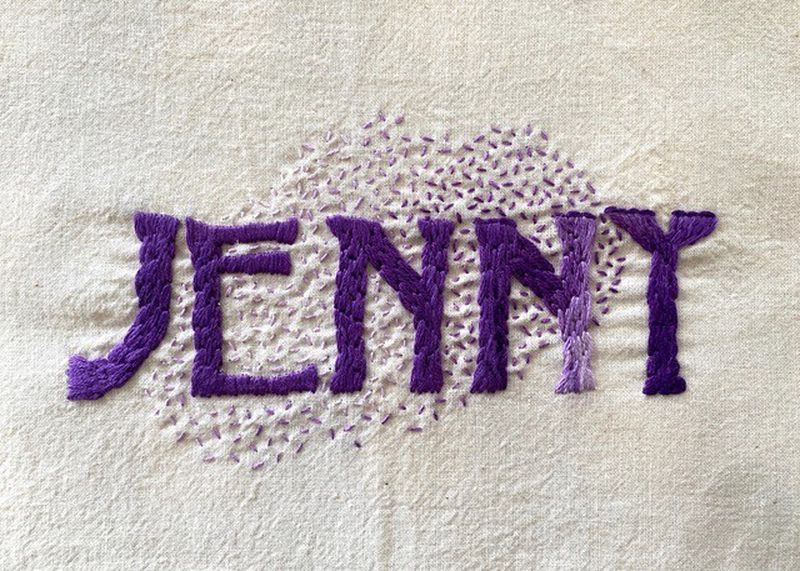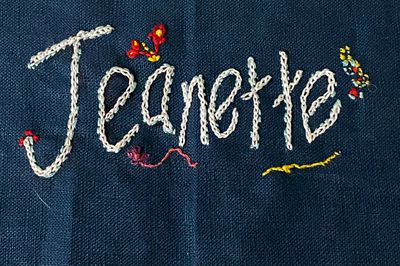 Jeanette
+ Info
Jeanette is my mother. She has a never ending capacity to share her kindness, strength and warmth to me and to many, many others. We share a love of the sea, a fondness for colour and we love coconut palms!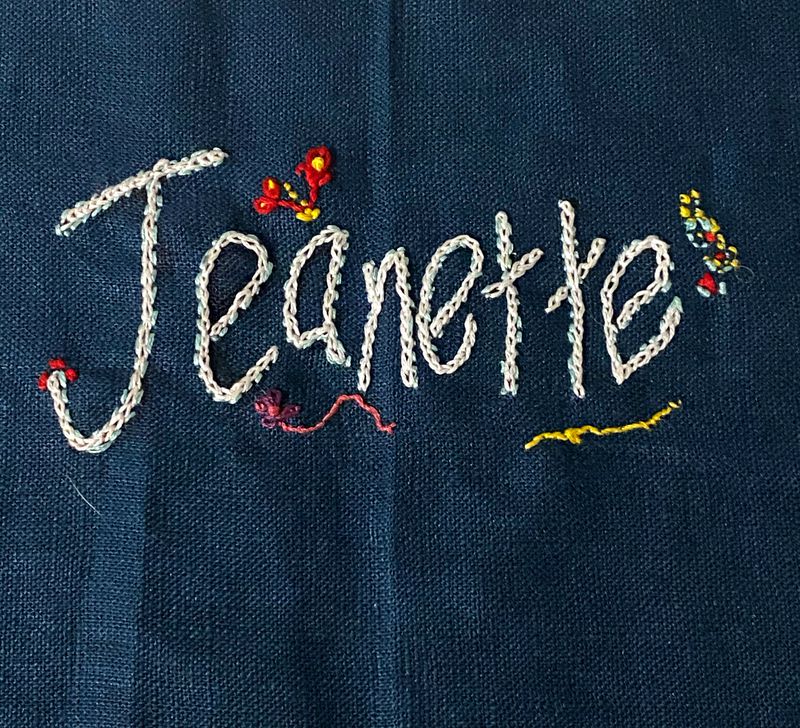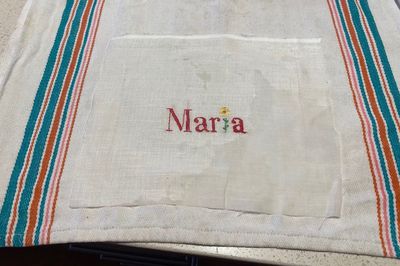 Maria
+ Info
Maria has an eye for beauty, and discovers it in the everyday and unexpected. She is a natural teacher and has helped us all to learn to be more present in our daily lives, to seek out and appreciate the beauty around us.
Perhaps growing up in Rome informed her attention and love of detail, colour and form. Maria has enriched our lives with her passion for life, photography, travel, cooking and love and pride of all things Italian.
We have embroidered the sunflower, as Maria always finds the sunshine.
Your stitching group friends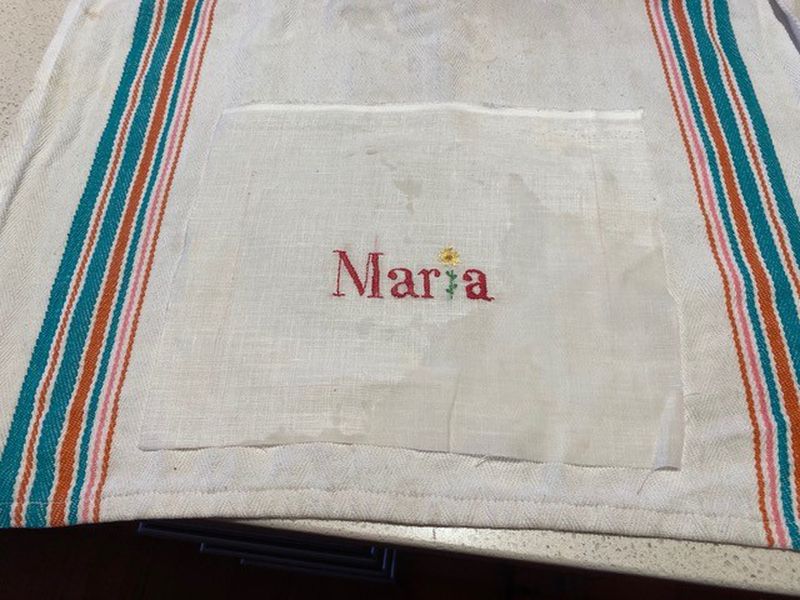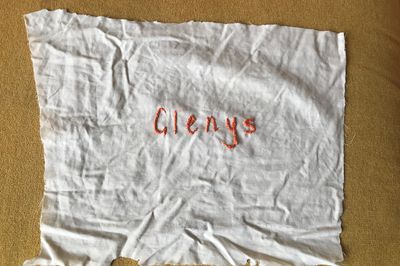 Glenys
+ Info
Glenys is my mum. When I was very very small she took me to a production of A Midsummer Night's Dream in the Botanic Gardens and opened my eyes to the magic of art.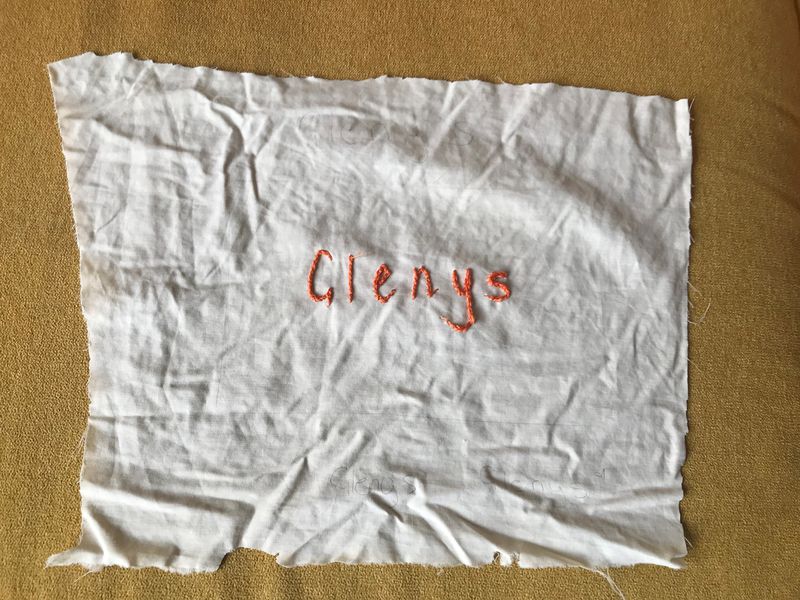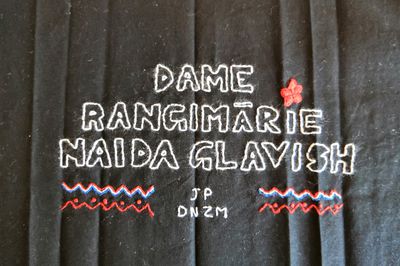 Dame Rangimārie Naida Glavish
+ Info
He wahine toa a Naida na te mea ko ia te "wahine kia ora" no 1984. ki oku nei whakaaro, ma tātou te reo e whakairia ki runga. ko te reo te taikura ō te whakaaro marama.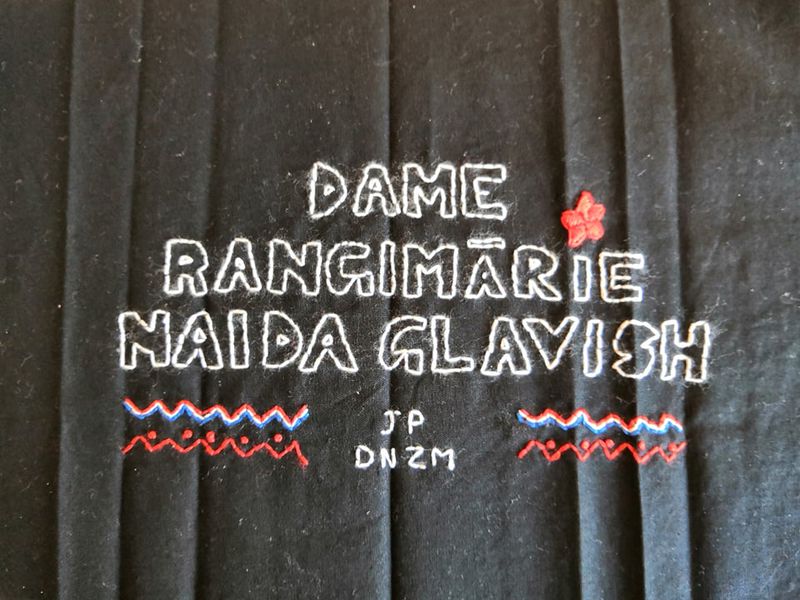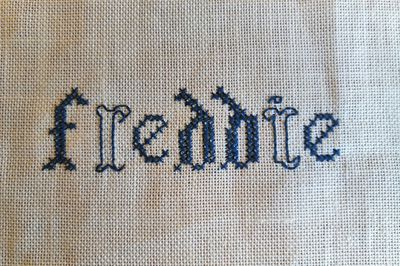 Freddie
+ Info
Freddie is my mother - Frederika. She taught me to make things and much more.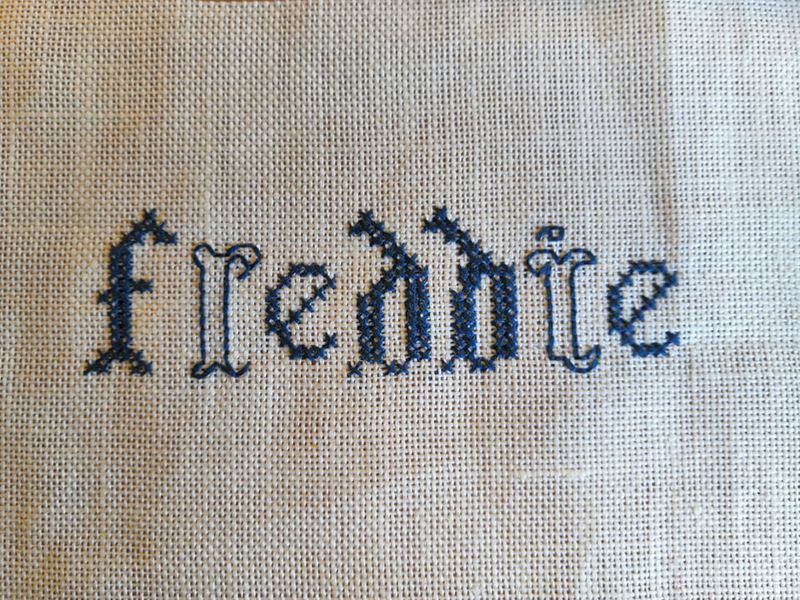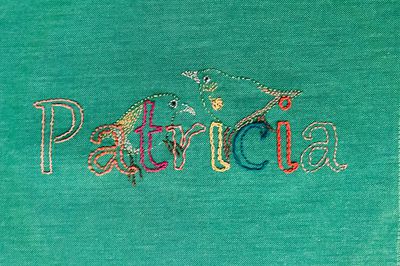 Patricia
+ Info
The name Patricia belongs to my mother Patricia Kay who will be 93 in August. Patricia was a Waikato representative golfer in her 50s and played golf competitively until she was over 80. A wonderful gardener all her life, she still gardens actively her home today. Knitting is now her passion as is watching the tauhou ( wax-eye birds) who visit her garden.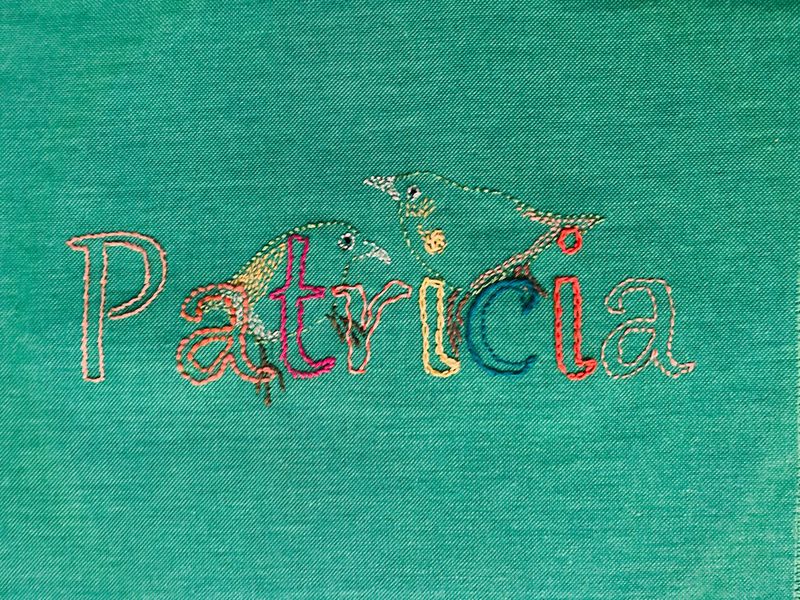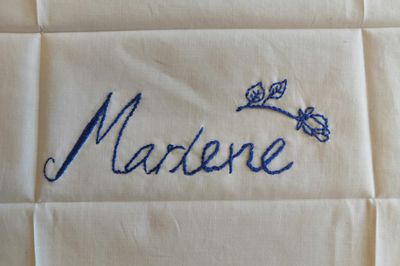 Marlene
+ Info
My embroidery is in memory of my wonderful mum - Marlene, now sadly no longer around to share her many handiwork talents and advice with me. She was my original crafting inspiration and teacher. Sewing, knitting, crochet, embroidery, tapestry, cross stitch, she turned her hand to it all. She made the most beautiful clothers for me, and for my dolls, when I was young, and even after I moved out of home, she would uncomplainingly fix or finish off my sewing or knitting projects that I'd lost patience with. Now that she's gone I miss our outings to the fabirc stores and craft fairs, out TV dates to watch the latest Sewing Bee or Homemade Home episode, and our Christmas crafting sessions together.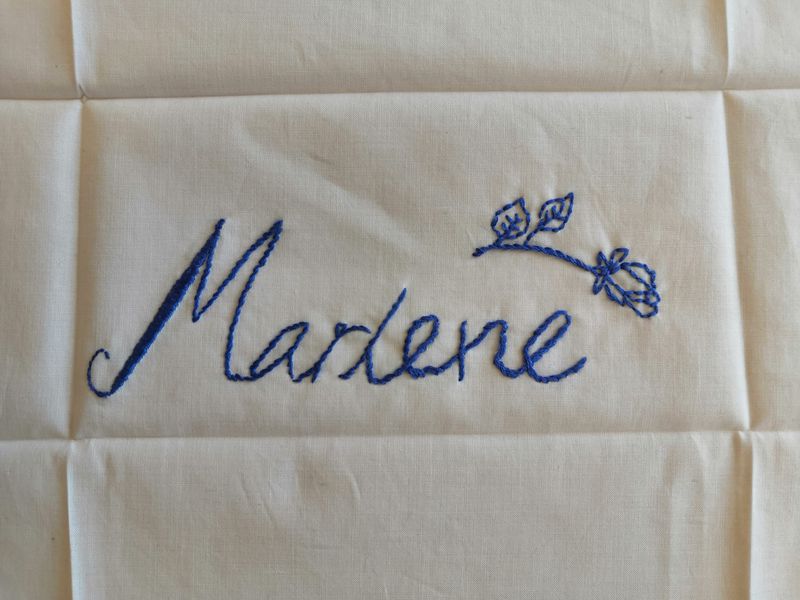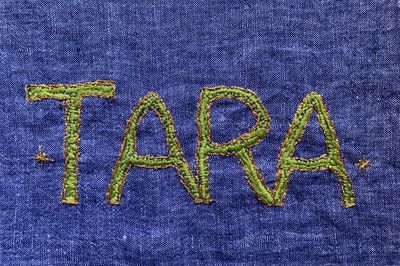 Tara
+ Info
My contribution to the project is to honour Tara, a mental health professional who has been a guiding light in my life. The name Tara means 'star' in Sanskrit and she truly is a living star. I added gold stars to the peice in acknowledgement.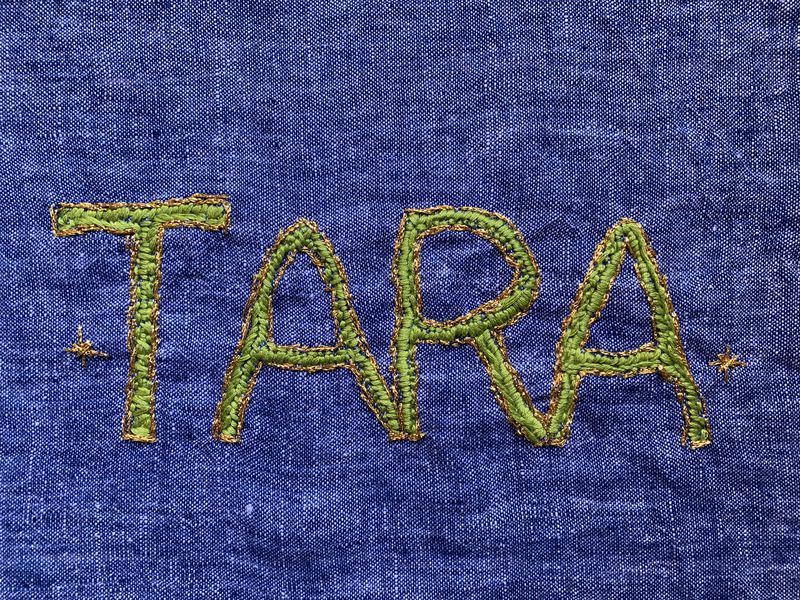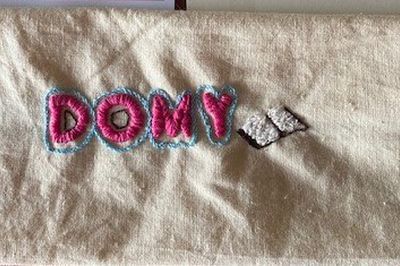 Domy
+ Info
Dominique is my inspiration. She has dedicated her life to educating children as a mother, teacher, librarian and foster mother. She gives and gives. Dom has been my best friend for 41 years. Through thick and thin, ups and downs, she's there for me.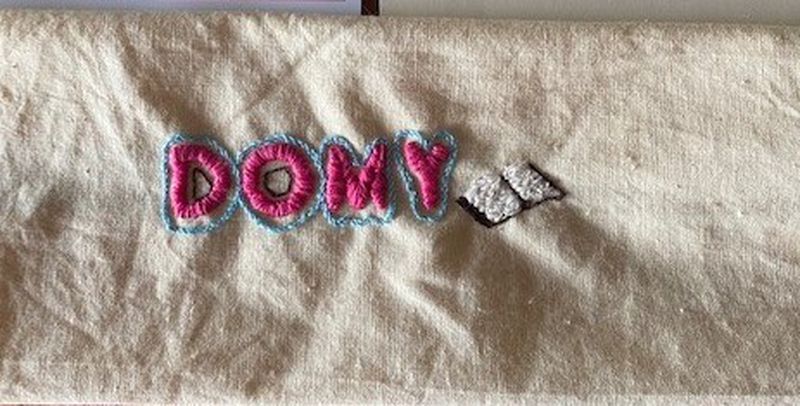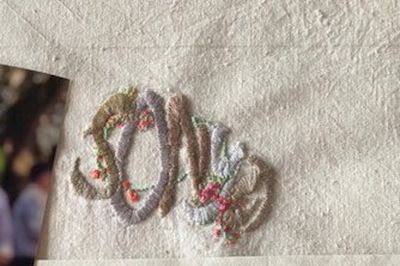 Sonya
+ Info
Sonya is an extremely organised woman. She prioritises and manages her time with efficiency and competence. She has to becuase so much of her time is about giving and helping others in her community. She gives of herself in a capable no fuss way. She's only a tiny thing, but her energy, sparkle and generosity is huge.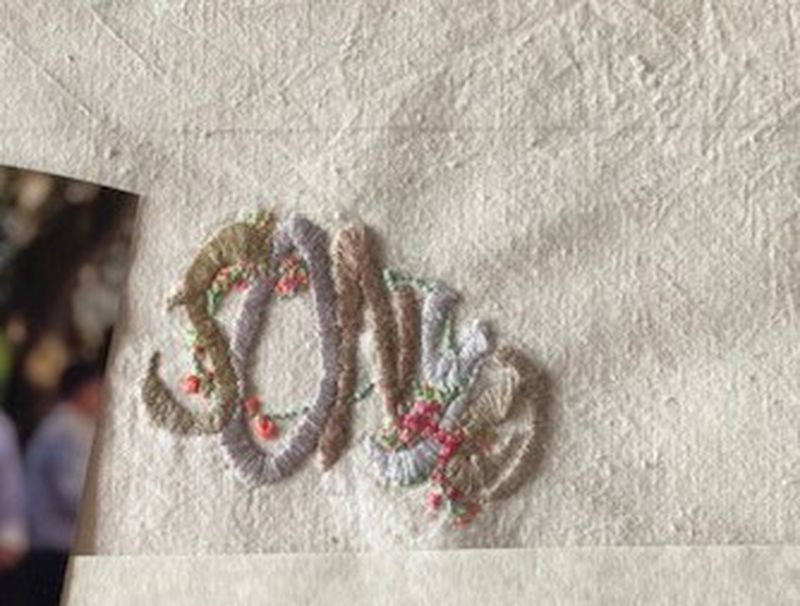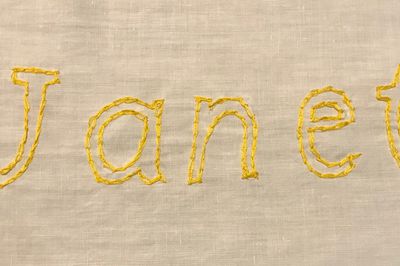 Janet
+ Info
Janet ( Jan, Janks and Friendie) is my godmother and my mother's best friend of over ninety years. Growing up in Tasmania we spent most of our holidays together as two families. Janet has a great sense of humour and is fun to be with. She has an eye for colour expressed in her clothing and home decorating.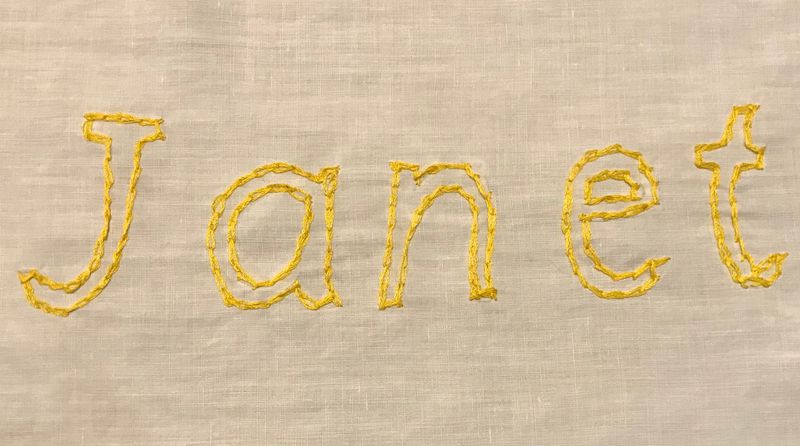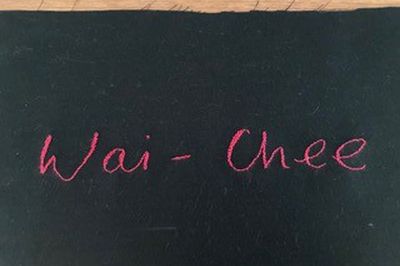 Wai-Chee
+ Info
Wai-Chee is my mother's Chinese name. Mum used to sew and knit - she made her own wedding dress and many of our clothes when my sister and I were young. (I remember that I used to think as a child, "when can I get a dress bought from a store?!") My mum has always been someone to 'mend and make do', which makes her creative and resourceful. I love you Mum xoxo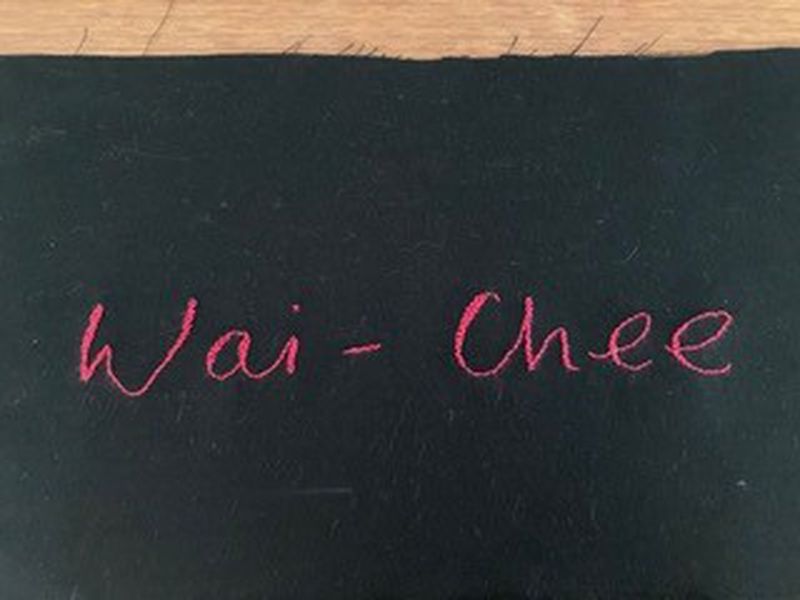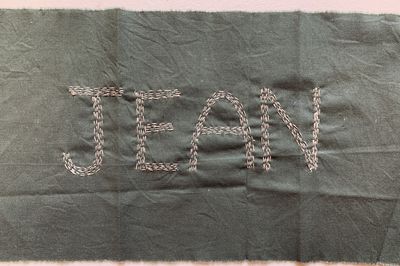 Jean
+ Info
Nan, big old nan was the rainbow in all our lives, she taught us all our love of the arts. Our childhood was spent drawing and building clay sculptures that she would fire in the slow combustion stove. This encouragement for art was fostered in our teen years and into adulthood, five of her grandchildren now make a living within the arts and we hope that many of her great grandchildren will too, thanks to her.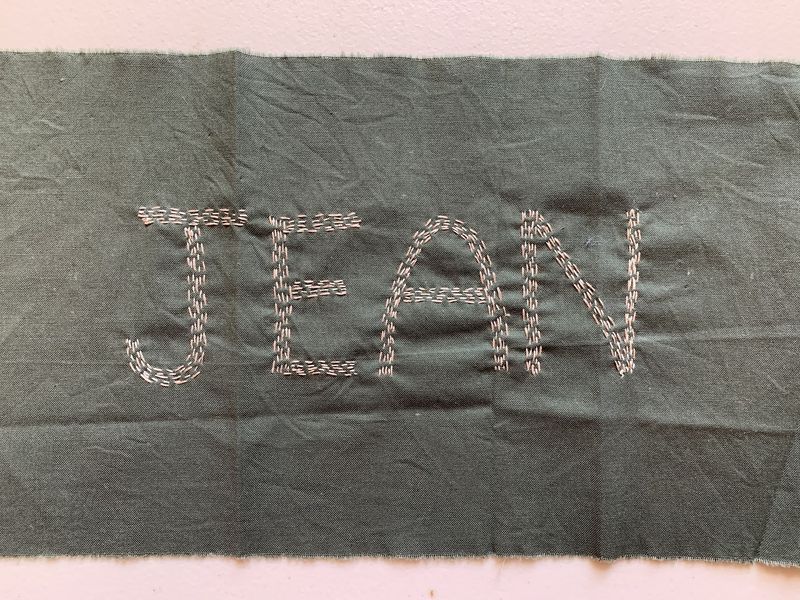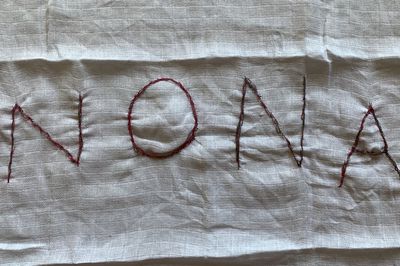 Nona
+ Info
NONA is my mum, my rock and someone who continues to be a source of joy, empathy, non-judgement and peace. She has had some desperately shit times in her life, namely her childhood, however she has built resilience over time and now I look to her even when she shows vulnerability as a strong loving, intelligent and committed Nona. I love her. xxx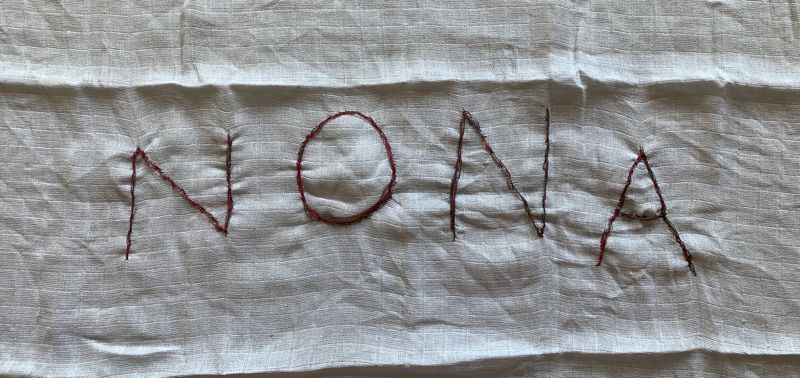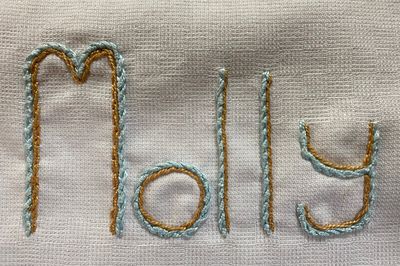 Molly
+ Info
Molly was born on the 5th February 1913. Supportive,selfless, caring and kind. Supplied bucketloads of unconditional love. My Nan.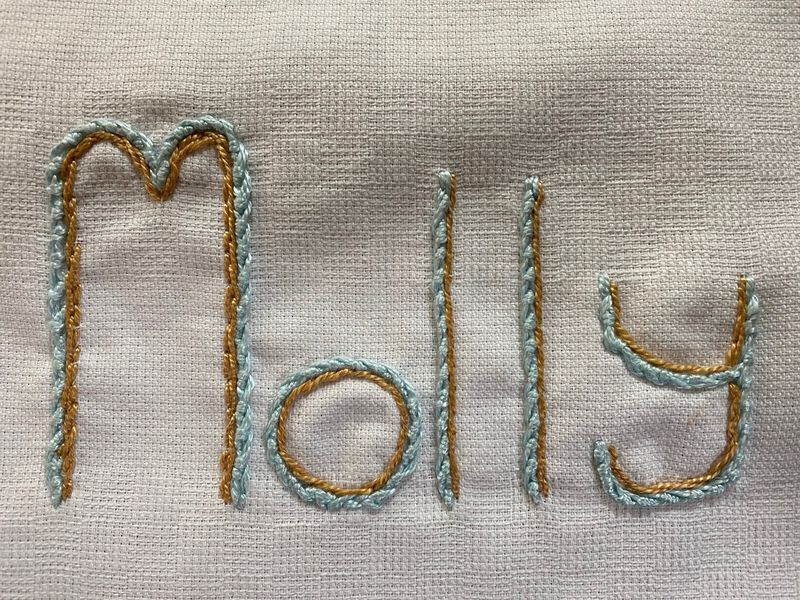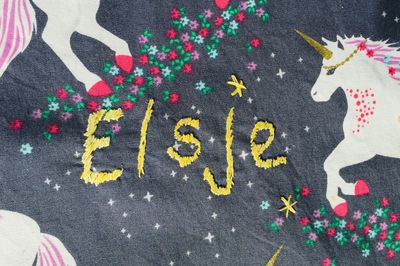 Elsje
+ Info
My daughter is a bright joy, constantly surprising me with profound questions and keen, funny pieces of observation. At age 8 she is kind, thoughtful, plucky, curious, and very much has her own mind. She loves to make people laugh but also has great perceptiveness, thinking seriously about how people feel and what they believe. It is a privilege to be her mother.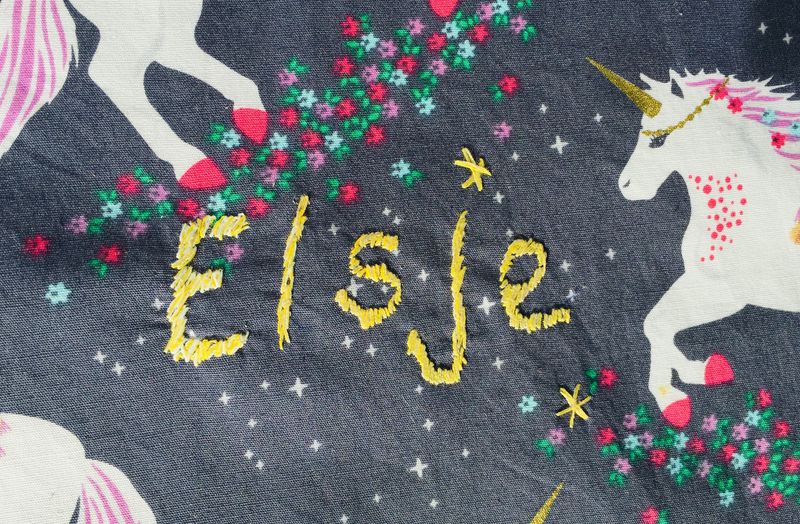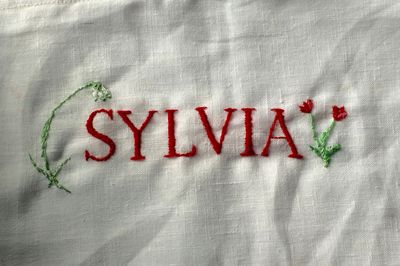 Sylvia
+ Info
My mother is insightful, funny, and has always had a wonderful 'eye' for the interesting, small, or beautiful things in life. It is from her that I learned to look closely in places where others may not pay attention. She writes wonderful letters. I love the way she listens and with her I feel accepted and not judged. As the first born child of Dutch immigrants, she has always worked hard. She walks fast, is amazing at organising, has a terrible sense of direction, has twinkly, smiley eyes. Her patience and originality in playing with my children is extraordinary. She is sensitive and underneath she has terrific gumption, energy, and a steeliness that I admire incredibly.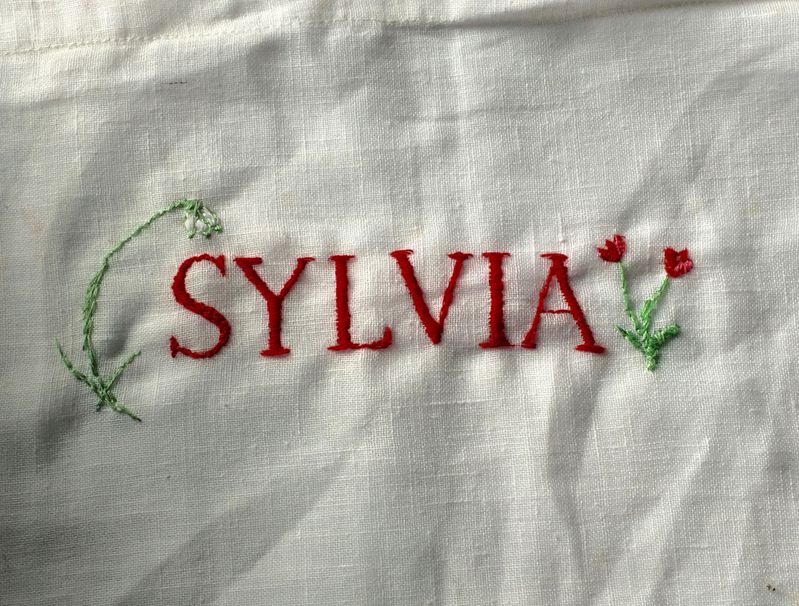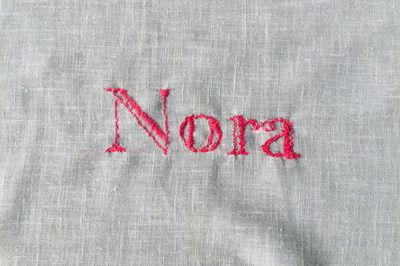 Nora
+ Info
Nora is the name of my paternal grandmother who I called 'Nanna' or 'Nan'. It is from her that I share Welsh heritage. She had a song for everything and recited delicious poems — my favourite was The Green-eyed Yellow God. I never learnt to embroider but gave this project a go in honour of the other things she taught me, like how to arrange flowers (she was a florist by trade), how to make roses from crepe paper, how to knit…and most importantly she told me that our family was good with our hands, that we were nimble and dexterous. The way she shared this made it seem like the acquisition of skills was an inheritance, that it was inevitable, so that the repetition and practice involved in learning something new was like uncovering a birthright that had always been there.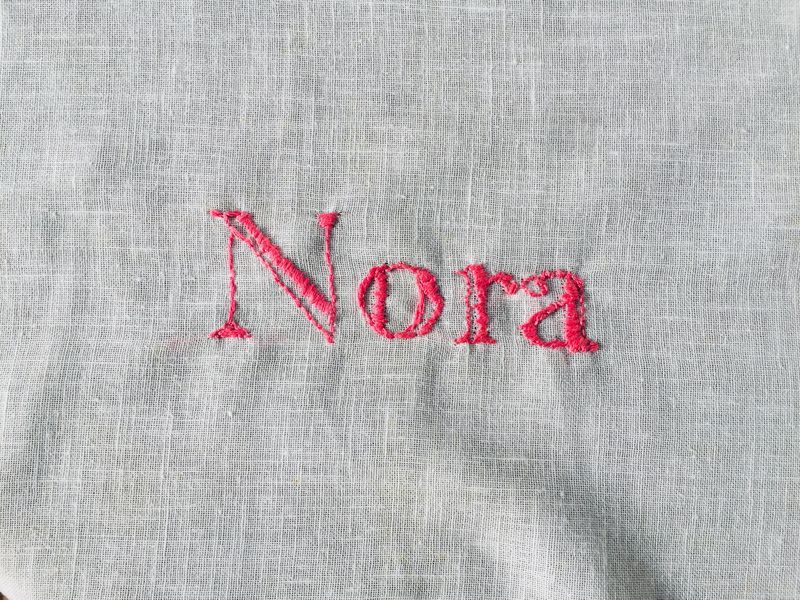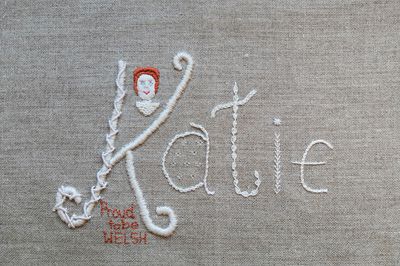 Katie
+ Info
My grandmother Katie Smauels was born in the late 1890's in Swansea, South Wales. One of 4 children and the only one to marry not once, but twice! She was widowed at 21 with a baby girl "Letty". She returned home to live. Her sister Florence house-kept for their father and 2 brothers who were both seaman. Florence looked after baby Letty as my Gran had to go out and work as a cleaner (no government pensions in those days). Gran cleaned at The Gentlemans Club. One day while scrubbing the outside step, my grandfather stepped on the wet step, Gran looked up and said "Just watch where you going" and then her red hair fell down from her bun; and that was when Bachelor Fred in his mid-30's found his wife. They went on to have 6 children plus Aunty Letty. Gran made sure her children all had a good education and jobs. In her 24 grandchildren she instilled love, honesty and always be proud to be Welsh.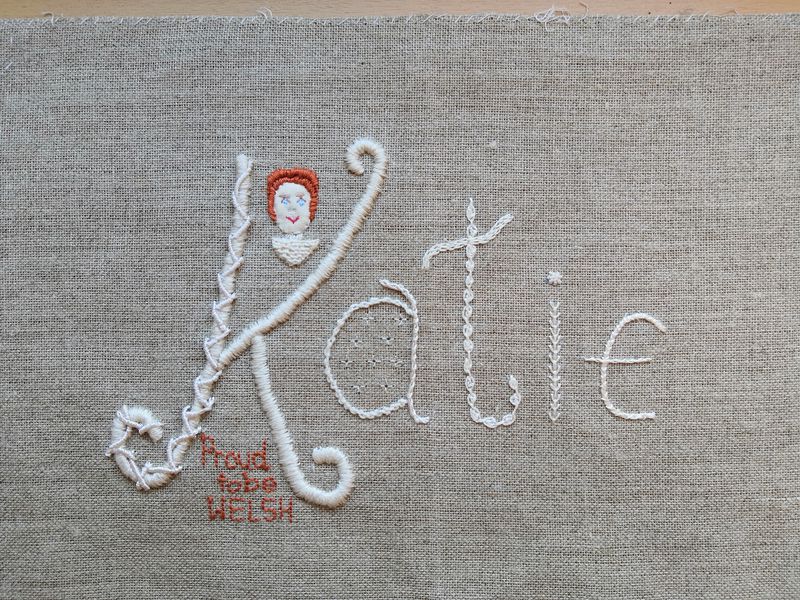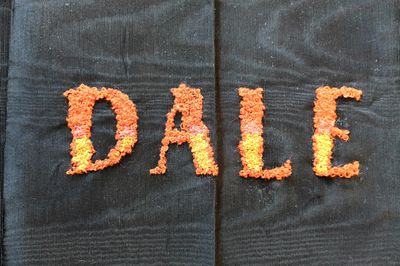 Dale
+ Info
Dale has been a kind influential friend for 30 years. We met at a speaking club. Dale invited me to join her at Interior Design classes. Dale went on to be the secretary of the Nannette Cameron Interior Design Guild for years. Dale also invited me to join her Book Club. 30 years of interesting exciting activities.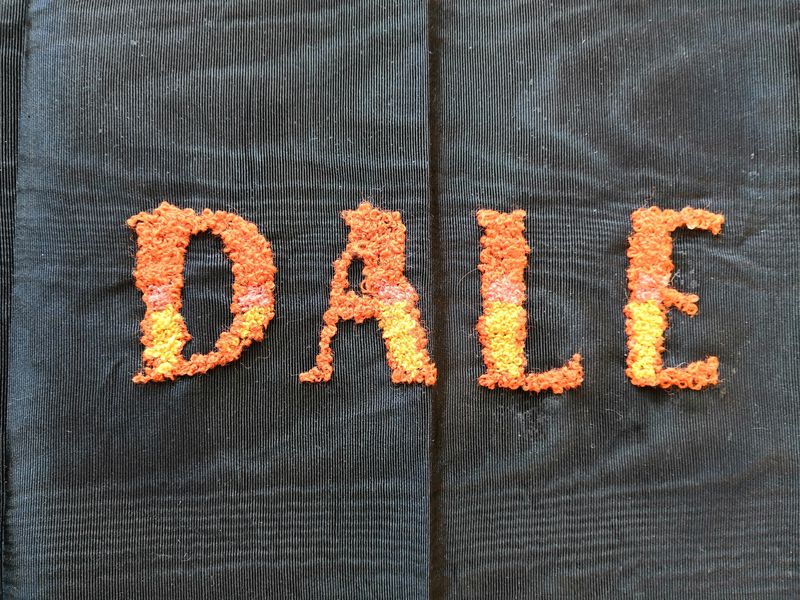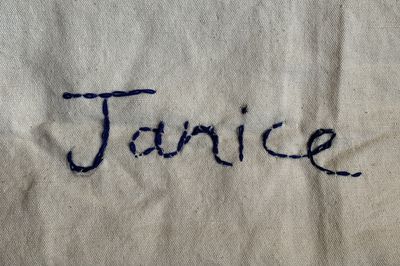 Janice
+ Info
Janice is my mum, a long-time talented sewer and stitcher. A woman who's rarely idle, her stitching tin is never far from reach. Whether she's in the passenger seat of the car, at a cafe, on the beach, or at home on the back verandah, her busy hands will be weaving through a piece of fabric, stitching flowers or bees, fish or trees - whatever images and ideas bring her joy. Me, however, I'd never embroidered before, hence the irregular and occasionally wonky stitches in this piece. But the process made me quietly reflect on my Mum, feeling pride in her skill at this handicraft, and appreciative of the delight and fulfillment this hobby brings her.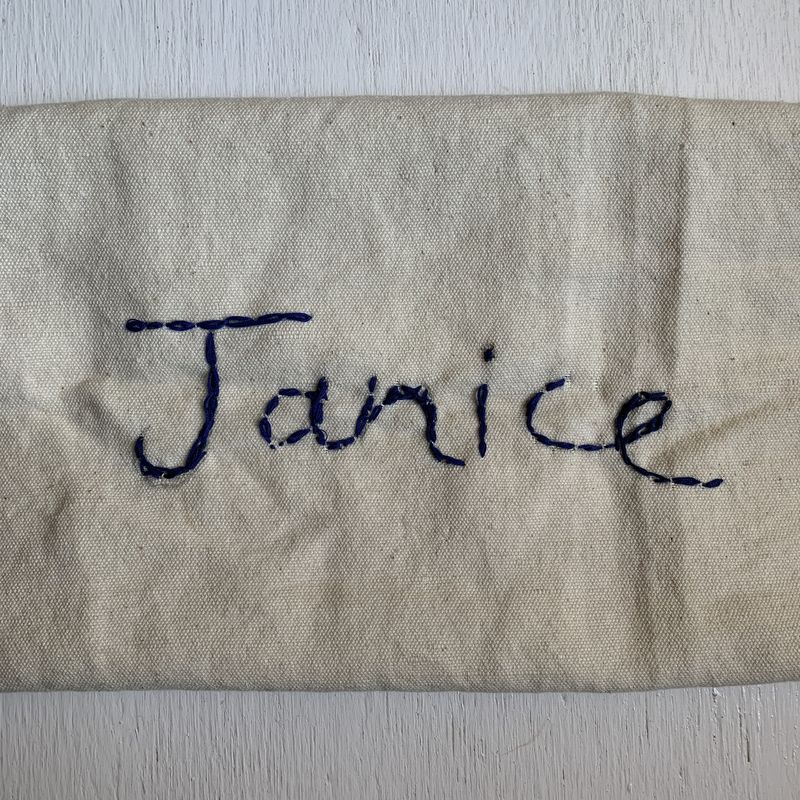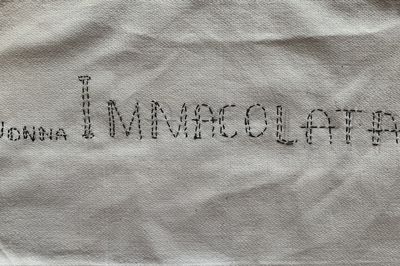 Nonna Immacolata
+ Info
This is dedicated to my Nonna Immacolata (1911-2004) who brought so much joy and wisdom to our lives. I miss her so much.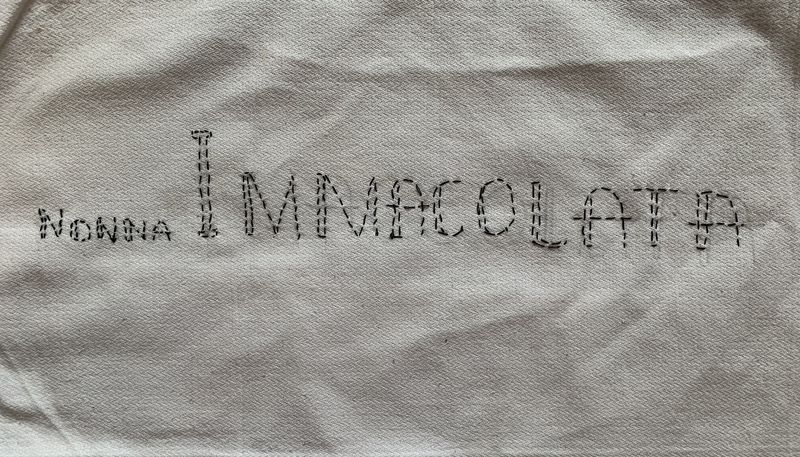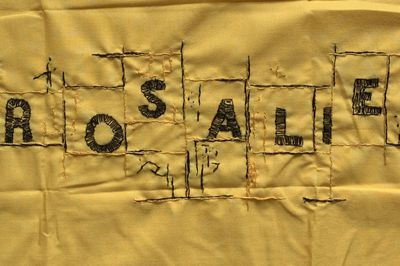 Rosalie Gascoigne
+ Info
I made Rosalie Gascoigne. I love her work - the repetition and re-use or repurpose of signs. This is my version. Also, she was a New Zealander living in Australia - like me!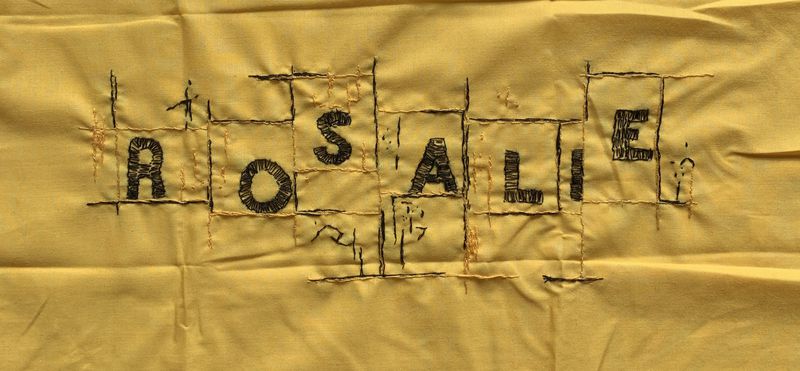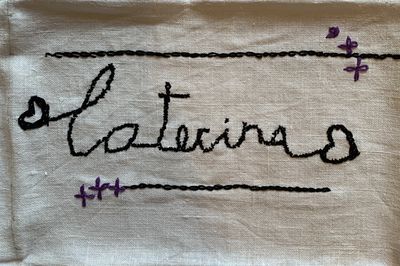 Caterina
+ Info
With great pleasure I submit this embroidery for my late grandmother 'Caterina'. Born 13/10/1908 and left us on 20/10/92. She was my guide, mentor and love. Throughout my childhood as a daughter of original immigrants from Calabria Italy to Buenos Aires in Argentina where I was born in 1962 and then migrants for a second time to Sydney in October 1972. She was with me after school, the home maker while my parents worked factory night shifts, guided me through my teenage years where I felt lonely and didn't fit in with my peers at school. She constantly lifted my spirits and made me feel like no-one else in the world was prettier or more talented at age 12-15!! All the way through to when I became a young mother and wife at the age of 20, teaching and sharing her wealth of life skills. She never had the opportunity to read or write but gave so much to our home. She will be part of this incredible project and be now remembered forever.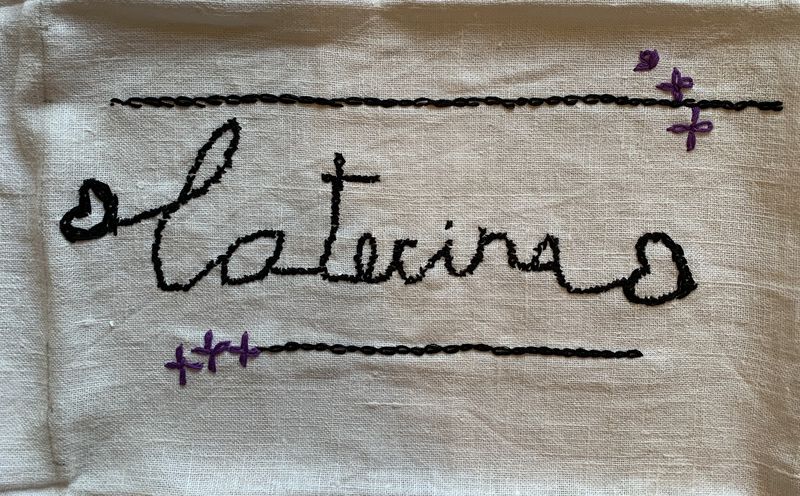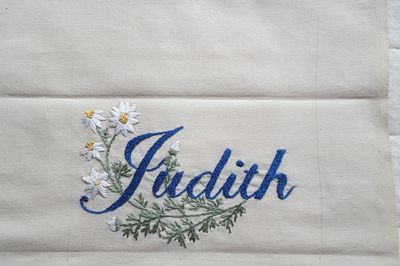 Judith
+ Info
Judith is my mother, I often think of her. She was an only child raised by her mother, her father passed away when is was just seven. She was a strong, independent and loving mother. Judith married and had 10 children.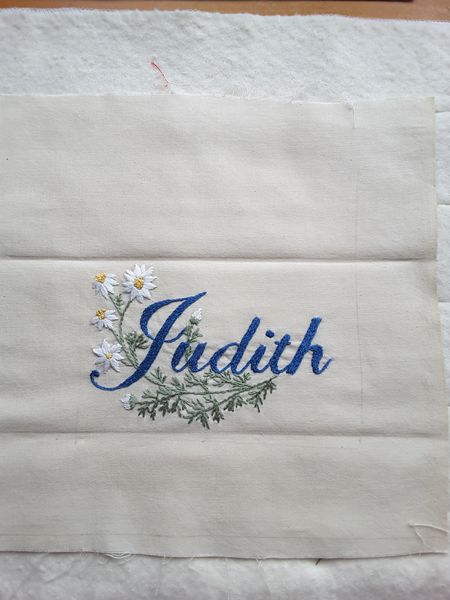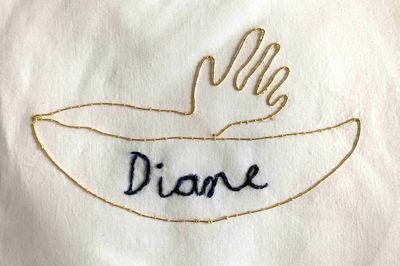 Diane
+ Info
When things were really bad for me, years ago, I met Diane and it's no exaggeration to say she saved my life. The picture in my head that accompanies every thought I have of her is her hand reaching out for me from a lifeboat.
She was very old when we met & died some years ago, but her story is well & truly alive in my heart. She loved me.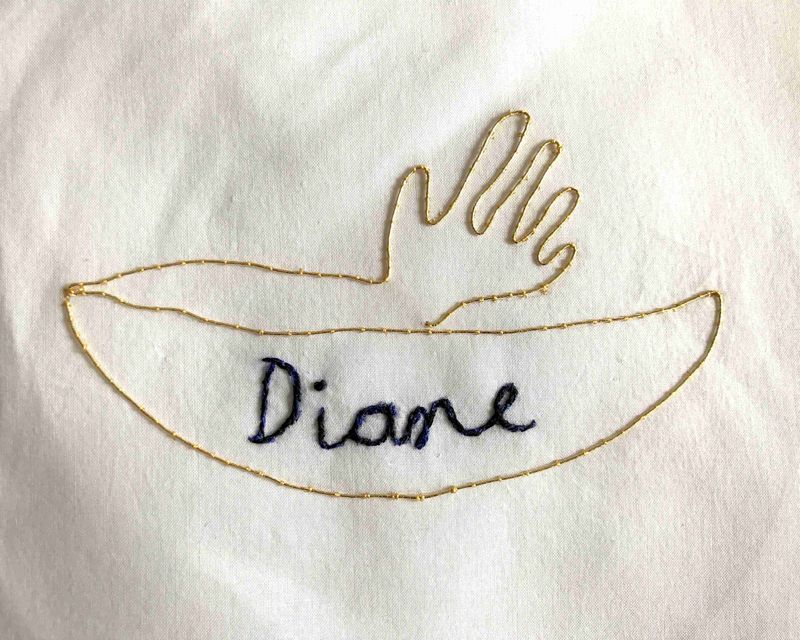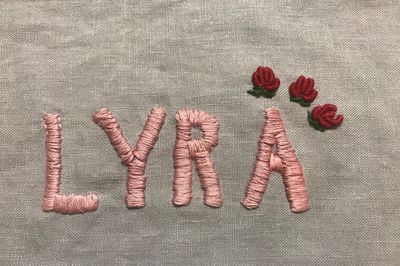 Lyra
+ Info
Lyra is my 1year old granddaughter with almond eyes and a rosebud mouth. She inspires me to look at the world through her eyes- where life is an adventure full of discovery and joy at what is around her. The wind, the sun, the rain, the sea, the sand, flowers, trees even a blade of grass are a source wonder. She reminds me that something as simple as a smile brings so much joy. A Lyra smile will keep me smiling throughout the day.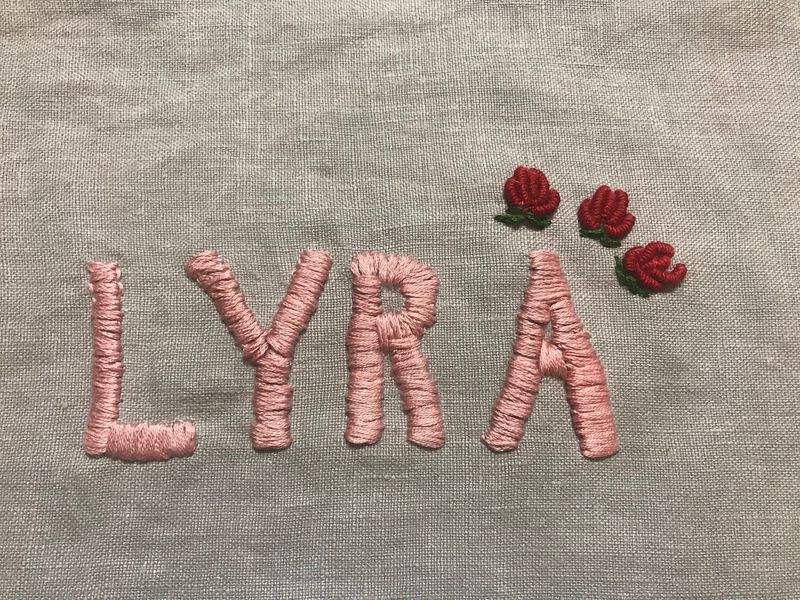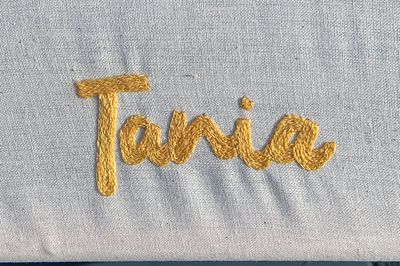 Tania
+ Info
I chose my mum, who is wonderful and always an inspiration to me. The emotional strength, resilience, and intelligence of my mum is something I have always looked up to and is (hopefully) being passed down to us. She's taught me to keep challenging my own worldview, to be accepting of my path in life, and that at the end of the day fun with family is what's important. T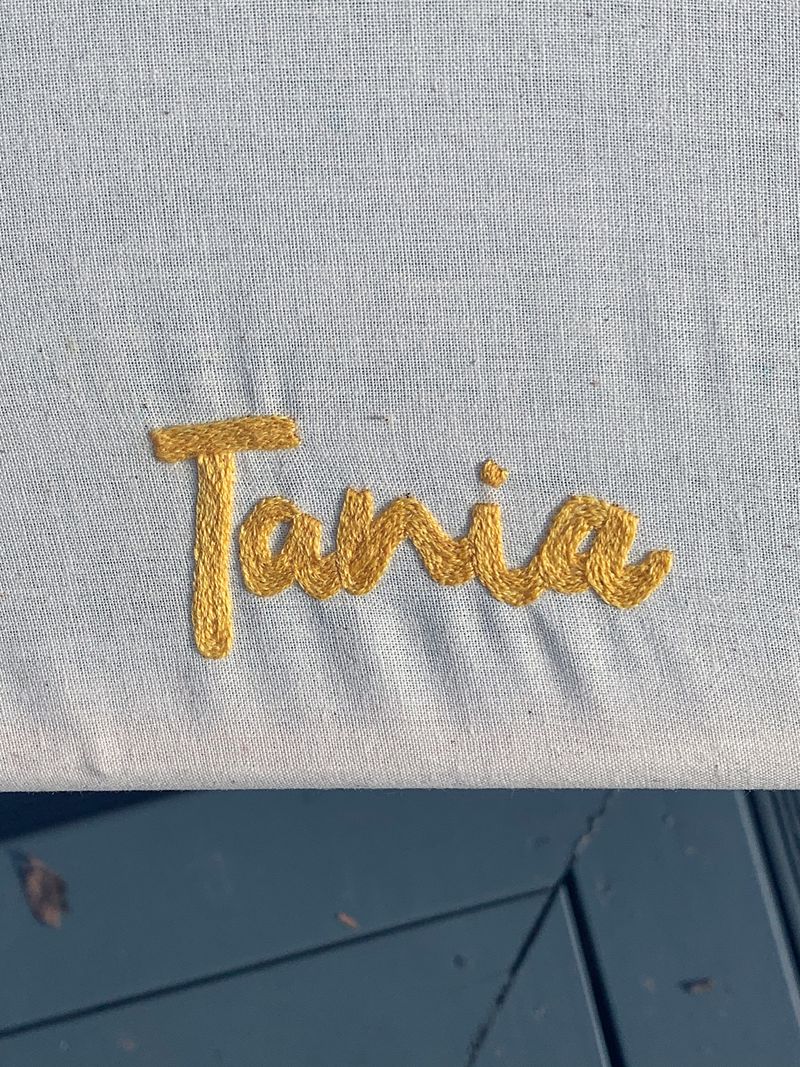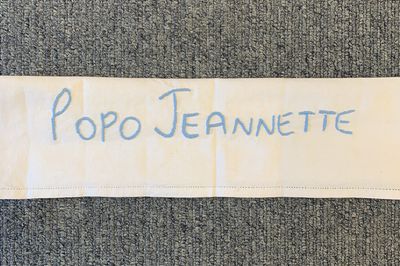 Popo Jeanette
+ Info
I chose to celebrate the life of my maternal grandmother Jeannette, whom I called Popo. She passed exactly 1 month to the day I completed her embroidered name. A women of quiet strength + gentleness + the biggest role model in my life. She was always caring for others in need & welcoming all walks of life without judgement, but instead, entirely with love.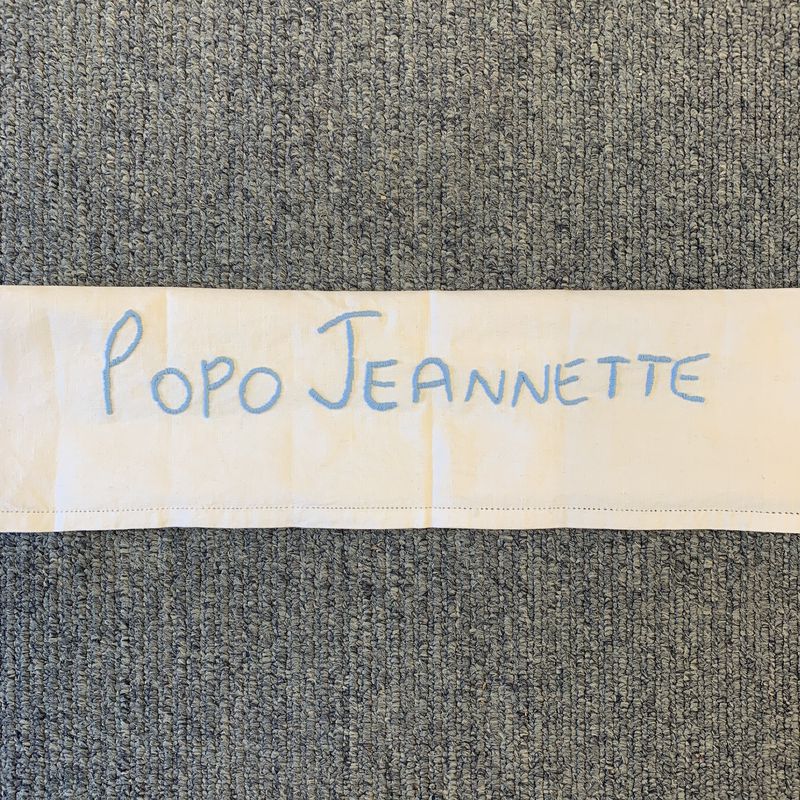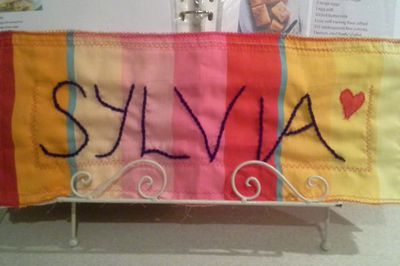 Sylvia
+ Info
Sylvia is my older sister by 5 years and as young girls growing up I was very much influenced by choices she was making.
In high school I chose the same subjects she had chosen, one of which, fortunately, was Art.
After high school I also chose the same career as her; nursing.
To this day she still continues to be my "influencer" and I am the better for it.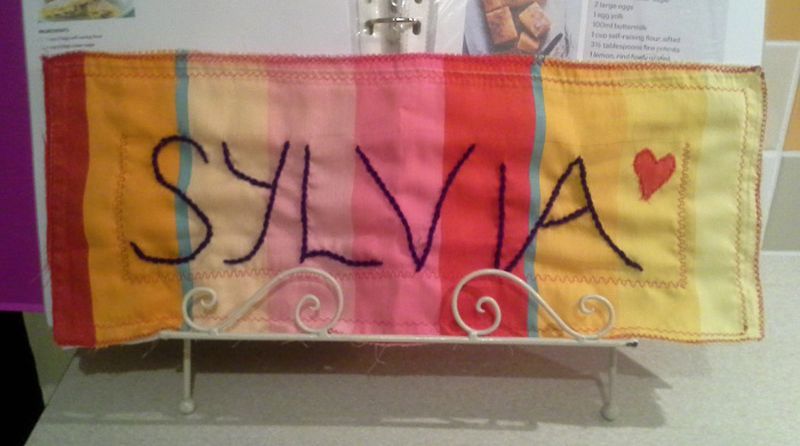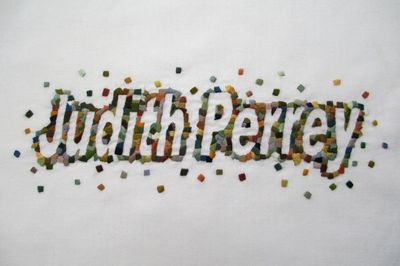 Judith Perrey
+ Info
Judy Setford was my next door neighbor when I was growing up. She was an artist whose wonderful paintings I loved. She used her maiden name, Judith Perrey in her professional life and her skill amazed me. Her work was influential in forming my interest in Art, and my secret desire to be a painter. It has taken time, but I have found my artistic expression in other media, but it is Judy who was the original key and her inspiration has lasted a lifetime and I'm forever grateful to have known her.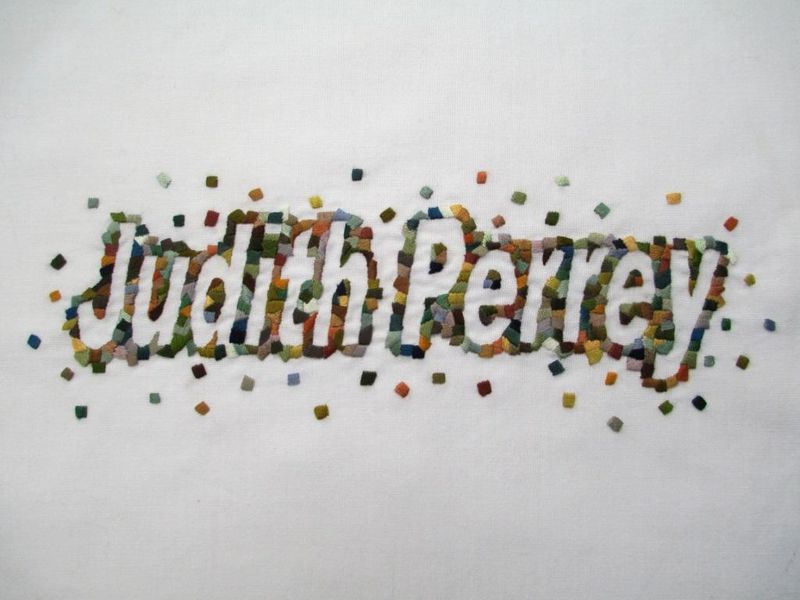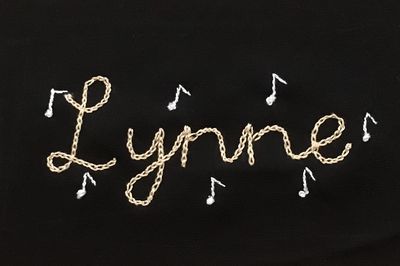 Lynne
+ Info
Lynne was my first guitar teacher. Not only was the guitar a lifeline for me as a teenager but I later went on to make a career as a guitarist. It was a pretty male dominated profession then so I'm especially grateful that my first teacher was a woman.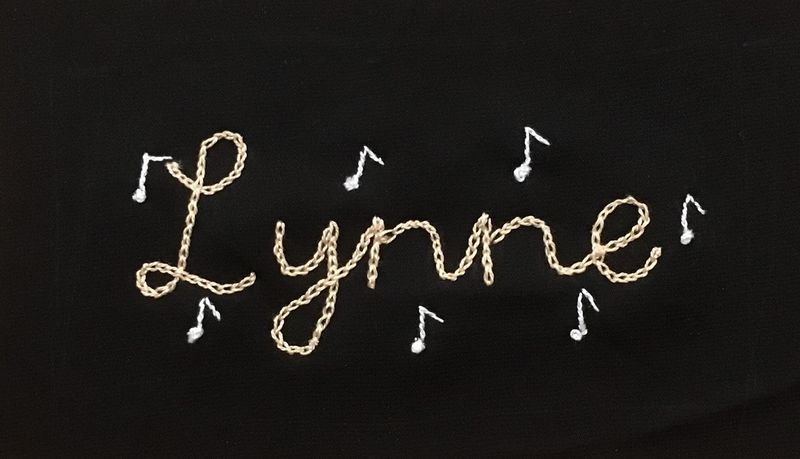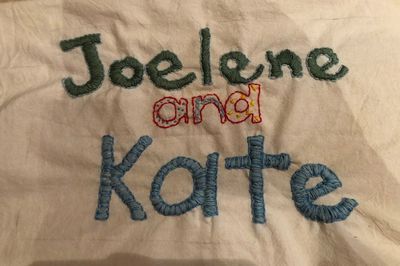 Joelene and Kate
+ Info
Joelene is my daughter . She's 40 this year. Mother to my 2 grandsons.
She's taught me much over the year. She's strong smart and cares for people she comes across in life It shows with her friends and acquaintances. She loves her family. It's the most important thing to her.
Kate is my 24 year old step daughter. I've watched Kate grow into a wonderful young women. Who cares about her family and has taken on her new family with love and acceptance
Joelene and Kate both lost a parent and that shared loss has brought them to where they are. They now have each other.
I'm so very lucky , my two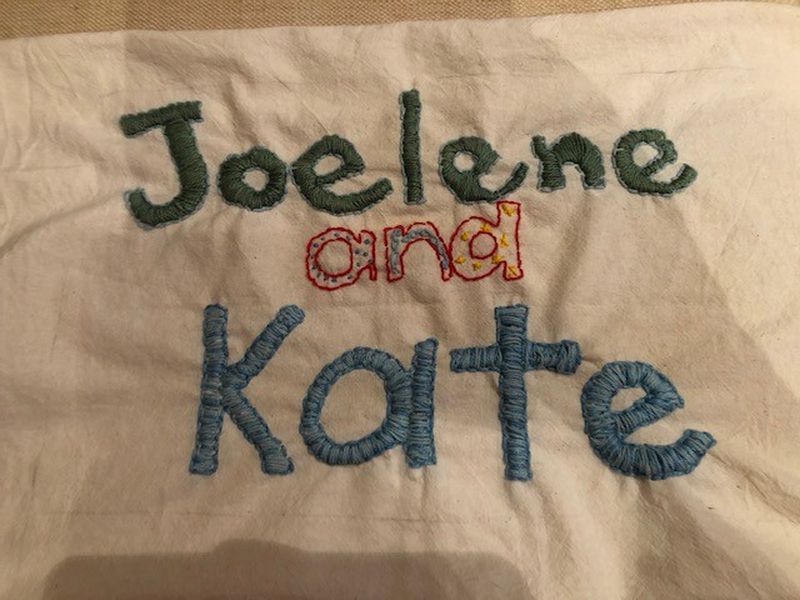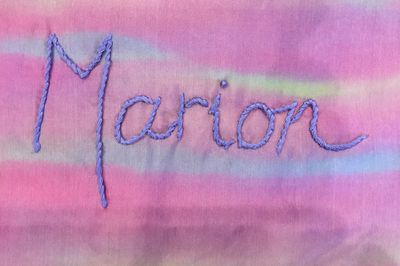 Marion
+ Info
Marion (1936-2019) is my mother. She died suddenly last year and I miss her every day. She was a loving, giving, spiritual woman who put her faith into action for the benefit of those around her. Mum was engaged, growing, learning, giving and nurturing – living a full and blessed life right to the end.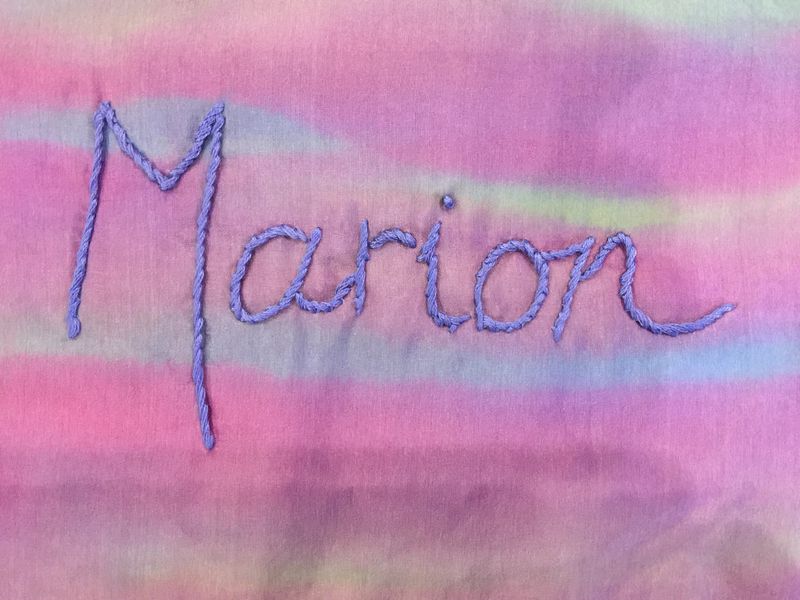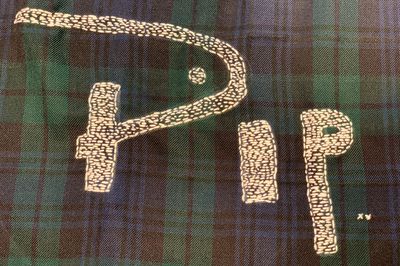 Pip
+ Info
My longtime school friend Pip (Philippa Mcnair, nee Street) passed away on 8 April during New Zealand's COVID-19 lockdown. Aged 50 years. Pip suffered for 30 years from multiple sclerosis. She was a strong, intelligent, caring and courageous woman.
This project is a tribute to her.
Pip's signature was copied off a birthday card I received and transposed onto the St Cuthberts tartan. (An old school uniform) Pip proudly wore this in her 7 years at St Cuthberts College.
Pip loved Japan so it is appropriate that my random stitching was inspired by my favorite artist Yayoi Kusama.
'By love serve' and arohanui my special friend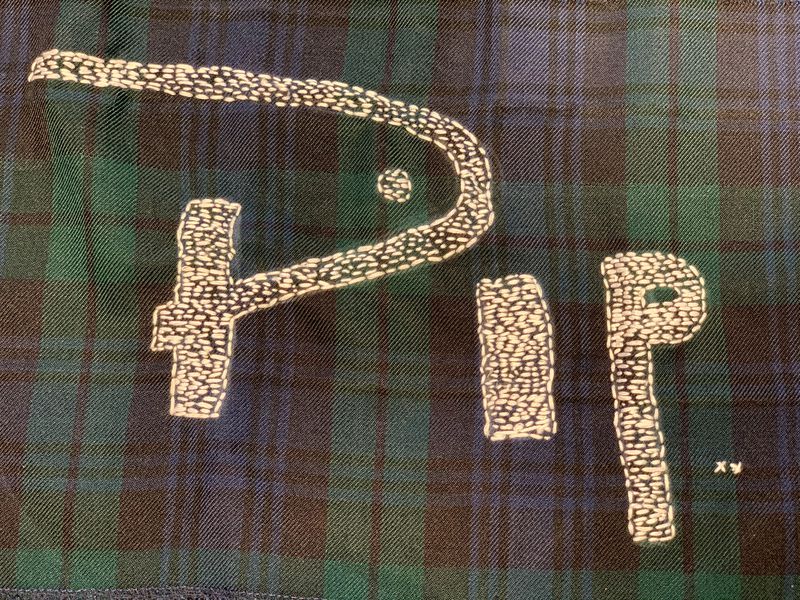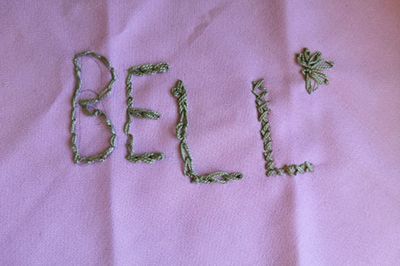 Bell
+ Info
My daughter Sheridan decided to do my name - Belinda but shortened it to "Bell" as it was easier. I would love to pass on "the joy of trying new things, curiosity and making good use of what you already have" to my daughter.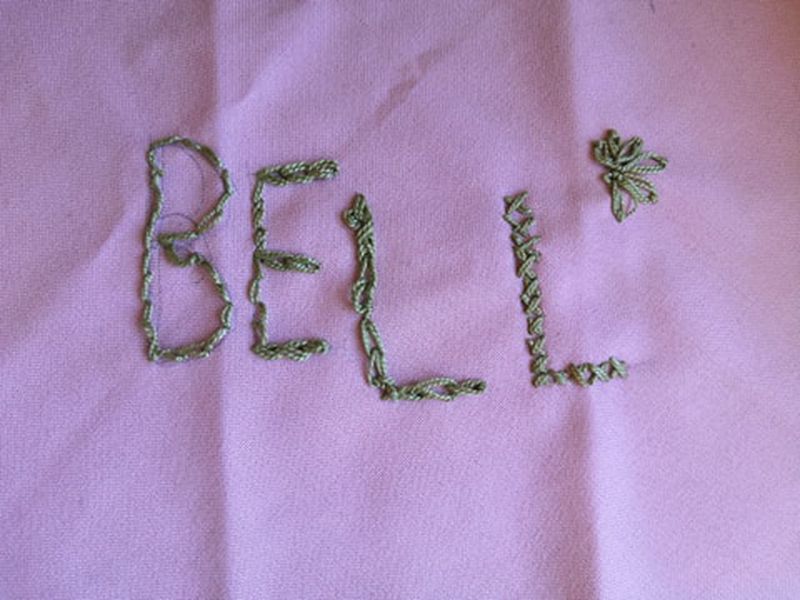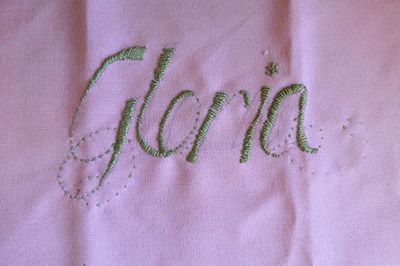 Gloria
+ Info
My daughter and I worked on it together which was very special. I did mine to honour my mother - Gloria, who was always willing to try new things and who is very resourceful and creative.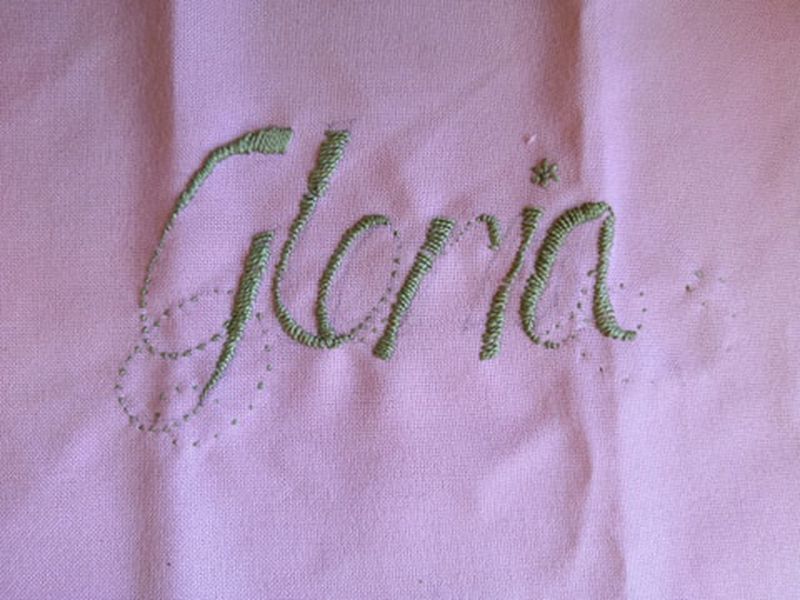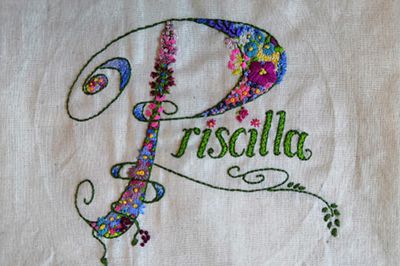 Priscilla
+ Info
This piece is dedicated to my mum, Priscilla. I remember her always giving crafting a go when I was a child. I guess I caught that bug.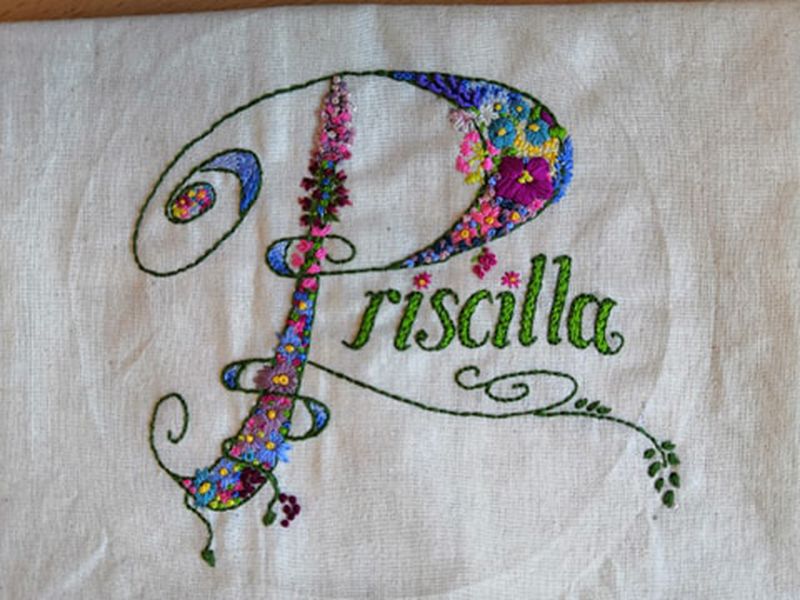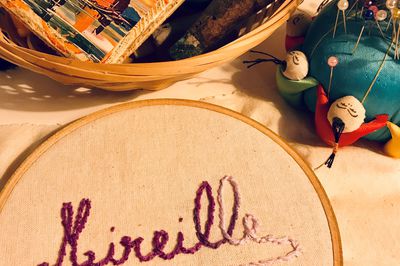 Mireille
+ Info
My mother, a woman who dares being herself, an artist.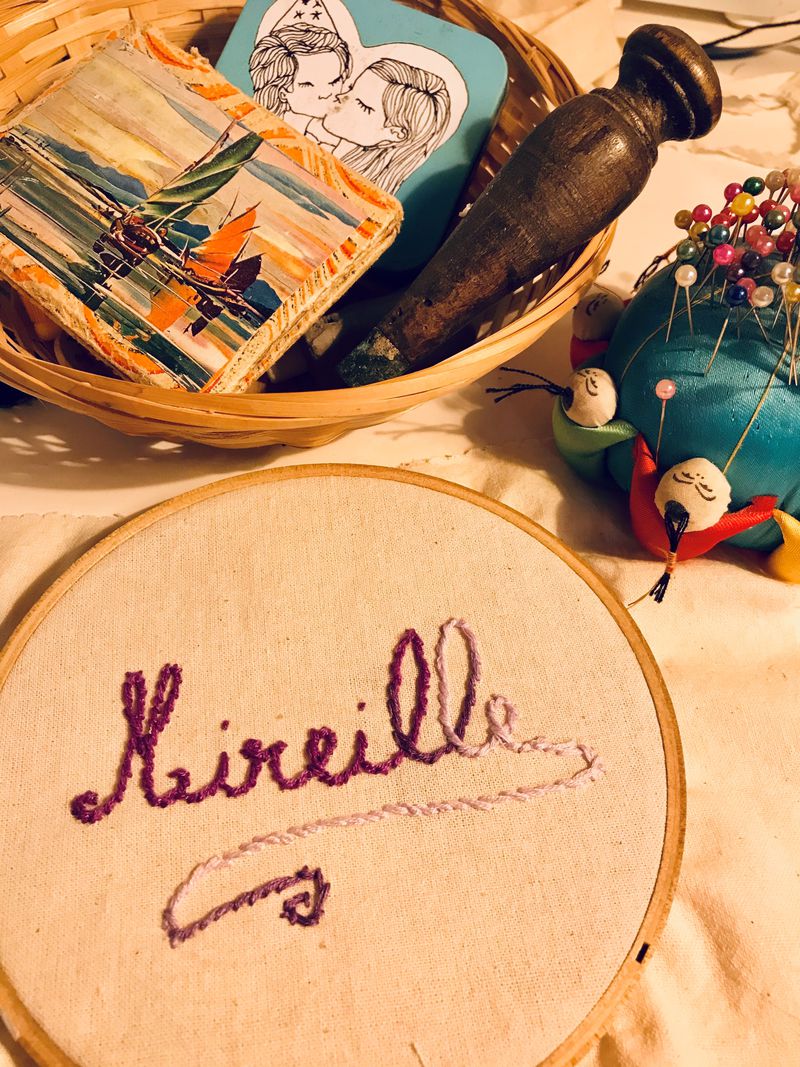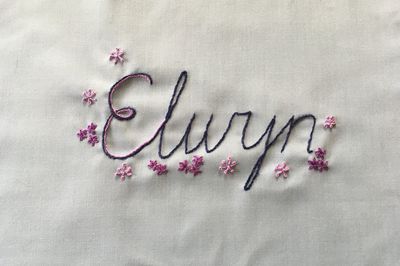 Elwyn
+ Info
My mother was Elwyn Davidson. When she married, in 1946, it was the norm to stay home and raise a family. Through her 70 years of marriage, she developed skills in many crafts and created lovely flower gardens. She became an accomplished dressmaker, embroiderer, flower arranger, cake decorator and even did some millinery and painting too. Most of these skills were learned at the night-school classes that were taught for so many years, at a nominal cost and were such a wonderful experience for many, many people.
Through all these crafts, her love of flowers and skill in re-creating them, was enjoyed by all.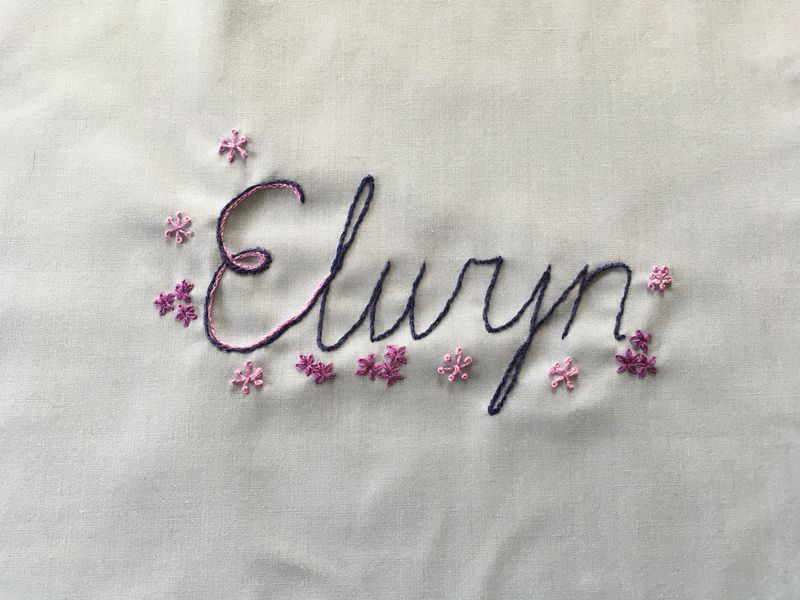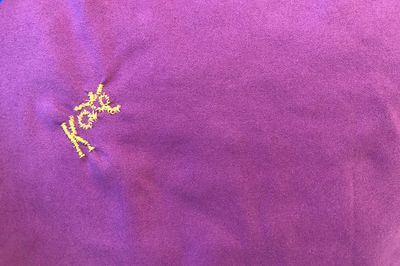 Kate
+ Info
Kate is my big sister. She is the only person in the world who knows what it's like to lose our brother Ben. Kate is the eldest. Ben was second and I'm the youngest. Kate was fiercely protective of Ben and even though she appears conservative, don't be fooled. They were studying at a library after school one time. Some bullies were waiting outside wanting to pick a fight with Ben. He told Kate to stay inside while he goes out to try and talk his way around things. Ben was surrounded by this group when Kate durst through the group swearing and warning them to back away from him. (Think Bjork attacking the journalist that time to protect her child, sort of like that!) Kate never swore or had a hair out of place actually, but she loved Ben and would do anything for him. She is my super hero.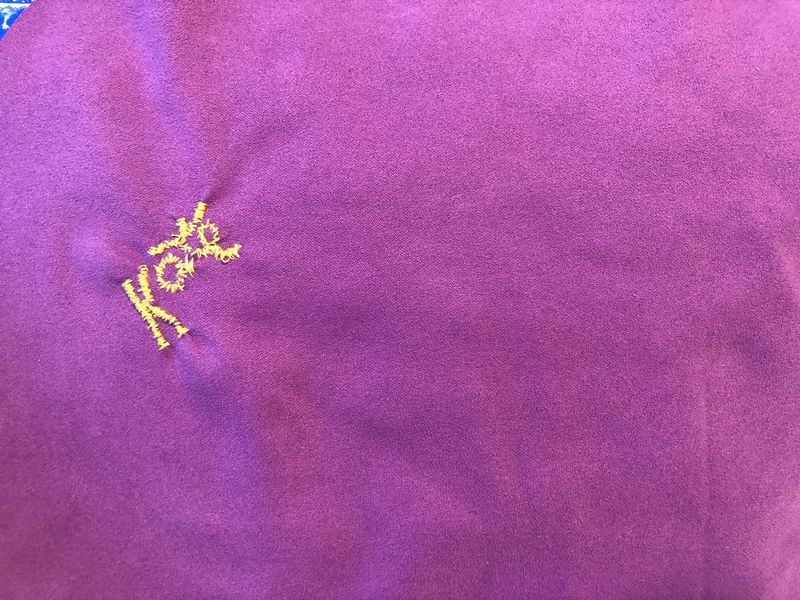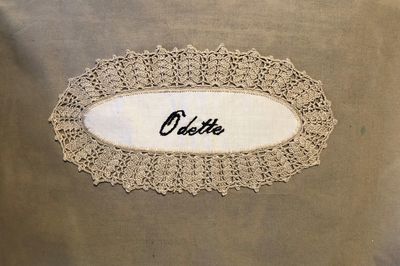 Odette
+ Info
Margaret was her birth name, but my paternal grandmother was known by her middle name, Odette.
As the eldest grandchild, I was asked at an early age to pronounce "grandma", but couldn't quite articulate the sound, referring to her as "Ganga". For better or worse, this was the title she was given as the grandmother of 22 grandchildren who followed.
Growing up, I spent most of my time with my grandmother. We had a special bond and I adored her. She was always perfectly dressed with hair and makeup done, never one to wear her pajamas around the house. Her meals were always quite simple, but so delicious. She liked to use doilies at the dinner table.
Odette loved the silver screen and we'd watch movie matinees together for hours most weekends. The only beverage she drank was champagne, which she enjoyed very much, describing it as the best medicine and the reason she recovered so well when she was undergoing chemotherapy for breast cancer. A wicked sense of humour and always able to make those around her laugh. People she knew found her words of wisdom comforting and she was always such a good listener.
Beautiful inside and out, she will always be remembered by her loving family and it seems my cousin's daughter, named after Odette, has the same ability to make people laugh.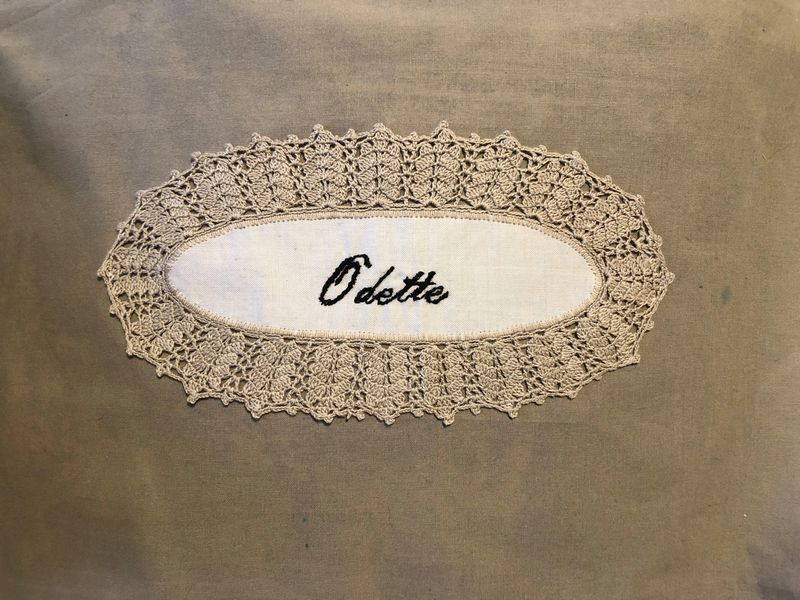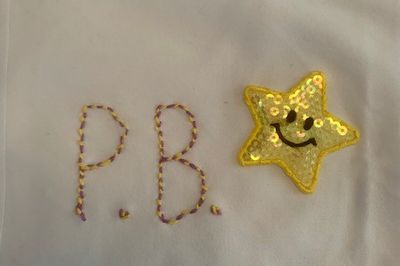 P.B.
+ Info
I embroidered P.B. because it's about two women in my family; Petrina Baker, my Mum and Poppy Baker, my little sister. It's really special to me because it taught me how to sew which I love it so much I want to do it every day for the rest of my life. It's also special because Nell is my favourite artist and it's so cool how she can skateboard.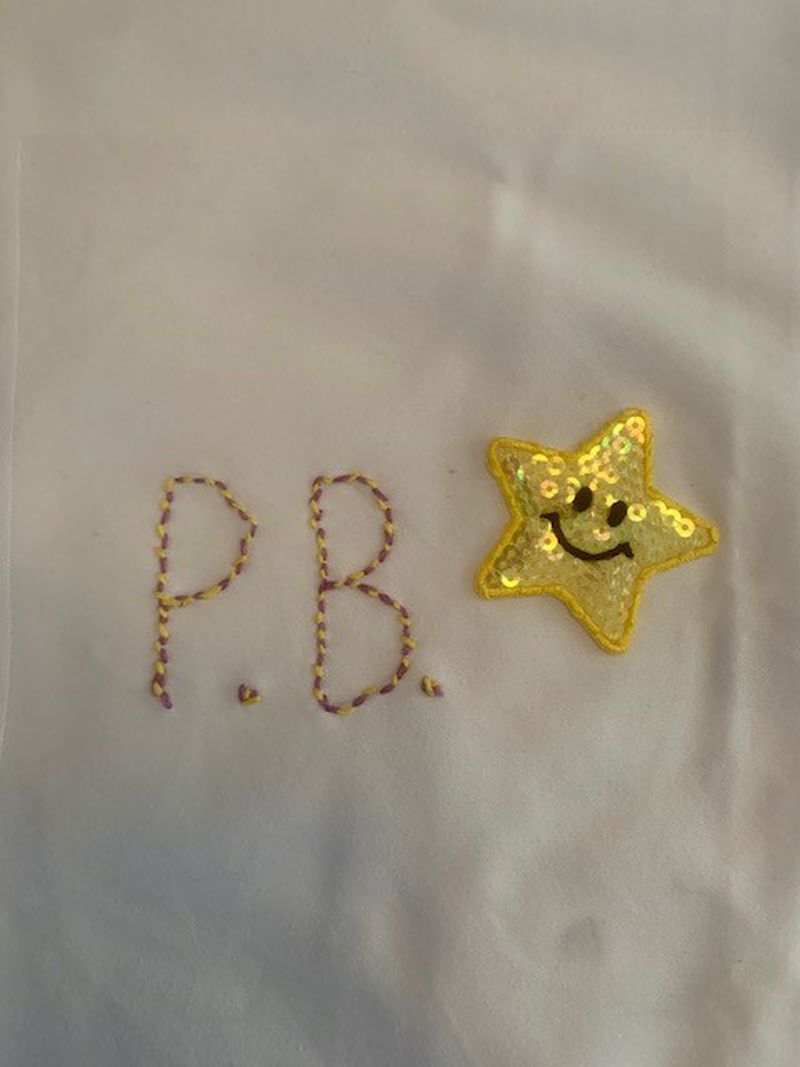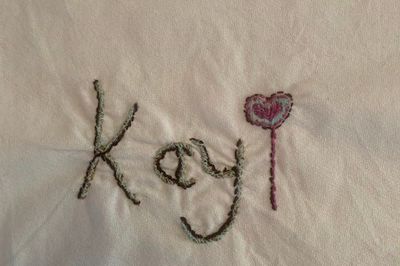 Kay
+ Info
Kay is my gorgeous Mum. She's a classic behind-the-scenes type of woman. Pragmatic and funny, she has always been the quiet achiever of our family who loves everyone equally and unconditionally. She has taught me that it's easy to shine with confidence when you have someone so firmly in your camp and I can only hope that my kids feel the same one day. She really is very special.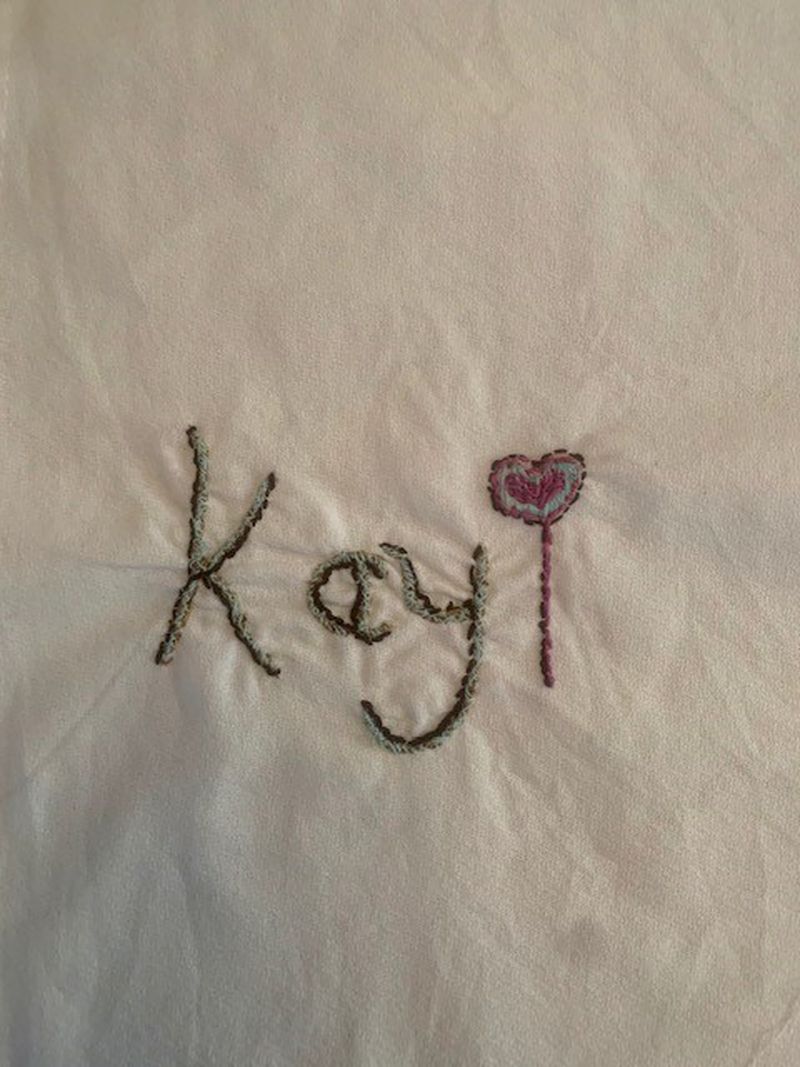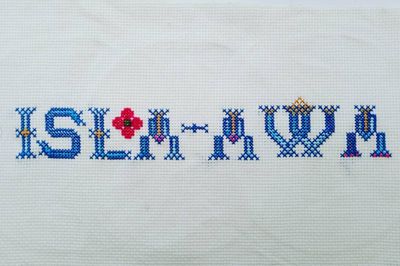 Isla-Awa
+ Info
My sweet baby girl. She is pure joy. She came into the world backwards with strength and determination. She's learning everyday and I love that I get to teach her how to be loving and kind and fierce and wild.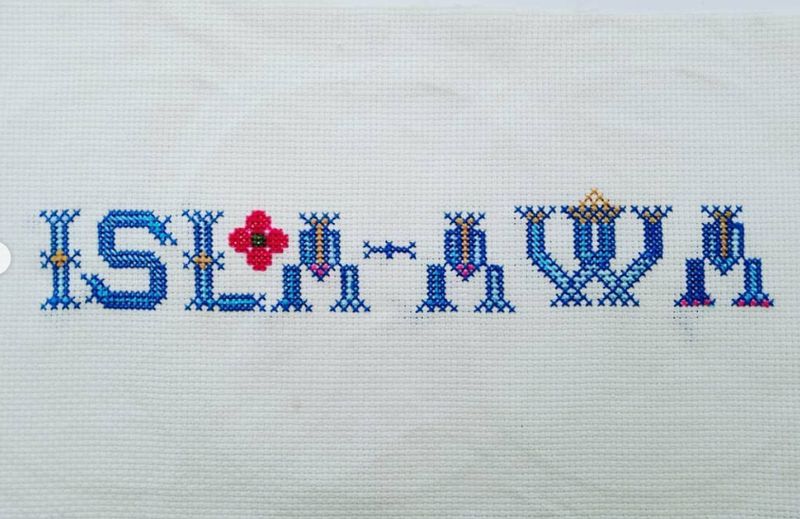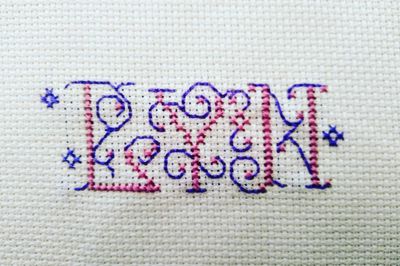 Lyn
+ Info
Lyn is my mum and she is wonderful. She is kind and giving and loving, always. She's taught me patience, compassion and not to care what others think. Since having my own babies I value my mum so much more. Sometimes I look at my hands and they're just like hers. I have my mothers' hands. I love her so much.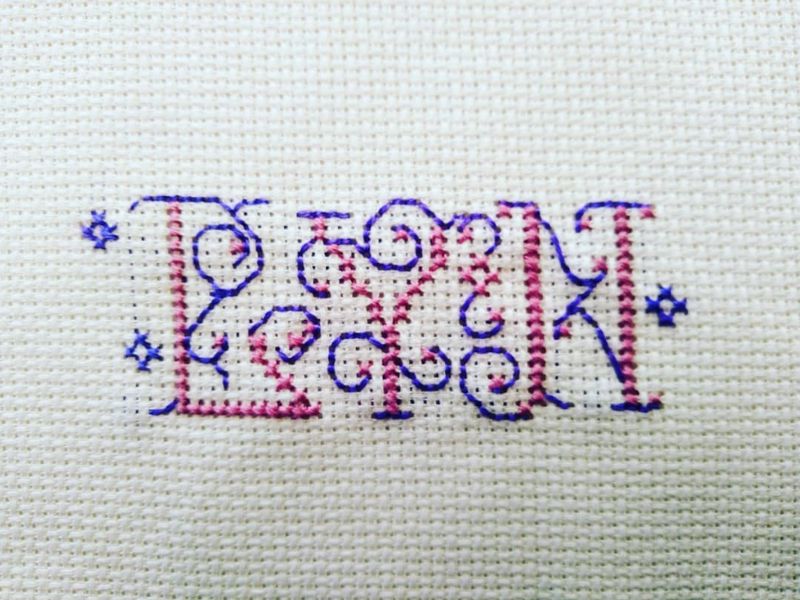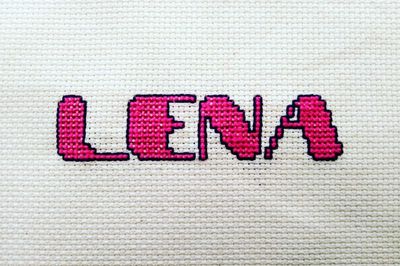 Lena
+ Info
Watching the series Girls I learned who Lena Dunham is, and following her career led me to a feminist awakening. I have been introduced to so many current feminist writers, podcasters and thinkers. All thanks to Lena Dunham.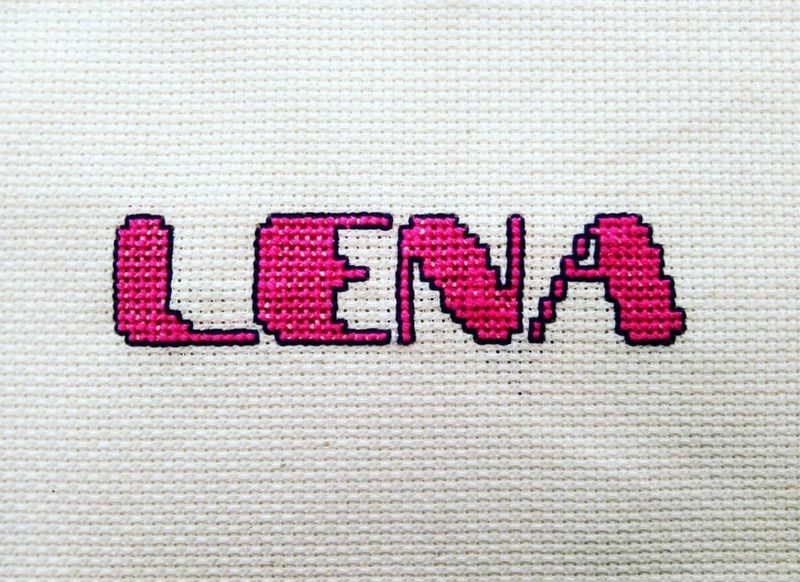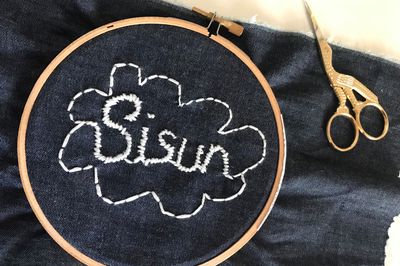 Sisun
+ Info
She said to me ,you pronounce it 'she' 'sun', and straight away I could see her radiance. Mindful, loving and caring even when she needed to be cared for the most. Her paper cranes still float with me.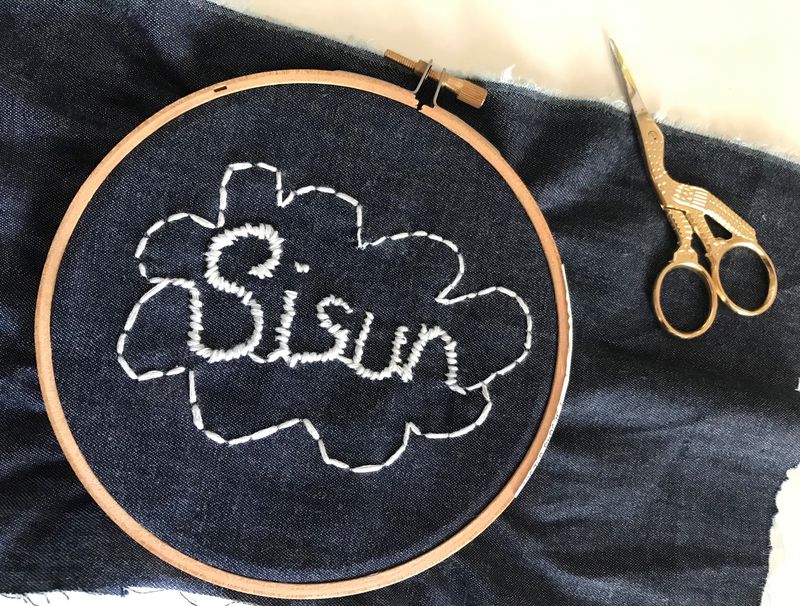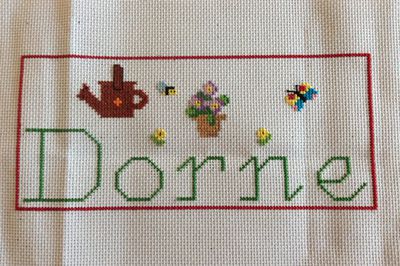 Dorne
+ Info
Dorne Jensen was my mother-in-law who passed away 9 years ago. She was a wonderful person who was strongly independent. An intelligent woman, Dorne cared deeply about helping others. She was a great cook but an even better gardener. She knew the proper names of all the plants in her beautiful garden. She was a loving Mum and grandmother and she is sadly missed by her family.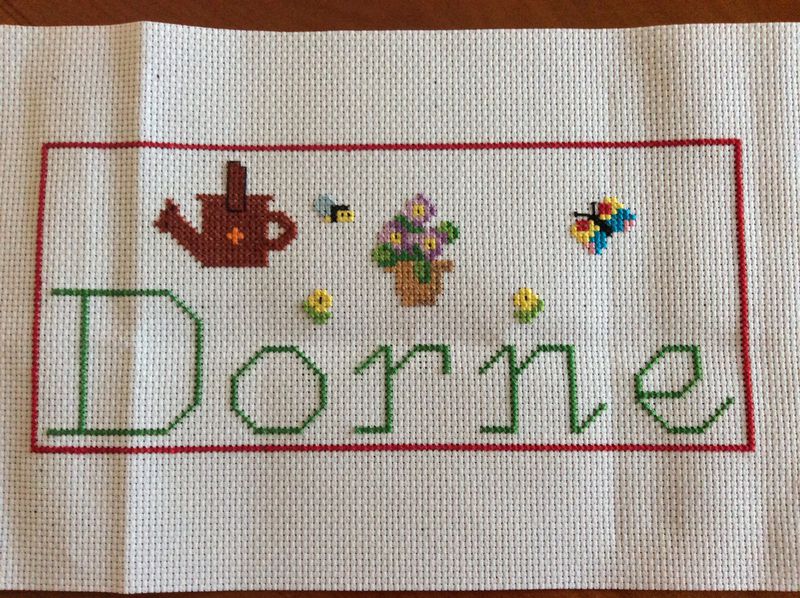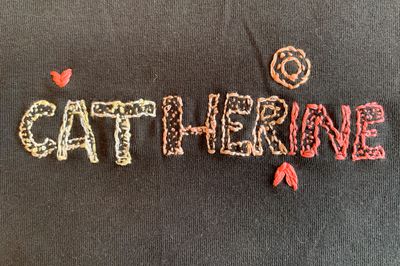 Catherine
+ Info
Catherine was a dear friend who lived and died with consummate grace. She was a stunning, articulate, sharp and creative soul, a loved mother, wife, daughter, sister and friend. She is a her(O)ine x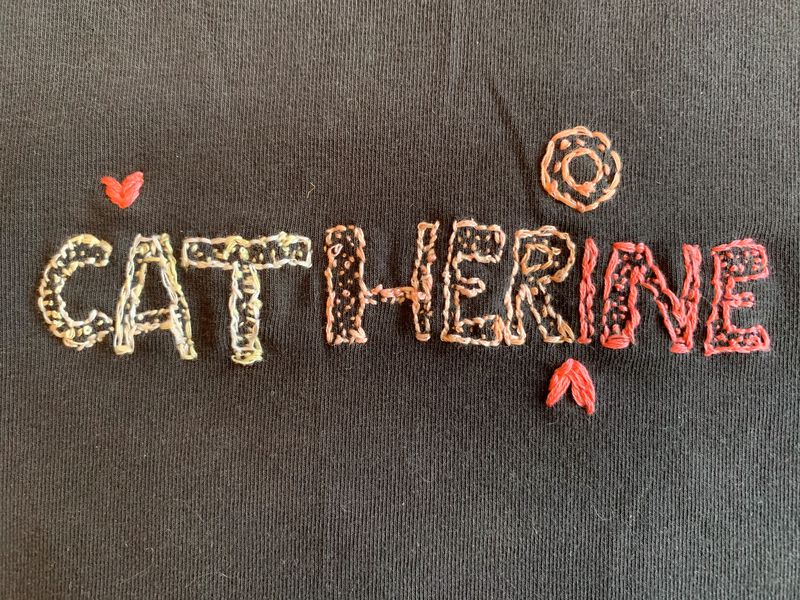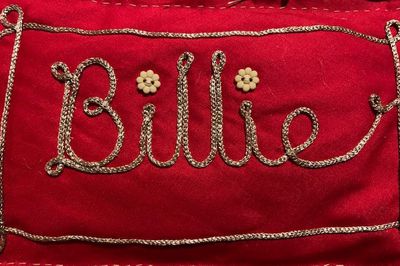 Billie
+ Info
Guilielma Constance Sargood - 'Billie' 1896 – 1983
Billie was my mother-in-law. At first glance, you would see a woman diminutive in stature that belied her strength of character, her energy, and her adventurous spirit.
Billie was an amazing hostess. Multi-tasking with a glass of whiskey in one hand, a cigarette in the other, while stirring a pot, she entertained generously and often. In an era when women weren't expected to earn a living, she was a very talented artist and embroiderer.
Billie loved speed, cars, aeroplanes and horse-racing as well as being a fine shot for shooting rabbits in her garden. She was very competitive and played golf on a low handicap.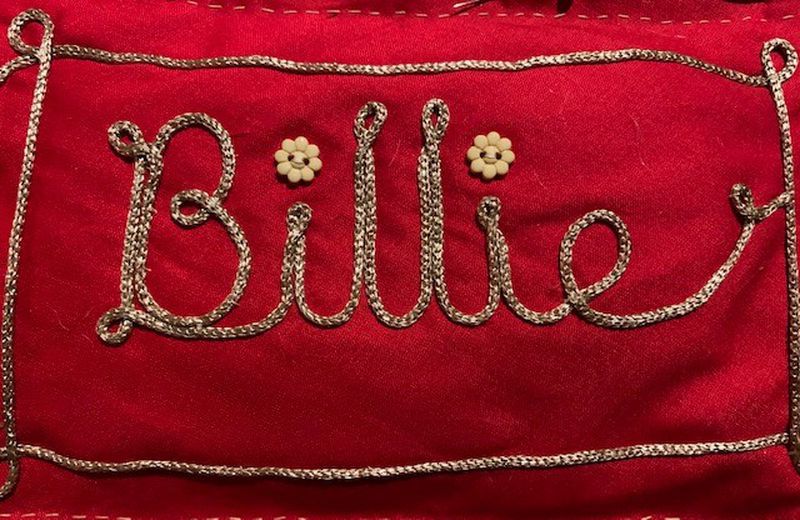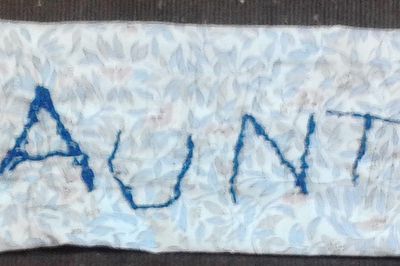 Aunty
+ Info
Aunty was Vera's older sister Her name was Sianada-Aida, everyone called her 'Aunty' . She was a milliner before my mother. She left Estonia with her mother, Elizabeth (my grandmother) to seek a new life in Australia and escape the Russian invasion of their homeland, Estonia. My mother, Vera and their younger brother, Boris remained in Tallinn, in a Sanitorium until Aunty (in Australia) saved enough money to pay for their passage to follow to Australia. I owe my presence here to Aunty's hardwork in the millinery trade. She was the creative one. Way ahead in her ideas on fashion, which we saw replicated years later in all the leading fashion magazines.
The two sisters remained very close throughout their lives. Aunty also played a very big part in my life and development. I think of them often.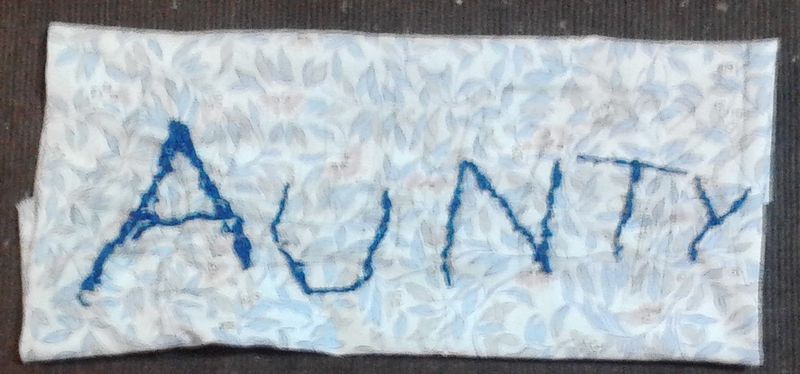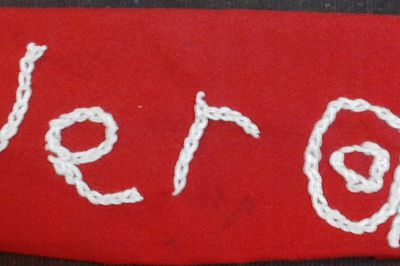 Vera
+ Info
My mother, Vera was (like most mothers) a pivotal person in my life. The standards she set and her attitudes have moulded me into the person I have become. She was a very gentle person. She believed in self-control, honesty, trust and faith in one's own ability. She was very tidy,( unlike me). She was a milliner and her stitching was very neat. As a child when I went out (up to the age of about 10) I wore a hat and gloves. She made matching hats to my outfits. She helped me a lot when my three children were small. I never heard her raise her voice and she never became angry with me. Although we did not speak much about deep meaningful things I still felt close to her. Like most people, I miss my mum.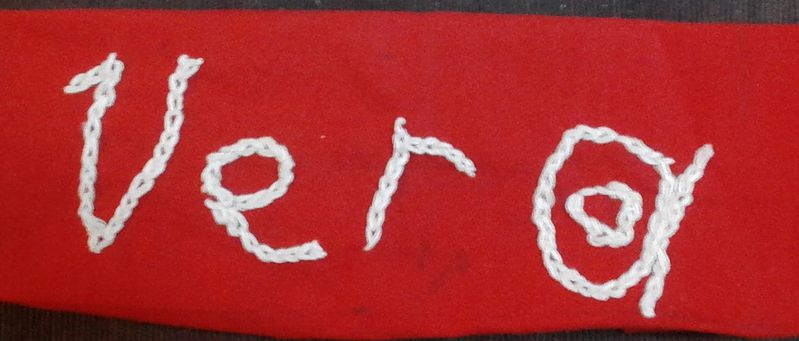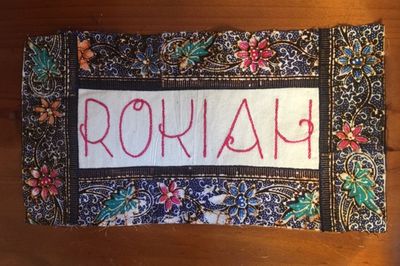 Rokiah
+ Info
Rokiah ( pronounced Ro Kee a) was a Colombo Plan occupational therapy student from what was named Malaya before the name change in the 1960's. We joined the mid year 1962 class of the 3 year State Examination course. She was a wonderful person, never coming back to NZ despite my requests, but I was able to stay with her many times in Malaysia. She won a number of awards for her dedicated work with psychiatric patients over many years, at the Hospital Bahagia in Perak State. Unfortunately she developed lung cancer despite the fact she never smoked, and passed away at the end of 2008. She is the female friend I feel was extra special and is very sadly missed.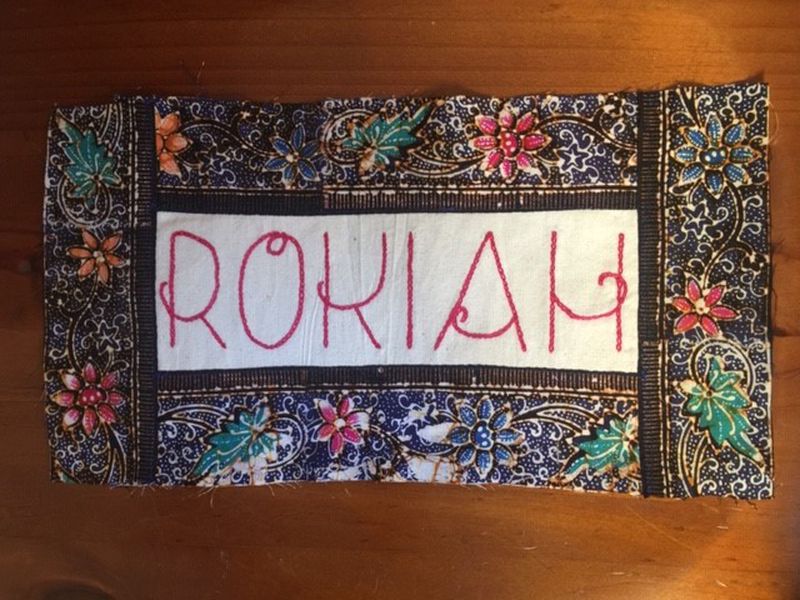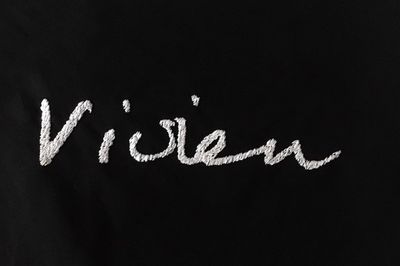 Vivien
+ Info
In honour of my mother Emily Vivien Scarlett, always known as Vivien, who was adventurous, cheeky, clever, loving, thoughtful and encouraging. I enjoyed thinking about her throughout the stitching of this piece, her name stitched in her handwriting. I completed her name on what would have been her 90th birthday. Mum loved to do embroidery and bobbin lace and she would have been appalled at my messy stitching but pleased that stitching has become part of my art practice. A women's rights activist, Vivien took her three daughters on feminist marches in the early 1970's. Born in Scotland in 1930 she married my father, an Australian in 1961 and moved to Australia. After they divorced, she was left to bring us up on her own which she managed extremely well. In 1990, aged 60, she moved back to Scotland and married an old sweetheart where she lived happily until she died in 2016. I still miss her immensely.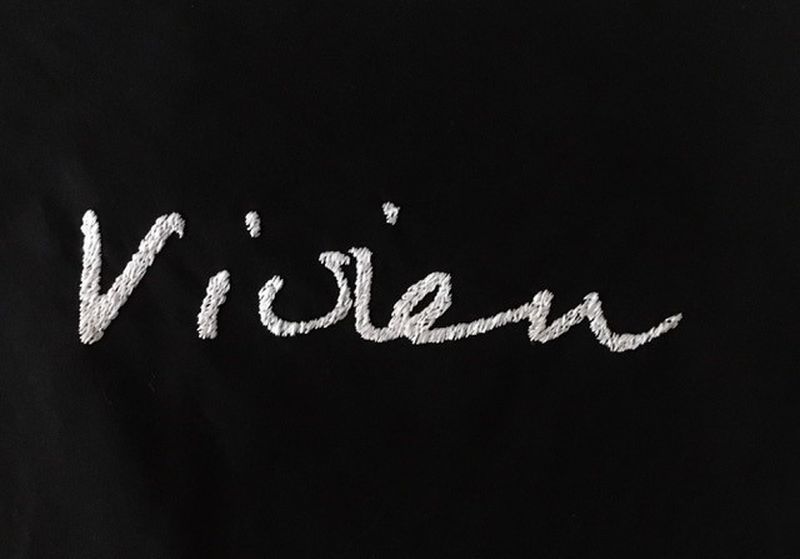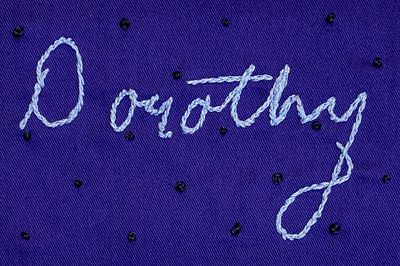 Dorothy
+ Info
Dorothy Mavis was my Grandma. She was a mother of five. Widowed, she brought up my Mum, her youngest on her own. She worked as a machinist. She sewed, crocheted and knitted. She had a tough life, but all I ever knew from her was absolute love and kindness.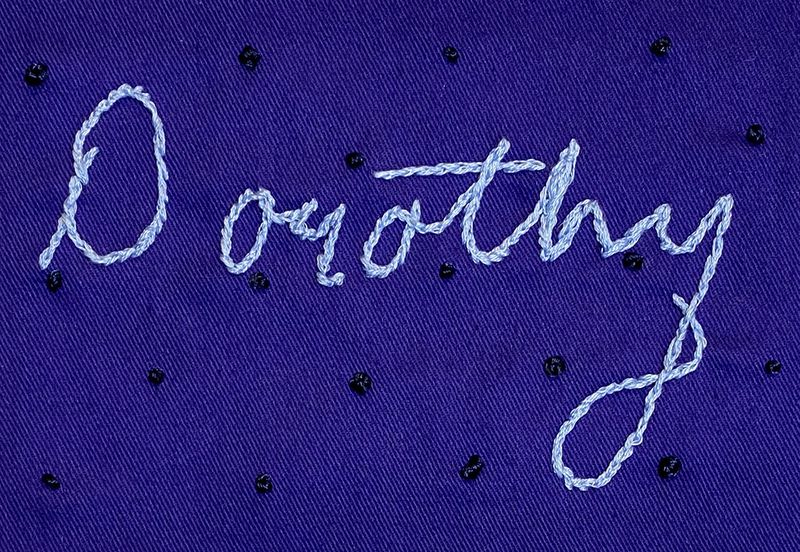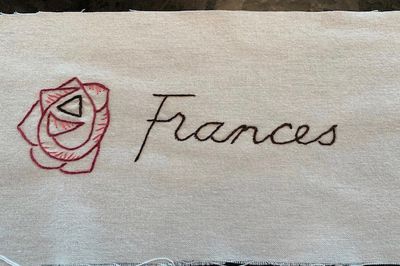 Frances
+ Info
Frances Hodgkin - what a woman! Brave and determined to be an artist despite not being recognised for decades. To quote her: "I feel that if I had known what was before me, I should never have had the courage to begin". The rose is from one of Hodgkins' fabric designs, 1925.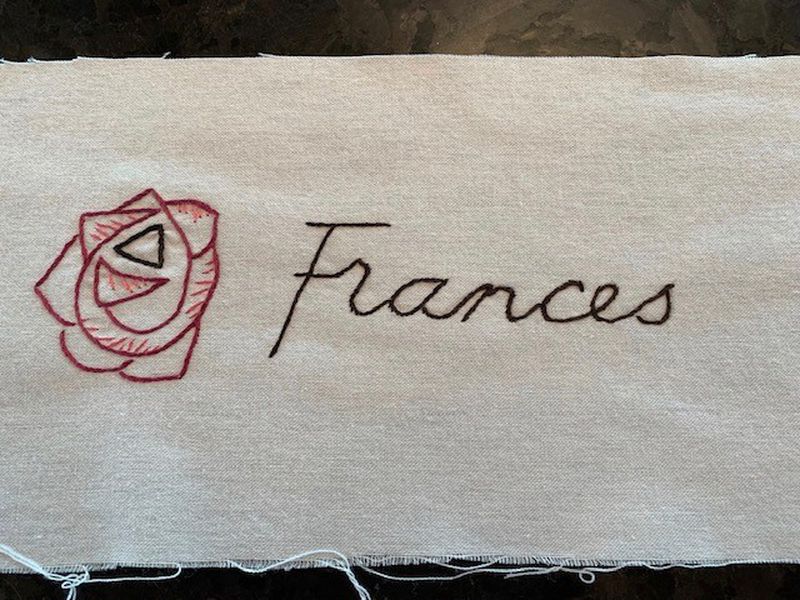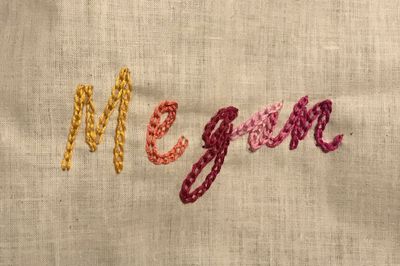 Megan
+ Info
Megan Patricia Christie (1954-2020) was my mum. She was the first female Equine Vet in WA. She was also an artist, furniture maker and farmer and taught my sister and I to be confident in our abilities, solve problems, be resilient and practical. She is buried on the farm and will be forever connected to the land she loved, lived and worked with my dad.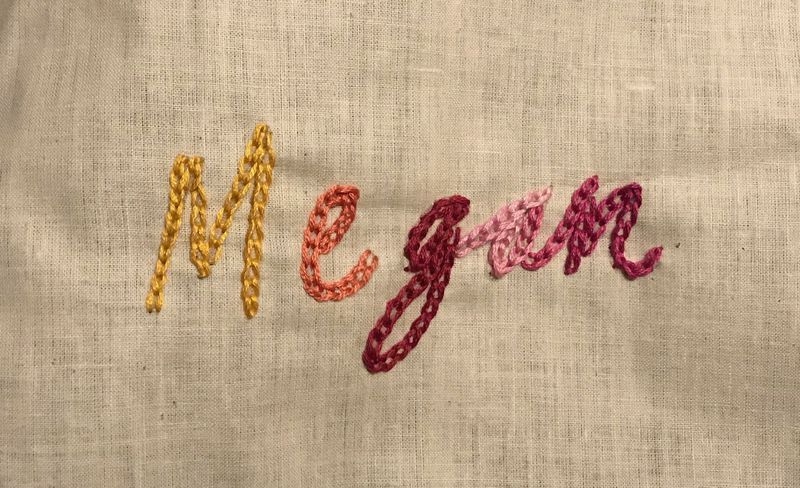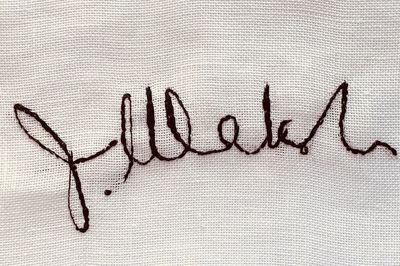 Jo
+ Info
This is the signature of my oldest and dearest friend Jo, who is no longer able to write her name having succumbed to early onset Alzheimer's over five years ago. I found Jo's signature on a postage box from a gift she'd sent for a birthday many years ago. She always found beautiful presents to give me. Jo was brilliant, brave, generous, loving, creative and always kind. I miss her immensely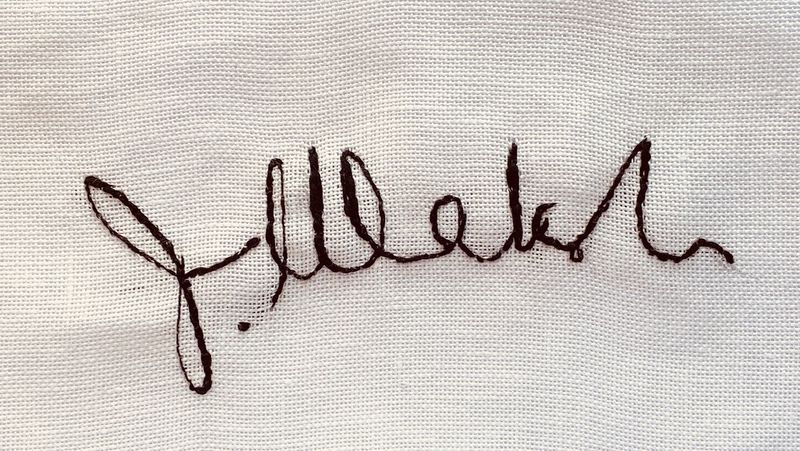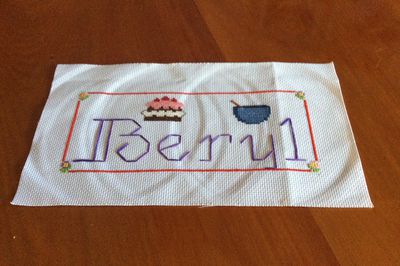 Beryl
+ Info
Beryl Burton was my Mum who passed away 18 years ago but who is joyfully remembered by everyone who knew her. She loved to look after others. Her cooking and baking was amazing and it was loved by all, as she herself was. She was sporty and happy and encouraging and I miss her everyday.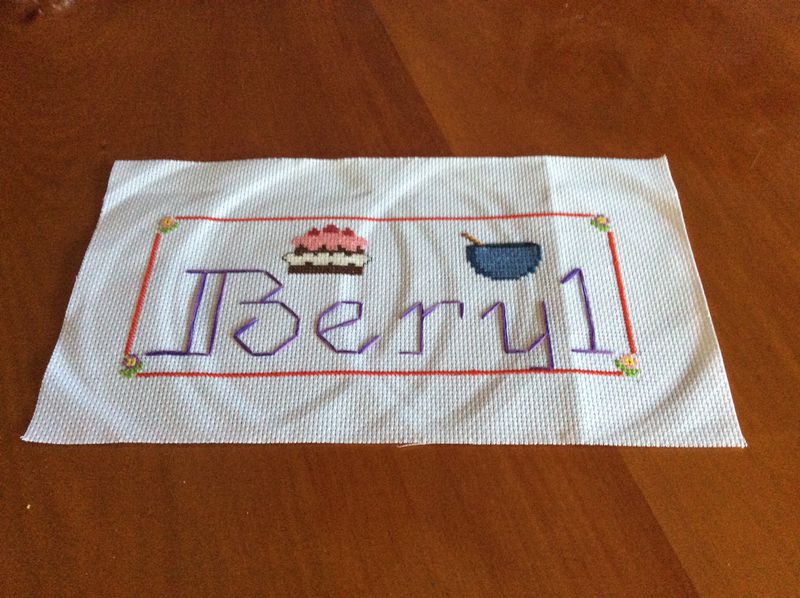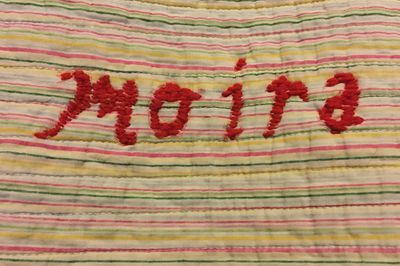 Moira
+ Info
My Mum Moira was born in Cheshire, England and immigrated to New Zealand when she was 12 years old. Moira had a brilliant mind and a strong work ethic and pursued a career in dietetics, eventually becoming the head dietician at a large hospital. She raised three children and was a loving and supportive parent. Moira was a courageous and generous soul who contributed to an understanding of early-onset Parkinson's Disease, a condition which she lived with for over 25 years. Missed every day.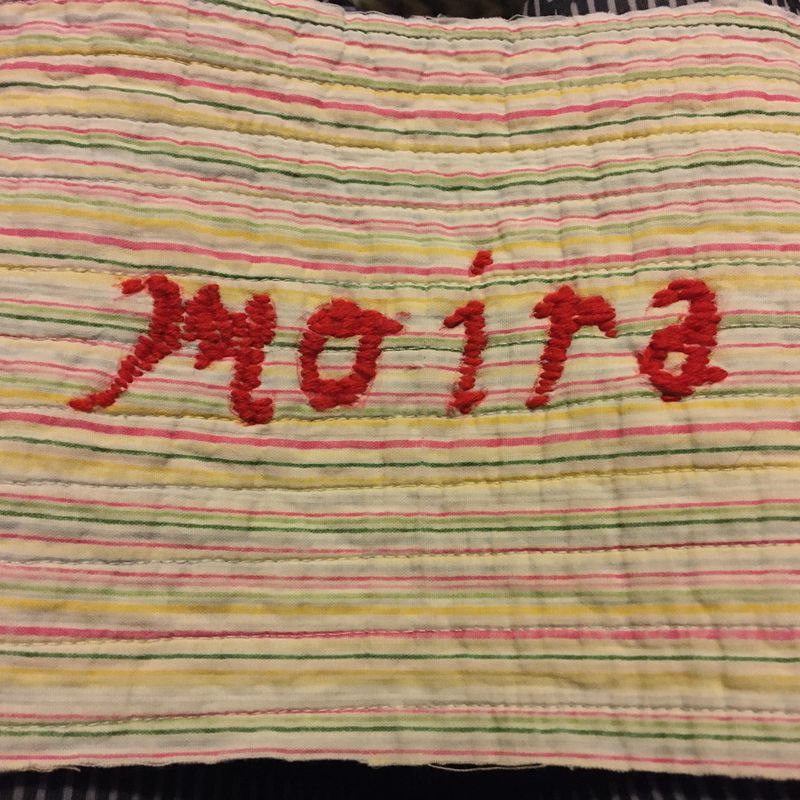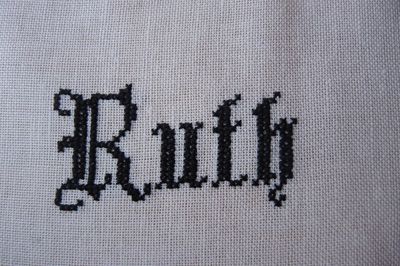 Ruth
+ Info
Ruth was my paternal Grandmother and a fiercely independent woman. She was interested in antiques and she had collected over 60 biscuit barrels in her lifetime. She loved the theatre and acted and directed for amateur shows in Invercargill. She also quilted, embroidered, knitted and hand dyed wool. I have inherited her love of theatre and her button collection.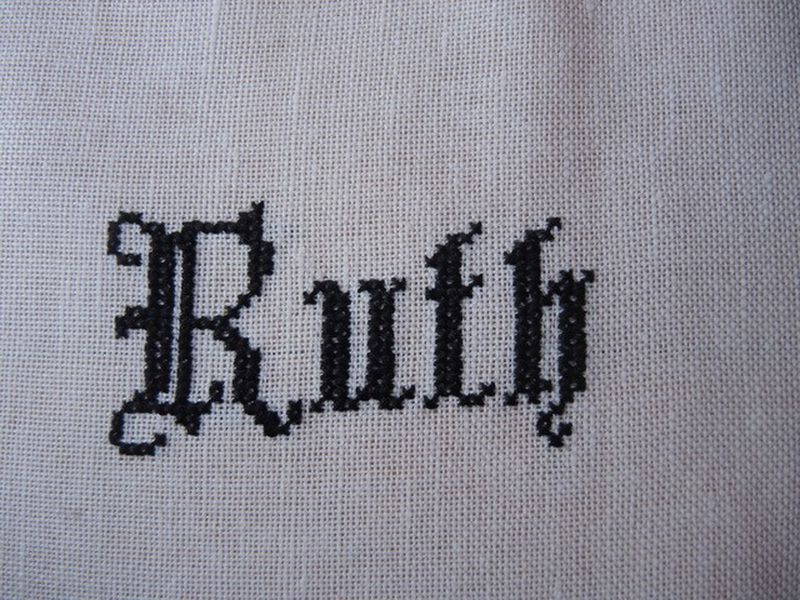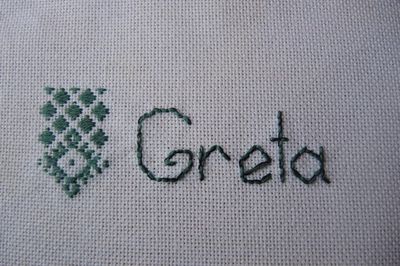 Greta
+ Info
Greta was my Grandmother. The Wessex stitch on this embroidery is by her daughter Margaret. She came out to NZ from England in 1951 and landed in Wellington amidst the waterfront strike. Settling with her husband and two small children in Ashburton, she was a stickler for routine and she always called England home, although never returned. I have her button collection.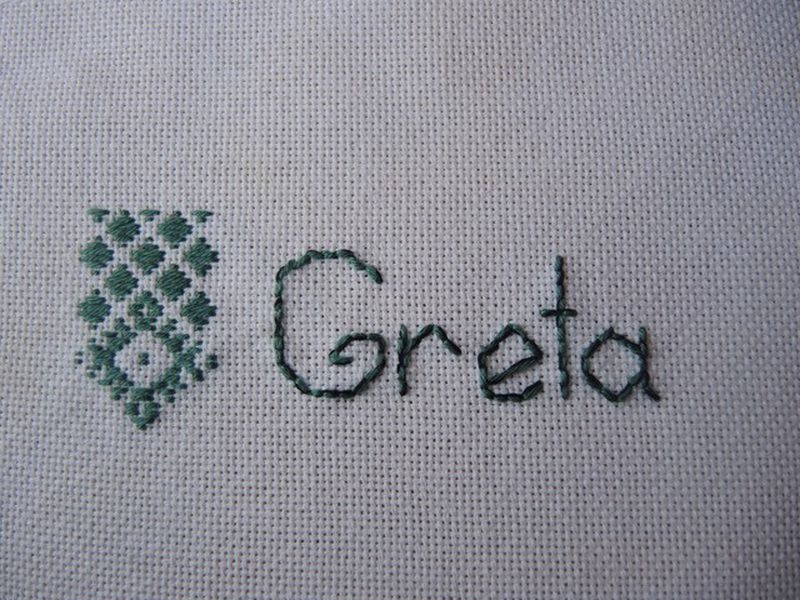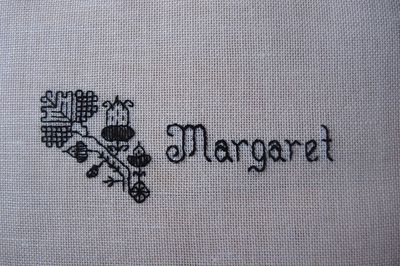 Margaret
+ Info
Margaret was my Mother she was a beautiful embroiderer who taught me and encouraged my love of stitching. She did the blackwork piece on this embroidery. Mum also loved the theatre and passed on to me the joy of treading the boards. Mum passed away after a 17 year fight with Breast Cancer, she was inspiring and I miss her very much.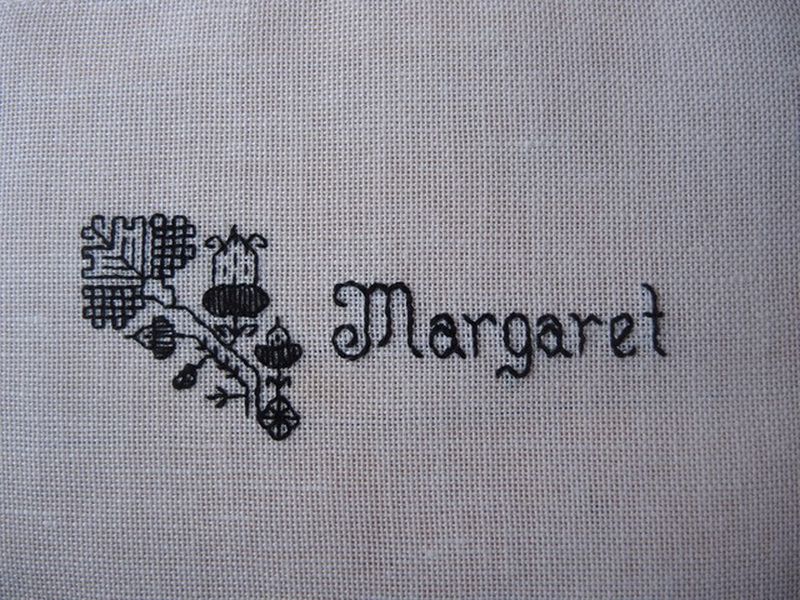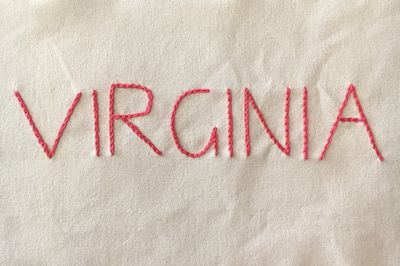 Virginia
+ Info
Virginia was my friend. She was sharp, she was beautiful, elegant, strong and resourceful. Virginia loved her chickens and her cats, a brilliant wit and an infectious laugh that rewarded a room brimming with friends old and new. She was as comfortable in a paddock with her cows as she was in a closed gallery launch with her professional peers. Virgina spanned the gap between city and country, artist and developer, a rare thinker and dreamer. Virginia choose this colour thread for a sewing project she commissioned from me. I am hoping she would allow me to use it again here in this submission. I am humbled by Virginia in every way, not least her skilled hands directing a thread and needle.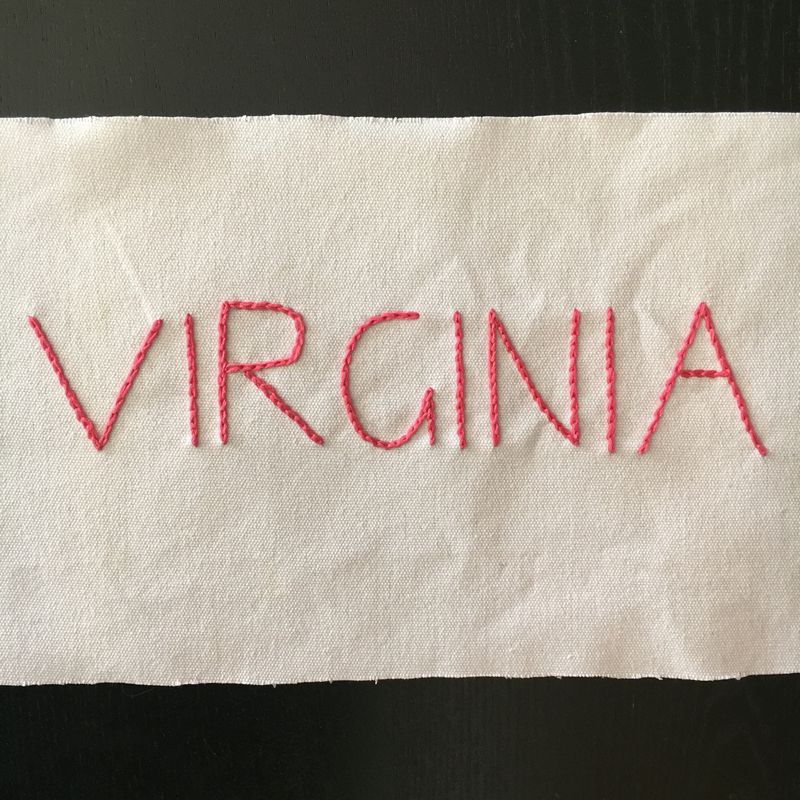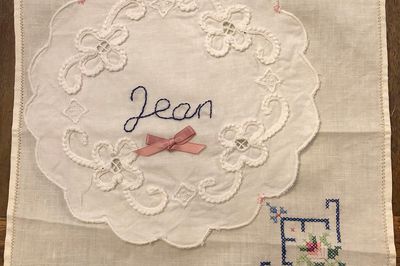 Jean
+ Info
Jean was widowed at a very young age, her husband was shot down over Germany, his body never recovered. She was just weeks away from giving birth to their first child. She never re-married, but she was a strong, beautiful woman who lived life to the full, despite this tragedy.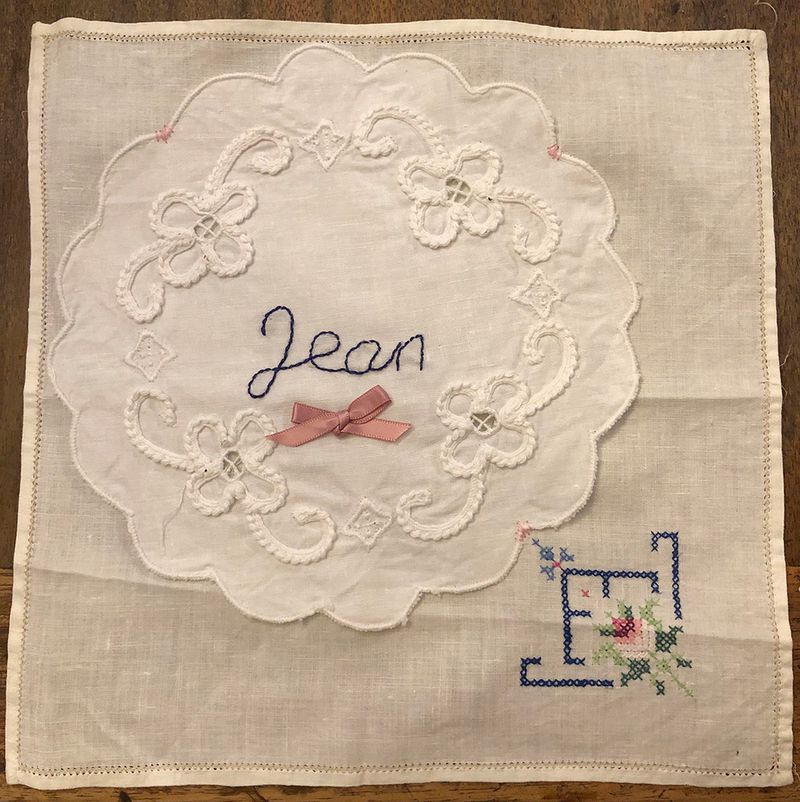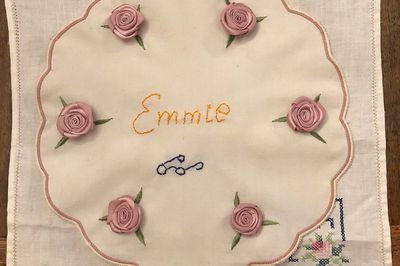 Emmie
+ Info
Emily had a hard life, orphaned at aged 3, fostered aged 6 to a family who treated her as an unpaid servant. It didn't make her bitter though, it made her kind. I wish I had appreciated her more, all the sacrifices she made for me. Sorry Mum, love you. xx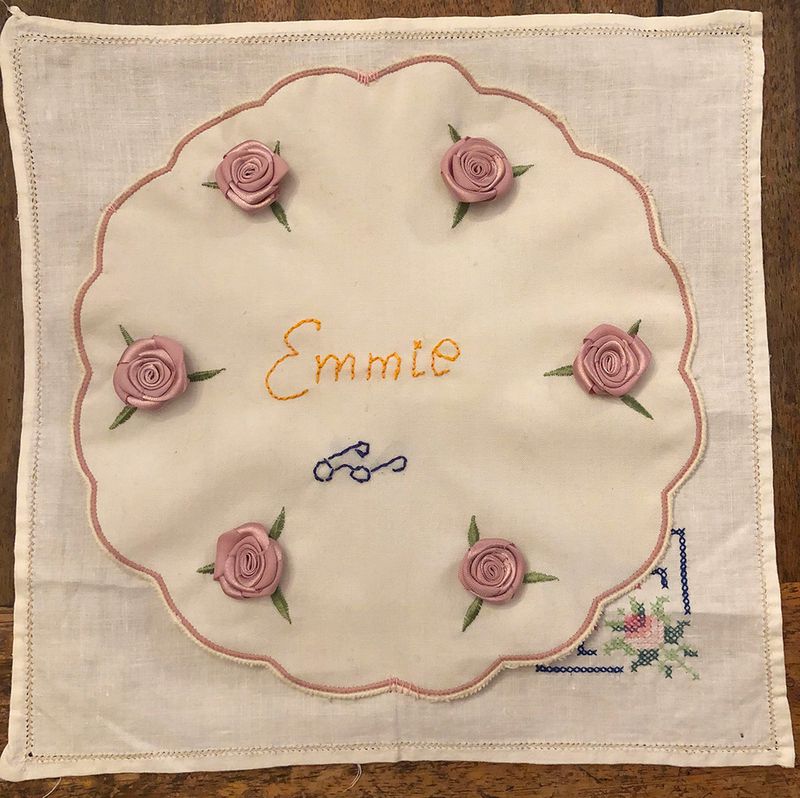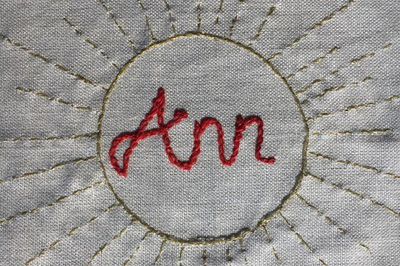 Ann
+ Info
I first met Ann at Detroit airport where she welcomed me into her family as an au-pair for her two young daughters. That year she introduced me to American literature, art, history and politics but the most valuable teachings for me were learned by observing Ann. She was and is the embodiment of compassion, kindness, humility, love, laughter and quiet strength. I am so fortunate to have this "brilliant" woman in my life.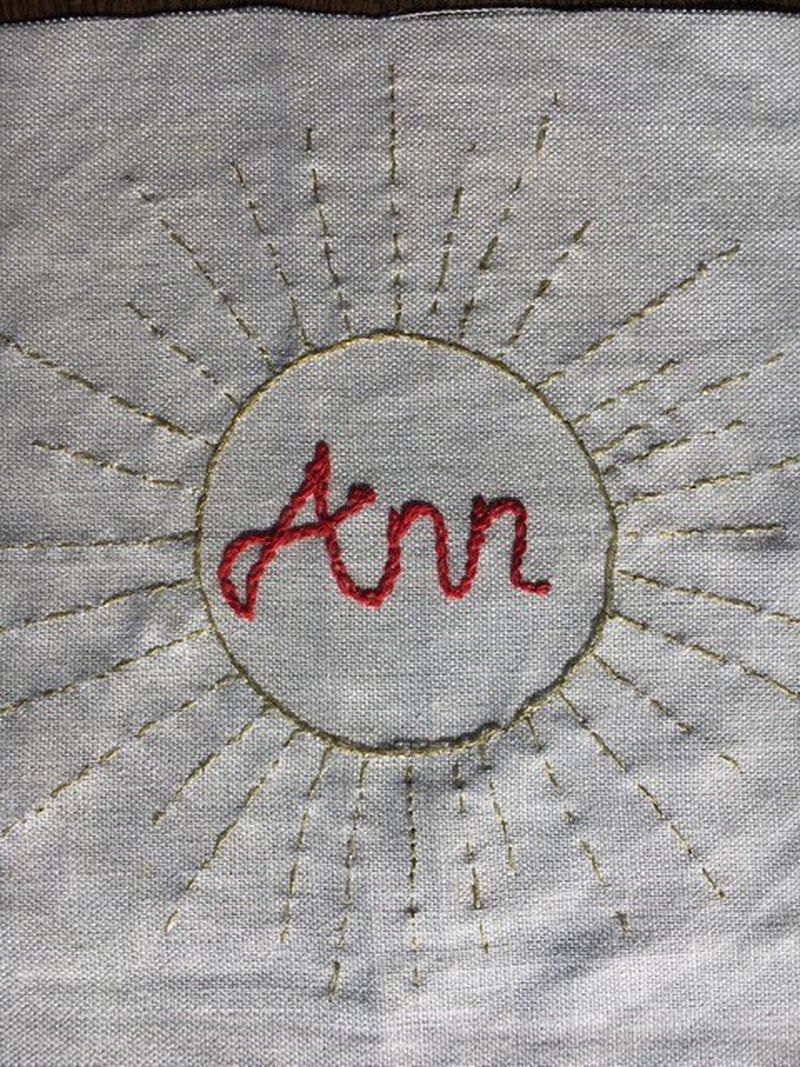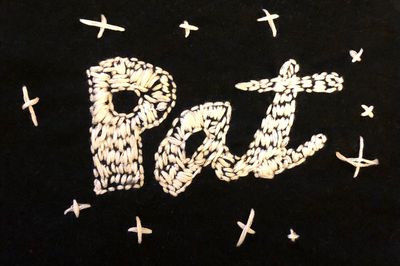 Pat
+ Info
Born in 1938 in Western Victoria, my mum Patricia Margret McCarthy (Pat) was one of twelve children. She married Dad at age 17 and together they had seven daughters and three sons - I am the youngest child. Mum has been a remarkable caregiver, small business operator and manager of the household. She is stoic, supportive and committed to the wellbeing of her family. Mum taught me to sew – for utilitarian purposes – never embroidering for decorative effect, that would be superfluous! She is a practical, no-nonsense woman. Even so, she has never questioned my work as an artist, my full-time employment outside of the home and my complete lack of interest in homemaking. Knitting, Crochet and sewing sit at the intersection of her practicality and purposefulness and the purely aesthetic and experiential aims of my artmaking. I enjoyed thinking of Mum methodically mending as I embroidered (in a haphazard fashion) her name.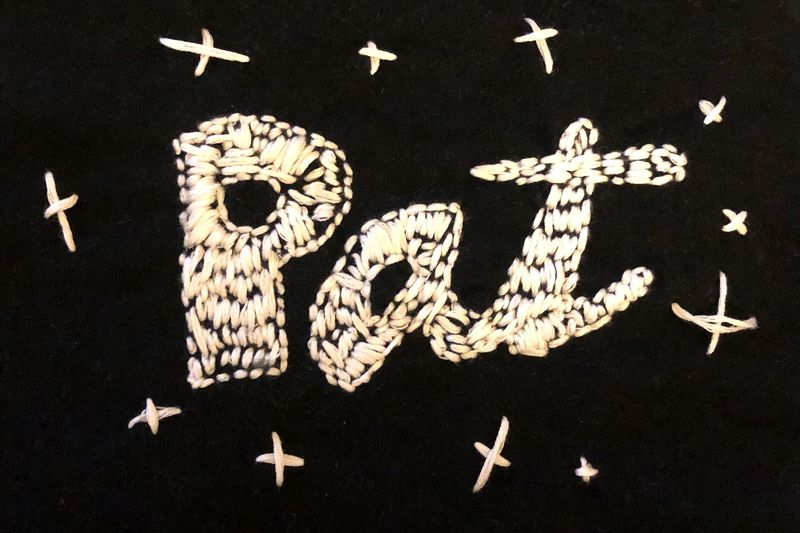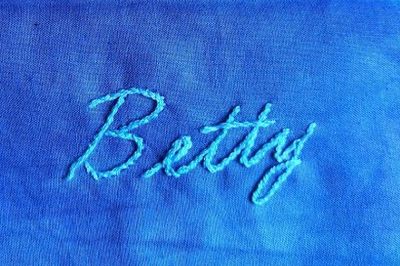 Betty
+ Info
Betty was my mother-in-law. Another skilled needlewoman who worked very hard for her family and was always been to babysit and adored her grandchildren. Nothing was ever too much trouble. She nursed her husband and sister until they passed away. Betty died just on a year ago and was much loved by everyone.
Betty was an older friend and a superb embroider A very wise lady always happy to listen and advise on sewing and a treasure to our Embroidery Guild. She passed away late last year.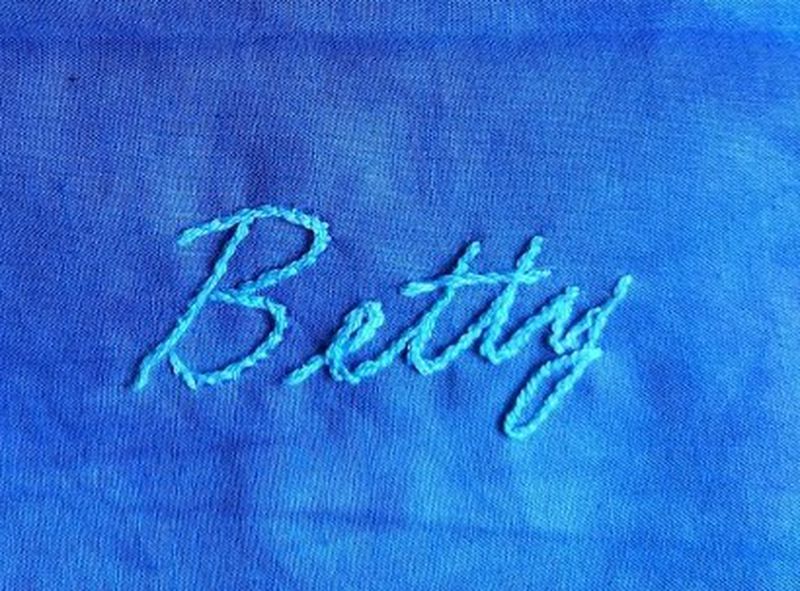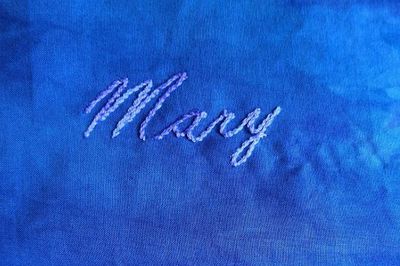 Mary
+ Info
One of those special ladies you come across in a lifetime. She was an inspiration to me in so many ways. She loved family, friends and visitors. A very accomplished embroiderer and designer of embroidery projects. She was my first embroidery workshop teacher. We had great conversations on travel after holidays and any purchase of textiles was received with great enthusiasm. We enjoyed each other's company a great deal even though she was old enough to be my mother. She passed away just before her 90th birthday. I think of her everytime I see beautiful designs even in gum leaves.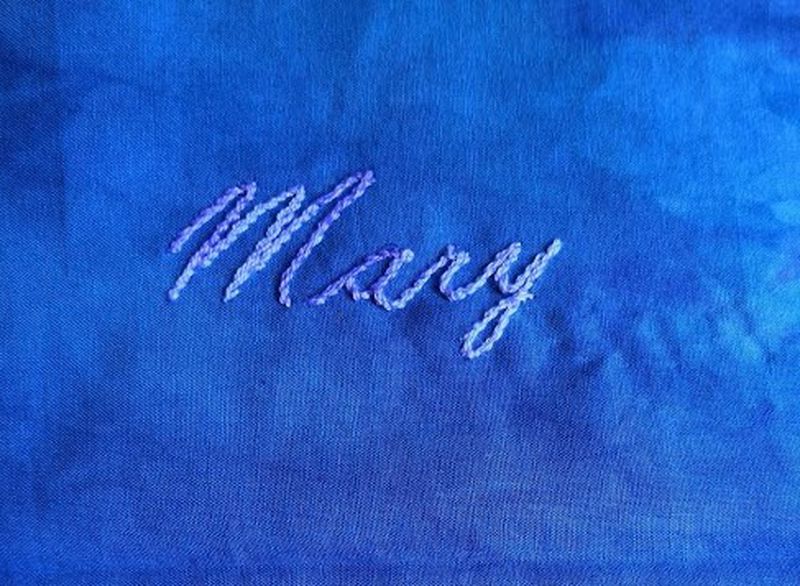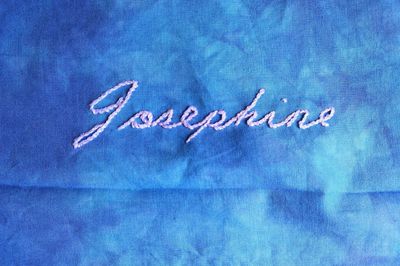 Josephine
+ Info
Josephine was my mother who passed away in 2006. She first encouraged me to sew when I was 6. Later she encouraged me in dress-making. She was a perfectionist in sewing and was a good cook & great gardener. Any visitor always left with flowers or veges from the garden. She was the model of generosity but had a tough childhood.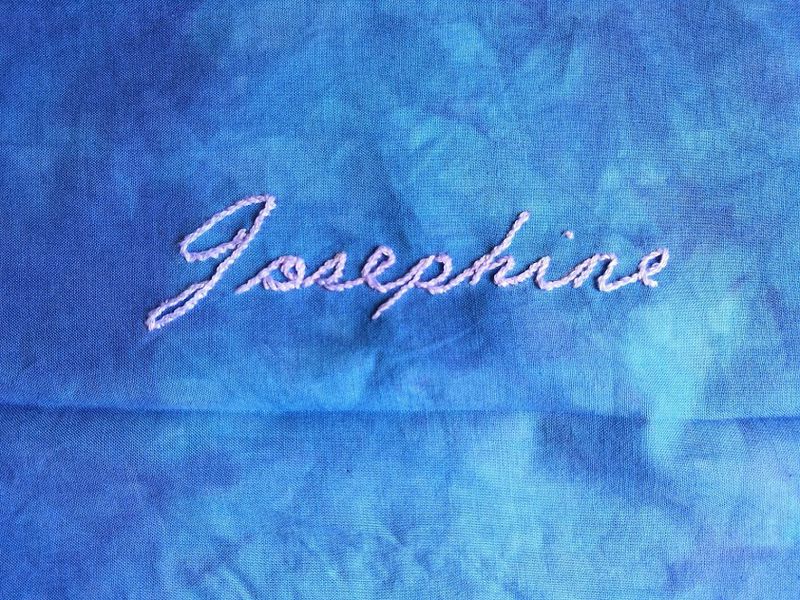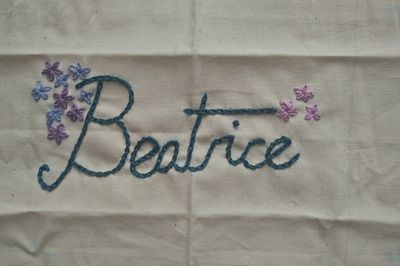 Beatrice
+ Info
My most special person is my wee granny Beatrice, always at the ready with a chat and a chocolate biscuit. A simple woman who's ambition and achievement was to give & receive family love. At times like this a reminder that the 'little' things are truly the major achievements. She was my shelter in the storm. Forever loved & missed.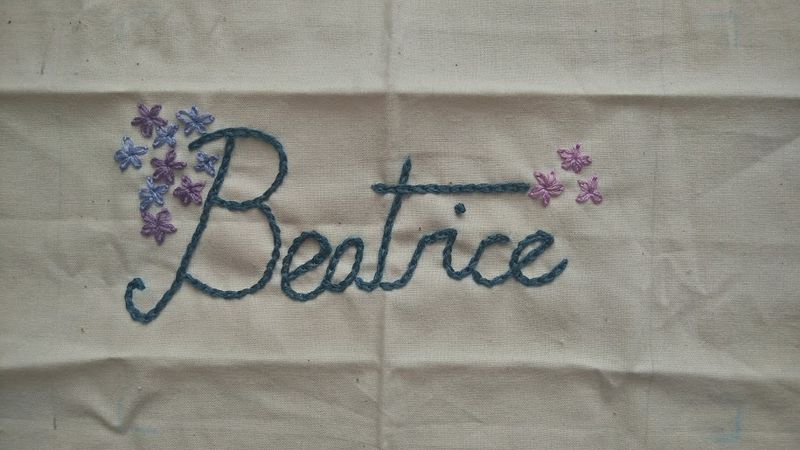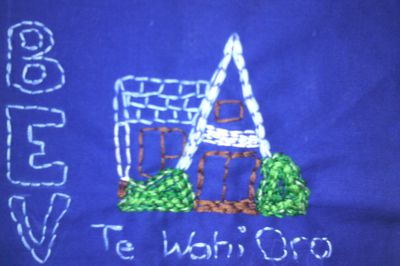 Bev
+ Info
In the late 1980s Bev Holt and her friend Wynsome Diprose co founded a Retreat Centre for Women at Piha. Sadly shortly afterwards Wynsome died of cancer. Since then Bev has run the Centre( later named Te Wahi Ora and become a Charitable Trust) where she has provided support and solace for hundreds of women as they grew towards healing and wholeness.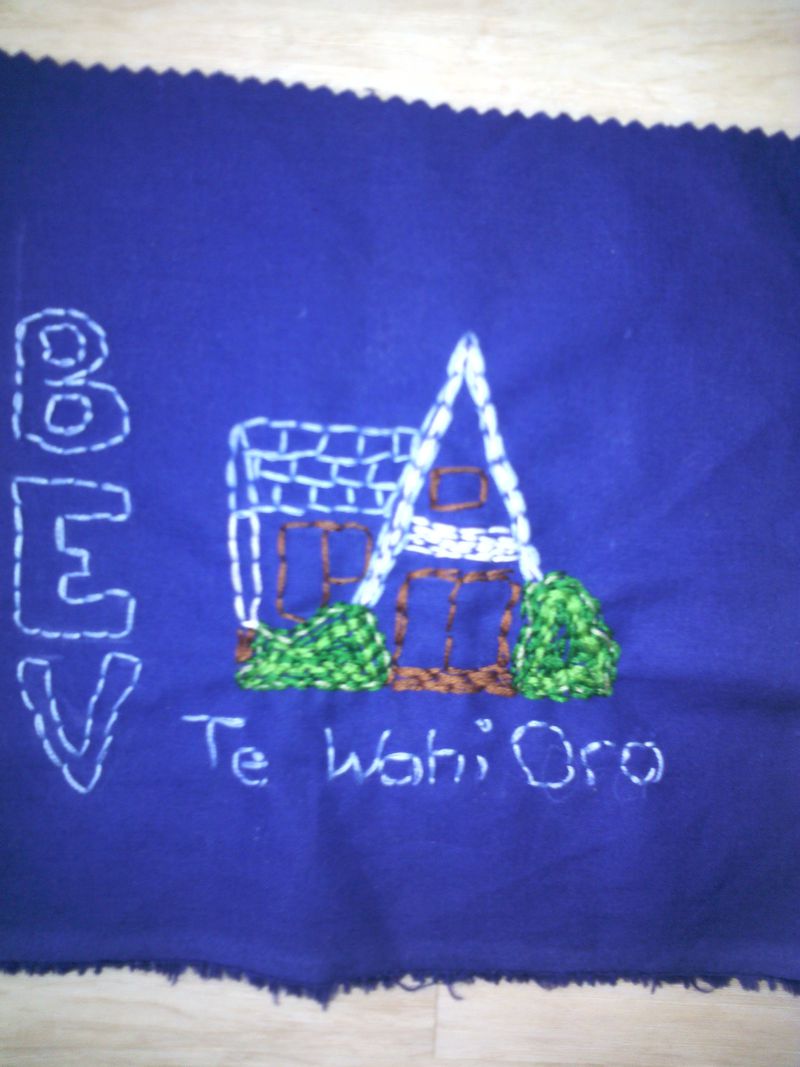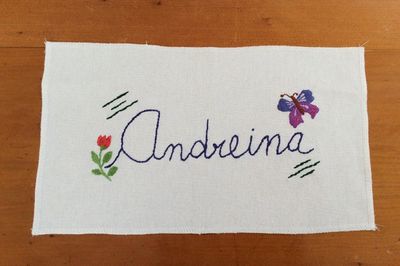 Andreina
+ Info
My Grandmother, Andreina, was a huge part of our lives until our parents decided to migrate to Australia, from Italy. I was ten years old. She was kind and loving and was always there for me, my sisters and our parents. I still fondly remember all the bedtime stories she used to tell us, especially the scary ones that we'd plead with her to recount. Leaving her, and to be separated from her, in coming to Australia, was painful. As a young child, I felt that a part of me was lost and left behind with my Nonna and my relatives in Italy. She passed away in 1997, ten days before her 89th birthday. I am thankful I was able to see her again before she left us.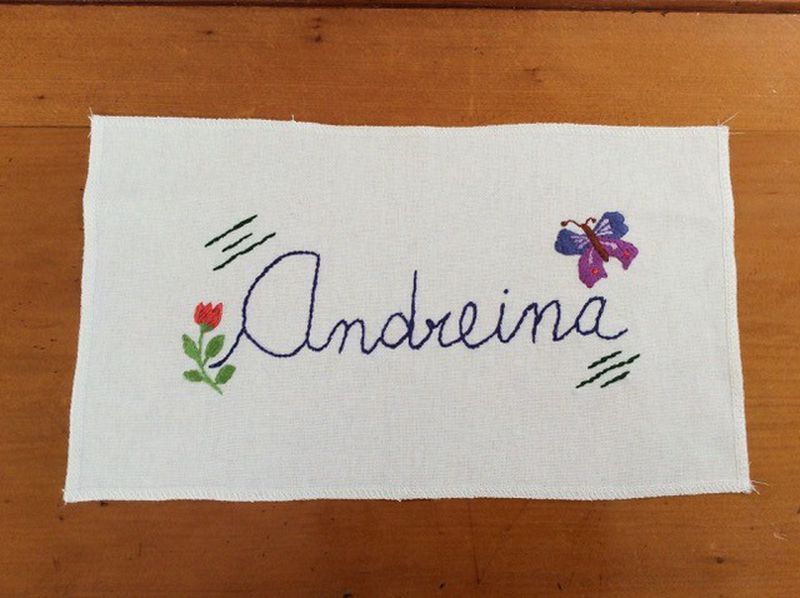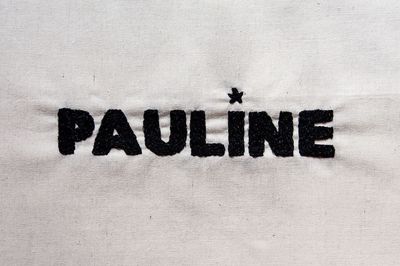 Pauline
+ Info
This is my first embroidery, created in honour of my mother Pauline, who taught me to knit and sew. Mum loved all textile arts, but it was spinning and dyeing wool that was her real passion, the soft clack and whir of the wheel an embedded childhood memory. Sadly, eye disease robbed mum of her sight at just sixty years of age, which left her unable to pursue many of her creative interests.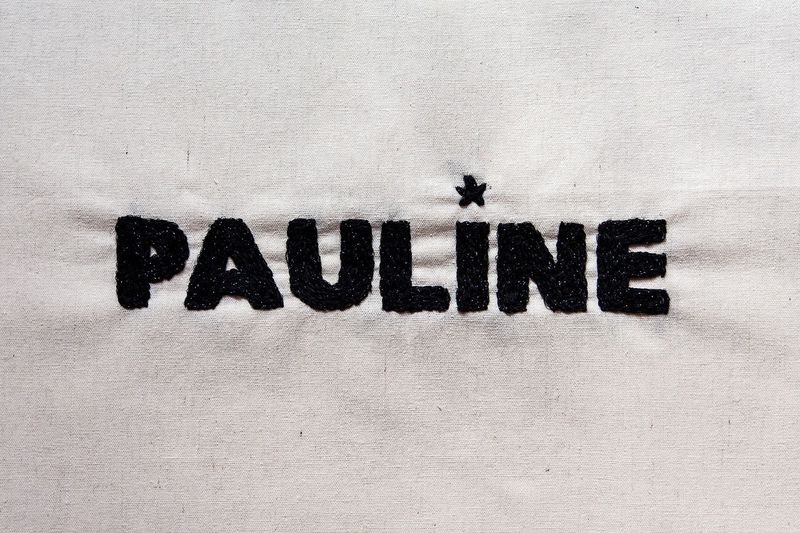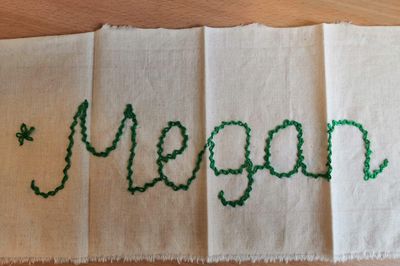 Megan
+ Info
My daughter Megan asked me to teach her how to embroidery so she could complete a piece for my mother Joan. I chose Megan, she has learnt many skills especially baking (which she excels in) from her nana. These memories of shared experiences, gifts lovingly handmade and the passing of skills from generation to generation are part of making us who we are.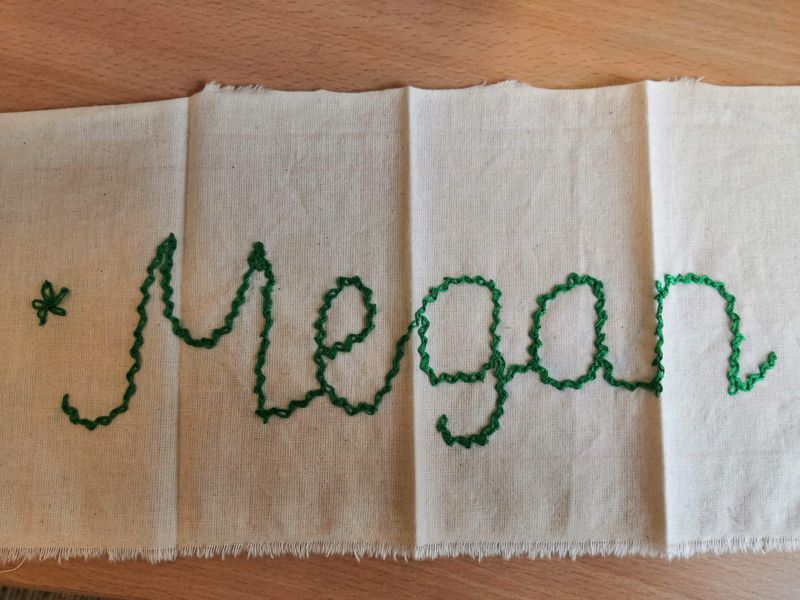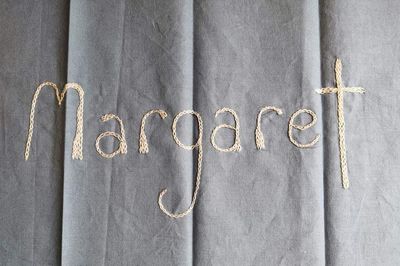 Margaret
+ Info
My mother, Margaret, was a woman whose intelligence and creativity seeped through all aspects of her simple provincial life. She was an excellent cook and gardener, and less focused on keeping the house tidy. She completed a Science degree in Zoology and Botany but became a full-time housewife and mother. As she raised 6 children she sewed clothes initially and became a keen embroiderer. During the 1970s she became more interested in patchwork and quilting and made quilts for her 18 grandchildren and then in her 80s she made quilts for the neonatal babies in various hospitals around the country. I was her only daughter and she did not have sisters. We were quite different but we had a deep bond which was constantly nurtured by our love for the world of art and our expression of this through our stitching.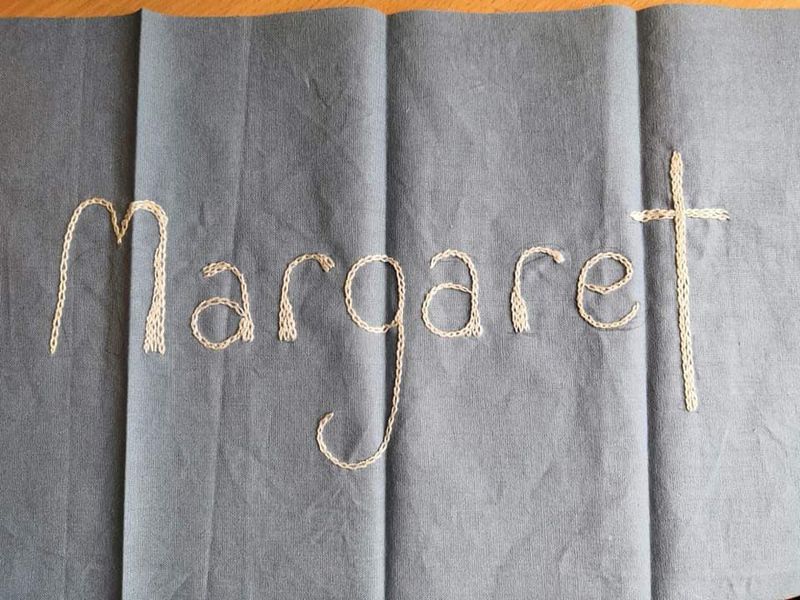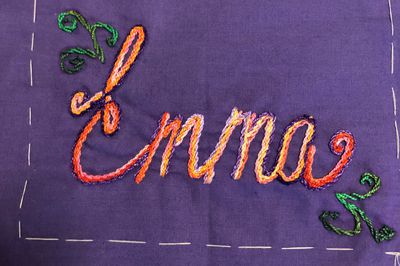 Emma
+ Info
The name "Emma" my mother, I continue to marvel at her strength, resilience, faith and love xxx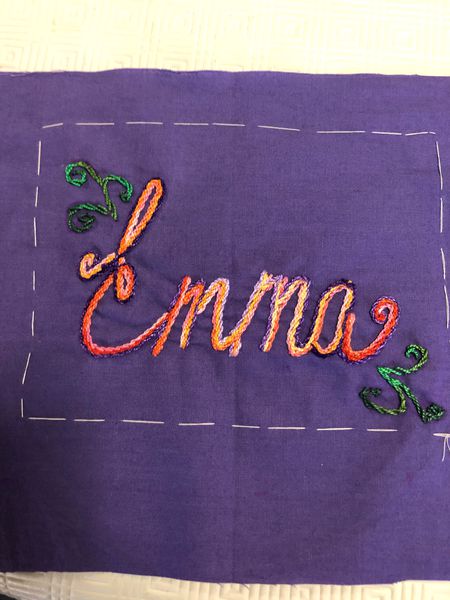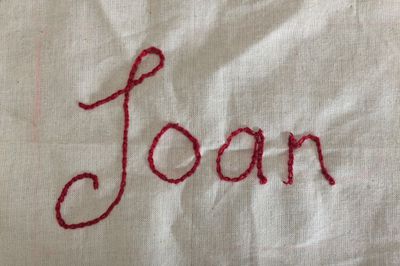 Joan
+ Info
Joan was my maternal Nana and like my mother Denise very patient and willing in sharing her skills. When my eldest son Edward was born the three of us stitched his Christmas stocking with this same thread.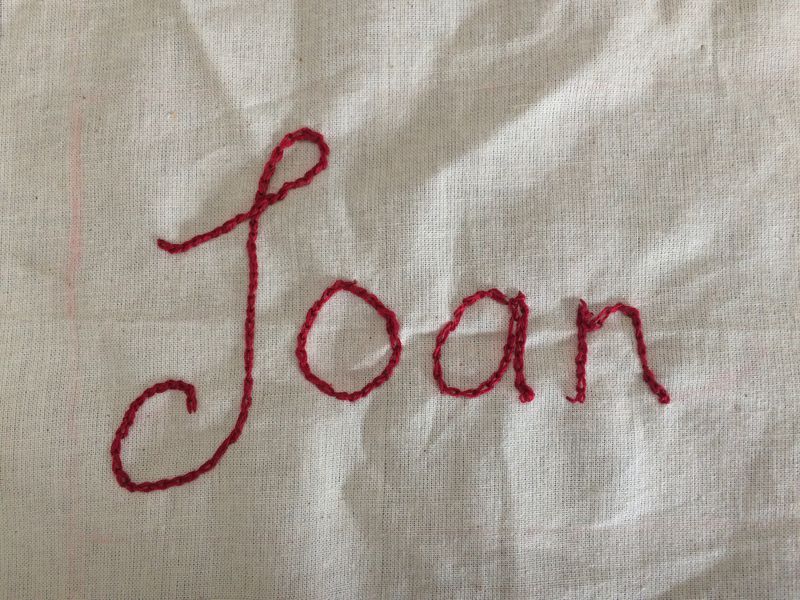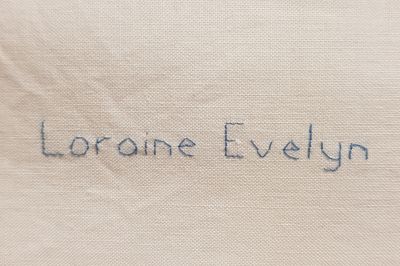 Loraine Evelyn
+ Info
My Oma, Gerritje Mira, inspired me to start cross-stitching in my late teens. She is represented on this quilt thanks to her daughter, my aunt, Lis Mertens.
I have backstitched the names of my mother, Merle Ellen, and my mother-in-law, Loraine Evelyn, who are both quilters.
I hope they will pass on their skills to my daughter, their namesake, Evie Rose Ellen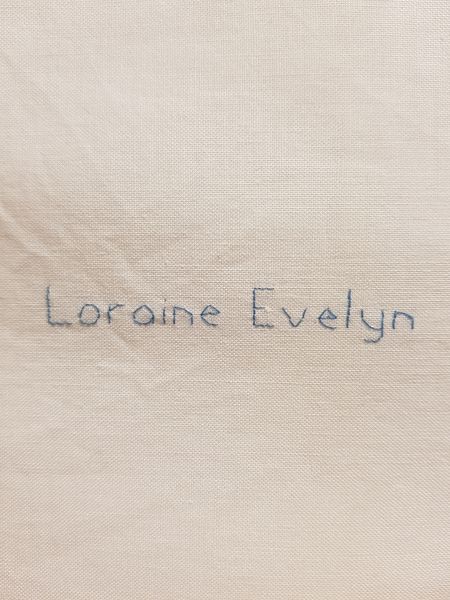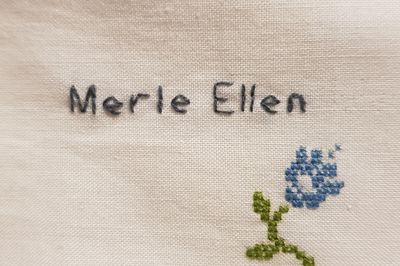 Merle Ellen
+ Info
My Oma, Gerritje Mira, inspired me to start cross-stitching in my late teens. She is represented on this quilt thanks to her daughter, my aunt, Lis Mertens.
I have backstitched the names of my mother, Merle Ellen, and my mother-in-law, Loraine Evelyn, who are both quilters.
I hope they will pass on their skills to my daughter, their namesake, Evie Rose Ellen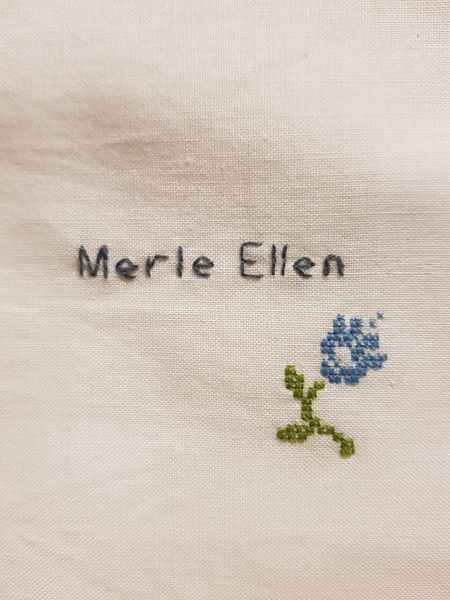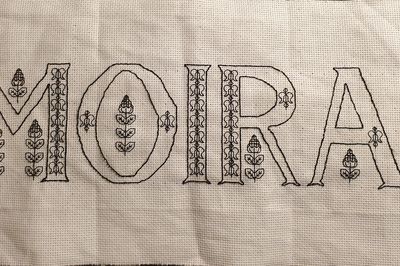 Moira
+ Info
Moira was my godmother. She never married or had children of her own, but she always referred to herself as my third parent. She loved history and travelling, and she valued higher education. She inspired, encouraged and supported me in all these. She was a prolific embroiderer, so this project is a very appropriate way to honour her memory.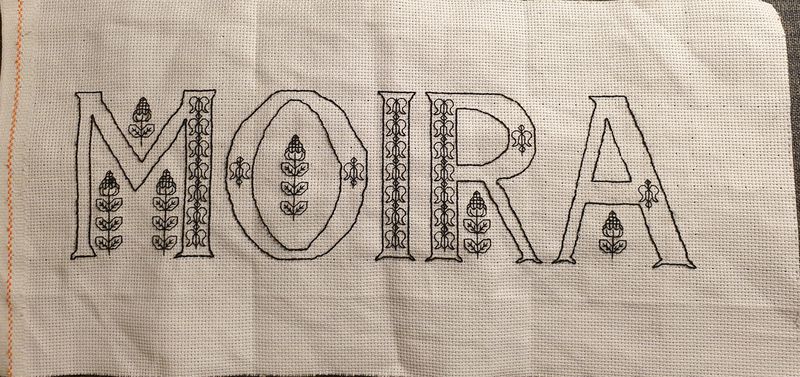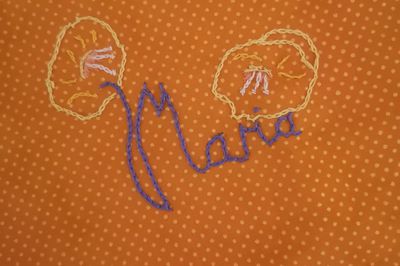 Maria Walk nee Bridson
+ Info
Maria gave the best hugs. She was the loveliest of aunties. She was always there for me, and I will always be grateful for that. Maria was kind, generous, funny, and fun, creative, and a fabulous gardener. Maria towered over people, she was a tall woman with a mop of blonde hair. Affectionately known as Big Bird, she was loved by everyone. It is an honour to have known you Maria. Thank you for everything. Love always and forever, your niece.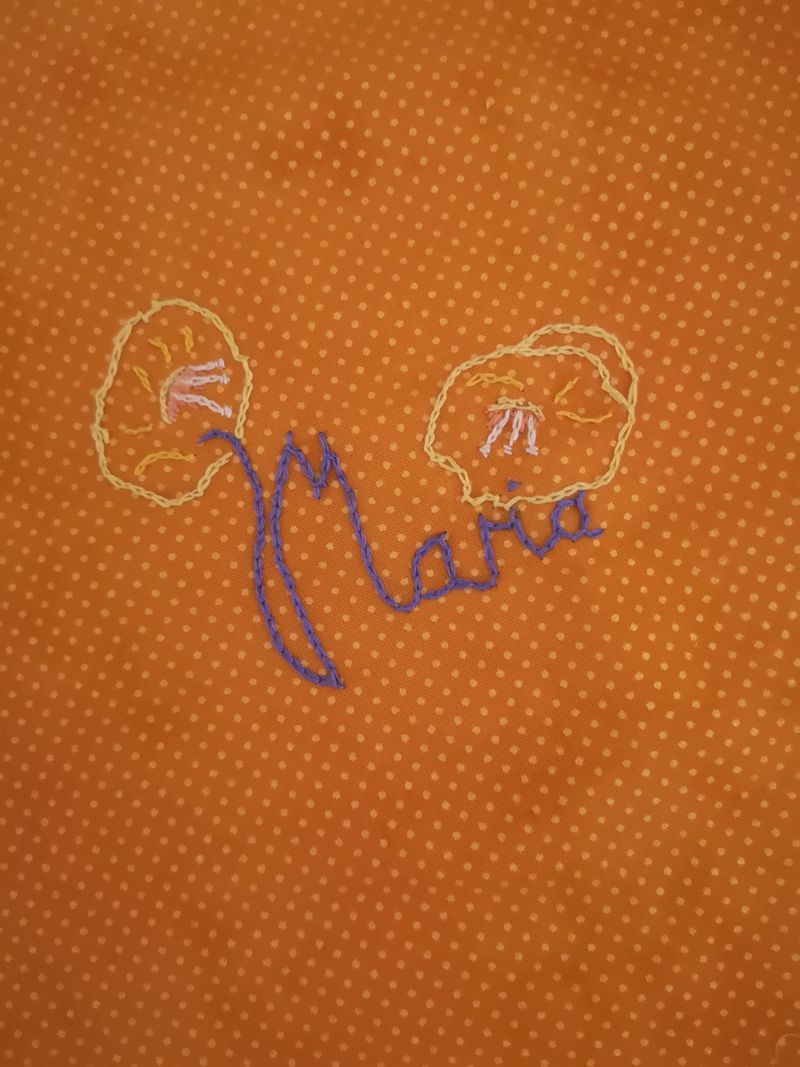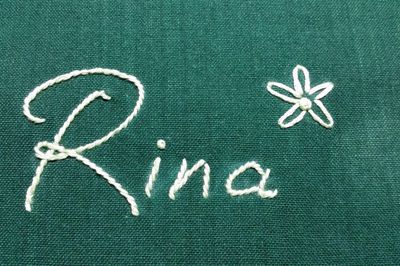 Rina
+ Info
Rina (born Caterina Basso) is my mum. She was an exquisite dressmaker who also excelled at knitting, crochet, embroidery, etc – basically all forms of needlecraft. When making this patch of honour, I used one of her old embroidery needles. This connection to mum brought back many happy memories of time spent together sewing.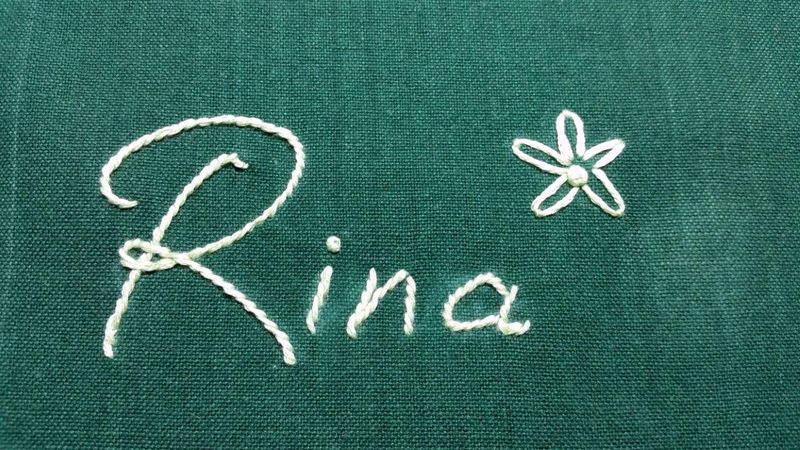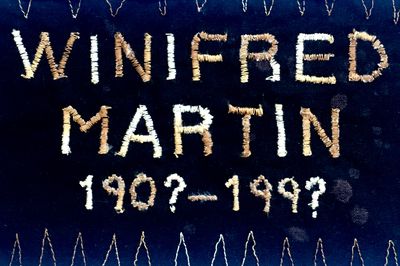 Winifred Martin
+ Info
Winifred Martin was my maternal grandmother. My mother was seriously mentally ill, and we stayed with Nana for several months at a time. She was generous but not warm or supportive. As a young adult, I 'dropped' her, and now regret that deeply. This panel honours her as a strong woman who took control of her own life and did her admirable best. The missing dates refer to how little I knew her and knew of her.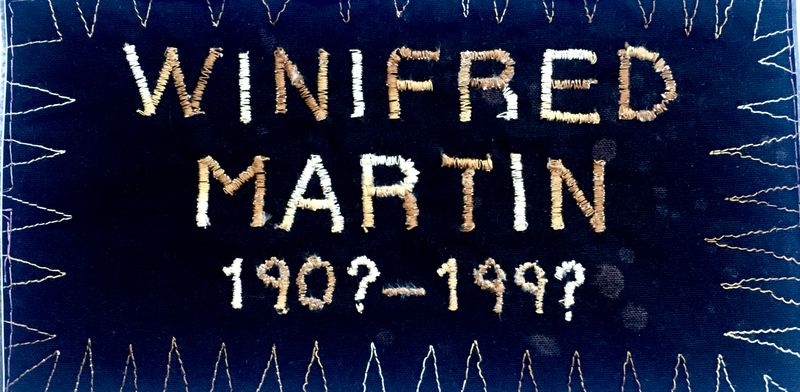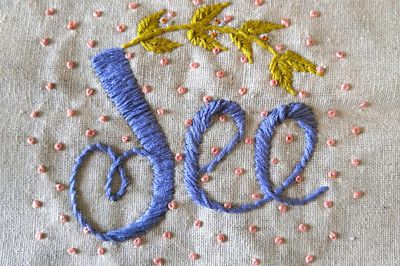 Jee
+ Info
I chose to use the name of my wonderful mama, Jee. She loves unconditionally, is a constant pillar of support and wisdom for her children, and most importantly she always know how to make me smile and laugh! My mum in particular was always encouraging us to be creative growing up. She taught me how to sew, and always had a knack for turning something old and unloved into something beautiful.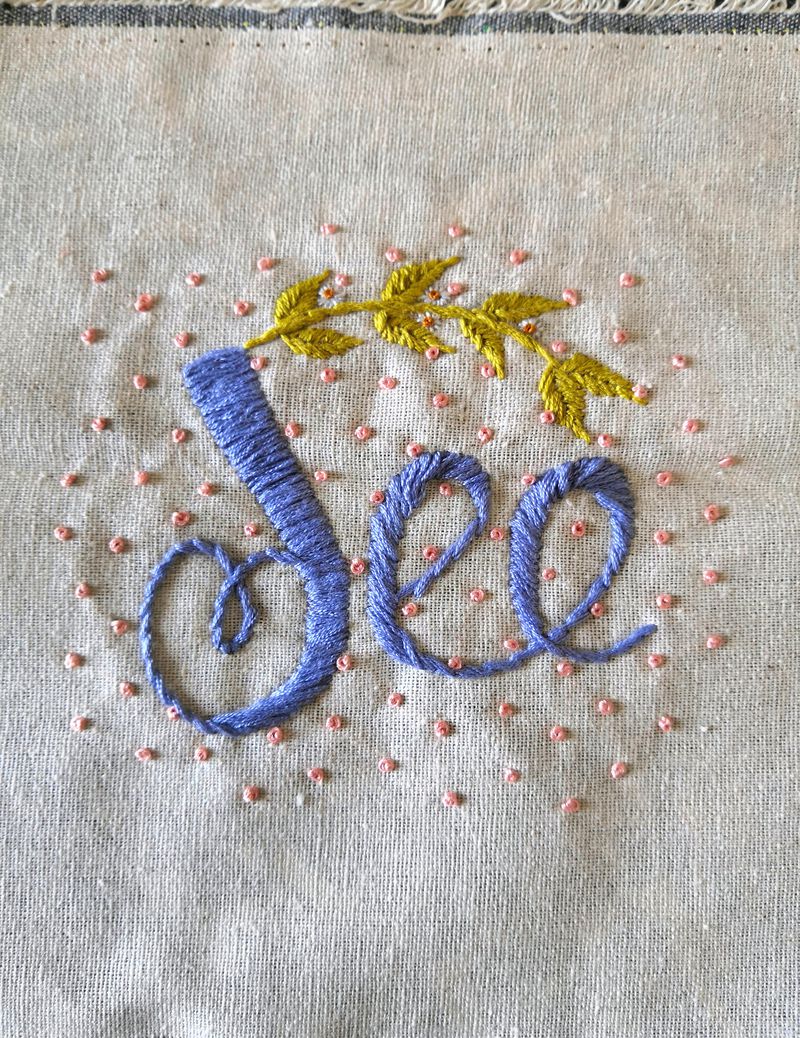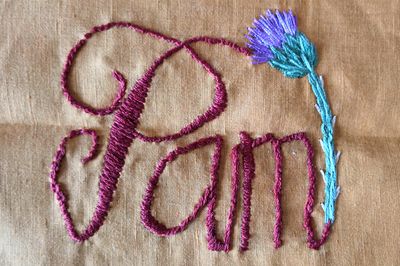 Pam
+ Info
I chose to use my mother's name as my inspirational woman in my life. Mum has always been kind and caring and had a unique view of the world which I think helped shape me to where I am today. I added the thistle as a nod to Mum's Irish roots, she immigrated to New Zealand as a child. She surprised everyone when she decided to get it tattooed on her arm in her 50s having no other tattoos.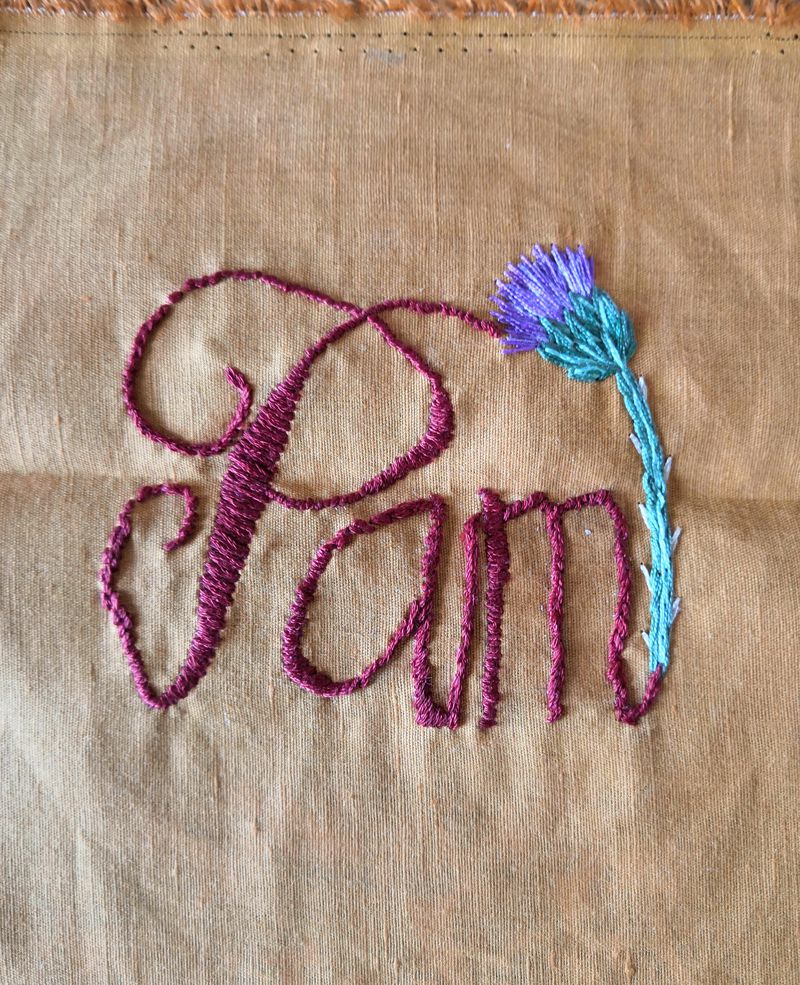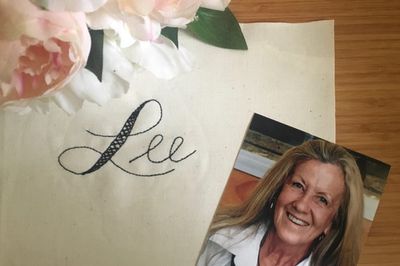 Lee
+ Info
Lee is my mother's name. Not only is she my wonderful mum but she is my best friend. She is always there for me. When we were kids she made a lot of our clothes and not only taught me to sew but instilled the love of sewing and all things hand made. I was given my first sewing machine when I was a teenager and encouraged to set up my own little sewing room in our laundry shed where I sewed and made my own clothes to my hearts content. My love of sewing and making things has continued to this day and my mum and I still share a love of creating.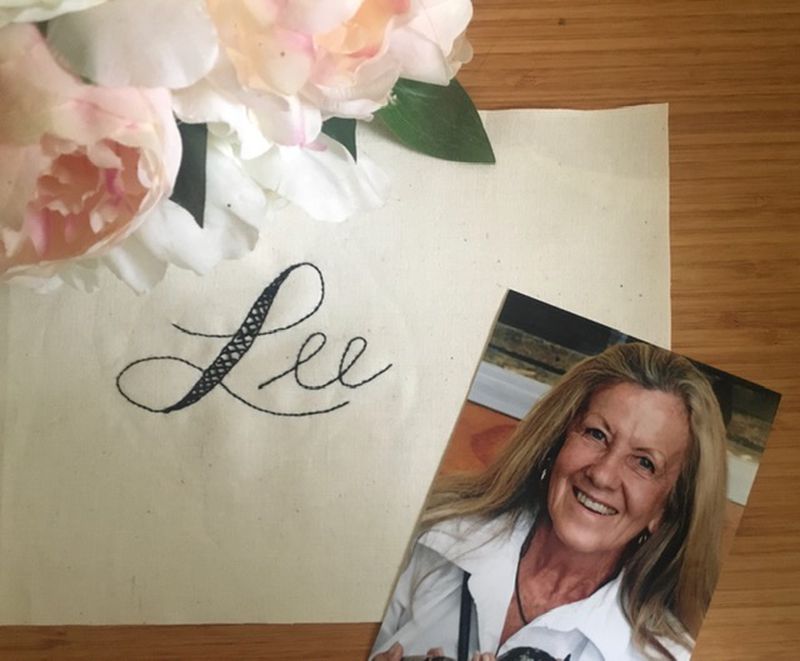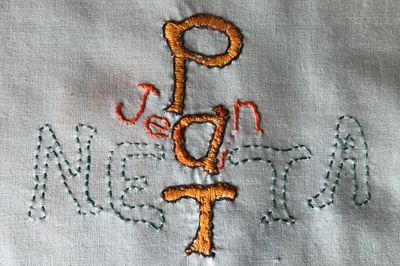 Netta Jean aka Pat
+ Info
NETTA Jean known as PAT is my Mum. She has made a difference in her life through selfless hard work and looking after others. She has been a caring nurse and an inventive maker and problem solver. Mum has drafted patterns and sewn, embroidered and smocked, knitted, gardened, cooked and decorated special occasion cakes, just to name a few of her skills. Mum has always been there for me. She is the heart of our family`s love with her unfailing faith in God. Now she is frail, aged 93 and in aged care, I remind her every day of how special she is and of all the things that she has done.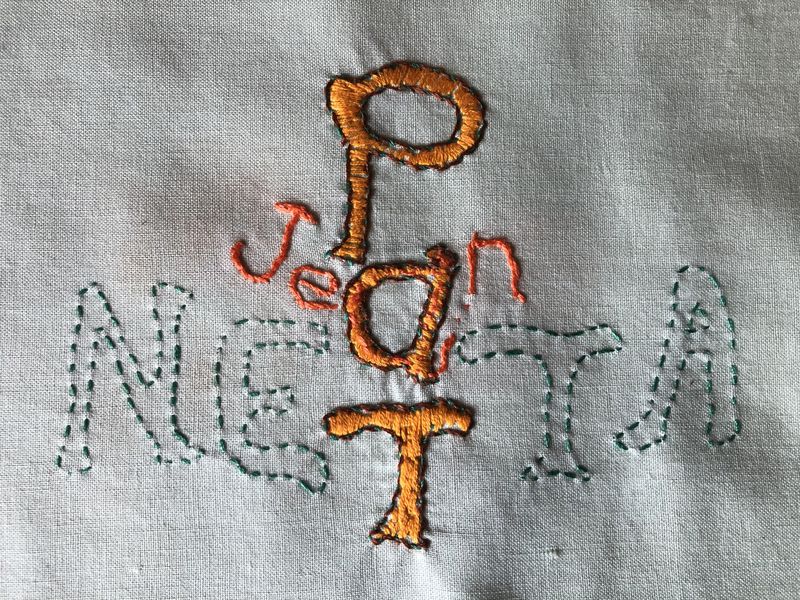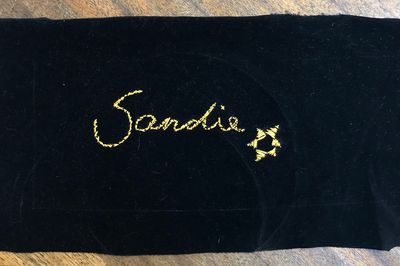 Sandie
+ Info
For my mother, Sandie, who emerged from her chrysalis after a life of upheaval, uncertainty and struggle as Sandra. Proof that age is no barrier and that you can be whoever you want to be.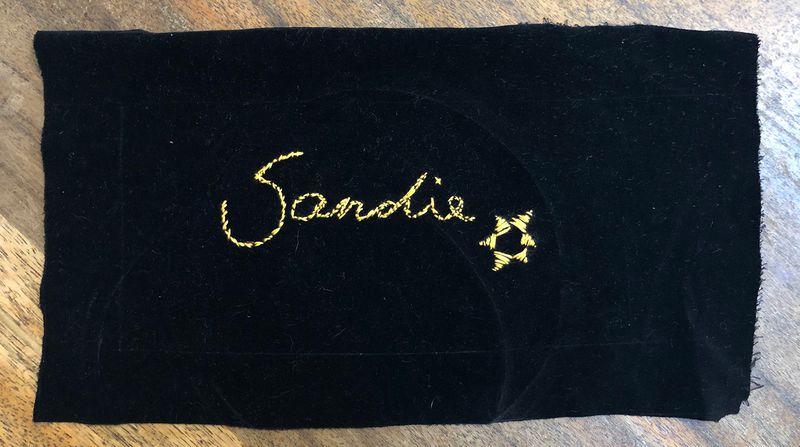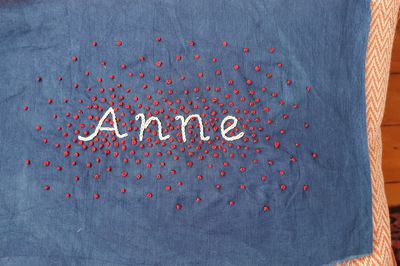 Anne
+ Info
My mother Anne Groufsky taught me almost everything I know about textile craft. I embroidered this on a piece of cotton that we dyed together with indigo in her garage in Whangarei.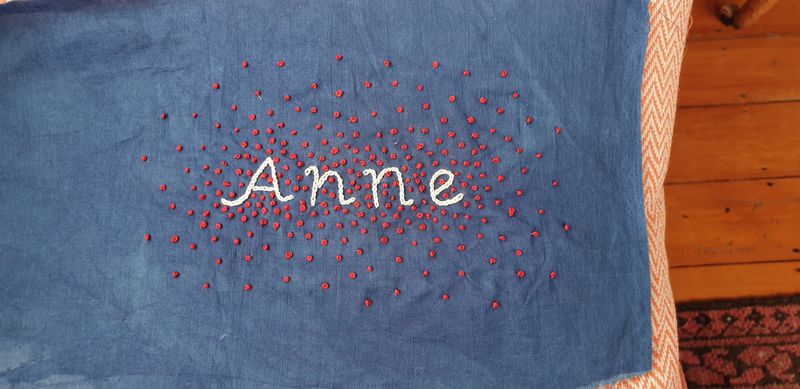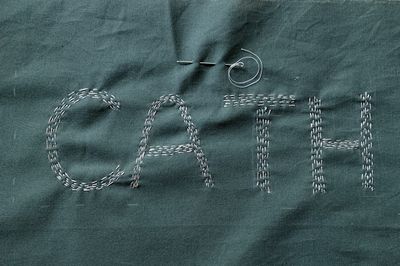 Cath
+ Info
Cath is my mum, she is the kindest women I know. The quiet matriarch of our family who has the extraordinary ability to listen without judgement and the capacity to make you see all sides to a story and situation. As an adult, I still hope that one day I will grow up to be just like her.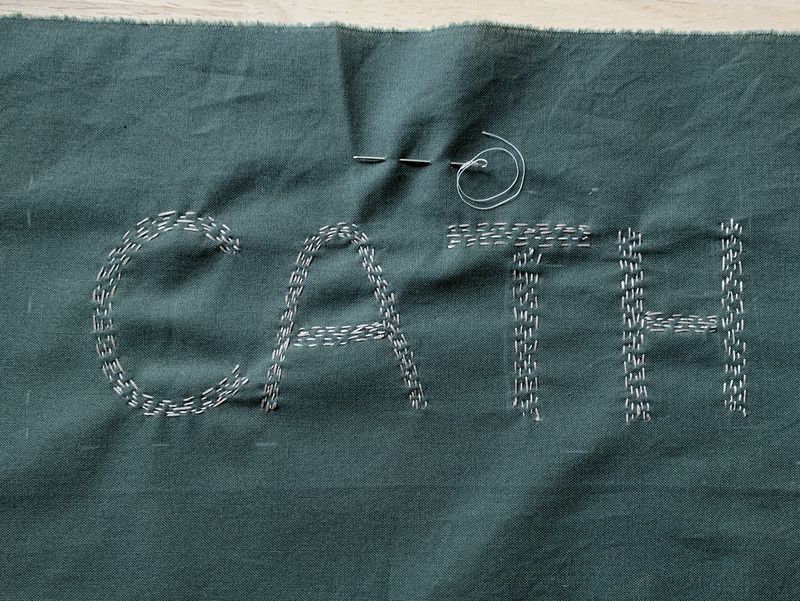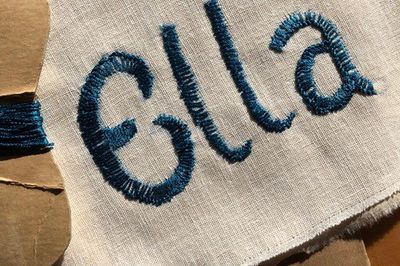 Ella
+ Info
My patch is to honour my maternal grandmother who was an artist- a state demonstrator for CWA for basketry and glove-making. Her name is Ella. I have used vintage silk thread passed down from her to embroider the name.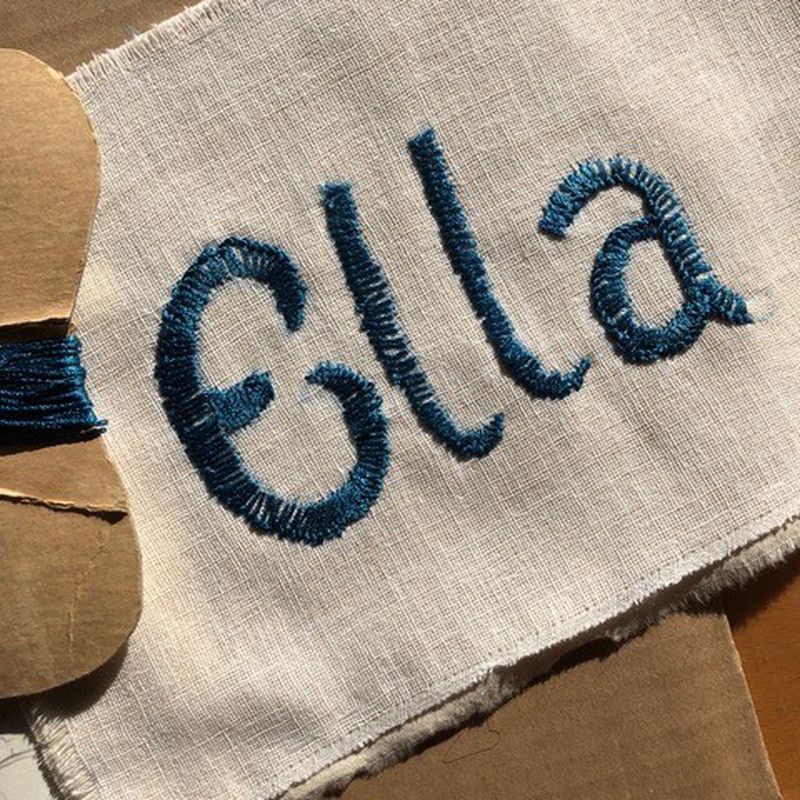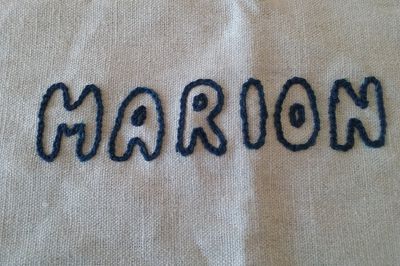 Marion
+ Info
Marion, now deceased, was always inquisitive, had great energy, with a passion for the arts, which was infectious. Bright and forward looking, she was interesting and joyful company.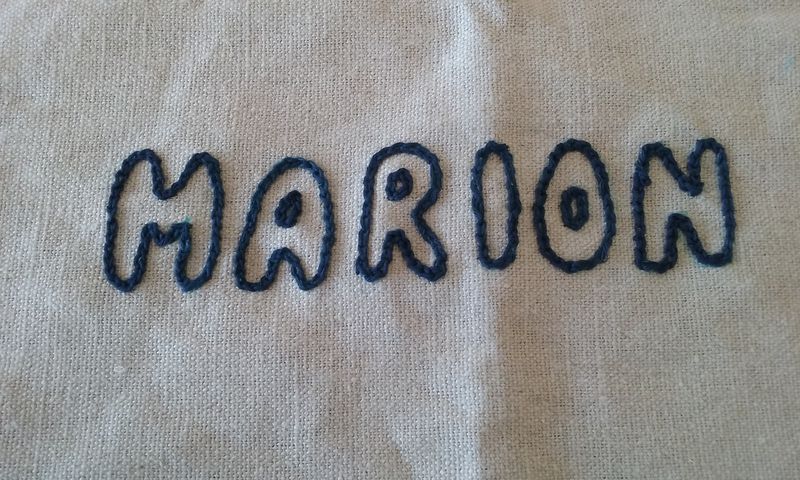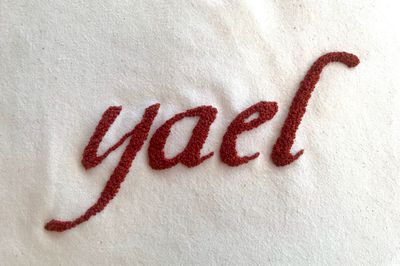 Yael
+ Info
My lovely architect friend Yael is endlessly creative – to step through her front door is to enter an inspiring environment from floor to ceiling. Drawings, prints, paintings, fabric pieces, small constructions, small & larger framed works - some of which is her work but most often work she has bought or swapped with artists, cover the walls, shelves and floor. Visiting her is better than any art book can possibly offer.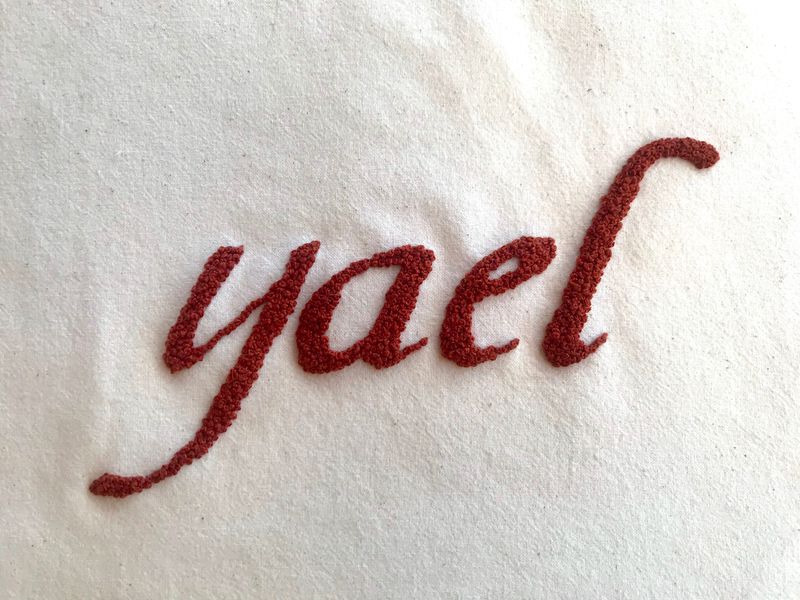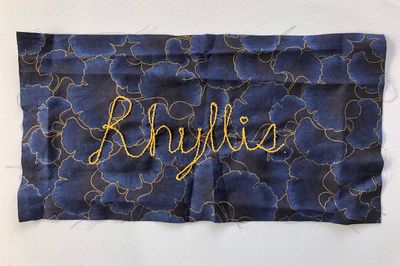 Rhyllis
+ Info
My mother Rhyllis sacrificed her artistic self in sewing and knitting for her family. Growing up I was always aware of her simmering energy and frustration at not being able to pursue her primary passion. Seven years ago I embroidered invitations to my wedding on this fabric. This was the last time I saw my mother. The golden thread is from her embroidery box-her favourite colour.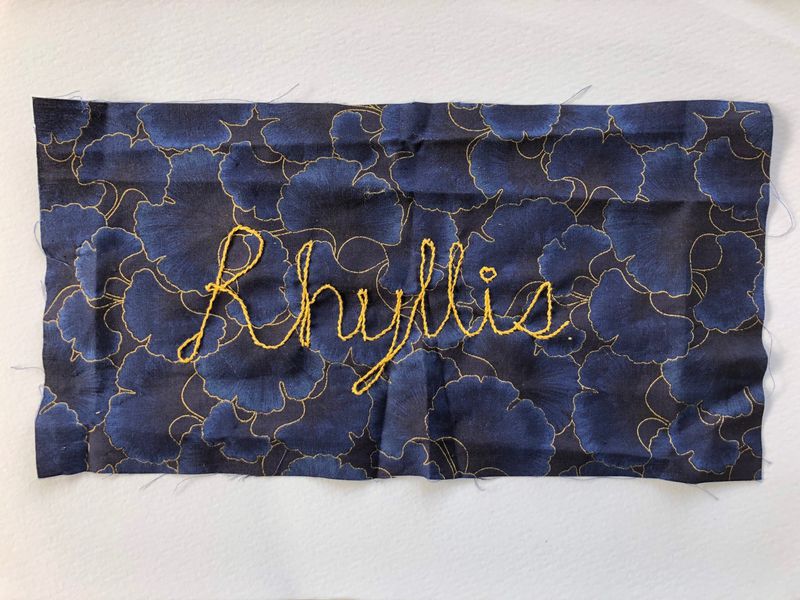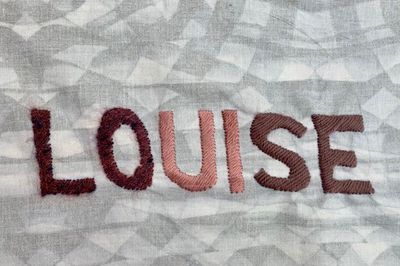 Louise
+ Info
I chose to honour my student midwife who became my rock during a complicated pregnancy and traumatic labor. She advocated for me when I was being dicked around by hospital staff, helped me come to difficult decisions, and was able to correctly diagnose a condition I was suffering from that multiple doctors missed. Louise is an angel who I was very lucky to become friends with.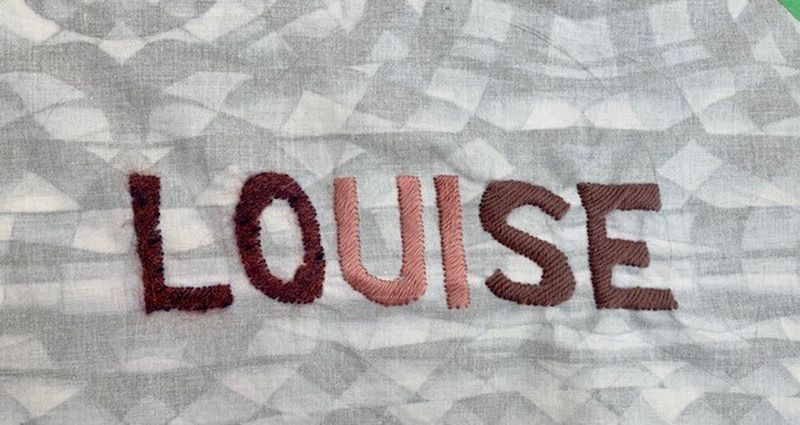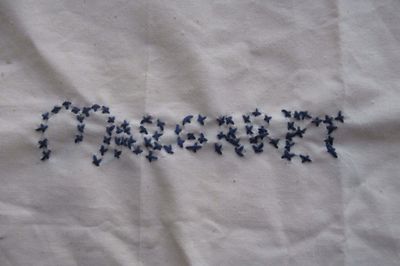 Margaret
+ Info
My paternal grandmother's name. She was also Scottish and spent alot of her later life crippled by arthritis. Like my Dad said after her passing, I think she must have been a toughie. I used to listen alot to her tales of old Scotland.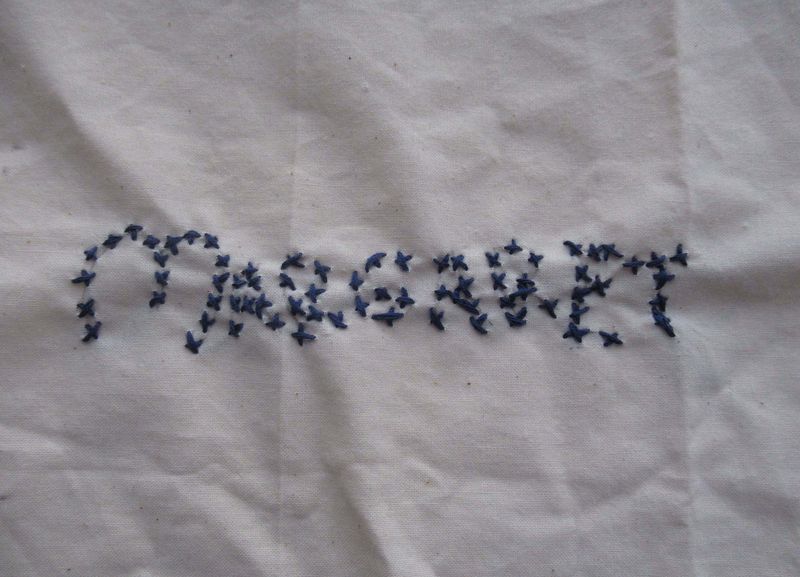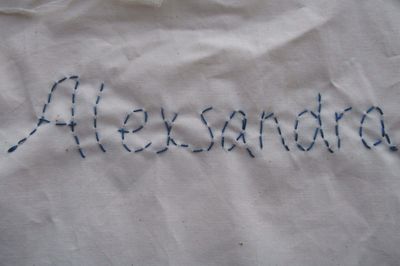 Alexsandra
+ Info
Alexsandra refers to my mother who I am spending a lot of time with following my father's death. As an only child, she means a lot to me now for a connection in the world.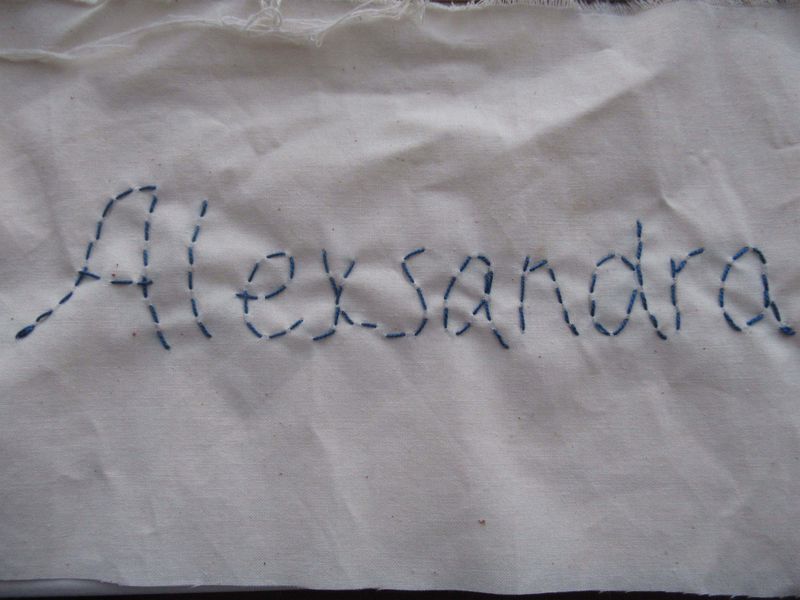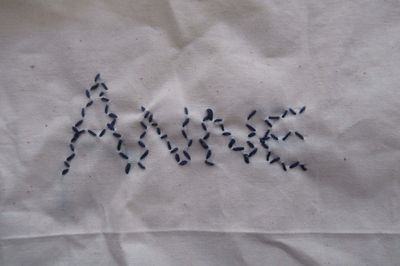 Anne
+ Info
My maternal grandmother's name. She was Scottish and died in my childhood. I thought of her as having been a lady of style in her life and I liked playing with her Royal Doulton doll's when I was young.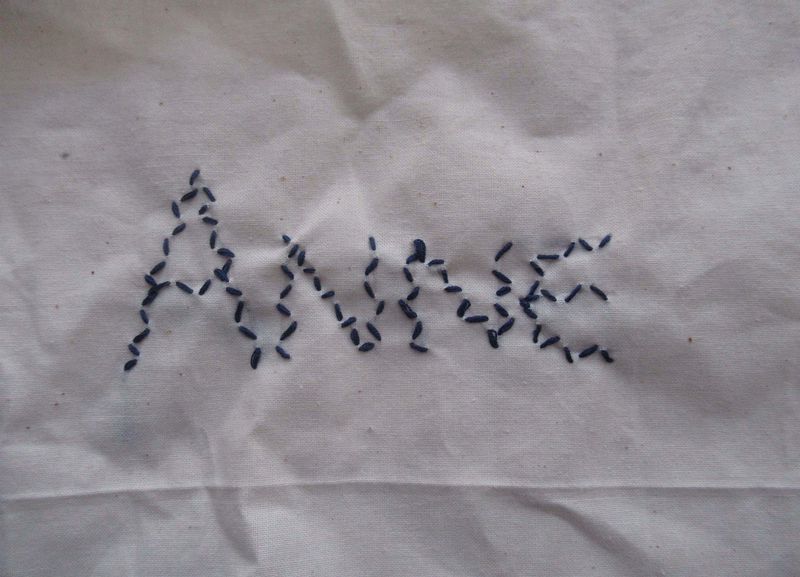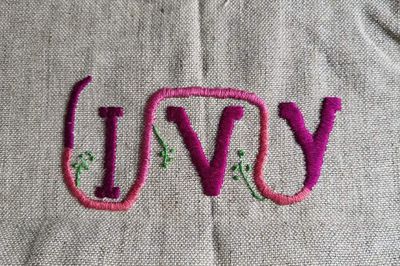 Ivy
+ Info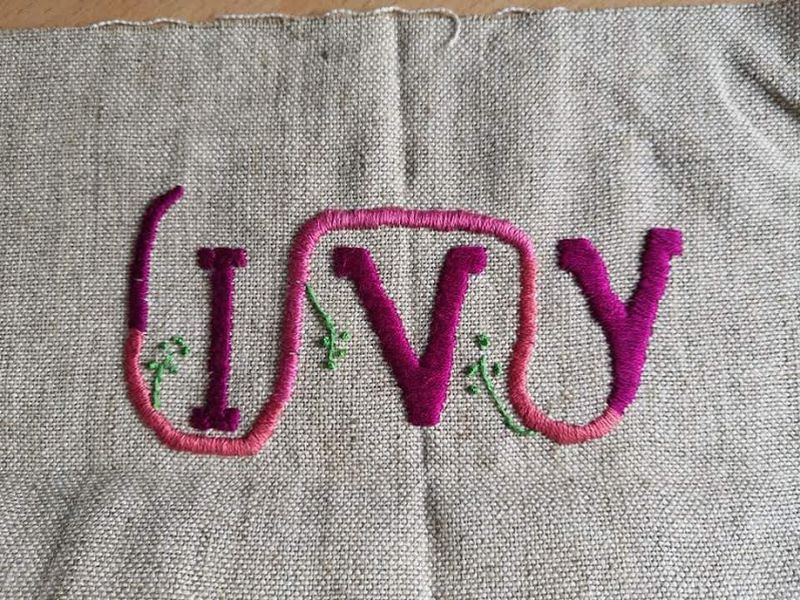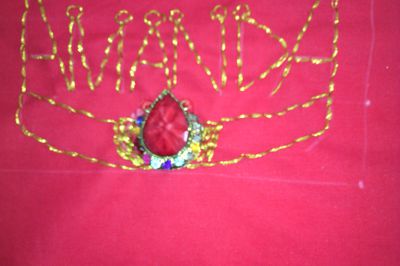 Amanda
+ Info
The Jewel in the Crown of my life is Amanda – my granddaughter. I raised her from the age of six following the death of her mother (my eldest daughter). She is now an amazing wife and mother of three beautiful boys and inspires me with her courage, resilience and compassion. She enriches my life and encourages me to live creatively.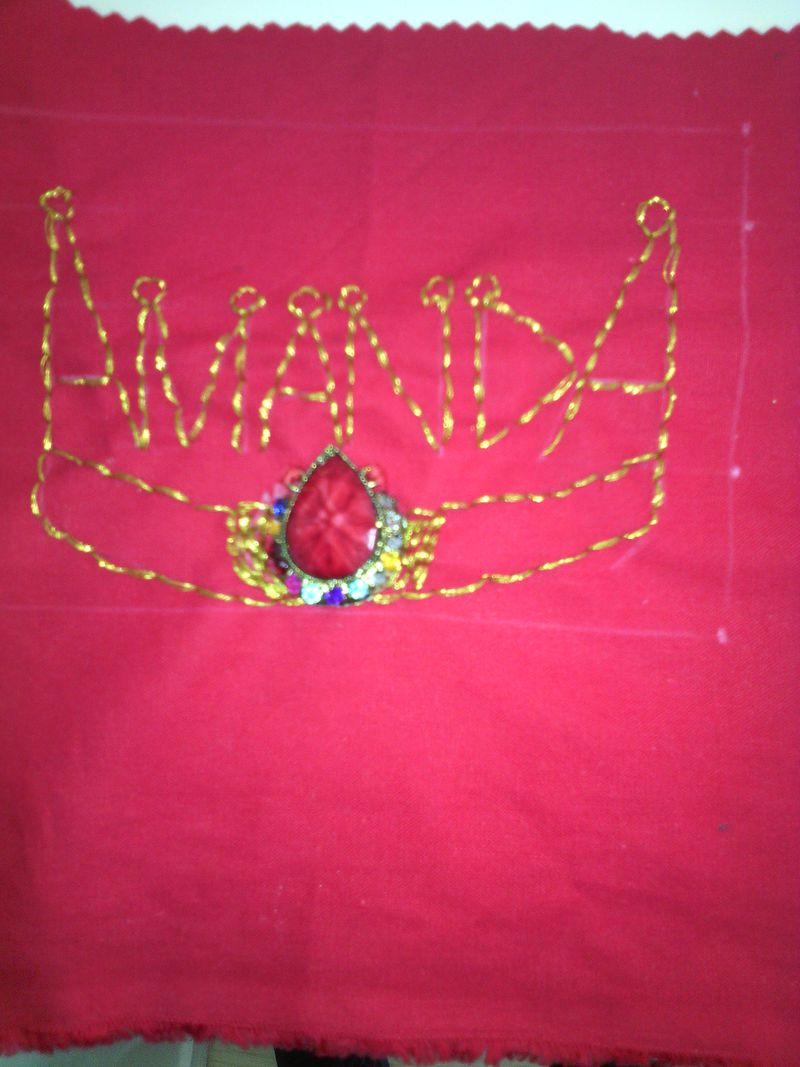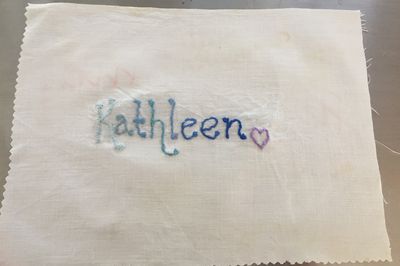 Kathleen
+ Info
Kathleen was my Grandmother. She was a very special person. The fabric and embroidery cottons I used were given to me by her.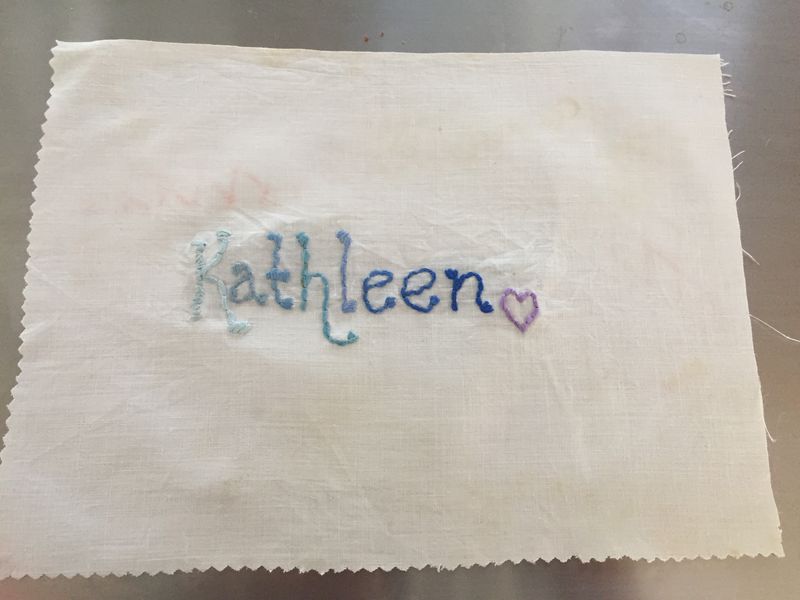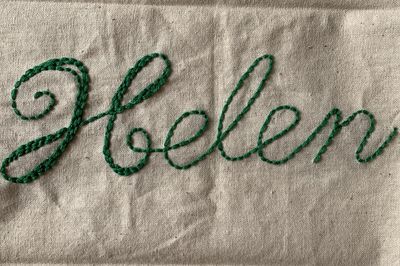 Helen
+ Info
Helen is my wise, kind, funny and loving mother. She's one of my favourite humans in the world and I am eternally grateful that she's my mum.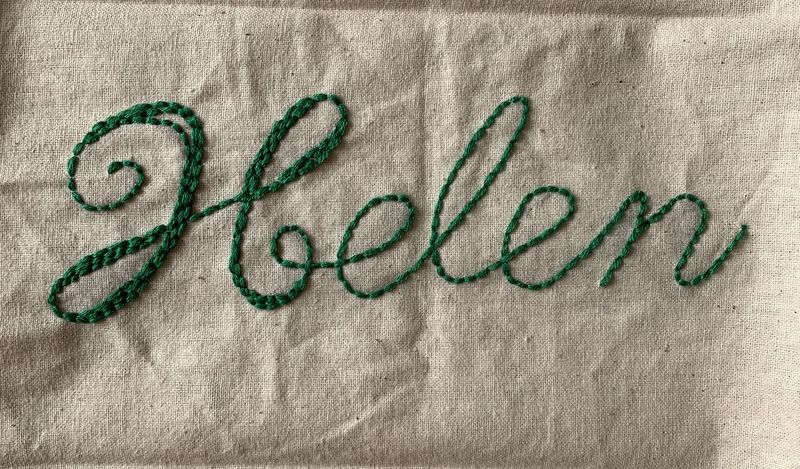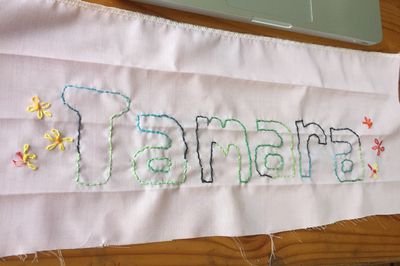 Tamara
+ Info
The name used is Tamara, she is my first born daughter, She has taught me how to be unselfish, how to love unconditionally, how to hold my temper, how to love myself. I would not be the person I am if it was not for her presence in my life. If I listened and acted on all she said I would be healthier and happier, but I must not be judgemental and accept where I am now.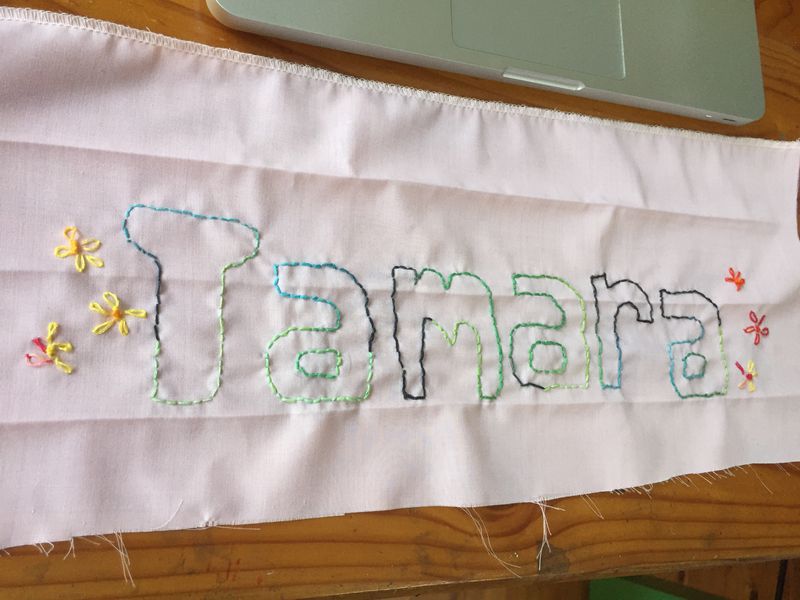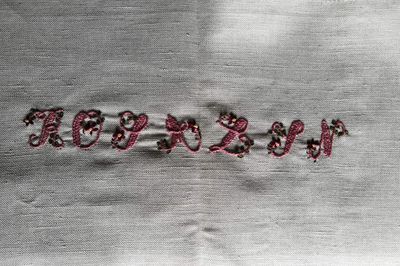 Rosalyn
+ Info
Rosalyn Bessie Ludemann (Born 1884 at Leeston, Died 1972 at Oamaru). Rosalyn was my grandmother who lived on the farm next to ours. I saw her most days. She was a beautiful sewer and needle woman. She had 35 grandchildren and for Christmas we would received handmade gifts, felt toys, nighties and pyjamas. These were often found in the handmade gift bags. For my 12th birthday, she gave me a sterling silver thimble Dorcas and it is still in its little box. I feel really lucky to have had a granny who taught me the love of crafts and needle work.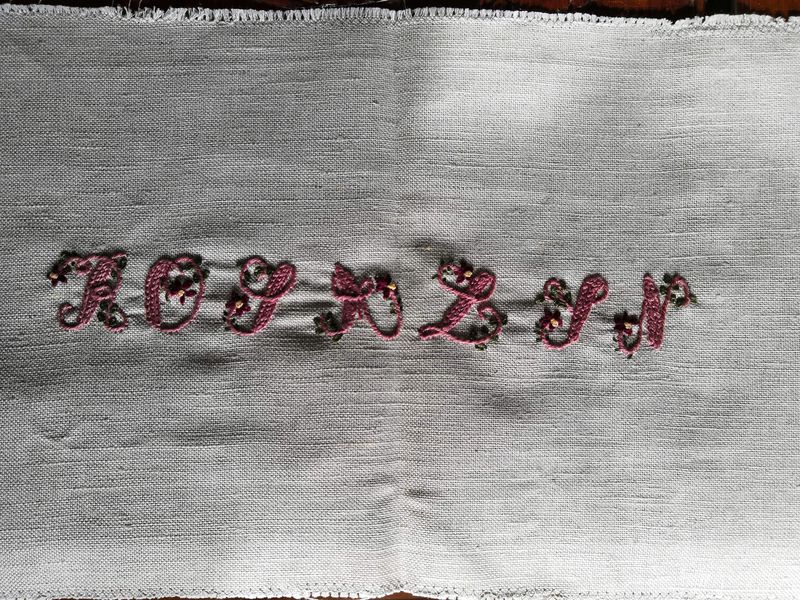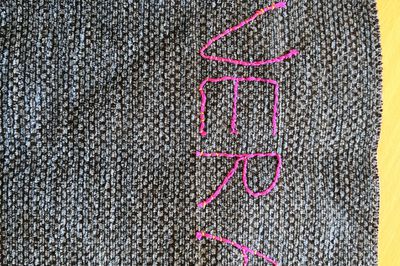 Vera
+ Info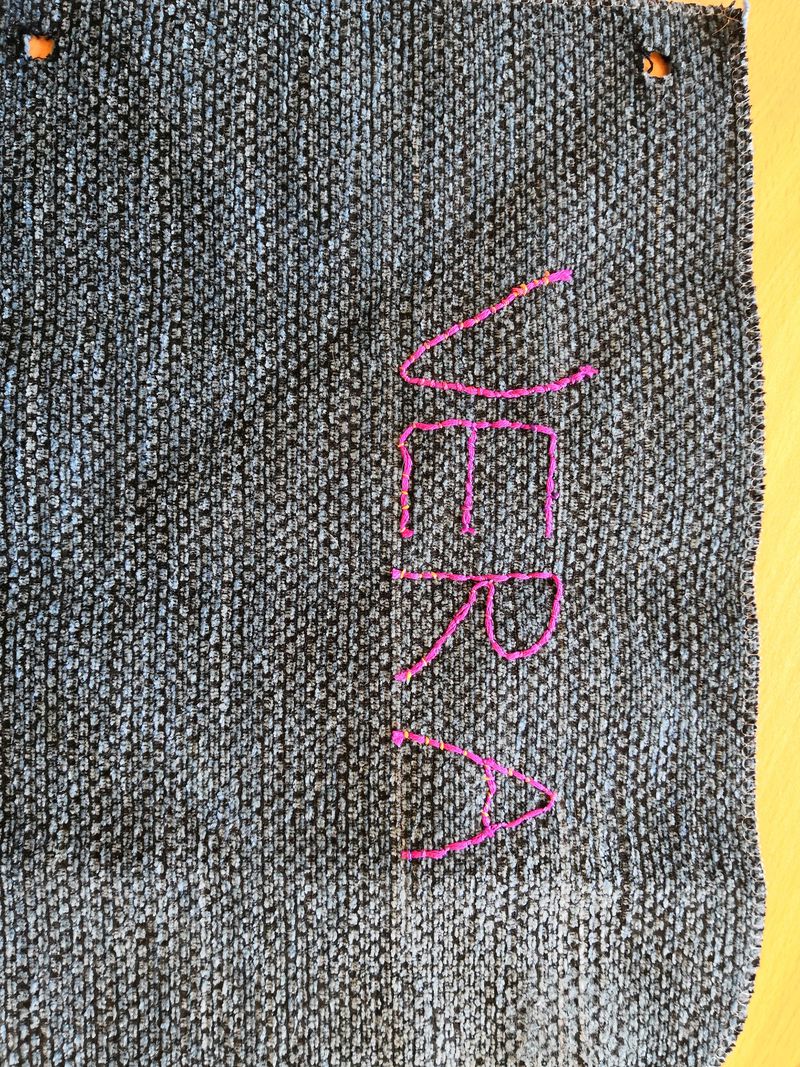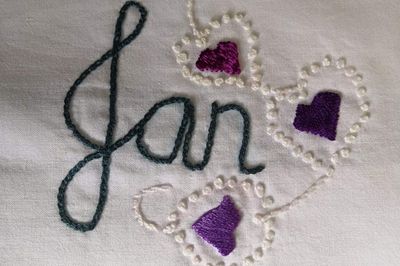 Jan
+ Info
Jan Limbrick (FTCL Speech & Drama) was my mother She was kind and generous to everyone and always seemed to know when someone needed extra help. She was fiercely independent and extremely capable, qualities I have always admired. She died 43 years ago (1977) on Mother's Day.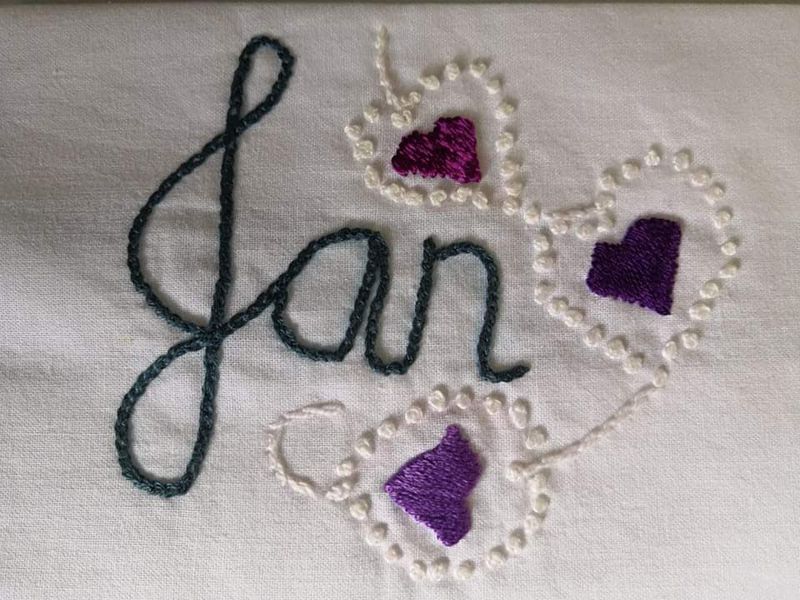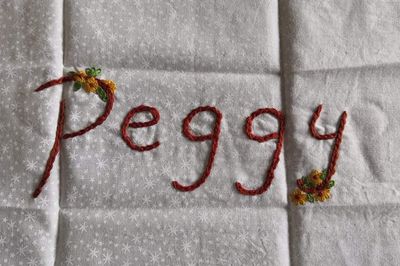 Peggy
+ Info
My chosen person is Peggy, my mother, who died in 2000. When young I took her skills as a dress-maker and eye for fashion and colour co-ordination for granted. Very few had bought clothes back then, but I always had the latest fad! I also didn't realise how unusual it was for a woman to gain a degree in 1930 , let alone in mathematics! My interest in sewing and handicrafts ( mainly embroidery) I totally owe to my mother; by secondary school I was sewing my own clothes. My intellect is not a patch on her's but I grew up with the ability and confidence to choose what I wanted to do with my life, knowing I would have her support.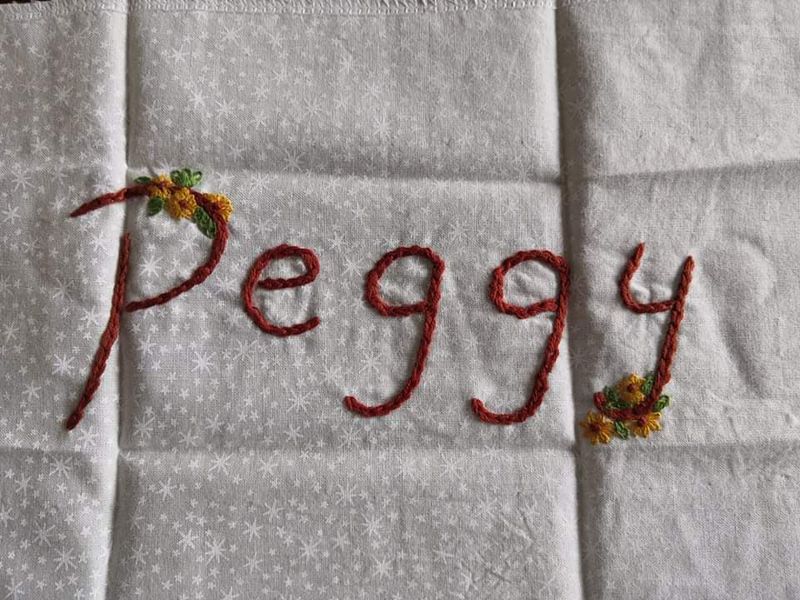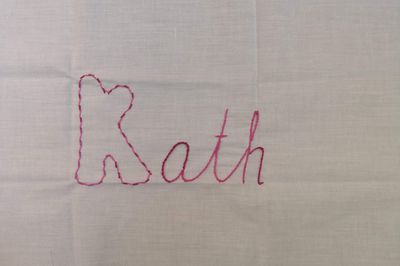 Kath
+ Info
My dearest friend of 57 years, Kathryn McLeod. She taught me friendship and love. Passed away of a brain tumour January 2020.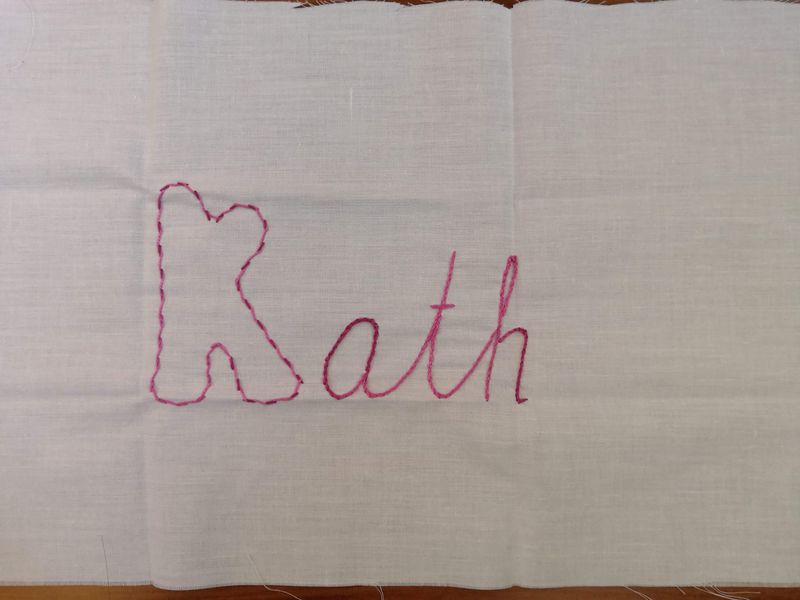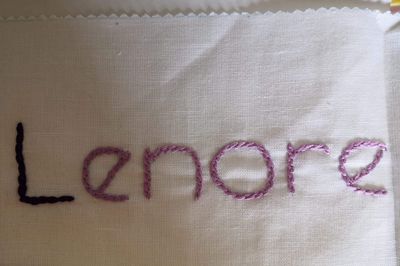 Lenore
+ Info
My patch is to honour Lenore, a lovely friend who has loved & supported the Arts forever. A wise gentle soul who passed away late last year and is sorely missed.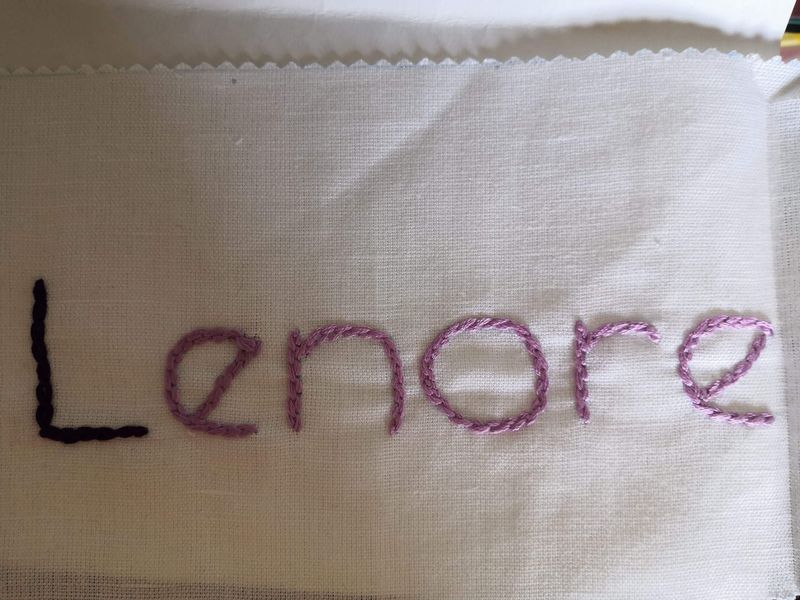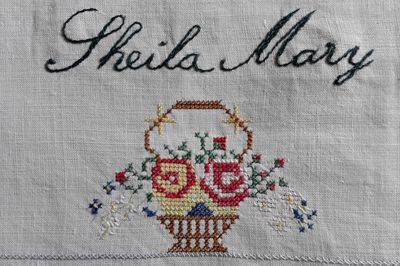 Sheila Mary
+ Info
As part of the NELL + ANNE Quilt Project I have stitched my mother's name on an old tray cloth embroidered by her many, many years ago. I have quite a collection of table cloths, napkins, tray cloths and travel scrap books all made by her. My love of textiles, design, craft and gardening have been very much influenced by her skills and love in these areas.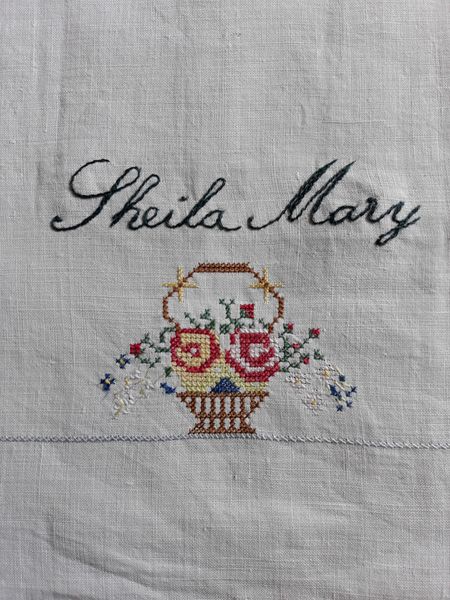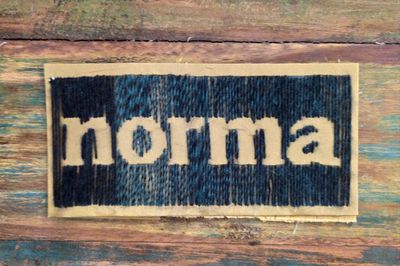 Norma
+ Info
Mother daughter relationships are often complicated. When little I was told I should be a teacher ... like my mum. Then go into politics ... like my mum. I fought not be be like her, only to realise that she is responsible for so much of who I am and what I do and value. And for that I am truly grateful.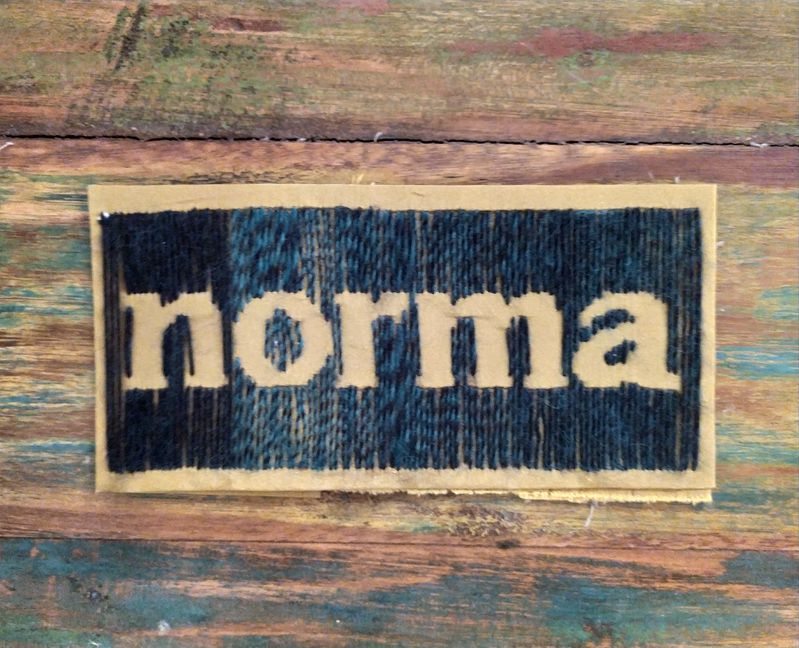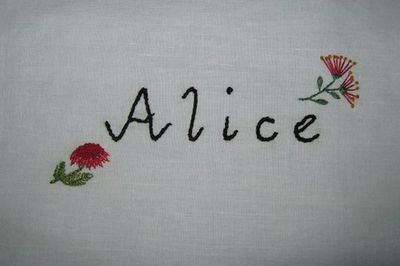 Alice
+ Info
I chose my mother Alice Thwaites.
The waratah flower represents Australia where she was born and lived for 30
years. The pohutakawa represents New Zealand where she lived for the next
sixty-five years. There were four boys and two girls in our family, Mum
sewed all our clothes, even our school blazers, she was a wonderful cook and
it was 16 years and more before she had a vacuum cleaner, washing machine
and refrigerator and many years after that moved to a house with an electric
stove. All things we take for granted. She was a very loving person and
always enjoyed having the grand-children and great -grandchildren to visit.
She passed away in 2002, I still miss her.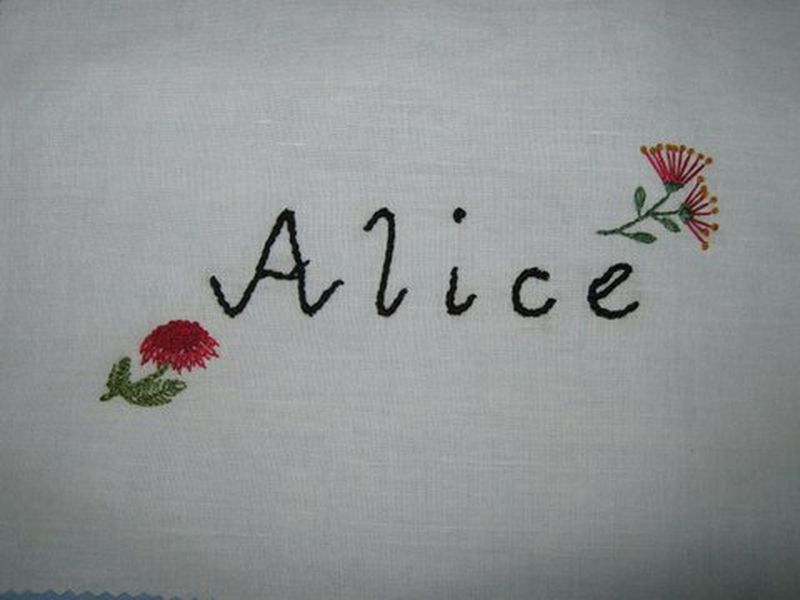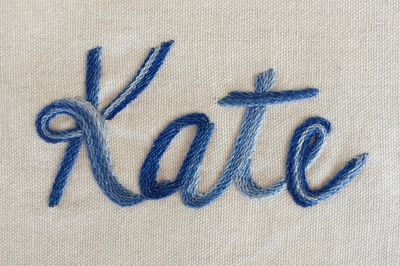 Kate
+ Info
I decided to embroider my daughter's name as my contribution to the #nellannequilt
Kate was named after my Nanna who was Katherine
Nanna was called Kitty by her contemporaries so I imagine Kitty was the common diminutive at that time.
Kate is Kathryn because I prefer that spelling & it's just occurred to me that I don't know the origin of the spelling I prefer nor even the origin of Nanna's spelling of Katherine
It was, & will always be, about connections
Kate never knew Kitty tho i suspect they would have enjoyed each other's company.
Kitty was a bit cold & hard around the edges - a product of the times she lived in perhaps
Kate, on the other hand, is warm & gentle around the edges
I'm also pretty sure I didn't really know my Nanna; that's not how it works with your grandparents is it ?
It's about feelings
It's about memories
It's about love
oh & smells . . . it's definitely about smells
Then at some stage it occurs to you that it has become about the future
Kate is the future
Kitty is the past
I am simply the one in the middle.
The one who carries the past through the present & hands it on to the future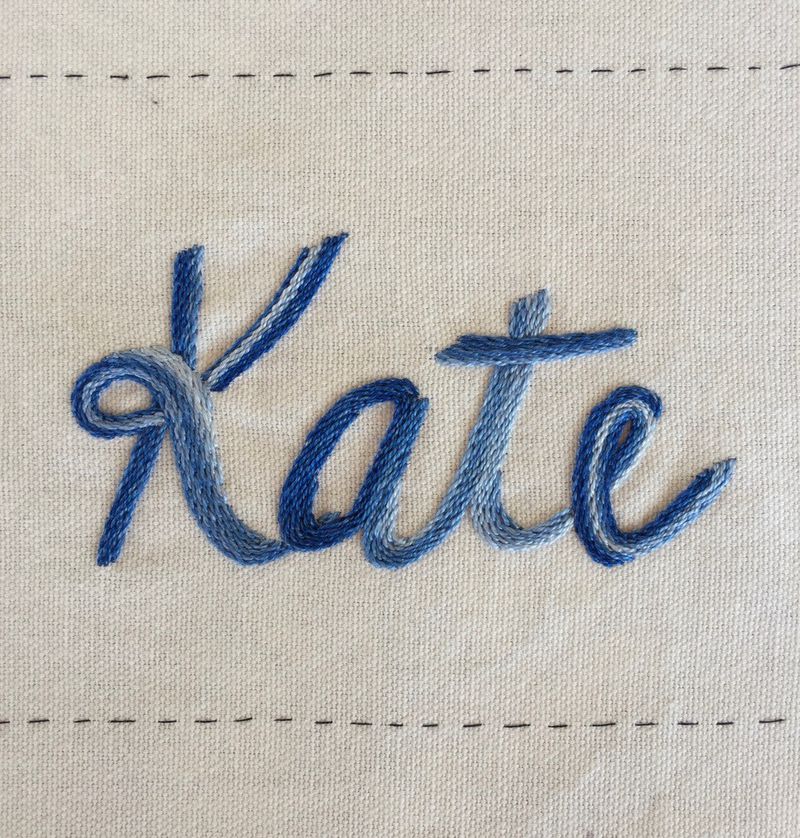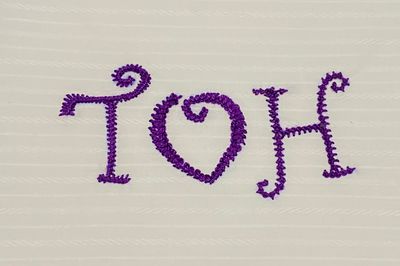 Toh
+ Info
I embroidered "Toh" which is my mum's nickname, she was a hard-working dressmaker who has inspired me since I was little, watching her technique on her sewing machine and playing with the fabric scraps. I loved watching her and that inspired me to start making handmade clothing, finally starting my own brand "IsSara" which I launched last month.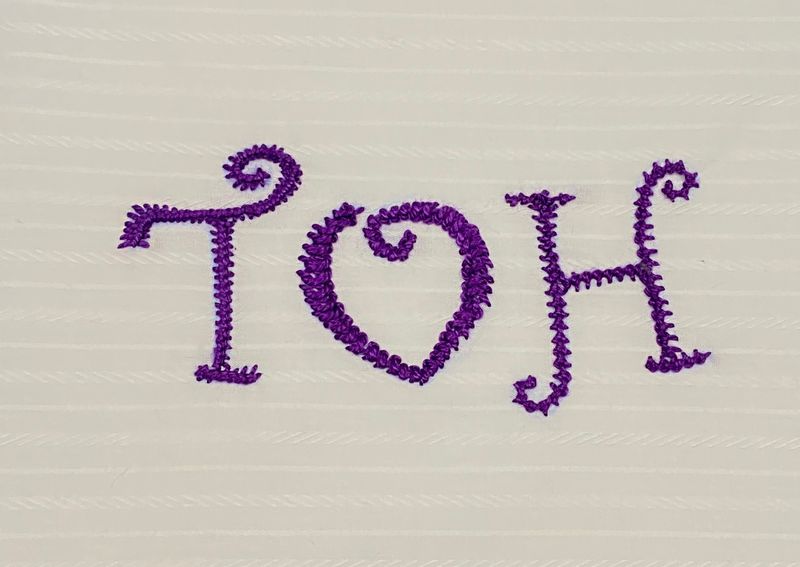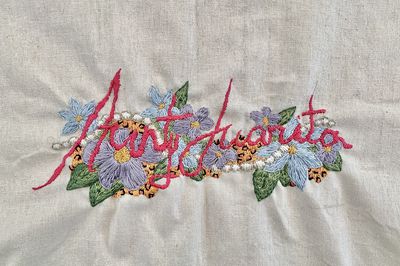 Aunty Juanita
+ Info
Aunty Juanita is a fictional character, concocted by my mother and aunt, as the more flamboyant and fabulous partner of Santa Claus. They decided that Mrs Claus was a tad drab, and no sort of role model for young women, so they created their own.
She was a feminist, artistic and chic, and full of wisdom about self care, accessorising and personal hygiene. She made quite the impression on my young mind, far more interesting than Santa himself.
Looking back the memories are all the fonder thinking of my mum and aunt, staying up on Christmas Eve and brewing such a woman for us to aspire to. She may be a fabrication, but she is the warmth, humour and love of them both, and she represents the inspirational women in my family.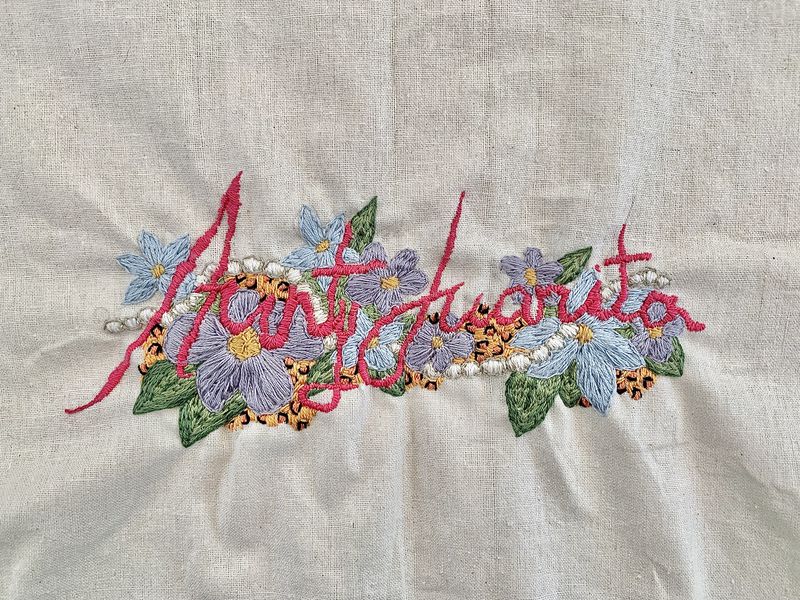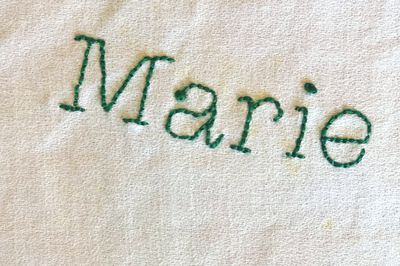 Marie
+ Info
American typewriter font for my grandmother Marie Greta. A gun stenographer and single mother and globe trotter... a woman ahead of her time. Pivotal in my life, she had an incredible work ethic, unfaltering generosity and a collection of fabulous hats. She would pile me and my brothers into the back seat of her Morris minor called Cookie and take us on nighttime drives around the industrial areas of Marrickville. There was a peanut factory somewhere and to this day when I smell peanuts on an industrial level, I am right back there squeezed between my brothers on the back seat of Cookie. Embroidered for Nells Quilt project. Miss you MGB xoxo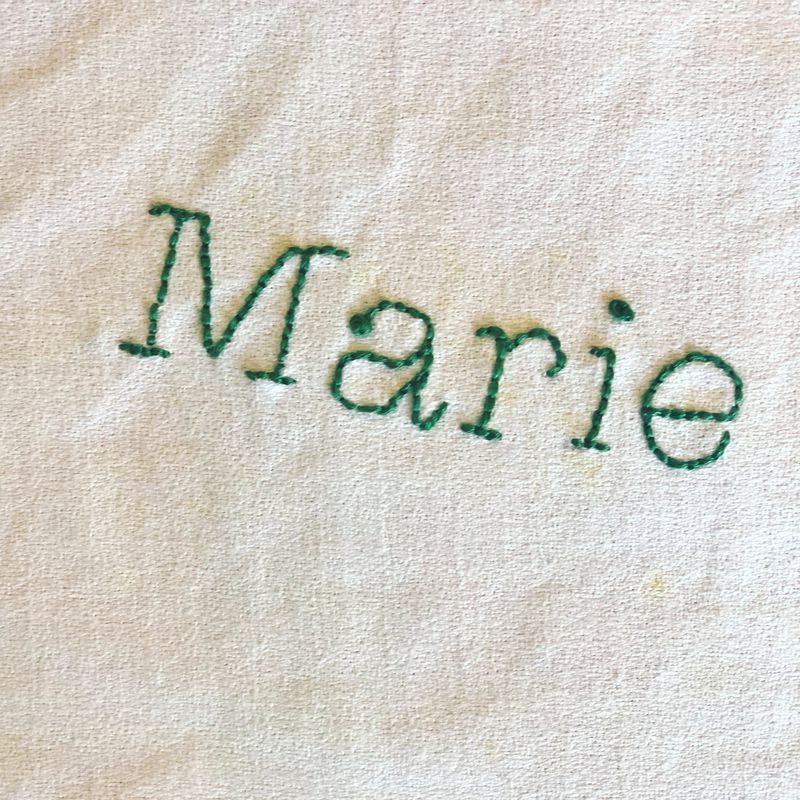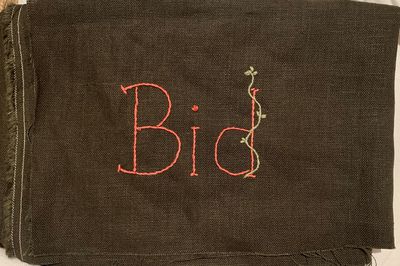 Bid
+ Info
My mother was called Bid; her name was actually June. She was a farm girl living in the city. Bid was a wonderful mother to 5 boys - unflappable, straightforward, always loving. And in Bid's home everyone was welcome.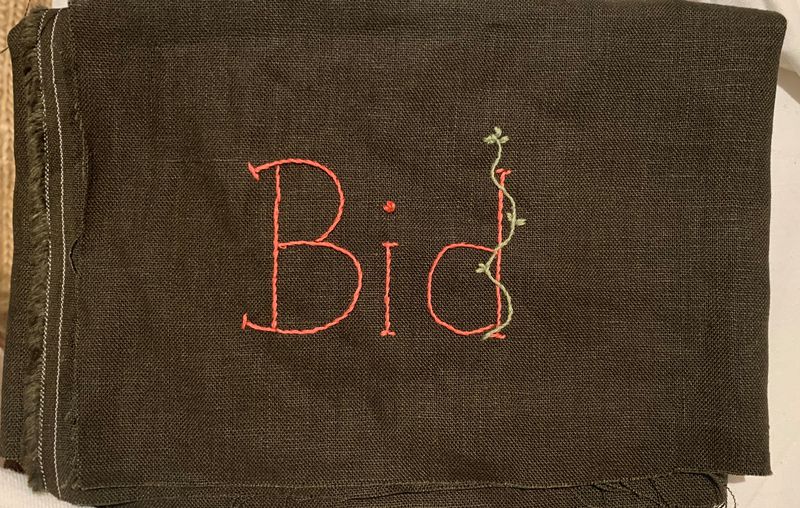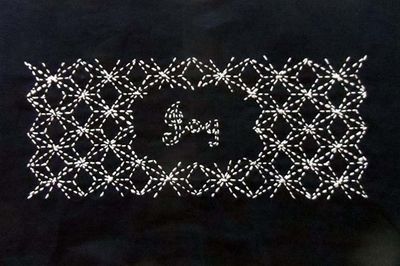 Joy
+ Info
I have made a contribution to your quilt project to remember my mother Joy. Joy died in October last year at the age of 90 years. She brought up 6 children in the 50's (5 girls) and was always a wonderful example of the kiwi tradition of do-it-yourself. Mum made all our clothes, knitted for children and grandchildren, outfitted caravans with squabs, curtains and mattresses and did wonderful embroidery. In her later years she made tiny exquisite gowns for the hospital to use for stillborn babies and knitted hundreds of little woollen hats for the hospital to give to new mums.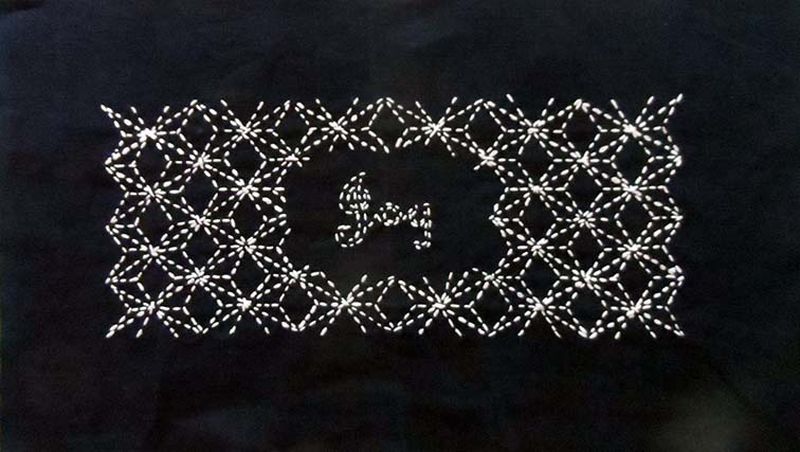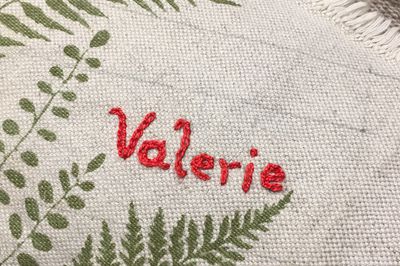 Valerie
+ Info
It was Mother's Day yesterday and I decided to honour and remember my late mother Valerie (Joan Valerie Lovis, nee Van der Smagt). It's more than ten years now since she passed away in early May and this year, with everything going on in the world, was the first time I've forgotten to mark the anniversary of her death. She was a strong, intelligent, courageous woman with many interests including biology and plants. She loved these fern print table mats which I'd kept but wasn't sure what to do with, until now. Valerie's last and hugely generous gift was to donate her body to medical research. Arohanui Mum.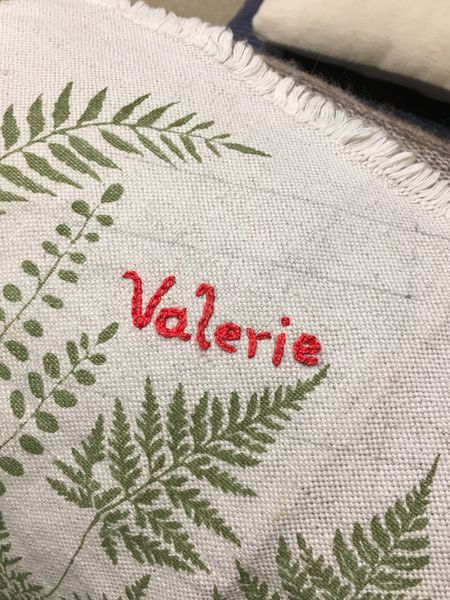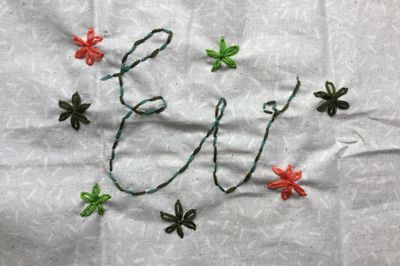 Ev
+ Info
Ev is my darling mother who continues to be an inspiration to me. All my life I have known Mum to come up with fun, quirky, original ideas to add to the already creative environment we lived in. As long as I can remember we had a house full of hand created art projects, paintings and sculptures by both my parents. Mum had her own studio which she loved disappearing off to whenever she could to make pottery and potter around in. I have a small embroidered cushion with her name on it which she had as a child. I hope I have inherited some of her love of objects and the art of making, doing, seeing and playing which was inherent in our family life.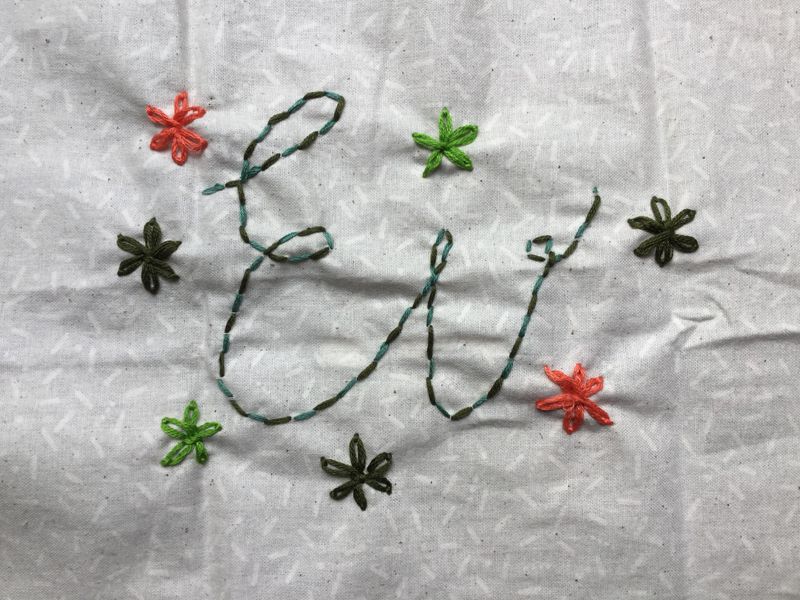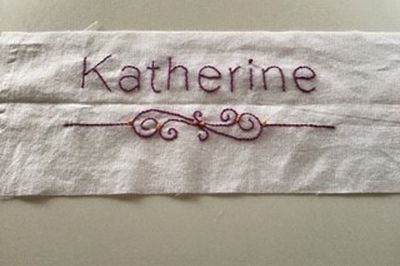 Katherine
+ Info
I learnt about Katherine Strong when I was doing some research regarding the 1893 Suffrage Petition. Katherine signed the petition in the area I live, Mangonui. Katherine came to my attention because I personally know her Great Grand Daughter but what made me especially interested in Katherine was her listing in the Electoral Roll. Most women of the time were listed as "Married Woman", few recorded an actual occupation. Katherine's occupation was listed as "Boarding House Keeper" and her husband was listed as "Boarding House Worker" - a woman ahead of her time I think.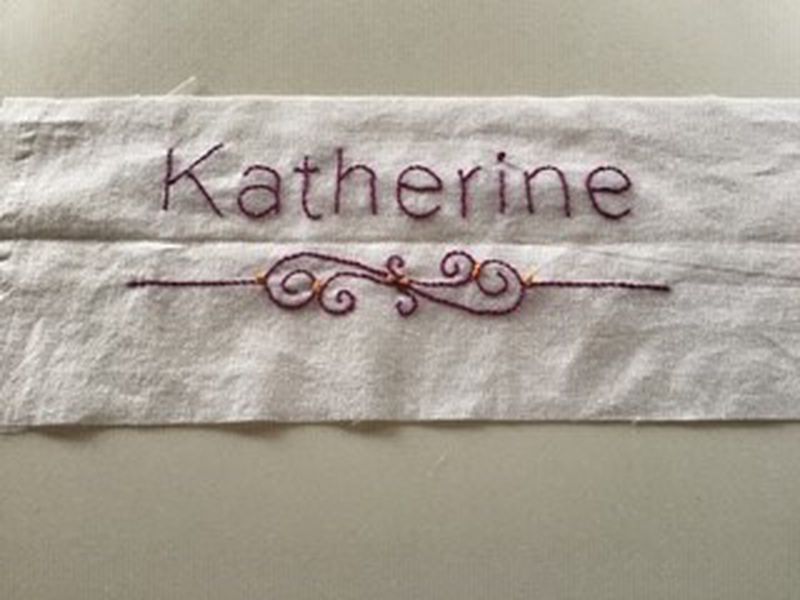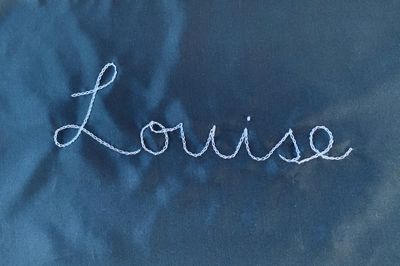 Louise
+ Info
Marie Louise Alexandrine Piatti later Steele (c.1849-1929), known as Louise, was married to the artist Louis John Steele, who is the subject of my PhD. A highly-skilled artist in her own right, Louise trained as a miniature painter in Paris, exhibiting at the Salon and selling a miniature after Fra Angelico's Coronation of the Virgin to the Empress Eugénie in 1867. She continued to practice as a miniaturist in London, exhibiting portraits of her two sons at the Royal Academy. When Steele left for New Zealand in 1886 (effectively deserting her) Louise supported herself, and surviving son (also Louis) then aged 14, through her art practice. Her son Louis became a noted photographer and electrical engineer. According to a biography he was "ever ready to attribute the greater part of such successes as he has met with to his devoted and talented mother". Like Anne McCahon, Louise's practice exists very much in the shadows of her husband's art. Shedding some light on Louise is a post-PhD project for me, but as I focus on motherhood and supporting my family through lockdown, the Nell Anne quilt seemed an apt way to acknowledge her now.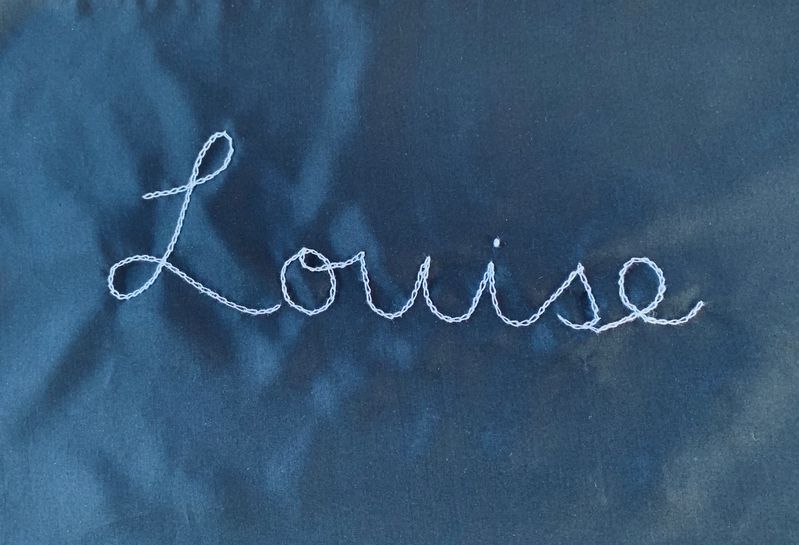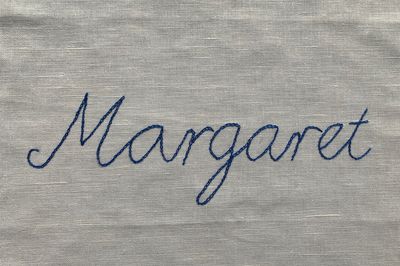 Margaret
+ Info
A piece to honour my Mum, Margaret: for all that she does, all that she is, and for the many, many things that she has taught me. With very much love.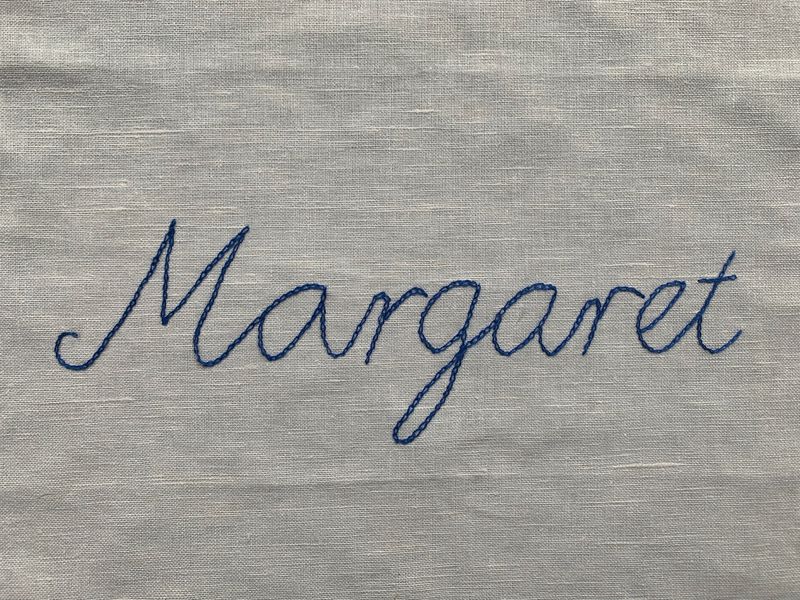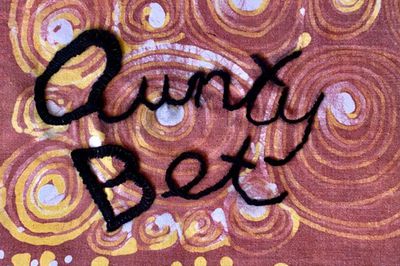 Aunty Bet
+ Info
Mum's sister, Aunty Bet, took Me(Jude) and younger brother, Don, under her wings for 9 months down on the Waikato farm, while Mum(Clare) recovered from several health problems - That was 3 yrs after Dad(Ned) had died of kidney failure in 1947. She, Elizabeth Treves Brown, or Aunty Bet, was a rollicking-good-fun, BIG-woman with a lovely contralto voice. She also died too young aged 43, in 1955. I am so pleased to Honour her with my stitch. She was very significant in my growing up. I so loved her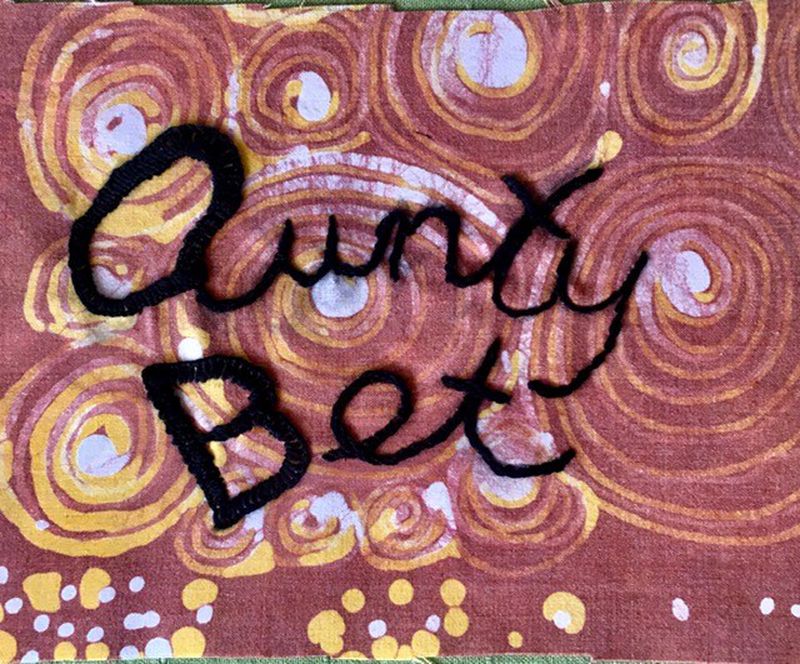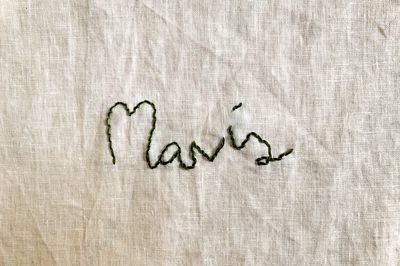 Mavis
+ Info
Mavis was my Nana and looking back, she modelled what it was to be creative but also humble, although I'm not sure she knew the influence that had on me.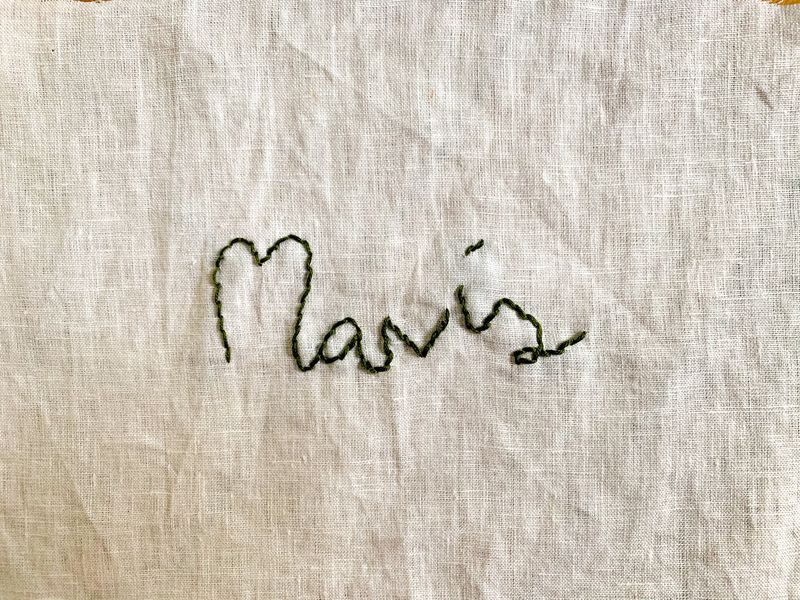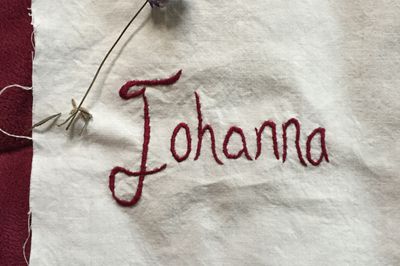 Johanna
+ Info
My grandma Johanna was born in a tiny village in Ireland with a romantic sounding name - Mooncoin. As a child I was fascinated by the couple of Gaelic words she was able to teach me and her recipe for Irish soda bread. She didn't talk a lot about her childhood. Her mother died when she was young, and by her early twenties she had made her way to New Zealand. She must have been very courageous, and I wish I had gotten to know her better as an adult. She showed her love through actions rather than words. I have embroidered her name on behalf of myself and my mother, Clare.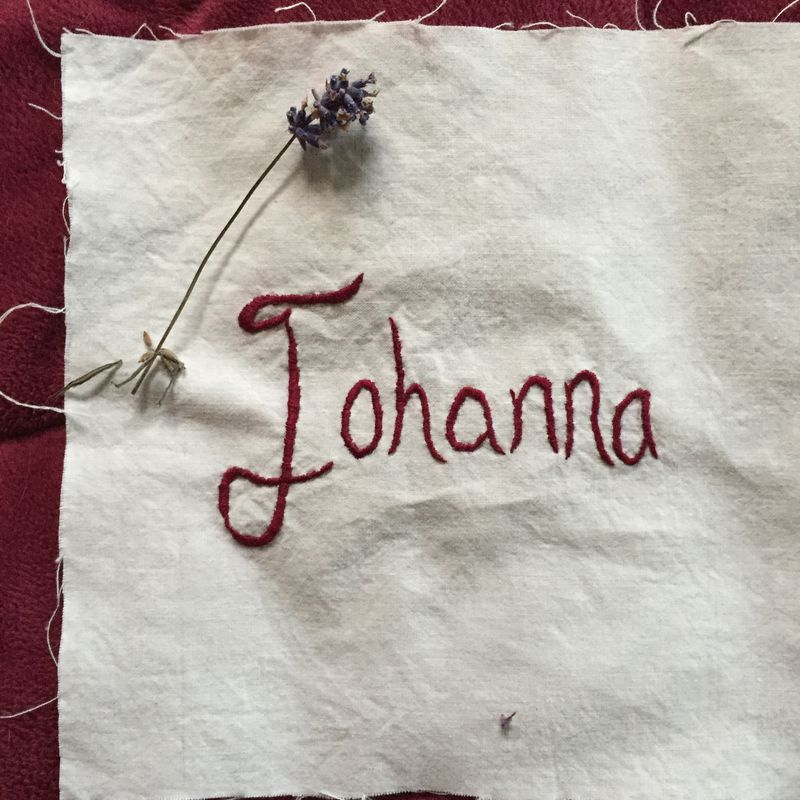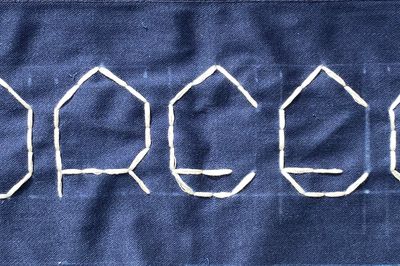 Doreene
+ Info
Doreene lived in Glebe Point, Sydney. She was my beloved grandmother and friend. She wrote poetry and fiction, painted, gardened and travelled widely collecting antiques and minerals with my grandfather Albert. They together founded the Mineralogical Society of New South Wales and worked with their colleagues on building the Australian Museum's mineral collection.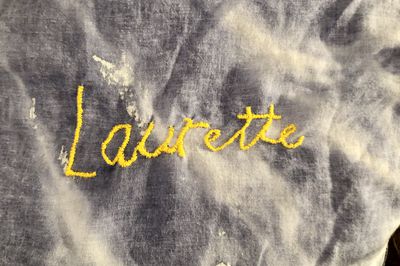 Laurette
+ Info
Laurette was my granny. She approached all challenges with fierce intelligence and aplomb. Besides these traits, what I loved most about her was her resourcefulness and ability to make things out of other things. Bread bags were carefully folded in the bottom drawer for later, scraps of wool collected and separated into colour tones for a yet-to-be decided project. Her creativity was expressed through thoughtful interactions with the world.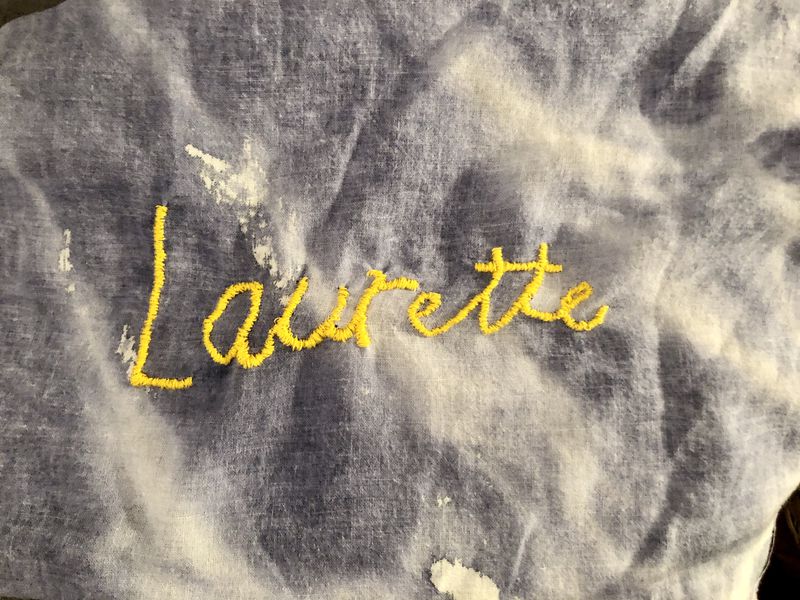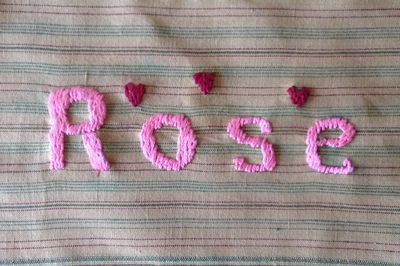 Rose
+ Info
Rose was my very loved Grandmother, she comes to mind in these times.
She had three children under five during the Spanish flu epidemic in 1917. One of the children was disabled. She lived without electricity or running water. Cooked on a wooden stove, made clothes and grew fruit and vegetables. During this she still helped and supported others.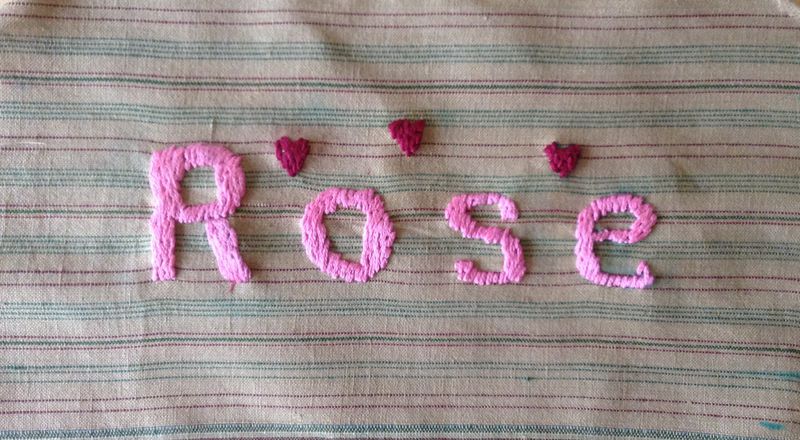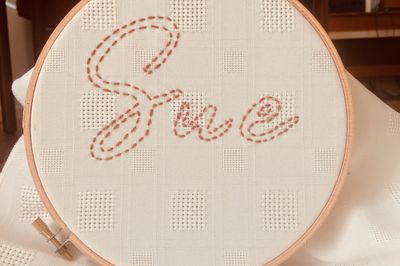 Sue
+ Info
I have stitched for Sue Pedley a wonderful friend, artist, maker, teacher and inspiration. As a practicing female artist, she continues to reach out toward new mediums looking for connection to people and place. She is a people gatherer who generously encourages others. Thank you for always pushing me to make.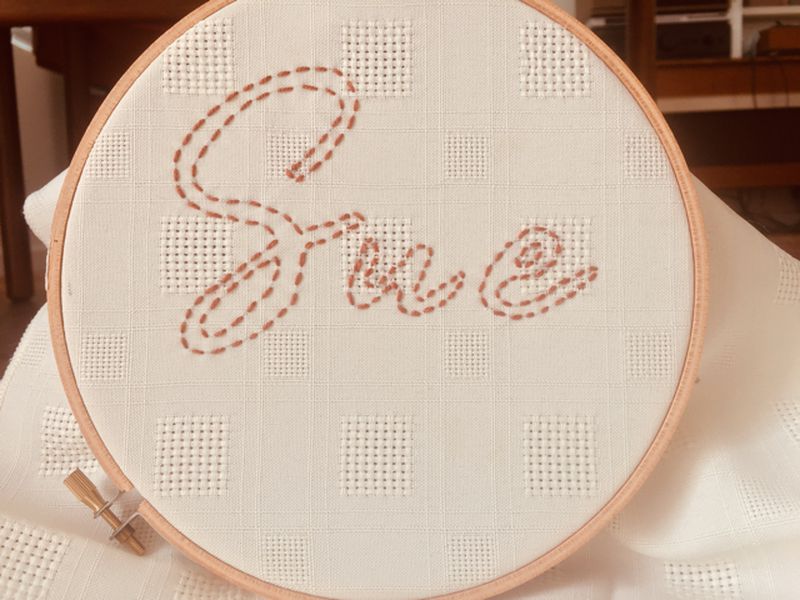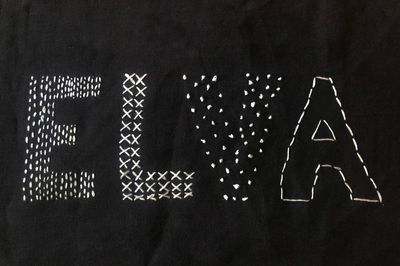 Elva
+ Info
Elva Jean was my beloved Grandma. I have wonderful memories of many happy hours spent playing cards, drinking tea and making up stories. Elva was a creative soul who in another life would have perhaps followed an artistic path as I have had the freedom to do.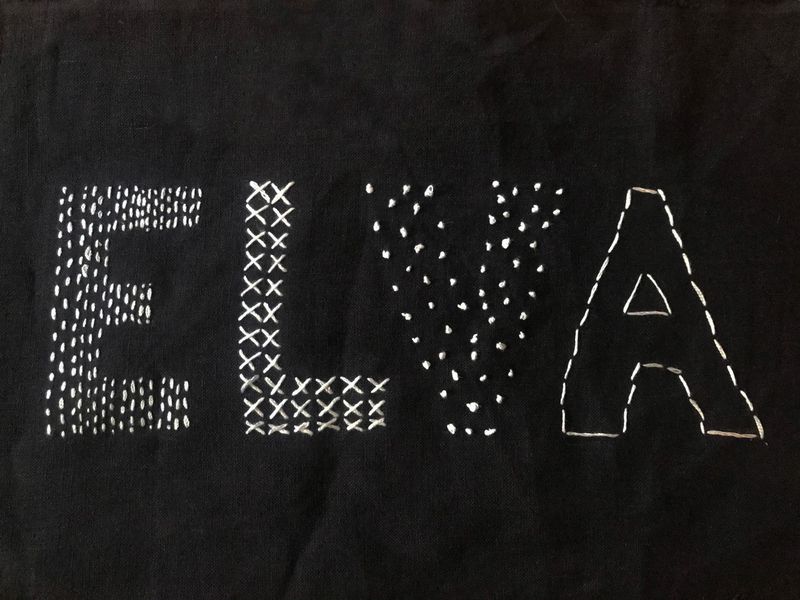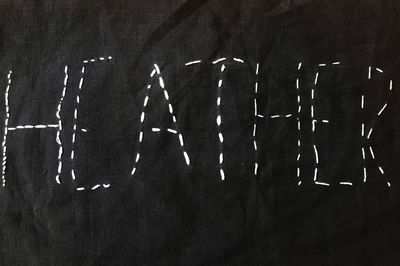 Heather
+ Info
Heather is my Gran. I like everything about her.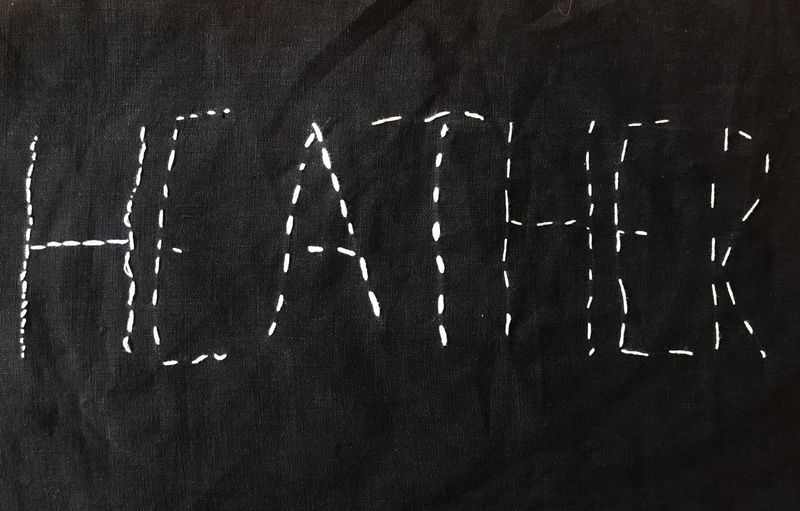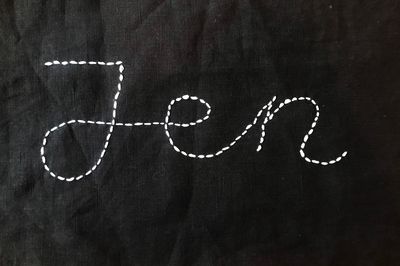 Jen
+ Info
Jen is a woman who is very much in my life, but also a force behind it. She's taught me a lot about what being a woman can mean, and is doing a great job of doing this for our daughter, too.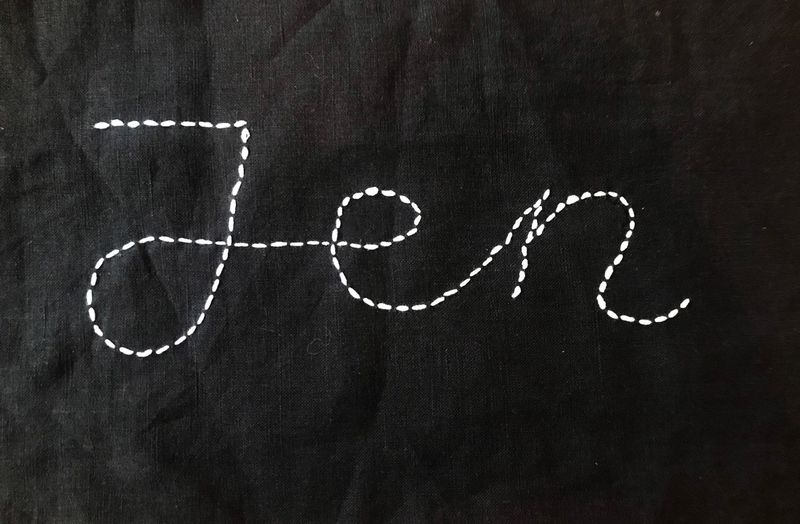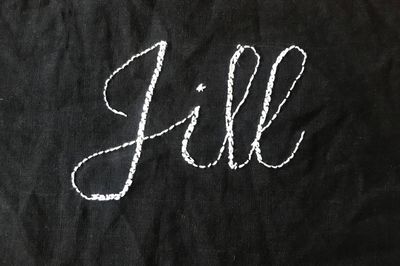 Jill
+ Info
Jill and I were very best friends for a long time. We shared so many good times and sometimes some not so good. She died far too young and I remember her with a mix of love and sorrow.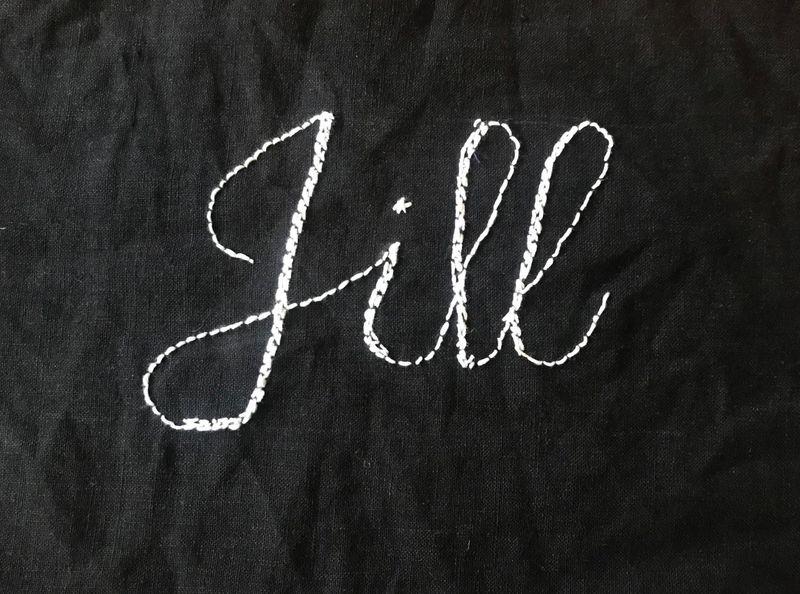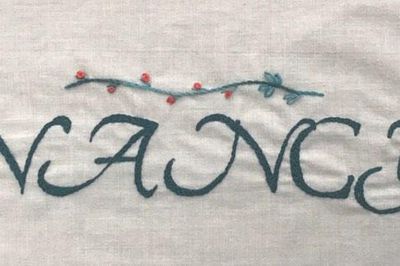 Nancy
+ Info
Nancy was our mother. She was one of seven children born into poverty in rural Ireland in the 1930's. She worked tirelessly to make a better life for us 2 girls and our brothers and she was devoted to her brothers and sisters who remained close all their lives. A small plump woman with a sweet smiling face she was not to be underestimated. When roused she was a match for anyone, an occasional fierceness that my sister and I have inherited. She died more than 30 years ago; we miss her deeply every day.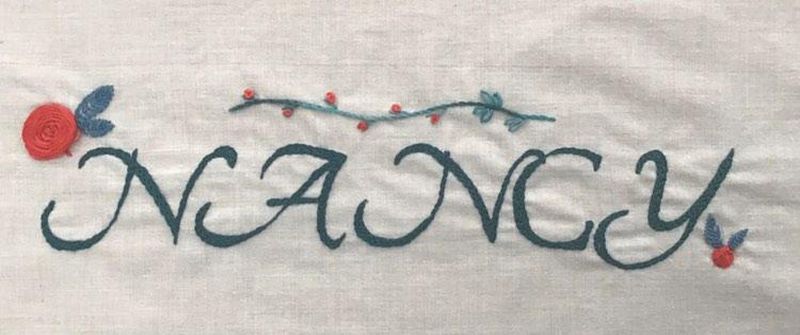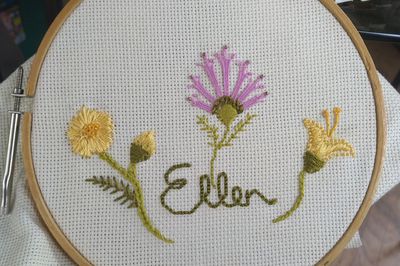 Ellen
+ Info
All the women in my family past and present are inextricably linked by brightly coloured web-like threads. I am indelibly bound to my grandma, to her gentle, down-to-earth nature, her busyness, her generous, welcoming home and to the gardens from which she fed her family. She represents for me the ongoing, attentive love and labour of the women who sit at the centre of our families and watch out for us all.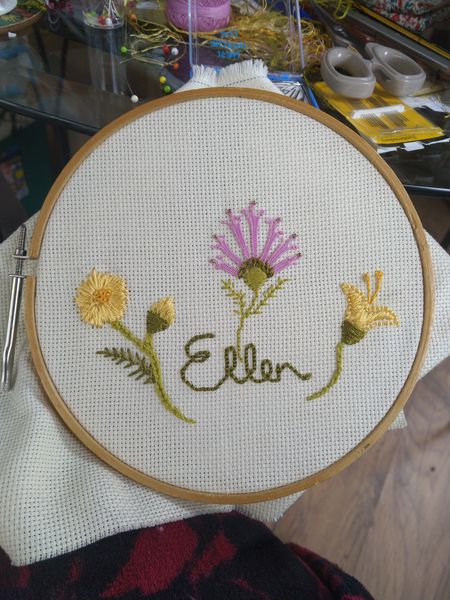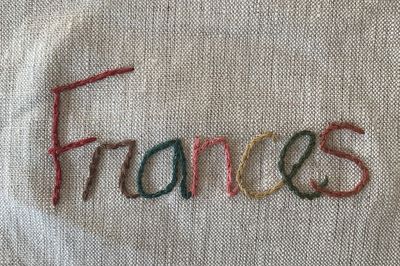 Frances
+ Info
Frances Hodgkins was my first art heroine. As a young woman who travelled alone to explore cultures and landscapes in pursuit of her passion, I have admired her spirit and courage. This project is a tribute to her, and the other special people I have known with the same name. I have tried to mimic the signature of Hodgkins and the colours were chosen from the palette she used to make the painting Wings over Water. When my own daughter was born I decided to name her after these strong characters.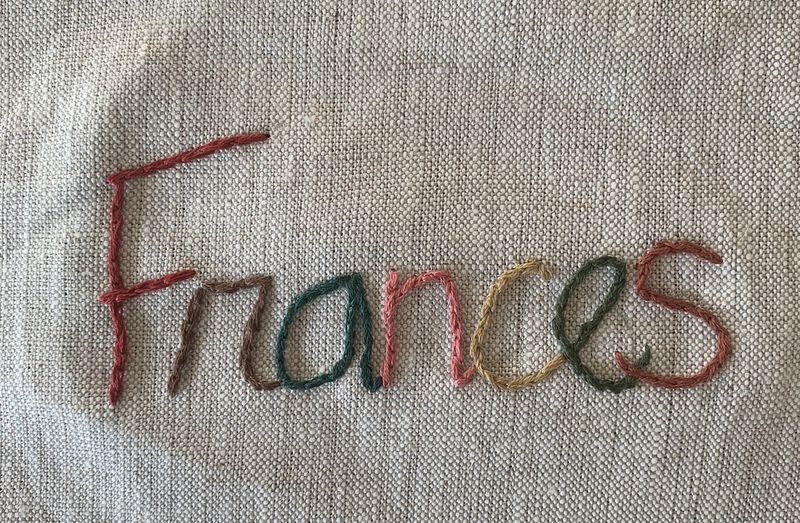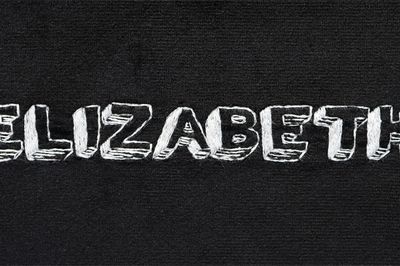 Elizabeth
+ Info
My mother Elizabeth has encouraged my art-making, right from the very beginning! As an accomplished printmaker with a similar interest in narrative work, she has always inspired me and been a great buddy for viewing and talking about art together. I chose these colours because she loves black and white designs.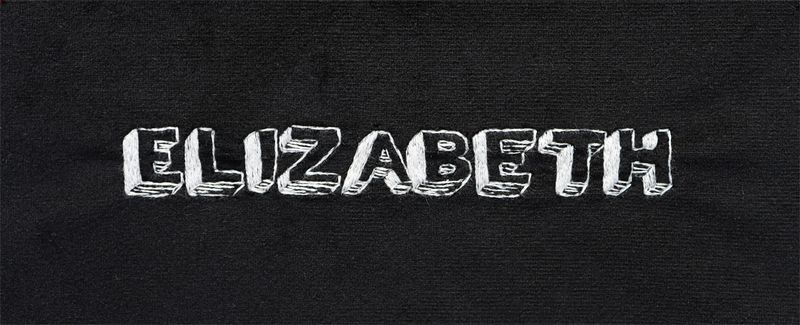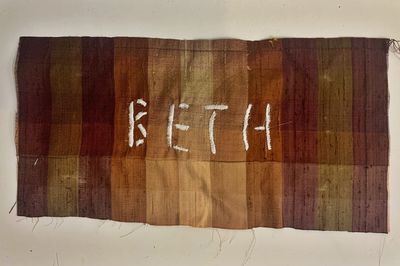 Beth
+ Info
This piece of fabric is from my Mums old skirt. Growing up she let me borrow her clothes, timeless pieces she'd made or my grandmother had. Together we'd adjust them or trawl through second hand shops to find hidden gems we could fix or repurpose. So while this may be wonky and starting to fray at the edges, it's made from old fabric and ribbon all from my Mum. So it's really a piece of Beth, my gorgeous mother who's always taught me how to make something from nothing.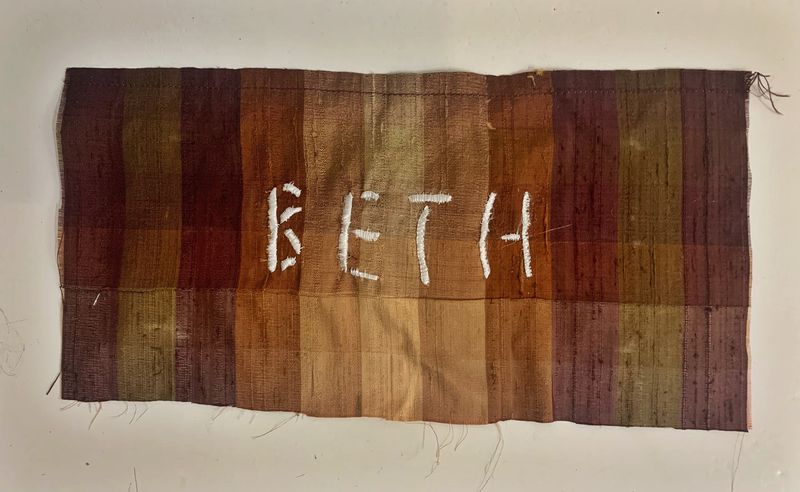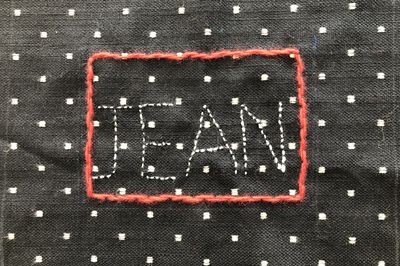 Jean
+ Info
Jean was my mother. A pioneer farmers wife. A mother of six children who somehow managed to be creative in all things. No matter what the challenge, she always had an idea. I am fortunate to have inherited a little of this.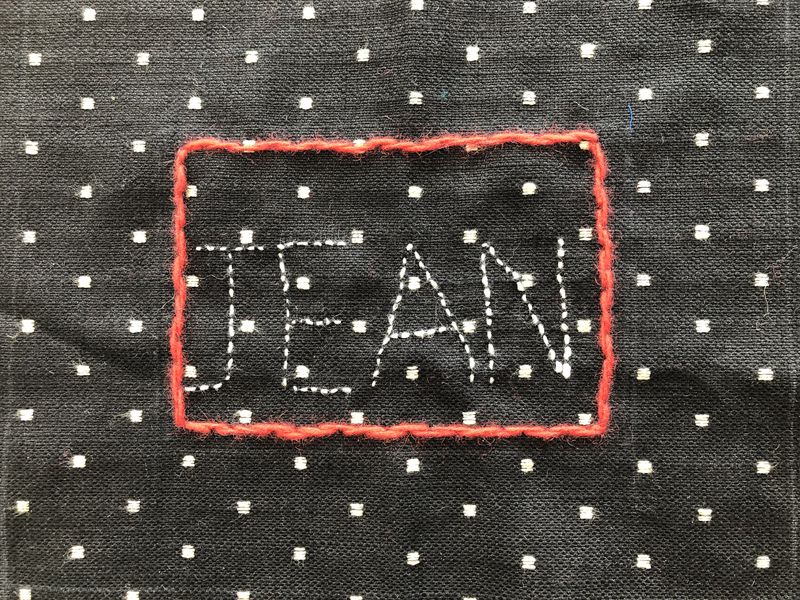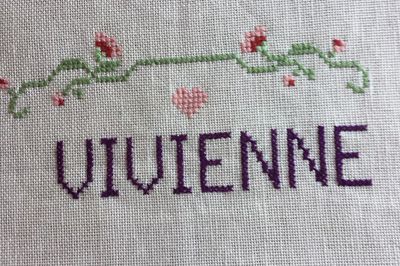 Vivienne
+ Info
My daughter Vivienne is a successful business woman. She has overcome many obstacles (some deeply sad & personal) to achieving her standard of work. Her loyalty to her friends & family is second to none. Since she was a small child she has always gone out of her way to be the best she can. I am very proud to call her my daughter & admire her strength & her sense of humour. Also love her deeply.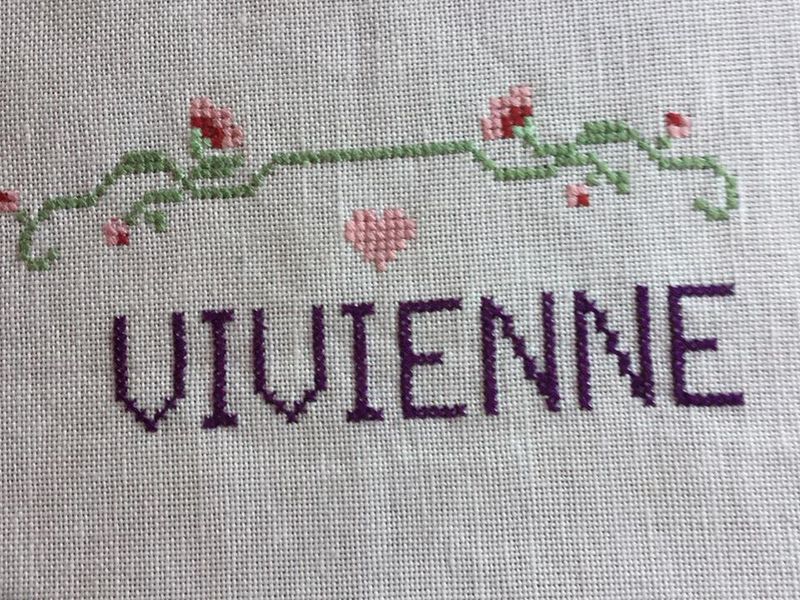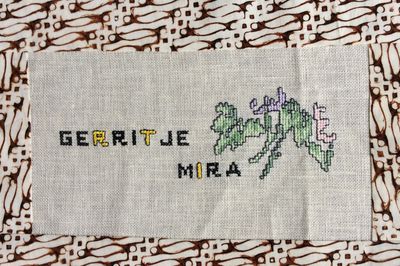 Gerritje Mira
+ Info
My mother, Gerritje Mira, was born and spent her early years in Indonesia. She arrived in Sydney in 1951 fleeing the Democracy Movement after the Second World War. She came with little else than her talents for making do and getting on with life. She was a gifted craft woman and turned her hand to many forms of stitching - machine and hand sewing, knitting and crochet, but her passion later in her life was Crossstitch. I found this linen on which she had stitched the posy, and added her name. In order to make the stitching stand out on the ecru background, I decided to usea outline stitch, so had the opportunity to follow in her stitch path. Throughout my life there has always been a piece of batik somewhere along the way, so it seemed only fitting to frame Gerritje's name in her legacy fabric.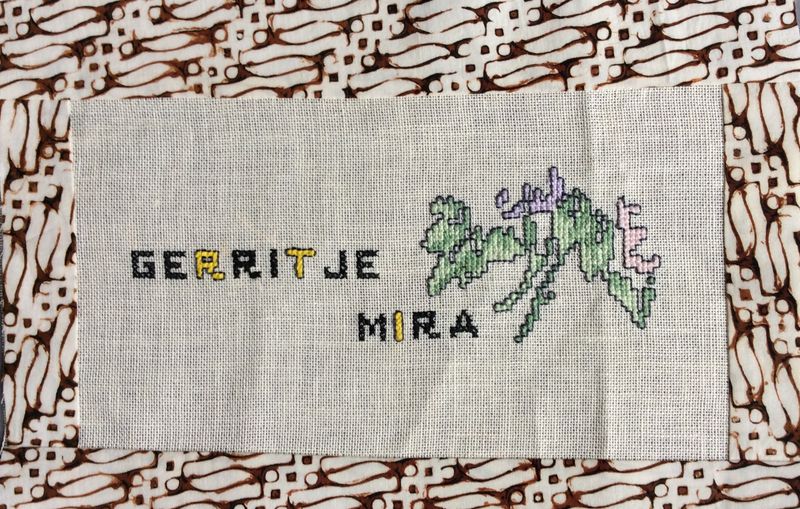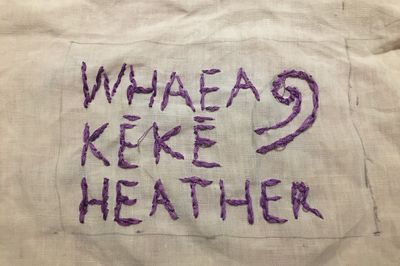 Heather
+ Info
My wahine that inspires me is my Aunty Heather. She's been such a rock for me in my life and I know I can always go to her when I need. My embroidery says Whaea Kēkē Heather. We are Ngāti Tūwharetoa wahine.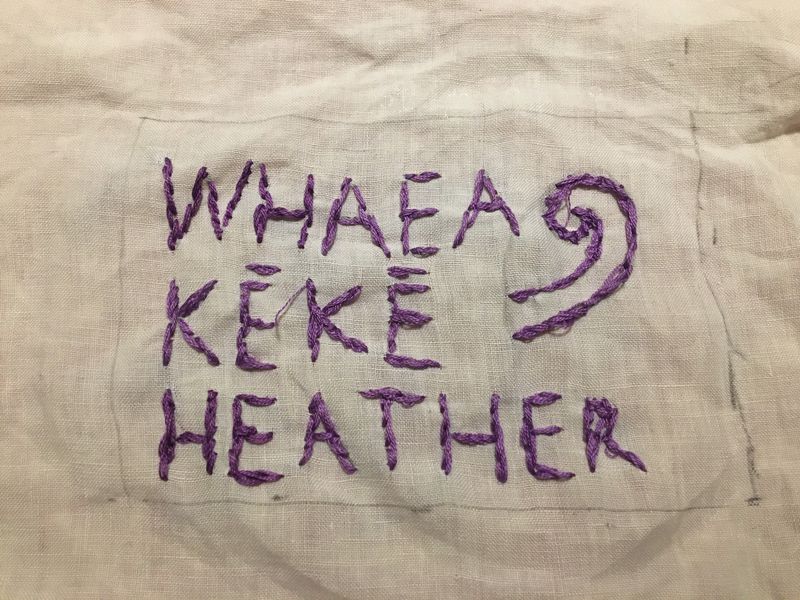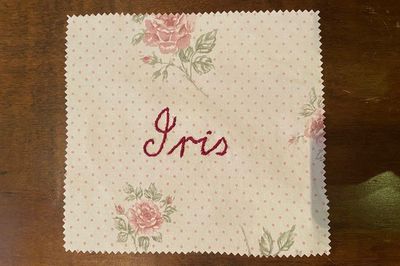 Iris
+ Info
Iris Campbell was my mother and she was a very talented homemaker. She encouraged and inspired me from a young age to sew, knit, embroider to name a few and was always patient and kind. Iris always had many projects 'on the go' and now I find that I have the same. Thank you Iris!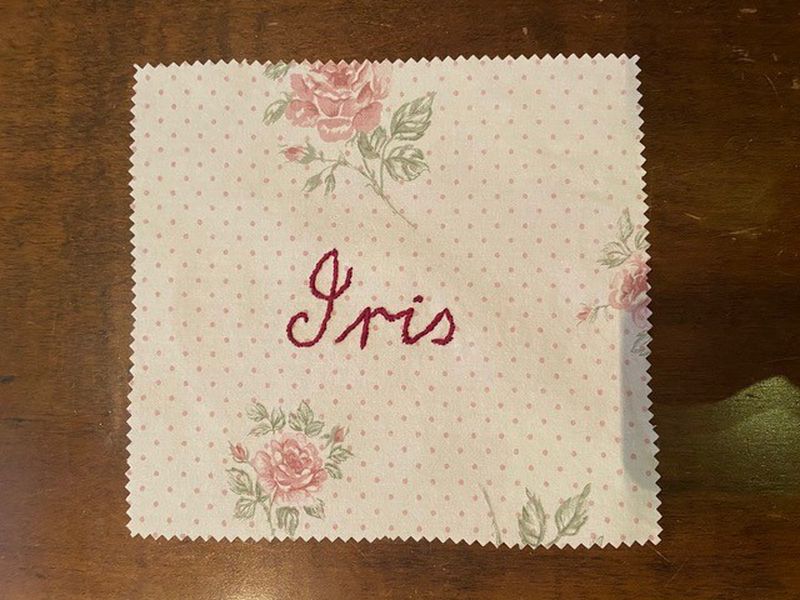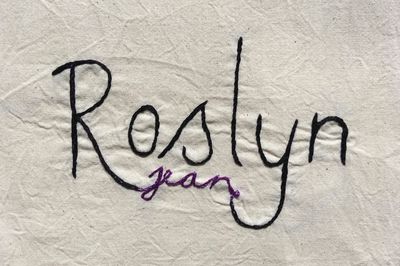 Roslyn Jean
+ Info
Roslyn Jean is my mum. She's an artist, a teacher, painter, printmaker, daughter, sister, friend, potter, weaver, wife. She gave me my creativity and taught me how to love.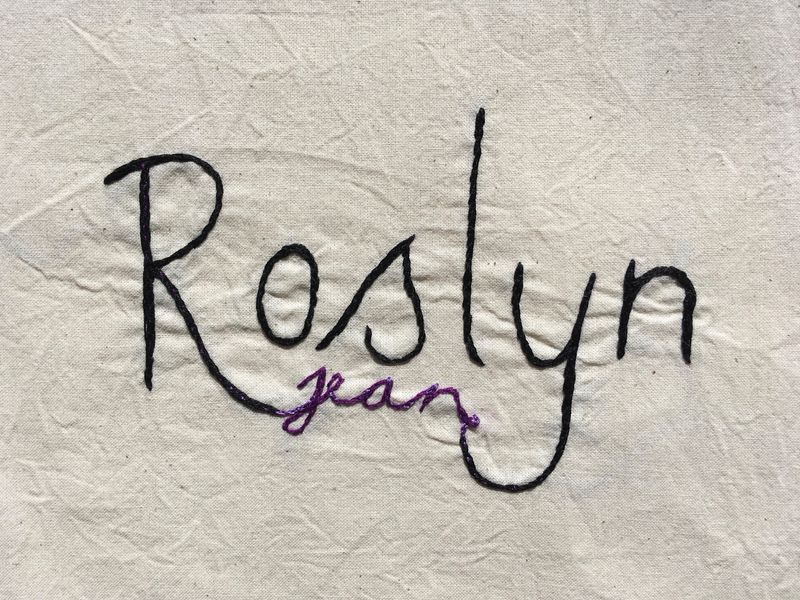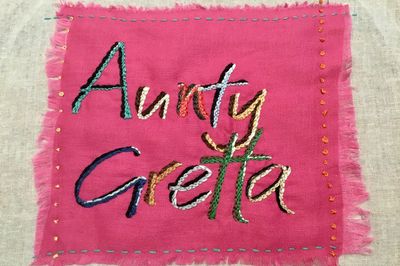 Aunty Gretta
+ Info
Aunty Gretta has always been my mentor. She has taught me the importance of aunties, of Kuia.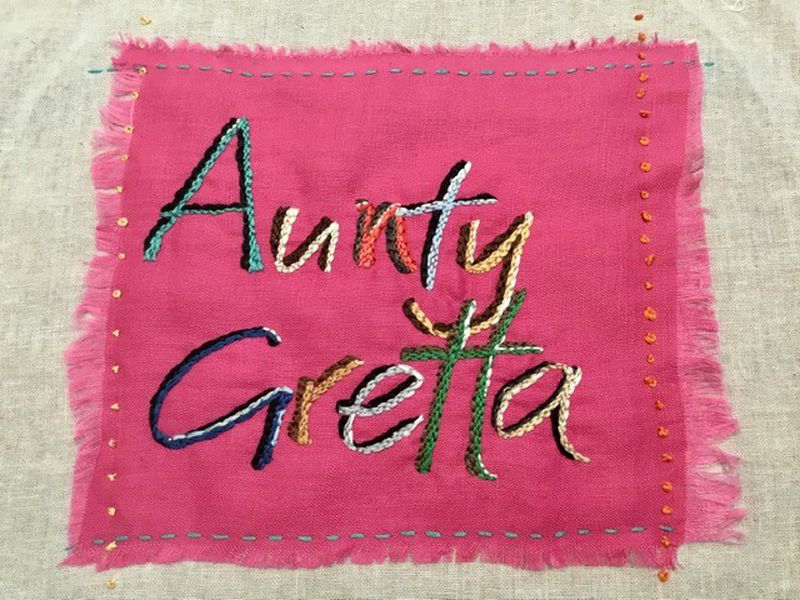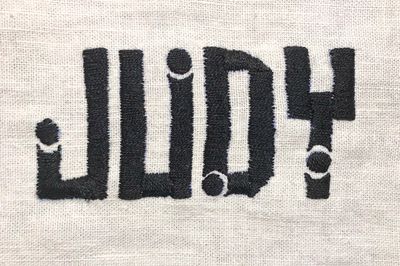 Judy
+ Info
This embroidery honours my mum Judy Shanahan, who taught me needlework, and consequently persistence, as a kid. She's the most resilient person I know, having survived childhood internment during the second world war as well as heart disease and kidney failure as an adult. I used to take the skills Judy taught me for granted; in recent years as I've returned to textiles myself I'm super grateful for her teaching.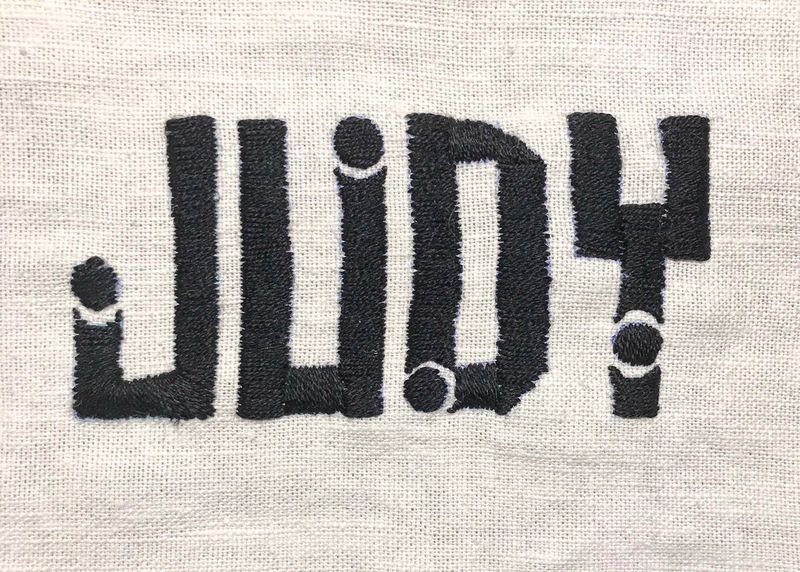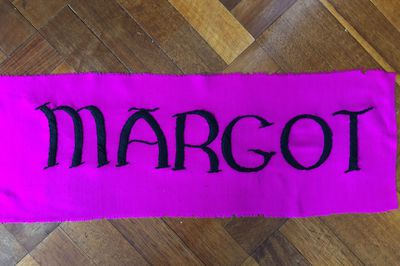 Margot
+ Info
M - mother, A - angel, R - resourceful, G - generous, O - one the ball, T - treasure. Dearest magnificent Margot, I miss you every minute of every day.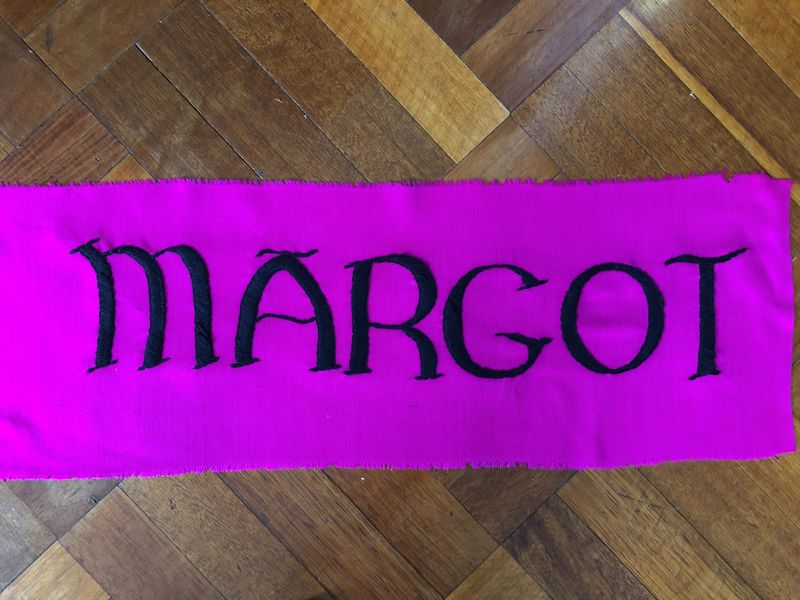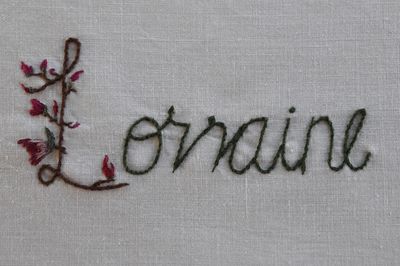 Lorraine
+ Info
This embroidery was inspired by my mother Lorraine. My mother is an artist (amongst many other things) who has worked predominantly on botanical artworks. Over the years she has given me numerous cards with her art on them – finding these cards, tracing her signature and using her picture of magnolias to inspire my embroidery was a powerful process. Sadly my mother now has dementia and it has been a number of years since she has been able to produce her stunning handmade cards. I miss the mother that I had but I am desperate to see and hold the mother that I still have after this lockdown is over.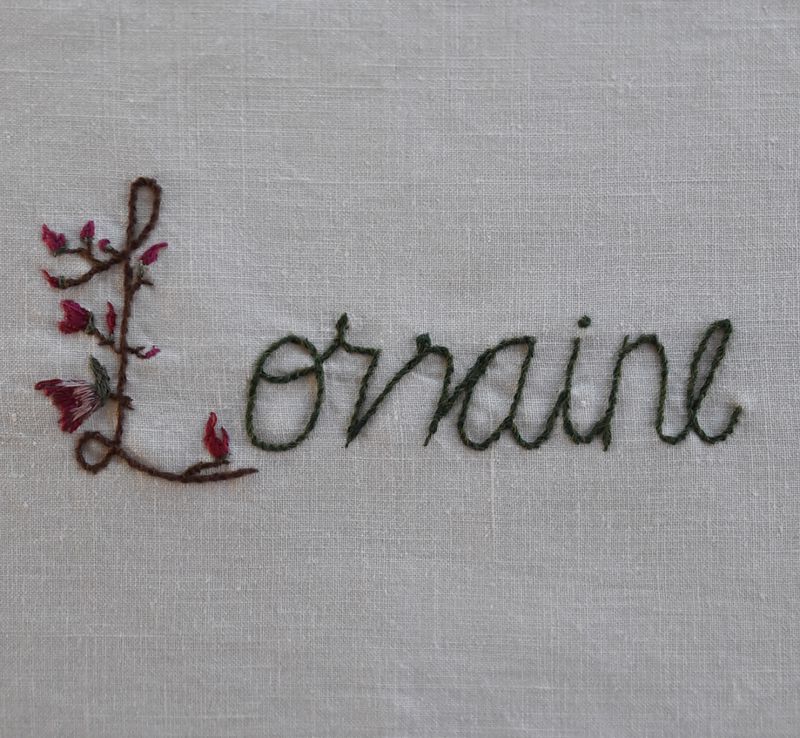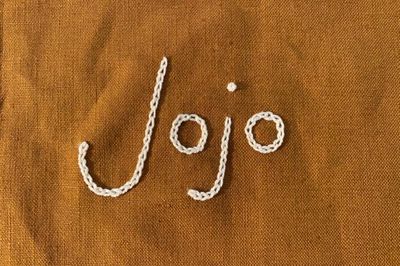 Jojo
+ Info
Jojo was my grandmother. Jojo was a loving presence in our lives and to me she was the embodiment of grace. Always calm with a gentle strength. So many lovely memories, but I recall Jojo gave me two special books (among others) when I was a young child - The Dreamtime and Jonathan Livingston Seagull - she was a spiritual guide before I even knew what that was.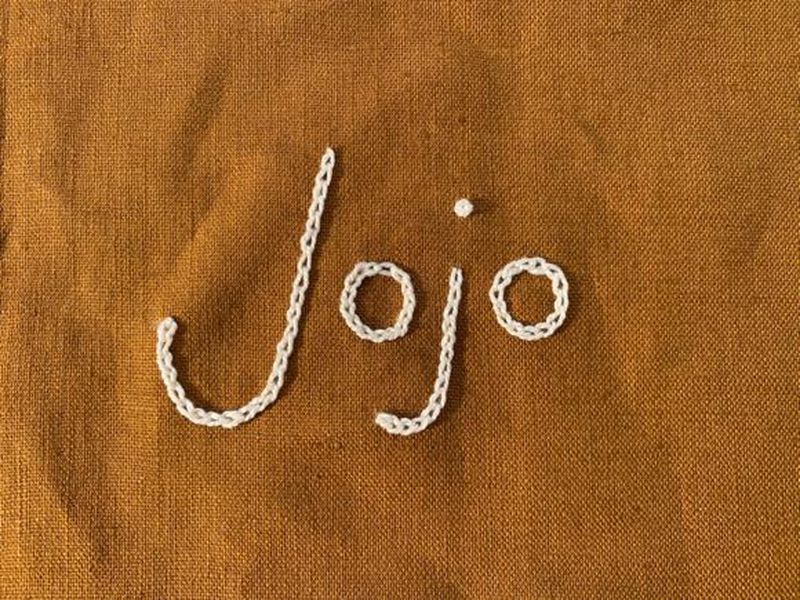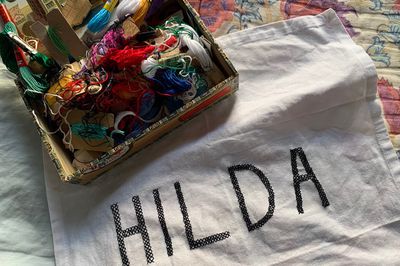 Hilda
+ Info
I chose to honour my Nana, Hilda. She taught me to cross-stitch as a 4 year old, nearly 40 years ago. As you can see cross-stitch is not my métier (I haven't practiced it much since childhood), but she did kindle in me a love of sewing, knitting and making, that continues on. She was a very skilled crafts person, and always had a project on the go. She also really valued education, and despite very modest means, encouraged and helped support my University studies. She was a strong woman who married late for the times, raised four children, then returned to teaching in middle-age when my grandfather became too unwell to work. She was widowed in her 50s, and travelled widely thereafter, while continuing to teach and undertake community work, often using her craft skills. Having grown up in the depression she was highly resourceful. The box of embroidery threads in the picture and which I used to embroider her name, I inherited from her. You can see how she carved grooves into an old wooden ruler to hold her embroidery silks. I learnt so much from her and remember her with great affection.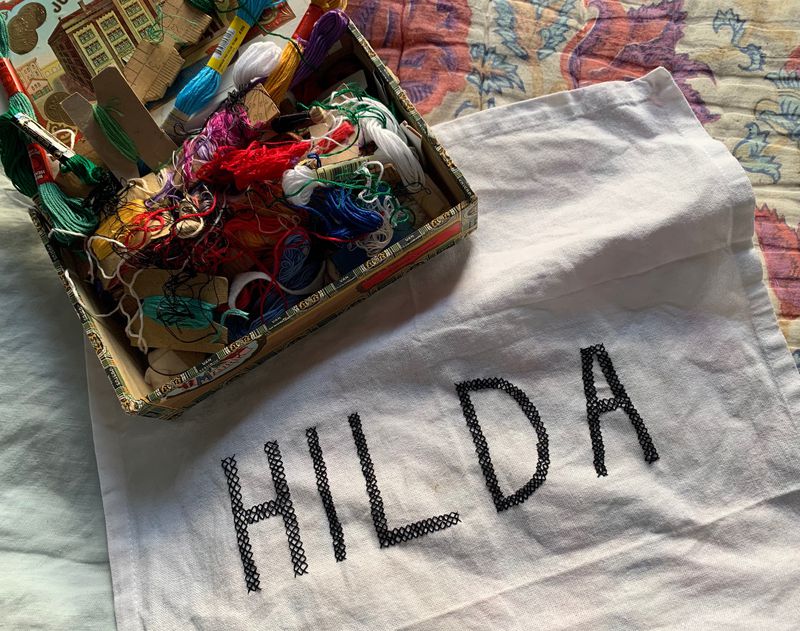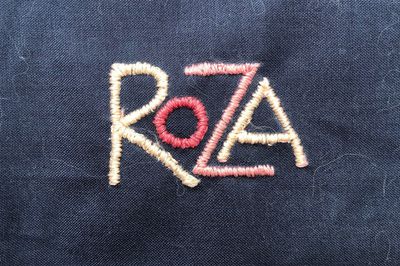 Roza
+ Info
This is for my beloved maternal grandmother Roza Weiss (née Rottersmann), Holocaust survivor and matriarch. I was only 9 when she died but her wisdom, stoicism and kindness have influenced me to this day. She could barely speak a word of English and I loved being a translator for her.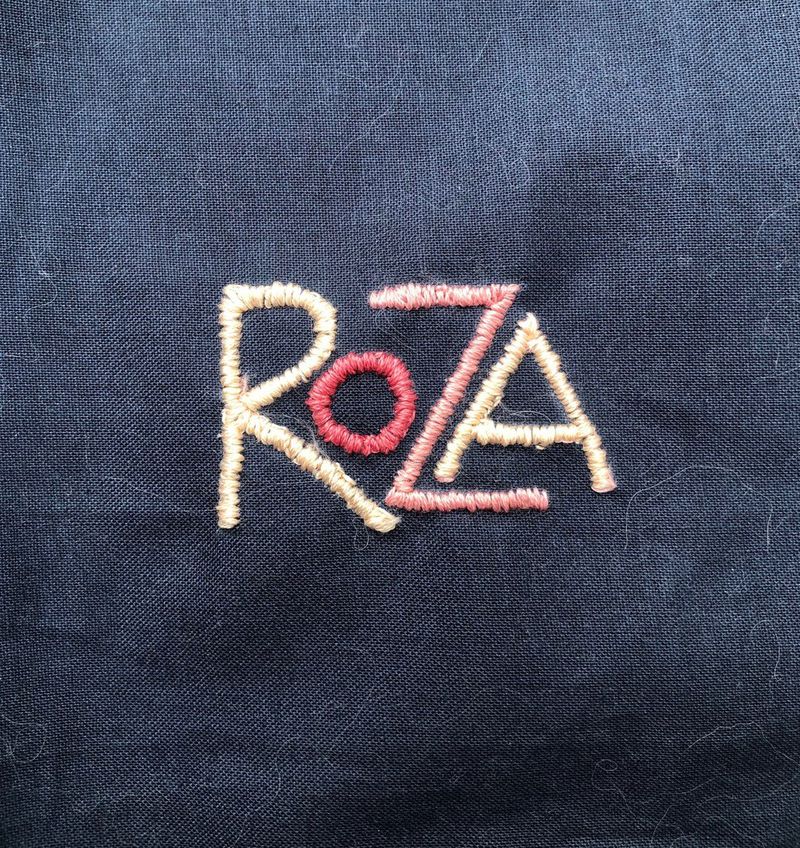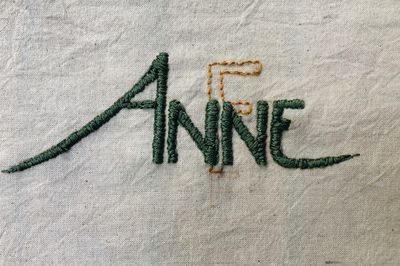 Anne F
+ Info
This is in honour of Anne Ferran - accomplished artist, generous art mentor and dear friend.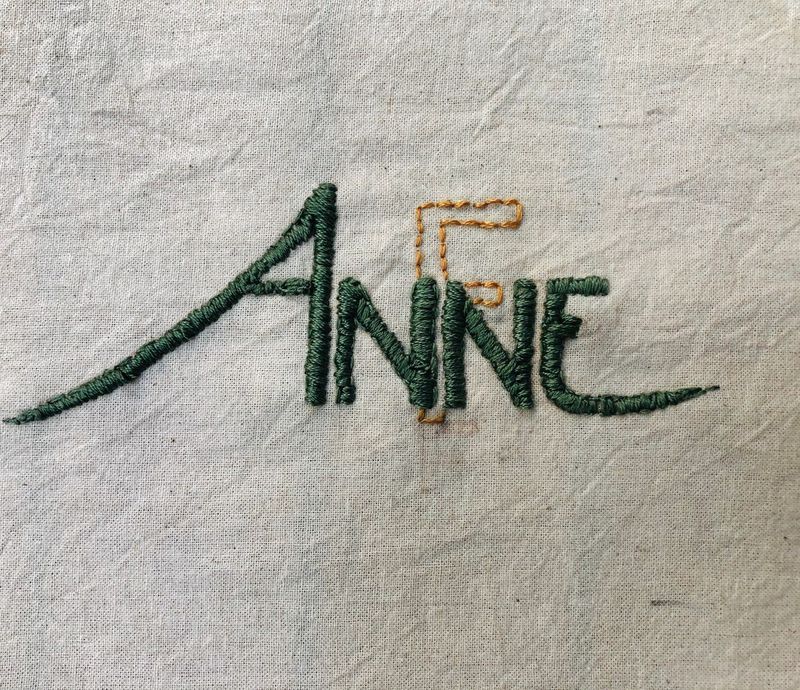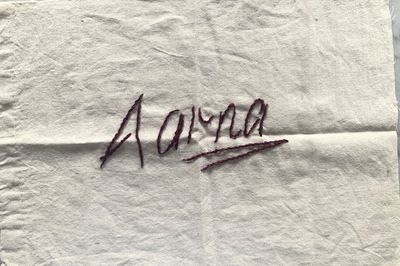 Aarna
+ Info
I have chosen to embroider the name of my daughter - Aarna on my piece of fabric. When thinking of why, I realized my daughter has had a profound effect on my life. She has helped me to understand the immense bond of love that can exist between two people. Loving Aarna gives me endless joy. She has taught me to step back, observe and trust another's judgement. I have learned from her that there is never just one way of doing. Creativity is a gift. Aarna uses her creativity to navigate her world.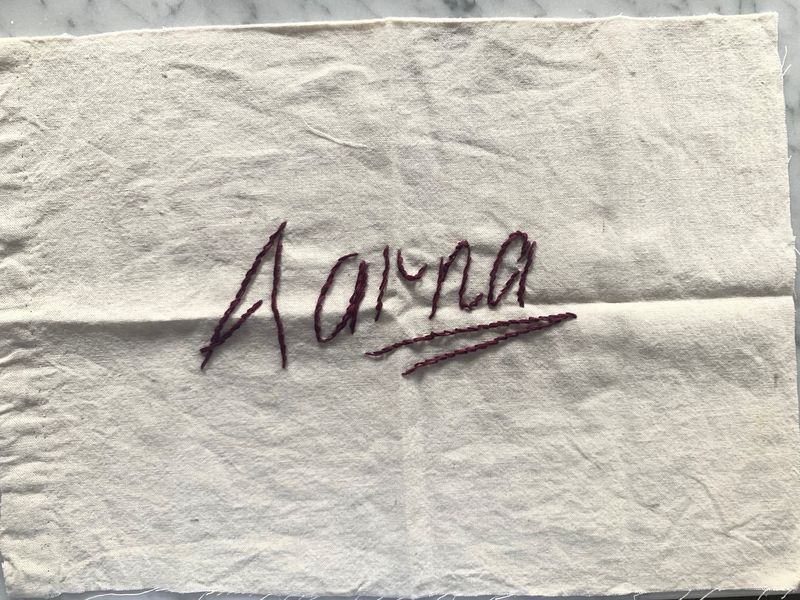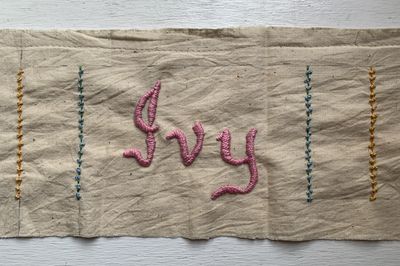 Ivy
+ Info
My Mum Ivy, was a quiet achiever, not into self promotion. An intelligent, resourceful woman, who often remained silent, rather than say a bad word about anyone. Her determination & indomitable spirit remains inspirational to me even though she died almost 9 years ago.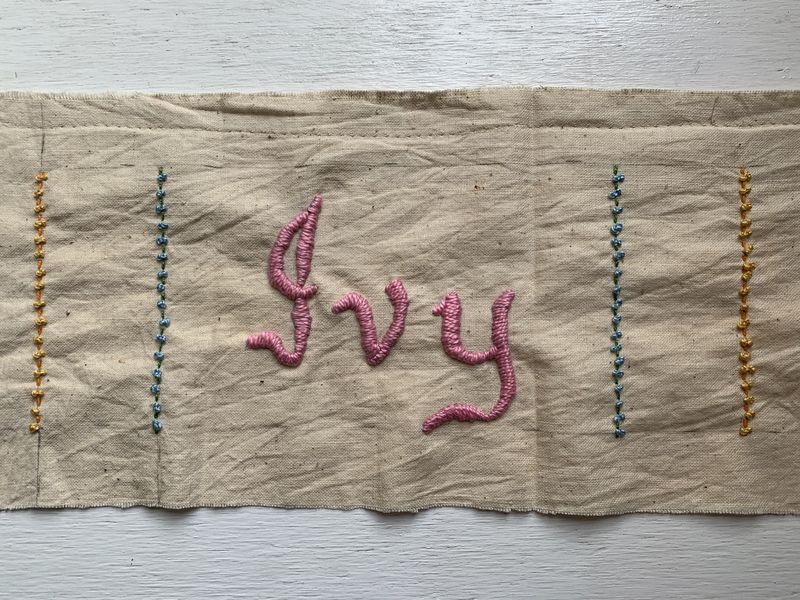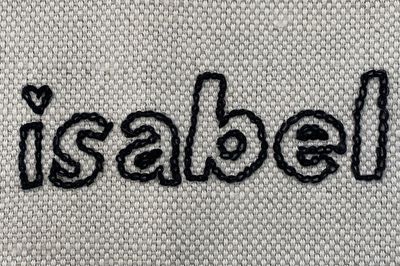 Isabel
+ Info
I have embroidered this patch in memory of my mother Isabel Haggitt. She was a very intelligent, creative woman. The obstacles she overcame in her early adult life taught me that with enough will you can do anything. She taught me to sew and believed in me being an artist.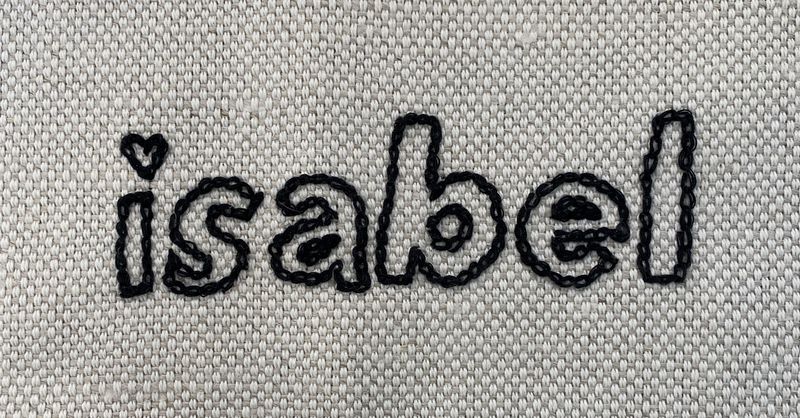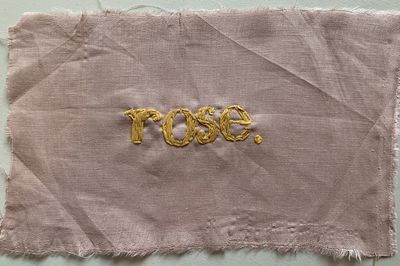 Rose
+ Info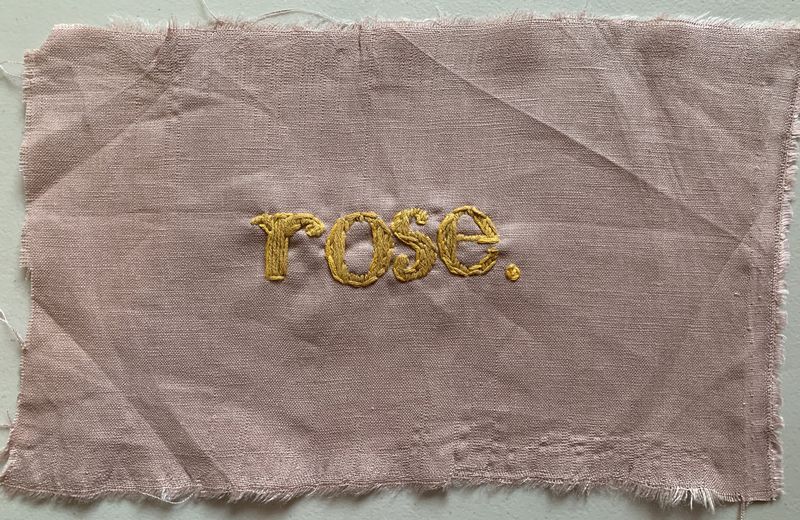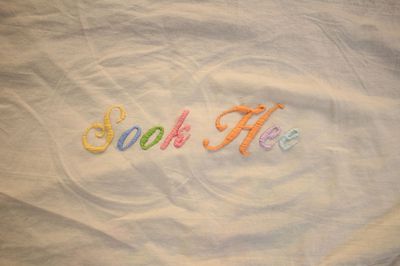 Sook Hee
+ Info
Sook Hee is my mum's name. She was an amazing dressmaker and owned her own wedding dress shop for over 15 years. At work I'd often find her out the back, glasses below the bridge of her nose, delicately beading the busts of heavy white dresses. When I was about eight, she bought a cross-stitch kit that had lots of colourful designs of bears in various scenes. We sat on her bed and she taught me how to do it. I kept the thread from this kit and used some of it for this embroidery. A needle and thread will always remind me of mum.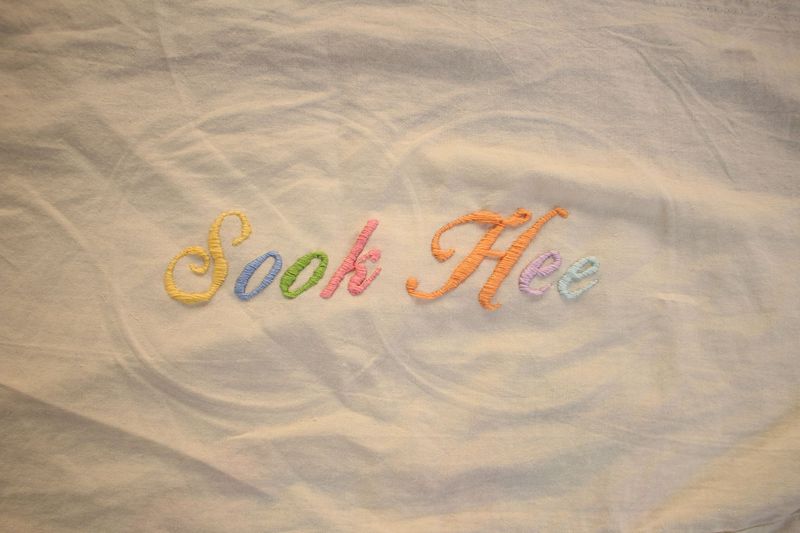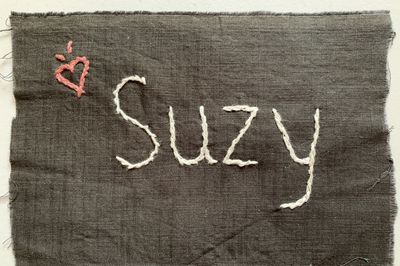 Suzy
+ Info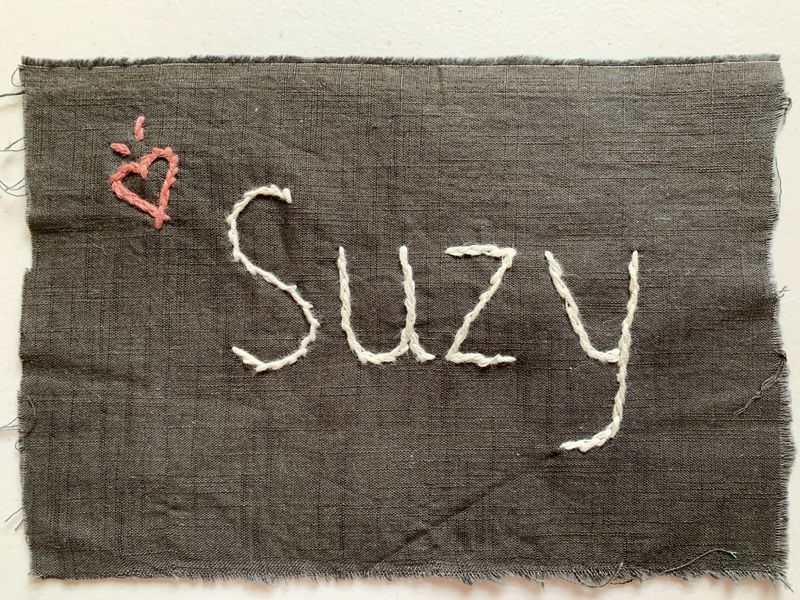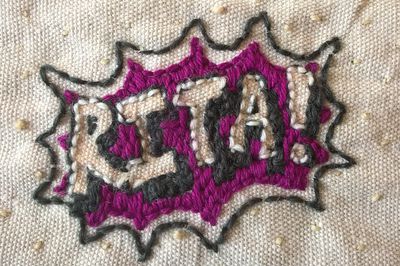 Rita
+ Info
This is for my grandmother Rita May Eastgate. She had real KAPOW!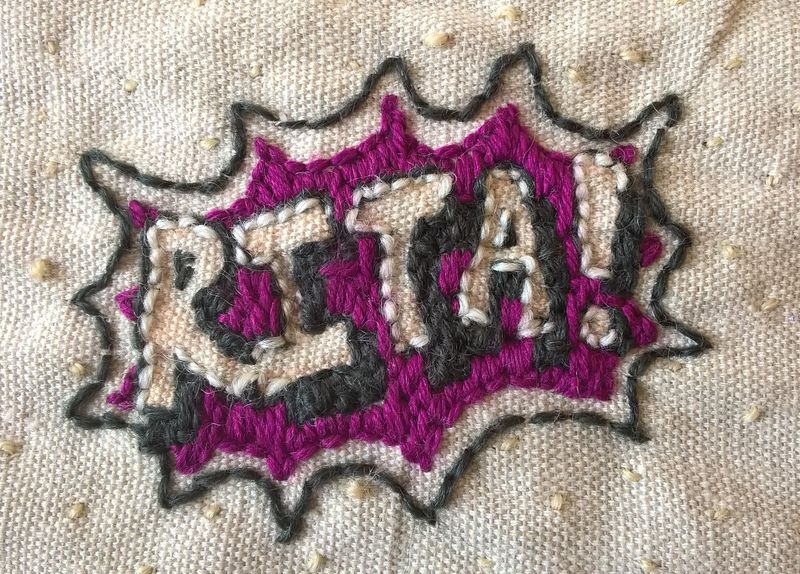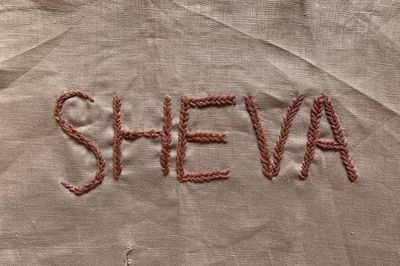 Sheva
+ Info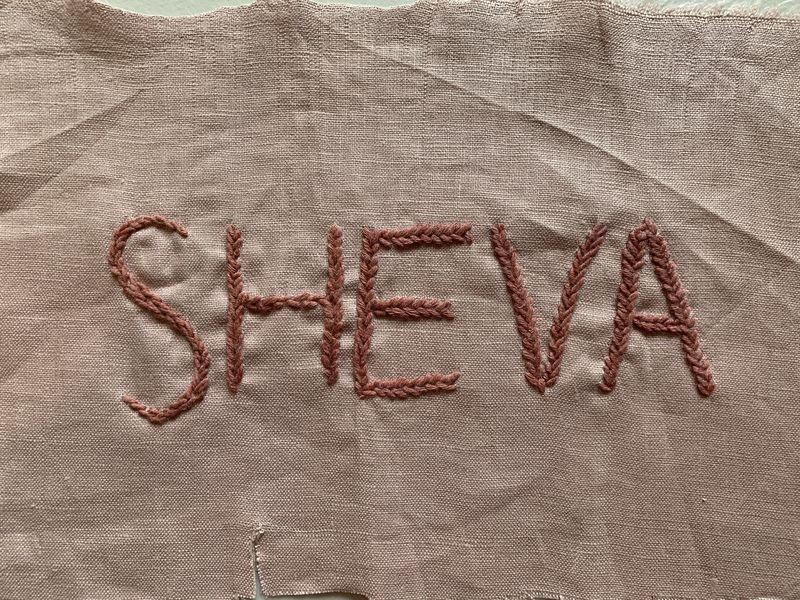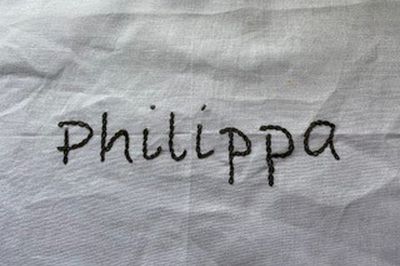 Philippa
+ Info
Philippa is my mother and she has and continues to inspire me with her creativity.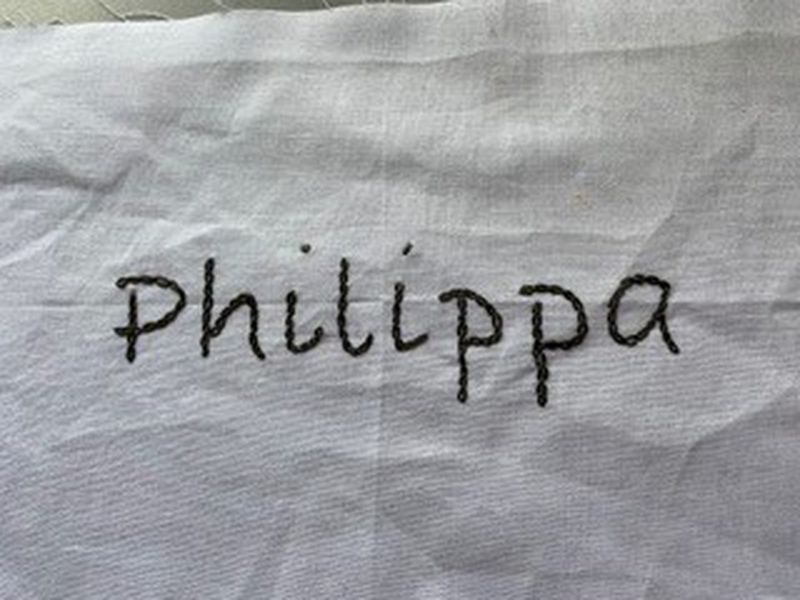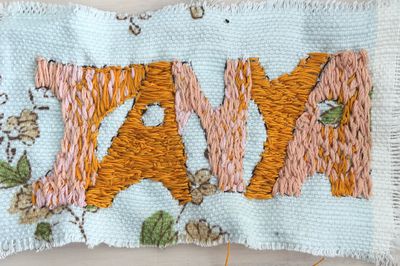 Tanya
+ Info
My tangata Rongonui is Tanya Filia. Tanya's whakapapa on her fathers side is Ngai Tahu and on her mothers Ngā Puhi (Ngati Hau + Ngati Kaharau). She grew up in Manurewa, and later went to Auckland Teachers College. Her whanau on her mother's side are from Waima and Ōmanaia in the Hokianga. The whole family now live back in the Hokianga. Following the passing of her grandfather Tanya took on the role of uplifting her marae, Ōmanaia Marae, to honour him. She became a marae trustee, and has been the driver behind endless fundraising leading to long overdue building projects (a work in progress). Through all this she has had to cope with major illness that would cripple the resolve of a normal person. She is my friend, and one of the strongest and most positive people that I know. It is a privilege to have her in my life.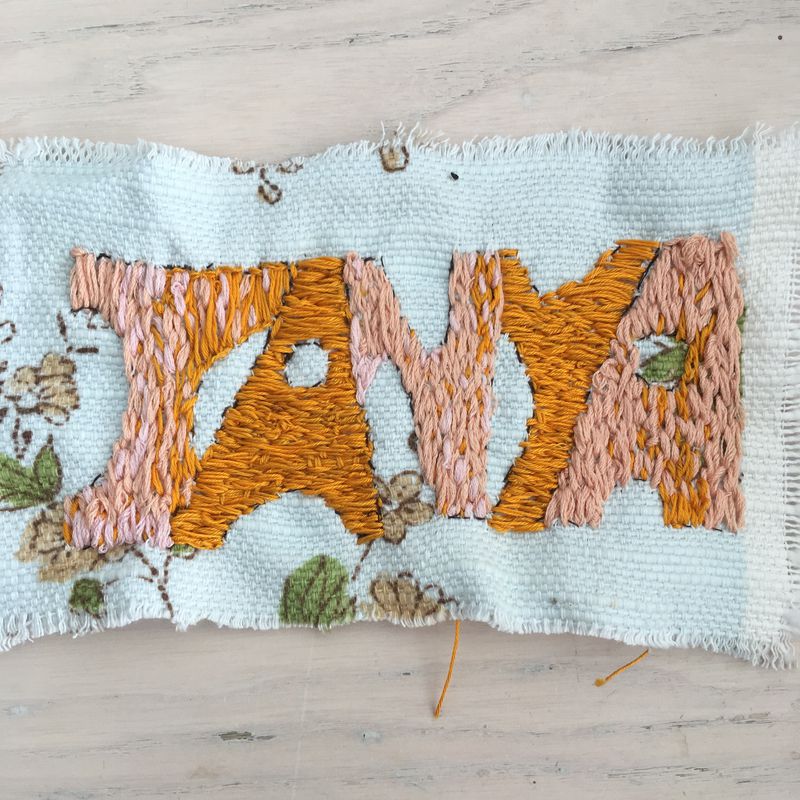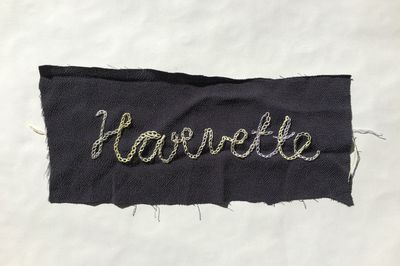 Harvette
+ Info
Dr. Harvette Grey is retired to Carbondale, Illinois from Chicago where she was most recently the director of the DuPaul University Cultural Center and formally the president of the Chicago chapter of the Association of Black Psychologists. I am so blessed to call her a friend, she is without doubt the most admirable person I know, she is an incredibly caring and inclusive person and the work she has done in her career as a social psychologist has benefited so many people.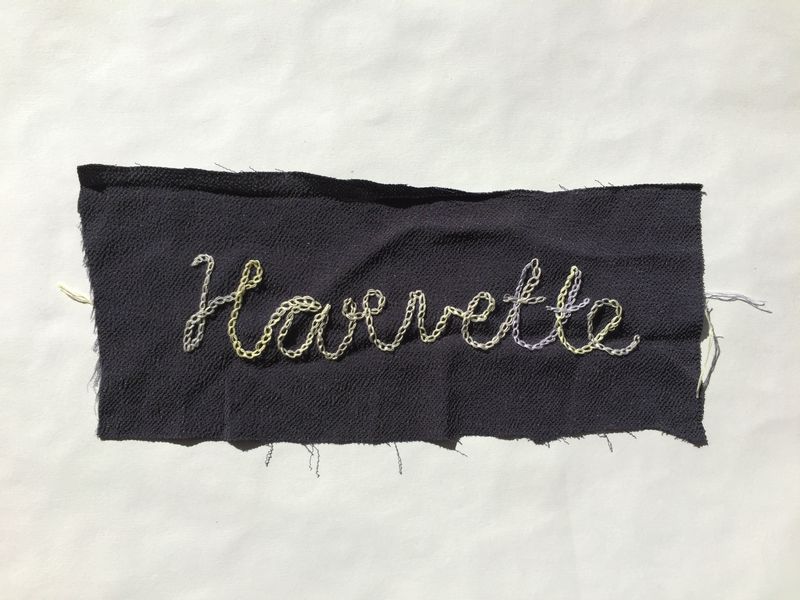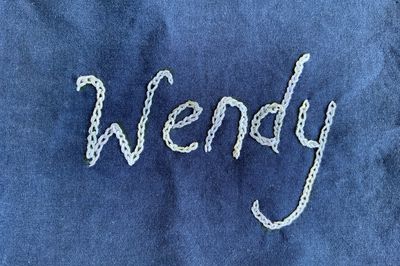 Wendy
+ Info
The name I've embroidered is Wendy. She was a Matron in Accident and Emergency at The Royal London Hospital where I trained as a registered nurse in the late 1980's. Wendy was a great nurse and fabulous teacher and a wonderful role model. She was also very calm, brave and compassionate and was honoured for her front line role during the Moorgate tube disaster. Although she died a few years ago I have been reminded of her courage while reading other stories of service to the public during the current covid crisis.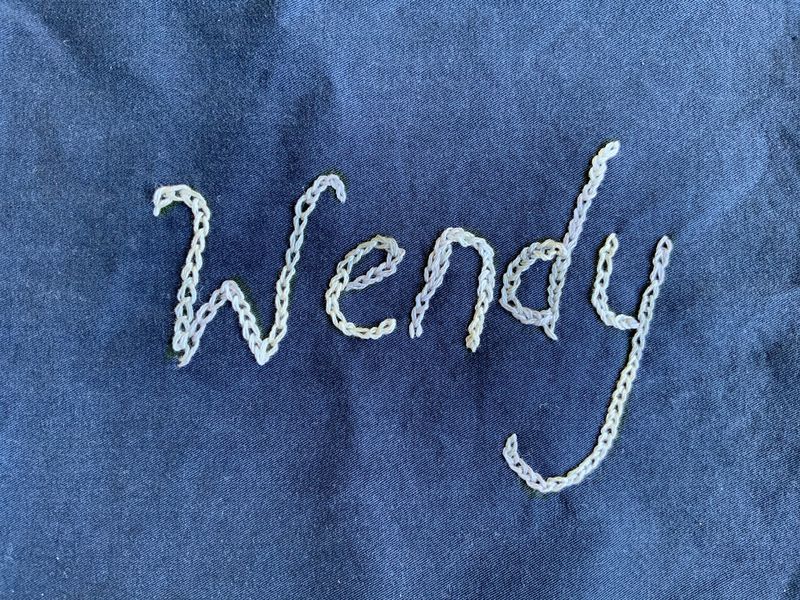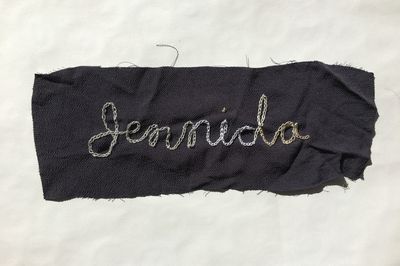 Jennida
+ Info
Jennida Chase is media studies professor at University of North Carolina, Greensboro, USA. She and her husband, Hassan Pitts, form the collective S/N. Foremost, she is my friend. She was a professor at Southern Illinois University when I was there doing my MFA in glass sculpture, her friendship and ferocious advocacy for artists got me through many a difficult time, and I'm sure for many others. She is an artist, a friend, a partner, and an amazing mother.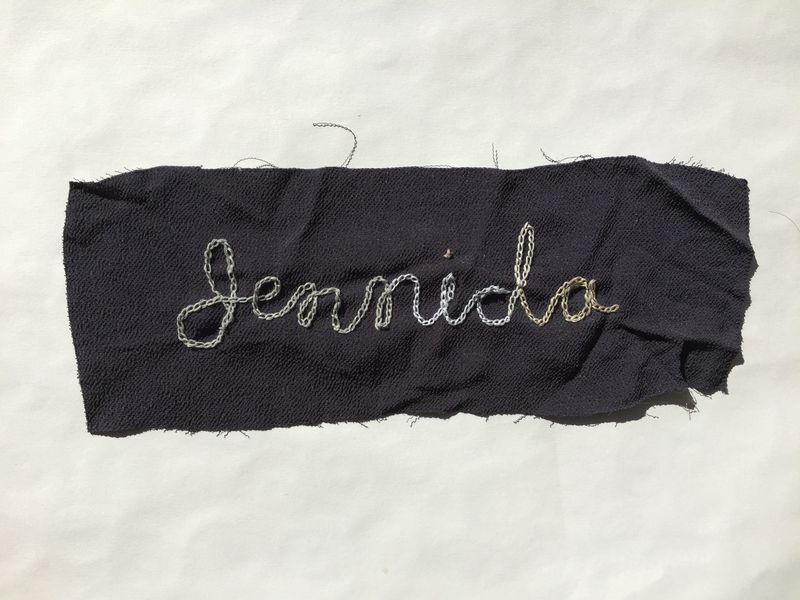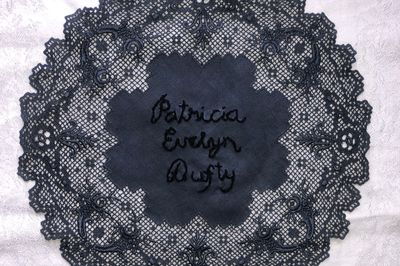 Patricia Evelyn Dufty
+ Info
Patricia Evelyn Dufty was my grandmother who taught me to sew and craft as a very young boy, this was a profound act of acceptance in the 1970s. I wanted to learn and she taught me regardless of what anyone else thought. This is a hand dyed doily that was hers, sewn onto one of her fancy napkins. She's been constantly in my heart lately as I've enjoyed practicing the skills she gave me all those years ago.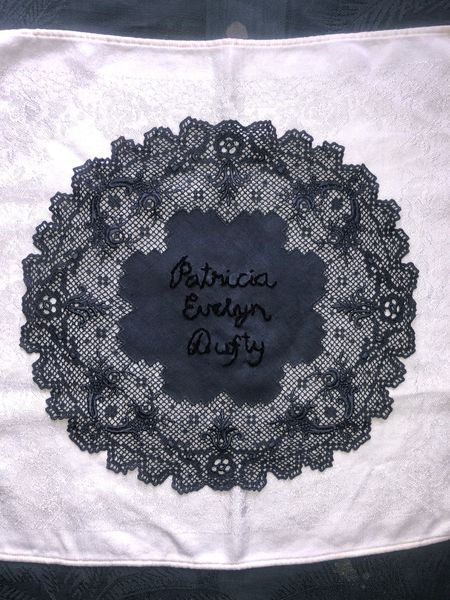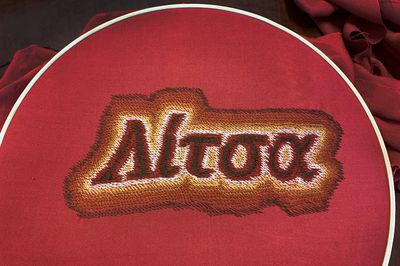 Litsa
+ Info
Litsa is my mum's name. I have chosen to write it with the traditional Greek font. Mum taught me how to sew my own clothes and embroider, though I never mastered the latter. Mum was a powerhouse growing up, cooking, cleaning, making all our clothes, and being the primary bread winner too. She was also there for me as I studied in late hours through the night. Her journey was always a labour of love for her family.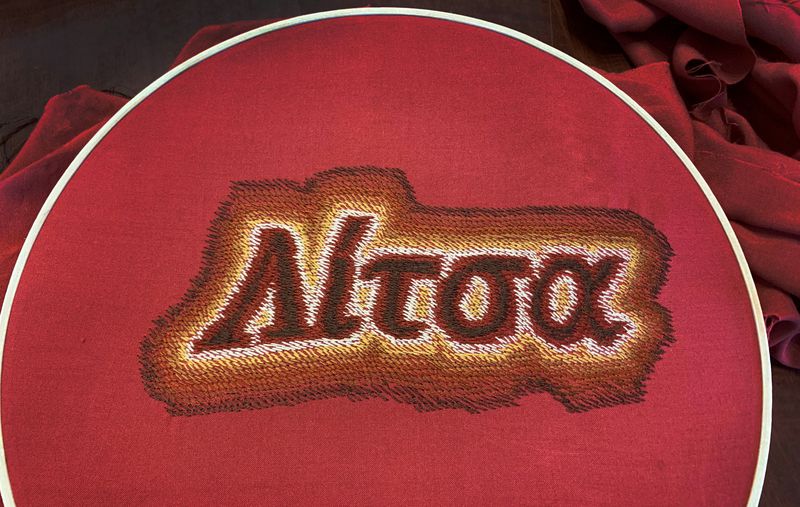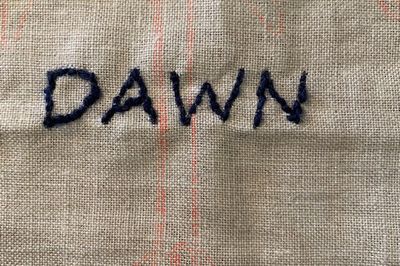 Dawn
+ Info
For my mother Dawn whose inner light shone bright as a daughter,sister,wife, mother, grandmother , great grandmother , friend and citizen of Aotearoa. Her name lives on with her granddaughter, Etiennette Dawn and great granddaughter Stella Dawn.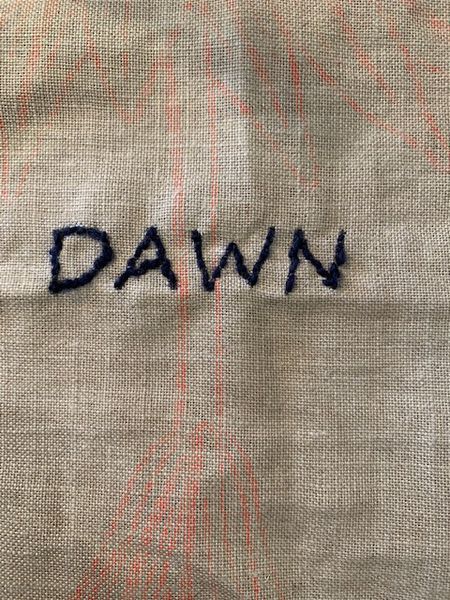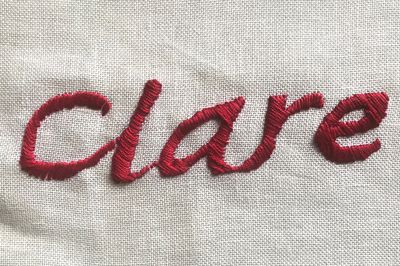 Clare
+ Info
Clare Grant is a fierce, Sydney-based performance artist, and mentor/teacher to many.
She has been a role model for me for over 30 years. I'm honoured to count her as a dear friend.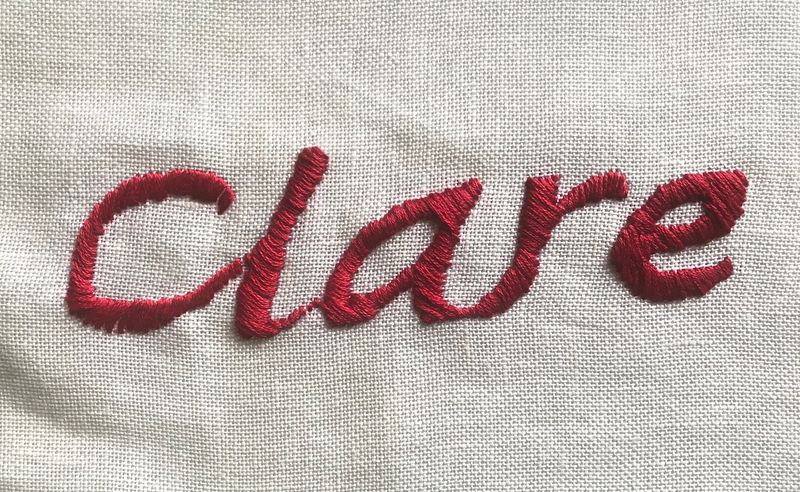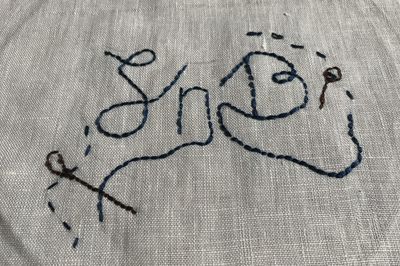 S n B
+ Info
I am honouring my five fellow inspirational members of my S n B group
(Stitch n Bitch) who for more than 30 years have supported and loved each other from childbirth, to menopause to grandkids; from making 14 collaborative 21st birthday quilts for all our children, to making surprise crafty interventions for each of our 50th and then (some still upcoming) 60th birthdays. Merry making, mirth, mockery and magically mad memories have all been treasured as a result.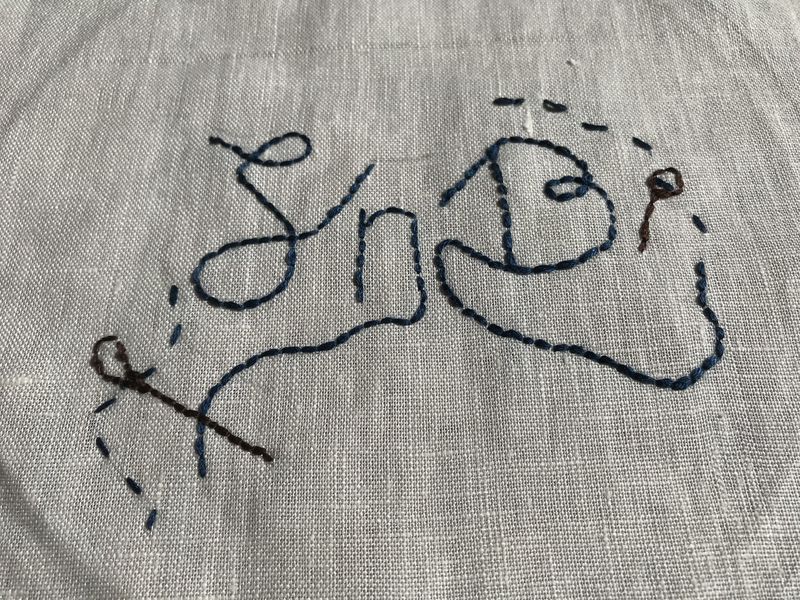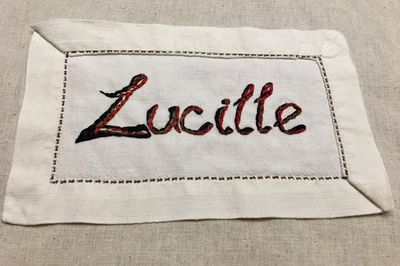 Lucille
+ Info
TV arrived in our house the year I was born, and growing up, my sister and I never missed the I Love Lucy show.
Lucille Ball was the star and her husband was there purely to act as her sidekick. In those days there weren't many TV shows where a woman played the title role. She was our flame haired hero. I've since learned that she said 'I'm not funny, what I am is brave.'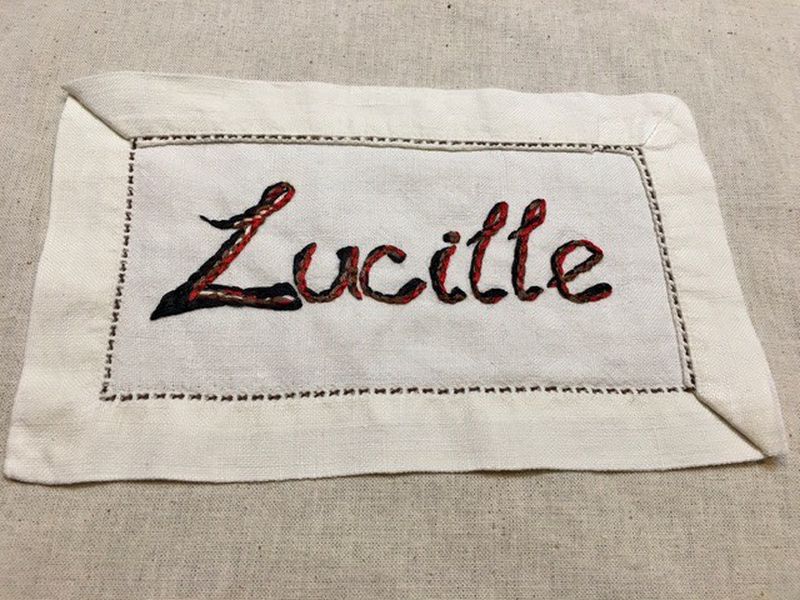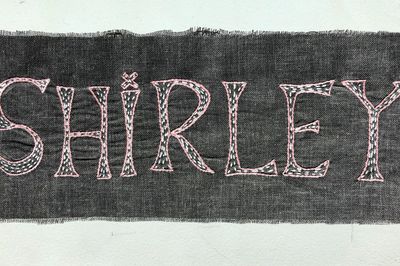 Shirley
+ Info
Shirley was my mother's name. She definitely never thought of herself as an artist, but she taught me to embroider, sew, and decorate cakes when I was a child. And all of these domestic crafts have had an impact on my subsequent art practice.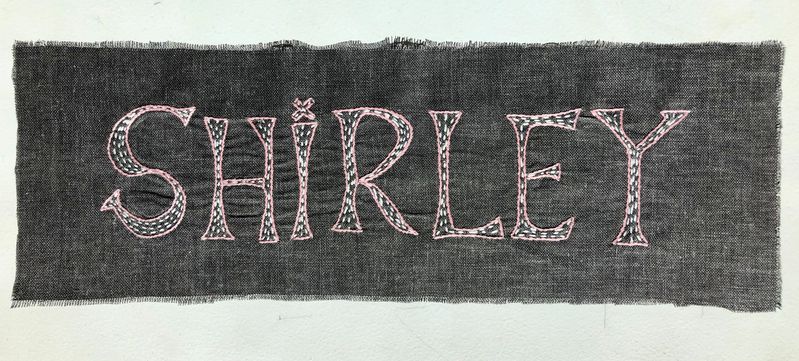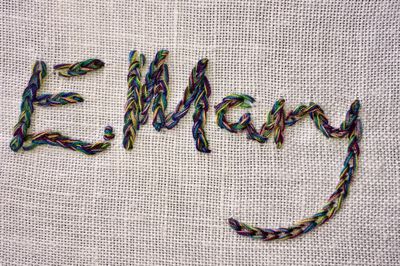 E. Mary
+ Info
There were at least 3 Mary Jerrams in our family so my mother referred to herself as E. Mary - the E from her official first name, Evelyn. She didn't particularly enjoy sewing or knitting herself, but nonetheless took the time to teach me basic skills, igniting my life long love of textiles. This is how I remember her signature - I've stitched it in threads I found in her sewing table which I now have beside my bed. Some of them probably date back to the 1950s.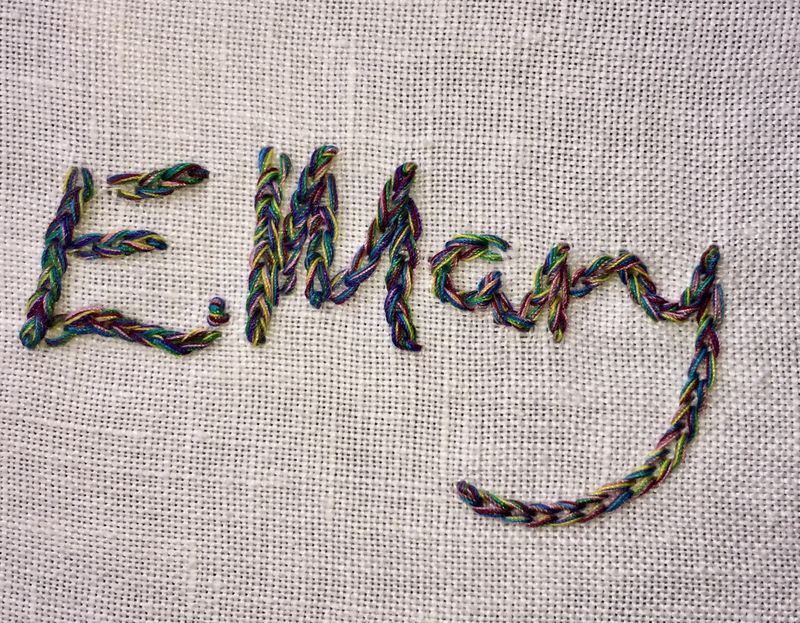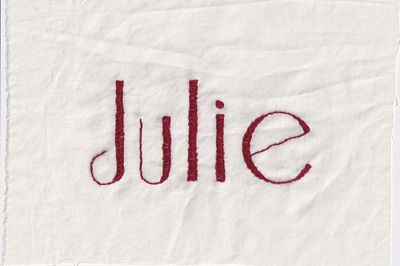 Julie
+ Info
Julie is my mother: a woman who loves and cares deeply, who has an insatiable appetite for learning and the tendency to stay up all night reading. In this uncertain world, when I have no idea when I will be able to fly home to see her, every phone call has become precious. I miss her every day.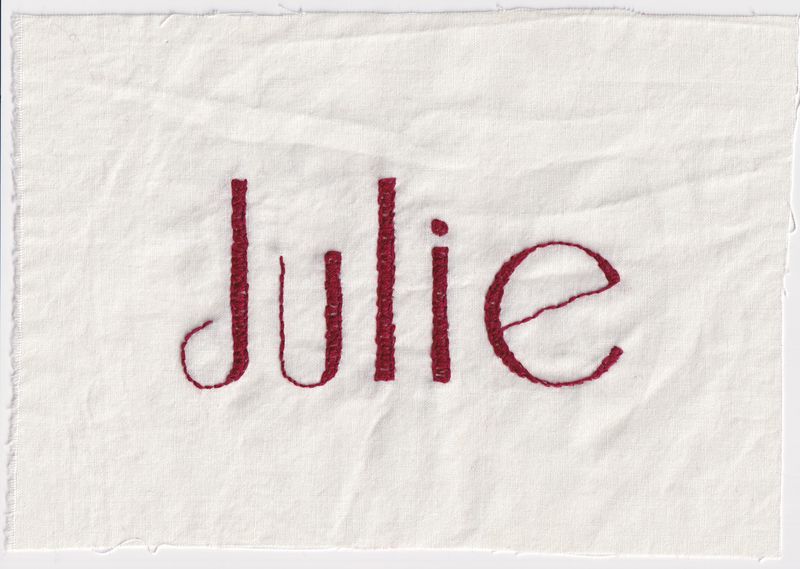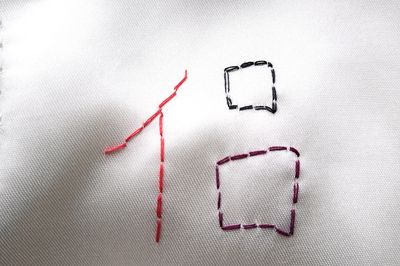 侣
+ Info
I have decided to pick out a part of our 3 Chinese names and made it into a new mandarin character. Our names are 贞(grandma), 燕(mum) and 蓉(me) The word I have chosen is 侣 ; The character means companion. The colours used are each of our favourite colour. Though I do not have both of their companionship right now, but the creation of this work makes me feel closer to them.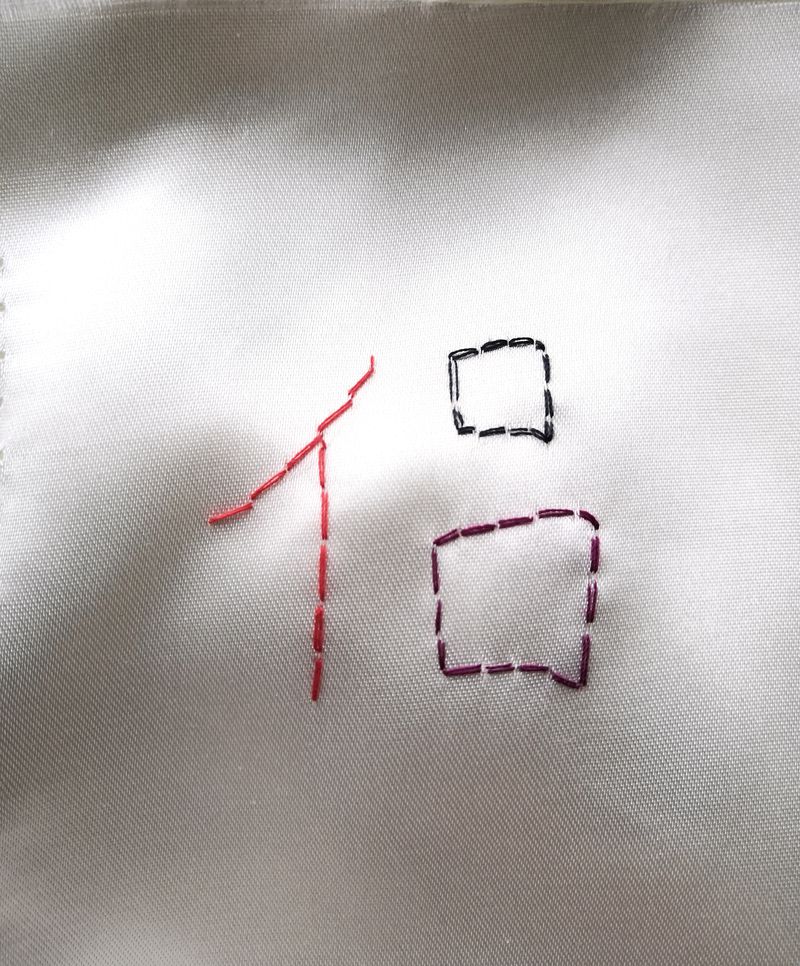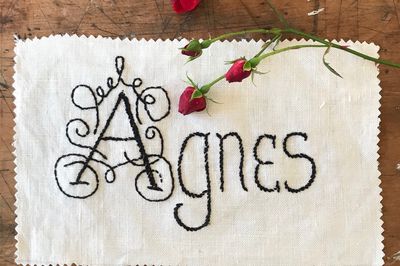 Agnes
+ Info
A Hungarian woman named Agnes is the person I've chosen to honour for the Nell + Anne quilt project. Agnes showed me extraordinary kindness one night 30 years ago. I never saw her again but I've never forgotten her.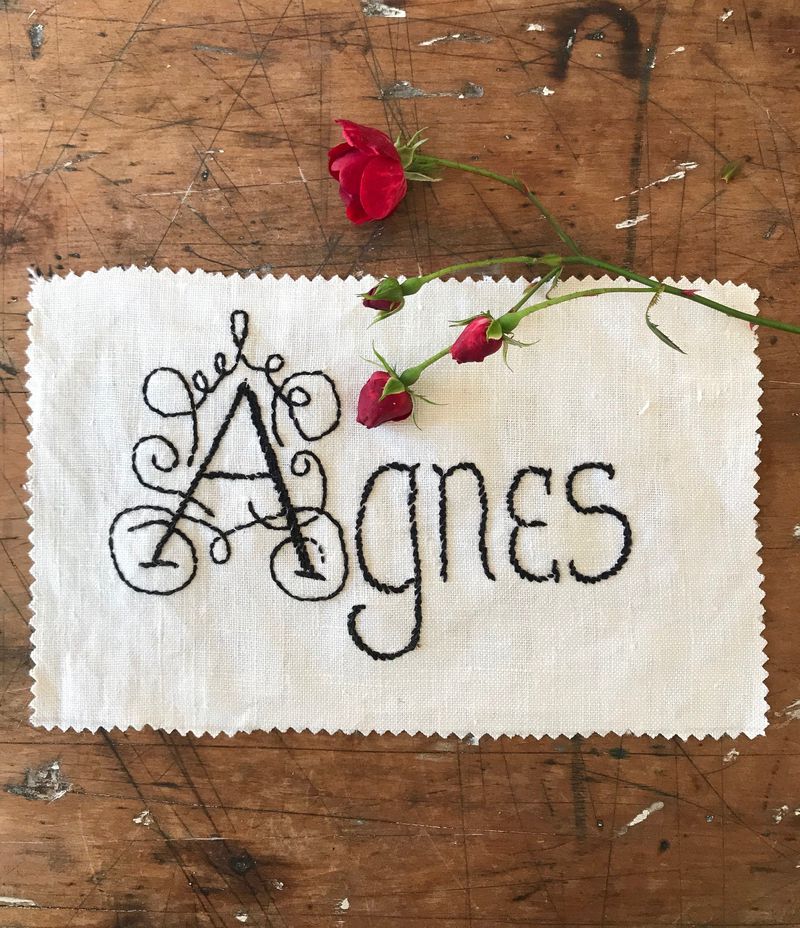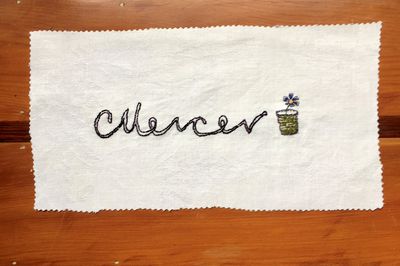 Mercer
+ Info
Here's my contribution to the Nell Anne Quilt project. This is my grandmother's signature - she was christened Margaret Mercer but always known as Mercer (though she was not fond of her name). She was a delightful grandmother and very creative in her own way. Amongst other things she made at one stage were a series of empty waxed cardboard honey pots to which she stitched old fashioned hairy green baling twine - as children we laughed but I treasure the (somewhat faded) last remaining grandma's green string pot.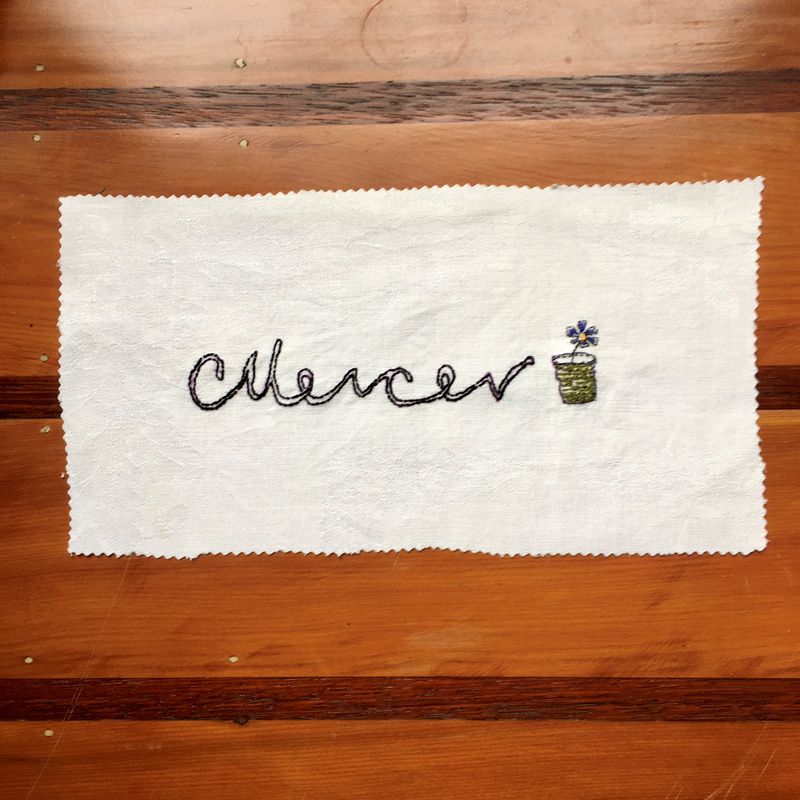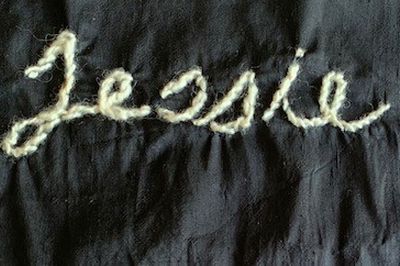 Jessie
+ Info
Jessie is my grandmother. From a family of crafty women, she was a member of Titirangi Spinners & Weavers for many years, grazed the sheep, dyed the wool, and spun and wove. So I used wool as my embroidery thread and attempted a back stitch.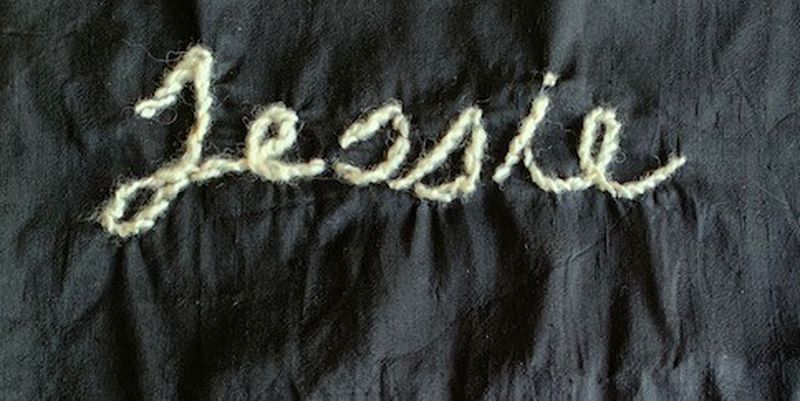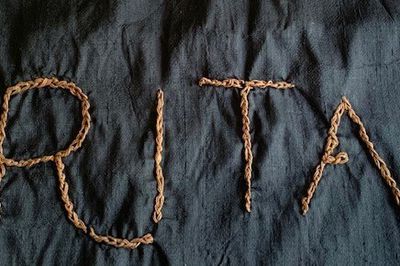 Rita
+ Info
Rita is Rita Angus. Inspired by her uncompromising dedication to life as an artist, I have a photo image of her (by Marti Freidlander) by my front door which I connect with whenever I feel I need more backbone in my life. I used linen thread and attempted a chain stitching of her signature on a painting I am lucky enough to own.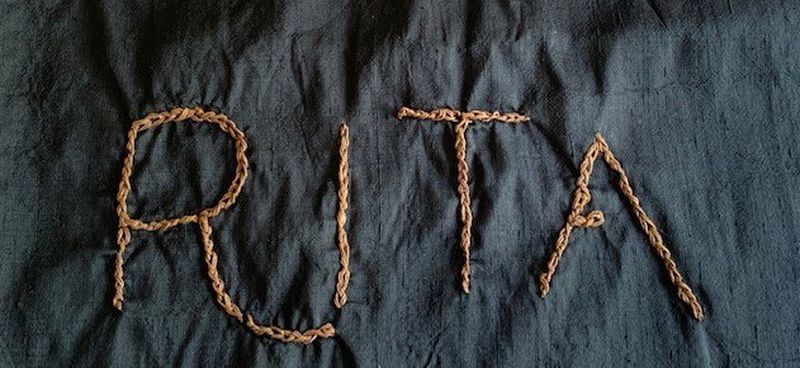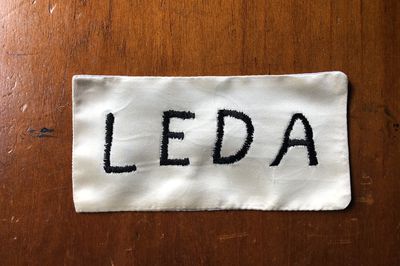 Leda
+ Info
For the past year I have been working with the ancient Greek myth of Leda and the Swan. The myth tells the story of forbidden desire and force, and for centuries artists have framed it as an erotic scene. I have been struggling with this art history, trying to shrug off the lame old patriarchal stand in which paranoid hypocrisy is valorised as sexy paradox. The damage has been done. In my work, making art, I want to create a sensuality for the girl that is both strong-willed and resistant. That is why I write the name Leda here.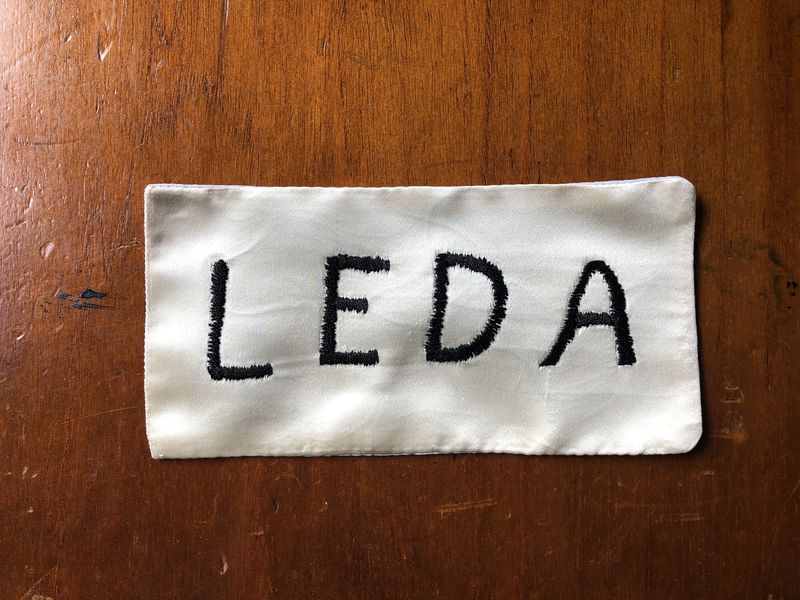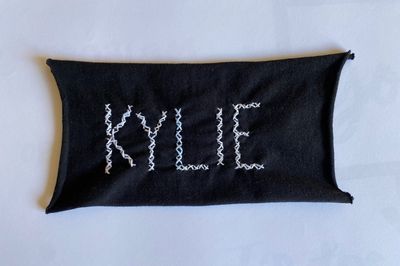 Kylie
+ Info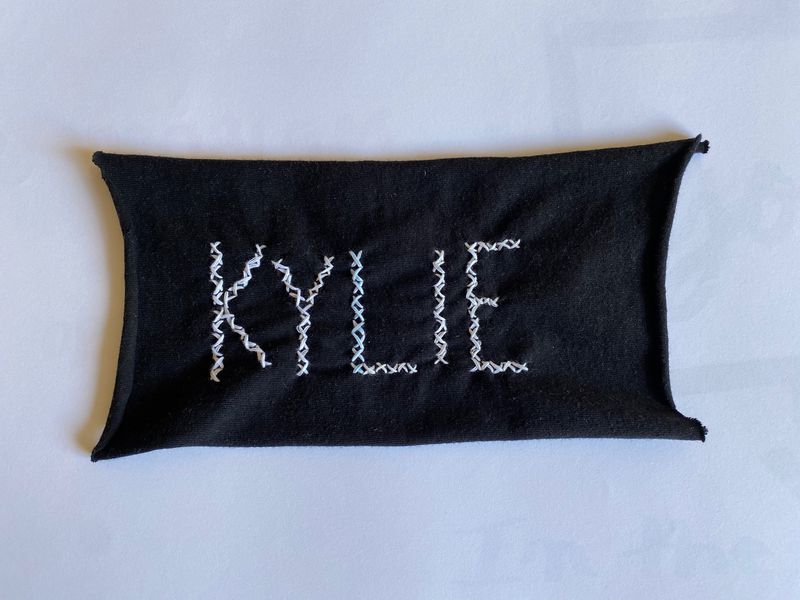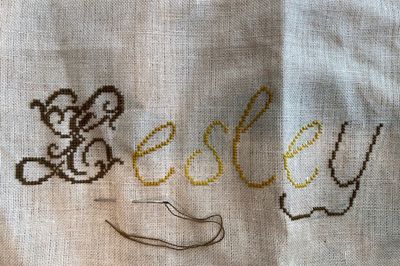 Lesley
+ Info
Lesley is my Mum, who passed away suddenly nearly 8 years ago now. She was a nurse and homemaker. She made all our clothes growing up, ( including our ski suits, when we went to the snow), and later knitting beautiful layettes and smocked garments for her grandchildren. I owe my love of craft to her, for she truly coined the term 'Happiness is Homemade'.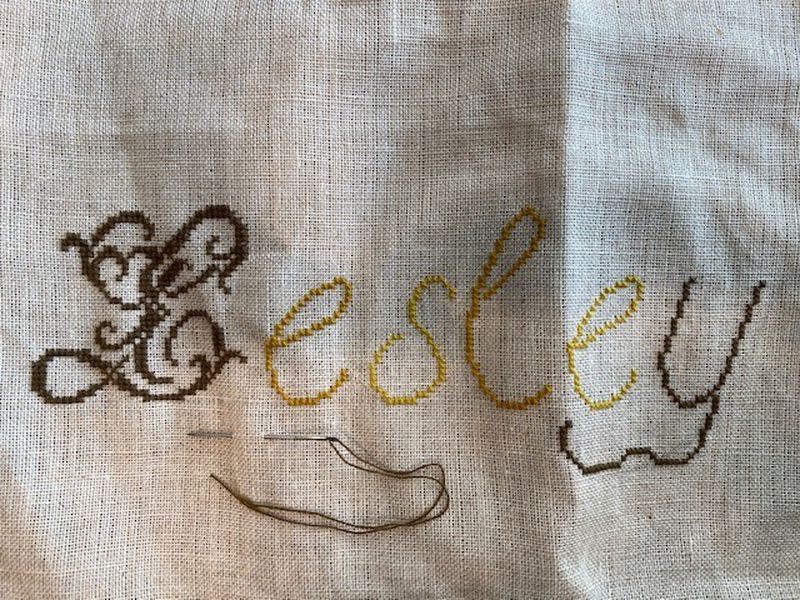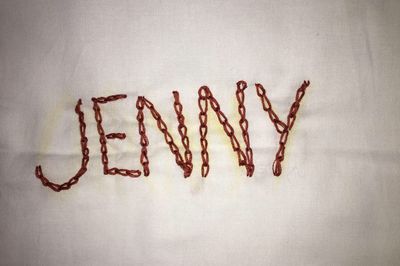 Jenny
+ Info
My nana on my mums' side. Me and my nana design and sell knitted tops together.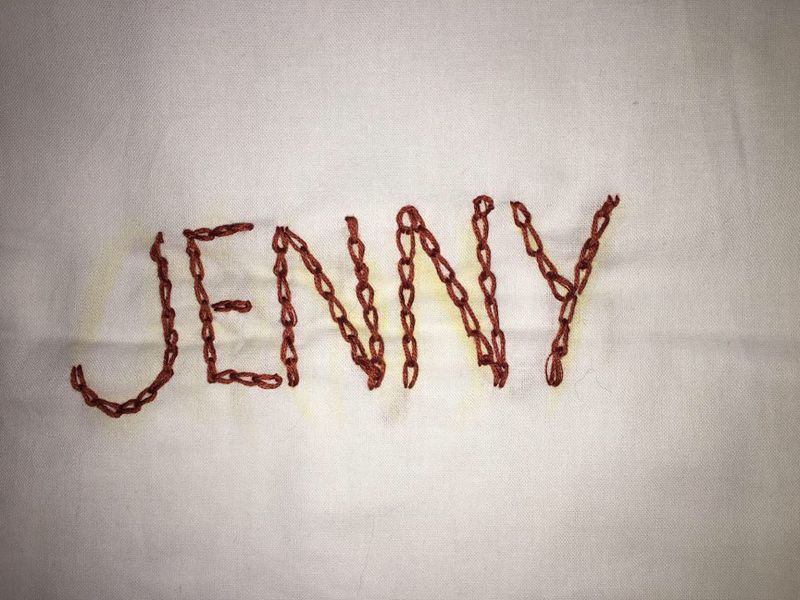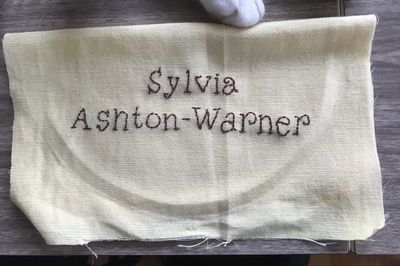 Sylvia Ashton - Warner
+ Info
I chose Sylvia Ashton-Warner because I had just finished re-reading her book Teacher. I'm a new teacher this year and her determination to teach her Māori students in ways that were meaningful to them is an inspiration (no Janet and John readers in her classes!). It's amazing how prescient and culturally responsive she was in Aotearoa in the 1960s. I also chose a yellow background and brown stitches to reflect the school uniform she tried so hard to institute, she had the girls knitting bright yellow jumpers!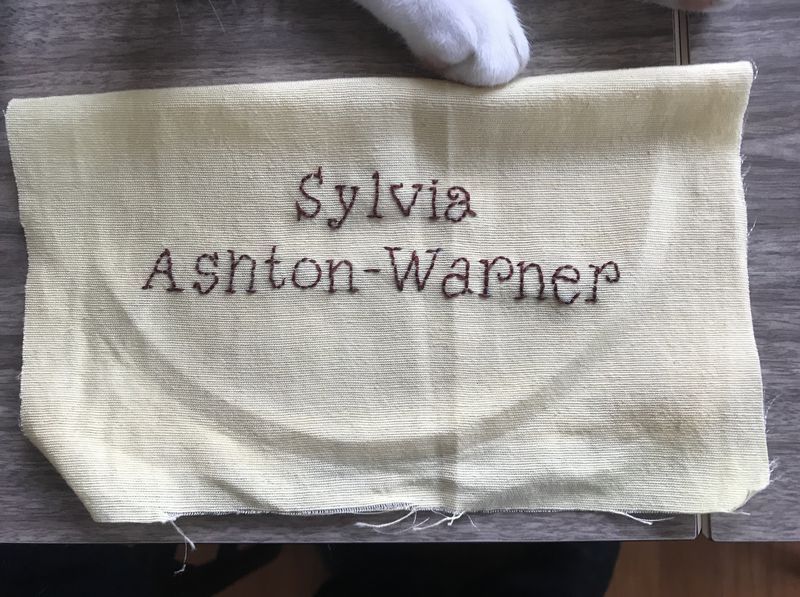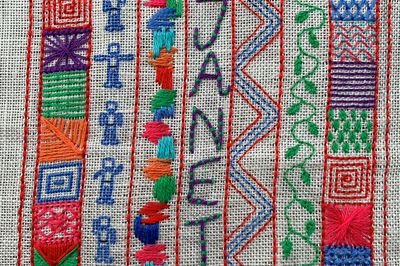 Janet
+ Info
This is for Janet Frame. To me, she is a regular source of inspiration, not only for her creativity and imagination and foresight and hilarity, but for the way she navigated a society that was not necessarily ready or willing to accept her skirting the boundaries of social conformity.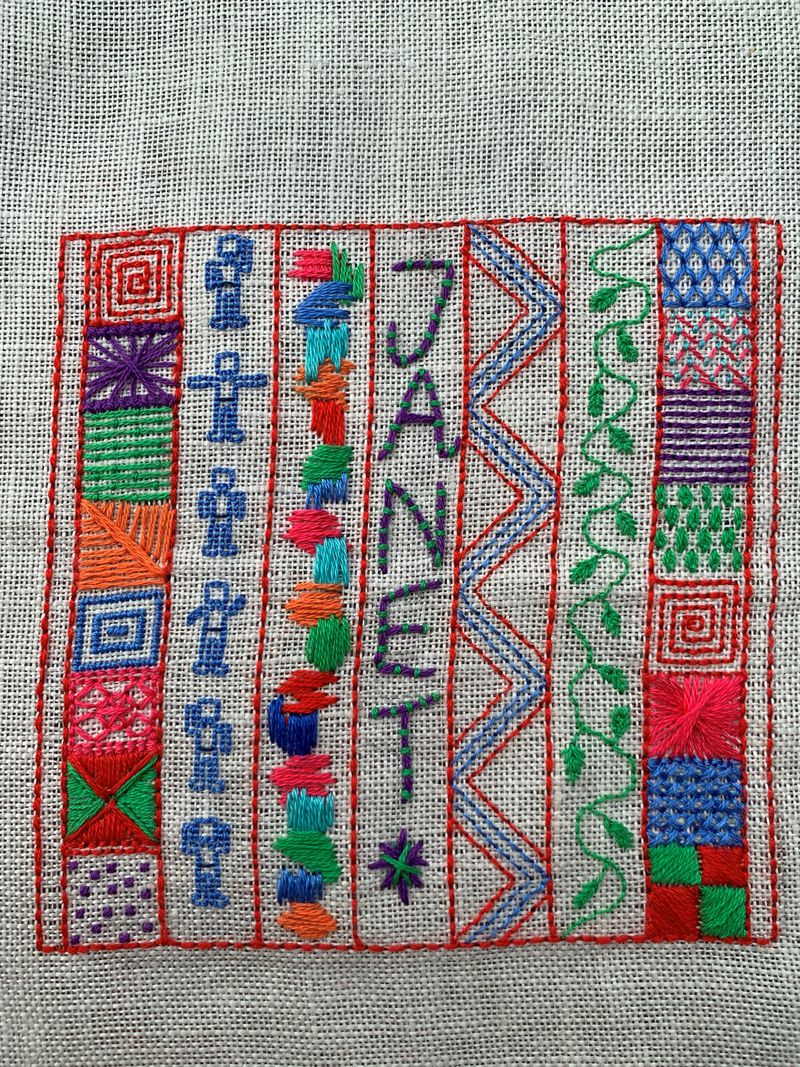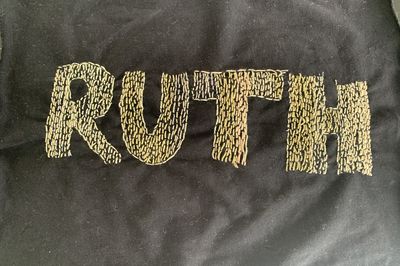 Ruth
+ Info
As I've stitched this patch, I've enjoyed remembering loved memories and admirable qualities of my Grandma Ruth. She was strong, kind, capable and independent. She was a rock in my childhood and a modern woman before her time. I carry her with me.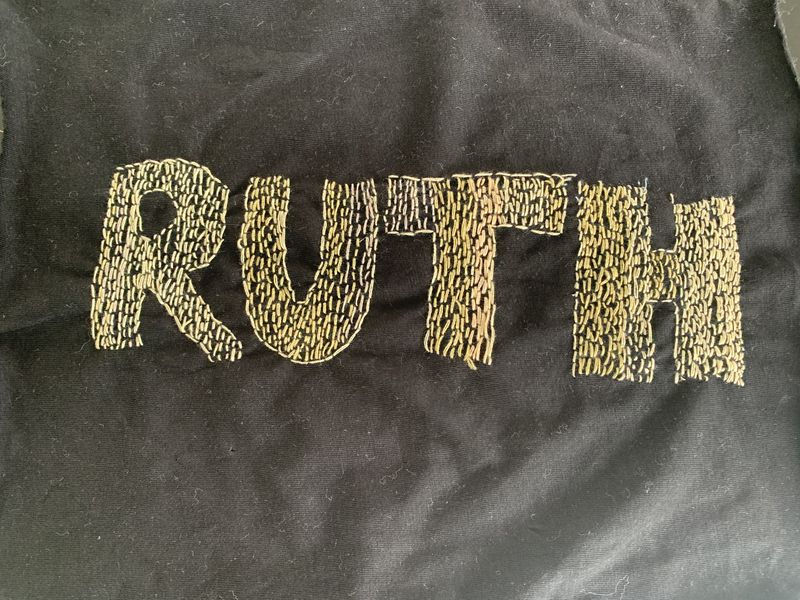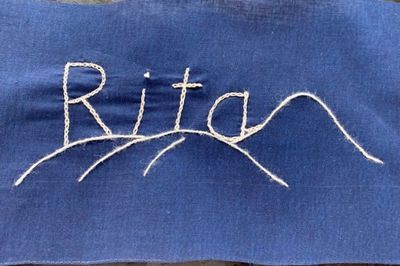 Rita
+ Info
Rita Angus was such a ground breaker in her time, both in her hard-edged modernist painting style and her personal life. I don't think she sold one work in her lifetime but that didn't stop her developing as an artist. By living the solo life, undistracted by the demands of husband and family, she was able to devote herself to her art.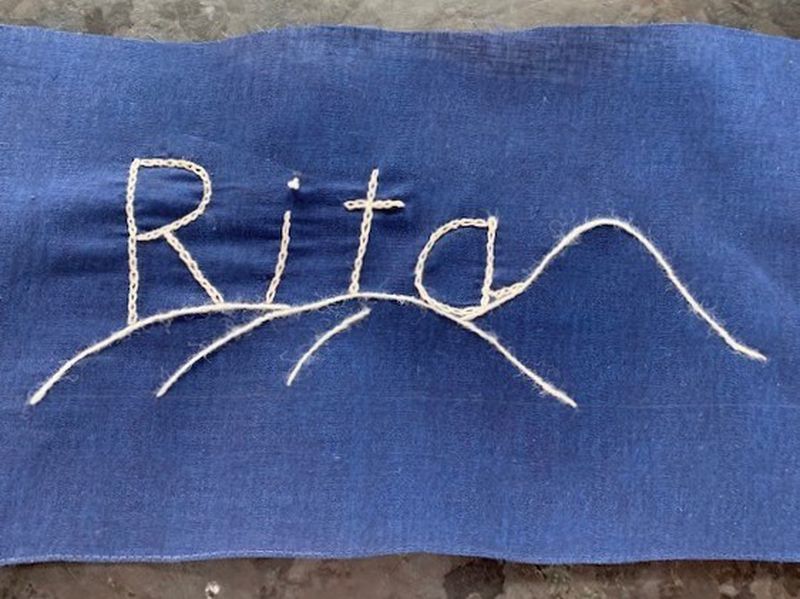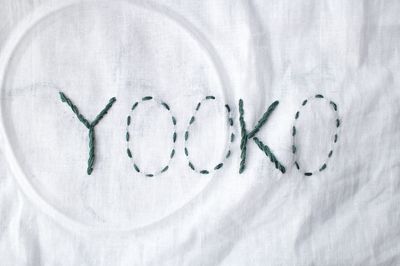 Yooko
+ Info
My mum lived in Japan as a high school student for a year during the 80s. Yooko is her Mother, and my Grandmother or 'Baba'. Some of my favourite memories are of times spent in Japan with Baba.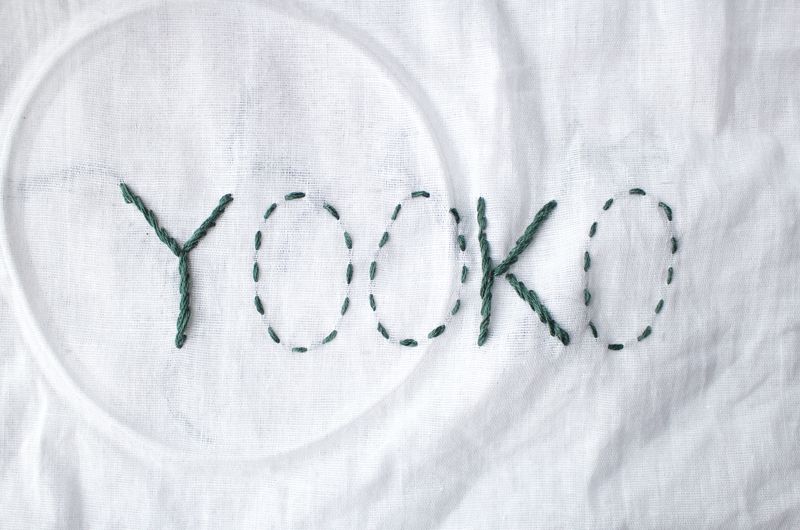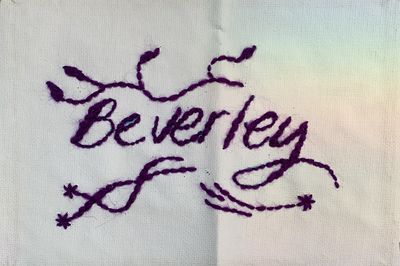 Beverley
+ Info
Beverley was my maternal grandmother. A domestic goddess, creative, stylish and charming with a cabinet of wonders from her world travels. She was also entrepreneurial and courageous in her work life. I still take cues from her example of a creative existence. She taught me many domestic tricks- sewing, baking and knitting and I still can't finish knitting a jumper but I think of her every time I have to undo a tangle. To be raised in the orbit of her love, so patient and pure makes my memories of childhood glow with her light.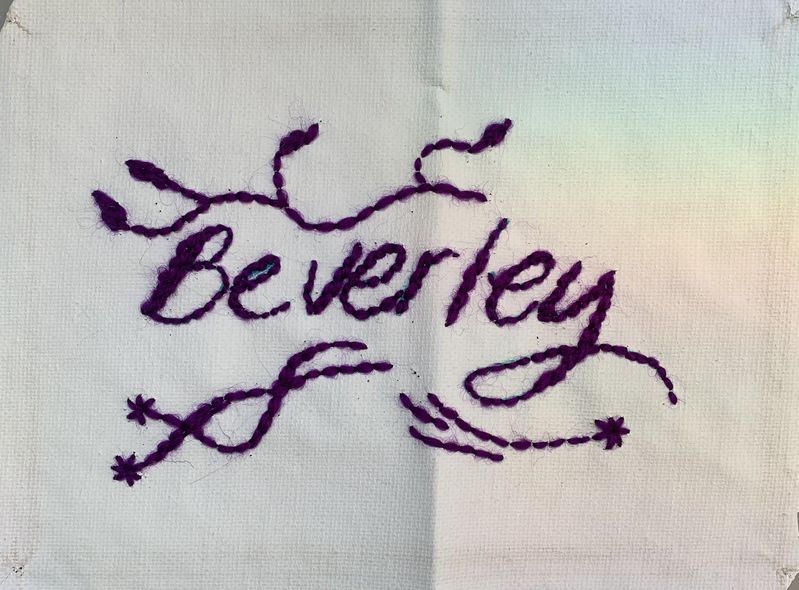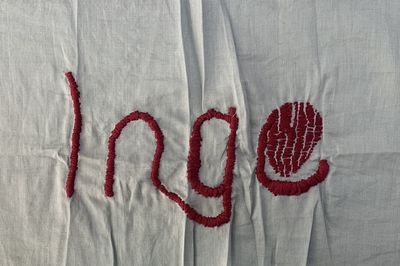 Inge
+ Info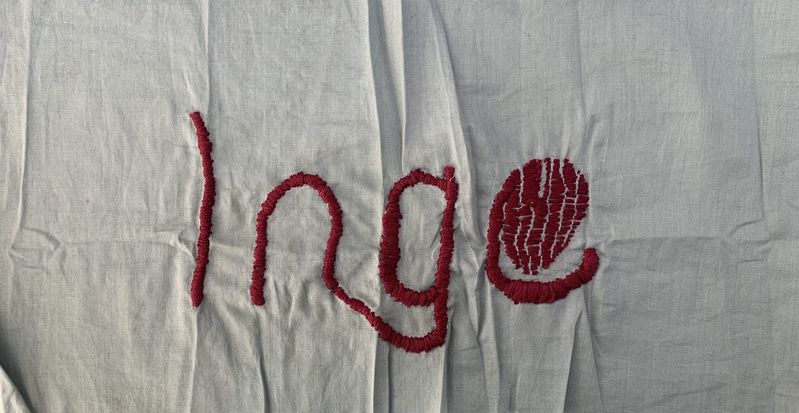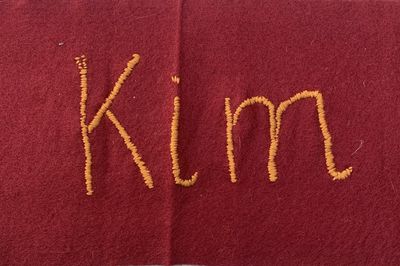 Kim
+ Info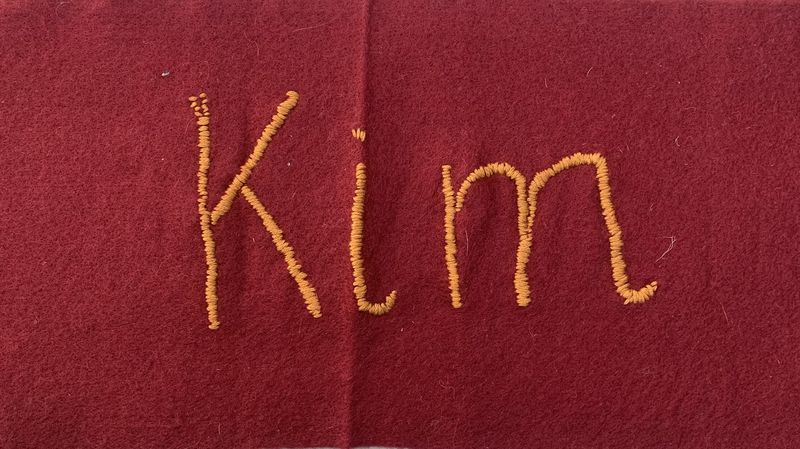 Participants
Thank you to everyone who has contributed to The NELL ANNE Quilt Project.