NELL ANNE Quilt Online Workshop
A COLLECTIVE QUILT MAKING PROJECT ENCOURAGING SOCIAL
COHESION AT A TIME OF SOCIAL DISTANCING.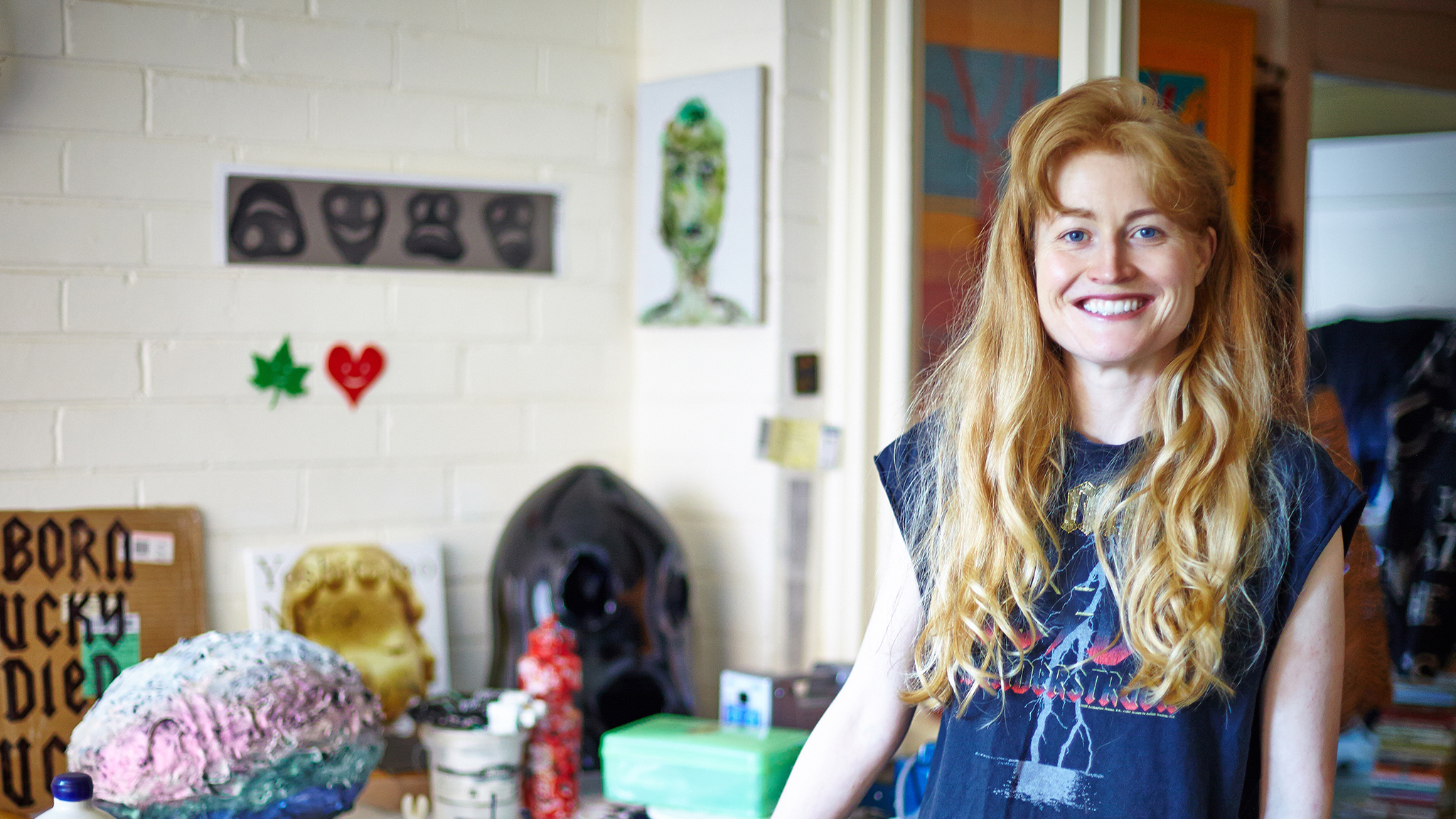 McCahon House intended to welcome Australian artist Nell for a one-month Residency at Parehuia during the month of April 2020 where she would host a series of open studios and workshops. Due to the current Covid-19 pandemic Nell's plans for travel and public workshops have been made impossible. In response, we have decided to take Nell's project online so those interested can participate from home.
Nell and McCahon House would like to invite you to participate in a quilt project. Everyone is welcome to participate - from first-time sewers to experienced needle workers, to contribute an embroidered piece of fabric to one of two 'crazy quilts'. Nell invites each of you to decorate a piece of fabric with the name of a woman who has had meaning in your life. These will be quilted together forming a patchwork of many women's names in homage to women's creativity and craft, work and labour. One will be decorated with the name ANNE, after Anne McCahon (nee Hamblett), and the other with the artist's name – NELL, acknowledging where the particularities of Anne & Nell's individual stories interchange with a collective female history.
This project intends to provide a reflective and peaceful activity to those who are staying home over the coming weeks. If you are interested in participating some easy to follow guidelines for the project can be downloaded here.
Tag your progress with #NELLANNEQUILT on social media.
The NELL ANNE Quilt Narrative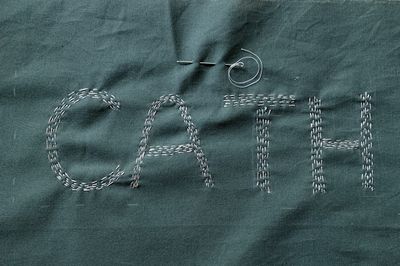 Cath
+ Info
Cath is my mum, she is the kindest women I know. The quiet matriarch of our family who has the extraordinary ability to listen without judgement and the capacity to make you see all sides to a story and situation. As an adult, I still hope that one day I will grow up to be just like her.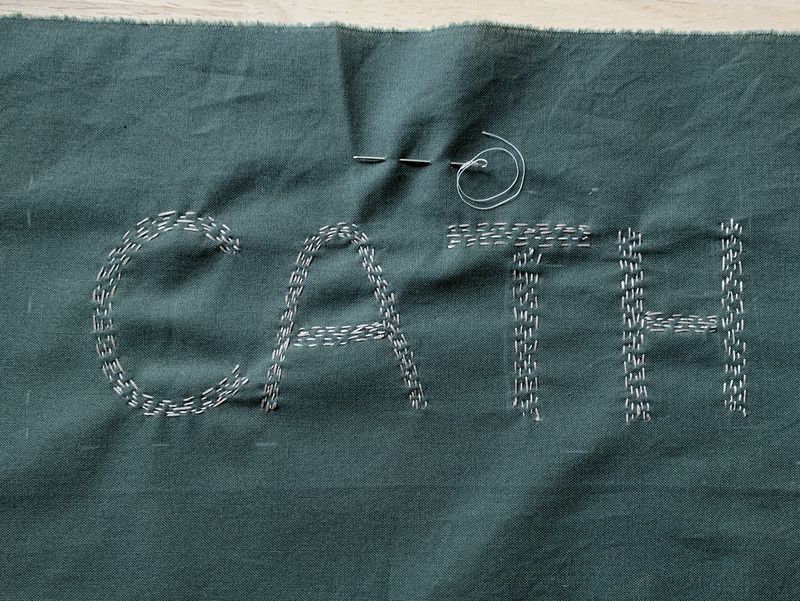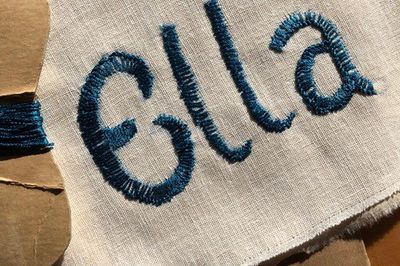 Ella
+ Info
My patch is to honour my maternal grandmother who was an artist- a state demonstrator for CWA for basketry and glove-making. Her name is Ella. I have used vintage silk thread passed down from her to embroider the name.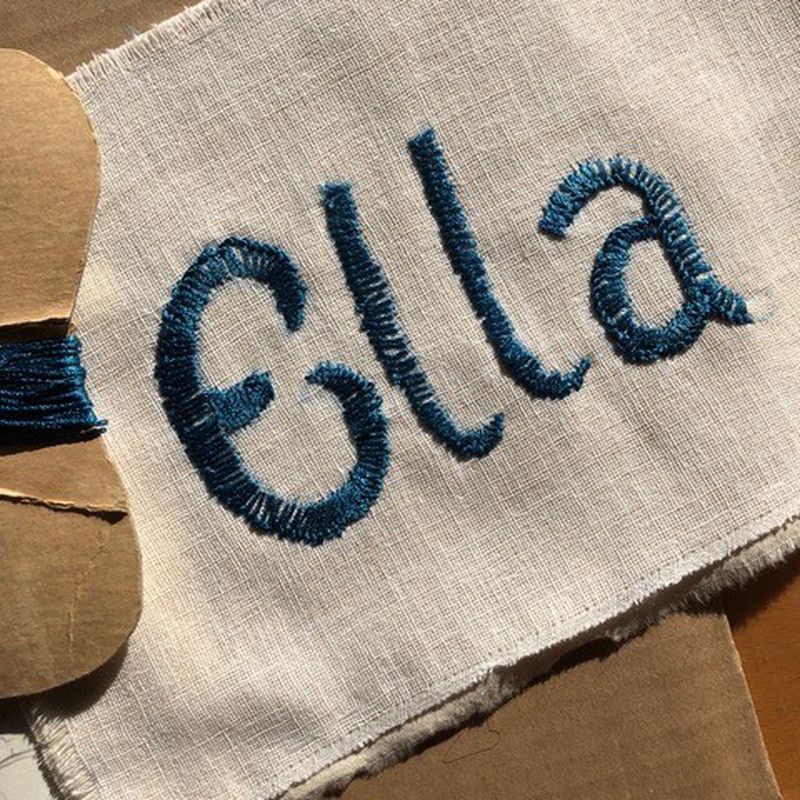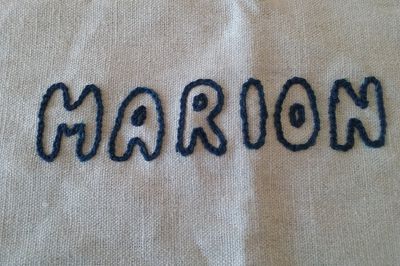 Marion
+ Info
Marion, now deceased, was always inquisitive, had great energy, with a passion for the arts, which was infectious. Bright and forward looking, she was interesting and joyful company.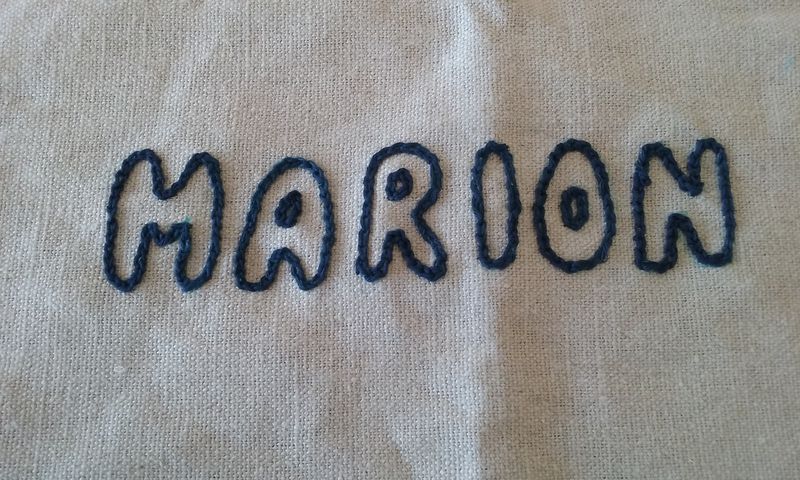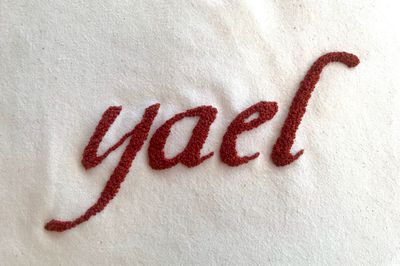 Yael
+ Info
My lovely architect friend Yael is endlessly creative – to step through her front door is to enter an inspiring environment from floor to ceiling. Drawings, prints, paintings, fabric pieces, small constructions, small & larger framed works - some of which is her work but most often work she has bought or swapped with artists, cover the walls, shelves and floor. Visiting her is better than any art book can possibly offer.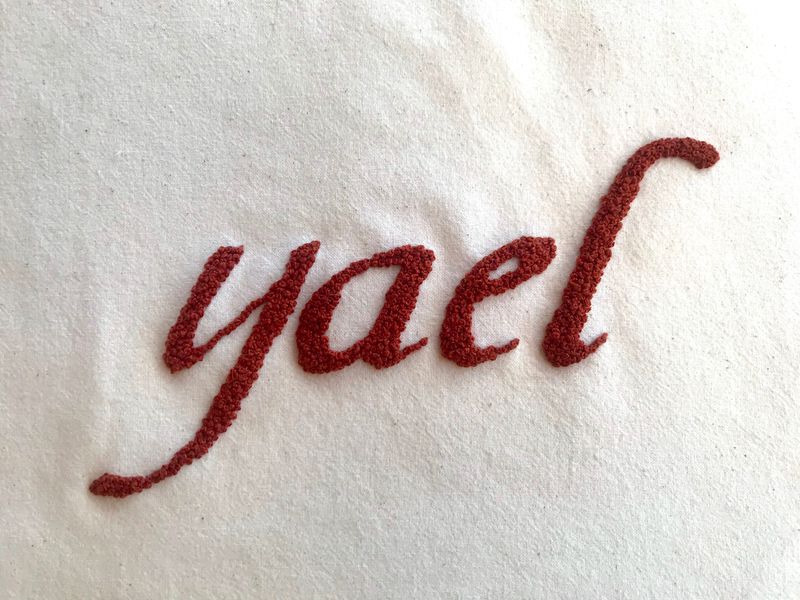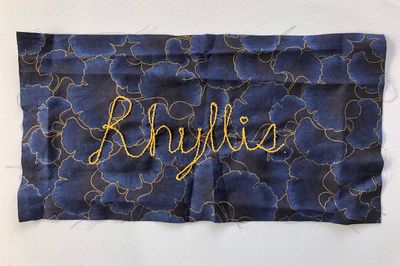 Rhyllis
+ Info
My mother Rhyllis sacrificed her artistic self in sewing and knitting for her family. Growing up I was always aware of her simmering energy and frustration at not being able to pursue her primary passion. Seven years ago I embroidered invitations to my wedding on this fabric. This was the last time I saw my mother. The golden thread is from her embroidery box-her favourite colour.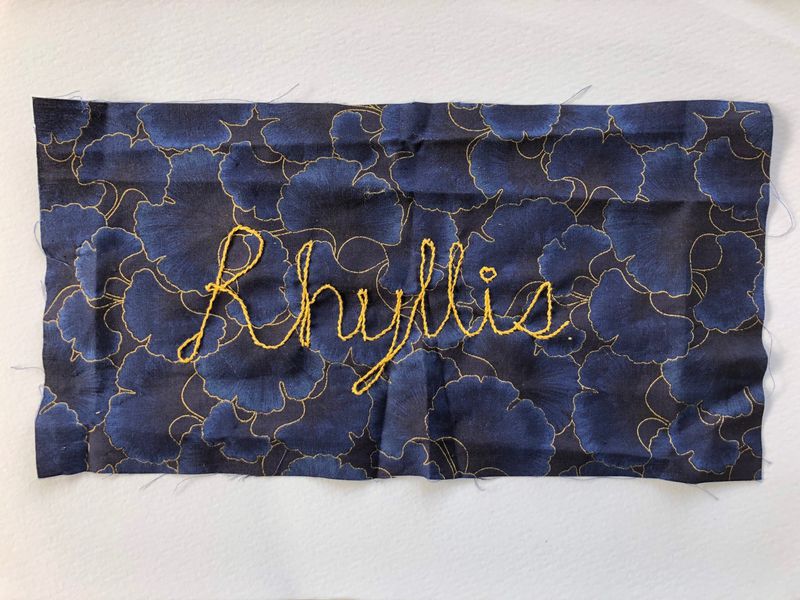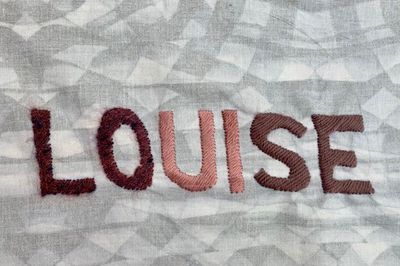 Louise
+ Info
I chose to honour my student midwife who became my rock during a complicated pregnancy and traumatic labor. She advocated for me when I was being dicked around by hospital staff, helped me come to difficult decisions, and was able to correctly diagnose a condition I was suffering from that multiple doctors missed. Louise is an angel who I was very lucky to become friends with.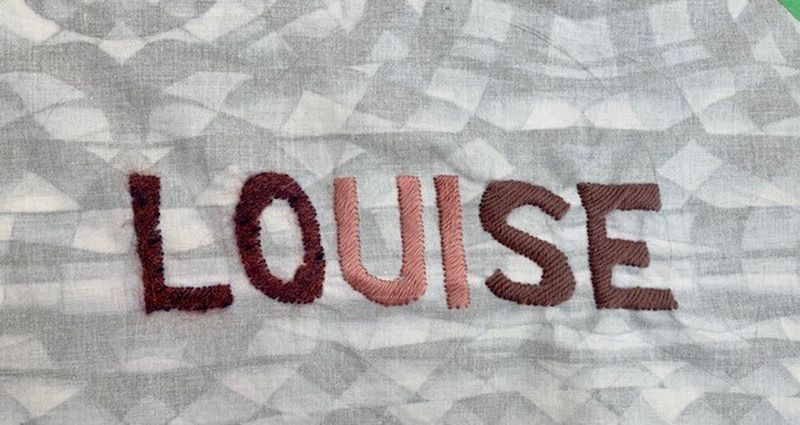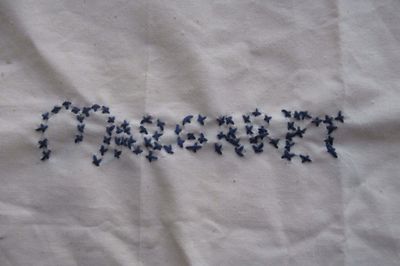 Margaret
+ Info
My paternal grandmother's name. She was also Scottish and spent alot of her later life crippled by arthritis. Like my Dad said after her passing, I think she must have been a toughie. I used to listen alot to her tales of old Scotland.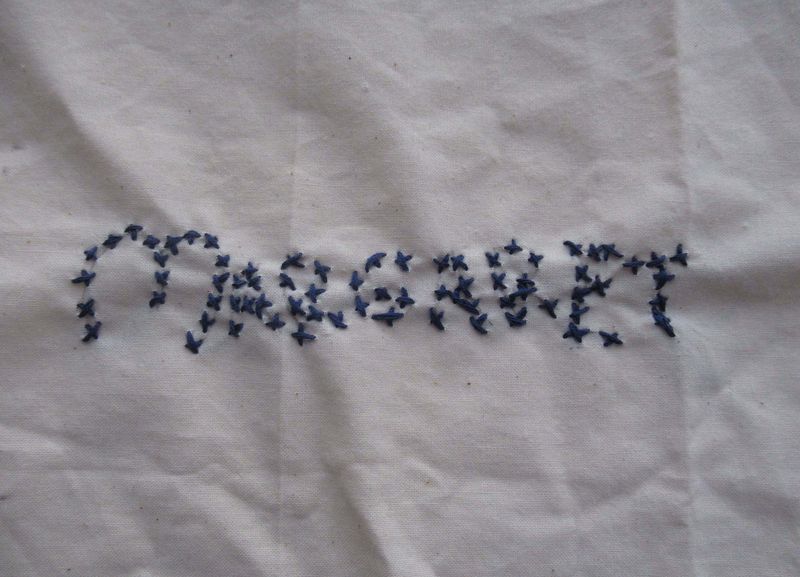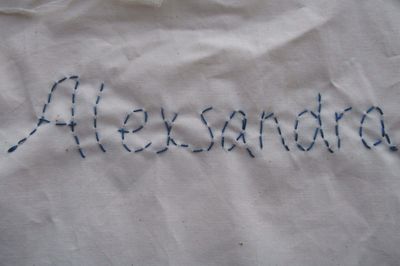 Alexsandra
+ Info
Alexsandra refers to my mother who I am spending a lot of time with following my father's death. As an only child, she means a lot to me now for a connection in the world.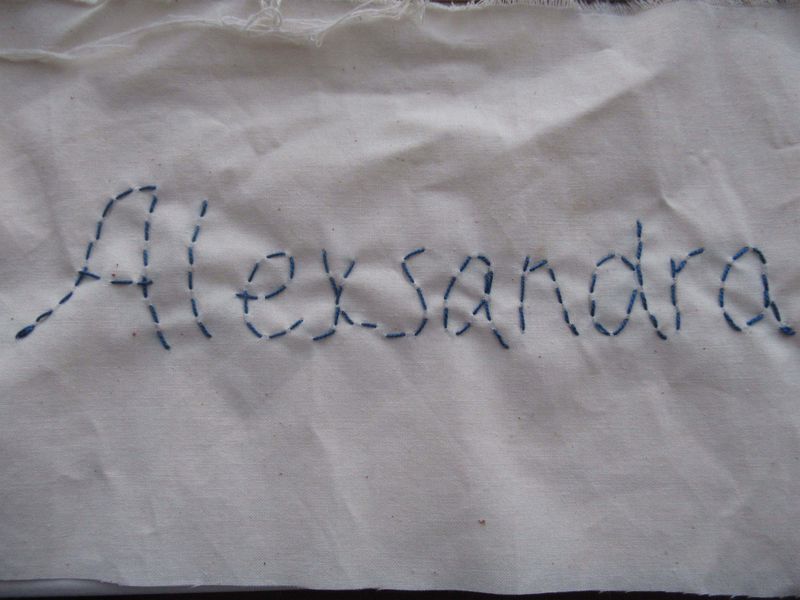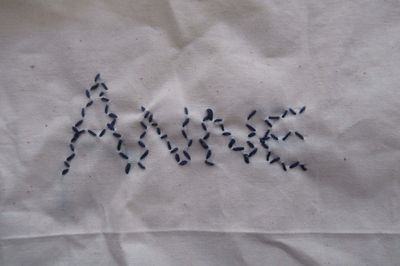 Anne
+ Info
My maternal grandmother's name. She was Scottish and died in my childhood. I thought of her as having been a lady of style in her life and I liked playing with her Royal Doulton doll's when I was young.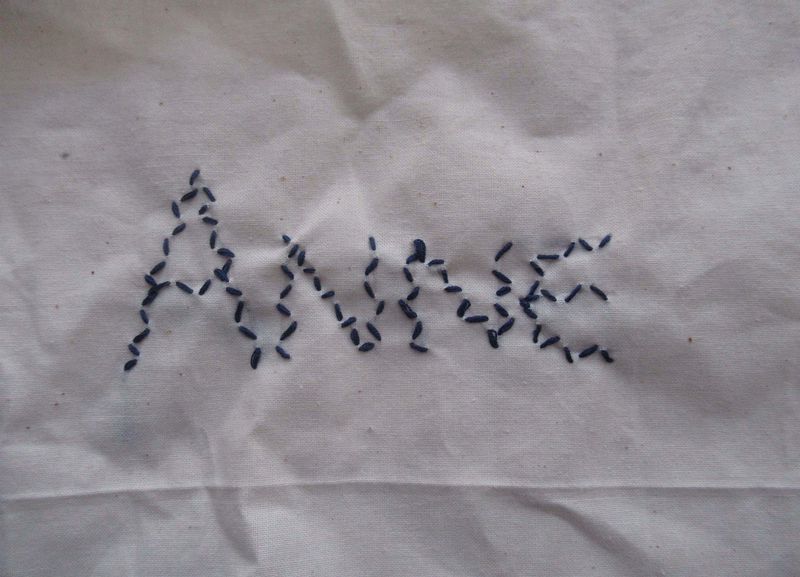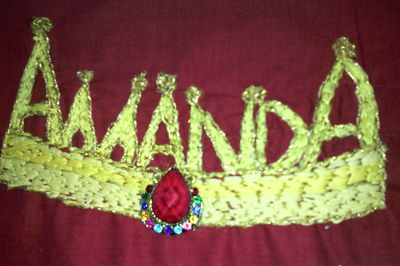 Amanda
+ Info
The Jewel in the Crown of my life is Amanda – my granddaughter. I raised her from the age of six following the death of her mother (my eldest daughter). She is now an amazing wife and mother of three beautiful boys and inspires me with her courage, resilience and compassion. She enriches my life and encourages me to live creatively.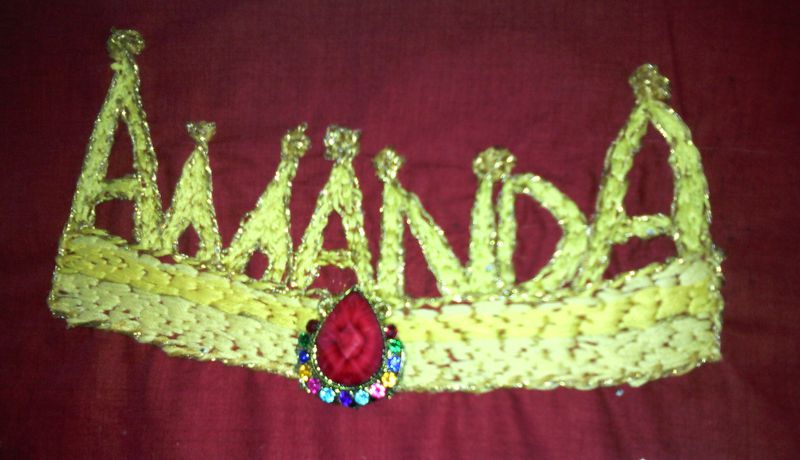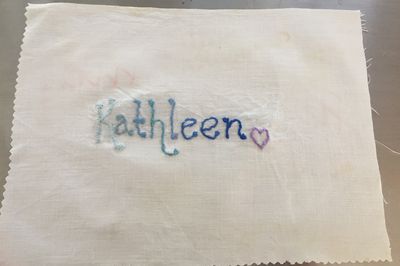 Kathleen
+ Info
Kathleen was my Grandmother. She was a very special person. The fabric and embroidery cottons I used were given to me by her.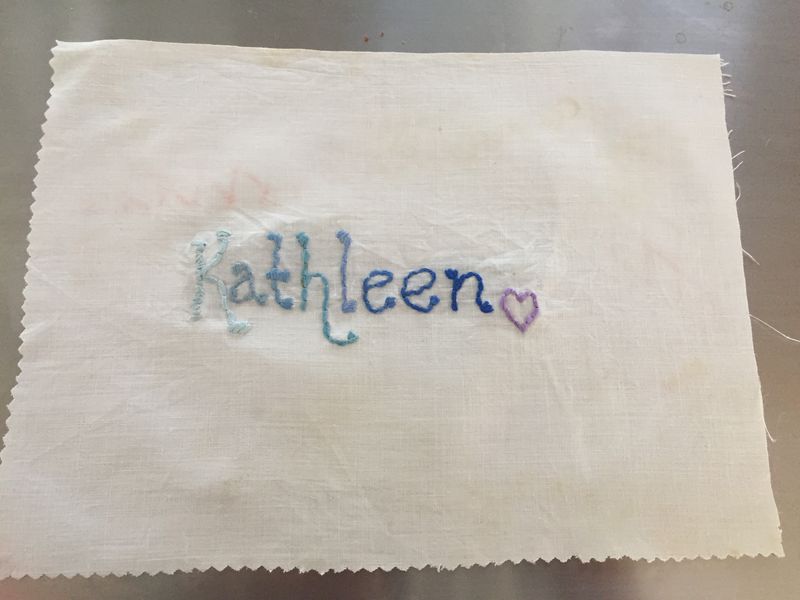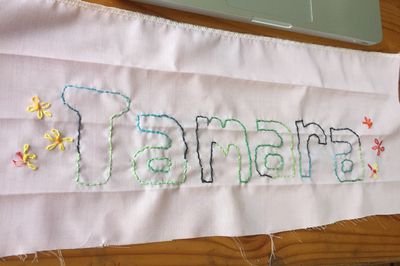 Tamara
+ Info
The name used is Tamara, she is my first born daughter, She has taught me how to be unselfish, how to love unconditionally, how to hold my temper, how to love myself. I would not be the person I am if it was not for her presence in my life. If I listened and acted on all she said I would be healthier and happier, but I must not be judgemental and accept where I am now.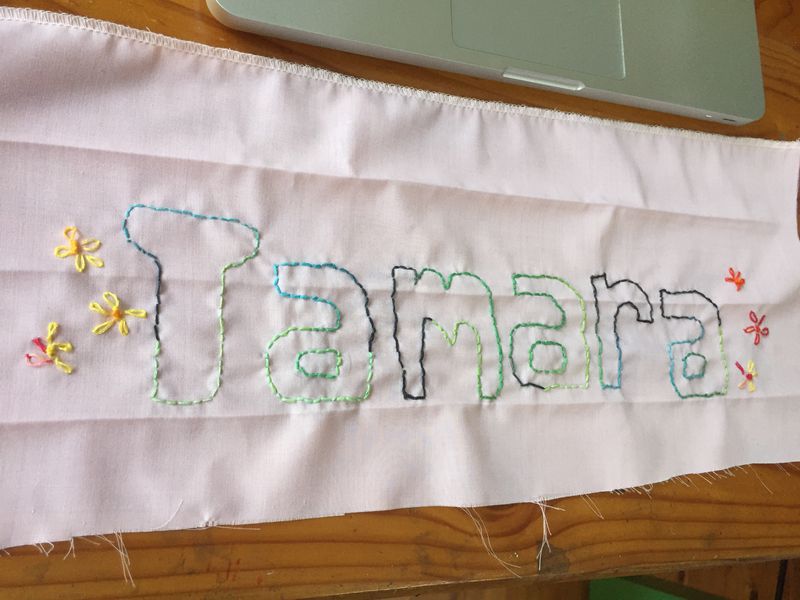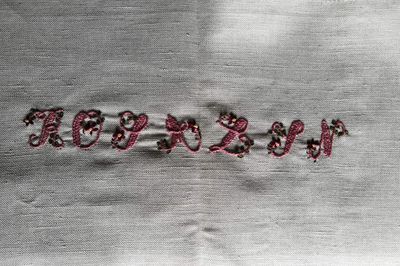 Rosalyn
+ Info
Rosalyn Bessie Ludemann (Born 1884 at Leeston, Died 1972 at Oamaru). Rosalyn was my grandmother who lived on the farm next to ours. I saw her most days. She was a beautiful sewer and needle woman. She had 35 grandchildren and for Christmas we would received handmade gifts, felt toys, nighties and pyjamas. These were often found in the handmade gift bags. For my 12th birthday, she gave me a sterling silver thimble Dorcas and it is still in its little box. I feel really lucky to have had a granny who taught me the love of crafts and needle work.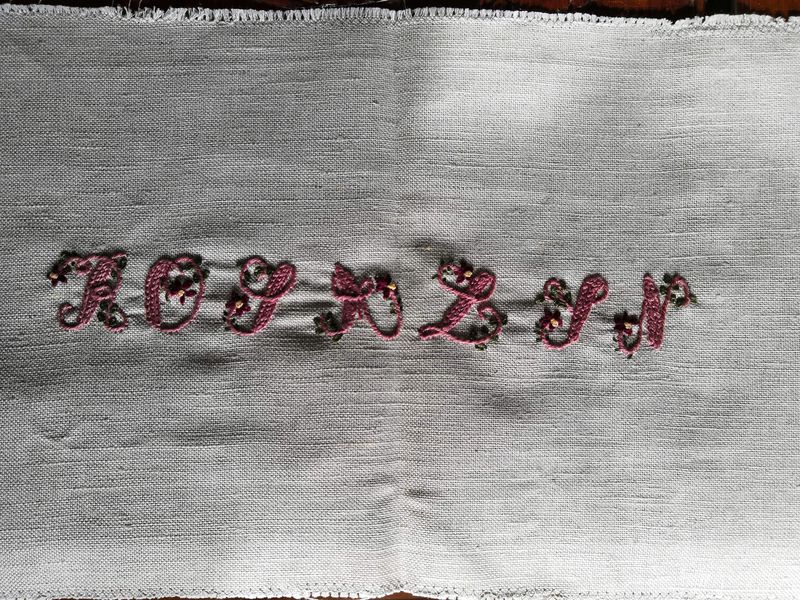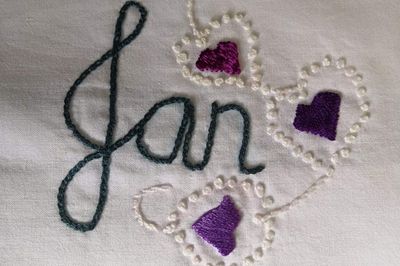 Jan
+ Info
Jan Limbrick (FTCL Speech & Drama) was my mother She was kind and generous to everyone and always seemed to know when someone needed extra help. She was fiercely independent and extremely capable, qualities I have always admired. She died 43 years ago (1977) on Mother's Day.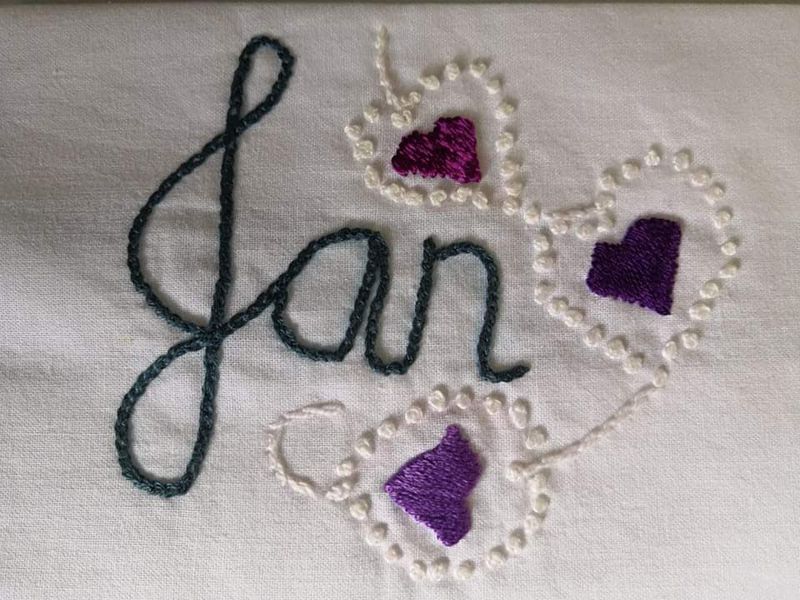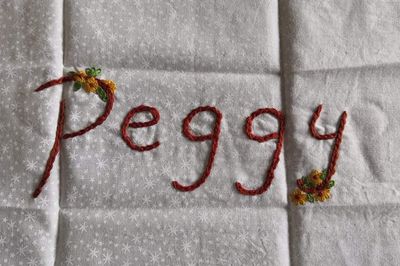 Peggy
+ Info
My chosen person is Peggy, my mother, who died in 2000. When young I took her skills as a dress-maker and eye for fashion and colour co-ordination for granted. Very few had bought clothes back then, but I always had the latest fad! I also didn't realise how unusual it was for a woman to gain a degree in 1930 , let alone in mathematics! My interest in sewing and handicrafts ( mainly embroidery) I totally owe to my mother; by secondary school I was sewing my own clothes. My intellect is not a patch on her's but I grew up with the ability and confidence to choose what I wanted to do with my life, knowing I would have her support.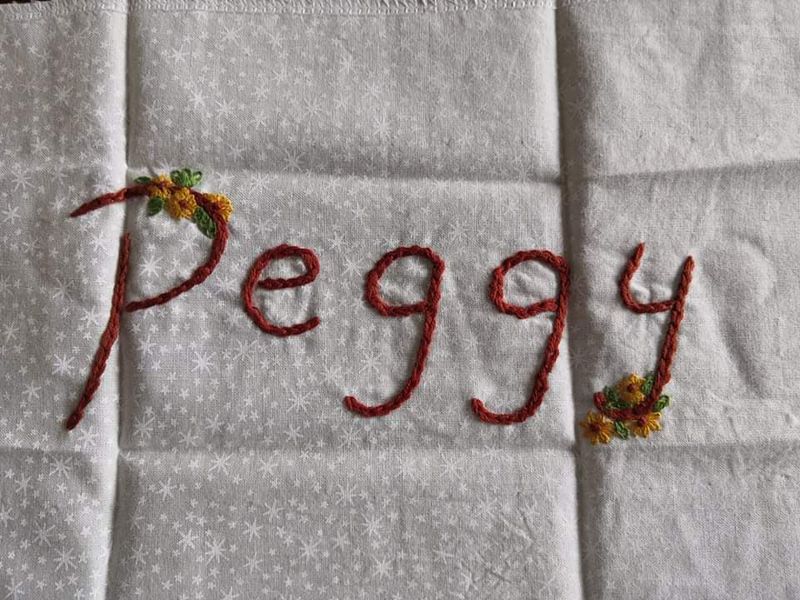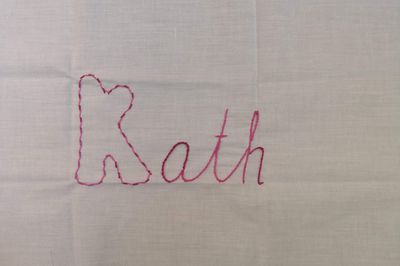 Kath
+ Info
My dearest friend of 57 years, Kathryn McLeod. She taught me friendship and love. Passed away of a brain tumour January 2020.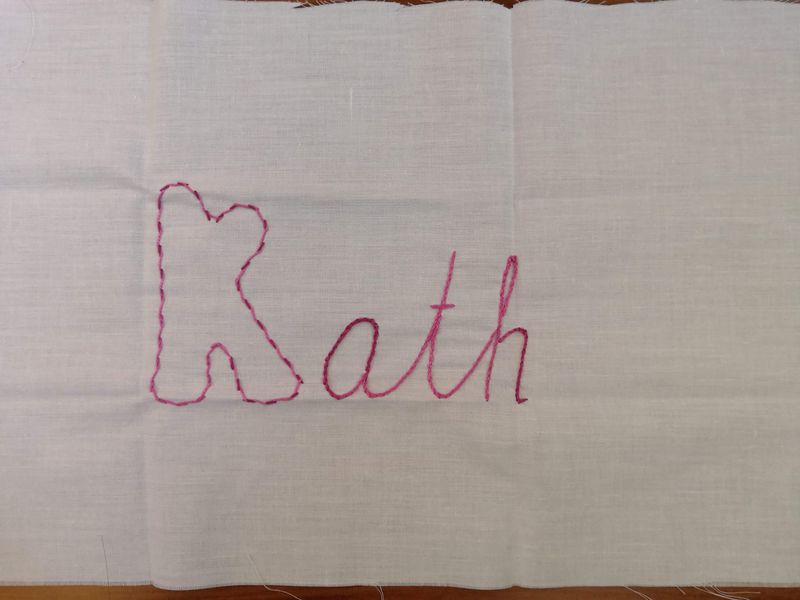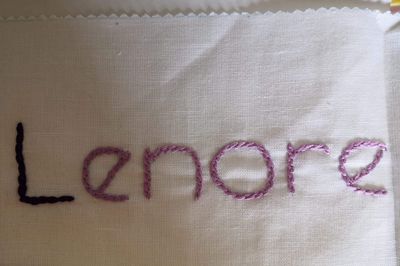 Lenore
+ Info
My patch is to honour Lenore, a lovely friend who has loved & supported the Arts forever. A wise gentle soul who passed away late last year and is sorely missed.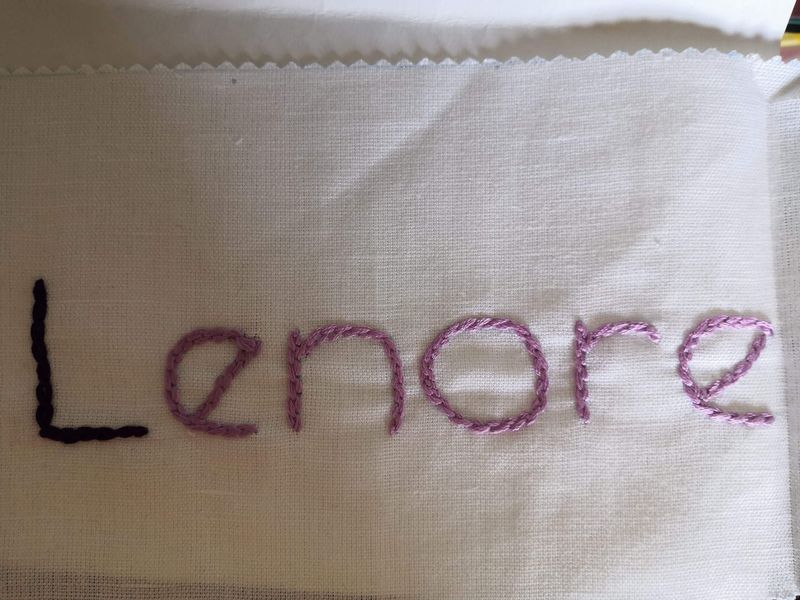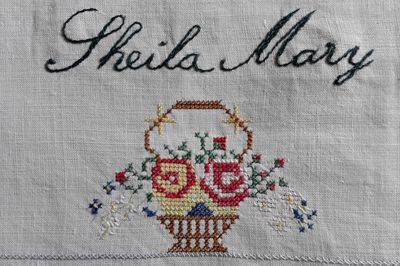 Sheila Mary
+ Info
As part of the NELL + ANNE Quilt Project I have stitched my mother's name on an old tray cloth embroidered by her many, many years ago. I have quite a collection of table cloths, napkins, tray cloths and travel scrap books all made by her. My love of textiles, design, craft and gardening have been very much influenced by her skills and love in these areas.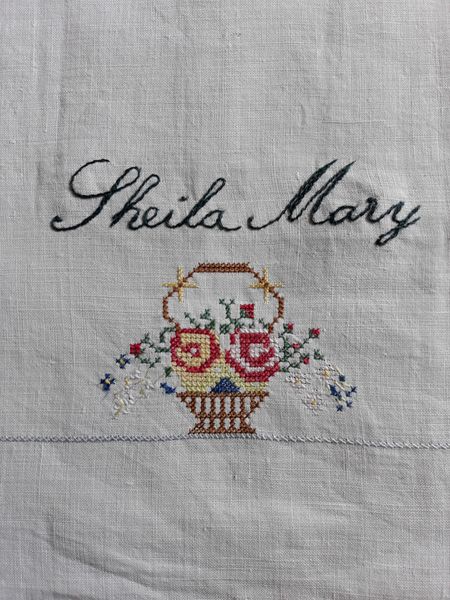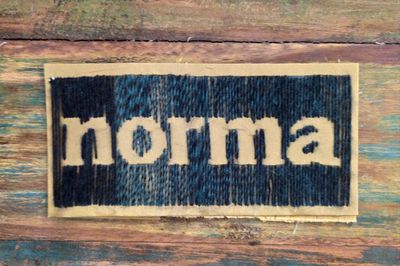 Norma
+ Info
Mother daughter relationships are often complicated. When little I was told I should be a teacher ... like my mum. Then go into politics ... like my mum. I fought not be be like her, only to realise that she is responsible for so much of who I am and what I do and value. And for that I am truly grateful.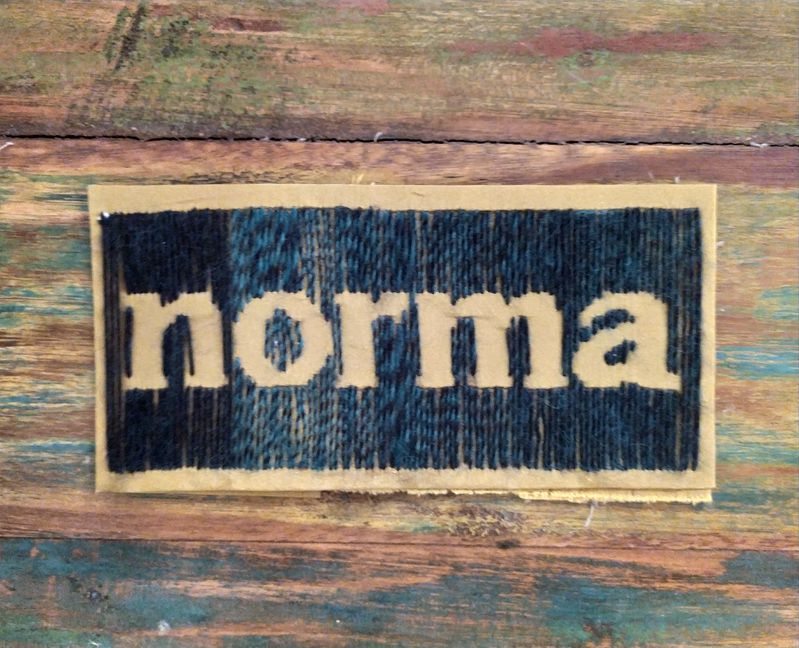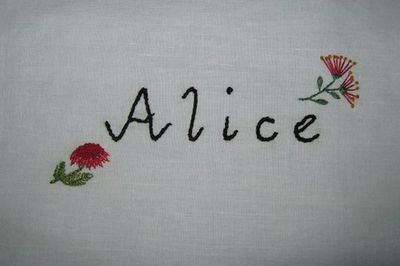 Alice
+ Info
I chose my mother Alice Thwaites.
The waratah flower represents Australia where she was born and lived for 30
years. The pohutakawa represents New Zealand where she lived for the next
sixty-five years. There were four boys and two girls in our family, Mum
sewed all our clothes, even our school blazers, she was a wonderful cook and
it was 16 years and more before she had a vacuum cleaner, washing machine
and refrigerator and many years after that moved to a house with an electric
stove. All things we take for granted. She was a very loving person and
always enjoyed having the grand-children and great -grandchildren to visit.
She passed away in 2002, I still miss her.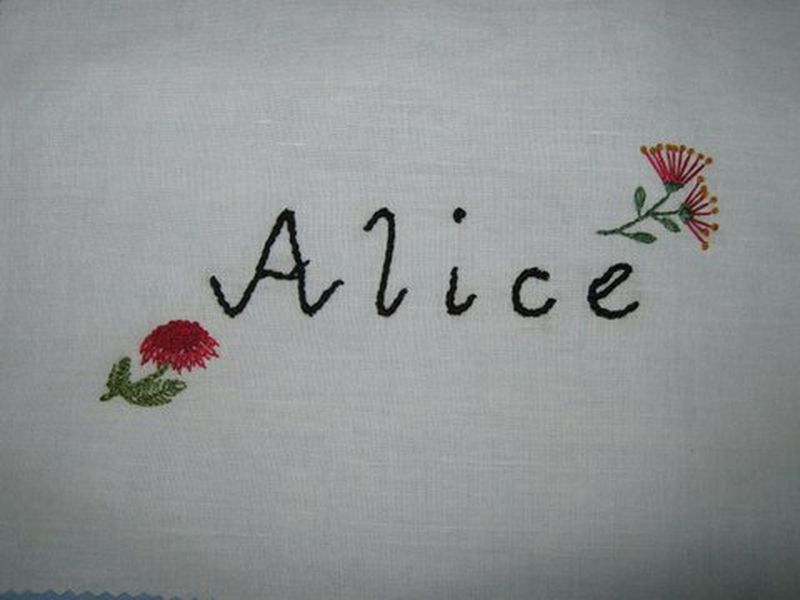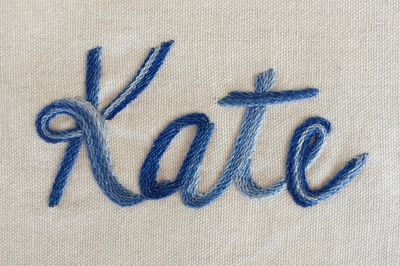 Kate
+ Info
I decided to embroider my daughter's name as my contribution to the #nellannequilt
Kate was named after my Nanna who was Katherine
Nanna was called Kitty by her contemporaries so I imagine Kitty was the common diminutive at that time.
Kate is Kathryn because I prefer that spelling & it's just occurred to me that I don't know the origin of the spelling I prefer nor even the origin of Nanna's spelling of Katherine
It was, & will always be, about connections
Kate never knew Kitty tho i suspect they would have enjoyed each other's company.
Kitty was a bit cold & hard around the edges - a product of the times she lived in perhaps
Kate, on the other hand, is warm & gentle around the edges
I'm also pretty sure I didn't really know my Nanna; that's not how it works with your grandparents is it ?
It's about feelings
It's about memories
It's about love
oh & smells . . . it's definitely about smells
Then at some stage it occurs to you that it has become about the future
Kate is the future
Kitty is the past
I am simply the one in the middle.
The one who carries the past through the present & hands it on to the future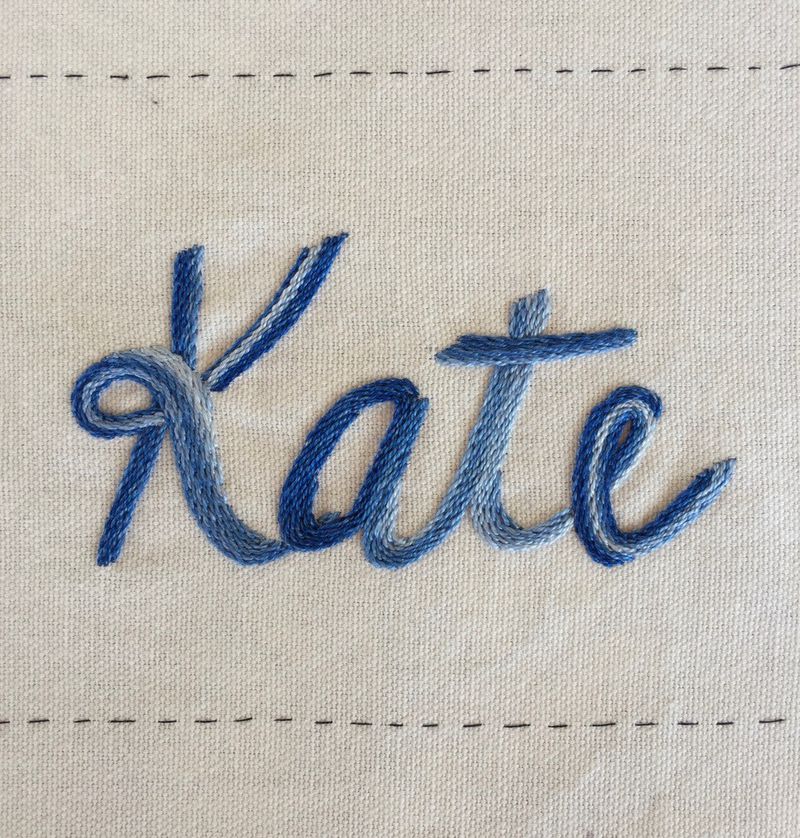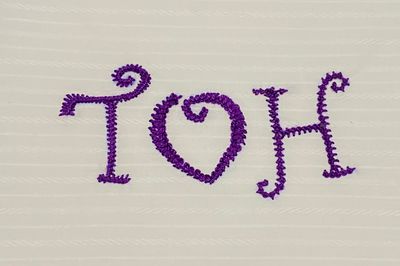 Toh
+ Info
I embroidered "Toh" which is my mum's nickname, she was a hard-working dressmaker who has inspired me since I was little, watching her technique on her sewing machine and playing with the fabric scraps. I loved watching her and that inspired me to start making handmade clothing, finally starting my own brand "IsSara" which I launched last month.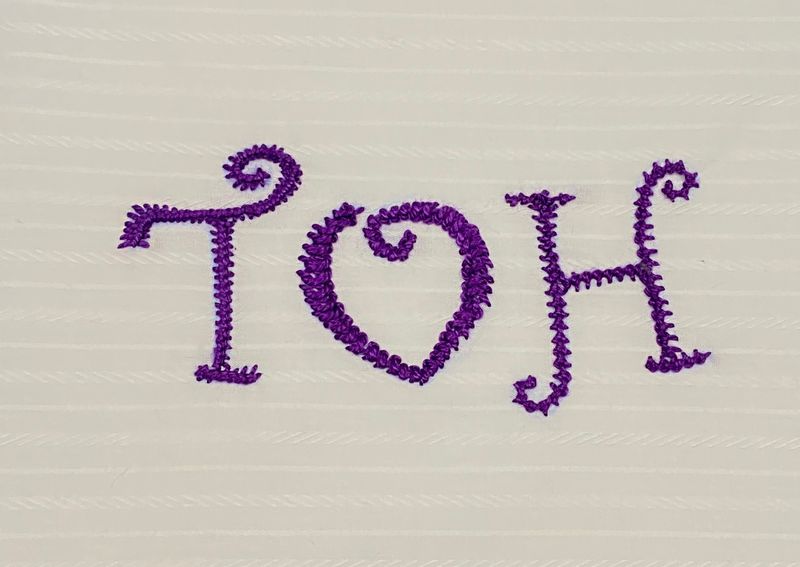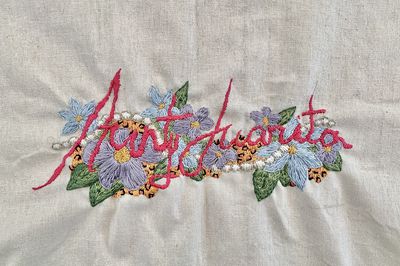 Aunty Juanita
+ Info
Aunty Juanita is a fictional character, concocted by my mother and aunt, as the more flamboyant and fabulous partner of Santa Claus. They decided that Mrs Claus was a tad drab, and no sort of role model for young women, so they created their own.
She was a feminist, artistic and chic, and full of wisdom about self care, accessorising and personal hygiene. She made quite the impression on my young mind, far more interesting than Santa himself.
Looking back the memories are all the fonder thinking of my mum and aunt, staying up on Christmas Eve and brewing such a woman for us to aspire to. She may be a fabrication, but she is the warmth, humour and love of them both, and she represents the inspirational women in my family.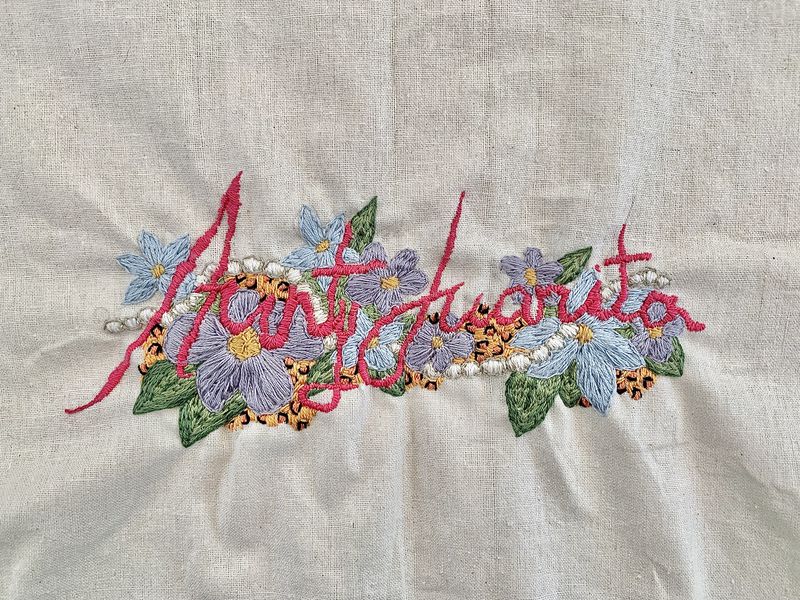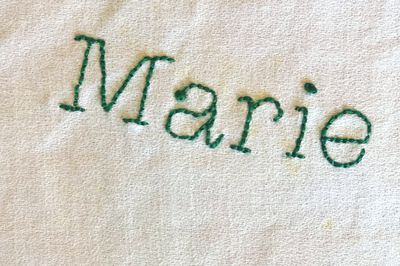 Marie
+ Info
American typewriter font for my grandmother Marie Greta. A gun stenographer and single mother and globe trotter... a woman ahead of her time. Pivotal in my life, she had an incredible work ethic, unfaltering generosity and a collection of fabulous hats. She would pile me and my brothers into the back seat of her Morris minor called Cookie and take us on nighttime drives around the industrial areas of Marrickville. There was a peanut factory somewhere and to this day when I smell peanuts on an industrial level, I am right back there squeezed between my brothers on the back seat of Cookie. Embroidered for Nells Quilt project. Miss you MGB xoxo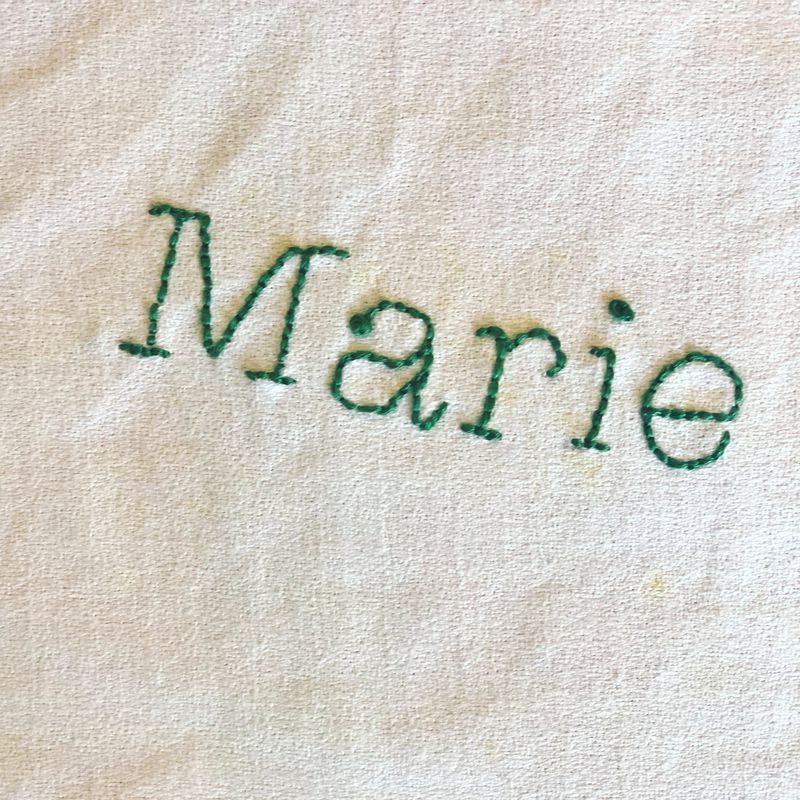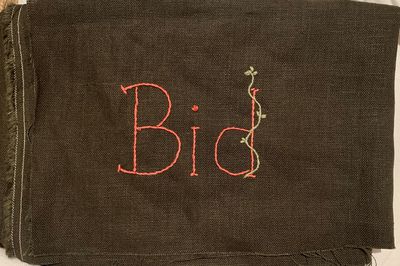 Bid
+ Info
My mother was called Bid; her name was actually June. She was a farm girl living in the city. Bid was a wonderful mother to 5 boys - unflappable, straightforward, always loving. And in Bid's home everyone was welcome.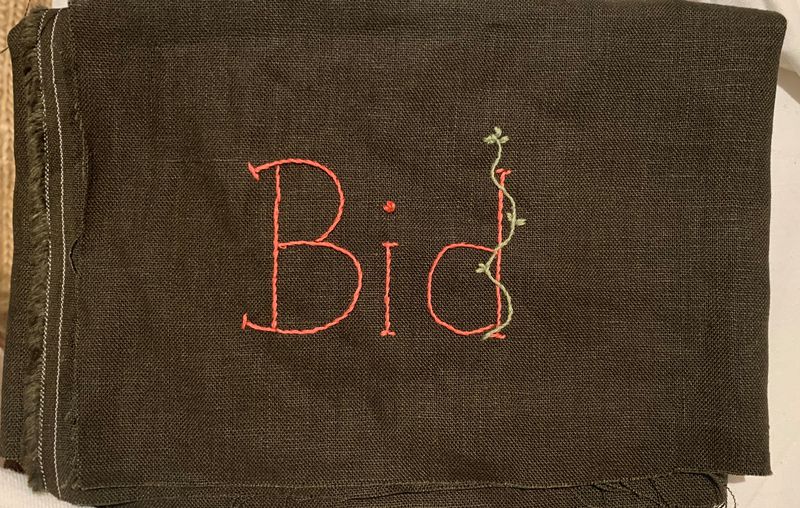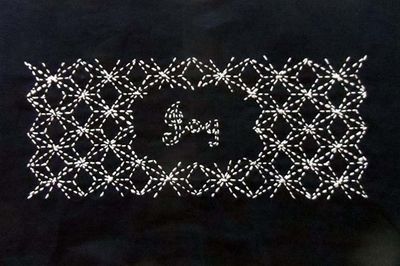 Joy
+ Info
I have made a contribution to your quilt project to remember my mother Joy. Joy died in October last year at the age of 90 years. She brought up 6 children in the 50's (5 girls) and was always a wonderful example of the kiwi tradition of do-it-yourself. Mum made all our clothes, knitted for children and grandchildren, outfitted caravans with squabs, curtains and mattresses and did wonderful embroidery. In her later years she made tiny exquisite gowns for the hospital to use for stillborn babies and knitted hundreds of little woollen hats for the hospital to give to new mums.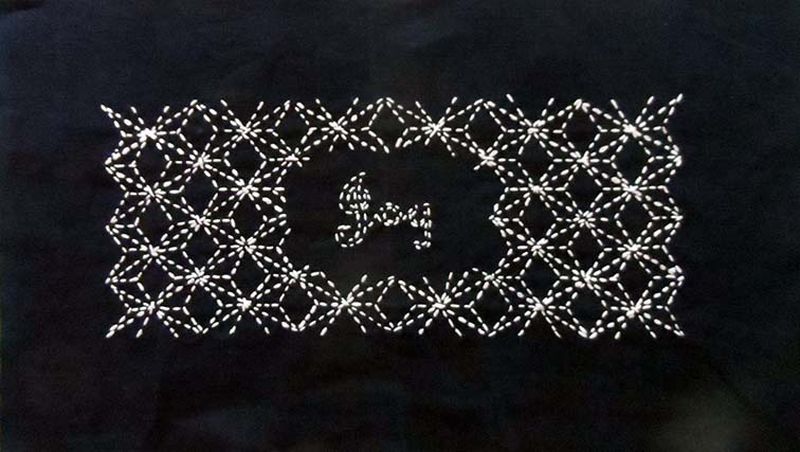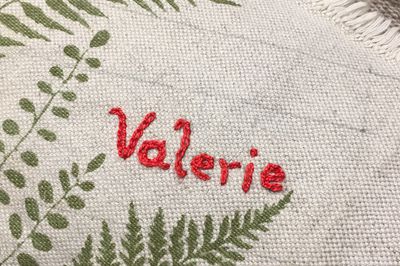 Valerie
+ Info
It was Mother's Day yesterday and I decided to honour and remember my late mother Valerie (Joan Valerie Lovis, nee Van der Smagt). It's more than ten years now since she passed away in early May and this year, with everything going on in the world, was the first time I've forgotten to mark the anniversary of her death. She was a strong, intelligent, courageous woman with many interests including biology and plants. She loved these fern print table mats which I'd kept but wasn't sure what to do with, until now. Valerie's last and hugely generous gift was to donate her body to medical research. Arohanui Mum.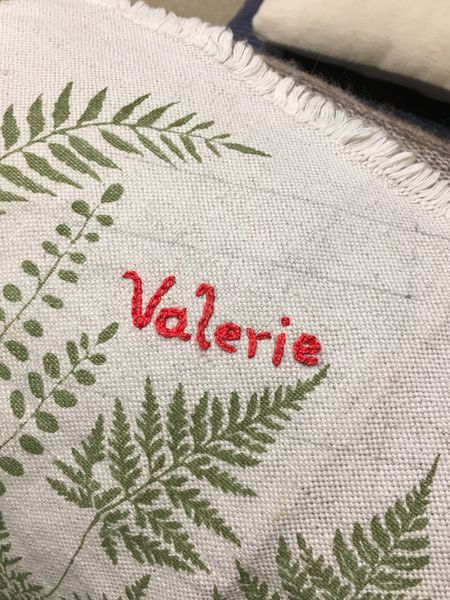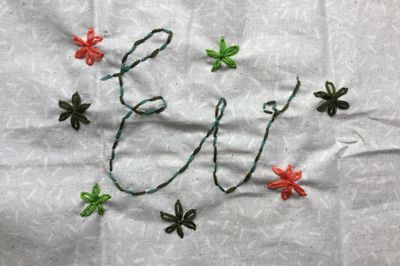 Ev
+ Info
Ev is my darling mother who continues to be an inspiration to me. All my life I have known Mum to come up with fun, quirky, original ideas to add to the already creative environment we lived in. As long as I can remember we had a house full of hand created art projects, paintings and sculptures by both my parents. Mum had her own studio which she loved disappearing off to whenever she could to make pottery and potter around in. I have a small embroidered cushion with her name on it which she had as a child. I hope I have inherited some of her love of objects and the art of making, doing, seeing and playing which was inherent in our family life.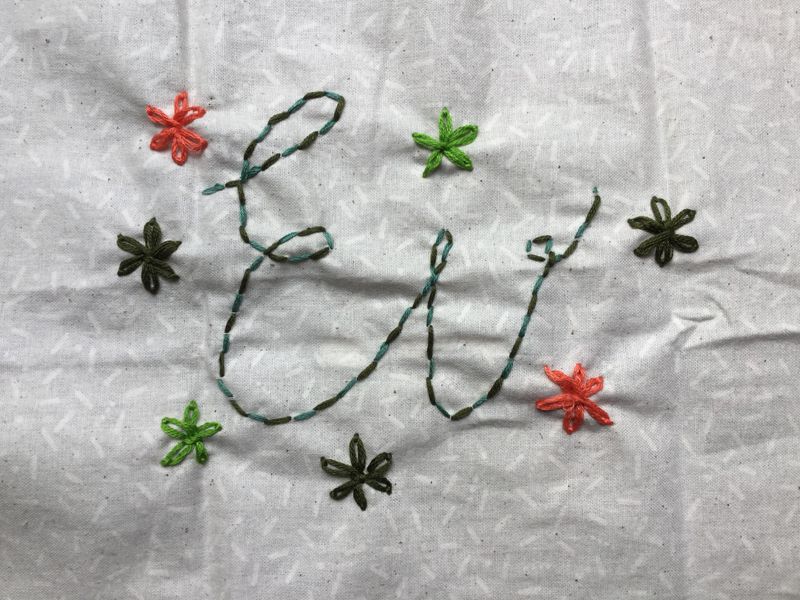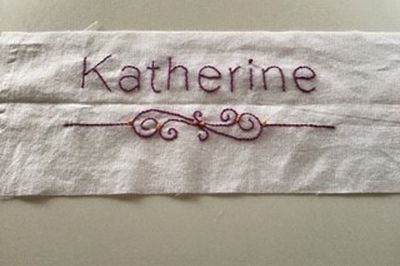 Katherine
+ Info
I learnt about Katherine Strong when I was doing some research regarding the 1893 Suffrage Petition. Katherine signed the petition in the area I live, Mangonui. Katherine came to my attention because I personally know her Great Grand Daughter but what made me especially interested in Katherine was her listing in the Electoral Roll. Most women of the time were listed as "Married Woman", few recorded an actual occupation. Katherine's occupation was listed as "Boarding House Keeper" and her husband was listed as "Boarding House Worker" - a woman ahead of her time I think.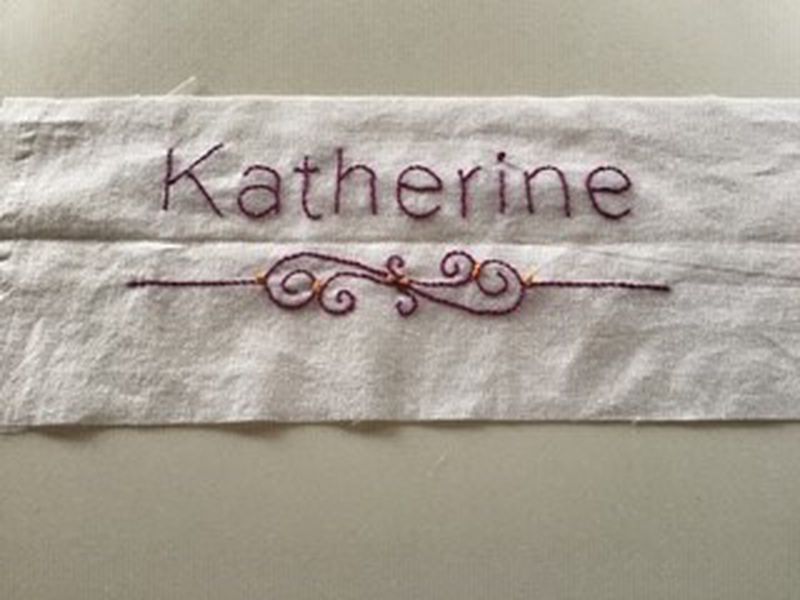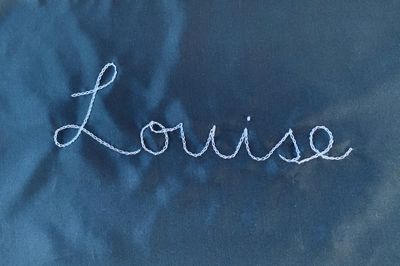 Louise
+ Info
Marie Louise Alexandrine Piatti later Steele (c.1849-1929), known as Louise, was married to the artist Louis John Steele, who is the subject of my PhD. A highly-skilled artist in her own right, Louise trained as a miniature painter in Paris, exhibiting at the Salon and selling a miniature after Fra Angelico's Coronation of the Virgin to the Empress Eugénie in 1867. She continued to practice as a miniaturist in London, exhibiting portraits of her two sons at the Royal Academy. When Steele left for New Zealand in 1886 (effectively deserting her) Louise supported herself, and surviving son (also Louis) then aged 14, through her art practice. Her son Louis became a noted photographer and electrical engineer. According to a biography he was "ever ready to attribute the greater part of such successes as he has met with to his devoted and talented mother". Like Anne McCahon, Louise's practice exists very much in the shadows of her husband's art. Shedding some light on Louise is a post-PhD project for me, but as I focus on motherhood and supporting my family through lockdown, the Nell Anne quilt seemed an apt way to acknowledge her now.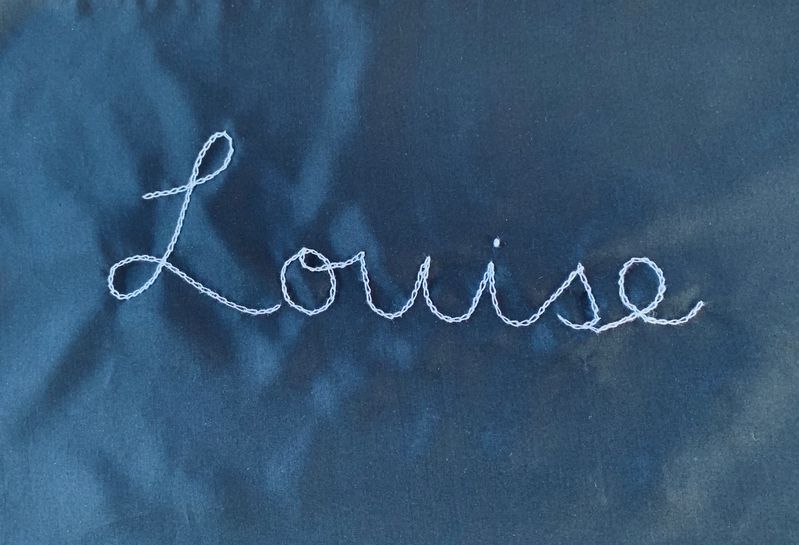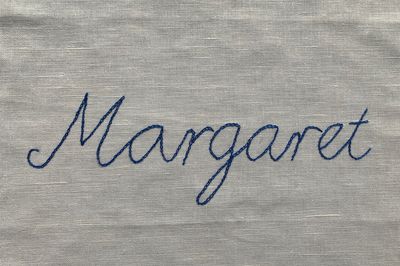 Margaret
+ Info
A piece to honour my Mum, Margaret: for all that she does, all that she is, and for the many, many things that she has taught me. With very much love.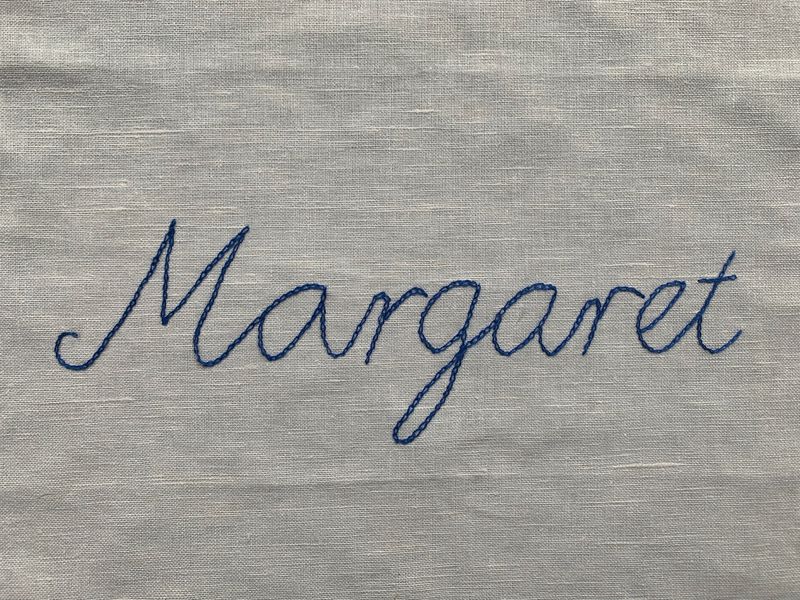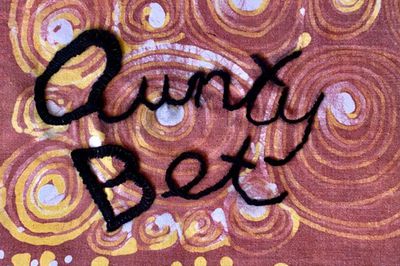 Aunty Bet
+ Info
Mum's sister, Aunty Bet, took Me(Jude) and younger brother, Don, under her wings for 9 months down on the Waikato farm, while Mum(Clare) recovered from several health problems - That was 3 yrs after Dad(Ned) had died of kidney failure in 1947. She, Elizabeth Treves Brown, or Aunty Bet, was a rollicking-good-fun, BIG-woman with a lovely contralto voice. She also died too young aged 43, in 1955. I am so pleased to Honour her with my stitch. She was very significant in my growing up. I so loved her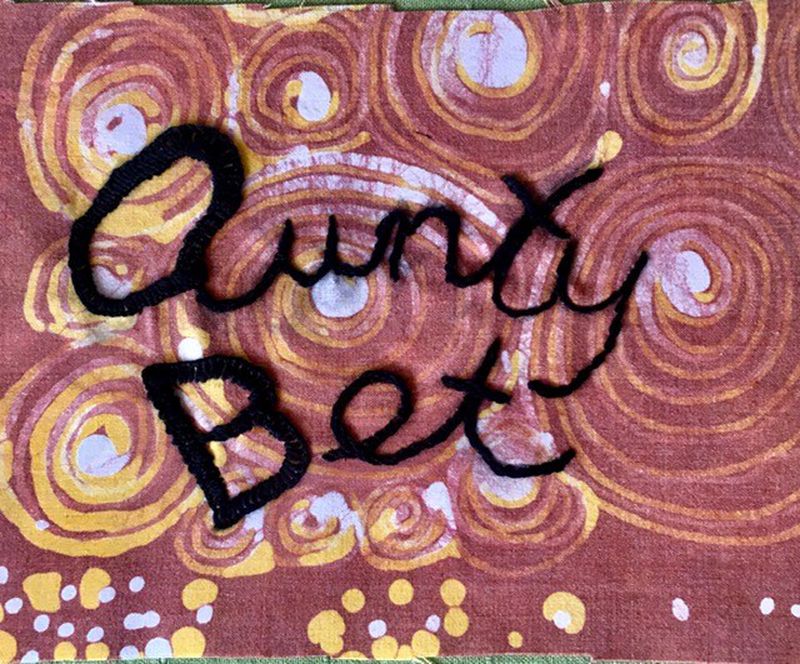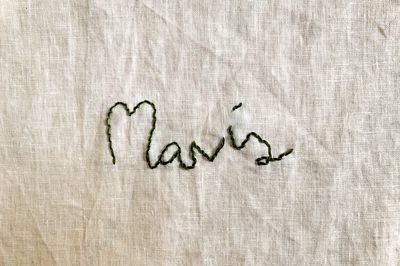 Mavis
+ Info
Mavis was my Nana and looking back, she modelled what it was to be creative but also humble, although I'm not sure she knew the influence that had on me.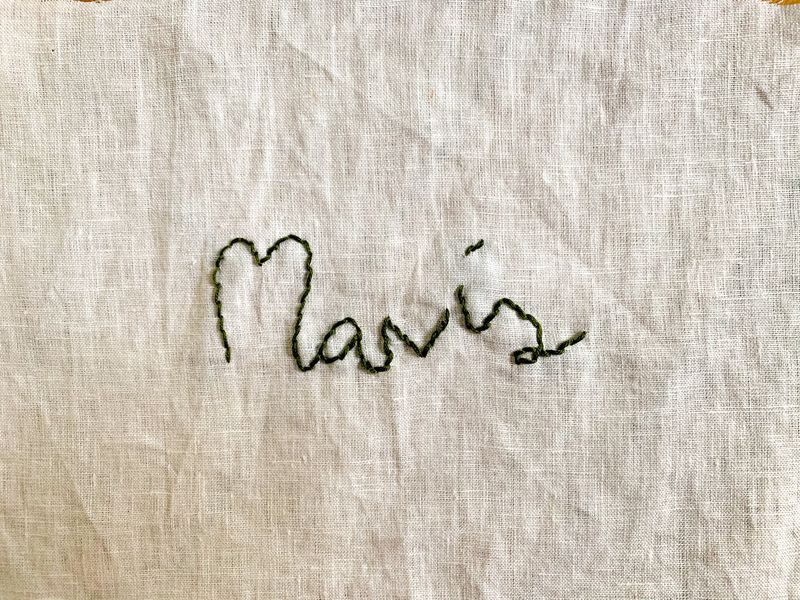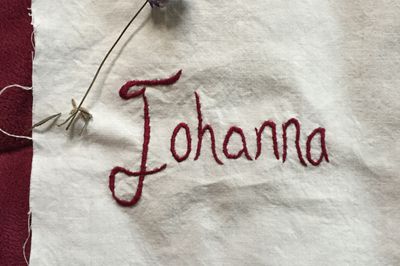 Johanna
+ Info
My grandma Johanna was born in a tiny village in Ireland with a romantic sounding name - Mooncoin. As a child I was fascinated by the couple of Gaelic words she was able to teach me and her recipe for Irish soda bread. She didn't talk a lot about her childhood. Her mother died when she was young, and by her early twenties she had made her way to New Zealand. She must have been very courageous, and I wish I had gotten to know her better as an adult. She showed her love through actions rather than words. I have embroidered her name on behalf of myself and my mother, Clare.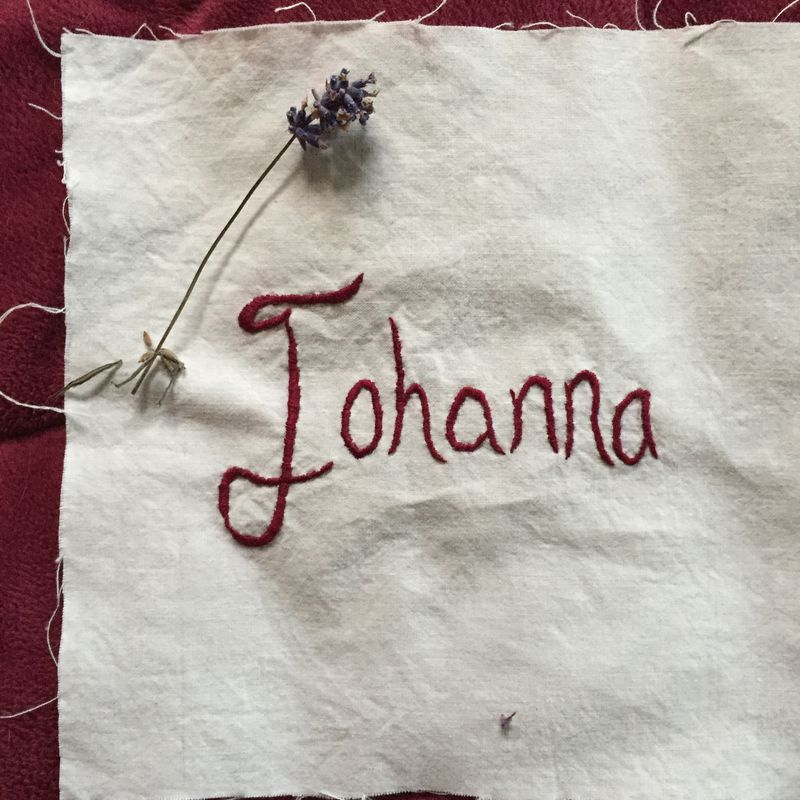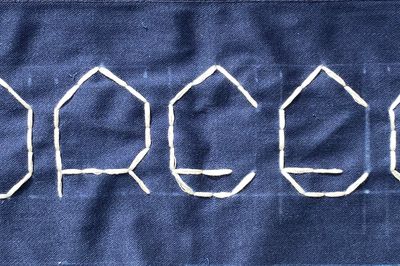 Doreene
+ Info
Doreene lived in Glebe Point, Sydney. She was my beloved grandmother and friend. She wrote poetry and fiction, painted, gardened and travelled widely collecting antiques and minerals with my grandfather Albert. They together founded the Mineralogical Society of New South Wales and worked with their colleagues on building the Australian Museum's mineral collection.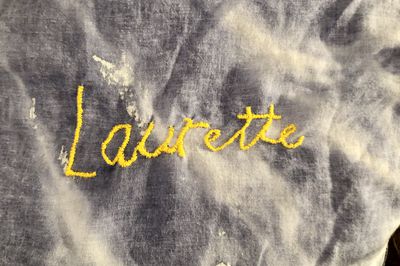 Laurette
+ Info
Laurette was my granny. She approached all challenges with fierce intelligence and aplomb. Besides these traits, what I loved most about her was her resourcefulness and ability to make things out of other things. Bread bags were carefully folded in the bottom drawer for later, scraps of wool collected and separated into colour tones for a yet-to-be decided project. Her creativity was expressed through thoughtful interactions with the world.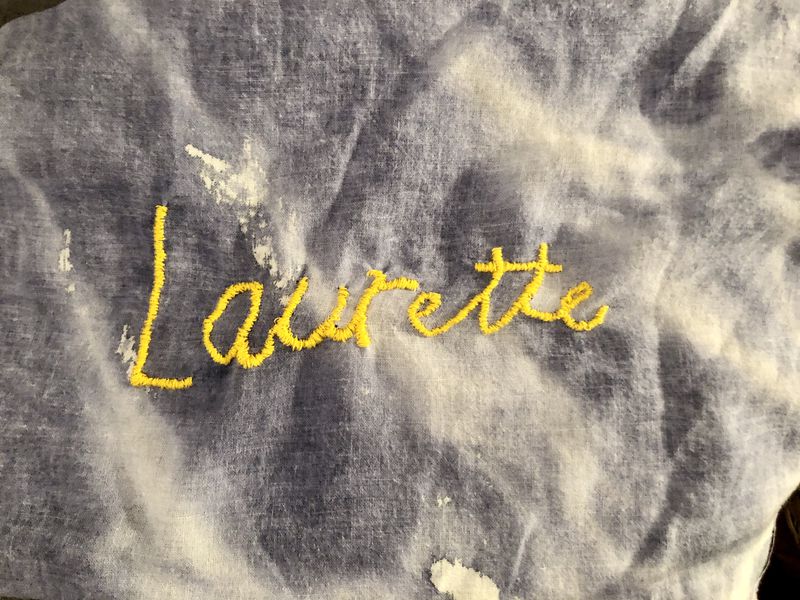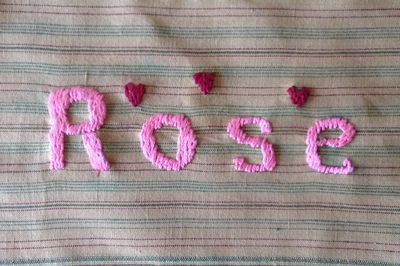 Rose
+ Info
Rose was my very loved Grandmother, she comes to mind in these times.
She had three children under five during the Spanish flu epidemic in 1917. One of the children was disabled. She lived without electricity or running water. Cooked on a wooden stove, made clothes and grew fruit and vegetables. During this she still helped and supported others.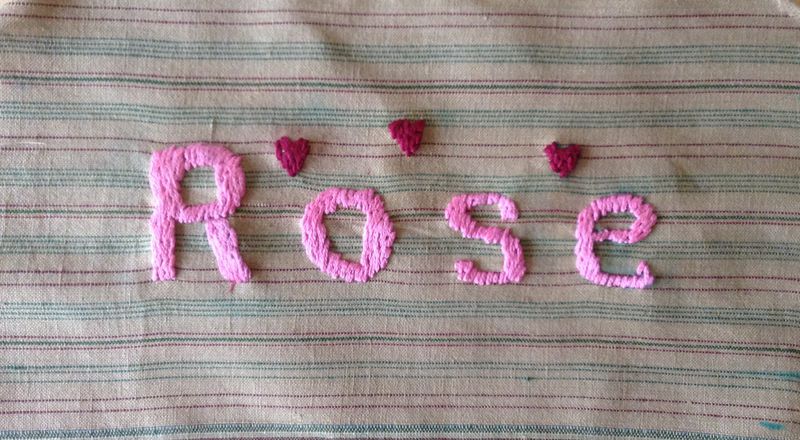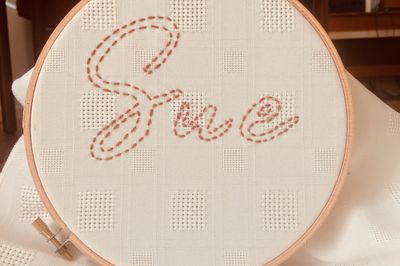 Sue
+ Info
I have stitched for Sue Pedley a wonderful friend, artist, maker, teacher and inspiration. As a practicing female artist, she continues to reach out toward new mediums looking for connection to people and place. She is a people gatherer who generously encourages others. Thank you for always pushing me to make.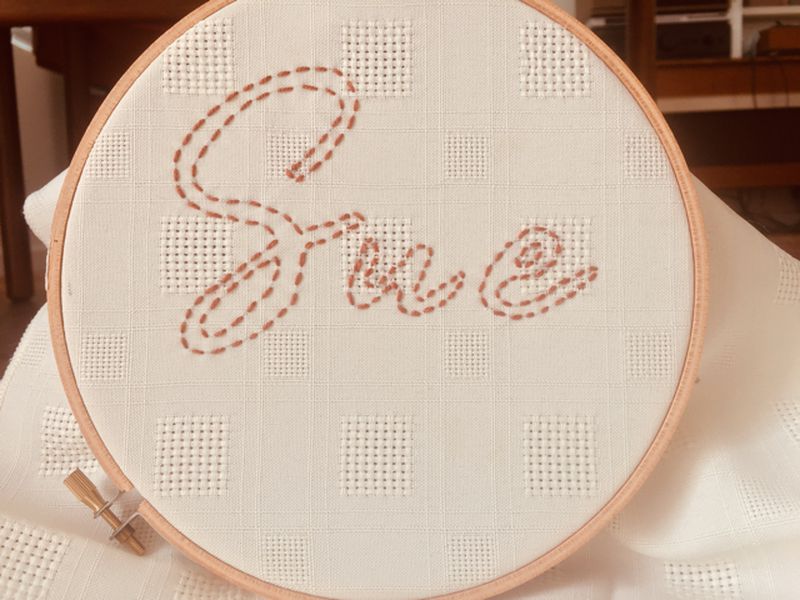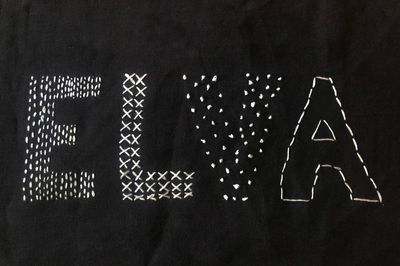 Elva
+ Info
Elva Jean was my beloved Grandma. I have wonderful memories of many happy hours spent playing cards, drinking tea and making up stories. Elva was a creative soul who in another life would have perhaps followed an artistic path as I have had the freedom to do.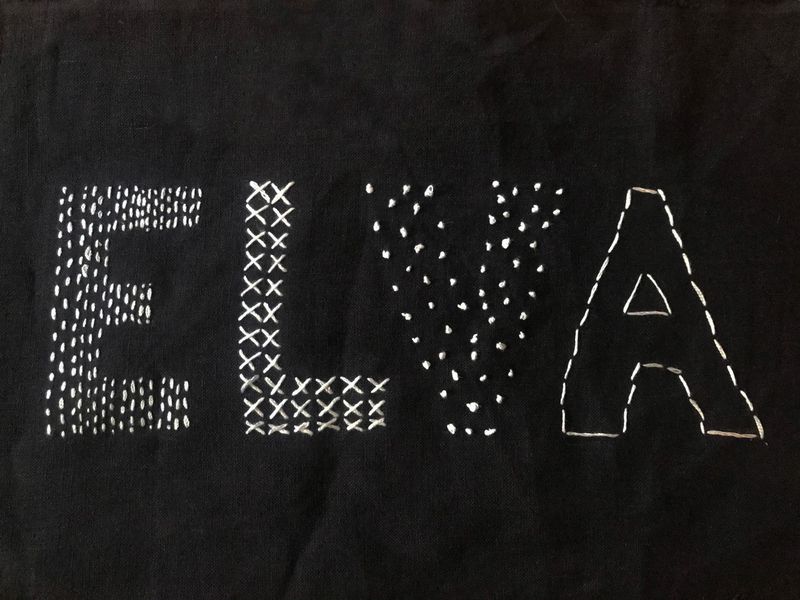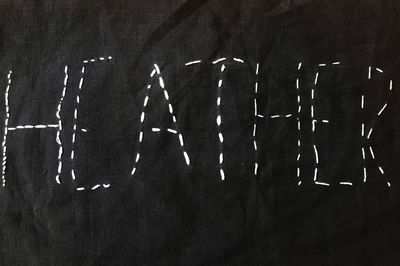 Heather
+ Info
Heather is my Gran. I like everything about her.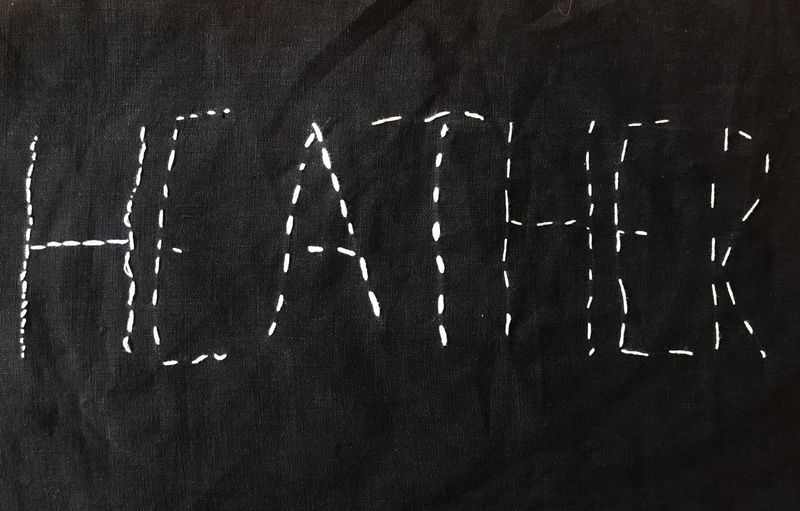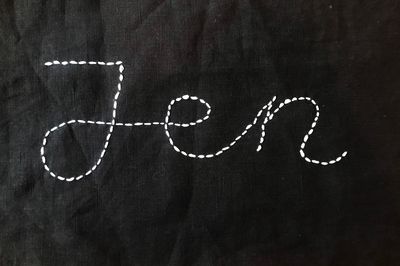 Jen
+ Info
Jen is a woman who is very much in my life, but also a force behind it. She's taught me a lot about what being a woman can mean, and is doing a great job of doing this for our daughter, too.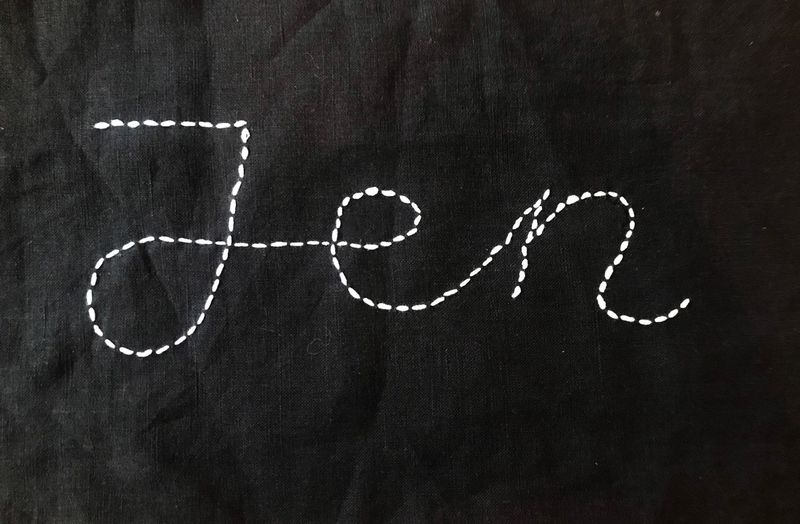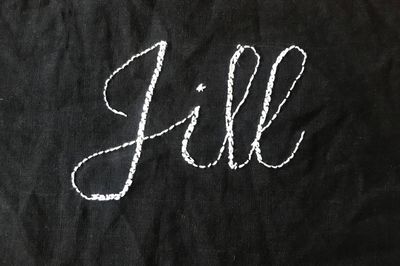 Jill
+ Info
Jill and I were very best friends for a long time. We shared so many good times and sometimes some not so good. She died far too young and I remember her with a mix of love and sorrow.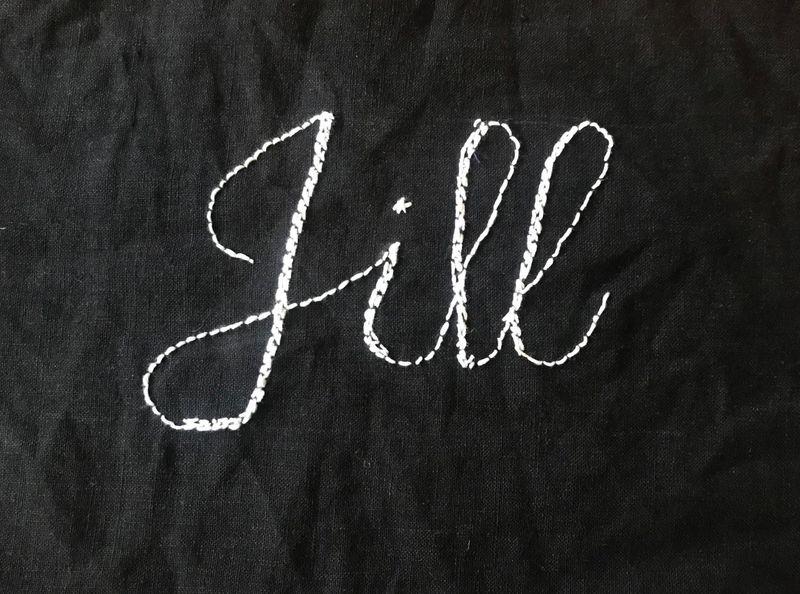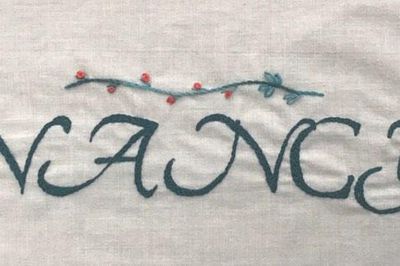 Nancy
+ Info
Nancy was our mother. She was one of seven children born into poverty in rural Ireland in the 1930's. She worked tirelessly to make a better life for us 2 girls and our brothers and she was devoted to her brothers and sisters who remained close all their lives. A small plump woman with a sweet smiling face she was not to be underestimated. When roused she was a match for anyone, an occasional fierceness that my sister and I have inherited. She died more than 30 years ago; we miss her deeply every day.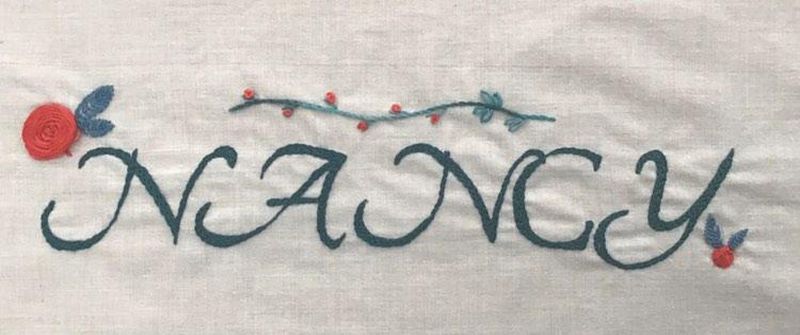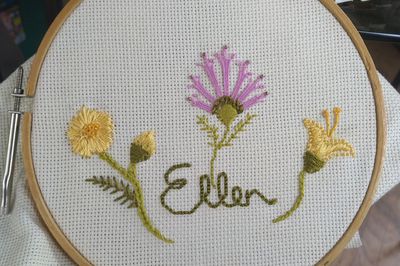 Ellen
+ Info
All the women in my family past and present are inextricably linked by brightly coloured web-like threads. I am indelibly bound to my grandma, to her gentle, down-to-earth nature, her busyness, her generous, welcoming home and to the gardens from which she fed her family. She represents for me the ongoing, attentive love and labour of the women who sit at the centre of our families and watch out for us all.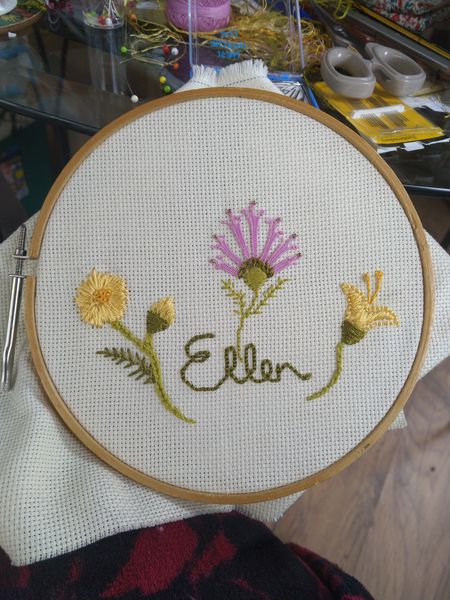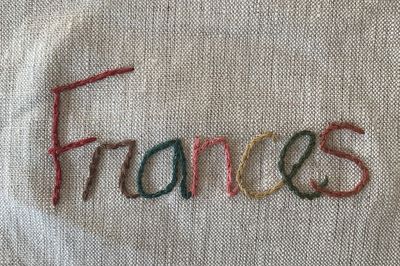 Frances
+ Info
Frances Hodgkins was my first art heroine. As a young woman who travelled alone to explore cultures and landscapes in pursuit of her passion, I have admired her spirit and courage. This project is a tribute to her, and the other special people I have known with the same name. I have tried to mimic the signature of Hodgkins and the colours were chosen from the palette she used to make the painting Wings over Water. When my own daughter was born I decided to name her after these strong characters.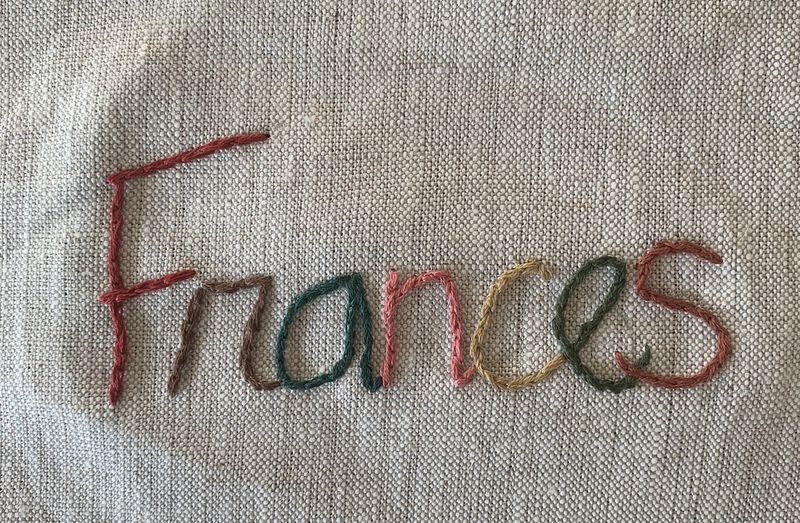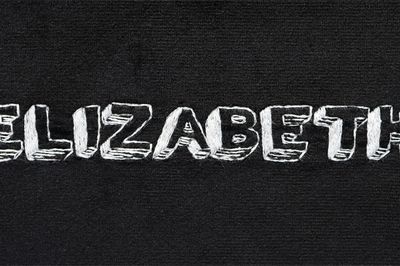 Elizabeth
+ Info
My mother Elizabeth has encouraged my art-making, right from the very beginning! As an accomplished printmaker with a similar interest in narrative work, she has always inspired me and been a great buddy for viewing and talking about art together. I chose these colours because she loves black and white designs.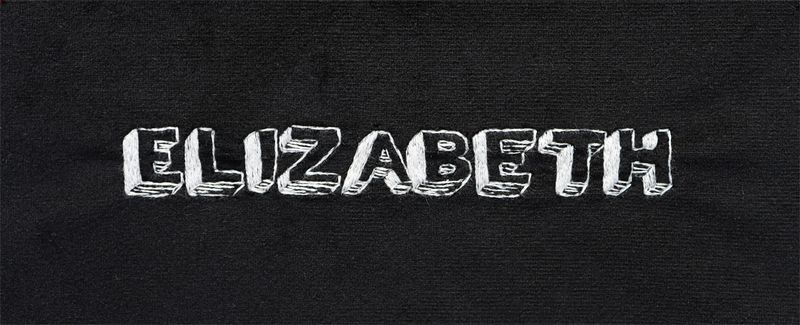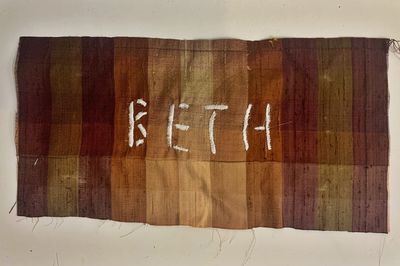 Beth
+ Info
This piece of fabric is from my Mums old skirt. Growing up she let me borrow her clothes, timeless pieces she'd made or my grandmother had. Together we'd adjust them or trawl through second hand shops to find hidden gems we could fix or repurpose. So while this may be wonky and starting to fray at the edges, it's made from old fabric and ribbon all from my Mum. So it's really a piece of Beth, my gorgeous mother who's always taught me how to make something from nothing.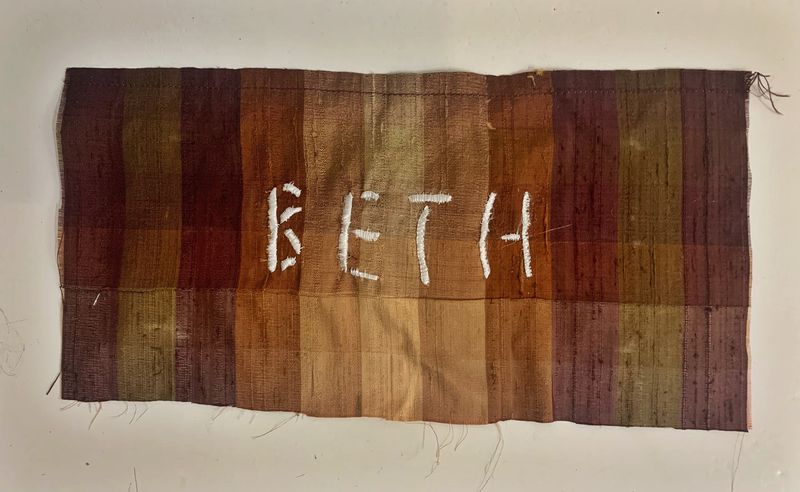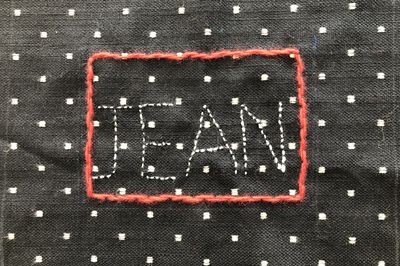 Jean
+ Info
Jean was my mother. A pioneer farmers wife. A mother of six children who somehow managed to be creative in all things. No matter what the challenge, she always had an idea. I am fortunate to have inherited a little of this.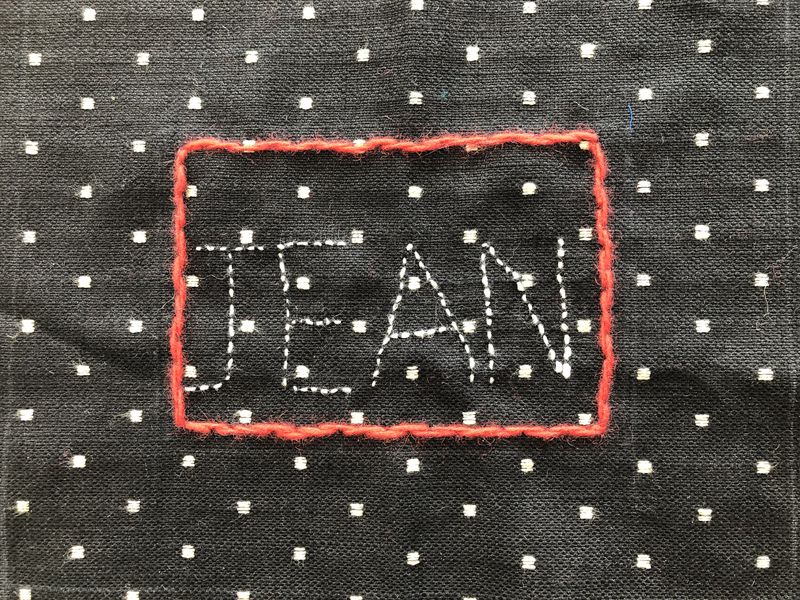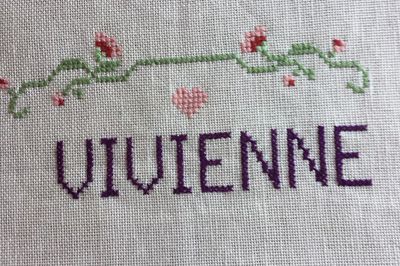 Vivienne
+ Info
My daughter Vivienne is a successful business woman. She has overcome many obstacles (some deeply sad & personal) to achieving her standard of work. Her loyalty to her friends & family is second to none. Since she was a small child she has always gone out of her way to be the best she can. I am very proud to call her my daughter & admire her strength & her sense of humour. Also love her deeply.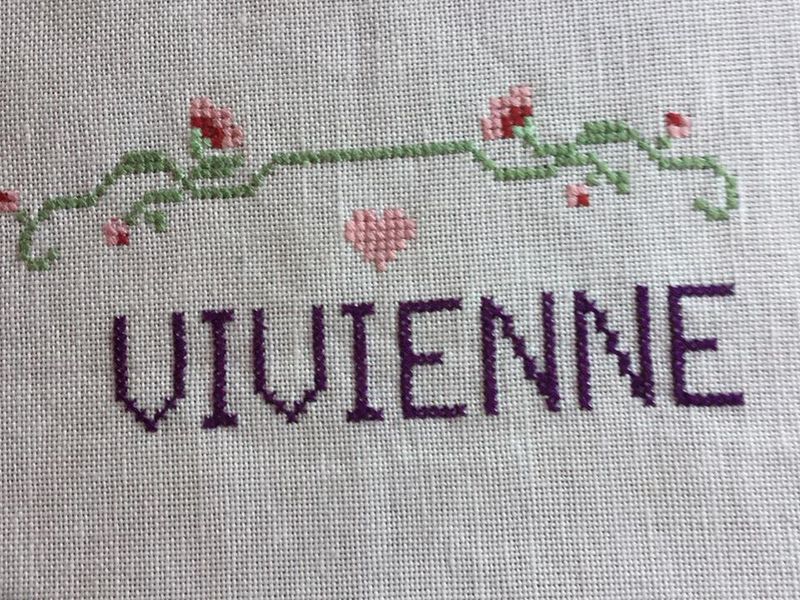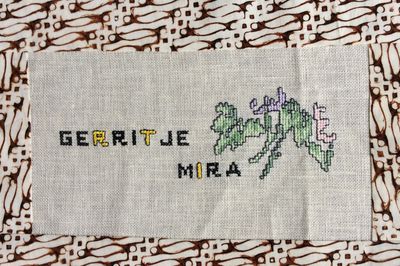 Gerritje Mira
+ Info
My mother, Gerritje Mira, was born and spent her early years in Indonesia. She arrived in Sydney in 1951 fleeing the Democracy Movement after the Second World War. She came with little else than her talents for making do and getting on with life. She was a gifted craft woman and turned her hand to many forms of stitching - machine and hand sewing, knitting and crochet, but her passion later in her life was Crossstitch. I found this linen on which she had stitched the posy, and added her name. In order to make the stitching stand out on the ecru background, I decided to usea outline stitch, so had the opportunity to follow in her stitch path. Throughout my life there has always been a piece of batik somewhere along the way, so it seemed only fitting to frame Gerritje's name in her legacy fabric.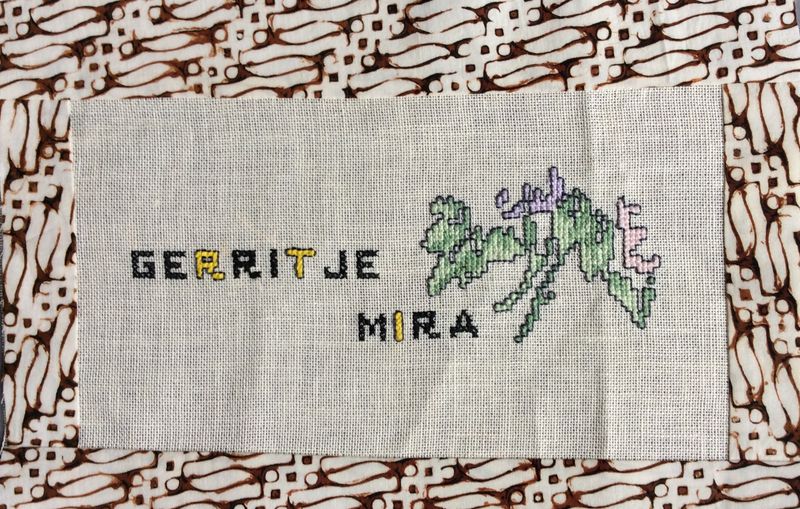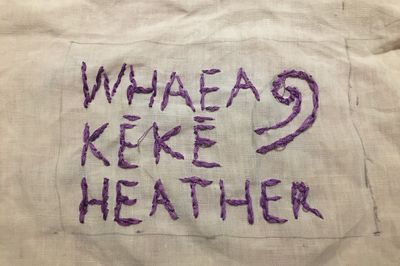 Heather
+ Info
My wahine that inspires me is my Aunty Heather. She's been such a rock for me in my life and I know I can always go to her when I need. My embroidery says Whaea Kēkē Heather. We are Ngāti Tūwharetoa wahine.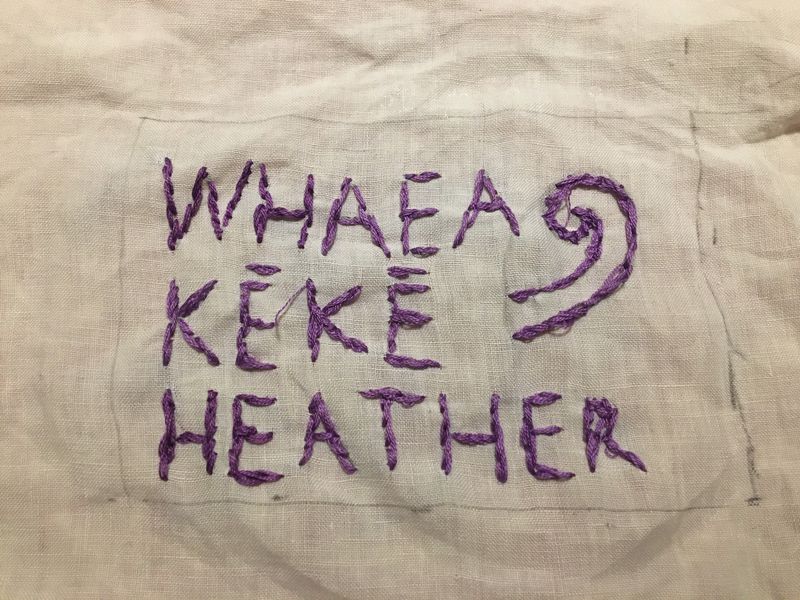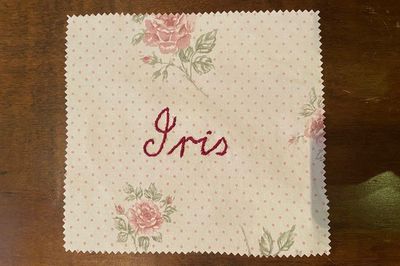 Iris
+ Info
Iris Campbell was my mother and she was a very talented homemaker. She encouraged and inspired me from a young age to sew, knit, embroider to name a few and was always patient and kind. Iris always had many projects 'on the go' and now I find that I have the same. Thank you Iris!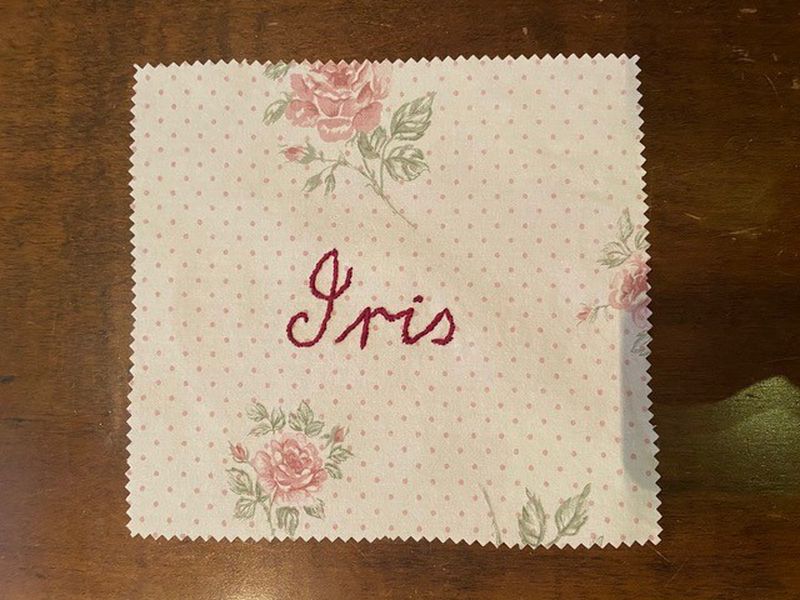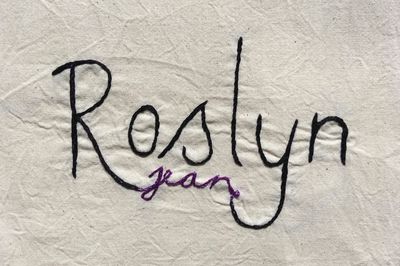 Roslyn Jean
+ Info
Roslyn Jean is my mum. She's an artist, a teacher, painter, printmaker, daughter, sister, friend, potter, weaver, wife. She gave me my creativity and taught me how to love.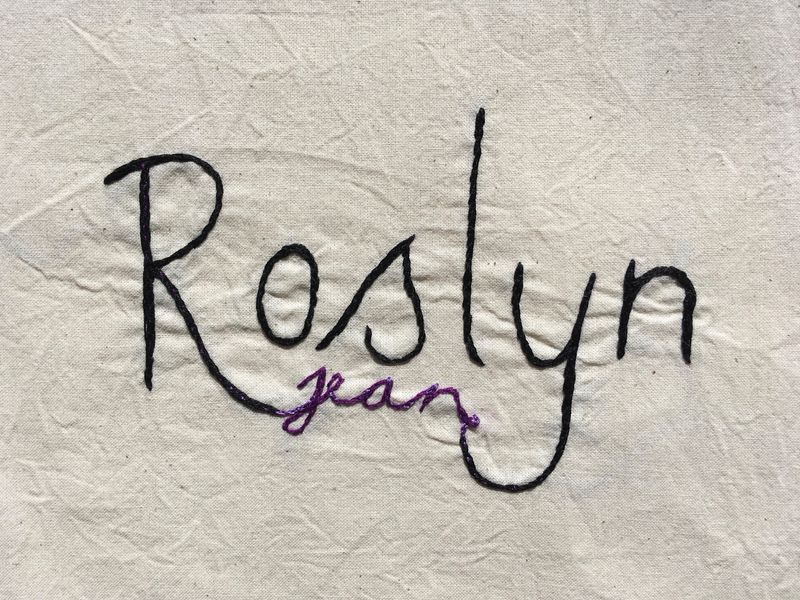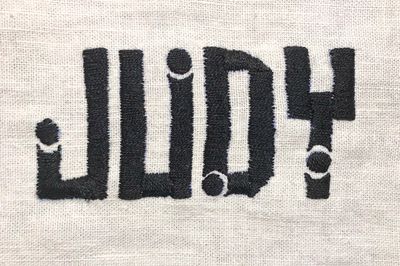 Judy
+ Info
This embroidery honours my mum Judy Shanahan, who taught me needlework, and consequently persistence, as a kid. She's the most resilient person I know, having survived childhood internment during the second world war as well as heart disease and kidney failure as an adult. I used to take the skills Judy taught me for granted; in recent years as I've returned to textiles myself I'm super grateful for her teaching.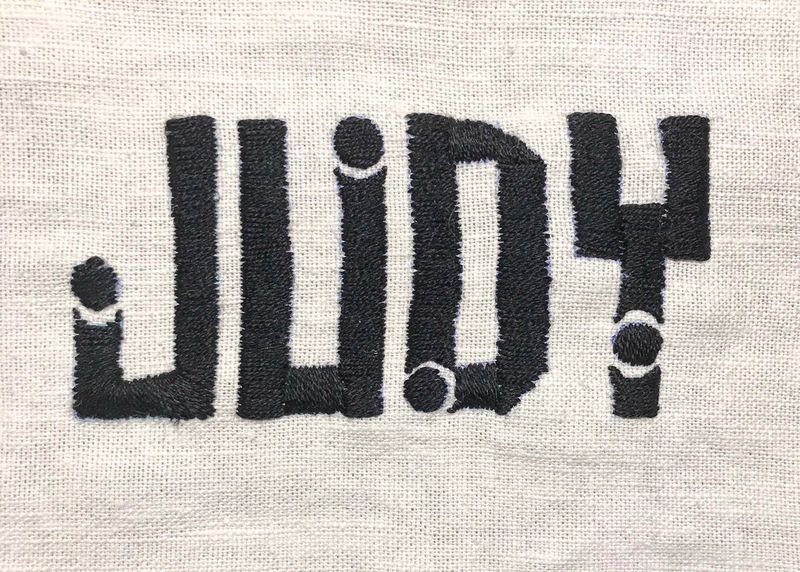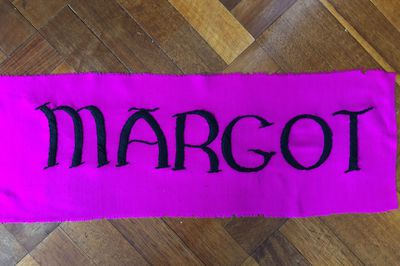 Margot
+ Info
M - mother, A - angel, R - resourceful, G - generous, O - one the ball, T - treasure. Dearest magnificent Margot, I miss you every minute of every day.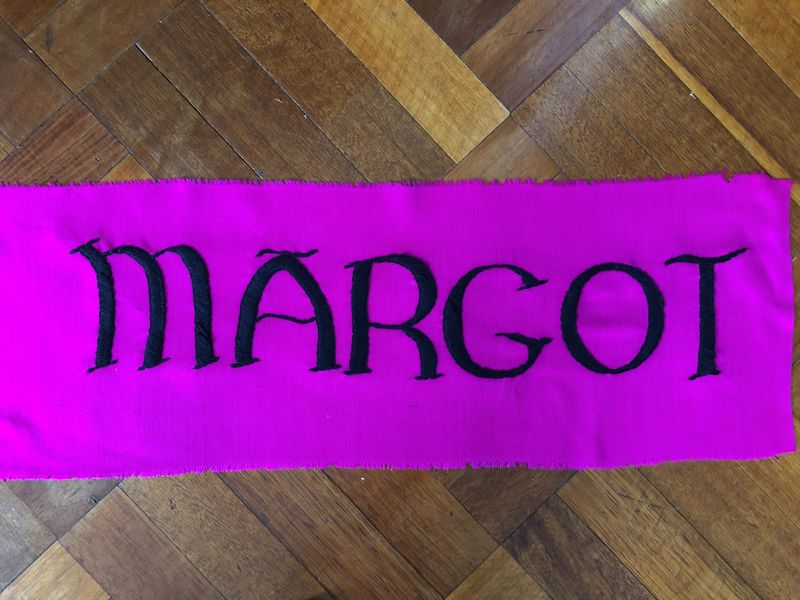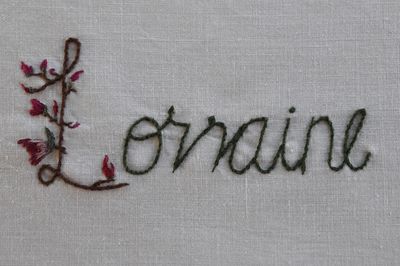 Lorraine
+ Info
This embroidery was inspired by my mother Lorraine. My mother is an artist (amongst many other things) who has worked predominantly on botanical artworks. Over the years she has given me numerous cards with her art on them – finding these cards, tracing her signature and using her picture of magnolias to inspire my embroidery was a powerful process. Sadly my mother now has dementia and it has been a number of years since she has been able to produce her stunning handmade cards. I miss the mother that I had but I am desperate to see and hold the mother that I still have after this lockdown is over.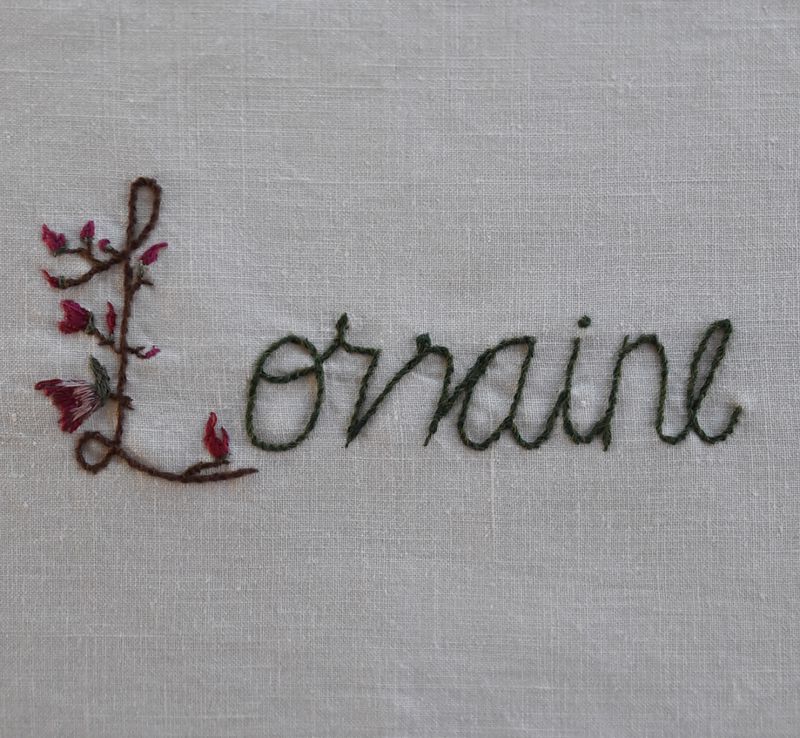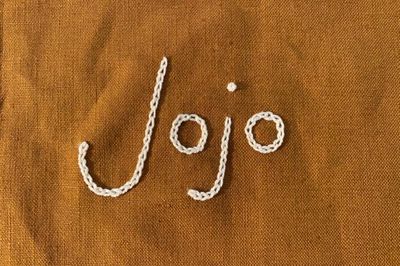 Jojo
+ Info
Jojo was my grandmother. Jojo was a loving presence in our lives and to me she was the embodiment of grace. Always calm with a gentle strength. So many lovely memories, but I recall Jojo gave me two special books (among others) when I was a young child - The Dreamtime and Jonathan Livingston Seagull - she was a spiritual guide before I even knew what that was.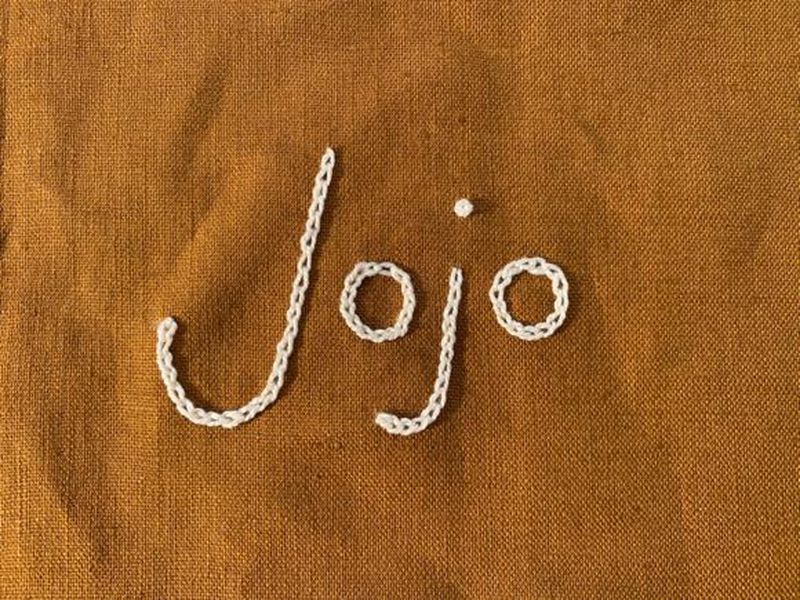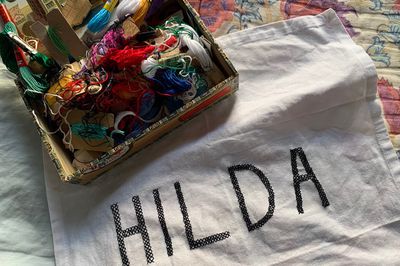 Hilda
+ Info
I chose to honour my Nana, Hilda. She taught me to cross-stitch as a 4 year old, nearly 40 years ago. As you can see cross-stitch is not my métier (I haven't practiced it much since childhood), but she did kindle in me a love of sewing, knitting and making, that continues on. She was a very skilled crafts person, and always had a project on the go. She also really valued education, and despite very modest means, encouraged and helped support my University studies. She was a strong woman who married late for the times, raised four children, then returned to teaching in middle-age when my grandfather became too unwell to work. She was widowed in her 50s, and travelled widely thereafter, while continuing to teach and undertake community work, often using her craft skills. Having grown up in the depression she was highly resourceful. The box of embroidery threads in the picture and which I used to embroider her name, I inherited from her. You can see how she carved grooves into an old wooden ruler to hold her embroidery silks. I learnt so much from her and remember her with great affection.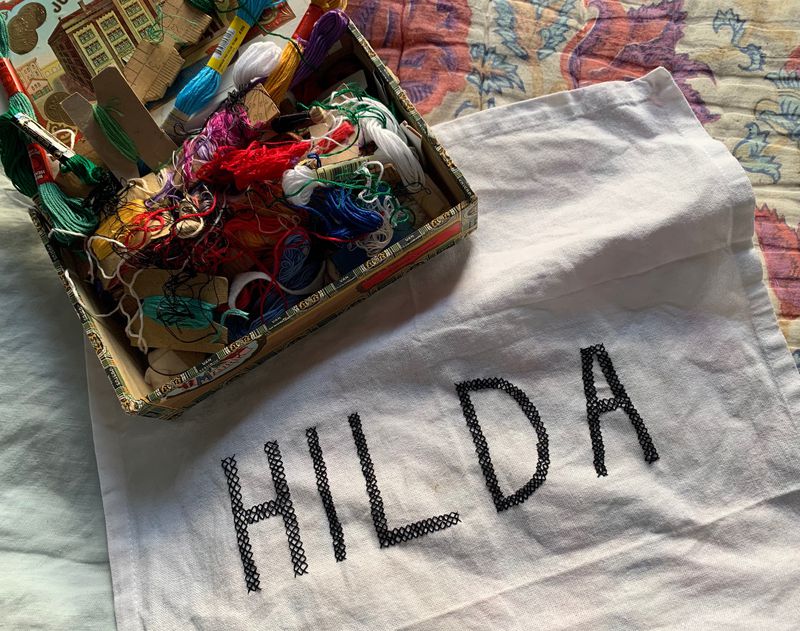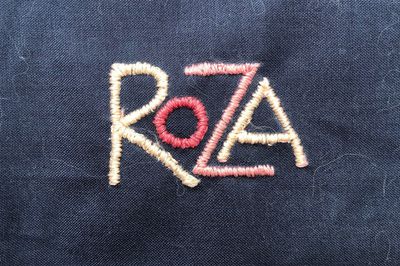 Roza
+ Info
This is for my beloved maternal grandmother Roza Weiss (née Rottersmann), Holocaust survivor and matriarch. I was only 9 when she died but her wisdom, stoicism and kindness have influenced me to this day. She could barely speak a word of English and I loved being a translator for her.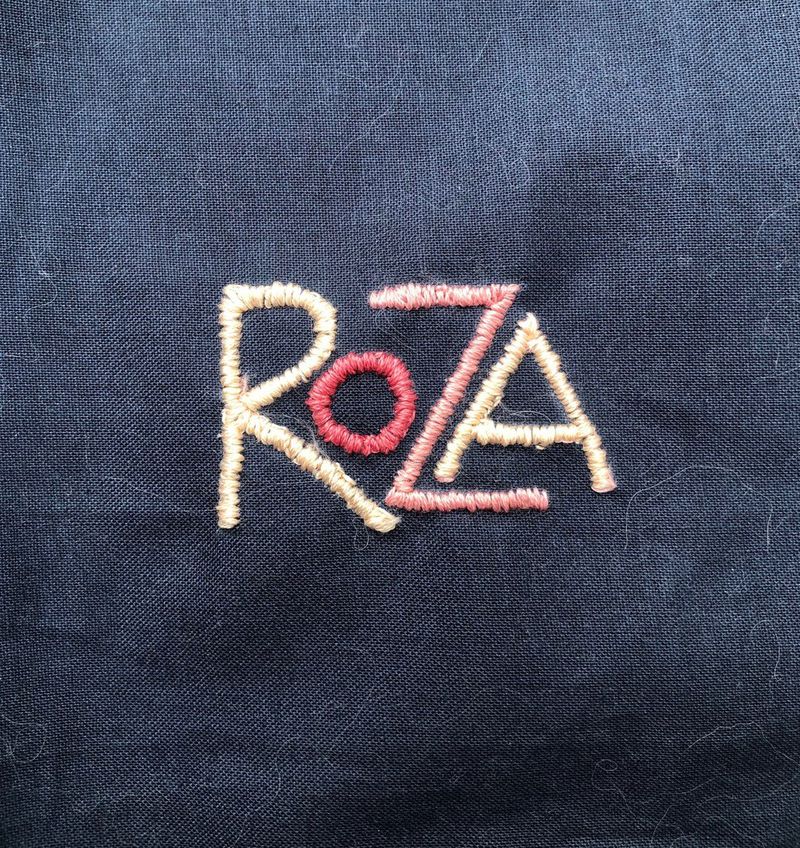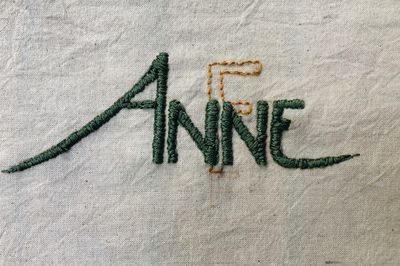 Anne F
+ Info
This is in honour of Anne Ferran - accomplished artist, generous art mentor and dear friend.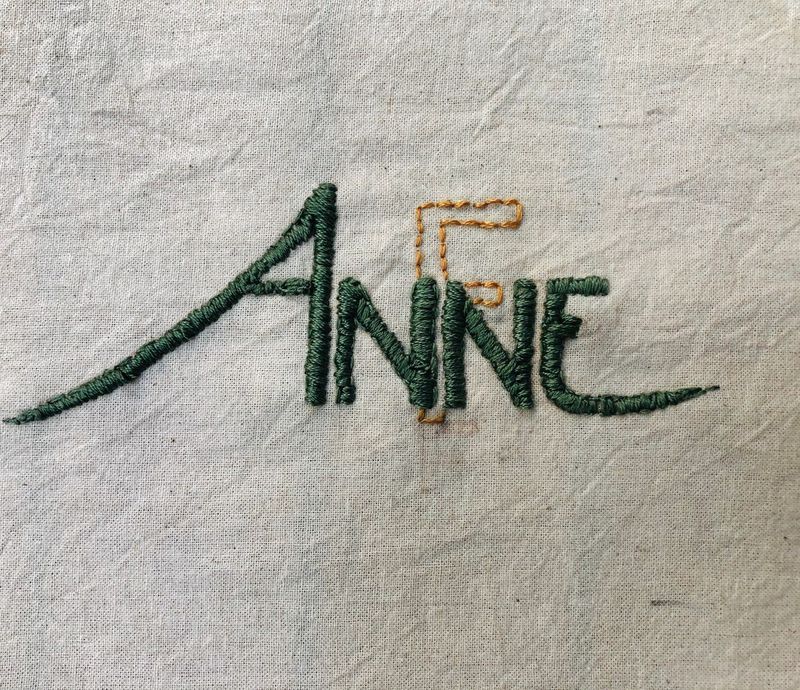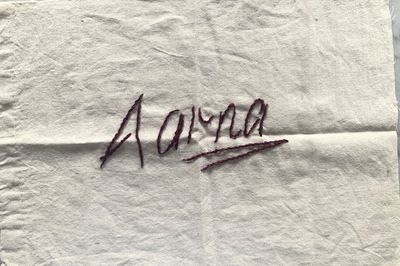 Aarna
+ Info
I have chosen to embroider the name of my daughter - Aarna on my piece of fabric. When thinking of why, I realized my daughter has had a profound effect on my life. She has helped me to understand the immense bond of love that can exist between two people. Loving Aarna gives me endless joy. She has taught me to step back, observe and trust another's judgement. I have learned from her that there is never just one way of doing. Creativity is a gift. Aarna uses her creativity to navigate her world.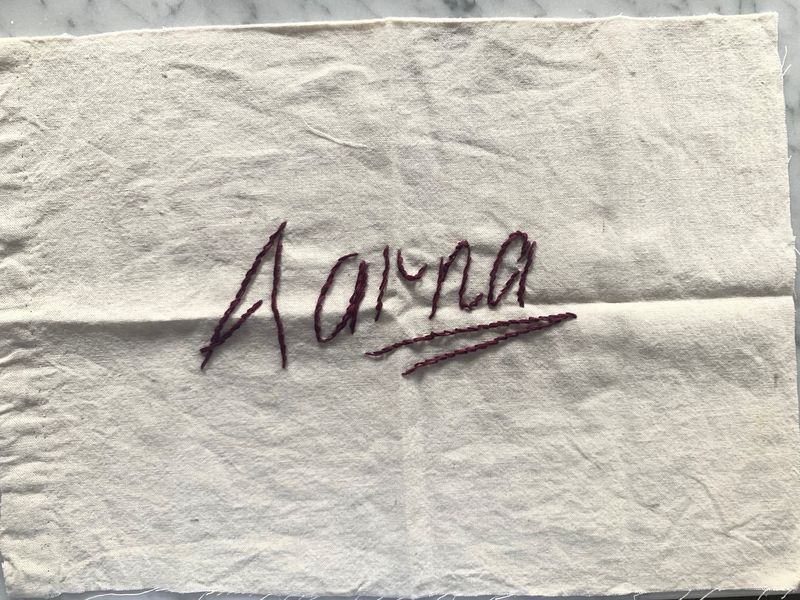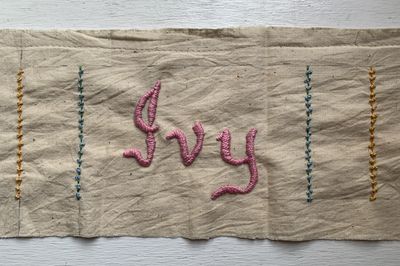 Ivy
+ Info
My Mum Ivy, was a quiet achiever, not into self promotion. An intelligent, resourceful woman, who often remained silent, rather than say a bad word about anyone. Her determination & indomitable spirit remains inspirational to me even though she died almost 9 years ago.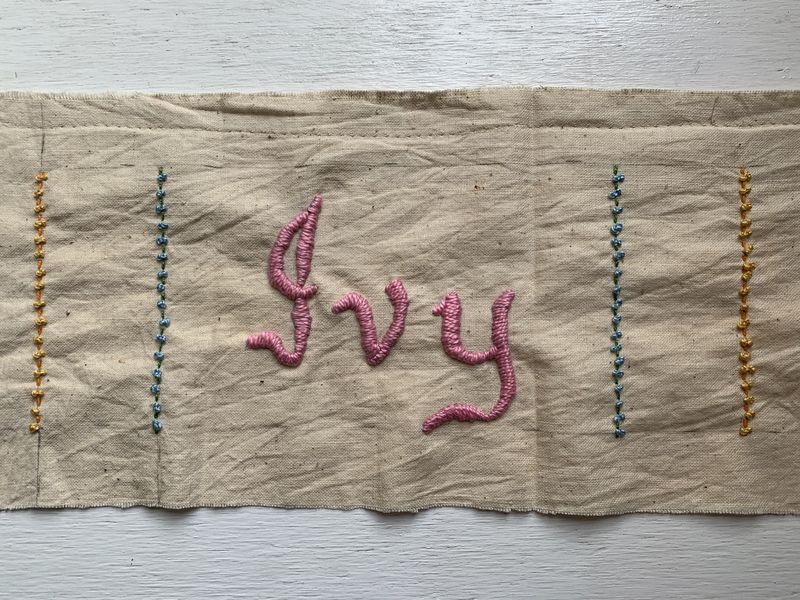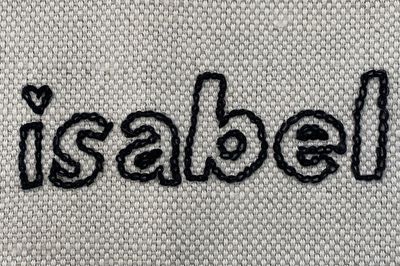 Isabel
+ Info
I have embroidered this patch in memory of my mother Isabel Haggitt. She was a very intelligent, creative woman. The obstacles she overcame in her early adult life taught me that with enough will you can do anything. She taught me to sew and believed in me being an artist.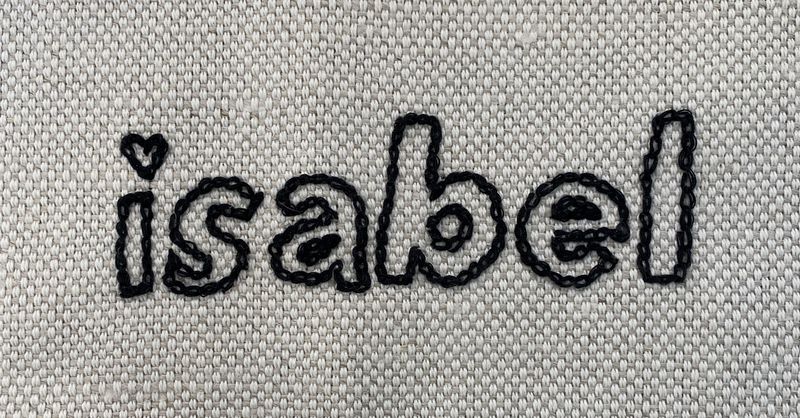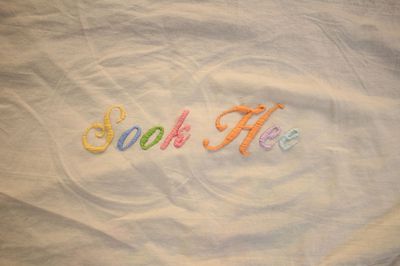 Sook Hee
+ Info
Sook Hee is my mum's name. She was an amazing dressmaker and owned her own wedding dress shop for over 15 years. At work I'd often find her out the back, glasses below the bridge of her nose, delicately beading the busts of heavy white dresses. When I was about eight, she bought a cross-stitch kit that had lots of colourful designs of bears in various scenes. We sat on her bed and she taught me how to do it. I kept the thread from this kit and used some of it for this embroidery. A needle and thread will always remind me of mum.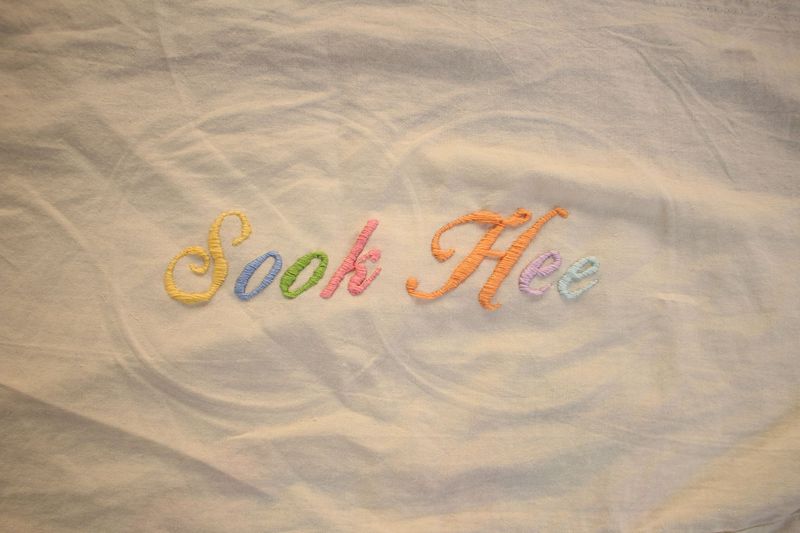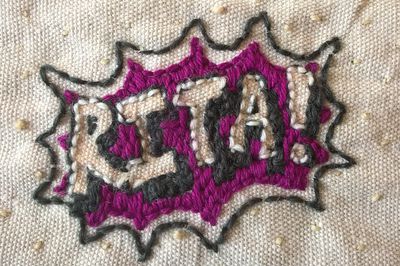 Rita
+ Info
This is for my grandmother Rita May Eastgate. She had real KAPOW!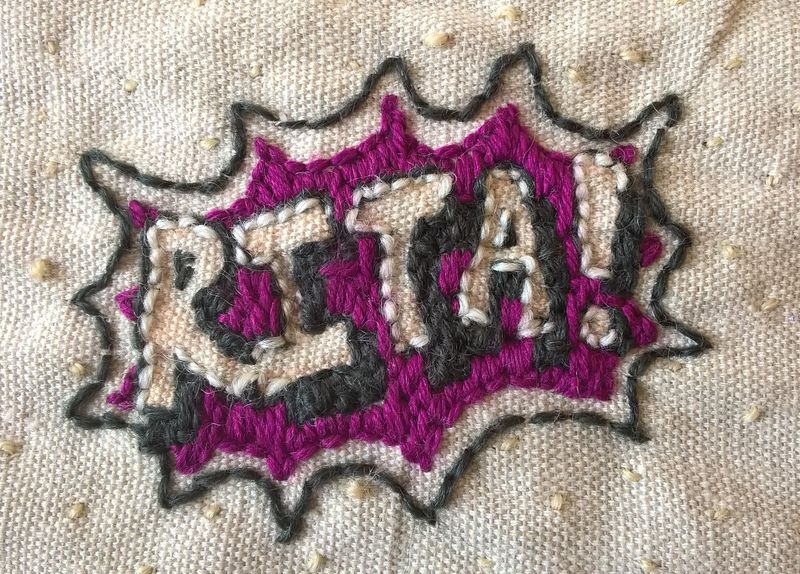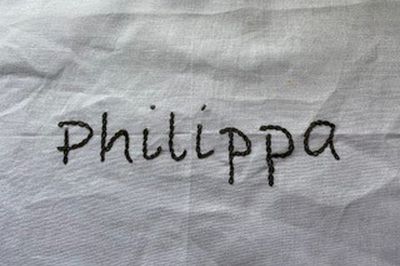 Philippa
+ Info
Philippa is my mother and she has and continues to inspire me with her creativity.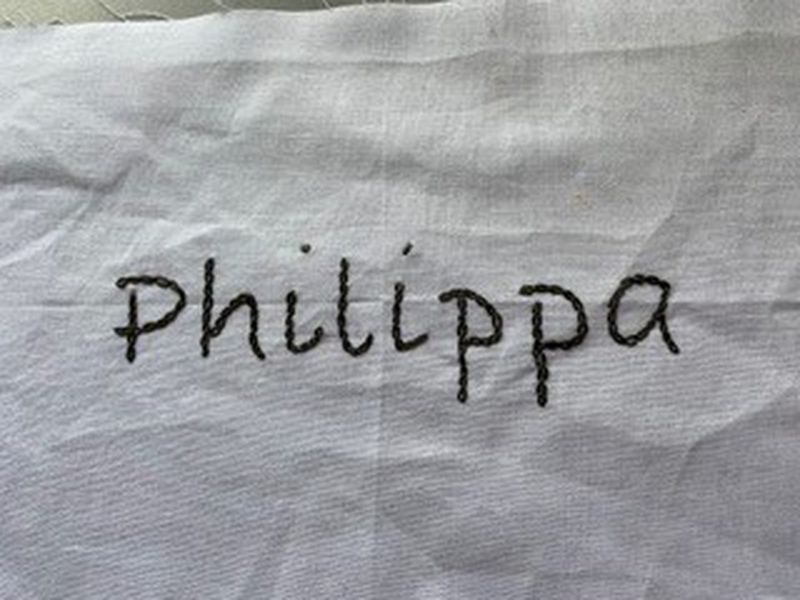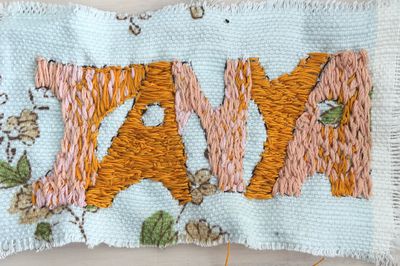 Tanya
+ Info
My tangata Rongonui is Tanya Filia. Tanya's whakapapa on her fathers side is Ngai Tahu and on her mothers Ngā Puhi (Ngati Hau + Ngati Kaharau). She grew up in Manurewa, and later went to Auckland Teachers College. Her whanau on her mother's side are from Waima and Ōmanaia in the Hokianga. The whole family now live back in the Hokianga. Following the passing of her grandfather Tanya took on the role of uplifting her marae, Ōmanaia Marae, to honour him. She became a marae trustee, and has been the driver behind endless fundraising leading to long overdue building projects (a work in progress). Through all this she has had to cope with major illness that would cripple the resolve of a normal person. She is my friend, and one of the strongest and most positive people that I know. It is a privilege to have her in my life.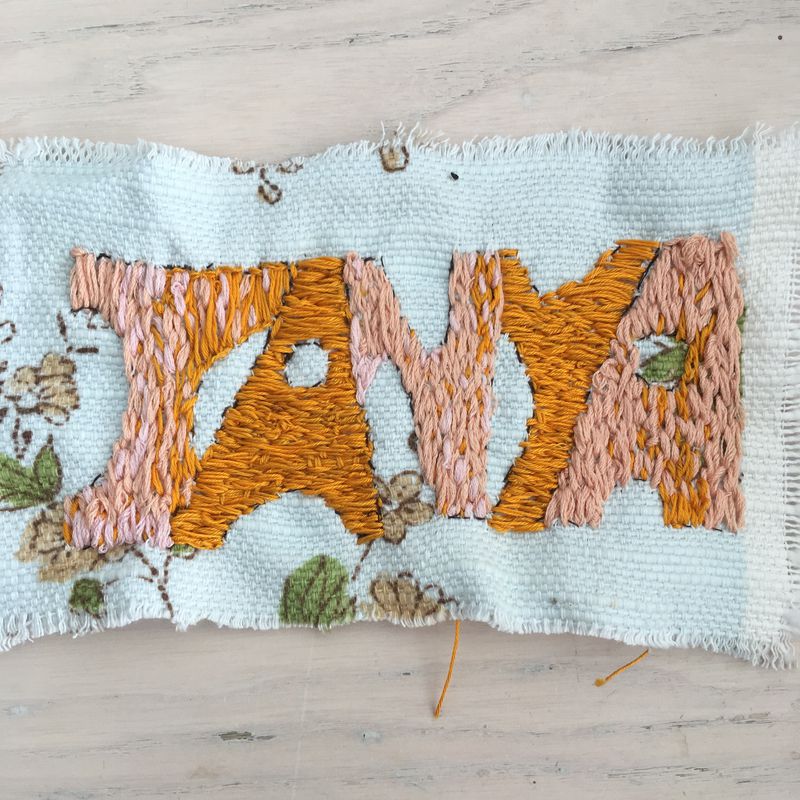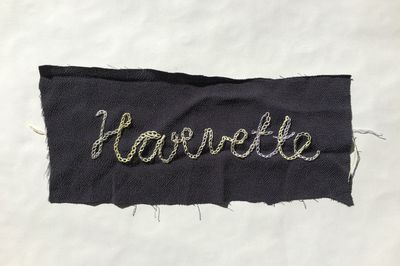 Harvette
+ Info
Dr. Harvette Grey is retired to Carbondale, Illinois from Chicago where she was most recently the director of the DuPaul University Cultural Center and formally the president of the Chicago chapter of the Association of Black Psychologists. I am so blessed to call her a friend, she is without doubt the most admirable person I know, she is an incredibly caring and inclusive person and the work she has done in her career as a social psychologist has benefited so many people.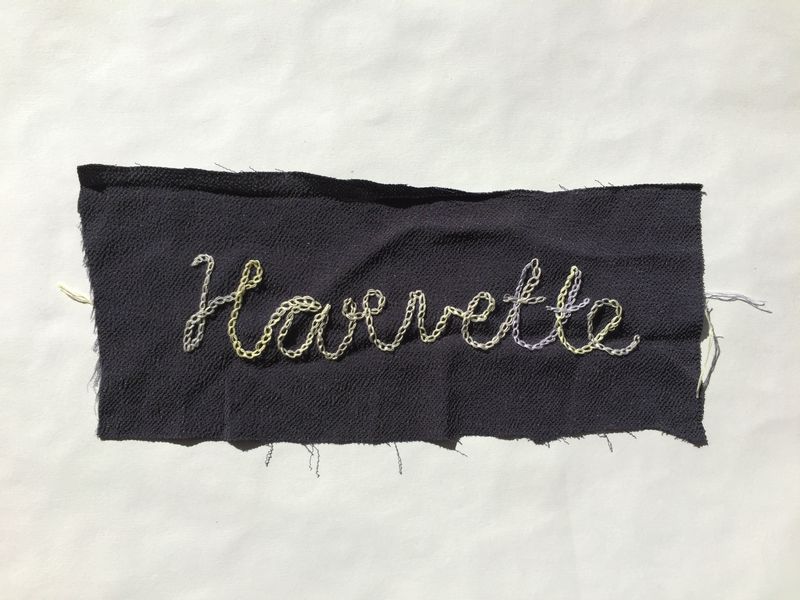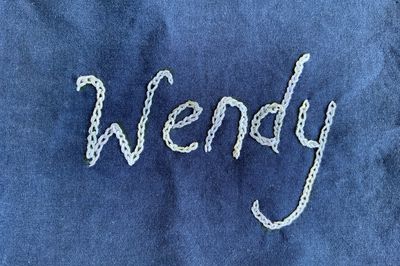 Wendy
+ Info
The name I've embroidered is Wendy. She was a Matron in Accident and Emergency at The Royal London Hospital where I trained as a registered nurse in the late 1980's. Wendy was a great nurse and fabulous teacher and a wonderful role model. She was also very calm, brave and compassionate and was honoured for her front line role during the Moorgate tube disaster. Although she died a few years ago I have been reminded of her courage while reading other stories of service to the public during the current covid crisis.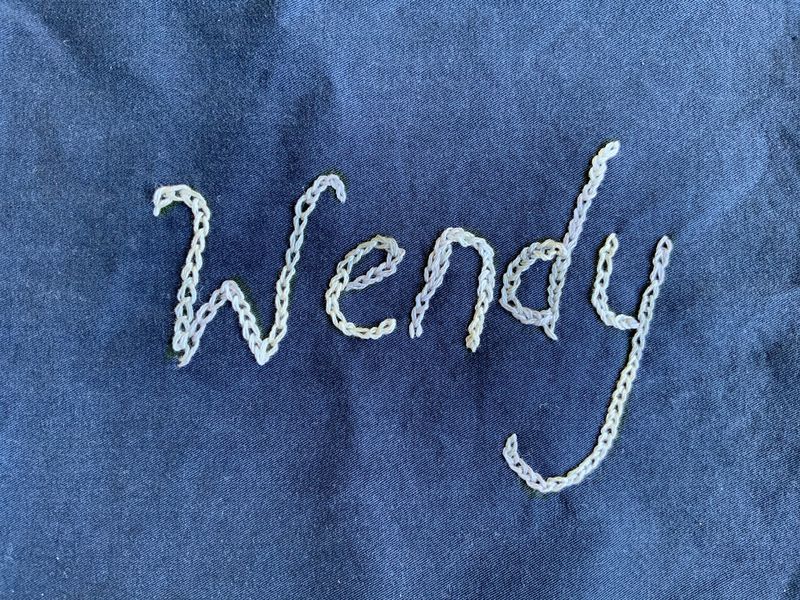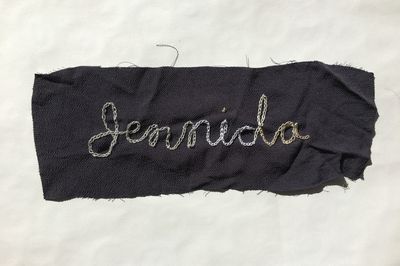 Jennida
+ Info
Jennida Chase is media studies professor at University of North Carolina, Greensboro, USA. She and her husband, Hassan Pitts, form the collective S/N. Foremost, she is my friend. She was a professor at Southern Illinois University when I was there doing my MFA in glass sculpture, her friendship and ferocious advocacy for artists got me through many a difficult time, and I'm sure for many others. She is an artist, a friend, a partner, and an amazing mother.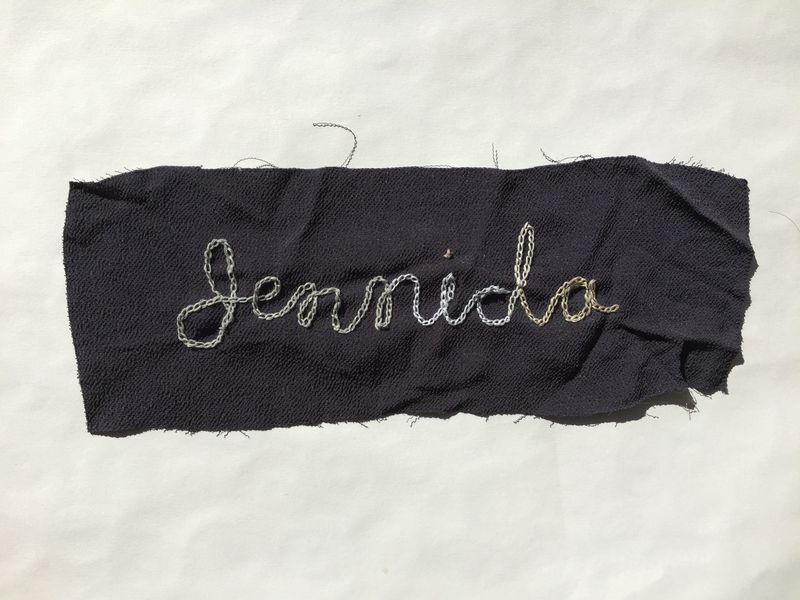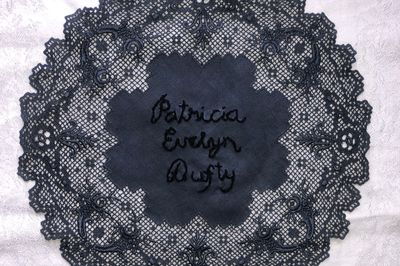 Patricia Evelyn Dufty
+ Info
Patricia Evelyn Dufty was my grandmother who taught me to sew and craft as a very young boy, this was a profound act of acceptance in the 1970s. I wanted to learn and she taught me regardless of what anyone else thought. This is a hand dyed doily that was hers, sewn onto one of her fancy napkins. She's been constantly in my heart lately as I've enjoyed practicing the skills she gave me all those years ago.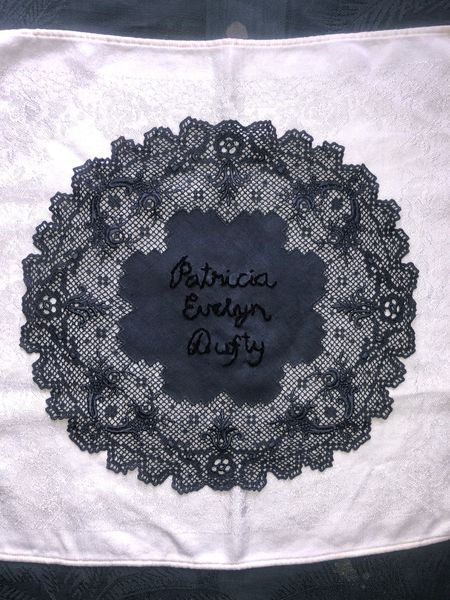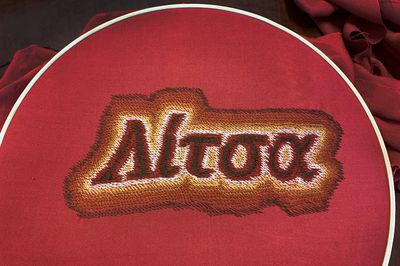 Litsa
+ Info
Litsa is my mum's name. I have chosen to write it with the traditional Greek font. Mum taught me how to sew my own clothes and embroider, though I never mastered the latter. Mum was a powerhouse growing up, cooking, cleaning, making all our clothes, and being the primary bread winner too. She was also there for me as I studied in late hours through the night. Her journey was always a labour of love for her family.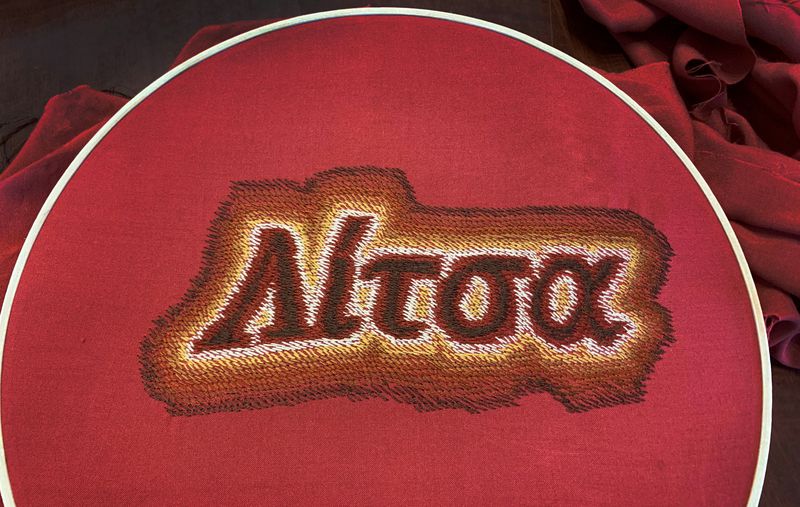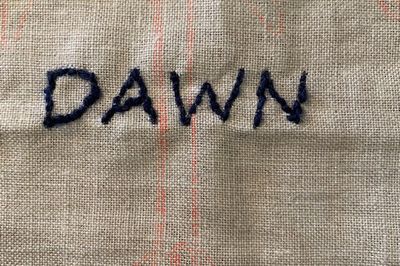 Dawn
+ Info
For my mother Dawn whose inner light shone bright as a daughter,sister,wife, mother, grandmother , great grandmother , friend and citizen of Aotearoa. Her name lives on with her granddaughter, Etiennette Dawn and great granddaughter Stella Dawn.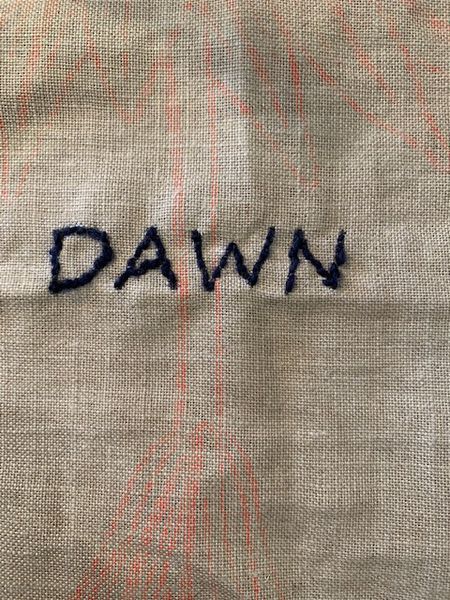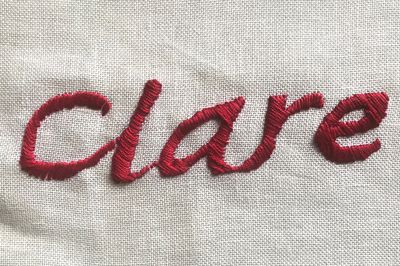 Clare
+ Info
Clare Grant is a fierce, Sydney-based performance artist, and mentor/teacher to many.
She has been a role model for me for over 30 years. I'm honoured to count her as a dear friend.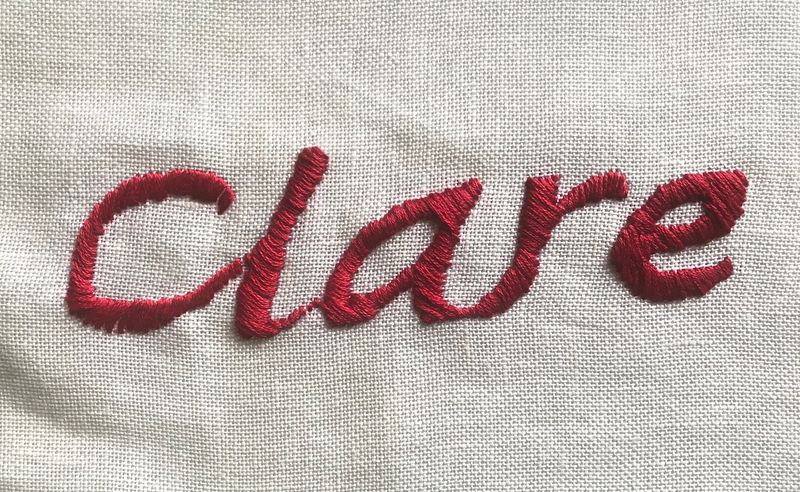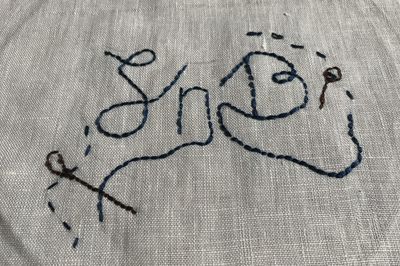 S n B
+ Info
I am honouring my five fellow inspirational members of my S n B group
(Stitch n Bitch) who for more than 30 years have supported and loved each other from childbirth, to menopause to grandkids; from making 14 collaborative 21st birthday quilts for all our children, to making surprise crafty interventions for each of our 50th and then (some still upcoming) 60th birthdays. Merry making, mirth, mockery and magically mad memories have all been treasured as a result.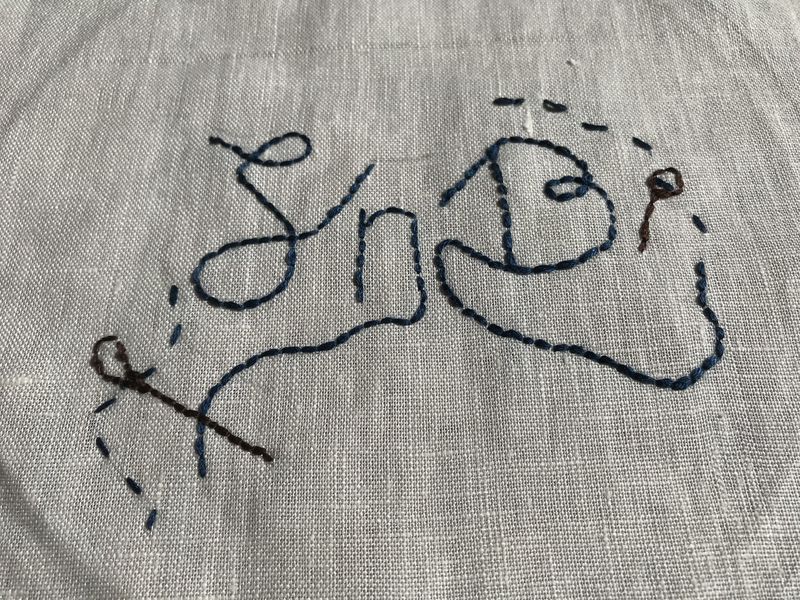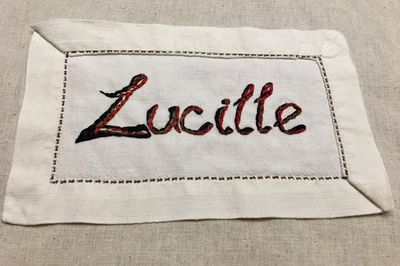 Lucille
+ Info
TV arrived in our house the year I was born, and growing up, my sister and I never missed the I Love Lucy show.
Lucille Ball was the star and her husband was there purely to act as her sidekick. In those days there weren't many TV shows where a woman played the title role. She was our flame haired hero. I've since learned that she said 'I'm not funny, what I am is brave.'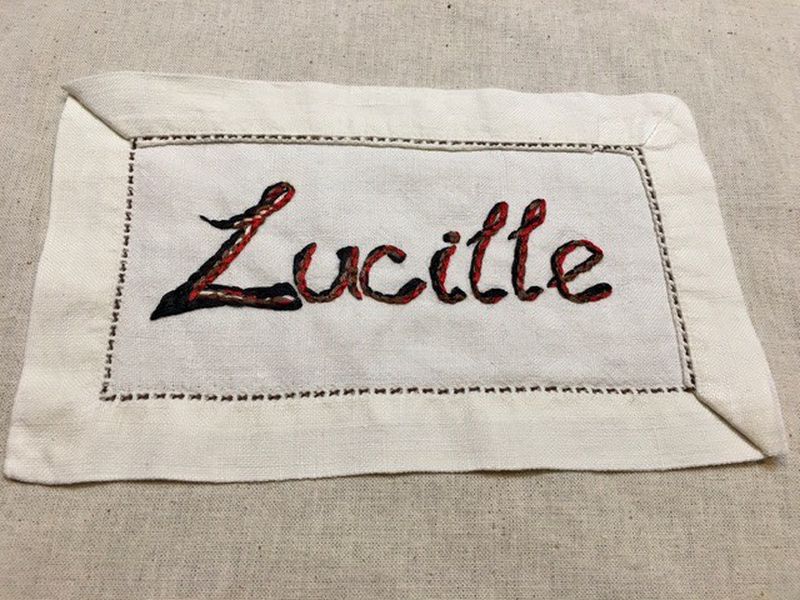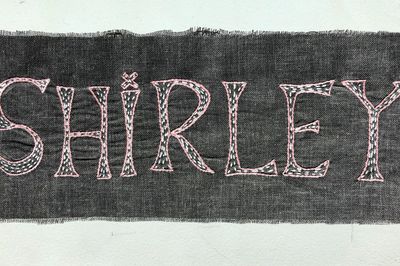 Shirley
+ Info
Shirley was my mother's name. She definitely never thought of herself as an artist, but she taught me to embroider, sew, and decorate cakes when I was a child. And all of these domestic crafts have had an impact on my subsequent art practice.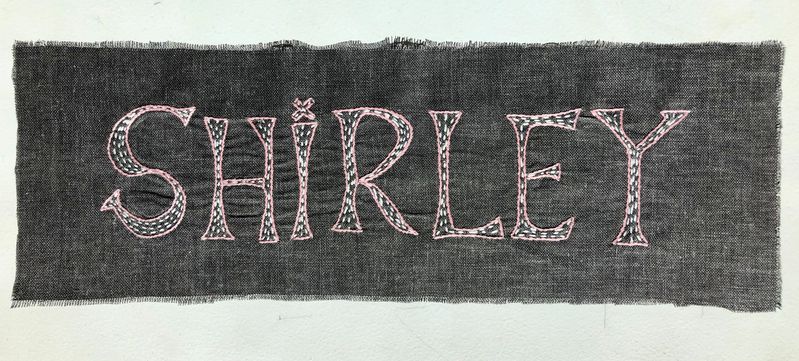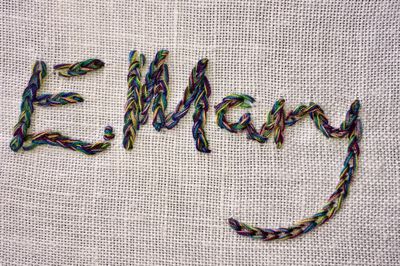 E. Mary
+ Info
There were at least 3 Mary Jerrams in our family so my mother referred to herself as E. Mary - the E from her official first name, Evelyn. She didn't particularly enjoy sewing or knitting herself, but nonetheless took the time to teach me basic skills, igniting my life long love of textiles. This is how I remember her signature - I've stitched it in threads I found in her sewing table which I now have beside my bed. Some of them probably date back to the 1950s.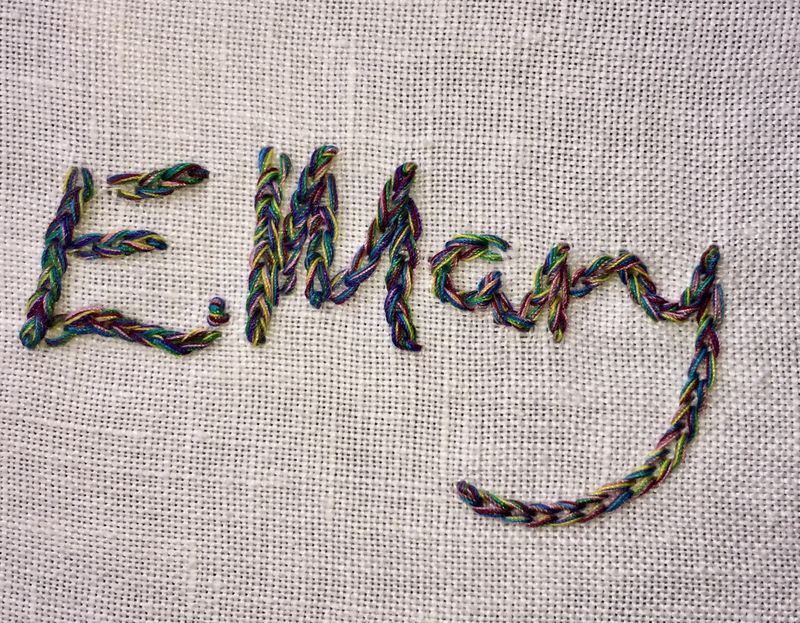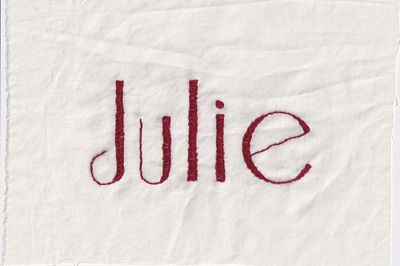 Julie
+ Info
Julie is my mother: a woman who loves and cares deeply, who has an insatiable appetite for learning and the tendency to stay up all night reading. In this uncertain world, when I have no idea when I will be able to fly home to see her, every phone call has become precious. I miss her every day.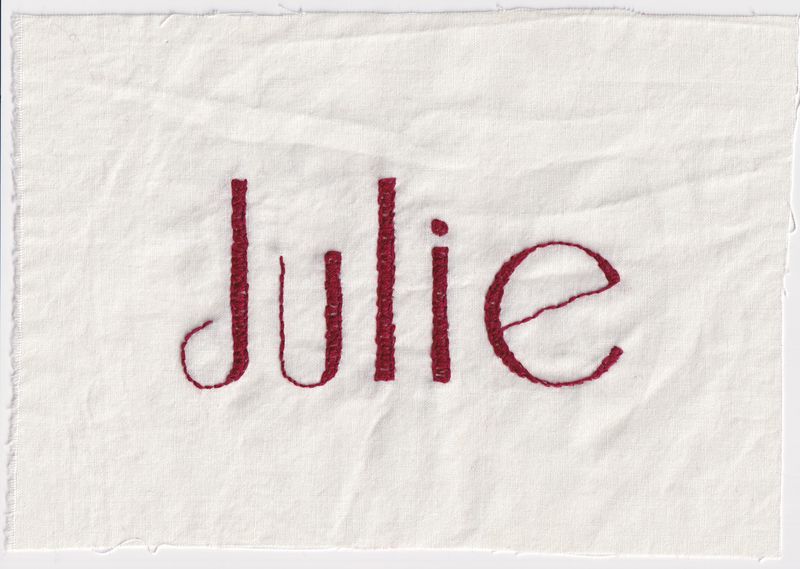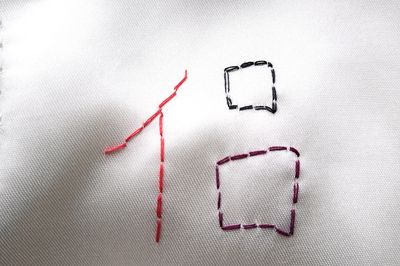 侣
+ Info
I have decided to pick out a part of our 3 Chinese names and made it into a new mandarin character. Our names are 贞(grandma), 燕(mum) and 蓉(me) The word I have chosen is 侣 ; The character means companion. The colours used are each of our favourite colour. Though I do not have both of their companionship right now, but the creation of this work makes me feel closer to them.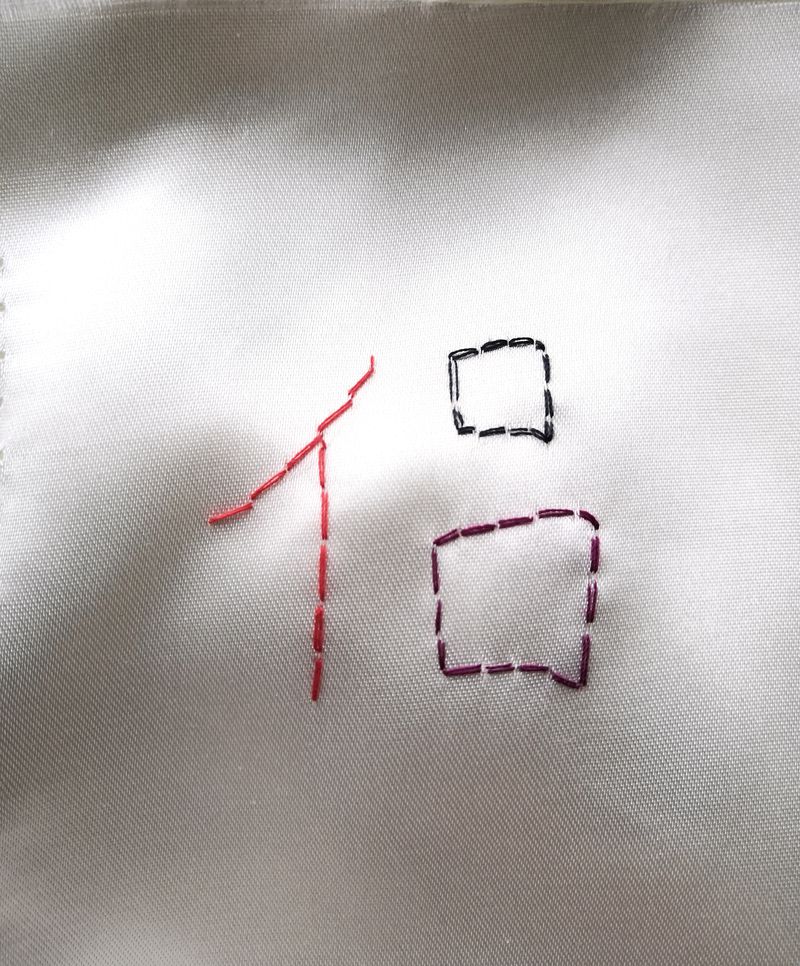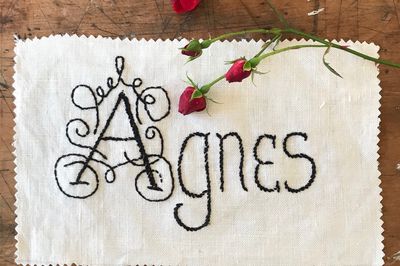 Agnes
+ Info
A Hungarian woman named Agnes is the person I've chosen to honour for the Nell + Anne quilt project. Agnes showed me extraordinary kindness one night 30 years ago. I never saw her again but I've never forgotten her.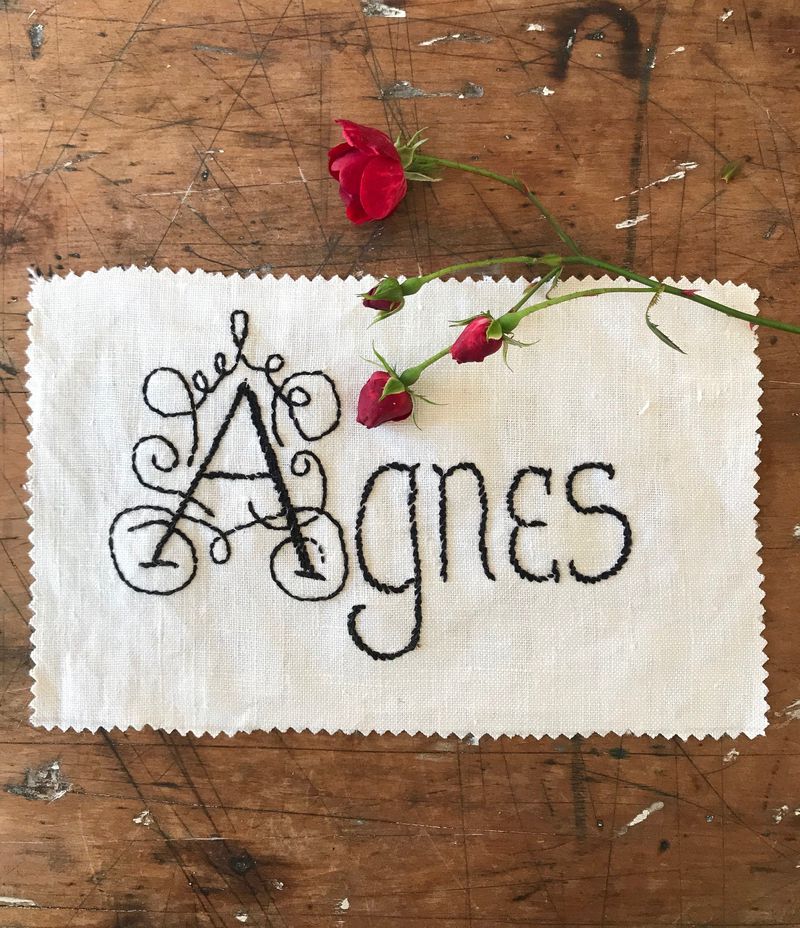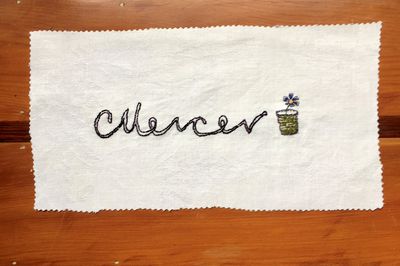 Mercer
+ Info
Here's my contribution to the Nell Anne Quilt project. This is my grandmother's signature - she was christened Margaret Mercer but always known as Mercer (though she was not fond of her name). She was a delightful grandmother and very creative in her own way. Amongst other things she made at one stage were a series of empty waxed cardboard honey pots to which she stitched old fashioned hairy green baling twine - as children we laughed but I treasure the (somewhat faded) last remaining grandma's green string pot.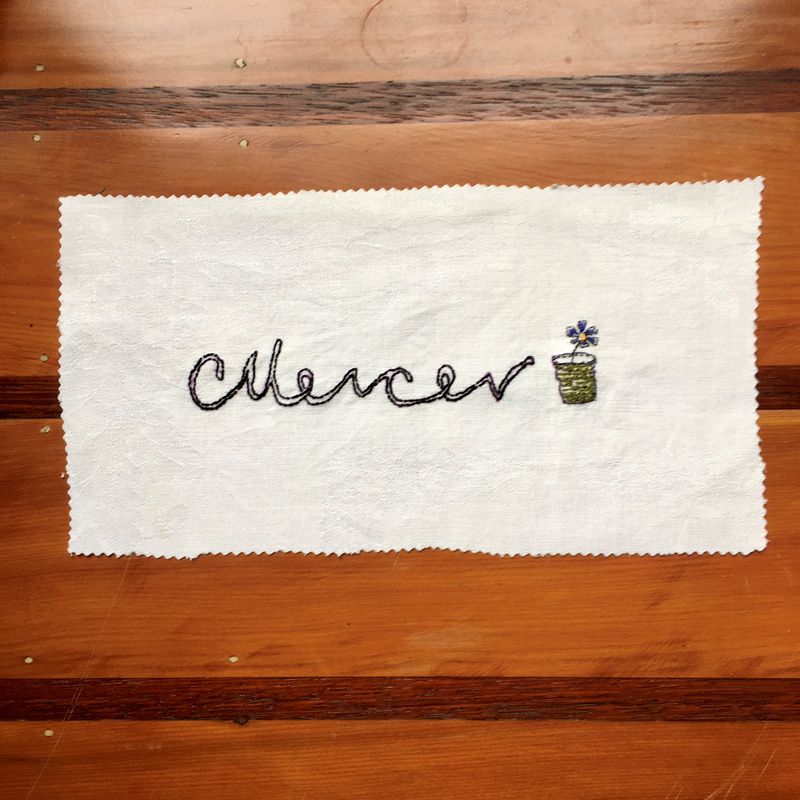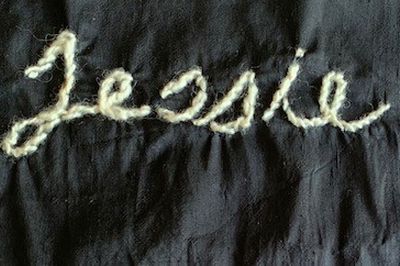 Jessie
+ Info
Jessie is my grandmother. From a family of crafty women, she was a member of Titirangi Spinners & Weavers for many years, grazed the sheep, dyed the wool, and spun and wove. So I used wool as my embroidery thread and attempted a back stitch.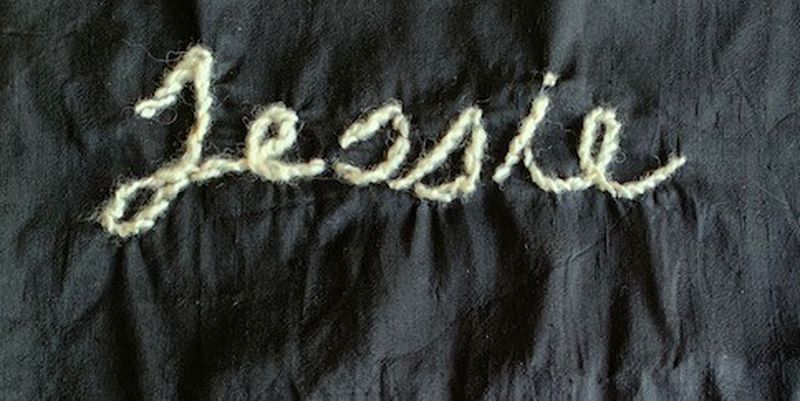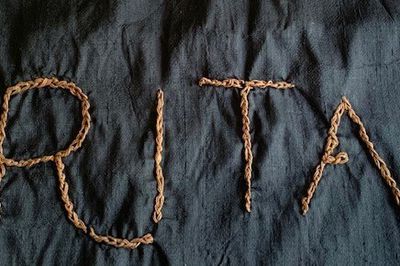 Rita
+ Info
Rita is Rita Angus. Inspired by her uncompromising dedication to life as an artist, I have a photo image of her (by Marti Freidlander) by my front door which I connect with whenever I feel I need more backbone in my life. I used linen thread and attempted a chain stitching of her signature on a painting I am lucky enough to own.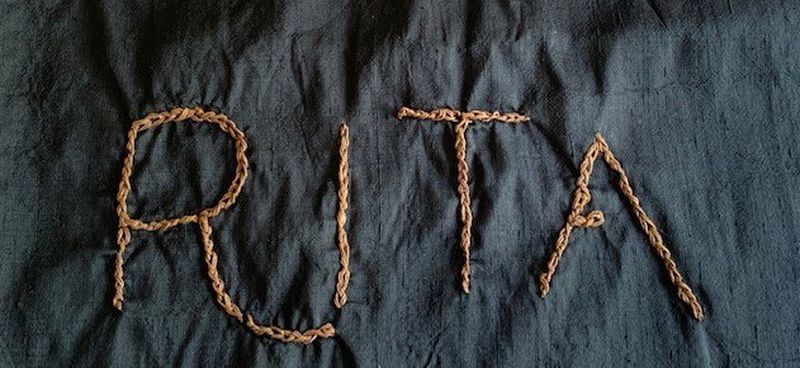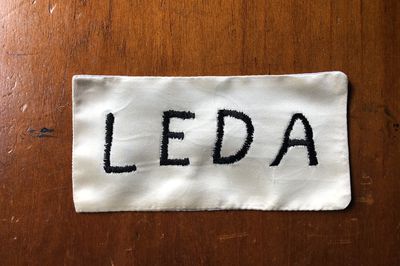 Leda
+ Info
For the past year I have been working with the ancient Greek myth of Leda and the Swan. The myth tells the story of forbidden desire and force, and for centuries artists have framed it as an erotic scene. I have been struggling with this art history, trying to shrug off the lame old patriarchal stand in which paranoid hypocrisy is valorised as sexy paradox. The damage has been done. In my work, making art, I want to create a sensuality for the girl that is both strong-willed and resistant. That is why I write the name Leda here.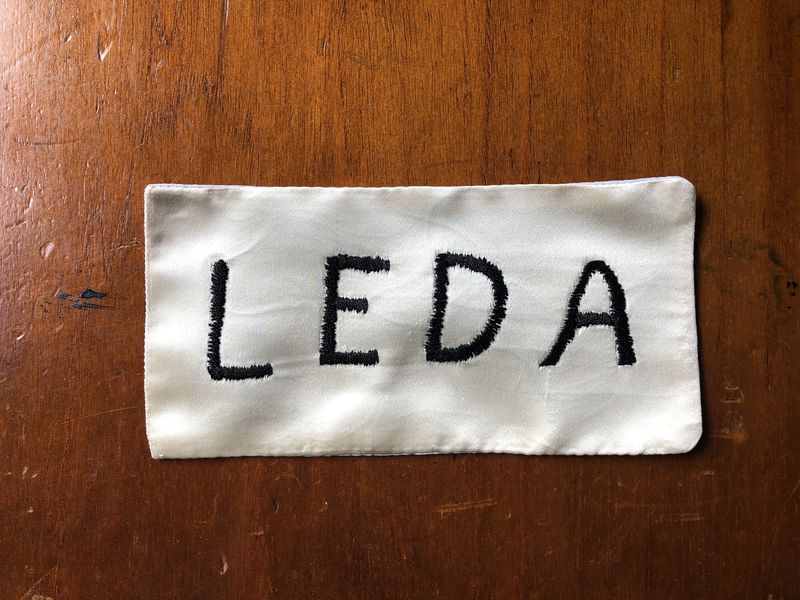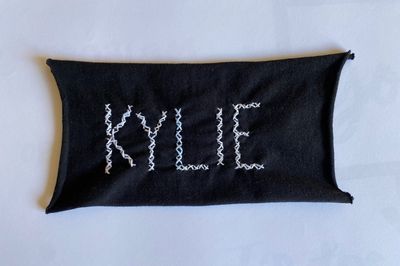 Kylie
+ Info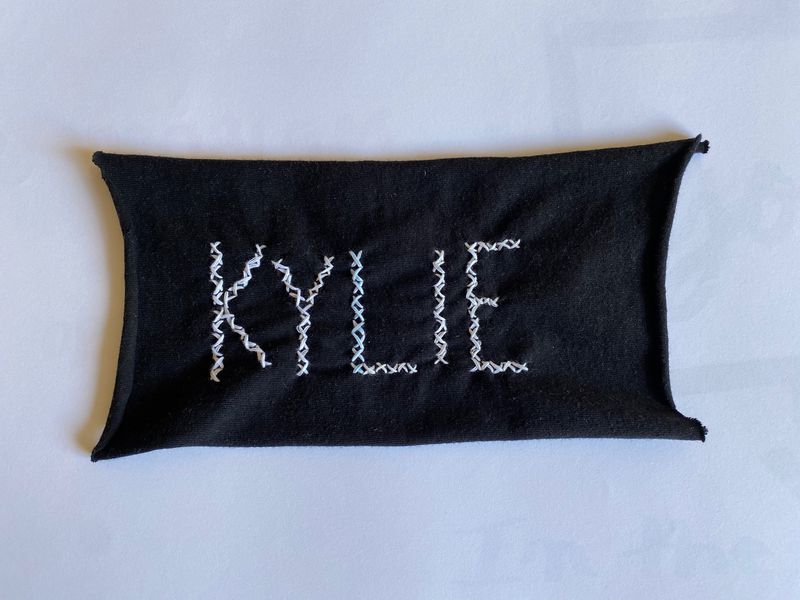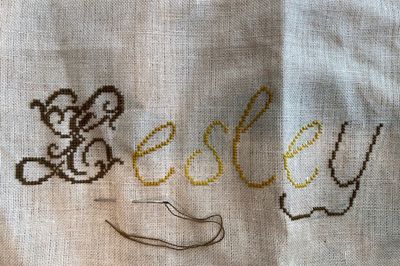 Lesley
+ Info
Lesley is my Mum, who passed away suddenly nearly 8 years ago now. She was a nurse and homemaker. She made all our clothes growing up, ( including our ski suits, when we went to the snow), and later knitting beautiful layettes and smocked garments for her grandchildren. I owe my love of craft to her, for she truly coined the term 'Happiness is Homemade'.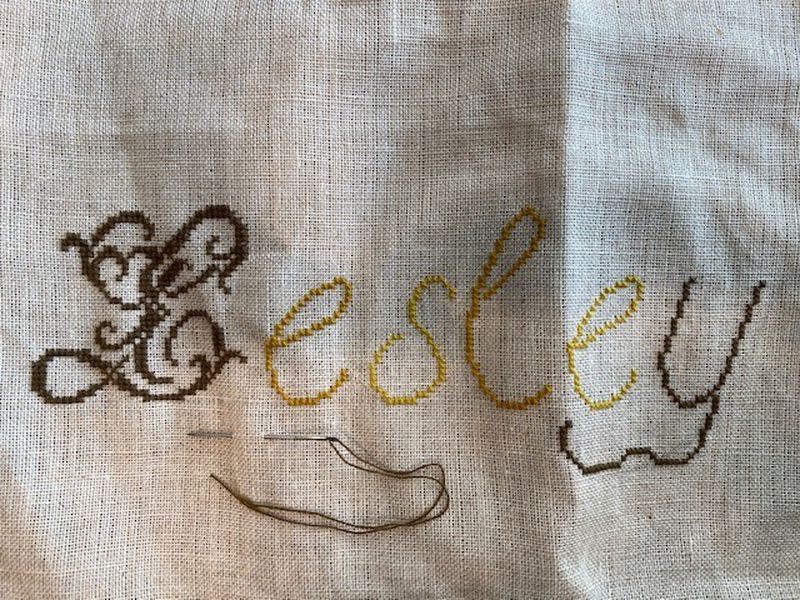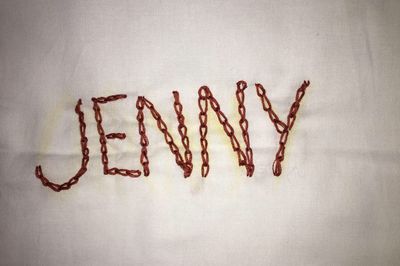 Jenny
+ Info
My nana on my mums' side. Me and my nana design and sell knitted tops together.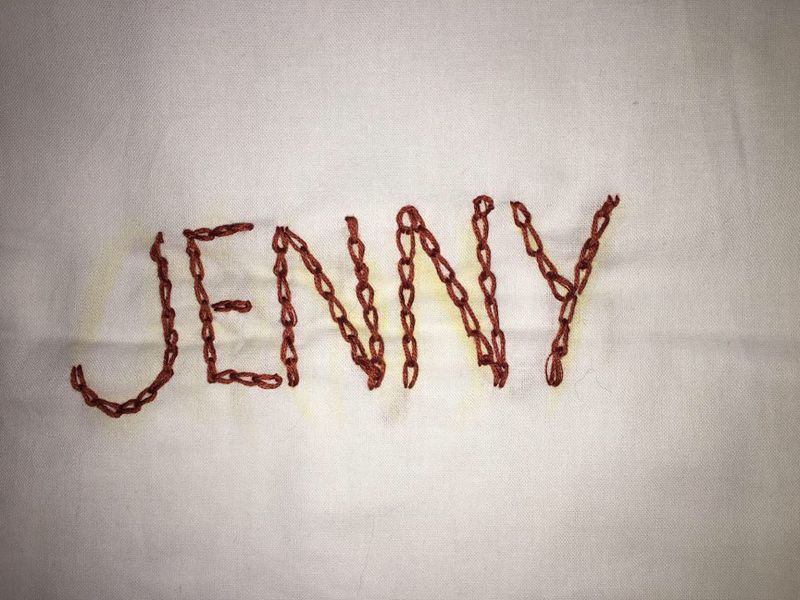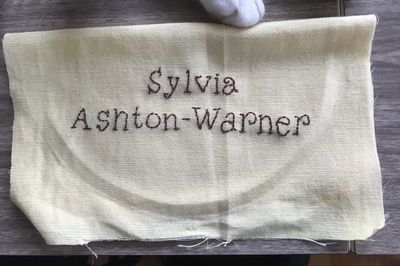 Sylvia Ashton - Warner
+ Info
I chose Sylvia Ashton-Warner because I had just finished re-reading her book Teacher. I'm a new teacher this year and her determination to teach her Māori students in ways that were meaningful to them is an inspiration (no Janet and John readers in her classes!). It's amazing how prescient and culturally responsive she was in Aotearoa in the 1960s. I also chose a yellow background and brown stitches to reflect the school uniform she tried so hard to institute, she had the girls knitting bright yellow jumpers!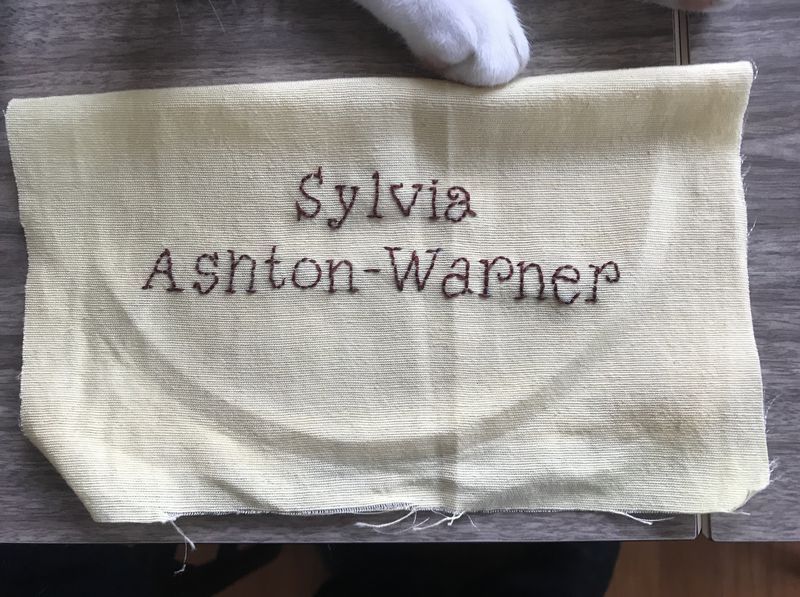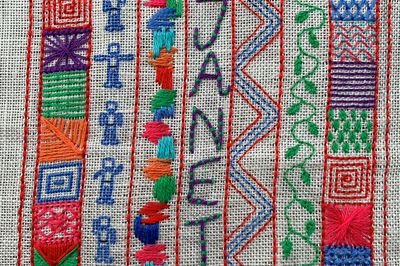 Janet
+ Info
This is for Janet Frame. To me, she is a regular source of inspiration, not only for her creativity and imagination and foresight and hilarity, but for the way she navigated a society that was not necessarily ready or willing to accept her skirting the boundaries of social conformity.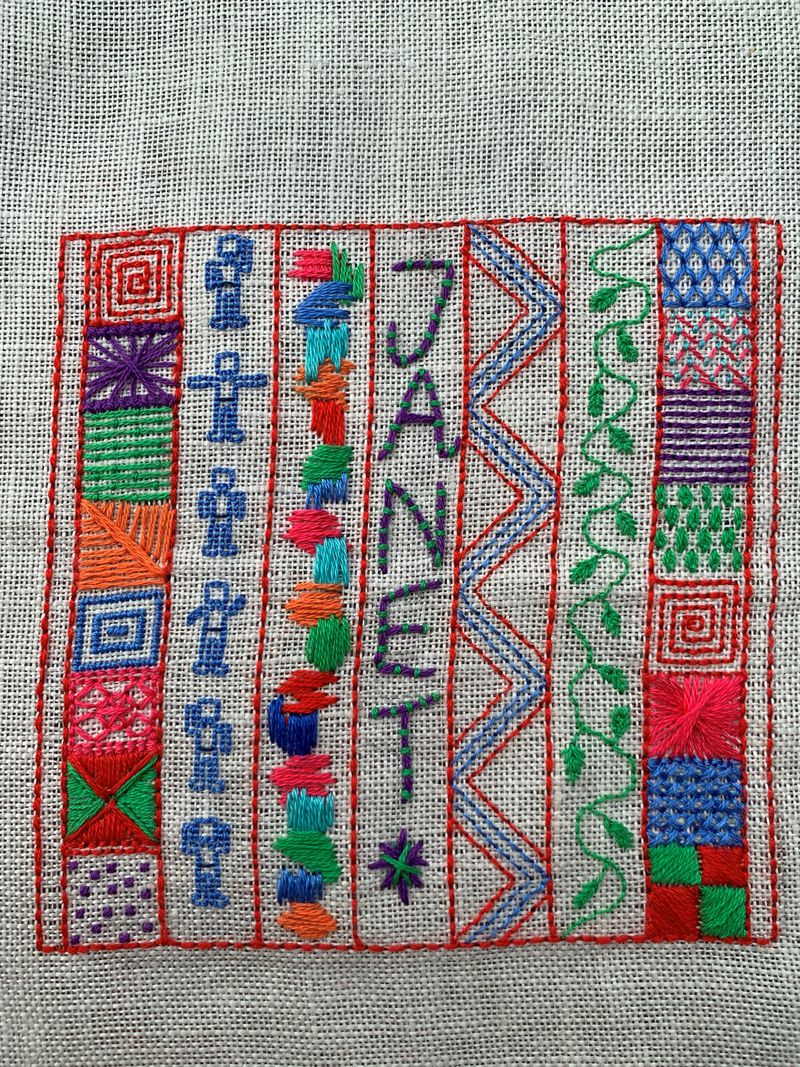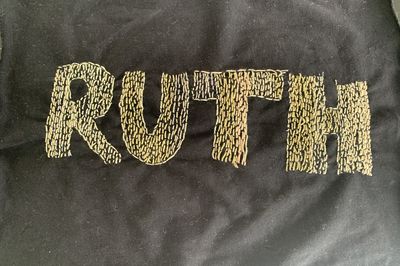 Ruth
+ Info
As I've stitched this patch, I've enjoyed remembering loved memories and admirable qualities of my Grandma Ruth. She was strong, kind, capable and independent. She was a rock in my childhood and a modern woman before her time. I carry her with me.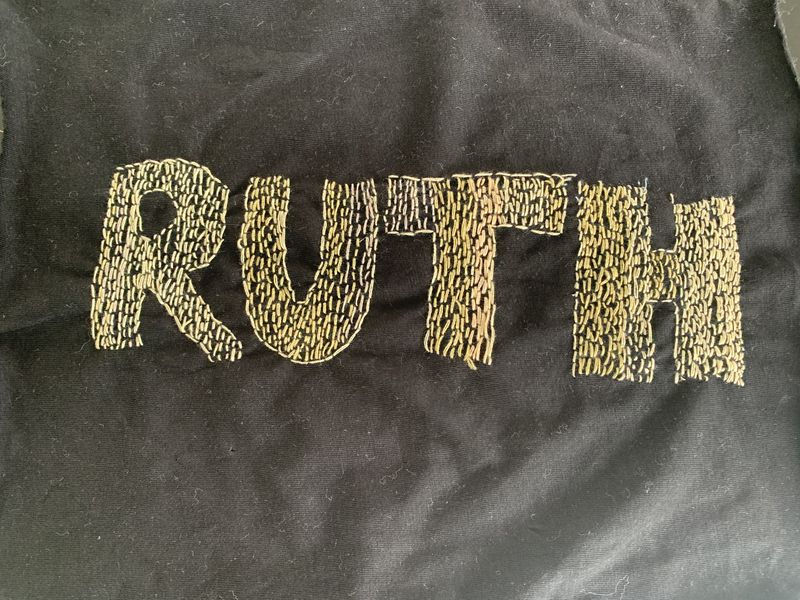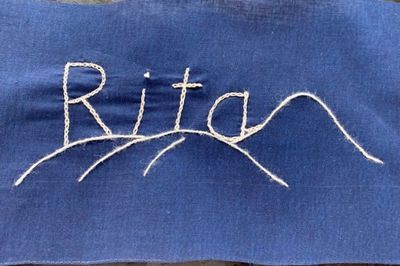 Rita
+ Info
Rita Angus was such a ground breaker in her time, both in her hard-edged modernist painting style and her personal life. I don't think she sold one work in her lifetime but that didn't stop her developing as an artist. By living the solo life, undistracted by the demands of husband and family, she was able to devote herself to her art.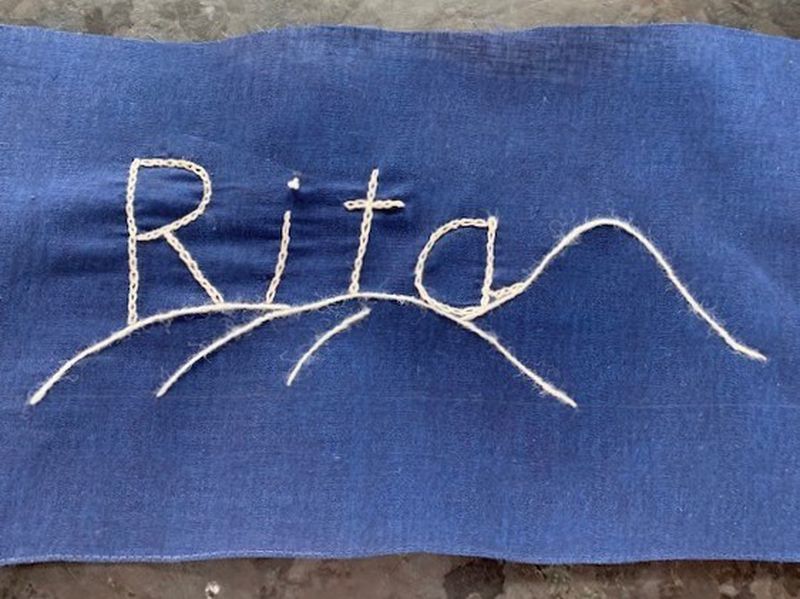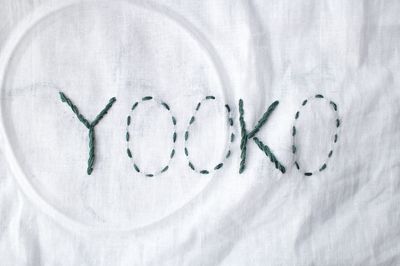 Yooko
+ Info
My mum lived in Japan as a high school student for a year during the 80s. Yooko is her Mother, and my Grandmother or 'Baba'. Some of my favourite memories are of times spent in Japan with Baba.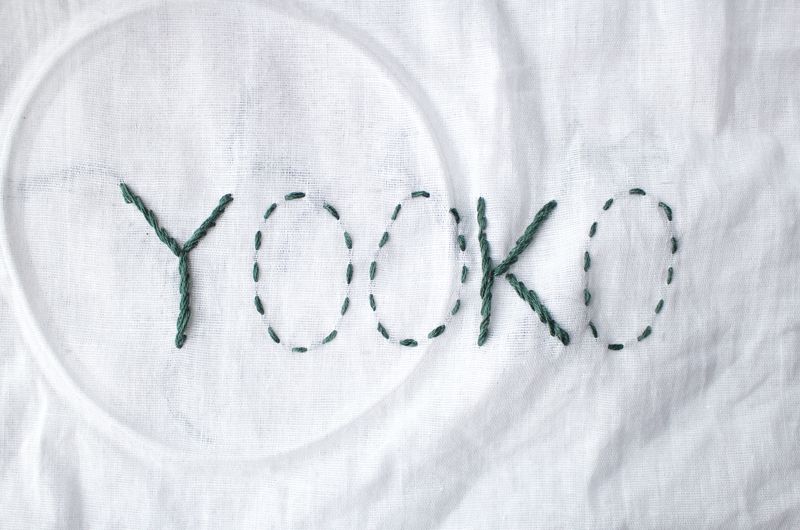 Participants
Thank you to everyone who has contributed to The NELL ANNE Quilt Project.