McCahon House Kauri Project
A collaborative project between McCahon House, The Kauri Project, Auckland Council Biosecurity, and Auckland Botanic Gardens in partnership with Te Kawerau ā Maki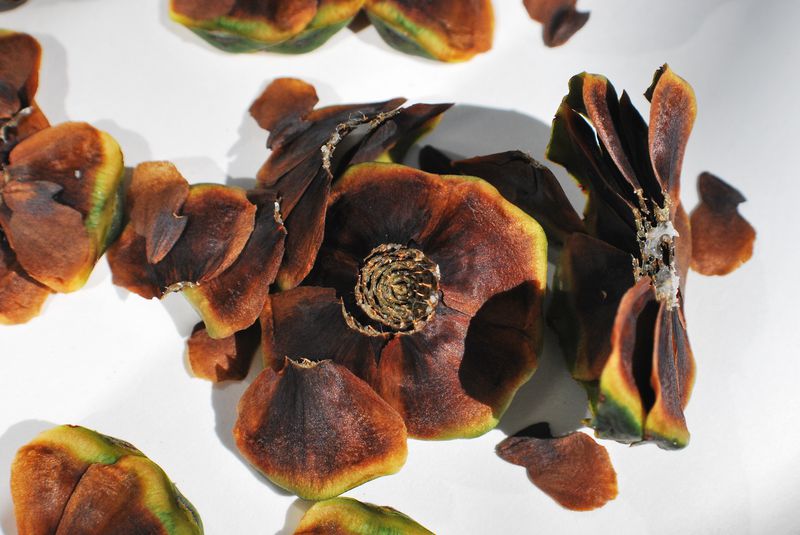 The McCahon Kauri Project is an occasional project between a group of collaborators committed to the proliferation and protection of kauri. By combining our resources we (McCahon House Trust, The Kauri Project, Te Kawerau ā Maki, Auckland Council Biosecurity, Auckland Botanic Gardens) have been able to offer a new generation of disease-free kauri, raised from the seeds of the kauri from McCahon's French Bay home of the 1950s. Whilst living out West, McCahon made over 50 paintings and drawings which included kauri in their title
Limited numbers of the McCahon House Kauri Project saplings are currently available for purchase from our online store. Descended from the same Kauri trees Colin McCahon loved and painted, the provenance of these 3-year-old saplings is McCahon House Museum, Titirangi Auckland.
Read on for further information on the McCahon House Kauri Project.
1 of 4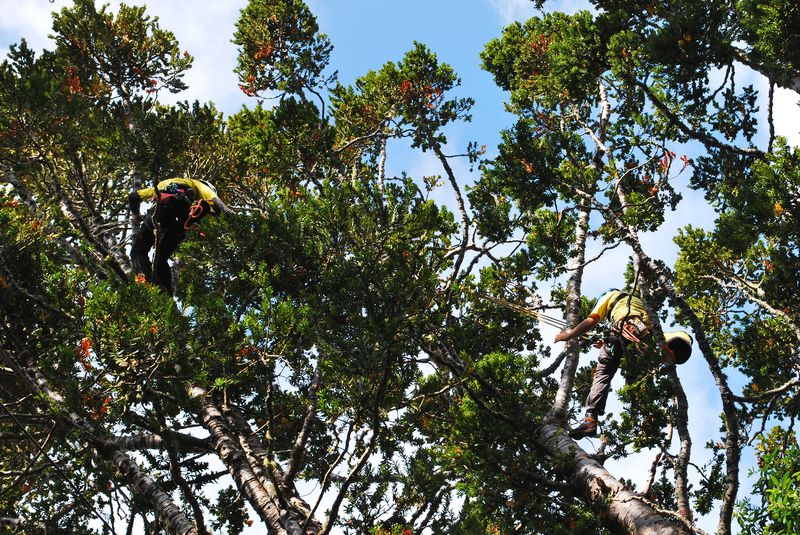 Fredrik Hjelm harvesting the seed pods at McCahon House museum.
2 of 4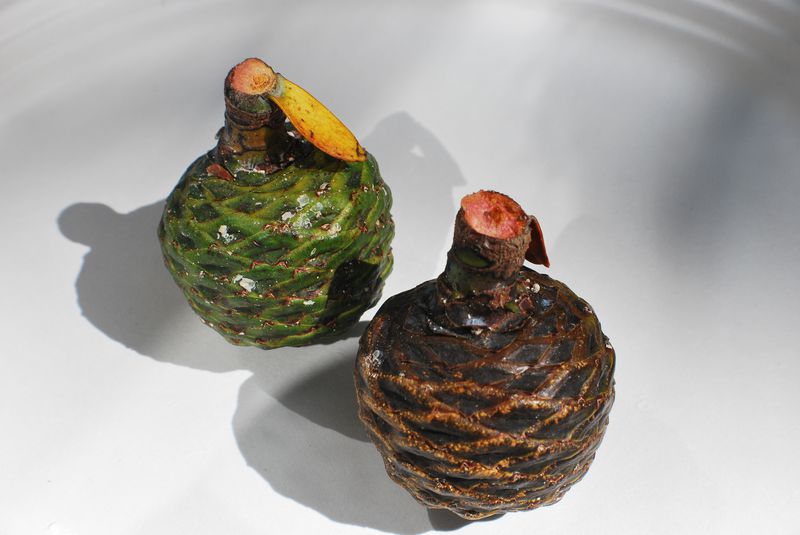 Kauri seed cones harvested from McCahon House museum.
3 of 4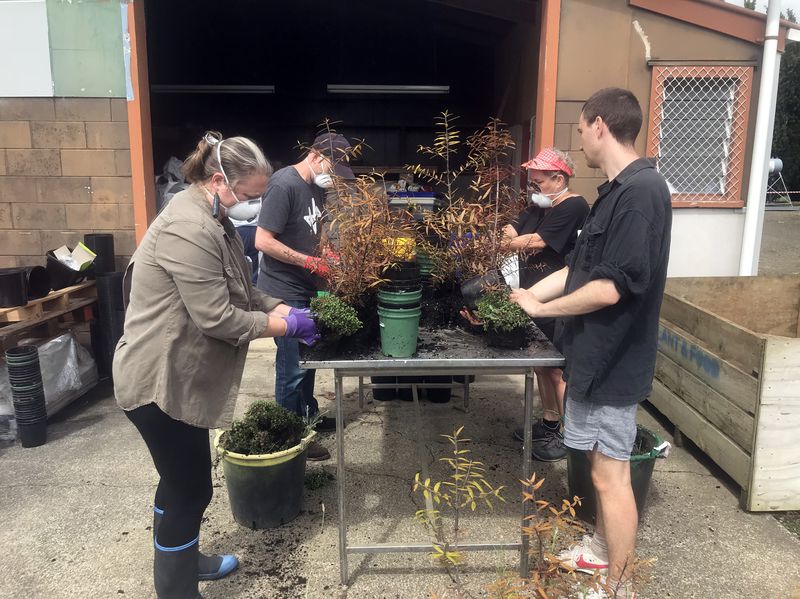 McCahon House and Kauri Project team repotting the kauri saplings.
4 of 4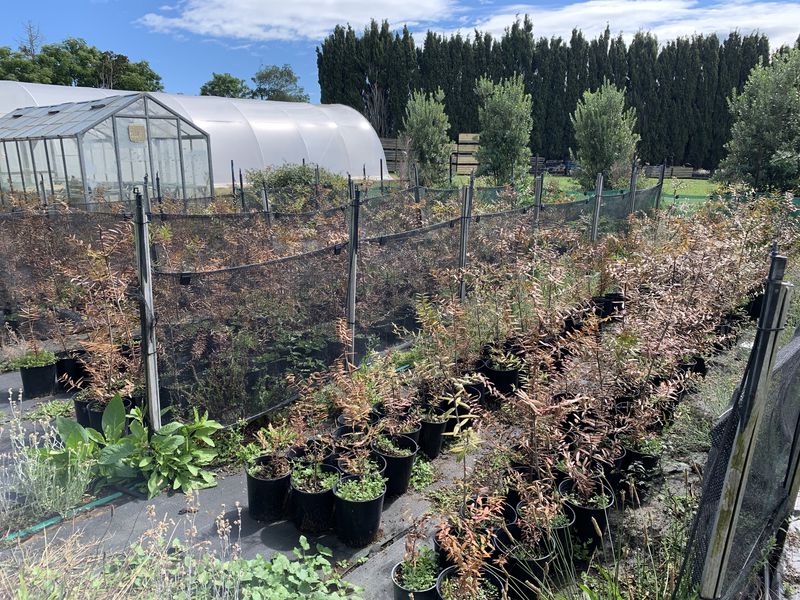 McCahon House Kauri Project saplings at Plant & Food Research, Pukekohe.
McCahon House Kauri Seed Collection
Kauri dieback was first detected on the McCahon House property in late 2008. By 2014 the trees were in severe decline and it was feared that they may not live for much longer or produce much more seed. It was highlighted that without immediate action it was likely the 'McCahon House kauri' and it genetic line would be lost.
Cone Collection:
Mature cones were collected from all kauri at the McCahon House Property at 67 Otitori Bay Road to retain the 'McCahon House kauri' whakapapa for future generations.
AC Biosecurity worked with arborists from ArborLab who climbed each tree and collected the cones.
Given kauri dieback disease presence and the risk of transfer, a biosecurity plan was actioned in order to carry out this operation. All footwear and equipment were thoroughly cleaned using Sterigene disinfectant before and after the process. The cones were taken directly from the tree and not allowed to touch any potentially infected material such as the soil around the trees.
A strong Health and Safety plan was also required given the poor condition of the kauri that were being climbed.
Propagation and growth:
Although the risk of transfer of KD to the seed, which are in cones as part of the canopy of kauri, is very low work to accurately define it had not been carried out. Because of this factor the propagation process had to be conducted in isolation of other activity to mitigate the risk.
Cones were placed in paper bags and stored at room temperature and allowed to 'pop' open naturally. Once the cones opened viable seed were sorted from the rest and potted into seed raising trays. They were then transplanted in to pots.
Throughout this process the seedlings have been regularly inspected and sampled to rule out the presence of kauri dieback. Kauri dieback has never been suspected or detected in any of the seedlings.
The propagation process has been carried out at Kari Street Nursery and Auckland Botanic Gardens under strict biosecurity protocols.