Kauri from the loom
Essay by Sebastian Clarke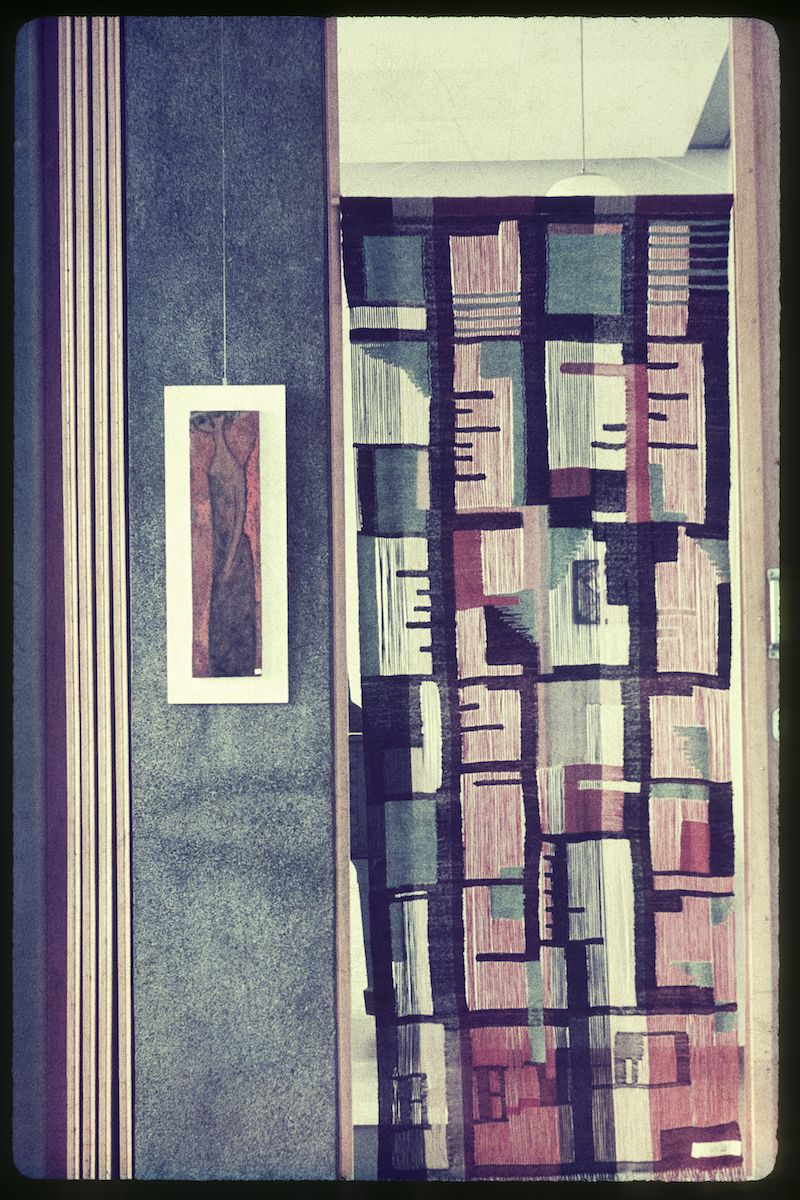 Ilse von Randow and Colin McCahon, Woven Kauri, 1954.
Installation view, Auckland City Art Gallery (35mm colour slide)
Courtesy E H McCormick Research Library, Auckland Art Gallery Toi o Tāmaki, gift of Douglas Lloyd-Jenkins, 2012. Reproduced courtesy of McCahon Research and Publication Trust.
In February 2021, to coincide with our booth at Auckland Art Fair, McCahon House produced a poster featuring Woven Kauri, 1954, a weaving by Ilse von Randow and Colin McCahon. The first of McCahon's works with kauri as the subject matter (he would go on to make over 50 Kauri paintings and drawings), and collaborating with the esteemed weaver Ilse von Randow. The work has since been lost to time.
The poster image of  Woven Kauri  is believed to be the only known image of the work. Sebastian Clarke wrote an essay for the back of the poster, outlining what is known about this painter-weaver collaboration and contextualising the work alongside other artist collaborations across mediums. In the final paragraph of his essay, Clarke prompts us to embark on fresh artistic collaborations and to even consider detective work to uncover the whereabouts of von Randow and McCahon's weaving. 
Kauri from the loom
Essay by Sebastian Clarke
This poster reflects on the woven wall-hanging Kauri (1954), the outcome of a truly creative collaboration between weaver Ilse von Randow and artist Colin McCahon.
Central to the story of Kauri is the Auckland City Art Gallery, specifically during the early 1950s, the point at which its first professional director Englishman Eric Westbrook was appointed. Both the gallery's physical building and burgeoning cultural aspirations played a role in facilitating the creation of the weaving. In 1952, Westbrook and von Randow both arrived in Auckland. German-born von Randow had migrated here from Shanghai, where she had gained significant experience working as a weaver for Chinese textile companies.
During a serendipitous visit to the gallery, von Randow and Westbrook met. It would prove to be an important encounter for both figures. Von Randow was seeking work as a weaver, and Westbrook had designs to solidify the gallery's standing as the focus of Auckland's cultural community by establishing a Bauhaus-inspired art school within the gallery building. It was therefore of mutual benefit when Westbrook invited von Randow to take up a studio residency within the gallery's tower room. It was also at this time when McCahon, along with his family, made the move from Christchurch to Auckland to take up employment at the gallery. After arriving in the new city, the McCahons settled in Titirangi where they were surrounded by the established kauri of the Waitakere Ranges.
In 1953 von Randow began preparing for a joint exhibition with potter Len Castle to be shown at the gallery. Westbrook commissioned von Randow to collaborate with McCahon on a work for the exhibition, one that could eventually be hung at the entrance of the gallery's research library. This commission was the seed from which Kauri grew, making it one of McCahon's earliest artistic renderings of the distinctive native tree he would return to regularly in his painting of the 1950s.
Kauri was one of two works that von Randow collaborated on for her exhibition. She also worked with artist Jans Michels, who provided her with a completed drawing to translate into a tapestry. Unlike with Michels, the creative process with McCahon was more iterative. It is recorded that the pair spent hours together in front of von Randow's loom devising the best way to represent kauri for the purposes of the wall-hanging. Douglas Lloyd Jenkins comments that through this collaboration "McCahon became fascinated with the structural properties of weaving". This observation is a great entry point from which to closely consider the work. As photographed circa 1960, at the entrance of Auckland Art Gallery's E H McCormick Research Library c1960, Kauri appears as a view into a dense forest. The wall hanging takes full advantage of the grid framework that the loom enables, with a strong multi-columnar composition. Yet, each column is stratified in a unique and organic way. The overwhelming impression is of light passing across the palpable textures of kauri trunks, a refreshingly immersive scene to encounter within a gallery interior. 
The product of von Randow and McCahon's collaboration was visible on the glass door of the gallery's research library well into the 1960s. It is understood that Kauri was temporarily relocated to the Auckland Town Hall during a period of substantial remodelling of the gallery, and it was during this relocation that the work was misplaced. What happened to this work from this point onwards remains a mystery.
While the whereabouts of Kauri is unknown, its place in New Zealand's history of textile collaboration endures. This is a surprisingly rich history which deserves more discussion, especially in the instances where craft collaborators have not received the same level of recognition as their artist counterparts. In 1976, multi-disciplinary artist Guy Ngan and weaver Joan Calvert collaborated on Forest in the sun, the successful competition entry of a commission for the new Beehive interior. Ngan conceptualised the psychedelic, multi-panel work, and Calvert alongside Jean Ngan and Dorothea Turner spent nine months weaving the design to life. During the 1980s, artist Gordon Crook engaged in multiple textile collaborations. Between 1981 and 1983, he designed a series of fabric banners for the Miles Warren-designed New Zealand Embassy building in Washington. Nancye Seaton, manager of the production unit for the New Zealand Ballet and Opera Trust fabricated Crook's designs, which still hang in all of their vibrancy today. Crook also had an ongoing working relationship with weaver Leslie Nicholls, and together, the pair created rugs and many framed woven works during the 1980s.
More recently, artist Jess Johnson has added a tactile dimension to her largely digital creative practice through a collaboration with her mother Cynthia Johnson, an accomplished quilt maker. The Johnsons presented a series of intricate quilts at the Auckland Art Fair of 2018 that Jess had designed, and Cynthia had fabricated with her own borders to frame Jess' compositions. Similarly, an ongoing collaboration between artist Mark Braunias and quilt-maker Brenda Ronowicz since 2011 has seen the production of several inventive quilts, including Ena Snuggles (2019) exhibited at Objectspace, Auckland. While Braunias conceives of each quilt first through drawing, the pair work closely together to finalise each work and choose the most fitting materials to translate design into textile. 
Ruth Buchanan dedicated her 2013 McCahon House Artist Residency to researching the woven curtain by von Randow, displayed within the Auckland City Art Gallery during the 1950s. Buchanan's investigation shone a light on the textured layers of history that exist within cultural institutions, and how single objects help to unpack such histories. During her residency, Buchanan also attempted to locate Kauri but after extensive searching the wall-hanging remains elusive.
In 2021, Forest in the sun will be reinstated in the Beehive after spending decades in museum storage. A twentieth century textile collaboration displayed once again within our most hallowed building is an event worth noting. I hope this moment will be an occasion to celebrate the lushness of New Zealand's textile history. May it prompt fresh consideration of collaborations such as Kauri, and potentially even renew detective work to uncover the mystery of the whereabouts of von Randow and McCahon's weaving. Even if the work is not found, may our knowledge of the woven Kauri energise our collective creativity and remind us of the beauty that can emerge when we work together.
The author acknowledges the scholarship of Douglas Lloyd Jenkins, specifically his essay 'Weaving Light: Ilse von Randow and Colin McCahon' in Art New Zealand, no 94, Autumn 2000, which has been invaluable for telling the story of Kauri.